After the dissolution of the Soviet Union and the independence of the 5 Central Asian Republics (hereby, CARs) of Kyrgyzstan, Kazakhstan, Tajikistan, Turkmenistan and Uzbekistan, both India and China established diplomatic relations with the nations in the Central Asian region, but the latter, due to its geographical proximity and economic strength, has fared much better than the former. With a rise in its neo-colonial practices, China has used economic coercive methods to utilise the resources the CARs have to offer. From laying Belt and Road projects in the region, to providing loans that, upon non-repayment, would lead China to usurp Central Asian resource-bases in return, China's unchecked influence in the region has led to growing sentiments of opposition among the masses. Historically, the Soviet Union and the post-1991 Russia did have great relations with and a similar undue influence upon the CARs, but now, as Russia's relations with China have grown closer, it has become more of a backseat power in Central Asia. Moreover, Russia's fate in the region was sealed for the worse when it faced sanctions from the west on its annexation of Crimea in 2014, and its aggressiveness with Ukraine. The Kremlin did attempt to reassert its dominance amidst its increasing unease at Beijing's massive influence in the region, especially through the Collective Security Treaty Organisation (CSTO) – an organisation focusing on counterterrorism and military preparedness in the region. But this overall strategic push has not veiled the western resentment and the diminishing economic strength faced by Russia today. It's now safe to say that there's not much Russia can do about hegemonic Chinese ambitions in the region.
India, on the other hand, still endeavours to make the most of its relations with the CARs. The under-utilised potential lies in energy, trade and cultural ties, as well as in India's performance in the Shanghai Cooperation Organisation. The SCO, of which India became a permanent member in 2017 with support from Russia and the CARs, can be the negotiating table India needs to come together with China and Pakistan and shape the future of the region. Other initiatives that need immediate attention are energy pipelines that are underway – the Turkmenistan– Afghanistan–Pakistan–India Pipeline, for instance, connecting Central Asia with India through Pakistan, or a new pipeline endeavour that can provide India a route that doesn't require it to deal with Pakistan – for example, through the Chabahar port in Iran. Another initiative is the International North-South Transport Corridor, which, although ambitious and a tough competition to China/ BRI-centered trade routes, has progressed unsatisfactorily. While there exists geographical distance, cultural closeness can easily be furthered between India and the CARs through historical ties involving soft-power diplomacy, and much more.
First, we must understand China's stake in the region, and the responses its involvement has incited. Central Asia is an important resource-centre for China, being naturally rich in oil and gas. China's alternative sources for energy-producing elements like gas have become increasingly unstable (especially the Middle East, which has been in constant turmoil since the 2011 Arab Spring, and now increasingly due to the ill-effects of the COVID-19 Pandemic). China shares a border with three Central Asian nations – Kazakhstan, Kyrgyzstan and Tajikistan – and stability in the Central Asian region therefore, becomes important for China so as to avoid spillovers of instability, violence, and refugees into its Xinjiang Province. The Xinjiang province is infamous for Chinese internment camps targeting Uighur muslims, and for China to protect its borders from illegal crossing, which may lead to a diplomatic blunder, becomes essential. For this, Central Asian nations bordering China agreed to ban Uighur groups in 1997. In return, China has offered to them, over the years, huge investments. For example, in Kazakhstan, Chinese investments and contracts today have crossed the US $50 billion mark, and have exceeded US $2-3 billion in the other four CARs. Chinese BRI projects have integrated Central Asia into the nexus of global trade more comprehensively. For example, the New Eurasian Land-Bridge corridor links China to Europe (Poland and Germany) via Russia and Kazakhstan. Chinese is building border military posts, especially in collaboration with Tajikistan, for personnel training and security. Amidst the Pandemic, Central Asian hydrocarbon exports to Central Asia have lowered, but a boost has been created by China, in that it gave Central Asian commodities limited access to its own markets. These especially opens China for imports of Central Asian foodstuffs and agricultural produce.
In recent times, citizens of the CARs have shown growing resentment towards Chinese presence in the region. They feel that their governments need to look beyond politico-economic considerations to take harsher steps in dealing with Chinese neo-imperialism. The inhumane treatment of Uighur muslims, that has sparked worldwide condemnation, has also been a matter of concern for the Central Asians, as various families of Uighur muslims have Kazakh and Kyrgyz origins – people belonging to a land called East Turkestan. While East Turkestan became part of mainland China after it fell into the hands of Chinese warlords in 1911, the current and emerging East Turkestan Islamic Movement (ETIM for short), an Islamic fundamentalist initiative to radicalise the Uighurs, has raised a new diplomatic and security challenge for China. Central Asians also launched protests in Kazakhstan and Kyrgyzstan over issues like Chinese companies giving more pay to their own workers than those from the CARs, or China usurping land and resource-blocs when there was non-repayment of loans by the governments. In this light, India has the opportunity to revive its image and interests, establishing friendly political and trade relations with the CARs.
India's 2012 'Connect Central Asia' and 'Eurasia' Policies highlight the significant stake India holds in the region. Two major projects for enhanced connectivity, in this regard, are the TAPI pipeline and the INSTC, both of which have immense potential in terms of tapping Central Asian energy resources, and establishing a freight corridor free of Pakistani and Chinese interventions respectively, but have been taking too long to develop and operationalise. This must be overcome with greater fervour if India is to take its connectivity with the CARs more seriously. Historically, India and Central Asia have engaged in trade and cultural-diasporic exchanges, by virtue of the Silk Road. Shared religious ideals (especially of Islam and Buddhism), a love for folklore and food culture, and an adoration for Bollywood, are striking soft diplomacy tools at India's hand. The most important aspect of the religious ties would be a revival of the 'Naqshbandi', which is an Indo-Islamic way of life that emerged with the interactions of the Mughal empire in India with the Sufi mysticism of Central Asia.
The Afghanistan issue and the recent de-facto takeover of Taliban over the country is a destabilizing matter for the region, and both India and the CARs are stakeholders in the Afghani peace process. While the new US-guided quad, comprising of the United States, Uzbekistan, Pakistan and Afghanistan, has left India out, India can use the SCO to earn favour and support of the CARs in bringing peaceful resolution to Afghani infighting, considering both the parties have supported power-sharing between the Taliban and the government, and are afraid of the violent repercussions and the refugee crisis that the Taliban takeover is causing.
The India-China rivalry can be the next big thing in Central Asia, when the dust of the Afghani peace process settles – and India must be ready for it. As the world prepares for reforming post-Pandemic supply chains, and in that context, the India-Central Asia relations can either become better, or decline in the presence of alternatives. Hence, the time for India to a hard look into the Central Asia policy mirror is now.
CICA Meeting Seeks to Update Regional Cooperation and Dialogue
The world has recently experienced sharp challenges. The COVID-19 pandemic, while hopefully receding, has caused global economic problems that may take some time to resolve.
Meanwhile the crucial and dramatic changes in Afghanistan have clearly demonstrated that multilateralism has become the only possible approach to ensuring global stability, security and peace. Neither the pandemic and its consequences, nor regional tensions and crises can be resolved without dialogue and the cooperation of states at regional and global levels.
The influence of Asian countries in global developments will continue to increase due to the rapid economic and demographic growth of the region. Asia is on track to top 50 percent of global GDP by 2040. By that point, it is expected to account for 40 percent of the world's total consumption. The region is making not only economic progress but rapid strides in human development. As noted by international observers, the question is no longer how quickly Asia will rise; it is how Asia will lead. Despite Asia's remarkable rise, its family of nations are sometimes kept apart by difficult geography and even more difficult history.
For this reason, it is vital to ensure that there is space for Asian states to conduct dialogue in order to unite efforts on resolving key regional and global issues. The Conference on Interaction and Confidence Building Measures in Asia, an intergovernmental forum, is the most appropriate platform in the region to consolidate the collective wisdom of all Asian nations for peace, cooperation, security and development.
CICA has come a long way since the initiative to convene it was first proposed by the First President of Kazakhstan, Nursultan Nazarbayev, at the 47th Session of the United Nations General Assembly in October 1992. Today, almost 30 years later, CICA brings together 27 Member States. The region covered by CICA stretches from the Pacific to the Mediterranean and from the Ural to the Indian Ocean, covering more than 50 percent of the world's population.
The establishment of the CICA forum emerged from the firm belief that international progress can come about only through strong and effective partnerships. Since the first ministerial meeting, which took place in 1999, CICA has strived to enhance cooperation through elaborating multilateral approaches towards promoting peace, security and stability in Asia.
Yet the world has changed dramatically in the past two decades. Asia has become a key driver of global economic growth and development. Multi-polarity has become the norm of international relations. Countries are actively cooperating thanks to globalization, yet at the same time nationalism is on the rise in many parts of the world. To adapt to these changes, the CICA forum must transform in order to continue to fulfil its important role.
Kazakhstan, as Chair of CICA for 2020-2022, has put forward a number of proposals aimed at making the forum more effective.
Firstly, we believe that it is time to gradually transform it into a fully-fledged international organisation that will be better equipped to cope with the fast-changing security environment and help to pursue developmental goals in our continent. CICA's transformation into such an organisation will expand its capabilities to strengthen cooperation between the member states, cover the entire Asia with a system of deep mutual trust and mutual assistance, as well as increase its status and influence in the international arena.
Secondly, given the dramatic changes that impacted the world in the last two years, it is necessary to update the activities and areas of cooperation within CICA. Due to the threat of the current pandemic, as well as potential future health crises, it is necessary to consider the development of cooperation in the field of epidemiological security, public health and pharmaceuticals. In addition, digitalisation is an important field as the world moves further towards the use of digital technologies. We must also not forget about issues that have been of persistent importance over the last few years, including mitigating climate change, empowering women and youth.
Finally, given the global nature of current challenges, CICA and its member states must also focus on building partnership with other regional and global organisations, particularly the Eurasian Economic Union, the Association of Southeast Asian Nations, the Organisation of Islamic Cooperation and others.
The overarching ambition of CICA is clear – to reduce global geopolitical tensions and threat of conflicts, and instead focus on collaboration and development, especially in Asia, where we share common values and aspirations. Ahead of the upcoming CICA Meeting of Foreign Ministers on 11-12 October in Kazakhstan, we must embrace the idea that CICA should be playing one of the key roles along with other international organisations in the region in achieving these common objectives. This will encourage Asian countries to build bridges among each other and shape a prosperous future in Asia.
Mirziyoyev's Uzbekistan: Marching Confidently Towards a Brighter Future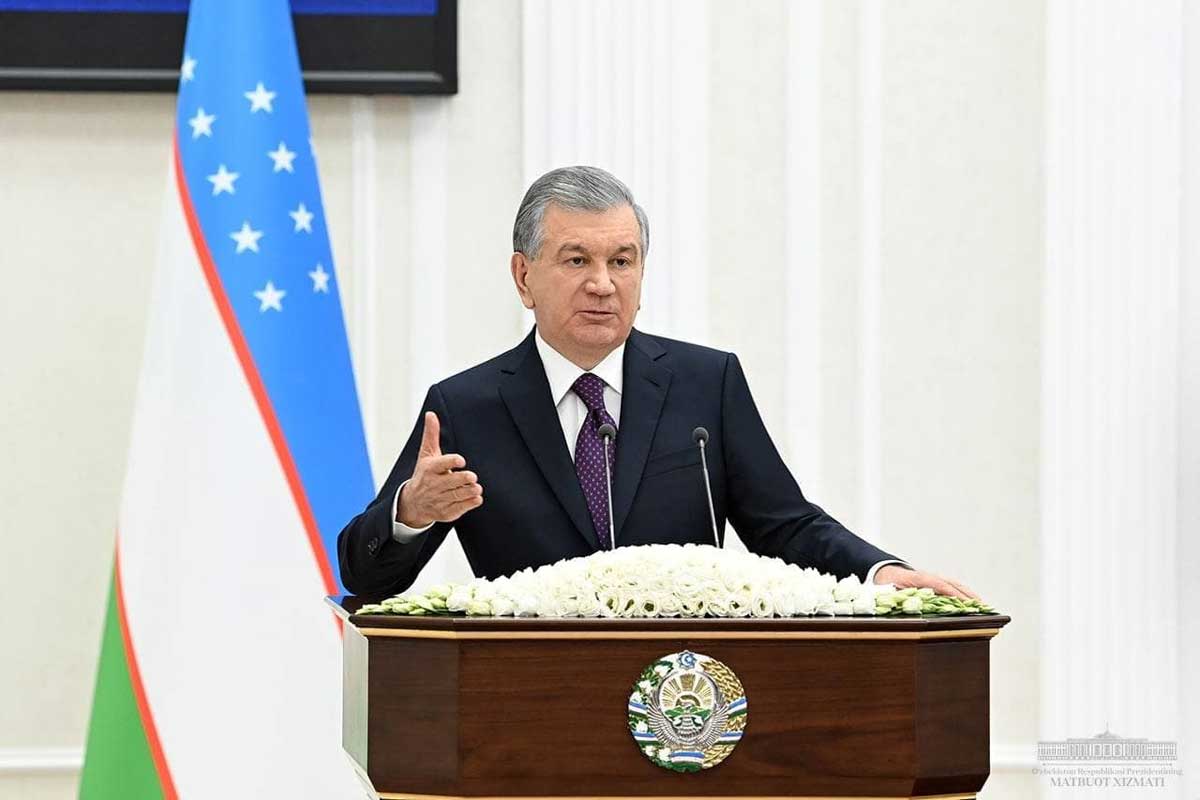 As Uzbekistan celebrates 30 years of independence from former USSR, it is also the time that the nation is completing five years of rule by incumbent president Shavkat Mirziyoyev.
Mirziyoyev took power in September 2016, when the country's first president – Islam Karimov, having ruled since 1991 – passed away, what was seen as a big shock for the entire nation. Since then, Mirziyoyev – elected formally to the presidency later that year – not only steered his nation out of that shock but also put the country on the road to globally-acknowledged reforms, uplift and progress.
Past five years have been a period of extraordinary reform, development and international prestige for this most populous nation of Central Asia. The new leader laid the foundation of a 'New Uzbekistan' with broad-based, comprehensive, inclusive and all-encompassing reforms in economic, political and social spheres.
Economic reforms were aimed primarily at liberalization of economy, moving towards free-market systems and regulations. These have born fruits significantly, with country's economy growing at a healthy average rate, over past years. Output augmented – both in agriculture, and industrial sectors – and per capita incomes increased notably. Confidence of local and foreign investors in Uzbek economy deepened and international institutions started looking towards the country as a new bright spot for regional growth. Welfare of the people, especially the working class, has been put at the centre stage in these sets of reforms.
The democratic reforms, also seen as a model for the region by international observers, revolve around decentralization of power, political inclusiveness and transparency of the electoral processes. This transparency and fairness of electoral processes is noted with appreciation by all those observing the country's political transformation. At the heart of this scheme of political reform lies the awareness and greater participation of masses, country's people from all backgrounds and regions, in the political processes. All the segments of society feel the benefits of this process of political reform pouring down in the form of political empowerments at grassroots.
The country has emerged as one of the most attractive tourist destinations not only in the region but in the whole world. Much of it owes to focused development of tourism of ziaraats, as the country boats a rich cultural and religious heritage – making it a magnet for a large number of people from around the Muslim world, especially from countries such as Pakistan. Uzbekistan Airways, the national flag-carrier, is now one of the most important airlines connecting a sizeable number of countries and regions.
At international stage, country's prestige has continuously been enhancing during past half a decade. Mirziyoyev played a vital role in bringing the leaders of other four Central Asian republic to table, for re-start of the negotiations for the region's integration. Uzbekistan's efforts in this period for Afghanistan's peace and stability and providing the Afghan people with an unattached opening towards Central Asia are noteworthy.
Uzbek president in recent couple of years has played a leading role for the whole wider region by promoting re-initiation and strengthening longstanding bonds and connectivity between Central and South Asia. The July 2021 conference held in Tashkent turned out to be the largest such initiative by Uzbek leadership under Mirziyoyev. Not only Pakistani PM and the then Afghan president were present but ministerial level leaders from some 30 countries and heads of several major international organizations also participated in the mega forum. I have no hesitation in saying that 2021 conference in Tashkent aimed at Central and South Asia connectivity has already started a journey that would not be stopped now; no matter how the things shape in the region. Uzbekistan-Afghanistan-Pakistan railway would be the flagship imove of this journey.
As mentioned above, the reforms' being all-encompassing may be witnessed from the special focus and attention on development of mass media, arts, sports and cultural activities – including the preservation and development of cultures of all the ethnic groups of the nation.
In the nutshell, Uzbekistan of today has assumed a much more vital position in the affairs of the region. The country's people are now living peaceful, prosperous, content and confidence-filled lives, also basking in increasing international glory of their nation. The journey is all set to continue towards greater achievements and a brighter future.
The Effectiveness of Confucius Institutes in Promoting Chinese Soft Power in Kazakhstan
In February 2016, Dariga Nazerbayeva, the then-deputy prime minister of Kazakhstan, declared that Kazakh children should learn Chinese in addition to Kazakh, Russian and English.[1] She further claimed, "China is our friend, our trading partner and the biggest investor in the economy of our country… in the near future, we will all need to know Chinese." [2] Her statement not only emphasized the economic relationship between China and Kazakhstan, but also appealed to the promotion of stronger cultural bonds between the two countries—namely, through the medium of language learning.
Modern Sino-Kazakh relations are primarily based on the two countries' strong trade ties with one another. China, as a rising global power, needs to secure substantial natural resource reserves to fuel its ever-growing consumption needs.[3] Given that Kazakhstan is a geographic neighbor with vast amounts of oil, gas, and other extractive resources, China considers it as an enticing candidate for supplying its energy demands.[4] Kazakhstan, meanwhile, recognizes the capacity of Chinese investment to bolster its economic growth, as well as to fund new infrastructure and industries.[5]
The economic partnership between the two countries took on an additional level of significance after China launched the New Silk Road Economic Belt (part of the Belt and Road Initiative) in 2013. Chinese policymakers viewed Kazakhstan as an integral component of carrying out this infrastructural investment project due to its natural resources and its geographic positioning as a bridge between Europe and Asia. Therefore, they sought out Kazakhstan's full commitment towards supporting the enterprise.
Despite the massive economic gains promised by the New Silk Road Economic Belt, Kazakh society at large held reservations about becoming too closely linked to China. Many groups in Kazakhstan feared that China intended to exploit Kazakhstan's resources and reap the benefits for itself.[6] Allegations of the Chinese government's mistreatment towards the Uyghurs, an ethnic group that shares Turkic Muslim roots with Kazakhs, raised negative perceptions of China in Kazakhstan.[7] These factors, coupled with fears that an overdependence on China could grant Beijing the opportunity to impede on Kazakh sovereignty, contributed to a general atmosphere of wariness towards cozying up too closely to China.[8]
The climate of opinion in Kazakhstan signaled to China that the economic and material dimensions of the Sino-Kazakh relationship were not enough to buy Kazakhstan's loyalty. Officials in Beijing realized that in order to ensure Kazakhstan's support for the New Silk Road Economic Belt, China needed to present itself as an ally that would collaborate with Kazakhstan to achieve mutual interests. From Beijing's perspective, China needed to "win the hearts and minds" of the Kazakh people, and thus the government commenced an ongoing soft power campaign to fulfill that mission.[9] A core component of the Chinese soft power campaign in Kazakhstan have been the Confucius Institutes, organizations that offer Mandarin Chinese language courses. Although the Confucius Institutes have helped boost Mandarin Chinese language study throughout Kazakhstan, increased enrollment rates at these centers do not mean they have reshaped perceptions of China in Kazakh society. In spite of China's attempt to utilize Confucius Institutes to promote Mandarin Chinese language learning and increase China's cultural appeal in Kazakhstan, the success of the organizations has been limited. The Confucius Institutes' effectiveness has been hindered by Kazakh students' general lack of interest in comprehensive culture and language classes, suspicion stemming from the Chinese government's direct control over the Confucius Institutes, and damage to China's reputation following the mass detainment of its Uyghur population into "re-education camps."
Soft Power Initiatives in China: The Role of the Confucius Institutes
The prominent American political scientist Joseph Nye defined soft power as a country's ability to influence other countries to "do it what wants" because they admire and legitimize the image and values of the soft power holder. [10] Nye claimed that soft power was generated from intangible factors, including culture, ideology, and institutions. He believed that soft power creation was a bottom-up process and stated that the involvement of civil society and non-governmental institutions, rather than the state, made soft power effective.[11] In turn, high levels of soft power allowed countries to build alliances with other countries and secure their objectives on the world stage. Given how China is increasingly pursuing its great power ambitions via the New Silk Road Economic Belt/ Belt and Road Initiative, it has recognized the critical role that soft power can play in achieving its goals. Chinese officials have therefore attempted to portray the rise of China as a peaceful one that will seek out harmonious and cooperative ties with other countries.[12]
One of the main tools that China has used to spread its soft power are the Confucius Institutes (CIs), which are educational organizations that offer Chinese language-learning programs to students from all over the world. The Chinese Ministry of Education founded the CIs in 2004 to "provide Chinese language and cultural teaching resources and services worldwide… and contribute to the development of multiculturalism and the building of a harmonious world." [13] CIs are established when they partner up with universities in host countries and provide Mandarin Chinese language classes, exchange programs, and cultural activities.[14] Since the foundation of the first CI in 2004, the number has climbed to approximately 540 CIs throughout 161 countries as of 2020.[15] Given the sheer scale and scope of the CIs' activities, they serve as China's most prominent resource in promoting its soft power agenda.
In Kazakhstan, the first CI was established at the L.N. Gunilyov Eurasian University in Nur-Sultan in 2007.[16] That number has grown to five CIs in Kazakhstan as of 2021.[17] The other CIs are:
Al-Farabi National Kazakh University (Almaty)
K. Zhubanov Aktobe Regional State University (Aktobe)
Karaganda State Technical University (Karaganda)
Kazakh Ablai Khan University of International Relations and World Languages (Almaty) [18]
Nur-Sultan is the capital of Kazakhstan, while Almaty is the country's most populous city; thus, the choice to establish CIs in these cities is not surprising. Aktobe and Karaganda house large oil and coal reserves, respectively, and several Chinese businesses operate in those cities. The Kazakh students who study at these universities have more direct business incentives to study Mandarin Chinese, as the companies frequently hire graduates with strong language skills.[19] In statistical terms, the CIs have expanded Mandarin Chinese language study within Kazakhstan. As of 2020, an estimated 14,000 Kazakh students are studying Mandarin Chinese at the country's five Confucius Institutes, while 12,000 Kazakh students study in China every year.[20] That being said, quantity does not always translate into quality, as evaluative assessments of the CIs suggest they have not been very successful in altering China's image in Kazakhstan.
The Effectiveness of the Confucius Institutes in Kazakhstan
Evidence suggests that the CIs have been relatively ineffective in terms of reshaping popular perceptions of China in Kazakhstan. Firstly, most Kazakh students study Mandarin Chinese to obtain a practical skill for their future career interests, as opposed to cultivating a genuine interest in China. Gaukhar Nursha, a researcher affiliated with Al-Farabi Kazakh National University, conducted a survey across all of the CIs in Kazakhstan to assess why students decided to take part in these programs. According to her data, enrollment in non-language CI courses was low, which suggested that most students were not very interested in learning about Chinese culture and history.[21] As for language classes, many students tended to drop out after a few weeks of classes or after they receive certain certifications for their language levels.[22] Given that the majority of Kazakh students with Mandarin language skills end up working for companies in Kazakhstan, they do not see the urgency of gaining in-depth cultural knowledge of China.[23] Nursha's study demonstrates that language study does not necessarily correlate with an interest in culture.
Secondly, Beijing's direct involvement in the institutes limits their efficacy as a soft power tool. The CIs have faced criticism for their alleged state censorship, as they tend to paint an idealized portrait of China while limiting discussions on political issues.[24] Furthermore, Beijing has constrained non-government affiliated efforts to promote Chinese language and culture to foreign audiences.[25] These actions go against Nye's theory of soft power acquisition, as he argues that civil society and non-state institutions—rather than the government—play an instrumental role in bolstering soft power. [26] Non-state soft power initiatives appear more open and genuine in their motivations, whereas state-dominated soft-power efforts can risk coming across as overly politicized propaganda.[27] The role that the Chinese government plays in the operation of the CIs undermines the organization's sincerity and instead portrays it as a Trojan horse of Beijing's political agenda.
Lastly, China's image as a "peaceful" power contradicts its actual behavior, especially with regard to Beijing's recent policies towards the Uyghur population in Xinjiang.[28] In 2017, China began a mass campaign that has placed over one million Uyghurs in detention camps. Beijing has stated that the facilities are actually "re-education camps" that have dissuaded Uyghurs from joining radical Islamist groups and have provided them with vocational skills.[29] However, former detainees have claimed that the camps are prison-like environments where Uyghurs are coerced into giving up their cultural identities and adopt to hegemonic Han Chinese cultural expectations.[30] Ethnic Kazakhs living in Xinjiang have also been targeted in this campaign. The Xinjiang detainment camps issue have sparked a series of anti-Chinese protests throughout Kazakhstan, and this blow to China's image may discourage future Kazakh students from studying Mandarin Chinese at the CIs.[31] In short, despite the rising popularity of studying Mandarin Chinese in Kazakhstan, the CIs have not influenced Kazakh students to view China in a more positive light: in other words, they have won over the "minds", but not the "hearts", of people in Kazakhstan.[32]
---
[1] Bhavna Dave. "Chapter 10. Silk Road Economic Belt: Effects of China's Soft Power Diplomacy in Kazakhstan," in China's Belt and Road Initiative and its Impact in Central Asia, ed.Marlene Laruelle (Washington D.C.: The George Washington University, Central Asia Program, 2018), 106.
[2] Jack Farchy. "Kazakh Language Schools Shift from English to Chinese." Financial Times, May 9, 2016, www.ft.com/content/6ce4a6ac-0c85-11e6-9456-444ab5211a2f.
[3] Daniela Zuvela. "China-Kazakhstan Relations: Setting a Standard for Central Asian States." Future Directions International, Feb. 10, 2021, https://www.futuredirections.org.au/publication/china-kazakhstan-relations-setting-a-standard-for-central-asian-states/.
[4] Daniela Zuvela. "China-Kazakhstan Relations"; World Bank, "Kazakhstan Reversing Productivity Stagnation: Country Economic Memorandum," The World Bank Group, accessed May 20, 2021, https://openknowledge.worldbank.org/handle/10986/31348, ii.
[5] Nargis Kassenova, "China's Silk Road and Kazakhstan's Bright Path: Linking Dreams of Prosperity." Asia Policy 24, no.1 (2017): 113. doi:10.1353/asp.2017.0028.
[6] Roman Vakulchuk and Indra Overland. "China's Belt and Road Initiative through the Lens of Central Asia," in Regional Connection under the Belt and Road Initiative. The prospects for Economic and Financial Cooperation, eds. Fanny M. Cheung and Ying-yi Hong (London: Routledge, 2019), p.120.
[7] Temur Umarov. "What's Behind Protests Against China in Kazakhstan?" Carnegie Moscow Center, Oct. 30, 2019, https://carnegie.ru/commentary/80229.
[8] Philippe Le Corre. "Kazakhs Wary of Chinese Embrace as BRI Gathers Steam." Carnegie Endowment for International Peace, Feb. 28, 2019, https://carnegieendowment.org/2019/02/28/kazakhs-wary-of-chinese-embrace-as-bri-gathers-steam-pub-78545.
[9] James F. Paradise. "China and International Harmony: The Role of Confucius Institutes in Bolstering Beijing's Soft Power." Asian Survey 49, no. 4 (2009): 649. www.jstor.org/stable/10.1525/as.2009.49.4.647.
[10] Joseph S. Nye. Understanding International Conflicts: An Introduction to Theory and History (5th Edition). (New York: Pearson/Longman, 2005), 61.
[11] Nye, Understanding International Conflicts, 61.
[12] Diana Chariyevna Gurbanmyradova, "The Sources of China's Soft Power in Central Asia: Cultural Diplomacy," (Master's thesis, Central European University, 2015), 14, 15. http://scholar.google.hu/scholar_url?url=http://www.etd.ceu.hu/2015/gurbanmyradova_diana.pdf&hl=en&sa=X&ei=frekYJTGD8vhmQHWwoTYDg&scisig=AAGBfm3sx-X0BrEpXZA28IANM5nLZ5Y2kA&nossl=1&oi=scholarr.
[13] "Confucius Institutes Aim for Sustainable Development," China Daily, accessed May 20, 2021, https://www.chinadaily.com.cn/culture/2015-06/24/content_21090794.htm.
[14] Jeffrey Gil. "The Promotion of Chinese Language Learning and China's Soft Power." Asian Social Science 4, no. 10 (2009): 118. doi:10.5539/ass.v4n10p116; Gurbanmyradova, "The Sources of China's Soft Power in Central Asia," 29.
[15] Xi Chen. "New NGO to operate China's Confucius Institutes, 'disperse misinterpretation,'" Global Times, July 5, 2020, https://www.globaltimes.cn/content/1193584.shtml.
[16] Daniyar Koznazarov. "Dragon's Tender Hug: Prosperity Discourse and China's Soft Power in Kazakhstan." Voices on Central Asia, Jan. 15, 2019, https://voicesoncentralasia.org/dragons-tender-hug-prosperity-discourse-and-chinas-soft-power-in-kazakhstan.
[17] Nurlan Aliyev. "China's Soft Power in Central Asia". The Central Asia-Caucasus Analyst, Dec.19, 2019, https://www.cacianalyst.org/publications/analytical-articles/item/13599-chinas-soft-power-incentralasia.html#:~:text=According%20to%20the%20Hanban%2FConfucius,Uzbekistan%20and%202%20in%20Tajikistan.
[18] "Confucius Institutes All Over the World." DigMandarin, accessed May 20, 2021, https://www.digmandarin.com/confucius-institutes-around-the-world.html.
[19] Gurbanmyradova, "The Sources of China's Soft Power in Central Asia," 29.
[20] Temur Umarov. "China Looms Large in Central Asia." Carnegie Moscow Center, March 30, 2020, https://carnegie.ru/commentary/81402; Dave, "Chapter 10. Silk Road Economic Belt," 105.
[21] Gaukhar Nursha. "Chapter 13. Chinese Soft Power in Kazakhstan and Kyrgyzstan: A Confucius Institutes Case Study", in China's Belt and Road Initiative and its Impact in Central Asia, ed. Marlene Laruelle. (Washington D.C.: The George Washington University, Central Asia Program, 2018), 139.
[22] Nursha, "Chapter 13: Chinese Soft Power in Kazakhstan and Kyrgyzstan," 139.
[23] Nursha, "Chapter 13: Chinese Soft Power in Kazakhstan and Kyrgyzstan," 139.
[24] Wesley Rahn. "Why is the US targeting China's Confucius Institute?" Deutsche Welle, April 16, 2018, https://www.dw.com/en/why-is-the-us-targeting-chinas-confucius-institute/a-43403188; Linmin Zheng. "What is Wrong with the Confucius Institute?"Diggit Magazine, Oct. 9, 2019, https://www.diggitmagazine.com/papers/wrong-confucius-institute
[25] Gurbanmyradova, "The Sources of China's Soft Power in Central Asia," 39, 43.
[26] Nye, Understanding International Conflicts, 61.
[27] Ainur Nogayeva. "Limitations of Chinese 'Soft Power' in Its Population and Language Policies in Central Asia." Geopolitics 20, no. 3 (2015): 600. doi:10.1080/14650045.2015.1034272.
[28] Peter Mattis. "Yes, the Atrocities in Xinjiang Constitute a Genocide." Foreign Policy, April 15, 2021, https://foreignpolicy.com/2021/04/15/xinjiang-uyghurs-intentional-genocide-china/
[29] Lindsay Maizland. "China's Repression of Uighurs in Xinjiang." Council on Foreign Relations, Nov. 25, 2019, https://www.cfr.org/backgrounder/chinas-repression-uyghurs-xinjiang
[30] Maizland, "China's Repression of Uighurs in Xinjiang."
[31] Umarov, "What's Behind Protests Against China in Kazakhstan?"
[32] Paradise, "China and International Harmony," 649.