Russia & The Taliban: From Narrative Challenges To Opportunities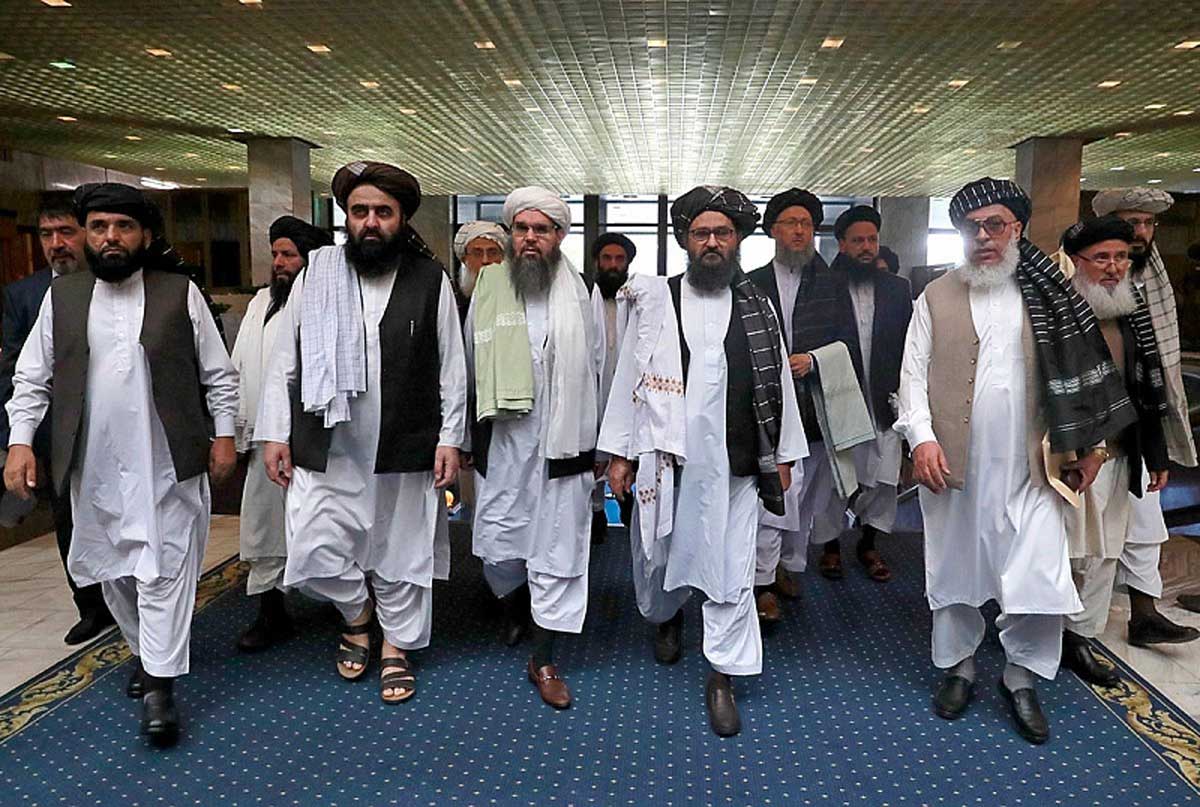 The Taliban's lightning-fast takeover of Afghanistan was a "black-swan" event that completely changed the geostrategic situation in Central and South Asia. It also resulted in Russia's pragmatic ties with the Taliban coming to the forefront of global attention after its officials' generally positive assessments of the group, which their government still officially designates as terrorists. The Kremlin began intensifying its efforts to promote a peaceful political solution to the Afghan War in February 2019 after hosting the group in Moscow for talks. Since then, it sought to include the Taliban in a proposed transitional government prior to its recent takeover of the country, nowadays hoping for it to function as a regional anti-terrorist force against ISIS-K, which is another terrorist group banned by Russia. Nevertheless, the closeness of their political and security ties has raised some questions about the consequences that this might have on Russia's reputation abroad.
Before addressing the narrative challenges and opportunities connected to Russia's new-found ties with the Taliban, it is important to inform the reader of the most prominent statements made by Russian officials about the group in order for them to better understand the country's evolving policy towards it. President Putin said in late August during a news conference with outgoing German Chancellor Merkel, "The Taliban now controls almost the entire territory of that country, including its capital. This is the reality, and we must proceed from this reality as we strive to avoid the collapse of the Afghan state." He also expressed hope that the group will keep its word "to guarantee safety for local residents and foreign missions", the first part of which can also be interpreted as his expectation that it will respect the rights of minorities and women too. As for the second, it is a reflection of Russian Ambassador to Afghanistan Dmitry Zhirnov's earlier words to that effect.
Ambassador Zhirnov previously revealed that the Russian Embassy in Afghanistan was under the Taliban's protection and that the group promised that "no one will harm a hair on the heads of Russian diplomats". He also shared his view that many Afghans' fears of the Taliban "are groundless" and that they need not flee in panic following its takeover of Kabul. In fact, according to his professional assessment, "Now the situation in Kabul is better than it was under Ashraf Ghani. That is, it is better under the Taliban terrorists than under Ghani." In addition, Ambassador Zhirnov believes that "Their approach is clear, it is good, positive and business-like." They are also trying to prevent provocations in Kabul, he said, which then led him to declaring that "They have passed the first test, which concerns their first days in Kabul and Kabul's security. If they can prove to the people that they guarantee order and social justice, they will pass the second exam."
Despite these positive assessments, Russian Special Presidential Representative for Afghanistan and Director of the Foreign Ministry's Second Asian Department Zamir Kabulov said that "We are not in a rush as far as recognition goes. We will wait and watch how the regime will behave." Mr. Kabulov affirmed, however, that he does not believe that there is any realistic threat of ISIS rising in Afghanistan in the wake of the U.S.-backed government's collapse. In his words, "I saw in reality the Taliban fighting ISIS (outlawed in Russia) and fighting it viciously unlike the Americans and the whole of NATO, including the Afghan leadership that fled, who did not counter ISIS and only pandered to it. Representatives of the highest Taliban leadership were telling me that they only have this to say to ISIS: there will be no captives…The Taliban, as they said, and I feel it, too—there is a great deal of sincerity here—do not want to repeat their sad destiny for a second time."
Russia's interests in pragmatically engaging with the Taliban are a lot clearer with these statements from prominent officials in mind. More than anything, Moscow wants to ensure the security of its diplomats in the country. Second, it believes that it has the obligation to accurately report on the situation in Kabul in order to counteract false portrayals circulating in the mainstream media in the West. Upon realizing that everything is better there than it was under the U.S.-backed government, Russia is beginning to regard the Taliban as an increasingly responsible actor in spite of its lingering terrorist designation. About that, the group's anti-ISIS capabilities make it a formidable regional security bulwark for protecting Russia's allies in Central Asia. Should the Taliban succeed in ruling responsibly, Russia can take advantage of February's agreement to build a Pakistan-Afghanistan-Uzbekistan (PAKAFUZ) railway as well as extract some of its estimated $3 trillion worth of mineral resources.
To elaborate on those last two policy objectives, President Putin told the Valdai Club in October 2019 about his vision "to connect ports along the Northern Sea Route with ports of the Pacific and Indian oceans via roads in East Siberia and central Eurasia." PAKAFUZ would accomplish that with respect to the Indian Ocean and thus fulfill Russia's centuries-long goal to reliably reach that body of water. It would also have the effect of strengthening the Russian-Pakistani relations which have comprehensively improved in recent years as a result of their rapid rapprochement. In theory, PAKAFUZ could facilitate more Russian-Indian trade, too, if New Delhi and Islamabad improve their relations, possibly through Russian mediation, and if Pakistan allows India to export goods across its territory to Afghanistan, Central Asia, and beyond. This is, of course, an ambitious plan but Russia's gradual return to South Asia makes it increasingly feasible if all sides have the political will.
As for the mineral dimension of Russian interests in Afghanistan, this is important for much more than pure profit. Russia has some of the world's best mineral extraction companies and could therefore be a viable contender for such contracts, potentially even as a reward for its efforts to tell the world the truth about a Taliban-ruled Afghanistan. The group seems to be sincere in its endeavors to improve the socio-economic situation for all of its compatriots, to which end it must prioritize reconstructing the country. To do that will be extremely difficult without reliable revenue streams, some of which it can obtain through the aforementioned Russian contracts. Of course, the Taliban would also have to properly manage this revenue and fairly distribute it without any ethnic, regional or religious discrimination in order to sustainably improve its people's living standards—but Russia could possibly help it do so by playing an advisory role in this respect if need be.
Having explained the specifics of Russia's pragmatic engagement with the Taliban as well as the objectives that it aims to achieve through these means, we shall turn to the narrative challenges and opportunities that all of this poses. Many observers were surprised to suddenly hear about their close political and security ties, but that is because one constructive critique that can be made of Russian policy in this regard is that its international media outlets did not do enough to inform their foreign audience about this in advance. Some reports and analyses were published from time to time, but it was not sufficient for explaining the nuances of Russia's policy towards this group, officially designated terrorist. More should have been done in hindsight since even some who have positive impressions of the country's foreign policy are very confused. It does not make sense to them why Russia would talk to, let alone so actively engage with, literal terrorists.
It is here where Russia's international media outlets would benefit from awareness of what can be described as their country's "Ummah Pivot", which itself is a component of its 21st-century grand strategic goal to become the supreme balancing force in Afro-Eurasia. To concisely summarize an admittedly very complex series of diplomatic engagements from North Africa to South Asia, Russia chose to pioneer a so-called "third way" between the East and West following the worsening of Russia's relations with the West in 2014 after Euro-Maidan and Crimea's subsequent reunification with Russia. This strategic vector aims to prevent the Eurasian Great Power from becoming disproportionately dependent on either the EU (the West) or China (the East). It also aspires to have Russia become an indispensable balancing force in the New Cold War between the U.S. and China by presenting the countries caught between them with a credible third choice.
Building upon its diplomatic experiences in mediating a peaceful political solution to the ongoing Syrian War, Russia attempted to do something similar with Afghanistan from 2019 onward by bringing the internationally recognized Afghan authorities at the time, their Taliban opponents and regional stakeholders together into what has since been termed the Extended Troika. Moscow realized that no such solution would be possible without incorporating the Taliban in spite of its designation as a terrorist group. To facilitate its growing legitimacy as a stakeholder in this conflict, Russia encouraged it to cut ties with terrorist groups, which it pledged to do later as part of the February 2020 peace deal with the U.S. This made it more acceptable of an interlocutor just like its Syrian anti-government governments who pledged to do the same in order to participate in the Astana peace process. In other words, Russia is replicating its Syrian model on Afghanistan.
Russia's international media outlets should, therefore, emphasize this point, namely that their country's diplomatic successes in Syria laid the groundwork for what it is presently attempting to do in Afghanistan with the Taliban. Russia, being the Eurasian great power, is the only country other than Pakistan to have such close political and security ties with the Taliban, which far exceed even those that China is currently attempting to cultivate. Russia could make use of this observation as the basis upon which to expand its soft power appeal in majority-Muslim countries further. As it stands, Iran, Pakistan, Qatar, Saudi Arabia, and Turkey are the main members of the Ummah with public ties of some sort with Islamist movements abroad, meaning that Russia is doing something unprecedented by pragmatically engaging with the Taliban. The U.S. and some of its NATO allies interact with Islamist groups too, but for the opposite ends. They use them to destabilize countries, not stabilize them.
To be absolutely clear, unlike the aforementioned countries, Russia never provided any material support to Islamist groups abroad—let alone those like the Taliban which it officially designates as terrorists—but only engages with those that have a credible chance of advancing their countries' peace processes like in Syria and now in Afghanistan too. It only responds to the political realities of those countries' conflicts instead of seeking to shape them preemptively through its ties with such groups. Upon pragmatically engaging them, however, Russia then attempts to encourage them to moderate their socio-political and militant policies in order to facilitate a peaceful political solution to the conflicts that they are involved in. This is a very unique stance that speaks to both the sincerity and effectiveness of Russia's envisioned 21st-century grand strategic balancing act. Its international media outlets would, therefore, do well to highlight this to their audience.
The diplomatic dimension of Russia's balancing act in those Ummah states caught up in Islamist-driven conflict represents an entirely new model that could realistically succeed in other countries, too. It deserves to be actively promoted by the country's international media outlets in order to raise maximum awareness of this policy. Russia's hitherto failure to do this has resulted in some observers, including those who tend to hold positive views about it, becoming very confused about its pragmatic engagement with the Taliban. At best, they consider the country to be hypocritical, while at worst, some think that it is cavorting with terrorists for self-interested reasons that risk endangering regional stability. If Russia fails to correct these false perceptions that it is partially at fault for passively allowing to percolate, then its opponents might weaponize them to assault its soft power, but successfully reshaping perceptions will vastly improve its soft power across the world.
From our partner RIAC
Any "red lines" left for Putin?
"Red lines" have become a ubiquitous narrative of Russian-initiated conflict with the West. Putin repeatedly used "red lines" as a warning metaphor for the West, trying to establish his boundaries of international influence. The "red lines" acquired this warning connotation in his annual address to the Russian Federal Assembly on April 21, 2021, to be repeated several times later up to February 24, 2022. As explained by his press-secretary Dmitriy Peskov and many other Russian politicians and experts, "red lines' relate to Russian national interests, outlining its national borders.
And not only Kremlin but the West also talks about "red lines", though the West sees "red lines" in using nuclear weapons by Putin in his futile attempt to conquer Ukraine.
When addressing the nation on February 24, 2022, announcing an invasion of Ukraine, Putin said that any "interference" in Ukraine by outside powers would be "a red line" for Russia. However, the West started to support Ukraine long before the Russian invasion supplying Javelins and intelligence information. The West certainly interfered in different ways from the first day of the Russian invasion providing more weapons, ammunition, humanitarian aid, volunteers, anti-Russian information campaigns, sanctions, intelligence sharing, and military training, to name a few.
All Kremlin's propaganda targets the inner audience first. When they speak to the West, at the same time, they address ordinary Russians. The apparent importance of "red lines" for the Kremlin, the ability to show that they are not violated, made the West artfully create information campaigns before supplying new deadly weaponry to Ukraine. These information campaigns aim to provide valid arguments for such supplies as a response to the escalation of the war from the Kremlin's side. At the same time, they shift attention from the weaponry itself to "conflicts" inside the NATO countries around the supplies. They expose various technical problems, such as a lack of trained personnel to master new weaponry, no service maintenance base, and others. Finally, these information campaigns often highlight Kremlin's atrocities against civilians (Bucha and missile bombing cities, villages, and critical infrastructure).
We have seen these tactics successfully employed more than once. The Kremlin's loss of information war has become evident from the beginning of the war. However, when one talks about supplying Ukraine with modern tanks to fight against the Russian army, it takes one to be a master of information tactics to supply the tanks and not to break this crucial "red line." For the last two decades, Putin has made the Victory of the USSR in the Greta Patriotic War (WW II in the Western tradition) the main achievement of recent Russian history, utilizing it as a unifying myth for multi-national Russia. This myth also serves as a justification for its aggressive foreign policy. Furthermore, this makes it very painful for Russia to think of fighting with foreign tanks, especially german tanks, making this red line very thick and visible.
Nevertheless, the West could dilute it without any seemingly essential consequences. Let's see how it was done.
The German play: at first, Olaf Sholz, Chancellor of Germany, said that Germany would allow Leopard tanks to be sent to Ukraine only after US Abrams; this statement gets immediately refuted by the German Minister of Defense; the refutation followed by supporting statements in the US media that even go as far as saying that the German position irritates Washington.
The Polish play: first, Poland says that it can send a Leopard tank to Ukraine; then it refutes it; then Poland threatens that it would send the tanks even without Germany's consent, to be followed by a statement of Germany's Minister for Foreign Affairs that Germany would not block Poland sending tanks to Ukraine.
All these "conflicts and disaccords" happen before an official decision-making session in Rammstein format. Then the plays continued with Boris Pistorius, recently appointed Germany's Minister of Defense, who, after the meeting at Rammstein, not only said that there were other countries besides Germany to disagree on shipping tanks to Ukraine (although he never revealed which ones), but also hinting later that the decision on tank shipping could be negative. In such a case, the decision would become irreversible. They even remembered a previous German Minister of Defense who allegedly refused to conduct an inventory of available Leopard tanks.
Less than five days later, a positive decision is taken, making it hard to believe that such significant disagreements and confusion could exist not only inside Germany's government but also between leading European countries and the US. Of course, conflicts and disagreements might exist, and they do exist for different international topics. However, it is hard to imagine them being so publicly visible on such a vital issue as the Ukraine-Russia war. The war has been going on for almost a year now, and effective mechanisms of communication and decision-making must have been developed, at least in such an essential part of it as military aid.
After the war's beginning, the West took a principal position in the war: to provide diverse support to Ukraine to fight against Russia. All sanctions and humanitarian and military aid issues get communicated, coordinated, and then agreed upon.
According to Francis Bacon's famous quotation, knowledge is power; this power comes with information, and information comes with noise. The West utterly understands it employing this understanding with art and craft. And the Kremlin fails to play this game. Instead, this wonderful chaos of noise prior to any critical decision allows for diluting more and more "red lines."
These information tactics allow the West to supply Ukraine with more deadly weapons. We will see another act of this information play before a decision to ship modern jet fighters to Ukraine is agreed upon. Then, of course, there will be the same level of "disagreements and conflicts," but eventually, one shouldn't doubt that Ukraine will get jet fighters, starting with Soviet MIG- and SU-fighters from Slovakia and Poland, then followed by F-16s and other NATO models.
The Kremlin's reaction is precious. Putin's press secretary, Dmitry Peskov, commented on the decision to ship tanks to Ukraine, saying that it became clear to the Kremlin that there was no accord in the West in general around the issue of military aid to Ukraine. Also, the fact that the West has enough modern tanks capable of fighting with Russian remains obscure for the Kremlin, according to Peskov. This is what the Russian propaganda wants and needs to see: disagreements and conflicts. This conflict's agenda allows them to lullaby the Russian people with tales that the support for Ukraine will wither soon and that Russians need to be patient just a little bit more. Then Victory will come, exactly like in the Great Patriotic War.
The strategy of the West is clear; no Western country wants to be at war with Russia. At the same time, Ukraine needed support, so the West started supplying it with more advanced weapons. Now the supplies happen much quicker than at the beginning of the war. The "tank case" shows this change in the western approach to the weapon supply, where a silent embargo on offensive weaponry was in effect for 11 months.
The Kremlin's narrative of "the red lines" failed from the beginning as Russia violated international "red lines" when it invaded a sovereign state. Furthermore, this 'red line" is not only part of Western values but is one of the pillars of the system of International Law. Another pillar of international relations is that supplying weapons and even using one country's experienced army officers to help another country's army in its military actions has never been seen as direct involvement in a war. No one has seen, or described Soviet military support and presence in Vietnam against the U.S., or in Egypt and Syria against Israel as direct war between the U.S. and the USSR.
Putin's several public warnings to respond if NATO crossed "red lines" by providing Ukraine with certain missile strike systems remained just words. Other prominent Russian officials repeatedly made similar warnings, promising to consider U.S. and NATO vehicles transporting weapons on Ukr
The West understands that Putin's "red lines" are for the internal agenda only. Even the fact that they are not named but outline some obscure "national interests', allows the Kremlin to interpret them differently, twisting its propaganda around. But the "red lines" do exist. The West should not underestimate them. Inability of the Kremlin to define and observe them. It is quite obvious that the next "red line" is national borders between and Ukraine and Russia as of Feb.24, 2022. This issue lacks accord in the West. Should Ukraine get Crimea back? Should it get it now or later? Should the West publicly announce its "red lines" outlining them as the Russian Federation's borders as of 1991?
While these questions are still to be answered, one red line obviously exists for Putin. This line is his personal safety, and in the current power construction in Russia, Putin can secure his safety only if he retains power. When the West challenges his personal power, then he will feel the real threat. One should remember that it might be dangerous to corner a rat, especially one with a nuclear bomb. Putin's body, ex-Russian President Dmitry Medvedev, regularly reminds us of that, saying that "a nuclear power can never lose a conventional war." His regular remarks clearly state that the Kremlin acknowledges its possible defeat in Ukraine, but they also warn against such outcome. We should hope that Western leaders have learned how to play with Russia and will continue the winning game, weakening Russia further and successfully staying away from nuclear confrontation.
Russia's Support for Terrorism: A Carry-Over of Soviet Policy
During the Cold War, the Kremlin was a supporter of foreign terrorism, in order to destabilize enemy governments or to further Moscow's policy objectives. The same strategy is being used, today, by the Russian Federation in countries around the world.
Beginning in the 1990s, critics of the Kremlin began turning up dead in Ukraine and Western Europe, including in the United Kingdom. Russia has also been accused of backing despots and dictators who have committed massacres and other crimes against humanity, such as Syria's Assad, who was accused of supporting chemical weapons attacks on civilians. Currently, the Kremlin-backed Wagner Group, a private military and security companies (PMSCs) is actively fighting in conflicts, ranging from Ukraine to Syria, where they have been accused of war crimes, including targeting civilians, murder, rape, and torture. The Wagner Group has been declared a Transnational Criminal Organization by the United States and is expected to be recognized as a Foreign Terrorist Organization by both the E.U. and the U.S in the near future. If that designation is applied to Wagner, the Russian Federation will be an official sponsor of international terrorism.
During the Cold War, the West similarly accused the USSR of supporting terrorism, an accusation which the Kremlin emphatically denied. Before discussing the veracity of these accusations, it would be constructive to define terrorism. The definition of terrorism used for this article is violence or the threat of violence applied, often against civilian targets, in order to bring about change, often political, religious, or social.
In 2011, the Director of the CIA released a report, finding that the Soviet Union supported terrorism, in the form of foreign insurgents and fighters, if such support was constructive to the goals of the Soviet state. This was the case in Nicaragua, Guatemala, Angola, El Salvador, Mozambique, and Chile, among others were supported somewhat covertly. The Soviet Union openly supported some groups which enjoyed a certain degree of political legitimacy within their own territory, such as the Palestinian Liberation Organization (PLO) or the South West African People's Organization (SWAPO).
When the Soviet Union dealt with foreign extremist groups, however, they camouflaged their involvement. Often, support was carried out through allied and radical states. Many of these radical states also support terrorist groups, on their own, which further complicates an analysis of Soviet involvement. The CIA charges that Soviet support for terrorism fell into several categories, among them (1) Support for anti-Israel and anti-U.S. groups, (2) Soviet-backed insurrections in Third World countries, which the Kremlin made more socially acceptable by dubbing them liberation movements, and (3) Violence by left-wing groups in the West, which did not overtly reveal the direct involvement of the Soviet Union.
One example of a foreign terrorist group supported by the USSR was Italy's Red Brigades. This violent far-left Marxist–Leninist group, was responsible for hundreds of deaths, in the 1970s and 1980s, including the abduction and murder of former Prime Minister Aldo Moro. The Red Brigades were born of the radicalization of the 1968 student movement, which took place across the European continent. The Red Brigades were linked to the Soviet Union through the Italian Socialist Party and through training and support received in Czechoslovakia. U.S. intelligence services believe that the Red Brigades and other terrorist organizations were supported by the Soviet Union to covertly carry out state objectives. In 1981, the group kidnapped a NATO officer, United States Army General James L. Dozier. The Red Brigades was later discovered to have kept files on NATO leaders. Opposition to NATO has been a longstanding policy of both the Soviet Union and the Russian Federation.
Many experts, writing during the Cold War, believe that supporting terrorism was an integral part of the Soviet strategy, a strategy meant to destabilize Western democracies. Other experts were of the opinion that Soviet support for terrorist groups was short-lived, deriving from an immediate need to fulfill a particular policy objective. After reviewing declassified documents, in the post-Cold War era, the Soviet Union's relationship with terrorism was inconsistent. In the 1960s, the Soviet Union did not trust these organizations. But, during the 1970s, their policy changed. And, by the 1980s, the Kremlin was regularly supplying weapons to the PLO, among other terrorist groups. And this was indeed part of the Kremlin's Cold War strategy, as long as the terrorist groups focused on Western targets.
In the wake of the capture of the U.S. Embassy in Tehran in 1979, Secretary of State Alexander Haig accused the Soviet Union of attempting to "foster, support and expand" terrorist activities by "training, funding and equipping the forces of terrorism". It is well documented that the Soviet Union was guilty of state terrorism, utilizing torture, arbitrary detention, intimidation, and imprisonment, often under inhumane conditions, against its own citizens in order to maintain control. States sponsored by the Soviet Union, such as Libya, Iraq, and Syria, were guilty of similar crimes on the domestic front, while also exporting murder to other countries.
The Soviet Union was also guilty of violations of human rights, such as massacres, in armed conflict in Afghanistan. Rebel groups supported by the Soviets also engaged in similar terroristic massacres. Regarding terrorist organizations in Western Europe, such as the Red Brigades and Germany's Red Army Faction, some experts claim that there is little hard evidence of direct support by the Soviet Union. However, they also find that Libya and other countries supported by the Soviet Union directly supported such groups. Consequently, arms and funds for the Red Brigades and other terrorist groups flowed from the USSR, through other international terrorist organizations supported by the USSR. Additionally, there is evidence that Red Brigades operatives were trained in Czechoslovakia, although it is unclear if this was at the behest of the Soviet Union.
The 2011 findings of the Director of Central Intelligence are even clearer and more direct in their accusation that "the Soviets have no moral compunctions about supporting foreign insurgent and terrorist groups". Additionally, the Director of Central Intelligence posits that Eastern European countries follow the Kremlin's lead in terms of supporting terrorist groups, which further obfuscates Moscow's involvement. Moscow also condemns the actions of Western terrorist groups, such as Germany's Red Army Faction and France's Action Direct, in order to send a signal that Russia, like Western powers, opposes terrorism. On the other hand, Moscow and the Soviet Bloc also opposed efforts to form international anti-terrorist policing agencies.
A recent example would be that after 9/11, Vladimir Putin made a big show of joining in western efforts to combat terrorism, but this was because he needed international support for his condemnation of Chechen freedom fighters. Since then, he has reversed his stance on cooperating with the west. Additionally, he now supports the Chechens and has deployed them to Ukraine, where they have been accused of atrocities. This raises the question of whether or not the Kremlin's deployment of Chechens to Ukraine could be considered supporting international terrorism.
Experts, such as those at the Brookings Institute, currently believe that the Russian Federation is a sponsor of terrorism, an opinion supported by the State Department. Russia's actions match the definition of terrorism in that they involve violence, committed in a foreign country, with a political motive. Modern Russia's support of terrorism is an extension of the Soviet Union's support of terrorism beyond its borders, including in Western Europe.
Whether a group utilized these violent actions to achieve independence or some other goal was of no interest to the USSR, which was only concerned with promoting its own foreign policy objectives. Evidence shows that the Kremlin was directly, or indirectly, supporting multiple insurgent and separatist movements. A concrete example would be El Salvador, where the revolutionaries coordinated directly with Moscow. The Kremlin provided local groups with guns and training. The International Department of the Central Committee of the Soviet Communist Party was directly responsible for operations focusing on establishing new, foreign governments. A range of military and paramilitary training and support was provided to insurgent groups by the KGB, GRU, and 10th Directorate of Soviet Staff. This included training revolutionaries from Africa, Latin America, Europe, and Asia in training camps, both inside and outside of the Soviet Union, as well as in other Soviet Bloc countries. The weapons often flowed through Cuba, Libya or Czechoslovakia. Semtex, the explosive used by many terrorist groups, of the time, was invented in Czechoslovakia.
Today, in addition to the semi-covert aid the Russian Federation extends to the PLO and other terrorist organizations, the Wagner Group enjoys overt support. They obtained their training and weapons directly from the Kremlin, and actively deployed by Russian companies, close to the government, engaging in acts of terrorism.
In 1991, the Soviet Union collapsed and became the Russian Federation. The KGB was replaced by the Federal Security Service (FSB). Putin, a former KGB agent, was once head of the FSB. The tactics, training, experience, personnel, and even the leadership of KGB have carried over to the FSB, as has the Kremlin's support for foreign terrorism.
Context and Practice of International Politics: Experience in 2022 and Expectations from 2023
The dramatic events of 2022, centred on the military-political conflict between Russia and the West over the Ukrainian issue, are a vivid example of the interaction of context and practice in international politics. The global context, within which one cannot help but consider the most acute manifestation of the current clash of interests, is the end of a period which saw the relative monopoly of Western countries in world politics and economics, their ability to determine what the international order should be.

The practice of world politics is determined by the still-colossal resources of the United States and Western Europe, on the one hand, and by the obvious insufficiency of the forces that are their main opponents – China and Russia – insufficient for a real fight. As a result, if the objective factors in the development of international politics and the world economy speak in favour of the inevitable retreat of the former leaders to new positions, then the subjective qualities of their opponents, and indeed of the powers of permanent status, are such that the advent of a new international order looks like a completely uncertain prospect.

The change in context, which is very likely to be one of the factors underpinning Russian resolve, is quite obvious. First, it is easy to see this in the voting in the UN General Assembly on the resolutions adopted by Western countries as part of their anti-Russian campaign.

Despite the fact that, from the point of view of formal international law, condemning Russia would not be a problem for it, an increasing number of countries prefer to exercise moderation, by abstaining or avoiding voting on such resolutions. Of course, this contributes to the infrastructure of institutions created over the past couple of decades that are not oriented towards the West and are not subject to its will – BRICS, the SCO and the Eurasian Economic Union. But first of all, many countries simply do not feel the need to unconditionally support the West in its campaign against Moscow. It does not meet their interests or their main goals of development; these states do not have their own claims against Russia. In general, it should be noted that the reaction to Russian actions since February 2022 has been extremely mild. For example, in 2003, the Indian Parliament passed a special resolution condemning the US and allied invasion of Iraq, which is now unimaginable outside of the West in relation to Russia.

Second, the change in context is underlined by the failure of the US and its allies to build a sustainable broad-based coalition against Russia early in the conflict. Now the list of states that initiate measures of economic war against Russian interests is limited to permanent members of the military-political blocs of the West – NATO and the European Union, with the involvement of Japan and Australia, which have strong bilateral allied relations with the United States. All other countries of the world, with the exception of the microscopic clients of the United States in Oceania or the Caribbean, only enforce "sanctions" at the state or corporate level under pressure. In other words, the circle of those whom the United States and the European Union do not have to force to carry out their decisions regarding Russia turned out to be extremely narrow. This means that relations between the West and the rest of the world are now based on a repressive policy of coercion, which in itself does not mean anything good for the global positions of the United States. First, because it inevitably forces a significant number of countries to strive to extricate themselves from American influence for purely practical reasons. The need to fear Western reprisals is gradually shifting relations with the West from factors that promote development to those that hinder it. Thus, we cannot have serious doubts that the context – the objective development of the international environment – is now very friendly for Russia and its main interests.

This allows Moscow and Beijing to look to the future with relative confidence and to assume that they are on the "right side of history", while their opponents in the West resist inevitable changes. However, it is worth recognising that a favourable context is an important, but not the only condition for the survival of states in a chaotic international environment. No less significant is the ability of states to respond to current challenges that arise during critical historical periods. The fact is, what we are experiencing now represents just such an era.

Therefore, in addition to the realisation of its selfish interests, the whole world is closely watching the ability of Russia to survive and succeed in various aspects of its conflict with the West. In particular, attention is drawn to the ability of the Ukrainian forces to continue active resistance, especially in the context of a fairly stable supply of weapons from the West. Whether we like it or not, the pace at which Russian goals are being realised on the territory of Ukraine is becoming a factor that influences the behaviour of friendly states. In addition, the apparent concentration of Moscow's efforts in one direction creates numerous temptations for third countries to solve their problems with less regard for Russian preferences. For example, we see the behaviour of Azerbaijan in its difficult relations with Armenia; it shows signs of haste, caused by the understanding that Russia is not ready for sufficiently decisive action in the South Caucasus. We find less striking examples in Central Asia, where the political regimes perceive the course of Russian operations in Ukraine as an incentive to achieve their own short-term goals. In short, Moscow's justified delay in resolving the most important aspects of the Ukrainian problem creates nervousness in its environment, which would be better avoided. In a more favourable position is China, which has not yet joined the direct confrontation with the West. Despite the fact that the problem facing the leadership of the PRC is no less significant, as Taiwan is a constitutional part of Chinese territory, Beijing is still showing restraint. This helps to buy time, but increases the world's fears that the Chinese authorities are behaving this way not because it is part of their long-term strategy, but because of the inability to act more actively. At the same time, one must understand that restraint is good for the time being: for example, the United States 105 years ago chose the moment to enter the war with the Central Powers, and did not experience fears about its consequences. Although, of course, every historical comparison is an oversimplified vision of the situation due to the change in that very context.

In summary, as conflict grows over the structure of the future international order, the tension between context and practice can grow as much as it shrinks. However, in any event, it will be the most important systemic characteristic of the confrontation, which we had the opportunity to observe throughout 2022 and will continue to do so. In this sense, 2023 may turn out to be, in a certain sense, a turning point – the opposing sides will begin to run out of accumulated reserves and the question will arise of mobilising the resources that they originally planned to save for the purposes of future development. In this regard, it will be important for Russia to use a favourable context not only as a confirmation of its strategic rightness, but, first of all, as a source of resources for its own stability. This means making relations with the World Majority a central part of our foreign economic relations and making real efforts.
from our partner RIAC