Catastrophe 'unfolding before our eyes' in Ethiopia's Tigray region
A military confrontation that started 10 months ago in Ethiopia's northern Tigray region is spreading, with serious political, economic and humanitarian implications for the country and the broader region, the Secretary-General warned the Security Council on Thursday.
"A humanitarian catastrophe is unfolding before our eyes", António Guterres warned. "The unity of Ethiopia and the stability of the region are at stake", he added calling for an immediate ceasefire and the launch of national political dialogue.
Outlining the severity of the situation, the UN chief said the military front lines in Tigray have reached the regions of neighbouring Amhara and Afar.
The Government's 28 June declaration of a unilateral ceasefire, and withdrawal of the National Defence Forces from Mekelle have not led to a comprehensive ceasefire.
Tigray remains under a de-facto humanitarian blockade and cut off from electricity and communications, the UN chief informed the Ambassadors.
Dire situation
Mr. Guterres said that actors in Ethiopia have entered the fight through mass mobilization and the activation of regional and armed groups.
"Inflammatory rhetoric and ethnic profiling are tearing apart the social fabric of the country", he emphasized.
Moreover, the human price of the war is "mounting by the day", as more than two million people have been displaced and millions more are in immediate need of food, water, shelter and health care, said the Secretary-General.
At least 400,000 people are living in famine-like conditions, with the UN Children's Fund (UNICEF) warning that 100,000 face severe acute malnutrition within the year.
Amid reports of sexual and gender-based violence, refugee camps have been destroyed and hospitals looted.
"I condemn these atrocious acts in the strongest possible terms", underscored the Secretary-General. "There must be accountability".
Tigray access limited, empty warehouses
While the Organization and its partners have mobilized to reach five million people with food, Mr. Guterres said that the response is "severely" constrained by insecurity, delays and a host of arbitrary restrictions on the work of humanitarian agencies.
Overland access into Tigray now depends on a single route, through Afar, which involves passing through numerous checkpoints.
At the same time, although agencies require roughly 100 trucks worth of assistance to reach Mekelle every day, no trucks have arrived for over a week.
"Warehouses are now empty", the UN chief lamented.
Beyond Tigray
Beyond Tigray, the conflict in Afar and Amhara has displaced reportedly 300,000 more people, he said, events that have unfolded alongside efforts to maintain broader support across Ethiopia in response to intercommunal violence, flooding and locust infestation.
Mr. Guterres said the fighting has drained one billion dollars from Ethiopia's coffers, while noting that debt is mounting.
Credit access is drying up, inflation is on the rise and the country is suffering from the fifth-highest incidence of COVID-19 cases on the continent.
End hostilities, launch national dialogue
Against that backdrop, the Secretary-General repeated his call on parties to immediately end hostilities, without preconditions, and to negotiate a lasting ceasefire.
He underscored that foreign forces should leave the country, full humanitarian access be guaranteed for all areas in need, public services restored and conditions created for an inclusive national political dialogue to address the causes of the conflict and ensure Ethiopian voices direct the pathway to peace.
Noting that he has been in close contact with Prime Minister Abiy Ahmed and similarly received a letter from the President of the Tigray region, Mr. Guterres said the UN is ready to work with the African Union and other partners to support dialogue.
"In the period ahead, the attention and unity of the Security Council will be critical", he attested.
Young Ethiopians casualties of 'needless conflict'
The UN Chief expressed profound regret over the tragic events unfolding.
"It is heart-breaking to see many young Ethiopians being instrumentalized and mobilized in the war effort" with their energies channelled into a path of division and destruction, rather than one of building a better future for all Ethiopians, he said, calling them "the ultimate casualties in this needless conflict".
"In every sense, the future of Ethiopia is at stake", said the Secretary-General. "Let us pledge to do all we can to advance the path of national cohesion and peace
Only 2% of Covid-19 vaccines have been administered in Africa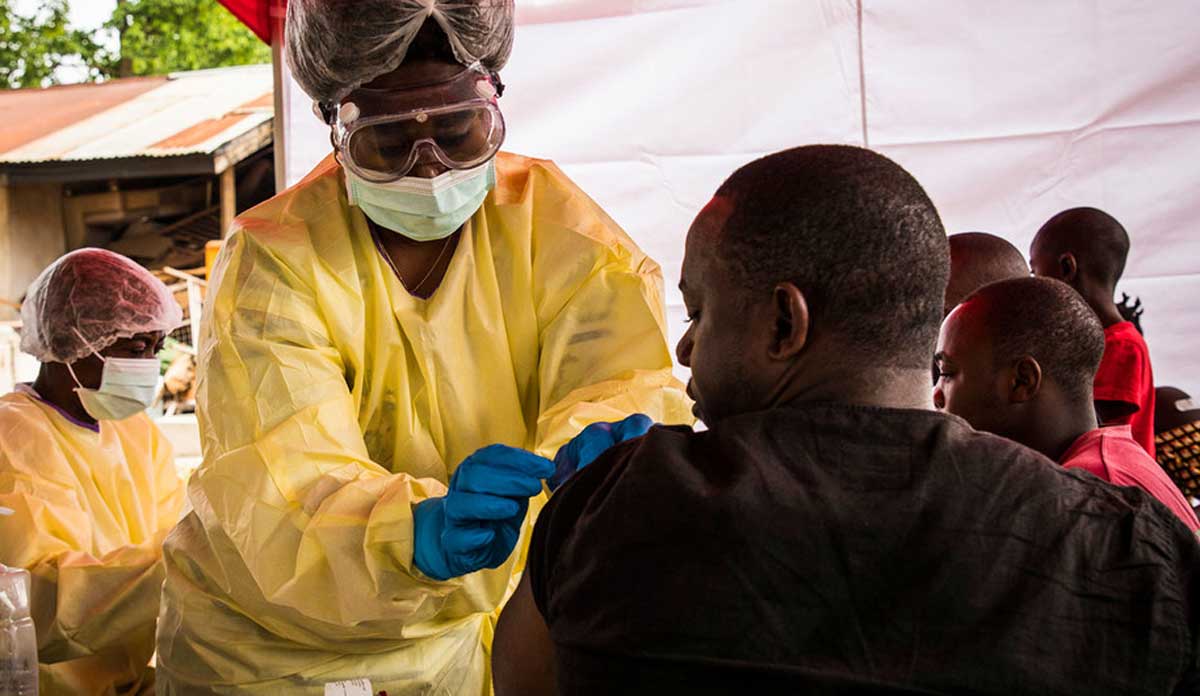 More than 5.7 billion COVID-19 vaccine doses have been administered globally, but only 2% of them in Africa, said World Health Organization (WHO) chief, Tedros Adhanom Ghebreyesus on Tuesday.
The UN agency is urging every country to vaccinate at least 40% of its population by the end of this year, and hopes to help ensure that 70% of the world's population is by the middle of next year.
At a press conference on COVID-19 and vaccine equity in Africa, which is home to more than 1.2 billion people, Mr. Ghebreyesus informed that, so far, just two countries in Africa have reached the 40% target, the lowest of any region.
"That's not because African countries don't have the capacity or experience to roll out COVID-19 vaccines. It's because they've been left behind by the rest of the world," he said.
Mr. Ghebreyesus explained that "this leaves people at high risk of disease and death, exposed to a deadly virus against which many other people around the world enjoy protection."
Risks and solutions
For him, the longer vaccine inequity persists, the more the virus will keep circulating and changing, the longer the social and economic disruption will continue, and the higher the chances that more variants will emerge that render vaccines less effective.
To avoid this situation, last year WHO partnered with UNICEF, CEPI, GAVI and others to create COVAX. So far, the initiative has shipped more than 260 million doses to 141 countries.
Mr. Ghebreyesus pointed to several challenges, with manufacturers prioritizing bilateral deals and many high-income countries tying up the global supply of shots.
He also highlighted a similar initiative, established by the African Union, the COVID-19 Vaccine Acquisition Task Team, known as AVAT.
This Monday and Tuesday, WHO representatives met with the leaders of AVAT "to agree on a way forward", Mr. Ghebreyesus said: "Vaccine inequity is a solvable problem."
Call to countries and manufacturers
He called on manufacturers to prioritize COVAX and AVAT. To countries with high coverage levels, he asked them to swap their near-term vaccines deliveries, fulfil their dose-sharing pledges immediately, and facilitate the sharing of technology.
The WHO chief also called on all countries and manufacturers to share information on bilateral deals, supply and delivery projections and to recognize all vaccines with a WHO Emergency Use Listing.
The African Union's Special Envoy for COVID-19, Strive Masiyiwa, also participated in the briefing, alongside the director of the Africa Centres for Disease Control and Prevention, John Nkengasong, the Under-Secretary-General and Executive Secretary of the Economic Commission for Africa, Vera Songwe, and WHO Regional Director for Africa, Matshidiso Moeti, among others.
Human Rights abuses intensifying in eastern DR Congo
An alarming number of human rights abuses have been carried out against civilians this year by armed groups in eastern Democratic Republic of the Congo, the UN Refugee Agency (UNHCR) said on Friday.
In the two most affected provinces of North Kivu and Ituri, UNHCR and its partners recorded more than 1,200 civilian deaths and 1,100 rapes, constituting a total of 25,000 human rights abuses.
Speaking in Geneva, UNHCR spokesperson Boris Cheshirkov said the violence "continues to cost lives and drive people from their homes". 
Host families 'exhausted'
In total, more than a million Congolese have been internally displaced in the east of the country in 2021, putting "enormous pressure" on those forced to flee and on host families, which have taken in 94 per cent of DRC's forcibly displaced population.
"Host families have shown huge generosity towards their compatriots but are exhausted and in need of support if they are to continue as first responders," Mr. Cheshirkov said.
Those displaced are often forced to return to their place of origin due to harsh living conditions and a lack of food, further exposing them to abuse and violence. He said that 65 per cent of the serious human rights abuses recorded by UNHCR and partners have been inflicted on returnees. 
'State of siege'
Mr. Cheshirkov said attacks attributed to the Allied Democratic Forces (ADF) armed group have increased in brutality since late 2020, and the frequency of killings of civilians has not abated.
This is despite a state of siege being declared in early May 2021 to counter the activities of these armed groups.
He described how armed men identified as members of the ADF raided a village in Irumu Territory, killed 15 civilians, set fire to 10 houses and kidnapped two women, on 3 September.
This was followed on 6 September by an attack by an armed group whose militia members reportedly raped 10 displaced women in Djugu Territory, Ituri province.
UNHCR and partners took the women to the nearest hospital where they received psychosocial and medical support, he said.
According to Mr. Cheshirkov North Kivu and Ituri Provinces are now led by military governments, following the state of siege.
This has led the national army to ramp up its operations and replace civil courts with military tribunals. Some of these armed groups have surrendered after seeing their territory shrink, others have countered military operations with reprisals against villages, and individuals they believe are supporting the government, he said. 
Funding 'critically low'
Despite government efforts to reduce the abuses of armed groups, "our teams continue to hear horrific accounts of sexual violence, extortion, and looting", he said.
Reiterating the UNHCR's call for urgent measures to protect civilians, Mr. Cheshirkov warned that funding "for this humanitarian crisis remains critically low. With less than four months from the end of the year, UNHCR has received just 51 per cent of the $205 million dollars required in 2021 for their operation in DRC, leaving the agency "only able to respond to a small fraction of the population in urgent need".
'Unprecedented funding gap' for 7 million facing hunger in Ethiopia
The World Food Programme (WFP) is facing an unprecedented funding gap of $426 million for its operation in Ethiopia, as the UN agency ramps up delivery to meet the needs of up to 12 million people this year.
This month, WFP started delivering emergency assistance to communities in regions bordering war-torn Tigray. So far, the conflict has forced 300,000 people from their homes and 1.7 million into the nextdoor provinces of Afar and Amhara.
In coordination with Ethiopia's Federal and Regional Government authorities, the goal is to reach 530,000 people in Afar and 250,000 people in Amhara. The operation will scale up as needs increase and funding is received.
In Tigray, food security continues to worsen, and WFP and its partners are struggling to scale up and meet the urgent food needs of 5.2 million people.
Stocks exhausted
Food stocks were almost entirely depleted until Monday, when the first convoy for over two weeks entered the region. Over 100 trucks carried 3,500 metric tons of food and other life-saving cargo, including fuel and health and shelter items.
WFP's Regional Director for Eastern Africa, Michael Dunford, welcomed the collaboration from federal and local authorities to ensure the safety of the convoy.
"But much more is needed, and this momentum must be sustained otherwise we cannot hope to deliver enough food to save millions from falling deeper into hunger," he added.
WFP will reach up to 3 million people in the region, an increase of 900,000 since it took over operations in two north-western districts, Shire town and Tahtay Koraro, from its non-governmental food partners.
"Time is running out for millions across Northern Ethiopia and if we don't get additional funding right away we will be forced to cut rations or, even worse, halt distributions to some four million people we're trying to reach in Afar, Amhara and Tigray in the coming months," said Mr. Dunford.
Security and funding
Across Ethiopia, over 13.6 million people are estimated to be food insecure due to the prolonged combined effects of drought, flooding, desert locust invasions, market disruptions, high food prices, and the COVID-19 pandemic.
The situation has only been made worse by the recent conflict spreading across northern parts of the country.
WFP said it needs the extra $426 million to expand its emergency food assistance response over the next six months. The funds would also provide long-term food security solutions for people as they enter the yearly 'hunger season'.