Bengal's Thriving Cotton Handloom Tant Textile Crafts Looming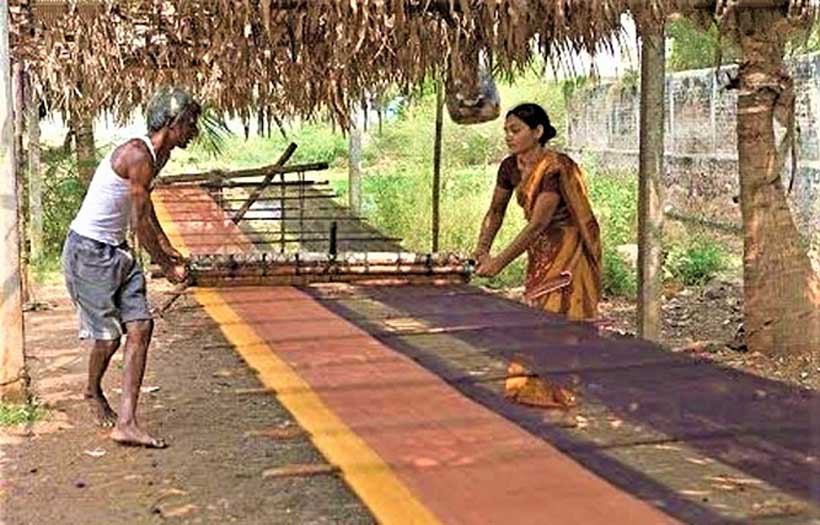 India being a diverse nation endorses and nourishes indigenous ethnic crafts. Every region of India has to offer thriving cultural heritages, a few of those receiving the attention of the mainstream population, while several are failing to do so. Once glorified Bengal's Handloom Tant Textile Crafts falls into the second category, as it's lost the place to be under the spotlight. Even though "Every Handloom Tant Textile Crafts has a unique story to tell—as it is inheriting one of the finest and ancient weaving mechanisms that sprouted in nowhere other than Bengal. Dating back to the 15th century and leaving remarkably earliest trace from Nadia District of West Bengal Handloom Tant Textile Crafts received Royal patronage and retained popularity throughout centuries. Its uniqueness lies in design which mostly includes the depiction of ancient Bengali cultural influences and reflection of Bengali flair. In that sense, Handloom Tant Textile Crafts are very much connected to the soil of Bengal and utterly reflects sustainable, indigenous initiative within the millennials weavers of Bengal, who still feel connected to the ancient essence.
Origins
The word 'Tant' indicates the cotton-based Handloom Textile Crafts, includes Handloom weaved Textiles including Saris, Cloth pieces, Dupattas, Bed Sheets etc.
Shantipur of undivided Bengal, now in Nadia district of West Bengal having earliest record of Handloom Tant Crafts weaving back to 15th century. It remained dominant cultural tradition from 16th to the 18th century and received extensive royal patronage along with the world-famous Muslin and Jamdani Sari of the same genre. In 1947 after the partition of Bengal, a hefty number of weavers migrated especially from Tangail Bangladesh to India and received rehabilitation in different regions including Phulia, Shantipur. Weavers bore their lineal Handloom Tant Textile weaving Crafts with them. Residual weaver communities got settled in the Hooghly and Bardhaman regions of West Bengal. Since then, each region has developed its signature style.
The weaving Technique
Handloom Tant Textile Craftsare woven with locally produced Bengal cotton. The kind of fine handspun yarn being used for Weaving of Handloom Tant Textile Crafts once applied in weaving soft, feather-light Muslin and Mulmul textiles that have been exported and adored globally for ages. The fineness of weaved cotton depends on the yarn quality and it is on the yarn that the textile is fine (combed cotton) or coarser (regular cotton).
Cotton being deftly woven to the thread is further being woven by craftsmen to Tant Textile. It is customary to use shuttles. Though nowadays handlooms have largely been replaced by power looms to weave Tant Textiles, which compromising the quality of Tant Textiles pushing environment-friendly, electricity-saving Handloom on the verge of extinction.
Popular motifs in use
The most popular Handloom Tant Textile Crafts product is Sari. The handloom Tant Textile crafts products other than Sari also depict motifs like Sari. A quintessential six-yard Tant Sari is distinguished by a thick two-to-four-inch border and a decorative Aanchal. Weavers use fine cotton yarn to manifest a variety of floral, paisley, and artistic motifs, attached to the culture of Bengal. Some of the most adored time-honoured motifs of West Bengal's Handloom Tant include bhomra (bumblebee), tabij (amulet), rajmahal (a royal palace), ardha Chandra (half-moon), chandmala (garland of moons), ansh (fish scales), hathi (elephant), nilambari (blue sky), ratan chokh (gem-eyed), benki (spiral), tara (star), kalka (paisley) and phool (flowers), etc. Apart from these regional trends are being followed.
Why Handloom Tant Textile Crafts losing the interest of the mainstream population and what are the way forward?
Because of the advertisement and marketing industry the youth generations are mainly inclined towards high-shine clothing, heavy silks and zari, ignoring or being unaware of clothing science and technology. Handloom Tant Textiles, in comparison, is a modest, soothing clothing based on environment-friendly technique which add real charm to Tant. Elderly people are not even aware of the positive aspects of Handloom Tant Textile Crafts, due to no such promotion leading the Crafts to evade.
What is in particular in Tant to rethink its revival?
Handloom Tant Crafts comes under the range of heritage textiles of West Bengal. Sari-loving Indian women would certainly like to acquire collection of handloom saris from across India. While Handloom Tant Textile Sari would certainly give the blended feeling of heritage and comfort. Most of the Sari-wearing Indian women find themselves particularly attached to Bengal's Handloom Tant and Jamdani Sari. Jamdani Sari belongs to the same genre of Handloom Tant. Tant Jamdani from Dhaka and Shantipur is exceptionally lightweight, characterized by intricately designed motifs that seem to float on the surface of the translucent ultra-fine textile, giving it an almost mystical grace in appearance.
Moreover, Handloom Tant Textile Crafts are comfortable to wear in tropical climatic zones of the world. Tropical, subtropical climates of the Indian subcontinent are exceptionally fine to wear and use such textiles. While most of the raw material being used and the technology being followed in Handloom Tant Textile Crafts is nature friendly and indigenous for the subcontinent. Revival, then on the restoration of the lost glory of Handloom Tant Textile Crafts of Bengal will certainly promote environment-friendly sustainable textile technology basing on the growth of the home-based cottage industry of West Bengal. Employing Indian youth in the process may revamp the initiative in the way Handloom Tant Textile Crafts would get a modern outlook and that will generate youth entrepreneurs to promote indigenous industries and a lot more positive things would happen in this row.
How important the present time is to preserve Handloom Tant Crafts? what could be the way forward?
As an economic industrial activity, the 'Tantshilpa/Tant Crafts' (the art of weaving handloom Textiles) is second only to agriculture in providing a livelihood to the people of certain regions of West Bengal. Ravaging the hope of business in Bengali New Year on April 14, 2020 the ongoing pandemic and ensuing lockdown have led to insurmountable losses to Textile Industry. Handloom Tant Textiles also facing a tremendous challenge for decades losing the interest of younger generations owing to its traditionalism and maintenance cost. The need of the hour is to activate retail for existing stock using e-commerce and involving youth to regenerate the work chain and boost business. The genesis of interest towards such heritage and endangered craft like Handloom Tant Textiles can restore the sentiment and attachment of weavers' communities.
Organizing regular workshops with the weavers offering creative concept and textile design expertise in developing an ongoing collection of modern Tant saris and textiles that can bring the Handloom Tant Industry on-trend. While Tant is a versatile and comfortable fabric especially suited in the climate of India and considerable places of the world and also lends itself well to soft furnishings home decors cum comfortable garments.
Classified Handloom Tant Textile Crafts are being picked by authentic celebrities, dignified women. To revive the Indian Economy in the post-pandemic global crisis, promotion of indigenous Industries based on the authentic handmade, handloom, and traditional crafts are the way out, which is also environment friendly. 'Make in India' and 'buy local' is more relevant now than ever before, as each locally-made purchase directly supports indigenous industry, regional to global work circle, in turn, funds its makers, that is, the craftsmen/women in every level.
The hands that nourish tradition, indigenous crafts need to be celebrated. Direct connection of remote areas Handloom Tant Textiles weavers with well-structuredHandloom Tant Textile Craftswork chain is the way forward that less known regions areas of West Bengal like Santipur, Phulia, Nadia, and Dhaniakhali get counted in the global map of Textile industry representing the glorious Handloom Tant Textile Crafts of Bengal.
Brazilian Favela Art Project – Global Project with Local Focus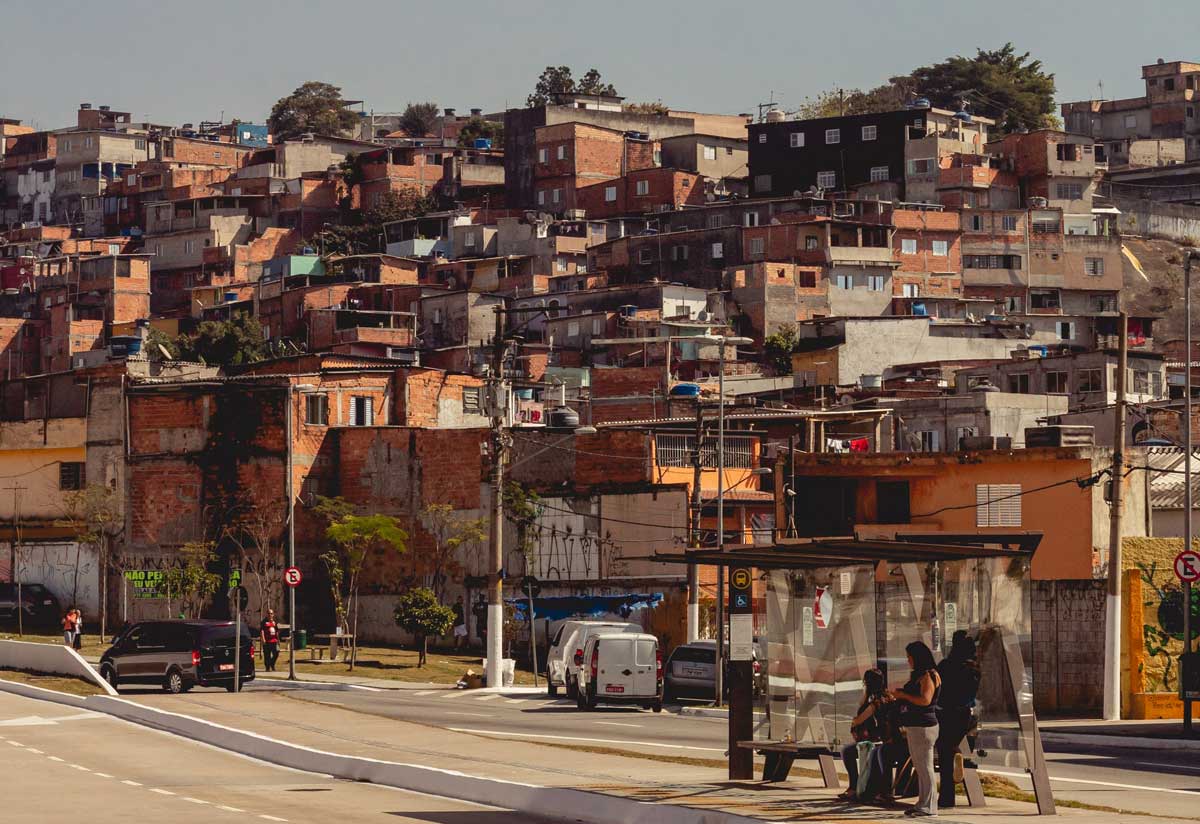 Brazilian Favelas, or shanty slums are some of the most underdeveloped and overly populated regions in Brazil with high levels of crime, violence, gender discrimination and poor levels of hygeine and sanitation. There is an urgent need to spread awareness about healthy lifestyle choices and improve the standards of living for people residing in these slums. This is not just the prevailing situation in slums in Brazil, but across slums worldwide. Inspired by the Misaal Mumbai project led by Rouble Nagi, aimed at painting Dharavi, the largest slum in Asia, located in the suburbs of Mumbai, it is crucial to start similar projects in other slums across the world, like in Brazil. Artwork is a great way to bring about social change and also enhance the landscape of slums. Brazilian slums have poor hygiene, lack of focus on education, higher crime rates, rampant sexism and other social issues. There is a pressing need to instill a better sense of hygiene, importance of education, reduced dropout rate from schools, fueled creativity, inspire a better future, make people aware of their legal rights (specially women), make women more aware of personal hygiene, promote healthier safer living environments, reduced family tensions, improve neighborhood relations and promote less harassment via artwork in Brazilian favelas. While it is unrealistic to expect social workers to visit slums everyday and educate people about social issues, artwork solves the purpose by acting as a constant reminder to slum dwellers about good decision making so they can partake in to be more responsible members of the community. In light of this, we have started a project called Brazilian Favela Art Project aimed at sponsoring artists to visit favelas in Brazil and create artwork on available walls and empty spaces, to promote positive social values. The project is led by me from Mumbai and involves funding from passionate donors across several countries. We work with artists from Brazil to sponsor their artwork in these shanty favelas.
Challenges
There are several challenges arising during the project, mainly because of language barriers. The most widely spoken language in Brazil is Portuguese, whereas most people who are a part of this project do not understand and speak Portuguese. To sort out this issue and to project a more global approach to local issues in slums, specifically Brazilian Favelas, we have added some Portuguese speaking locals from Goa, India to the project. Goa was a former Portuguese colony and still has over 12,000 Portuguese language speakers. These select Portuguese speakers help us to communicate with local artists from Brazil and curate artwork directed at social change in collaboration with them. Since, the artwork produced in the favelas is also in Portuguese language, the messaging is created by English speaking professionals along with Portuguese translators from Goa and Brazil. Hence, the project truly is global involving people speaking various languages across continents.
Another major challenge we face is funding by corporations. Most corporations only want to fund corporate social responsibility projects among their target audience to improve branding. Since favelas house low income populations, most corporations are not interested to heavily invest in social change in the region. Moreover, corporations also have reduced trust in favela residents and believe that the artwork produced will not bear a long term impact since it could be at the risk of mutilation by locals. However, our conversations with local Brazilian artists have proven otherwise. The artwork is preserved by local communities since they see the positive community value in the artwork, as well as benefits to external landscaping that are created. Most of the donors of this project, have therefore been individuals at the moment, and not large corporations. We need to find corporations that are more keenly interested in social change in favelas in Brazil and target them for fundraising. Though the funds required are not very high because the base costing is spent on travel to favelas and paintwork, we aim to create bigger murals across Brazilian Favelas, not just in Rio De Janeiro, where the project currently focuses.
It has also been the case, as local artists have informed us, that artwork against drug consumption is generally mutilated by drug dealers living in favelas, since it is a source of revenue for them. Hence, alternate methods to prevent drug consumption in favelas need to be better researched. There are no other cases of art mutilation in favelas.
Local initiative with global effort
In the age of digital connections, whatsapp groups, telegram chat channels, LinkedIn and other networking spots, there is little scope to go wrong with building global connections and uniting towards a cause. The main source of interaction to create impact has been on zoom, considering the project was founded during the 2020 COVID-19 pandemic, specifically in light of budding news about increased crime rates in slums across the world and increased stronghold of criminal gangs specifically in Brazilian Favelas. Various reports mentioned that Brazilian gang overlords were increasing their stronghold in favelas, enforcing lockdown with a long term focus to ride the wave of the pandemic. Consumption of cocaine and other drugs increased in favelas since drug overlords knew exactly what troubled the favela community members at distinct times during the pandemic. In light of this news, I realized it was crucial to create a global project to solve the rampant issue of crime, violence and drug abuse in favelas, among the most vulnerable communities impacted by the pandemic. I was deeply surprised to see that not enough was being done to support favela dwellers by local community members. Various local initiatives had popped up during the pandemic, but none at all to support favela dwellers in Brazil. The global project – Brazilian Favela Art Project, with a local focus was hence founded out of the pressing need to support favelas in Brazil and promote positive social values.
The initiative involves funders, donors, artists, language translators, public policy enthusiasts and administrative officials from various countries, sharing resourcing and joining hands to bring about positive social development in Brazilian Favelas. It has been a privilege to witness and personally observe the impact of the pandemic in making us realize that we are all united in battling issues. No issue, despite being continents away, is too big for us to not solve or too far for us to care about. With a united, global approach, we can solve any major issue in this world. Social change starts with you and with everything you wish to see differently.
Vidhi Bubna, author of the article is also the Founder of the Brazilian Favela Art Project and aims to reduce crime rates and encourage social change in Brazilian Favelas, specifically in Rio De Janeiro.
UN Geneva open exhibition "The World In Faces"
On November 24, United Nations Geneva hosts "The World in Faces", an exhibition of photos by the renowned Russian photographer Alexander Khimushin. The artist personally presented a collection of artistic photos of representatives of different peoples of the world, photographed in authentic national costumes in their habitat. The 170 large artistic portraits of more than 100 indigenous peoples around the world are on display in the main hall of UN Geneva's Palais des Nations. A big part of the exhibition is dedicated to the indigenous communities of Russia's Siberia and the Far East.
"It is gratifying that the exhibition at the UN this year takes place as the world celebrates the International Human Rights Day. It is a great pride and honour for me to present my photo project at the UN, especially on this momentous day", said Alexander Khimushin.
The idea to create a collection of photographic portraits of indigenous peoples in national dress and in their native environment was born in 2014, when Alexander had already accumulated a considerable amount of work done in the most exotic locations – from Samoa and Fiji to Swaziland. Since then, he has never stopped traveling around the world, and his project is growing and becoming a phenomenon.
In 2018, Khimushin went to the Russian Arctic – Taimyr. The result was a series of portraits of the region's indigenous inhabitants – Dolgans, Nganasans, Enets, Nenets, Evenks.
"Taimyr is unique in that it is a distant, cold place. For me, this was not something new, since I grew up in Yakutia (the Far East of Russia is the cold pole on the planet), but it is the peoples living there – the Nenets, Dolgans, Nganasans, they have a unique culture, their way of life and reindeer husbandry have been preserved. It was interesting to visit, thanks to Norilsk Nickel (The world's largest producer of palladium, one of the largest producers of Nickel, platinum and copper), to get to these places. I would like to return to Taimyr, shoot more there, if there is such an opportunity, "the artist noted.
The Norilsk Nickel company, which takes an active part in the fate of the small peoples of the Arctic, supported the Khimushin project.
"Nornickel has always interacted with the indigenous peoples of the Russian North in an atmosphere of friendship and mutual assistance. This year, the company's relations with the indigenous peoples reached a new level. Based on the UN principles and objectives of sustainable development, we study, with the involvement of leading international experts and the scientific community, the socio-cultural specifics of indigenous life in Taimyr, and the traditions and historical memory of the peoples living in the region. This helps us make our support to indigenous peoples more targeted and effective. Cultural projects and support of traditional folklore and handicrafts are one of the most important components of our projects", said Mikhail Kuznetsov, Nornickel's Director of Federal and Regional Programmes.
Nornickel regularly participates in projects intended to foster economic and social development of Taimy's indigenous communities. In 2020, Nornickel signed a cooperation agreement with organisations representing the interests of the indigenous communities of the North inhabiting the Taimyr Peninsula. Together with them, and based on proposals from the chiefs of indigenous communities, a comprehensive plan for the development of the peoples was developed for a total of RUB 2 bn. The plan is designed for five years. The programme will run until 2024 and includes support for traditional activities, protection of the indigenous habitat, and financing of new homes, hospitals, museums etc.
The photo exhibition will run until December 10, 2021.
Sezzadio: The small village where the great history of the Aleramici began
Men and women of culture, united by the idea of the Euro-Mediterranean Federation on Ancient Medieval Migration, challenges this difficult period of the pandemic with new historical research activities to rediscover and transmit the desire to return to normality.
As part of the project of "Le Vie Aleramiche Normanno Sveve" in Sezzadio, a village near Alessandria where Aleramo was born had been visited on the initiative of the Mayor, Enzo Daniele, the Councilor for Culture Piercarla Bocchio and the local head of FAI Anna Maria Gobello, collected the texts to create an "Aleramici Library" which will be closely linked to the "Aleramici Research Center of Sezzadio". Two honorary presidents are members of our technical-scientific committee: Francesco Barone of the University of Catania, one of the leading experts in the Aleramici history of Sicily and Salvatore Lo Re, historian and President of the National History Society of Piazza Armerina, City of foundation aleramica which, soon, will see the Municipal Library enriched with a section dedicated to the study of its origins. Therefore, a study workshop will be commenced to work in synergy with the parallel Sicilian structure: the prestigious Palermo "Officina Studi Medievali" headed by Prof. Diego Ciccarelli.
Sezzadio, the place of origin of this fascinating story: it is said, in fact, that the noble Aleprando, on a pilgrimage to Rome, stopped in this small town near Acqui Terme with his wife about to give birth and that Aleramo was born here. The municipal administration of Sezzadio, after having already undertaken various projects to enhance the small center of Alessandria and installed explanatory signs at the entrance to the village to highlight its extraordinary historical importance, has enthusiastically joined the proposal of the promoters of the project, Fabrizio Di Salvo and the UNESCO Club of Piazza Armerina, (represented by the President Anna Maria Di Rosa Placa and the Secretary Lavinia Garsia) and took the opportunity to give life to a research center that will be formed in network with the Workshop of Medieval Studies in Palermo and the research activity in Piazza Armerina, a real study center dedicated to ancient medieval immigration "on the contrary".
The fundamental activity was Fabrizio Di Salvo's visit to Sezzadio last summer which allowed to define the membership of the Municipality of Sezzadio to the Euro-Mediterranean Federation on Ancient Medieval Migrations, by virtue of which it benefits from the support of the Coordinator for Northern Italy, Nadia Ghizzi.
The work of identifying the texts and training the library was supported by our technical-scientific committee which boasts among its ranks the Byzantinist Walter Haberstumpf, Prof. Salvatore Trovato, former professor of Linguistics and Glottology at the Department of Humanities of the University of Catania, the Director of Sibrium Magazine and President of the Center for Prehistoric and Archaeological Studies of Varese Lucilla Caramella, Luigi Piano, the President of "Italia Medievale", Maurizio Calì, (who collaborated directly in the creation of the library), as well as the teachers and researchers of prestigious international universities, such as the distinguished medievalist Henri Bresc and Joanna Drell of the University of Richmond in the USA.
To realize the intent of making culture available to all, it is essential to give our research a European breath and make people understand how much the history of the Middle Ages, which took place in a Europe different from the current one, was well-defined in its supranational scope. The project connected France, Italy, and Germany and, in particular, the Municipalities of Hauteville-La-Guichard in France, (where the myth has it that Tancredi, the future lord of Hauteville and progenitor of the Altavilla family, saves the life of Duke Riccardo II of Normandy on a hunting trip); of Göppingen, in Baden-Württemberg near Stuttgart, (where tradition has it that the Swabian dynasty was born) and of Piazza Armerina, a city in Sicily founded by Aleramici in the 12th century. The cultural triangulation will also expand in Sezzadio, in the spirit of continuing to create links between historically similar realities and, currently, it takes the form of collaboration between the municipal administrations, anticipating and preparing the future twinning.
Thanks to the dedication of those who embraced and developed the project from the beginning, today, the Euro Mediterranean Federation for Ancient Medieval Migrations stands out for the adhesion of important figures from the world of culture, of high-level institutions, such as the Library of Alexandria of Egypt, of numerous Italian Municipalities, of Universities and Associations. Despite the interruptions due to the pandemic, the Project has given rise to numerous initiatives such as conferences, lectures, and meetings, and the production of a documentary film shot in the European lands touched by this research: Piedmont, Sicily, France, Turkey, Germany, Greece, and Ukraine.
A powerful work, curated for four years by Fabrizio Di Salvo, which collects precious contributions from excellent scholars and returns the atmosphere of medieval Europe thanks to the choice of splendid locations, such as the Castle of Pomaro in Monferrato, to the costumes of the ancient Samantha Panza's "Principessa Valentina" tailoring from Asti-Italy and coordinated by Gianni Gallo. The exceptional protagonist is the actor Walter Siccardi, an extraordinary interpreter in the role of Aleramo. The shields that recall the emblems of the Aleramici dynasties and parts of the sets used for the shooting will be donated by the Euro-Mediterranean Federation to the Aleramici Research Center in Sezzadio.
We will continue our incessant work of research and historical reconstruction, hoping that it will create opportunities for recovery, resilience, and increasingly nourish the dialogue between people who are only apparently distant.