Taylor & Francis Published China and Eurasia Book Edited by Mher Sahakyan and Heinz Gärtner
Routledge an imprint of the Taylor & Francis Group published China and Eurasia Rethinking Cooperation and Contradictions in the Era of Changing World Order book edited by the director of "China-Eurasia" Council for Political and Strategic Research, Dr. Mher Sahakyan and Professor of University of Vienna, Dr. Heinz Gärtner.
This book facilitates exchanges between scholars and researchers from around the world on China– Eurasia relations. Comparing perspectives and methodologies, it promotes interdisciplinary dialogue on China's pivot towards Eurasia, the Belt and Road Initiative, Beijing's cooperation and arguments with India, the US, EU, the Western Balkans and the South Caucasus states and the Sino– Russian struggle for multipolarity and multilateralism in Eurasia. It also researches digitalization processes in Eurasia, focuses notably on China's Digital Silk Road, and the Digital Agenda of the Eurasian Economic Union. Multipolarity without multilateralism is a dangerous mix. Great power competitions will remain. In the Asian regional system, more multilateral cushions have to be developed. Scholars from different nations including China, India, Russia, Austria, Armenia, Georgia, United Arab Emirates, and Montenegro introduce their own, independent research, making recommendations on the developments in relations, and demonstrating that through joint discussions it is possible to find ways for cooperation and for ensuring peaceful coexistence. The book will appeal to policymakers and scholars and students in Chinese, Eurasian International and Oriental Studies.
Among coauthors of this book are Dr. Yuntian Zheng (Renmin University, PRC), Dr. Ma Bin (Fudan University, PRC), prof. Dr. Konstantin Kurylev (Peoples' Friendship University of Russia) and Dr. Anatoly Tsvyk, Dr. Sudhir Kumar Singh (University of Delhi, India), Dr. Anahit Parzyan ("China-Eurasia" Council for Political and Strategic Research, Armenia), Dr. Vakhtang Charaia and Dr. Mariam Lashkhi from Tbilisi State University (Georgia), Dr. Boris Vukićević (University of Montenegro) and Mr. Ebrahim Hashem from the UAE.
Director General of the Russian International Affairs Council Dr. Andrey Kortunov made the following comment on this new book: "To master the art of multilateralism is a challenging task for every nation, but it is particularly hard for great powers that for centuries looked at their smaller neighbors with hubris and condescension. The authors of the book analyze how this challenge is handled by modern China, revealing both success stories and failures of the current Chinese approaches to Eurasia. The book is a valuable source to all interested in the future Eurasian security and development ecosystems."  
In turn, Resident Professor of International Politics of The Johns Hopkins University Dr. David Arase mentioned: "China and Eurasia documents how China is transforming post-cold war political and economic order in Eurasia. Contributors shed light on key questions such as the responses of Russia, the EU, India, and ASEAN to Chinese initiatives; the impact of China's growing influence on volatile subregions such as the Balkans, the Caucasus, and the Persian Gulf; and what the new dynamic of multipolar competition unchecked by effective multilateral governance might mean for continuing peace and prosperity. This collection is a welcome guide to the new geopolitics of Eurasia set in motion by China's rise toward great power predominance."
Demand for Circular Economy Solutions Prompts Business and Government Changes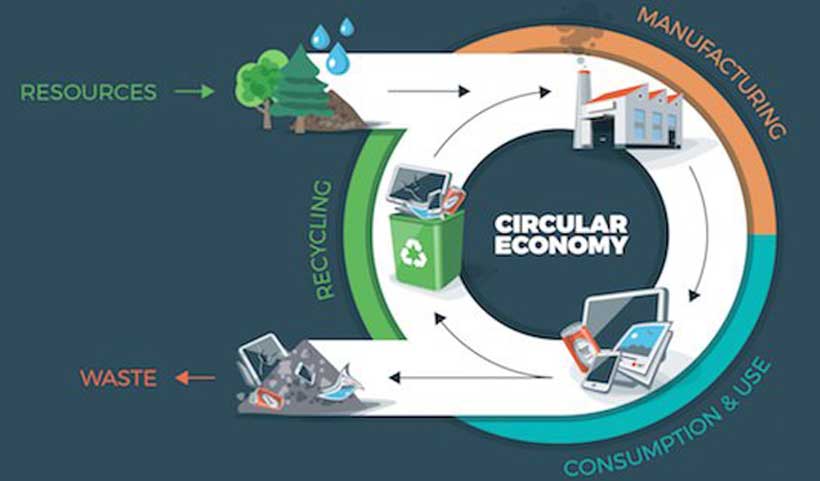 To truly tackle climate goals, the world must transform how it makes and consumes. To support this effort, circular economy initiative Scale360° has expanded its reach from 2 countries to 20 in 2021, taking its unique approach to circular innovation and collaboration to cities, regions and countries around the world, triggering key changes for businesses and governments in how circularity is prioritised and managed.
Scale360°, established in 2019, leverages innovation 'hubs' to bring together leaders in science, policy and business to trigger circular change. They use Scale360°'s unique, tested methodology – the Scale360° Circular Innovation Playbook – to deploy Fourth Industrial Revolution technologies to rethink consumption and production, helping to transform the pipeline of future innovations.
The rapid growth of Scale360° demonstrates the growing demand for guidance on how to enable circular change and collaboration. Highlights from 2021 include:
● Circular Shapers: This initiative, launched this year, mobilised young change-makers in 12 countries to transform their cities into centres of circular economy innovation. Circular Shapers are competitively selected from the Global Shapers Community, a network of young volunteers in 448 city-based hubs around the world.
● Germany: Scale360° Germany is designing a consumer campaign to educate consumers on the environmental impact of 'white goods' (e.g., washing machines, etc.) and empower consumers to lengthen the lifespan of their appliances. This project has been developed in collaboration with Kearney and the Circular Valley.
● Singapore: This new program will improve the conditions for circular scalability in Singapore by engaging Singapore's Deep Tech community and accelerating circular innovation collaborations between startups and corporates. Launched September 2021, this program was developed in collaboration with SGInnovate, a government-backed Deep Tech ecosystem builder and investor.
● Kenya, Bangladesh and India: In these countries, the 2030 Water Resources Group is leveraging Scale360° methodologies, tools and partnerships for scaling up circular economy solutions to improve water resource management in urban, industrial and agricultural sectors. 2030 Water Resources Group is a public-private-civil society partnership hosted by the World Bank Group.
● Argentina: McKinsey.org's flagship initiative Rethinking Recycling – in partnership with Red de Innovación Local (RIL), a network of 200+ Argentine cities' municipal decision-makers – will apply tools from Scale360°'s Circular Innovation Playbook to transform Argentine cities' municipal waste management at scale, aiming to deliver substantive volumes of recyclables and compostables to industry, while also enhancing job opportunities and cost savings for cities.
This momentum comes in addition to the continued evolution of existing programmes. This year, the UAE established a dedicated UAE Circular Economy Council comprising ministers and C-level representatives across public and private sectors. The newly formed cross-ministerial council aims to ensure circular thinking across government is prioritised not only within the Ministry of Climate Change and Environment, but also across the Cabinet, the Ministry of Economy, the Artificial Intelligence Office and local government entities in each emirate. The council serves as a board of advisors for Scale360° in the UAE, and provides a platform for government, business and civil society leaders to share best practices in circular innovation.
"With these changes in place, we can create truly resilient systems that strengthen economies while pursuing the latest innovations," said His Excellency Dr Abdullah Belhaif Al Nuaimi, UAE Minister of Climate Change and Environment and Chair of the UAE Circular Economy Council.
Chile's SOFOFA hub, with the support of the country's Ministry of Environment, is convening the country's largest industry groups together to accelerate circularity by integrating value chains within sectors such as mining, energy, pulp and paper, food and beverages and more. Additionally, entrepreneurs, innovators and civil society members are actively working together to collaborate and build new circular business models at this critical time for the environment and economies.
"Circularity as a concept is still relatively nascent in this region, despite the critical role it plays in helping us achieve our sustainability targets. This is something we hope to change as part of the global Scale360° network, by integrating circular innovation into our mission of building Singapore's Deep Tech economy," said Dr Lim Jui, CEO, SGInnovate.
Such efforts pave the way for collaborations between cities, countries and regions and much-needed system-wide change. "System-wide change requires a system-wide re-thinking of collaboration," said Shannon Bouton, President and CEO, McKinsey.org. "We are always partnering with those who are best placed to drive and scale change for maximum efficiency and impact."

The wider adoption of Scale360° principles sets the stage for a more circular future as leaders rethink innovation. Added Scale360°'s Global Lead, Helen Burdett: "With every city, country and region, we are building a flywheel for change."
More Than 2.5 Billion Trees to be Conserved, Restored, and Grown by 2030
Companies from across sectors are working to support healthy and resilient forests through the World Economic Forum's 1t.org trillion tree platform. With the launch of 1t.org's global pledge process this September, over 20 companies have pledged to conserve, restore and grow more than 2.5 billion trees in over 50 countries by 2030.

The trillion trees goal does not replace net-zero emission programmes – business and industries still need to decarbonize to meet our climate targets. 1t.org was launched to support the growing momentum around nature-based solutions, to mobilize the global restoration community and to empower anyone who wants to play a part. The community shares best practices, promotes responsible forestry practices, and scales solutions to have global impact.

Nicole Schwab, Co-Director, Platform to Accelerate Nature-Based Solutions, World Economic Forum said: "We are at a tipping point. It is our collective responsibility to leave behind a planet that is habitable for future generations. The private sector has a key role to play in bringing their expertise to the table and investing in natural climate solutions, such as restoration. It is encouraging to see more and more companies embracing this needed transition towards net-zero, nature-positive business models."

The initial wave of companies making global pledges to 1t.org include: Amazon, APRIL Group, AstraZeneca, Brambles, Capgemini, Clif Bar, Daterra Coffee, Eni, HP Inc., Iberdrola, Mastercard, Nestle, PepsiCo, Salesforce, SAP, Shell, Suzano, Teck Resources Ltd., tentree, Travelers, Unilever, UPS, VMware, and Zurich Insurance Group. Their pledges can be viewed here as of Thursday 23 September at 16:15 CEST.

"Pledging to 1t.org was a natural fit for UPS," said Nikki Clifton, president of social impact and The UPS Foundation. "UPS's commitment to plant more than 50 million trees by 2030, in alignment with the United Nations Sustainable Development Goals, is promoting global equity and well-being for underserved communities in cities and developing countries worldwide. It's another example of UPS's 543,000 employees moving our world forward by delivering what matters."

Companies also work collaboratively through the 1t.org Corporate Alliance to drive impact by committing to leadership, action, integrity, transparency and learning. The alliance allows companies to jointly tackle common challenges and connects companies with 1t.org's community of innovators, partners and regional chapters.

"1t.org Corporate Alliance discussions have given us valuable insights into how other companies are devising and managing their own restoration and conservation projects. The platform provides a great space for mutual learning and ideas," said Craig Tribolet, Head of Sustainability Operations, APRIL Group. "1t.org also allows us to share updates on our own journey to champion thriving landscapes, as part of our production-protection approach, and on the progress we have made against our long-term sustainability commitments," he said.

How Trees Can Play Their Part

Healthy and resilient trees and forests are one part of the efforts needed to combat climate change. Studies have shown trees can reduce urban heat island effects by up to 5°C and energy costs by $7.8 billion a year. Globally, sustainable management of forests could create $230 billion in business opportunities and 16 million jobs worldwide by 2030. From a health perspective, trees absorb 17.4 million tons of air pollutants a year, helping to prevent 670,000 cases of asthma and other acute respiratory symptoms annually. The chance of extreme wildfires occurring also decreases dramatically when forests are managed properly by, for example, growing specially-selected tree species in burned areas and using novel planting techniques for resilience to future wildfires. 

1t.org encourages all corporations that have set a Paris Agreement-aligned emissions reduction target to get in touch and submit a pledge.

Lighthouse Partnerships Gain Momentum on Social Justice
Crises in climate, health and inequality are compelling organizations to align business strategies with equity and social justice values.
In a new whitepaper, Lighthouse Action on Social Justice Through Stakeholder Inclusion, the World Economic Forum, in collaboration with Business for Social Responsibility (BSR) and Laudes Foundation, shines a light on emerging corporate momentum supporting stakeholder inclusion and social justice.
Through the case studies of nine "lighthouse examples," the report chronicles how the following companies and coalitions are establishing stakeholder inclusion models and best business practices in three key areas:
Making investments targeting impacted communities in value chains and ecosystems:
– The Resilience Fund for Women in Global Value Chains (UN Foundation, BSR, Women Win/Win-Win, Gap Foundation, PVH Foundation, H&M Foundation, the VF Foundation, and the Ralph Lauren Corporate Foundation)

– In Solidarity Program (Mastercard)

– Replenish Africa Initiative (The Coca-Cola Foundation)
Influencing public policy and speaking out as corporate citizens:

– Open for Business Coalition (39 major corporations)

– Racial Equality and Justice Task Force (Salesforce)

Applying rigorous accountability practices and sharing power with workers in supply chains and communities:

– Unilever's Living Wage commitment (Unilever)

– Farmer Income Lab (Mars, ABinBev, Danone, Oxfam, IDH, Livelihoods Fund for Family Farming, UNDP)

– Amul Supplier Cooperative Ownership (Amul)

– Patagonia's Implementation of Regenerative Organic Certified Standards in its Apparel Supply Chain (Patagonia)
The whitepaper outlines successes and pain points as these leading lighthouse partnerships between business and civil society strive for more meaningful participation with communities most impacted by systemic injustices. Each business is unique in its culture and path to long-term value creation, but all are committed to the belief that stakeholder primacy leads to optimal outcomes.
The time to move forward with these ideals is now, and the conclusion is clear in that, "…the crises of pandemic, protest and social disruption have created an inflection point for many companies to evaluate their corporate sustainability strategies," said David Sangokoya, Head, Civil Society and Social Justice, World Economic Forum. "Stakeholder inclusion must be at the centre of any corporate action on equity and social justice in our unequal world…positioning business on the path towards redesigning business models that shift power and value towards stakeholder primacy."