What Would Happen to the World Without the United States?
The United States is often referred to as an "indispensable nation." The term was first used in January 1997 by President Bill Clinton during his second inaugural address. Madeleine Albright would mention it in her speeches and writings on numerous occasions after that. The underlying idea of "indispensability" here is that it suggests it would simply be impossible to maintain even relative order in the world—let alone resolve fundamental global and regional issues—without the United States. It is likely no coincidence that the coinage came about and gained traction at a time when we were living in an almost completely "unipolar" world, when U.S. influence and authority around the globe had risen to never-before-seen heights over an incredibly short period of time.
But let us take a moment and think about it: Just how indispensable is the United States today as we live through the rapidly evolving world of the 2020s? To answer this question, I propose a thought experiment: imagine if tomorrow, due to some circumstances within the country, the United States were to completely depart from world politics, break all the international agreements to which Washington is a party, renounce all the obligations the country has undertaken, withdraw from all global and regional organizations, close the borders, shut down the embassies and consulates, freeze immigration and put all communication with the outside world on hold until things are looking better, focusing all its attention on building its biblical "shining city upon a hill".
What would happen to the world if the United States were erased from the map?
To begin with, there would only be one nuclear superpower left in the world, and that would be Russia. Accordingly, the last foundations of bilateral U.S.–Russia strategic arms control will collapse. It is unlikely that other nuclear powers would be particularly interested in entering into negotiations with Moscow on nuclear weapons, as the gap between Russia and all the other players is simply too great. It is even less likely that Moscow will agree to relinquish its unique nuclear advantage over the rest of the world. However, unconditional nuclear superiority does not automatically mean that Moscow would be able to freely dictate its will in global politics. The nuclear arsenals of other countries would continue to be effective deterrence instruments, and a war between the members of the "nuclear club" would be just as implausible as it is today.
That said, nuclear proliferation is likely to significantly aggravate. In the absence of the "extended deterrence" of the United States, many of its former allies and partners would think about acquiring nuclear weapons of their own. This primarily implies countries in East Asia (Japan, South Korea and Taiwan) and the Middle East (Saudi Arabia, Turkey and Egypt). The idea of building up a nuclear arsenal may also take hold in Germany. Some five or six new nuclear powers could appear in short order.
While it is unlikely that nuclear proliferation in East Asia would lead to a sharp escalation of military and political risks, the emergence of new nuclear states in the Middle East would be fraught with dire consequences—both for the region and for the international community as a whole. That said, we should acknowledge that the threat of nuclear proliferation exists even today, and this can in large part be put down to the approach of the United States to resolving issues related to the Iranian nuclear programme.
Would NATO be able to survive in a world without the United States? Theoretically, yes, but only if the European great powers—the United Kingdom, Germany and France—put the maximum political, economic and military effort into it. The remaining countries in the bloc will have to increase their defence contributions by more than the two per cent on which Washington insists today to some four or five per cent. Even this, though, would not offset the losses that NATO would incur as a result of the U.S. withdrawal. Without American leadership, NATO would likely turn into a regional military and political instrument of the European Union—while London's role in the organization would be unclear seeing as it is no longer in the EU—and NATO would have a far more modest role in world affairs than it has today. Without the United States, it is unlikely that NATO would continue to pursue its current global ambitions, and the remaining members may be rather reluctant to endlessly expand the organization's zone of geographic responsibility.
In a world without the United States, China would almost automatically become the undisputed leader in global technology. Although Europe, Japan, India and Southeast Asian nations would likely have greater incentive to join forces to challenge China's hegemony in this area. With this in mind, it is hard to say whether it would be possible to create a global technological ecosystem that would be independent of Beijing without the United States. This would largely depend on how rigid or flexible Beijing's hegemony would actually turn out to be as well as on the extent to which China would manage to avoid monopolizing the new technologies that are fundamental to the global community at large.
The euro would inevitably become the main reserve currency once the dollar exits the global financial system. The Chinese yuan is not entirely convertible, which means that it would be a long time before China could compete with the European Union in the financial sphere. Other global currencies—such as the British pound, the Japanese yen and the Swiss franc—could gain in importance. European and Asian financial centres (London, Frankfurt, Shanghai, Singapore, etc.) would receive additional powerful incentives for development.
International financial institutions (the International Bank for Reconstruction and Development and the International Monetary Fund), where the United States has traditionally played a leading role, would undergo sweeping—and likely very painful—reforms. As a sidenote, we shall argue that the United Nations would also suffer a profound institutional crisis, losing both its current headquarters in New York and approximately 22 per cent of its base budget, as well as the U.S. contributions to individual UN departments and programmes. The Arctic Council would suffer less, as the American sector of the Arctic is far smaller than that of Russia and Canada. What is more, the United States has not yet ratified the United Nations Convention on the Law of the Sea, which somewhat complicates Washington's position in the Arctic Council.
The absence of the United States on the world's energy markets could lead to a temporary revival of OPEC and a strengthening of Russia's positions. The "green" and "shale" revolutions will continue unabated, however. Washington's departure from the global arms and foodstuff markets would also result in a significant restructuring of these markets. Even with the joint efforts of the remaining players, the gap left by the United States in the arms market would be extremely difficult to fill.
With Hollywood no longer the centre of the global film industry, cities that used to hold that position—primarily Paris and Rome—would have the chance to revive their former cinematic glory. However, European filmmakers would face tough competition on the global entertainment market from filmmakers of Indian and, in particular, Chinese origin The disappearance of New York from world fashion would give a second wind to Paris and Milan, while the United Kingdom would probably become the centre of musical life for a long time to come.
The departure of Apple—and its iPhones and MacBooks—from the portable electronics markets would create a vacuum that a dozen of the biggest electronics giants in China, Japan, South Korea and Taiwan would fight to fill. America's self-imposed isolation would send shockwaves through higher education and science markets globally to reverberate for decades to come.
Quite naturally, the world would not lapse. It would survive the departure of the United States just like it survived the extinction of the dinosaurs and woolly mammoths. It would be difficult and extremely uncomfortable at first, especially for those international players who have been hiding in the shadow of the American superpower for decades. The withdrawal of the United States would lead to a number of crises and conflicts and a long period of instability and uncertainty as the struggle for the "American legacy" would inevitably be long and tense. Somehow, we would still get through it! Plus, the world already had a preview of Washington as an unpredictable and unreliable partner during Donald Trump's presidency. It will actually be easier to resolve certain problems without Washington, since the U.S. is often part of the problem rather than part of the solution.
At the same time, I guess the world would miss the United States. We would miss the American optimism, the American energy and the American drive. We would miss the high-rise buildings of Manhattan, the narrow streets of the French Quarter in New Orleans and the expansive prairies of the Great Plains. We would miss the country music, the Chicago-style steaks and the Californian nutmeg chardonnay. We would miss Halloween, Thanksgiving and, perhaps, Independence Day. Just like the entire world would miss Russia, Argentina, Ethiopia and New Zealand. Every single country is unique and indispensable in its own way. In this sense, the United States truly is an indispensable nation.
From our partner RIAC
China And U.S. Are On the Brink of War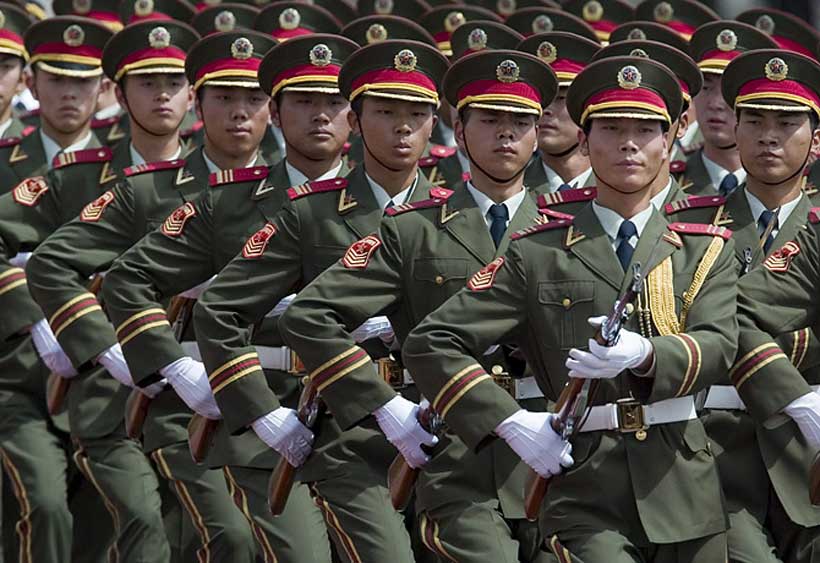 Right now, the neocons that Biden has surrounded himself with are threatening to accuse him of having 'lost Taiwan' if Biden backs down from his many threats to China, threats that the U.S. Government will reverse America's "One China" policy, which has been in place ever since the 28 February 1972 "Shanghai Communique", when the U.S. Government signed with China to the promise and commitment that "The United States acknowledges that all Chinese on either side of the Taiwan Strait maintain there is but one China and that Taiwan is a part of China. The United States Government does not challenge that position. It reaffirms its interest in a peaceful settlement of the Taiwan question by the Chinese themselves." If Biden sticks with that, and fails to follow through on his threats that America will invade China if war breaks out between Taiwan and China, then the neocons will say that the U.S., under Biden, has failed to 'stand up for our allies', and that therefore China will have effectively beaten America to become the #1 power, on his watch — merely because he had refused to change U.S. policy in the way that the neocons (America's "Military-Industrial Complex" or "MIC" or weapons-manufacturers — and their many lobbyists and supporters in Congress, the press, and elsewhere) have recently been demanding.
The Truman-created CIA edits, and even writes, Wikipedia; and, so, Wikipedia's article on "Taiwan" opens by saying "Taiwan,[II] officially the Republic of China (ROC),[I][h] is a country in East Asia.[21][22]" But that assertion of Taiwan's being "a country," instead of a province of China, is a lie, not only because Taiwan (despite its propaganda urging the U.N. to accept it to become a member-nation of the U.N.) has not been accepted by the U.N. as a member-nation, but also because the U.S. Government itself promised, in 1972, that both in fact and in principle, the U.S. opposes any demand that might be made by any government of Taiwan to become a separate nation — no longer a part of China. Ever since 1972, any such demand by a government in Taiwan violates official U.S. Government policy since 1972, and is merely another part of the MIC's wishful thinking, that America will invade China. So: the demand by the neocons, for America's Government to support a public declaration by Taiwan's government that it is no longer a part of China, is part of the pressure upon Biden, to yield to the Pentagon lobby (which largely made him the President). Biden's threats might be made in order to satisfy his financial backers, but, if he fulfills on any of those threats, there will then be a war between America and China.
China is insisting that the anti-communist Chinese who in 1945 escaped to China's island of Formosa or Taiwan — which Japan had conquered and militarily occupied between 1895 and 1945 — illegitimately controlled that land just as the Japanese had illegitimately controlled it between 1895 and 1945, and so China claims that Taiwan remains and has remained a province of China, as it has been ever since at least 1683, when China's Qing Dynasty formally declared it to be a part of China. Taiwan was ruled that way until 1895, when Japan conquered China and one provision of the peace-treaty was that Taiwan would henceforth be part of Japan's territory, no longer Chinese.
After WW II, when FDR's America was allied with China against Japan, Truman's America (the source of neoconservatism, or overt U.S. imperialism) supported the anti-communist Chinese, not mainland China, and therefore generally backed Taiwan's independence from the mainland. However, that intense Trumanesque U.S. neoconservatism ended formally with the 1972 Shanghai Communique. And Biden is now considering whether America will go to war in order not only to restore, but now to further intensify, Truman's neoconservative, imperialistic, U.S. thrust — going beyond even Truman.
Here is how that is currently playing out:
On September 10th, the Financial Times headlined "Washington risks Beijing ire over proposal to rename Taiwan's US office" and reported that the neocons were pressing for Biden to change the diplomatic status of Taiwan's "representative office in Washington" so as to become, in effect, a national Embassy. "A final decision has not been made and would require President Joe Biden to sign an executive order." This executive order would, in its implications, terminate the Shanghai Communique, and go back to the hard 'anti-communist' (but actually pro-imperialistic) policy in which the U.S. Government will be bringing its weapons (and maybe also its soldiers) close enough to China so as to be able to obliterate China within ten minutes by a surprise nuclear attack which would eliminate China's retaliatory capabilities. It would be even worse than the 1963 Cuban Missile crisis endangered America. So, of course, China's Government wouldn't tolerate that. And they don't.
On September 12th, the Chinese Government newspaper Global Times issued "Teach the US, Taiwan island a real lesson if they call for it: Global Times editorial", which stated that:
If the US and the Taiwan island change the names, they are suspected of touching the red line of China's Anti-Secession Law, and the Chinese mainland will have to take severe economic and military measures to combat the arrogance of the US and the island of Taiwan. At that time, the mainland should impose severe economic sanctions on the island and even carry out an economic blockade on the island, depending on the circumstances.
Militarily, Chinese mainland's fighter jets should fly over the island of Taiwan and place the island's airspace into the patrol area of the PLA. This is a step that the mainland must take sooner or later. The name change provides the Chinese mainland with sufficient reason to strengthen our sovereign claim over the island of Taiwan. It is anticipated that the Taiwan army will not dare to stop the PLA fighter jets from flying over the island. If the Taiwan side dares open fire, the Chinese mainland will not hesitate to give "Taiwan independence" forces a decisive and destructive blow.
More importantly, if the Chinese mainland turns a blind eye to the US and the Taiwan island this time, they will definitely go further in the next step. According to reports, Joseph Wu, leader of the external affairs of the Taiwan island, participated in the talks between senior security officials from the US and the island in Annapolis on Friday. Next time, they may publicly hold the meeting even in the US State Department in Washington DC. As the US will hold the "Summit for Democracy" by the end of this year, if we do not contain the insolence of the US and the Taiwan island, Washington might even really invite Tsai Ing-wen to participate in the summit. It will be much worse in nature than former Taiwan regional leader Lee Teng-hui's visit to the US as an "alumnus" in 1995.
Will peace come if the Chinese mainland puts up with all this and swallows its anger for the sake of peace? If the mainland doesn't strike back decisively, US warships will dock at the island of Taiwan, its fighter aircraft will land on the island and its troops may be stationed in the island again. At that time, where will be China's prestige as a great power? How can the country maintain its system of defending its interests on the international stage?
So: either the U.S., or else China, must back down — or else, there will be war between China and the U.S.
Of course, each side has its allies. Perhaps UK will put its neck on the line to conquer China, and perhaps Russia will put its neck on the line to conquer America, but in any case, the result if Biden yields to the neocons, will be World War III.
They press him hard. For example, the British neocon, Niall Ferguson, wrote in the Economist, on August 20th:
There is nothing inexorable about China's rise, much less Russia's, while all the lesser countries aligned with them are economic basket cases, from North Korea to Venezuela. China's population is ageing even faster than anticipated; its workforce is shrinking. Sky-high private-sector debt is weighing on growth. Its mishandling of the initial outbreak of covid-19 has greatly harmed its international standing. It also risks becoming the villain of the climate crisis, as it cannot easily kick the habit of burning coal to power its industry.
And yet it is all too easy to see a sequence of events unfolding that could lead to another unnecessary war, most probably over Taiwan, which Mr Xi covets and which America is (ambiguously) committed to defend against invasion. …
The ambitions of China's leader, Xi Jinping, are also well known — along with his renewal of the Chinese Communist Party's ideological hostility to individual freedom, the rule of law and democracy. … If Beijing invades Taiwan, most Americans will probably echo the British prime minister, Neville Chamberlain, who notoriously described the German bid to carve up Czechoslovakia in 1938 as "a quarrel in a far away country, between people of whom we know nothing". …
That brings us to the crux of the matter. Churchill's great preoccupation in the 1930s was that the government was procrastinating — the underlying rationale of its policy of appeasement — rather than energetically rearming in response to the increasingly aggressive behaviour of Hitler, Mussolini and the militarist government of imperial Japan. A key argument of the appeasers was that fiscal and economic constraints — not least the high cost of running an empire that extended from Fiji to Gambia to Guiana to Vancouver — made more rapid rearmament impossible.
It may seem fanciful to suggest that America faces comparable threats today — not only from China, but also from Russia, Iran and North Korea. Yet the mere fact that it seems fanciful illustrates the point. The majority of Americans, like the majority of Britons between the wars, simply do not want to contemplate the possibility of a major war against one or more authoritarian regimes, coming on top of the country's already extensive military commitments.
Scholars get well paid to write such propaganda for the MIC (companies such as Lockheed Martin). Comparing China's Government with that of Nazi Germany, and proposing that Biden become, for present-day America, what (the equally imperialistic) Churchill was for Britain's in the late 1930s, might be stupid enough, in just the right way, to inspire someone like Biden, in precisely the wrong way, as it's intended to do. If so, there will be WW III.
On September 14th, the Editor-in-Chief of Global Times wrote that "China has absolutely no way to retreat. The one-China principle is the fundamental principle that we must insist on." Similarly, in the 1963 Cuban Missile Crisis — when the Soviet Union was about to place its missiles on an island near America's coast — America was willing to go to WW III if necessary in order to prevent that from happening. America established its "red line," and the Soviet Union did not cross it. We'll see what Biden does. And, if he makes the wrong decision, we'll then see what Russia does.
Biden Overstates by 700% Effectiveness of Covid Vaccines
The White House said on September 9th that "recent data indicates there is only 1 confirmed positive [covid-19 disease] case per 5,000 fully vaccinated Americans per week."
Its announcement fails to link to any source on that allegation. However, if Biden got that estimate from the New York Times, then he was definitely overstating it by 700%. And America's 'news'-media, at press conferences, don't ask politicians, "Where do you get those data? What assurance do you have that they are trustworthy?" Instead, mere allegations by public officials are reported as if they should be accepted as being facts.
All of America's recent Presidents have been similarly casual and untrustworthy about the truthfulness of their allegations, such as they were about "Saddam's WMD." The whole world therefore has good reasons to distrust what America's Presidents say. It's certainly the case with this President. Why do people trust them any longer? Either the U.S. official builds policies on the basis of his/her falsehoods, or aims to deceive people; and, in either case, what that person says won't be trusted by any intelligent person.
In this particular instance, another dubious news-source (besides Biden), the New York Times, had headlined, two days earlier, on September 7th, "One in 5,000: The real chances of a breakthrough infection." However, that allegation ("One in 5,000") likewise failed to link through to its source and to describe the methodology behind that estimate, though it did allege that the estimate was somehow based upon "statistics from three places that have reported detailed data on Covid infections by vaccination status: Utah; Virginia; and King County, which includes Seattle, in Washington state. All three are consistent with the idea that about one in 5,000 vaccinated Americans have tested positive for Covid each day in recent weeks."
Perhaps President Biden had read that headline (from two days before), and didn't read the Times's news-report itself, which said not "1 confirmed positive case per 5,000 fully vaccinated Americans per week" but instead "that about one in 5,000 vaccinated Americans have tested positive for Covid each day in recent weeks." In other words: Biden's estimate, of a one-in-5,000 chance per week, is overstating by 700% the Times's news-report's estimate, which said per day — not per week.
The Times's news-report then upped its own ante to only a one-in-10,000-per-day chance in America's largest cities, which are more-leftist, less rightist, than most of America, and which therefore believe more in government-regulation (such as to control covid) and so have a higher percentage of vaccinated population: "Here's one way to think about a one-in-10,000 daily chance: It would take more than three months for the combined risk to reach just 1 percent."
Consequently, if that's correct, then for a person in the more-rural America (assuming that the Times's data and calculations are sound), the likelihood, at one-in-5,000, would have an average resident there facing a 2% chance of becoming sick with covid-19 during a 3-month period, if "fully vaccinated." Furthermore, the Times alleges that "The infection rates in the least vaccinated states are about four times as high as in the most vaccinated states." If that is true, then a reasonable assumption would be that vaccination is effective, and that therefore the Republican Party position on this matter — that the government shouldn't impose penalties against unvaccinated individuals as part of a program to protect the public's health (the health of the entire public) — is false, and the Democratic Party's position on this matter is true.
The Morning Consult poll of residents in 15 countries recently headlined and reported:
"The U.S. Has a Higher Rate of Vaccine Opposition Than Any Country Tracked Besides Russia"
2 September 2021
#1: Russia: 27% unwilling, 16% uncertain.
#2: U.S.: 17% unwilling, 10% uncertain.
#15(last): China: 1% unwilling, 1% uncertain.
Previously, these had been the figures:
"The U.S. Has a Higher Rate of Vaccine Opposition Than Any Country Tracked Besides Russia"
10 June 2021
#1: Russia: 32% unwilling, 24% uncertain.
#2: U.S.: 20% unwilling, 12% uncertain.
#15(last): China: 2% unwilling, 4% uncertain.
Ever since those polls started on 13 May 2021, Russia has been #1 and China has been #15. However, U.S. hasn't consistently been #2.
How, then, do those countries rank on performance regarding covid-19?
That's shown by going to worldometers and clicking there twice onto the column that's headed "Tot cases/1m pop". Of the 223 ranked countries:
China is #9, the ninth-best country, at 66 cases per 1 million population.
Russia is #132, at 48,645 cases per million.
U.S. is #209 at 124,729 cases per million. It is the only non-small country that performs this poorly. Every one of the yet-worse countries has below 5 million population except Czechia, which has a population of 10,732,613.
As regards current covid trends:
China has extremely few new cases.
Russia's new cases have been declining since July 16th.
America's new cases have been declining since August 27th.
As regards Czechia, all of its bad performance ended in June. On 1 March 2021, Czechia introduced a draconian lockdown; and, after March 3rd, the raging epidemic began its decline. On 15 March 2021, Al Jazeera headlined "Czech Republic: What's behind world's worst COVID infection rate?" and reported:
Leading expert in viral sequencing, Jan Pačes from the Academy of Sciences, talks to Al Jazeera about the severity of the pandemic and calls on the government to take stricter precautions.
Al Jazeera: How did the country go from having some of the lowest infection rates in Europe to the highest in the world?
Jan Pačes: The Czech Republic is currently in its fourth wave of the pandemic and the healthcare system is reaching its limits.
The Czech government has consistently showed incompetent leadership, failing to protect public health, governing through populism rather than taking on expert advice.
As regards China (which arguably has the world's best performance at controlling covid-19): the New York Times indicates vaccination-rates throughout the world, which shows, for China 78% of its residents as having received one shot, and 69% two.
U.S. is 63% and 53%.
Russia is 31% and 27%.
Czechia is 56% and 55%.
Vietnam is 21% and 3.9%.
Vietnam had been, for a long time, the country that had the world's lowest covid-19 infection-rate, but they were left flat-footed and drastically unprepared for the Delta variant, with virtually no access to vaccines, and Vietnam's covid-19 infection-rate started soaring in May 2021 and peaked on August 26th. During that time, Vietnam's performance fell from #1 to #67 on infection-rate ("Tot cases/1M pop"). Vietnam's Government, which previously had been so proud of its performance, is now intensively struggling with the pandemic.
Within the United States itself, the worst-performing states, in order, as-of September 10th, are Tennessee (163,936), Florida (160,016), North Dakota (159,064), Rhode Island (156,183), Arkansas (155,735), Mississippi (154,667), South Dakota (153,909), Louisiana (152,814), South Carolina (151,474), and Alabama (150,212). (Nine of those ten states had voted for Donald Trump.)
For comparison, see these nations: U.S. (124,729), China (66), Czechia (156,763), Russia (48,645), Vietnam (5,991).
Don't Magnify America's Failures
According to America's gleeful enemies, the hasty withdrawal from Afghanistan is merely a foretaste of the world to come, a place where smaller countries seeking to join a Western community of prosperity and political freedom are instead damned to disappointment and defenselessness.
For regions from the Baltic to the Black and Caspian seas, as well as the great states and island nations of East Asia, where America's security guarantees play a crucial role in containing revisionist powers, it is a time to take stock and consider what has changed. For Russia and China, this clearly seems like a happy time.
Yet despite the often-heartrending television coverage, America's weaknesses have been exaggerated. There are certainly lessons for U.S. allies to draw from the Afghan exit, but the Russo-Chinese message of imperial decline, the time-honored theme of panicked legions returning to Rome, is too simplistic. Something more subtle is happening.
The vulnerable flanks vary in importance to the U.S.'s geopolitical calculus. True, Georgia and Ukraine are less likely to receive decisive military support from the U.S. than, for example, Japan or South Korea, but the space from the Baltic to the South Caucasus is nevertheless critical to the West. Abandoning it would be tantamount to inviting Russian military and coercive economic action against the neighbors.
The political elites in Ukraine and Georgia are more focused on America's long-term posture. After all, the withdrawal from Afghanistan fits into the overall recalibration of U.S. foreign policy away from parts of western Asia and eastern Europe to the Indo-Pacific.
This certainly opens up the space for China's greater engagement in Europe's periphery. China is a natural candidate because of the willingness of the communist regime to invest in strategic infrastructure in geopolitically important regions. Both Georgia and Ukraine have long seashores on the Black Sea which makes them attractive to China's communist grand planners. Both also seek investment for their decrepit railway, ports, and road infrastructure. The unsuccessful Chinese bid in 2016 to build the Anaklia deep sea port was just an example of the likely future Chinese involvement in the region.
All in all, against the widely circulated view that China will remain a minor player in the South Caucasus, everything points to the conclusion that it is just getting started. The Black Sea and the South Caucasus are a part of the trade corridor from Central Asia to the EU. Therefore, Chinese efforts in the Black Sea cannot be viewed in separation from the developments in Central Asia and the Caspian Sea.
Changes are also taking place in Ukraine and Georgia as both countries seek alternative options to their geopolitical fixation on the West. Take, for example, Ukraine. On June 30, China and Ukraine signed an agreement proposing a revamp of the country's decrepit infrastructure. Coming at the same time that the U.S. prioritized Germany by stepping away from the dispute over the Nord Stream 2 pipeline, despite longstanding concerns of Ukraine and other CEE nations, this may foreshadow a future in which Central and East European states recognize a growing unwillingness in the West to advance their aspirations and act accordingly.
In Georgia, similar processes are at play. Over the past several month's tensions with the European Union (EU) have grown in intensity. In the latest move, the ruling Georgian Dream party rejected a €75m euro credit. Like Ukraine, Georgia is being encouraged to limit its dependence on the West.
This, however, does not mean Georgia and Ukraine are reneging on their pro-Western aspirations. Rather, both are making a more realistic assessment. And realism in this case means a multi-vector foreign policy slowly emerging as an order of the things to come. It will provide space for maneuverability and opportunities elsewhere. The Western card no longer provides sufficient financial or security incentives for Georgia and Ukraine to stand unwaveringly against Russian influence. And while Iran, Turkey, India, and others provide some alternative options, none are as powerful and attractive as China.
Even so, even at this difficult time, there are positives. Ukraine and the U.S. have just signed an intergovernmental agreement on a strategic defense framework and a $60m security assistance package including Javelin anti-tank missiles. In Georgia, the depth of the relationship with the U.S. is wide-ranging and is likely to remain so.
Both Georgia and Ukraine rely on the U.S. since it is the only viable defense against Russia. And America's shift of attention from eastern Europe to the Indo-Pacific region is not complete. The U.S. might be less hawkish when it comes to further NATO expansion to the Black Sea region and some level of rapprochement with Russia could be sought. But extrapolating America's failures in Afghanistan onto other regions is self-defeating, and most importantly, analytically incorrect.
Author's note: first published in cepa