How indigenous knowledge can help prevent environmental crises
Nemonte Nenquimo has spent years fending off miners, loggers and oil companies intent on developing the Amazon rainforest.
The leader of Ecuador's indigenous Waorani people, she famously fronted a 2019 lawsuit that banned resource extraction on 500,000 acres of her ancestral lands — a court win that gave hope to indigenous communities around the world.
But Nenquimo, a 2020 United Nations Champion of the Earth, isn't only hoping to save the Waorani. By protecting the Amazon, an important store of greenhouse gases, she's hoping to save the planet.
"If we allow the Amazon to be destroyed… that affects us as indigenous peoples, but it will also affect everyone because of climate change," says Nenquimo. "The struggle we do is for all humanity."
On the International Day of the World's Indigenous Peoples, experts say governments must learn from the environmental examples set by indigenous communities, some of which have lived in harmony with nature for thousands of years. Otherwise, we risk accelerating the triple planetary crisis the world faces of climate change, biodiversity loss, and pollution.
"Biodiversity loss and climate change, in combination with the unsustainable management of resources, are pushing natural spaces around the world, from forests to rivers to savannahs, to the breaking point," says Siham Drissi, Biodiversity and Land Management Programme Officer with the United Nations Environment Programme (UNEP). "We absolutely need to protect, preserve and promote the traditional knowledge, customary sustainable use and expertise of indigenous communities if we want to halt the damage we're doing – and ultimately save ourselves."
An ailing Earth
The planet is home to more than 476 million indigenous people living in 90 countries. Together, they own, manage or occupy about one-quarter of the world's land. It is territory that has fared far better than most of the rest of the Earth.
A landmark 2019 report from the United Nations-backed Intergovernmental Science-Policy Platform on Biodiversity and Ecosystem Services (IPBES) found that the natural world is declining at a pace unprecedented in human history. Some three-quarters of the planet's dry land has been "significantly altered" by human actions, which has imperiled crucial ecosystems, including forests, savannahs and oceans while pushing 1 million species towards extinction.
While environmental decline is accelerating in many indigenous communities, it has been "less severe" than in other parts of the world, the report found.
Experts say that is due in part to centuries of traditional knowledge and, in many communities, a prevailing view that nature is sacred. This knowledge, "encompasses practical ways to ensure the balance of the environment in which we live, so it may continue to provide essential services such as water, fertile soil, food, shelter and medicines," says Drissi.
Conservation leaders
In many parts of the world, indigenous communities are at the forefront of conservation, according to a recent report supported in part by UNEP. In the Democratic Republic of Congo, the Bambuti-Babuluko community is helping to protect one of Central Africa's last remaining tracts of primary tropical forest. In Iran, the semi-nomadic Chahdegal Balouch oversee 580,000 hectares of fragile scrubland and desert. And in Canada's far north, Inuit leaders are working to restore caribou herds, whose numbers had been in steep decline.
Including indigenous peoples and local communities in environmental governance and drawing from their knowledge enhances their quality of life. It also improves conservation, restoration, and the sustainable use of nature, which benefits society at large.
Indigenous groups are often better placed than scientists to provide information on local biodiversity and environmental change, and are important contributors to the governance of biodiversity at local and global levels, the IPBES report noted.
Despite that, indigenous groups often see their land exploited and dispossessed and struggle to have a say in what happens in their territories.
"Governments need to recognize that cultural heritage and traditional knowledge of indigenous peoples and local communities significantly contribute to conservation and can enhance national and global action on climate change," says Drissi.
A key part of that process, she added, is recognizing indigenous land claims and embracing traditional ways of managing land.
Mounting threats
Because their lives are often intimately tied to the land, indigenous communities have been among the first to face the fallout from climate change. From the Kalahari Desert to the Himalaya Mountains to the Amazon Rainforest, droughts, floods and fires have beset communities already struggling with poverty and incursions onto their land. That makes it all the more imperative for the outside world to acknowledge the rights and practices of indigenous communities, said Nenquimo.
"The extractivists, the capitalists, the government – they say indigenous people are ignorant," she says. "We, the indigenous people, know why climate change is happening… [humanity is] damaging and destroying our planet. As indigenous people, we must unite in a single objective: that we demand that they respect us."
Most agricultural funding distorts prices, harms environment
Around 87% of the $540 billion in total annual government support given worldwide to agricultural producers includes measures that are price distorting and that can be harmful to nature and health.
That is the main finding of a new UN report calling for repurposing these incentives to achieve more of the 2030 Sustainable Development Goals and realize the UN Decade of Ecosystem Restoration.
The report, A multi-billion-dollar opportunity: Repurposing agricultural support to transform food systems, was launched on Tuesday by the Food and Agriculture Organisation (FAO), the UN Development Programme (UNDP) and the UN Environment Programme (UNEP).
Switch investments
Global support to producers in the form of subsidies and other incentives, makes up 15 per cent of total agricultural production value. By 2030, this is projected to more than triple, to $1.759 trillion. The OECD defines agricultural support, as the annual monetary value of gross transfers to agriculture, from consumers and taxpayers, arising from government policies.
Current support mostly consists of price incentives, such as import tariffs and export subsidies, as well as fiscal subsidies which are tied to the production of a specific commodity or input.
The report says these are inefficient, distort food prices, hurt people's health, degrade the environment, and are often inequitable, putting big agri-business ahead of smallholder farmers, many whom are women.
Last year, up to 811 million people worldwide faced chronic hunger and nearly one in three people in the world (2.37 billion) did not have year-round access to adequate food. In 2019, around three billion people, in every region of the world, could not afford a healthy diet.
Change, don't eliminate
The reports note that, even though most agricultural support today has negative effects, around $110 billion supports infrastructure, research and development, and benefits the general food and agriculture sector.
It argues that changing agricultural producer support, rather than eliminating it, will help end poverty, eradicate hunger, achieve food security, improve nutrition, promote sustainable agriculture, foster sustainable consumption and production, mitigate the climate crisis, restore nature, limit pollution, and reduce inequalities.
Wake-up call
The Director-General of FAO, Qu Dongyu, said the report "is a wake-up call for governments around the world to rethink agricultural support schemes to make them fit for purpose to transform our agri-food systems and contribute to the Four Betters: Better nutrition, better production, better environment and a better life."
Agriculture is one of the main contributors to climate change. At the same time, farmers are particularly vulnerable to impacts of the climate crisis, such as extreme heat, rising sea levels, drought, floods, and locust attacks.
According to the report, "continuing with support-as-usual will worsen the triple planetary crisis and ultimately harm human well-being."
Meeting the goals of the Paris Agreement requires shifting support especially in high-income countries for an outsized meat and dairy industry, which accounts for 14.5 per cent of global greenhouse gas emissions. In lower-income countries, governments should consider repurposing their support for toxic pesticides and fertilizers or the growth of monocultures.
For the Executive Director of UNEP, Inger Andersen, "governments have an opportunity now to transform agriculture into a major driver of human well-being, and into a solution for the imminent threats of climate change, nature loss, and pollution."
From India to the UK
The report shares several case studies, such as the Indian state of Andhra Pradesh, that adopted a policy of Zero Budget Natural Farming; or the Single Payment Scheme, in the United Kingdom, that removed subsidies in agreement with the National Farmers Union (NFU).
In the European Union, crop diversification has been incentivized through reform of the Common Agricultural Policy (CAP), and in Senegal a programme called PRACAS incentivizes farmers to cultivate more diverse crops.
UNDP Administrator, Achim Steiner, believes repurposing agricultural support "can improve both productivity and environmental outcomes." For him, this change "will also boost the livelihoods of the 500 million smallholder farmers worldwide, many of them women, by ensuring a more level playing field."
The report is being launched ahead of the 2021 Food Systems Summit convened by the UN Secretary-General António Guterres, due to take place on 23rd September in New York.
The Summit will launch bold new actions to deliver progress on all 17 SDGs, each of which relies to some degree on healthier, more sustainable and equitable food systems.
Climate Change Could Force 216M People to Migrate Within Their Own Countries by 2050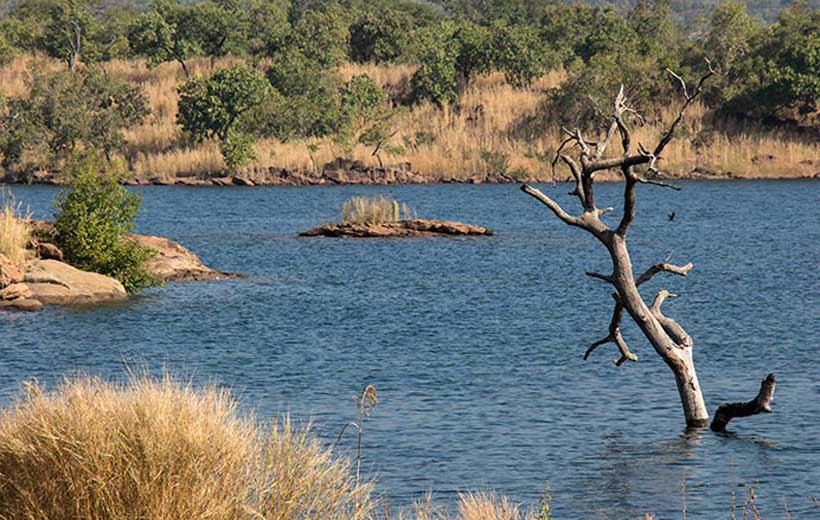 The World Bank's updated Groundswell report released today finds that climate change, an increasingly potent driver of migration, could force 216 million people across six world regions to move within their countries by 2050. Hotspots of internal climate migration could emerge as early as 2030 and continue to spread and intensify by 2050. The report also finds that immediate and concerted action to reduce global emissions, and support green, inclusive, and resilient development, could reduce the scale of climate migration by as much as 80 percent.
Climate change is a powerful driver of internal migration because of its impacts on people's livelihoods and loss of livability in highly exposed locations. By 2050, Sub-Saharan Africa could see as many as 86 million internal climate migrants; East Asia and the Pacific, 49 million; South Asia, 40 million; North Africa, 19 million; Latin America, 17 million; and Eastern Europe and Central Asia, 5 million.
"The Groundswell report is a stark reminder of the human toll of climate change, particularly on the world's poorest—those who are contributing the least to its causes. It also clearly lays out a path for countries to address some of the key factors that are causing climate-driven migration," said Juergen Voegele, Vice President of Sustainable Development, World Bank. "All these issues are fundamentally connected which is why our support to countries is positioned to deliver on climate and development objectives together while building a more sustainable, safe and resilient future."
The updated report includes projections and analysis for three regions: East Asia and the Pacific, North Africa, and Eastern Europe and Central Asia. It builds on the novel and pioneering modeling approach of the previous World Bank Groundswell report from 2018, which covered Sub-Saharan Africa, South Asia, and Latin America.
By deploying a scenario-based approach, the report explores potential future outcomes, which can help decision-makers plan ahead. The approach allows for the identification of internal climate in- and out- migration hotspots, namely the areas from which people are expected to move due to increasing water scarcity, declining crop productivity, and sea-level rise, and urban and rural areas with better conditions to build new livelihoods.
The report provides a series of policy recommendations that can help slow the factors driving climate migration and prepare for expected migration flows, including:
Reducing global emissions and making every effort to meet the temperature goals of the Paris Agreement.
Embedding internal climate migration in far-sighted green, resilient, and inclusive development planning.
Preparing for each phase of migration, so that internal climate migration as an adaptation strategy can result in positive development outcomes.
Investing in better understanding of the drivers of internal climate migration to inform well-targeted policies.
The Real Cost of Speeding on People and the Environment
Reducing road speeds represent a major yet under-appreciated opportunity not only to improve road safety and save lives but also promote sustainable mobility, and benefits such as increased efficiency and inclusion, according to a new publication by the World Bank's Global Road Safety Facility (GRSF).
The report, titled "Road Crash Trauma, Climate Change, Pollution and the Total Costs of Speed: Six graphs that tell the story," sheds light on common misunderstanding of the impacts of speed on road safety, congestion, pollution, and the cost of travel.
Well-established evidence in the note makes a stronger case for lowering speed to be one of the most effective ways to enhance road safety. For example, a one percent increase in speed results in a 3.5 to 4-percent increase in deaths.
It finds that applying lower speed limits might make more economic sense. Analyses of higher speeds often focus only on the benefits of saving travel time and omit critical economic costs in the form of crashes, emissions, fuel, and vehicle maintenance. Meanwhile, several studies show that in high-income countries, travel speeds which are economically optimal are lower than expected and typically lower than the posted speed limits.
"We understand that there is a strong need for evidence-based and targeted interventions to improve road safety in Vietnam," said Rahul Kitchlu, the World Bank Acting Country Director for Vietnam. "We hope that policy makers can leverage this publication to develop measures that work, especially as the country is preparing an updated version of the National Road Safety Strategy and Action Plan."
The note argues that rather than relying on enforcement alone, a combination of vehicle policies, road design, and engineering would allow for a stronger, more sustainable, and often more politically viable strategy for speed management.
The note also highlights other benefits fundamental to sustainable mobility associated with lower speeds. They include reduced climate change impacts of road transport, increased efficiency (fuel and vehicle maintenance), improved inclusion, and walkability.
Despite extensive efforts, the number of road crashes in Vietnam remain high. In 2018, the National Traffic Safety Committee of Vietnam reported 18,700 traffic crashes killing 8,200 and injuring another 14,800 people. This averages to around 22 road traffic fatalities and 41 road traffic injuries per day. 82% of those killed or injured on the roads fall into the economically productive age groups between 15 and 64 years.
Editor's Note:
The Global Road Safety Facility (GRSF), hosted by the World Bank, provides funding, knowledge, and technical assistance to build and scale up knowledge, technological, managerial, and delivery capacities for road safety of low- and middle-income countries. GRSF has received total donor pledges of $74 million, in addition to support from the World Bank in its hosting capacity. GRSF's road safety work has expanded to 81 countries improving road safety outcomes through technical assistance, training and capacity building, as well as grant-funded activities. GRSF has received numerous prestigious international awards and recognitions for its work, including, most recently, three 2020 Prince Michael Awards for its effective delivery of global road safety.