Using the Private Sector to Spark Investment for Change in Latin America
Authors: Antonio Garrastazu, Rima Kawas and Valerie Dowling*
The Northern Triangle countries of El Salvador, Guatemala, and Honduras and their neighbor Mexico are some of the most dangerous countries in the world. In 2020, El Salvador and Honduras were listed among the top ten countries with the highest global crime rates. Aside from a focus on crime, much has been written regarding the root causes of the mass exodus of people from these four countries, but more than any other factor we can trace the roots of violence and flight to governmental failures, especially in three key areas– corruption, poor governance, and lack of human rights.
The private sector serves as vital partners in addressing these failures. The Northern Triangle is one of the top foreign policy priorities of the Biden administration—Vice President Kamala Harris's first foreign trip was to Guatemala and Mexico; the United States Agency for International Development (USAID) Administrator, Samantha Power, recently visited the region, as have numerous U.S. officials, and the U.S. has named a Special Envoy, Ricardo Zúñiga, to the region. The administration's FY 22 budget requests over $800 million for the Northern Triangle, with a push for $4 billion in assistance within four years. In addition, the recent call to action by the White House encouraging businesses to invest in economic development across the Northern Triangle and Mexico is more important than ever, especially in light of the economic fallout from COVID-19. For these investments in time and money to succeed, partnership with the private sector is critical.
With over a million deaths from COVID-19, Latin America continues to be a hotspot. To help the region recover, the international development community should build on the momentum of private sector partnerships begun during the pandemic. This work goes beyond vaccine development and distribution. For example, during the shortage of hand sanitizers, breweries across the U.S. made hand sanitizers and donated it to first responders. Other companies are helping produce ventilators and PPE. These are examples of the ways in which government and civil society in Latin America need to leverage the private sector to help address key economic development challenges that countries are experiencing because of the COVID-19 pandemic and on the road to recovery.
Insecurity and lack of basic governance in certain communities in each of these countries has created a mass exodus of people seeking safe shelter and a better future for their families. Rising crime and corruption lead to instability, abandoned houses and farms, and a rise in food insecurity. The corruption that comes hand in hand with such instability stifles innovation and limits economic opportunities, creating push factors for economic-driven migration. The economy and crime rates are interrelated. A small business owner, someone who owns a convenience store, for example, will see fewer customers if the crime rate in their neighborhood increases. A report by the United Nations Office on Drugs and Crime highlighted this link during the 2008 economic global recession. And a working paper (research in progress) currently underway by the International Monetary Fund in Honduras shows the crime rate there is reducing GDP by 3 percent. The report states that when crime falls by "5 percent…it leads to about a one percent increase in output per capita."
Private sector investment is a necessary tool for addressing the root causes of migration through a collaborative, whole of government approach. Whole of government refers to a coordinated agenda put in place by several ministries and public agencies to offer solutions to a problem. The pillars of this strategy—combating corruption, reinforcing democratic institutions, strengthening the rule of law, improving human rights and security, and providing opportunities for economic growth, are fundamental to the sustainability and viability of democratic governance and democracy in the region.
The international development community should leverage President Biden's Northern Triangle plan by engaging more directly with both U.S. and international companies to invest in the region through public private partnerships. Microsoft, Mastercard and Nespresso, for example, have committed to making investments that range from expanding internet access, enhancing financial and banking services to targeted populations, and partnering with coffee growers in El Salvador and Honduras.
To further strengthen American investment in the region, the U.S. International Development Finance Corporation should complement private sector financing and continue to help small and medium sized enterprises strengthen private incentives in development. This whole of government approach is fundamental to long term sustainability in the region. Successful partnerships will require a stable and predictable political and security climate. Rule of law must prevail because a secure environment is fundamental for private sector investments.
To move these important goals forward, the International Republican Institute (IRI) is helping local governments and leaders build Local Economic Development Engines, or LEDEs. LEDEs bring the private sector, municipal leaders and citizens together to design local solutions to local challenges. This collaboration ensures citizens have buy-in and the support they need for sustainability. IRI has worked with the private sector, academe and civil society organizations in Mexico that serve as anti-corruption watchdogs and who are pushing for anti-corruption legislation. A whole of society approach, with governance at its core, is the only viable solution to stem the root causes of migration.
Three vital steps will encourage the private sector to engage as a partner and power innovative investment in the region. First, it is important to create partnerships early, right from the first spark of an idea, so as to engage the private sector from inception. Second, the international development community should think of the private sector as a long-term partner, a partner that can provide expertise to solve problems ranging from corruption to inefficient service delivery. Finally, the international development community should listen to the private sector in the local communities to understand the governance challenges they are facing and to ensure that their solutions will help local businesses thrive and expand.
The root causes of migration can only be addressed with the help of the private sector working as a true partner and investor in regional development.
Antonio Garrastazu is Regional Director for Latin America and the Caribbean at the International Republican Institute where he focuses on citizen-centered governance, legislative strengthening, political inclusion, and election integrity, among others. Antonio has over 20 years of experience working in inter-American relations in the realms of business, government, and academics.
Rima Kawas is a Senior Advisor at the International Republican Institute where she focuses on providing technical advice on private sector engagement and governance. Rima leverages her extensive experience working in government, most notably as a Senior Policy Advisor to a former Governor and her work at a Fortune 50 company to provide technical advice to address key democratic challenges.
Valerie Dowling is Director of Women's Democracy Network at the International Republican Institute where she focuses on women's political and civic participation, leadership, and representation globally and also works on private sector engagement. Valerie has worked in the political process from grassroots campaigns to the White House.
AUKUS aims to perpetuate the Anglo-Saxon supremacy
On September 15, U.S. President Joe Biden worked with British Prime Minister Boris Johnson and Australian Prime Minister Scott Morrison together to unveil a trilateral alliance among Australia-U.K.-U.S. (AUKUS), which are the major three among the Anglo-Saxon nations (also including Canada and New Zealand). Literally, each sovereign state has full right to pursue individual or collective security and common interests. Yet, the deal has prompted intense criticism across the world including the furious words and firm acts from the Atlantic allies in Europe, such as France that is supposed to lose out on an $40-billion submarine deal with Australia to its Anglo-Saxon siblings—the U.K. and the U.S.
Some observers opine that AUKUS is another clear attempt by the U.S. and its allies aggressively to provoke China in the Asia-Pacific, where Washington had forged an alliance along with Japan, India and Australia in the name of the Quad. AUKUS is the latest showcase that three Anglo-Saxon powers have pretended to perpetuate their supremacy in all the key areas such as geopolitics, cybersecurity, artificial intelligence, and quantum computing. In short, the triple deal is a move designed to discourage or thwart any future Chinese bid for regional hegemony. But diplomatically its impacts go beyond that. As French media argued that the United States, though an ally of France, just backstabs it by negotiating AUKUS in secret without revealing the plan. Given this, the deal among AUKUS actually reflects the mentality of the Anglo-Saxon nations' superiority over others even if they are not outrageously practicing an imperialist policy in the traditional way.
Historically, there are only two qualified global powers which the Europeans still sometimes refer to as "Anglo-Saxon" powers: Great Britain and the United States. As Walter Mead once put it that the British Empire was, and the United States is, concerned not just with the balance of power in one particular corner of the world, but with the evolution of what it is today called "world order". Now with the rise of China which has aimed to become a global power with its different culture and political views from the current ruling powers, the Anglo-Saxon powers have made all efforts to align with the values-shared allies or partners to create the strong bulwarks against any rising power, like China and Russia as well. Physically, either the British Empire or the United States did or does establish a worldwide system of trade and finance which have enabled the two Anglo-Saxon powers to get rich and advanced in high-technologies. As a result, those riches and high-tech means eventually made them execute the power to project their military force that ensure the stability of their-dominated international systems. Indeed the Anglo-Saxon powers have had the legacies to think of their global goals which must be bolstered by money and foreign trade that in turn produces more wealth. Institutionally, the Anglo-Saxon nations in the world—the U.S., the U.K, Canada, Australia and New Zealand—have formed the notorious "Five eyes alliance" to collect all sorts of information and data serving their common core interests and security concerns.
This is not just rhetoric but an objective reflection of the mentality as Australian Foreign Minister Payne candidly revealed at the press conference where she said that the contemporary state of their alliance "is well suited to cooperate on countering economic coercion." The remarks imply that AUKUS is a military response to the rising economic competition from China because politics and economics are intertwined with each other in power politics, in which military means acts in order to advance self-interested economic ends. In both geopolitical and geoeconomic terms, the rise of China, no matter how peaceful it is, has been perceived as the "systematic" challenges to the West's domination of international relations and global economy, in which the Anglo-Saxon superiority must remain. Another case is the U.S. efforts to have continuously harassed the Nord Stream 2 project between Russia and Germany.
Yet, in the global community of today, any superpower aspiring for pursuing "inner clique" like AUKUS will be doomed to fail. First, we all are living in the world "where the affairs of each country are decided by its own people, and international affairs are run by all nations through consultation," as President Xi put it. Due to this, many countries in Asia warn that AUKUS risks provoking a nuclear arms race in the Asian-Pacific region. The nuclear factor means that the U.S. efforts to economically contain China through AUKUS on nationalist pretexts are much more dangerous than the run-up to World War I. Yet, neither the United States nor China likes to be perceived as "disturbing the peace" that Asian countries are eager to preserve. In reality, Asian countries have also made it clear not to take either side between the power politics.
Second, AUKUS's deal jeopardizes the norms of international trade and treaties. The reactions of third parties is one key issue, such as the French government is furious about the deal since it torpedoes a prior Australian agreement to purchase one dozen of conventional subs from France. Be aware that France is a strong advocate for a more robust European Union in the world politics. Now the EU is rallying behind Paris as in Brussels EU ambassadors agreed to postpone preparations for an inaugural trade and technology council on September 29 with the U.S. in Pittsburgh. European Commission President Ursula von der Leyen declared in a strong manner that "since one of our member states has been treated in a way that is not acceptable, so we need to know what happened and why." Michael Roth, Germany's minister for European affairs, went even further as he put it, "It is once again a wake-up call for all of us in the European Union to ask ourselves how we can strengthen our sovereignty, how we can present a united front even on issues relevant to foreign and security policy." It is the time for the EU to talk with one voice and for the need to work together to rebuild mutual trust among the allies.
Third, the deal by AUKUS involves the nuclear dimension. It is true that the three leaders have reiterated that the deal would be limited to the transfer of nuclear propulsion technology (such as reactors to power the new subs) but not nuclear weapons technology. Accordingly, Australia remains a non-nuclear country not armed with such weapons. But from a proliferation standpoint, that is a step in the direction of more extensive nuclear infrastructure. It indicates the United States and the U.K. are willing to transfer highly sensitive technologies to close allies. But the issue of deterrence in Asia-and especially extended deterrence-is extremely complicated since it will become ore so as China's nuclear arsenal expands. If the security environment deteriorates in the years ahead, U.S. might consider allowing its core allies to gain nuclear capabilities and Australia is able to gain access to this technology as its fleet expands. Yet, it also means that Australia is not a non-nuclear country any more.
In brief, the deal itself and the triple alliance among AUKUS will take some years to become a real threat to China or the ruling authorities of the country. But the deal announced on Sept. 15 will complicate Chinese efforts to maintain a peaceful rise and act a responsible power. Furthermore, the deal and the rationales behind it is sure to impede China's good-will to the members of AUKUS and the Quad, not mention of their irresponsible effects on peace and prosperity in the Asia-Pacific region.
Was Trump better for the world than Biden, after all?
Joe Biden and the State Department just approved a major deal with the Saudis for 500mln in choppers maintanance. Effectively, the US sold its soul to the Saudis again after the US intelligence services confirmed months ago that the Saudi Prince is responsible for the brutal killing of journalist Jamal Khashoggi. The Biden administration is already much more inhumane and much worse than Trump. Biden doesn't care about the thousands of American citizens that he left behind at the mercy of the Taliban, the Biden administration kills innocent civilians in drone strikes, they are in bed with the worst of the worsts human right violators calling them friendly nations.
Biden dropped and humiliated France managing to do what no US President has ever accomplished — make France pull out its Ambassador to the US, and all this only to go bother China actively seeking the next big war. Trump's blunders were never this big. And this is just the beginning. There is nothing good in store for America and the world with Biden. All the hope is quickly evaporating, as the world sees the actions behind the fake smile and what's behind the seemingly right and restrained rhetoric on the surface. It's the actions that matter. Trump talked tough talk for which he got a lot of criticism and rarely resorted to military action. Biden is the opposite: he says all the right things but the actions behind are inhumane and destructive. It makes you wonder if Trump wasn't actually better for the world.
Biden's worrisome construct of security and self-defense in the first year of his term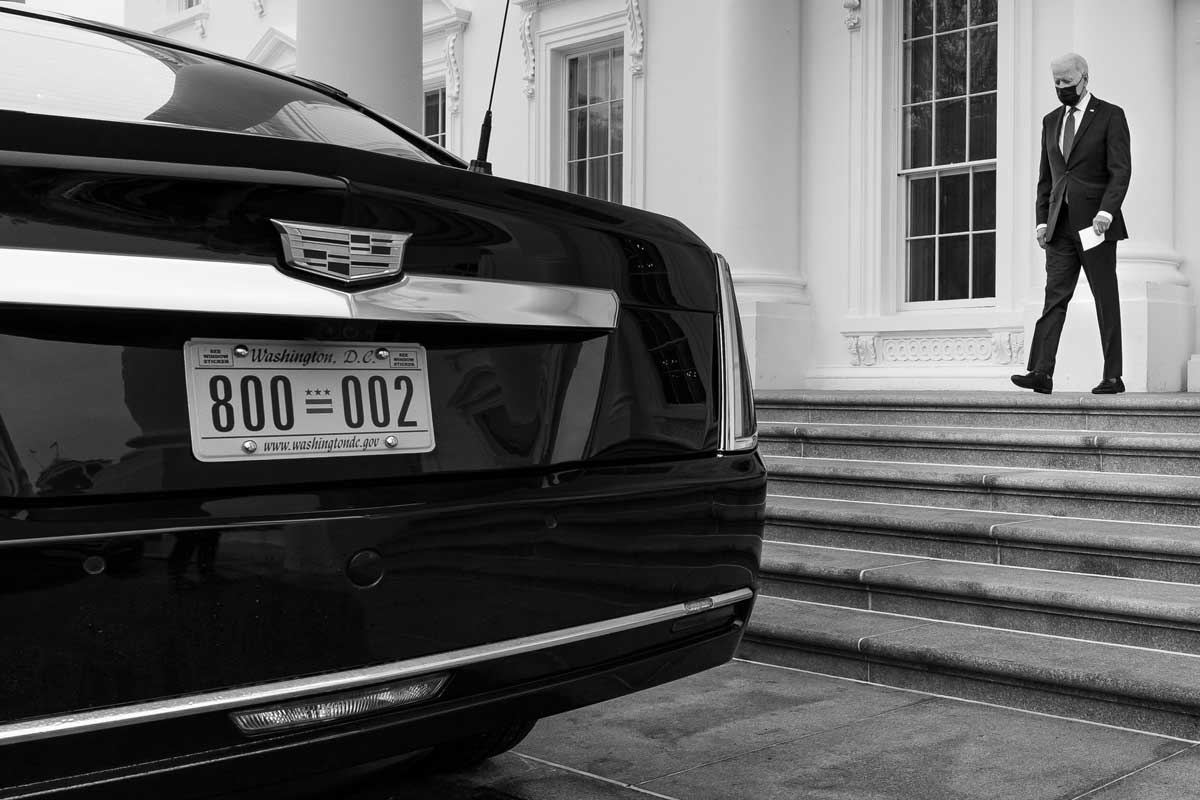 US President Joe Biden's foreign policy is failing so far. He can't get the Iran nuclear diplomacy on track. The Afghanistan withdrawal was a disaster seen by all, placing an unusually high number of weapons and armaments in the hands of the Taliban and leaving everyone behind, to the point that one wonders if it was intentional. The US military has been able to accomplish far more impressive and bigger logistics tasks in the past, so when they want to they can do it.
More worrisome, however – and because it is also oriented towards future impacts – is Biden's construct of vital concepts such as security, international peace and self-defense which has already displayed a consistent pattern during the first year of his term. The signs are already there, so let me bring them out to the surface for you.
Treating a counter-attack in self-defense as an original, first-move strike
This is a pattern that can be noticed already in Biden's reading of what constitutes defense. It first struck me in a place where you might not think of looking. It originated from the criticism of the previous Trump administration's support for the destructive Saudi Arabia campaign on Yemen, leaving Yemen as the biggest famine and disaster on the planet. To avoid the same criticism, the Biden administration decided to do what it always does – play technocratic and legalistic, and hope that people won't notice. On the face of it, it looked like Biden ended US participation by ending the "offensive" support for Saudi Arabia. Then in the months after the February decision, reports started surfacing that the US actually continues doing the same, and now most recently, some troops from Afghanistan were redirected towards Yemen. Biden didn't end Yemen; he set up a task force to examine and limit US military action only to defensive capabilities, which sounds good to a general observer. It reminds me of that famous Einstein saying that all the big decisions were to be taken by him and all the small decisions were to be taken by his wife, but there hasn't been one big decision so far. So see, it just turns out that everything falls under defense, ask the lawyers. Usually no one would object to the well-established right to defend yourself. The problem with that is that the US is actually in Yemen. Treating any counter-strike and any response to your presence as an original, first-move attack is not only problematic but it also simply doesn't work in legal terms. It goes along the lines of "well, I am already here anyways, so your counter-response in self-defense is actually an attack and I get to defend myself". If the issue was only with terrorist or rebel organizations (because let's face it, who cares about the Houthies in Yemen?) I don't think we would be discussing this. But as you guessed it, this approach can already be traced as a pattern in Biden's thinking and the way he forges alliances, draws red lines and allows things to happen, and it stretches to areas that most people definitely care about such as a possible military conflict between the US and China.
Let's take the newest development from today. The US just announced that it has entered into a trilateral partnership with the UK and Australia in the Indo-Pacific, which is encirclement of China par excellence. Where it gets interesting is that the trilateral partnership is purported to be only for "advanced defense capabilities". The equivalent of this is someone from another city squatting at the door step in your apartment, inviting two others to join, and then when in the morning you push them and step on them to go to work, the squatters claiming that you attacked them and calling the police on you in your own apartment. This is Biden's concept of self-defense: since I am already here in your space, you are attacking me.
The US is trying to start something with China but it doesn't know how to, and China seems completely unconcerned with the US. Chinese leader Jinping doesn't even want to meet Biden, as became clear this week. China doesn't care about the US and just wants to be left alone. They already said that in clear terms by reading it out loud to Wendy Sherman last month. Biden didn't have to ask for a meeting in that phone call this week because he already knew the answer. Wendy Sherman got a clear signal on her China visit that the US president won't be getting that coveted red carpet roll-out any time soon.
So the story says that the US is going all the way to the other side of the world and staging military presence there but only to defend itself. The US has no choice but to move in to defend all the US citizens at risk in the Indian Ocean — that's the stand-up comedy line of the week. It is staging military presence right at China's doorstep — if not in Chinese waters, and the idea is "yes, that's your turf but now that I'm here, if you push me to leave, you are attacking me". This is the strategy of narcissists and those that are looking to point the finger to their opponent when they just don't have anything, so they stage something. China is in the long-term game, playing against itself. The US is that number 2 that's trying to create provocation. In the Indo-Pacific, the US is biting more than it can chew. China is not a big mouth or one to throw around military threats. That's the US style: "be very careful, we might bomb you if you don't do what we say". A dog that barks doesn't bite. On the other hand, China is more like a Ferrari — it will go from 0 to 200 in seconds and then it will go back to its business. The US and Biden will be left whimpering but no one will jump to save the US from its own folly because self-defense in the US packaging is not even bought by the US government itself. Even they don't buy their own packaging. So why should anyone else?
Treating embarrassing discoveries and things that don't go my way as a threat to international peace
This one is a big one. With this one, Biden is playing with the queen, namely action under Chapter 7 of the UN Charter in the name of international peace and security. A threat to international peace and security is grounds for action under Chapter 7 which includes military action, and it's never to be spoken lightly. Words have consequences. The UN Security Council rarely specifies grounds for action under chapter 7 for threats to international peace and security but it's enough to take a look at the practice: resolutions were passed when Iraq invaded Kuwait in 1990, in response to 9/11, against Kaddafi who was marching toward Benghazi to wipe out the people in 2011, in relation to genocide, etc. Grounds for a threat to international peace can't be "because I don't like the way things are turning out for me".
Peace and security are not like beauty – in the eye of the beholder. There has to be an actual or imminent attack and actual military action or violence. Loose interpretations of threats to peace and security are a sign of weak leadership.
Leaders who construct dissent and criticism as terrorism in relation to the Black Lives Matter movement, as I have argued about the FBI previously in the left media, are weak leaders. In smearing Martin Luther King, the FBI argued national security. As director Oliver Stone said in Cannes this summer, when he was investigating the JFK assassination, every time he was getting close, he heard "national security".
You can see a lot about the character of a nation by the way it constructs security, and notice traits such as narcissism, weakness, cheating. The Biden Administration has to know that a threat to international peace and security can't be "things that make my government look bad". In 2001, the world followed the US in Afghanistan because there was an actual military attack. The world won't follow the Biden administration on a bogus threat to international peace that can best be summed up as a major embarrassment for the US government. Suggesting a link is a threat to the fabric of international society. Not only is it a sign of national narcissism but also a sign of arbitrariness and authoritarianism. Treating criticism and the exposure of US government crimes as if it were a military attack is what horror movies are made of. What's next? Droning journalists?
Treating issues which are a subject to treaties, rules and negotiations as a threat to international peace
The Biden security construct stretches to various regions, including my own. This first struck me with Biden's executive order regarding the Western Balkans when he tied blocking these countries from EU accession to a threat to international peace, which carries significant consequences. If a country, let's say Bulgaria, is exercising its lawful right to veto EU processes, hypothetically, based on Biden's understanding, the US could table a resolution for Chapter 7 action to punish an EU member-state for blocking the accession of an EU candidate because that's a threat to international peace. That could hypothetically lead to military action against an EU country making use of its veto. Biden doesn't have a veto in the EU. Do you know who does? Bulgaria. So until Biden becomes an EU country he doesn't have a say.
Biden was visibly irritated that the process of EU accession has been stalling for quite some time, especially with N. Macedonia and Albania at the EU's doorstep, so he decided to give it a go. Let's not forget that the Balkans are a favorite Biden region and this goes back to the 1990s. I have written about it before: Biden is stuck in the 2000s when if you mentioned the Western Balkans the words international peace were a guaranteed association. Not anymore. Negotiations, rules and voting are the peaceful and reasonable way to resolve issues, agree or even not agree in some situations, and are the opposite of war and aggression. Treating these ways as a threat to peace is just the rhetoric of those who can't get their way. But it's also indicative of a worrisome trend with Biden that anything that the US government doesn't like can be dressed as a threat to international peace, which carries the most significant of all consequences in the international arena.
Treating lawful counter-measures as a threat to national security
Perhaps the best and most fascinating example of lawful counter-measures I ever heard was brought by Andrew Clapham at the Graduate Institute in Geneva. Here is the story. The UK issued unlawful sanctions on a country. In response, lawful counter-measures by that country targeted jam exports because a jam factory in Scotland was the key to turning the elections. The targeted counter-measures worked, hit jam exports, discontent people in the region voted the other way and the government that put in place the sanctions to begin with was ousted. This was a brilliant example that you hit where it hurts and you do it lawfully. Counter-measures don't have to be identical. The US likes to put tariffs on Louis Vuitton bags in retaliation when it deals with France, for example. In the Trump trade wars, Europe would hit bourbon and jeans exports as a counter-measure. You hit their signature product. Not all counter-measures are illegal and count as an attack. International law is full of examples.
Similarly, lawsuits against a government are a lawful counter-measure. This area reveals another part of Biden's worrisome construct of national security. A threat to sue the US government cannot in and of itself be a threat to national security. Tortured reading of what is national security is a sign of weak leaders, narcissists, those on the losing end, or straight up losers – or all of the above.
Treating lawful counter-measures as a cause for self-defense is not only a sign of a wrong understanding of self-defense, but is the ultimate sign of narcissism. Usually those who attack know better and brace for impact in anticipation of the counter-measures. Narcissists, on the other hand, cry that they are being attacked when they receive a counter-strike in response. Strategists know better.
Mistreatment of whistleblowers, critics and opponents as spies and as a threat to national security
This one is an easy one. Only losers treat whistleblowers and critics as spies and as an automatic threat to national security. Take the treatment that Gary Stahl has received at the hands of the Biden Administration and the FBI, for example. Again, the US government doesn't get to construe a huge embarrassment (in what will soon be revealed to shows the true criminal nature of the US government) as a threat to international peace. This is a problem for America. Not only doesn't China plan to attack militarily the US any time soon over what's to come, but China is largely unconcerned with the US and would like to be left alone. Any talk about a risk of military conflict could only mean that it is the US that plans to attack because they are embarrassed they got caught red-handed and the world will see the US government's true nature. Talk of threat to international peace has a very high threshold. No one cares about how America would feel – that's your problem, not an issue of international peace.
The Biden concept of security is that of an ugly, pretentious, old woman who is told she can't enter because her ticket is not valid. She then throws a feat screaming she was attacked, beaten and insulted, expecting everyone to be on her side. But the world simply doesn't care about the problems of this pain-in-the-ass anymore. The US government will have to try much harder if they want to present the issue as anything close to security and self-defense, let alone a threat to international peace. That tune is old and there are no buyers.
The US surely thinks very highly of itself if they think that a scandal like that is worthy of a military conflict but literally no one else sees the US as this important anymore. This scandal will matter only to America in what it reveals about all the layers of the US government across rank, institutions and administrations. That's it. It ends there. Any talk of Chapter 7 threshold is war mongering and no one will care.
People talk about the Biden doctrine on Afghanistan but the Biden doctrine that will be sealed in history will be something along the lines of "Anytime I get caught, it's a threat to international peace and security." This is how Biden will be remembered in history: for creative writing endeavors in the security field and no substantial foreign policy achievements.