Small island nations across the world are bearing the brunt of the climate crisis, and their problems have been accentuated by the COVID-19 pandemic, which has severely affected their economies, and their capacity to protect themselves from possible extinction. We take a look at some of the many challenges they face, and how they could be overcome.
Low emissions, but high exposure
The 38 member states and 22 associate members that the UN has designated as Small Island Developing States or SIDS are caught in a cruel paradox: they are collectively responsible for less than one per cent of global carbon emissions, but they are suffering severely from the effects of climate change, to the extent that they could become uninhabitable.
Although they have a small landmass, many of these countries are large ocean states, with marine resources and biodiversity that are highly exposed to the warming of the oceans. They are often vulnerable to increasingly extreme weather events, such as the devastating cyclones that have hit the Caribbean in recent years, and because of their limited resources, they find it hard to allocate funds to sustainable development programmes that could help them to cope better,for example, constructing more robust buildings that could withstand heavy storms.
The COVID-19 pandemic has worsened the economic situation of many island states, which are heavily dependent on tourism. The worldwide crisis has severely curtailed international travel, making it much harder for them to repay debts. "Their revenues have virtually evaporated with the end of tourism, due to lockdowns, trade impediments, the fall in commodity prices, and supply chain disruptions", warned Munir Akram, the president of the UN Economic and Social Council in April. He added that their debts are "creating impossible financial problems for their ability to recover from the crisis."
Most research indicates that low-lying atoll islands, predominantly in the Pacific Ocean such as the Marshall Islands and Kiribati, risk being submerged by the end of the century, but there are indications that some islands will become uninhabitable long before that happens: low-lying islands are likely to struggle with coastal erosion, reduced freshwater quality and availability due to saltwater inundation of freshwater aquifers. This means that small islands nations could find themselves in an almost unimaginable situation, in which they run out of fresh water long before they run out of land.
Furthermore, many islands are still protected by reefs, which play a key role in the fisheries industry and balanced diets. These reefs are projected to die off almost entirely unless we limit warming below 1.5 degrees celsius
Despite the huge drop in global economic activity during the COVID-19 pandemic, the amount of harmful greenhouse gases released into the atmosphere increased in 2002, and the past six years, 2015–2020, are likely to be the six warmest on record.
Climate finance (climate-specific financial support) continues to increase, reaching an annual average of $48.7 billion in 2017-2018. This represents an increase of 10% over the previous 2015–2016 period. While over half of all climate-specific financial support in the period 2017-2018 was targeted to mitigation actions, the share of adaptation support is growing, and is being prioritized by many countries.
This is a cost-effective approach, because if not enough is invested in adaptation and mitigation measures, more resources will need to be spent on action and support to address loss and damage.
Switching to renewables
SIDS are dependent on imported petroleum to meet their energy demands. As well as creating pollution, shipping the fossil fuel to islands comes at a considerable cost. Recognizing these problems, some of these countries have been successful in efforts to shift to renewable energy sources.
For example, Tokelau, in the South Pacific, is meeting close to 100 per cent of its energy needs through renewables, while Barbados, in the Caribbean, is committed to powering the country with 100 per cent renewable energy sources and reaching zero carbon emissions by 2030.
Several SIDS have also set ambitious renewable energy targets: Samoa, the Cook Islands, Cabo Verde, Fiji, Saint Vincent and the Grenadines and Vanuatu are aiming to increase the share of renewables in their energy mixes, from 60 to 100 per cent, whilst in 2018, Seychelles launched the world's first sovereign blue bond, a pioneering financial instrument to support sustainable marine and fisheries projects.
The power of traditional knowledge
The age-old practices of indigenous communities, combined with the latest scientific innovations, are being increasingly seen as important ways to adapt to the changes brought about by the climate crisis, and mitigate its impact.
In Papua New Guinea, local residents use locally-produced coconut oil as a cheaper, more sustainable alternative to diesel; seafaring vessels throughout the islands of Micronesia and Melanesia in the Pacific are using solar panels and batteries instead of internal combustion; mangrove forests are being restored on islands like Tonga and Vanuatu to address extreme weather as they protect communities against storm surges and sequester carbon; and in the Pacific, a foundation is building traditional Polynesian canoes, or vakas, serving as sustainable passenger and cargo transport for health services, education, disaster relief and research.
Strategies for survival
While SIDS have brought much needed attention to the plight of vulnerable nations, much remains to be done to support them in becoming more resilient, and adapting to a world of rising sea levels and extreme weather events.
On average, SIDS are more severely indebted than other developing countries, and the availability of "climate financing" (the money which needs to be spent on a whole range of activities which will contribute to slowing down climate change) is of key importance.
More than a decade ago, developed countries committed to jointly mobilize $100 billion per year by 2020 in support of climate action in developing countries; the amount these nations are receiving is rising, but there is still a significant financing gap. A recently published UN News feature story explains how climate finance works, and the UN's role.
Beyond adaptation and resilience to climate change, SIDS also need support to help them thrive in an ever-more uncertain world. The UN, through its Development Programme (UNDP), is helping these vulnerable countries in a host of ways, so that they can successfully diversify their economies; improve energy independence by building up renewable sources and reducing dependence on fuel imports; create and develop sustainable tourism industries, and transition to a "blue economy", which protects and restores marine environments.
Fighting for recognition
For years, SIDS have been looking for ways to raise awareness of their plight and gain international support. As the Alliance of Small Island States (AOSIS) in 1990, they successfully lobbied for recognition of their particular needs in the text of the landmark UN Framework Convention on Climate Change (UNFCCC) two years later.
Since then, the countries have continued to push for a greater emphasis on ensuring that international agreements include a commitment to providing developing countries with the funds to adapt to climate change. An important step was ensuring that climate change negotiations address the issue of "loss and damage" (i.e. things that are lost forever, such as human lives or the loss of species, while damages refers to things that are damaged, but can be repaired or restored, such as roads or sea walls etc.).
SIDS continue to urge developed nations to show more ambition and commitment to tackling the climate crisis, and strongly support calls for a UN resolution to establish a legal framework to protect the rights of people displaced by climate change, and for the UN to appoint a Special Rapporteur on Climate and Security, to help manage climate security risks and provide support to vulnerable countries to develop climate-security risk assessments.
•SIDS have also advocated for eligibility to development finance to recognize the vulnerabilities they face, including from climate change hazards. The UN will release its recommendations in a report due to be released in August 2021.
A Treaty to Preserve Oceans – And Our World
There is cause for celebration in our climatically distressed world for a treaty of historic proportions has been signed by the UN member states. It is the culmination of 15 years of talks and discussions.
Vital to the preservation of 30 percent of our earth, i.e. land and ocean, the oceans treaty broke many political barriers. The EU environment commissioner Virginijus Sinkevicius applauded the event saying it was a crucial step towards preserving marine life and its essential biodiversity for generations to come.
The UN Secretary General commended the delegates, his spokesperson calling the agreement a "victory for multilateralism and for global efforts to counter the destructive trends facing oceanhealth, now and for generations to come."
The real problem is the oceans belong to no one — and thus available to everyone — because the exclusive economic zones of countries end beyond 200 nautical miles (370 kms) from their coastlines.
These high seas are threatened by overfishing, man-made pollution including damaging plastics, and also climate change. People are unaware that oceans create half the oxygen we breathe, and help in containing global warming by absorbing the carbon dioxide released by human activities — one can think of all the coal and wood fires, particularly in developing countries, and the coal-fired power stations everywhere among other uses of fossil fuels.
The fact is we have to value the environment that nurtures us for the consequences of our disregard can in the final analysis destroy life itself. As it stands, the World Wildlife Fund (WWF) reports in its 2022 Living Planet Index a 69 percent decrease in monitored populations since 1970, a mere half century. Their data analyzed 32,000 species.
As the apex species, such a loss forces humans to assume responsibility. It rests on each and everyone of us from individuals to governments to corporate entities, and across the spectrum of human activity.
The treaty furnishes legal tools to assist in creating protected areas for marine life; it also requires environmental assessments for intended commercial activity … like deep sea mining for example. The nearly 200 countries involved also signed a pledge to share ocean resources. All in all, it has been a triumph of common sense over the individual greed of people and nations.
So it is that the treaty has made possible the 30×30 target, namely, to protect 30 percent of oceans by 2030. Now comes the hard work of organizing the protection. Who will police the areas? Who will pay for it?
Environmental Crisis in South Asian Countries
During thetwenty-first century, South Asian countries have been facing and dealing with enormous problems. But the environmental crisis is one of the major and most emerging issues. South Asia is the southern part of the continent Asia, which is also known as the Asian societies. Mainly consist of eight countries India, Pakistan, Afghanistan, Bhutan, Maldives, Nepal, Sir Lanka, and Bangladesh. Most of the environmental problem has been started after the 1960s due to high economic activities, population growth, industrialization, urbanization, and poverty. The combined effects of all these factors caused the situation more complex because of less management of negative and deviant behavior in economic activities. South Asian countries are the developing region that mainly constitutes middle-income countries struggling to flourish their economies and to cope with challenges of political and environmental sustainability, although they are still yet facing many environmental crises which are highly interactive, interlinked with human activities and also human life which it is the need of the hour to be addressed.
Population Density and Population Pressure
Population growth is one of the major elements which play an important role in environmental crises. As all the South Asian developing countries have an extensive density of populations such as India which considers the world second most populated country after China, because the growing population in all South Asian countries, it's put tremendous population strain on natural and environmental resources such as increase the extraction of resources from the environment influence negatively in our environment. The Intergovernmental Panel Discussion (IPCC) on climate change says that most of the environmental crises are attributed to human activities. The population of Pakistan is also increasing at the rate of 1.9 % annual changes and the population of other South Asian countries is also not up to the mark, but increasing day by day which adversely affects the economy and the natural setting of the environment.
Climate Change
Climate change is also a major problem. South Asian developing counties are vulnerable to climate change-related disasters. The history of Pakistan, and Bangladesh showed how much they suffered due to climate flood disasters. Pakistan and India are facing the brunt of extreme weather almost every year. Being affected by environmental problems severely influence economic activities in the summer of 2022 due to "Heat Waves" in India and Pakistan, "Flood Crisis" in Pakistan last year affected the largest region about one–third of the whole country. Melting glaciers in Pakistan, almost twenty glacier bodies in Nepal, and twenty-five in Bhutan are so unsafe glacial water bodies. Land erosion in India, and Nepal land erosion, and land sliding. With rising sea levels in Bangladesh, Maldives, and Pakistan it is expected that by 2050 most of them swallowed by the sea. This climate condition is not new for this region, according to the World Bank Report 750 million people across South Asian societies are impacted by the last almost 20 years. In Afghanistan, farmers face climate-induced drought, and nearly 19 million Afghans are unable to feed themselves and almost 5 million people across India and Bangladesh. According to the climate change risk index Bangladesh and Pakistan ranked sixth and seventh while India ranked fourth among them respectively. A recent report of intergovernmental on climate change called "Code Red for Humanity" by UN Secretary-General Antonio Guterres, it is predicted that in the next two decades, global warming will increase up to 1.5 degrees Celsius.
Pollution
Almost all Asian societies adversely face the problem of pollution associated with indoor and outdoor elements which may be the source of pollution. With the increase of demographic pressure and urbanization, pollution is also considered a vital concern in South Asian countries. Due to industrialization, transportation, burning of coal, and biomass, excessive use of metals, and soil depletion of natural resources and minerals merely falls under the category of pollution. According to the report of the Air Quality Life Index Pakistan is the fourth most pollution-causing country in the world and India is the second most polluted country in the world and number one in Bangladesh. Excess methane, carbon dioxide, nitrogen, sulfur, and insoluble and soluble materials emitted by vehicles and industries are harmful effects on humans such as lung cancer, asthma, and water-borne diseases. It badly influences plants and animals.
Water scarcity
Water scarcity is a major concern in almost every region. South Asian countries have become water-default regions due to population exploitation, and unplanned urbanization. Almost 90- 95 of water is consumed by agriculture and industries, and there is insufficient storage and a wasteful irrigation method. Per capita, water availability is less than the world average and 4.5% of freshwater resources availability. Pakistan, India, and Afghanistan face varying degrees of water scarcity. Groundwater depletion caused by irrigation, agriculture runoff, industries, and the unregulated release of sewage needs a major concern. Along with scarcity of water quality and quantity, both are also affected by the reduction in the quantity of water because of the recession of glaciers and disruption in the monsoon.
Global warming
Furthermore, global warming is also a main issue that is observed globally it is specifically due to human activities primarily the burning of fossil fuels such as coal, and petroleum, fire burning, and along with the emission of harmful gases. South Asian countries are the major source of carbon dioxide, so it is a crucial component in global warming. However many South Asian countries implement a tax on the use of carbon-related components, a form of small fiscal policy to reduce the concentration of carbon in the atmosphere.
Energy Crisis
In addition to all these South Asia approximately uses only 5.9 % of global energy resources excluding the non- commercial energy resources. South Asian counties have increased the demand for energy in the last few decades, increasing demand by up to 50% since 2000. The rising energy demand is induced by population growth and the manufacturing sector. All the south Asian countries have increased the demand for electricity on average by more than five percent annually over the past two decades and are expected for the future that requires more than double by 2050. More than two third of the energy is imported. So it put pressure to increase cost recovery if the demand increase. In South Asia, disruptions due to conflict among other countries adversely impact fuel imports and put greater pressure on the government to ensure the security of their energy supply.
Conclusion
South Asian countries are major part and contributors to the world economy. Due to the crisis, economic activities were destroyed and diminished in many regions, because of damage to productivity and infrastructure, security threats, and mass migration, as the results growth rate declined and the world economy gets affected. Globally, all the economies of the world somehow depend upon each other for trade. To facilitate this connection it is necessary to maintain a balance. There are many organizations are working in South Asian countries to control the environmental crisis, such as the intergovernmental organization of South Asia Co-operative Environment Program (SACEP). Climate Action Network of South Asia, South Asian form for the environment. So the main purpose of all these organizations is to provide support, protection, and management in context to contribute in terms of sustainable development, along with issues of economic and social development. In addition to all these, urgent action is needed to curb all the challenges. The most immediate and pragmatic step to cope with the challenges is to make a collective UN committee for collaboration among the countries, reduce the global emission of harmful gases, decarbonize the energy sector, educate people to spread awareness among people start campaigns related to the protection of environmental at county level, uses of renewable resources, new policy initiation, formulation, and Implementation.
The Old Earth and Earthquakes in 2023: Accounting the Damage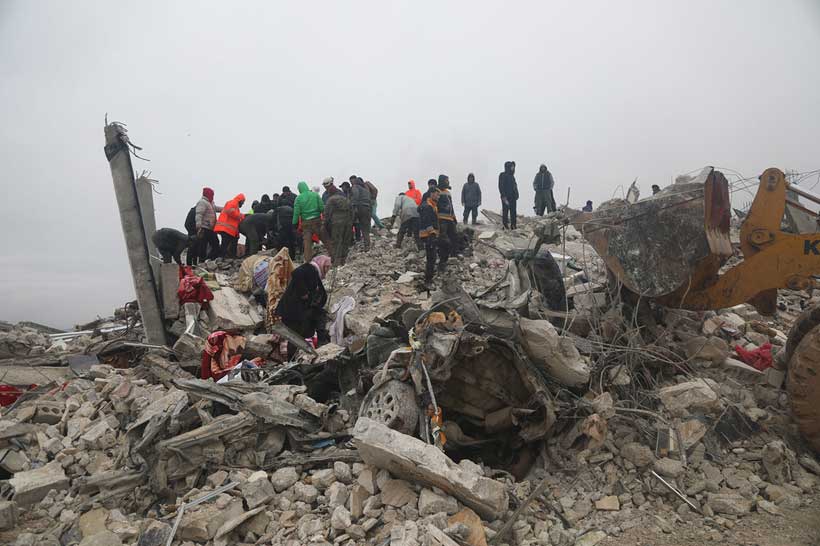 Gaiya's hypothesis points to the earth as a living. The elements that support human life on earth, starting with the lithosphere and ending with hydrogen, argue that the earth is also like a living being, it's just that this hypothesis cannot be scientifically proven. But to say that the earth is old is not only to brag. Just as the human body is aging and experiencing a functional decline, it is most often affected by the disease. The same goes for the earth on which humans live.
It is undeniable that since the beginning of 2023, earthquakes have affected many regions of the earth. In Indonesia, throughout 2023, there have been at least 11 large-scale earthquakes, the last of which occurred in Jayapura with a magnitude of 5.4 on the Richter scale. Meanwhile, at the global level, Turkey and Syria are still struggling to recover from the earthquake that killed as many as 36,000 people on February 14, with estimates of physical damage not yet calculated. Natural disasters like earthquakes, which have become more and more massive in recent times, have, of course, increased self-consciousness in society. Aside from this fear, earthquakes also cause a lot of damage and loss, both on goods and lives. Natural earthquakes are never caused by man. Yet humans can still learn this. In 2023, seismic registers will be completed with the results of the earth's natural activity.
The reason that the land is old may always be a valid argument today. This old earth makes the tectonic forces that exist below the Earth's surface stronger. These tectonic forces can set off earthquakes when the plates of the earth cooled.
The causes and effects of the earthquake
Small-scale earthquakes are not always innocuous, but large-scale earthquakes are certainly more dangerous. The structure of the soil and the area of a site influence how earthquakes may damage the site.
Earthquakes are vibrations or shocks which come from inside the earth. The natural cause is the movement of the terrestrial crust. The Earth consists of many different layers, which consist of the heart of the Earth (liquid or solid), the mantle, the Earth's crust, and the lithosphere. Each layer has different properties and features. The lithosphere is the outermost layer and is made up of tectonic plates that come and go. When tectonic plaques move, they cause earthquakes. Earthquakes can also happen due to volcanic activity, where magma from inside the earth enters the surface.
An earthquake is a natural phenomenon that may cause serious environmental damage. Earthquakes have the potential to cause a variety of impacts, not only damage to physical structures, but also damage to the environment. Earthquakes can cause a variety of negative environmental effects, including pollution and damage to ecosystems.
First, earthquakes have the potential to contaminate the environment. Earthquakes will cause the breakdown of physical structures such as buildings, roads, and bridges, which will cause hazardous materials such as asbestos, chemicals, and waste to spread into the environment and cause environmental pollution. In addition, earthquakes can also lead to dangerous gas leaks, such as poisonous and irritating gases. It can irritate the respiratory tract, nervous system and skin and cause poisoning.
Second, earthquakes can wreak havoc on the ecosystem. Earthquakes can cause turbulence in sea water, which can lead to loss of habitat and even death of marine animals. This can result in the loss of valuable habitats that contain many organisms. What's more, earthquakes can also cause damage to forests, especially on mountain slopes. Earthquakes have the potential to destroy trees in forests, resulting in the loss of habitat for many wildlife.
Third, earthquakes may cause environmental damage as a result of tsunamis. Tsunamis are large oceanic waves due to earthquakes. Tsunamis can wreak havoc on the environment. Tsunamis can destroy buildings, bridges and roads, resulting in environmental damage. In addition, tsunamis may also cause damage to the ecosystem, such as loss of habitat for birds, fish and other animals.
Fourth, earthquakes can harm the environment because of landslides. A landslide is a natural process in which the ground, rock and other materials are washed away by water or wind. Earthquakes have the potential to cause avalanches and environmental damage. Landslides may flood areas adjacent to the landslide site, resulting in the death of plants and animals in the area. Landslides can also result in the release of hazardous waste into the environment, which can cause further damage to the environment.
Fifth, earthquakes can wreak havoc on the environment. Lahars is a blend of water, rock, earth and other materials from volcanic eruptions. Lahars can cause great environmental damage. Lahars can cause flooding of surrounding areas, which can make the soil infertile and cause habitat loss for wild animals. In addition, lava can also cause the release of hazardous materials into the environment, which can cause greater environmental damage.
The impact of environmental damage due to earthquakes is very dangerous and can cause irreplaceable losses. Environmental damage due to earthquakes can cause habitat losses for animals, infertility in the soil, and environmental pollution. Therefore, it is important to make efforts to prevent and control the impact of environmental damage due to earthquakes. These efforts include raising awareness of the impact of earthquakes, installing earthquake information delivery systems, and developing technology to minimize the impact of environmental damage. This is important to do to reduce the impact of environmental damage due to earthquakes that may occur in the future.
Can Human Manage the Earthquake?
At least very strong earthquakes occurred between the years 1900 and 2000. The largest earthquake of the 20th century, measuring 9.5 on the Richter scale, struck Chile in 1860. Earthquakes increased in frequency after that. Even though earthquakes are more frequent now than they were a century ago, nobody can stop them or come up with any strategies to stop them from happening. All that people can do to reduce losses is make an effort to adjust to earthquake conditions and keep researching earthquake incidents. And the dangers. Seismological experts have frequently offered predictions about earthquakes based on research. It's only the human habit that's human nature to reflect and become more watchful after the bad things happened.