Investing in Key Sectors to Help Nigeriens Recover From the Health and Security Crises
The Covid-19 pandemic crisis and the security situation continue to undermine the Nigerien economy, wiping out years of hard-won gains in poverty reduction. A number of fiscal policy options are, however, available to help the country enhance public expenditure efficiency and increase its GDP by up to 2%. These are the findings of the World Bank's latest economic and poverty update for Niger published today.
The report titled "Maximizing Public Expenditure Efficiency for Rebuilding Better" analyzes the impact of the health and security crises on Niger's economy. The economy grew by 5.9% in 2019, but slowed to 3.6% in 2020, as a result of the combined impact of these crises. This sharp downturn increased poverty levels and pushed an additional 400,000 people into extreme poverty.
"Nigeriens have been hard hit by the volatile security situation and these long months in the pandemic, with hundreds of thousands of children being kept out of school and deprived of proper health care, which will adversely affect their future," notes Joelle Dehasse, World Bank Country Manager for Niger. "Turning this situation around will require massive and effective investments in human capital over the next few years."
The report notes that these investments must be accompanied by bold structural and sectoral reforms aimed, among other things, at mobilizing more domestic resources, modernizing the administration, including the civil service, and promoting sound, prudent, and transparent government spending.
The projections for 2021 are nevertheless positive and economic growth is expected to rebound to 5.5%, driven by the reopening of the border with Nigeria, the resumption of large investment projects, and the normalization of several supply chains. However, these projections remain subject to the duration of the pandemic and the availability of vaccines, as well as to climate hazards and their impact on agricultural production and livelihoods.
"The government of Niger has made tremendous progress in recent years in managing its public finances, giving high priority to social spending," says Paolo Di Lorenzo, World Bank Senior Economist and co-author of the report. "However, public expenditure pressures remain high, partly due to the deteriorating security situation. Against this backdrop, the authorities should take further steps to improve domestic resource mobilization and public spending efficiency."
The report's authors recommend reprioritization across a number of key sectors in order to ensure Niger's strong economic rebound. These recommendations aim to redirect government revenues to basic social services and essential public infrastructure in order to maximize growth opportunities and social welfare. "Implementing the recommendations in the education sector will help improve spending and reallocate resources within the sector," says Blaise Ehowe Nguem, Country Economist for Niger. "This will improve the quality of education, thereby reducing repetition and dropout rates."
ABC news: Xi signals strength in Russia-China alliance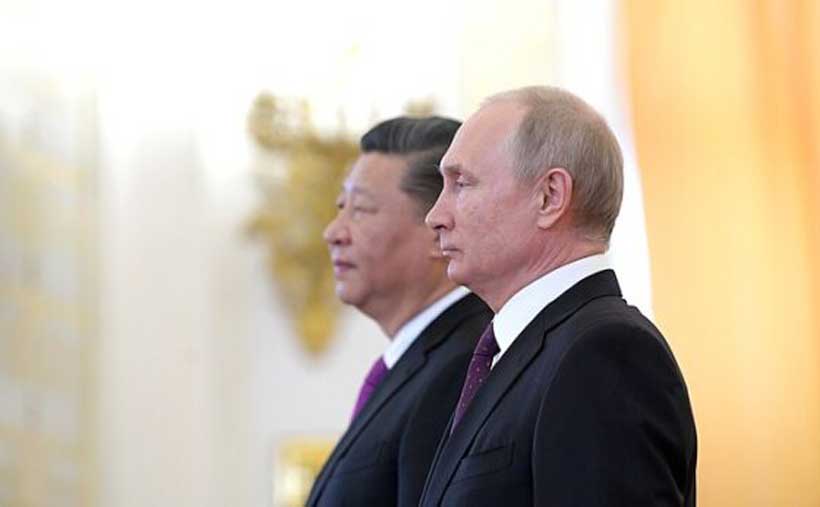 Chinese President Xi Jinping departed Moscow on Wednesday after two days of highly symbolic meetings with Russian President Vladimir Putin, in which the two presented a united front and an alternative vision for global leadership, notes ABCnews.
Despite statements saying that "China-Russia relations are not the kind of military-political alliance during the Cold War," China and Russia made clear they wanted to "advance the trend toward a multi-polar world."
"This highly publicized summit may reflect a shift towards a new and more active role for China, as it seizes the opportunity to convey diplomatic – and possibly tangible – support for Russia and any other state that wishes to defy the West," – Michael Butler, associate professor of political science at Clark University, told ABC News.
Joint animosity towards the U.S.-led world order has kept Russia and China close despite Putin's war in Ukraine and western sanctions against Russia has made China their biggest customer and economic lifeline.
Beijing increasingly sees Russia as necessary ally as China and United States continue to fallout over numerous fronts not limited to Taiwan and access to semiconductors. It was further exasperated by the spy balloon episode earlier this year.
Beijing had initially hoped that the spiraling tensions with the U.S. would abate in the wake of Xi's meeting with President Joe Biden in Bali last November, but as they continued to crater, Xi seems to have re-prioritized Russian relationship. He even aimed a rare direct slight at the United States earlier this month, blaming the Americans for "containment and suppression" as the reasons for China's economic challenges.
Xi highlighted on numerous occasions over the two days of meetings that Russia and China are each other's largest neighbors and that their partnership is "consistent with historical logic and a strategic choice of China."
Petr Pavl: "Ukraine must adjust to dwindling Western support"
"We must consider war weariness", says Czech President Petr Pavl. According to Czech President Petr Pavl, Ukraine must adjust to dwindling Western support. "We have to consider war weariness and what that means for support from Western states. This will pass with time," Pavel told the 'Süddeutsche Zeitung'.
He also mentioned the 2024 US presidential election and the concentration on domestic politics that could then be expected: "If US support decreases, support for a number of European countries will also decrease. Ukraine should take this into account."
Thus, in 2024, Ukraine will probably no longer be able to start any large and complex operations, the new Czech president said. "This year is decisive for the development of the war."
The former general was wary of the prospects of Ukraine joining NATO in the foreseeable future. "Ukraine's path to Europe should run through a faster rapprochement with the European Union and only then with law enforcement agencies," the President said. "I think that's the right order."
WP: The real lesson from the showy Xi-Putin meeting
Pentagon strategists have always divided the world into East and West, with U.S. regional forces under European Command or Indo-Pacific Command. But looking at the embrace of Presidents Xi Jinping and Vladimir Putin this week, you wonder whether we may need a single "Eurasian Command" to handle an integrated threat, writes 'The Washington Post' in a comment.
Xi's rescue strategy for Russia seems to center on a peace plan that would stanch the bleeding in Ukraine. From what we know, Xi proposes a cease-fire agreement… By playing the peacemaker, Xi can position himself better to take other, harsher rescue measures if Ukraine rejects a cease-fire. He could offer ammunition for Russia, arguing he's only leveling the playing field.
He could try to mobilize nations of the Global South, such as India, South Africa and Brazil, to pressure Ukraine to end the fighting. Xi wants to keep the high ground, invoking the sanctity of the United Nations charter even as he affirms his support for the Russian leader who shattered that charter's norms. It's a shameless approach, but smart diplomacy.
Xi's emerging role as the leader of a Eurasian bloc presents dilemmas for U.S. strategists.
For a generation, separating China from Russia was a central goal of U.S. foreign policy. Driving that wedge was a major reason for the historic visit to China in 1972 by President Richard M. Nixon and national security adviser Henry Kissinger.
The Biden administration initially hoped it could try that strategy in reverse — warming relations with Moscow in the June 2021 summit in Geneva in part to concentrate on the Chinese challenge. That didn't work out as the White House hoped, to put it mildly.
Now it's Xi who is the triangulator. He is playing off the bitter split between the United States and Russia, helping Putin.
Xi similarly used China's close relations with Iran to make the diplomatic breakthrough between Riyadh and Tehran that the United States could never achieve, writes WP.