The Concierge team at Four Seasons Hotel Mexico City, members of the Les Clefs d'Or international association, invites you to an exhilarating exploration of one of the world's most exciting hubs of art, architecture design and gastronomy. From the heart of the city to its surrounding areas, enrich your experience with its myriad offering of hidden treasures.
An Authentic Ancestral Culinary Experience in Xochimilco
Discover the secrets of the floating gardens of Xochimilco and learn about an ancient farming method handed down through generations from the pre-Hispanic era. Four Seasons Hotel Mexico City will guide you on this enriching experience and share the harvest of its chinampa in an exquisite lunch prepared especially for you by our Executive Chef Emiliano Rabia. Let a colourful trajinera lead you on this unique journey to the past, ready to conquer the present.
The Captivating Quietude of a Private Park: Parque Quetzalcoatl
Built by Mexico's top exponent of organic architectur, Javier Senosiain, this 5000 square-metre (54,000 square foot) park located on the fringes of the capital is a sight to behold. Senosian's reverence for nature and pride in Mexican culture inspired him to design this lost horizon exemplifying man's complete communion with nature.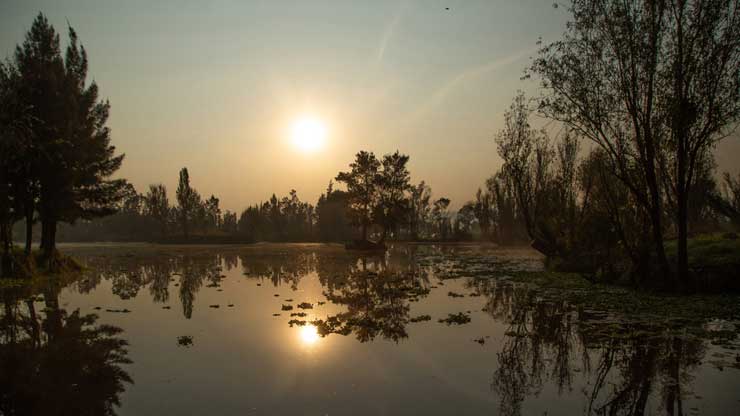 A Flight to Remember: Hot Air Balloon Ride at Teotihuacan Pyramids
Let a balloon take you high and see the Teotihuacan pyramids from the sk.! Get your day to an early start, and feel the thrill that will buck up your hear.! Combine your flight with a challenging climb to the top of the pyramids, and bask in the beauty and unsolved mysteries of these magnificent ancient temples.
Treasures in the Valley: Luís Barragán Masterpieces from the 20th Century
An enormous pink wall facing horses in a stable, nor a flight of stairs that seem to have no end. You just have to feel the way Luís Barragán did. That is what his architecture is all about: spirituality and emotion.
Muralism in a League All its Own: Rafael Cauduro at the Supreme Court of Justice
Within the walls of the Supreme Court of Justice are scintillating manifestations by various artists on justice in Mexico, and the most riveting of all are the murals painted by Rafael Cauduro. As beautiful as they are thought-provoking, Cauduro's murals capture Mexico's turbulent history in powerful images portraying the different faces of injustice on individuals – a stark contrast between the artist's dazzling visuals and the disturbing situations they depict.