Although most travelers were grounded since March 2020, their wanderlust continued to thrive. And now, as restrictions loosen in many areas, they are ready to embark on their dream excursions.
Three in four Americans plan to venture off to wish list locations on their next trip, according to a recent Hilton survey. Among their most desired destinations: the lush Hawaiian capital of Honolulu, the bright lights of Las Vegas and the bustling streets of New York City.
After a year of staying put, travelers are ready to splurge. Over half of the survey respondents (55%) said they plan to spend, on average, $2,100 more on their dream trip than they would have prior to the pandemic.
While the willingness is there, there is no need to break the bank. With a little budgeting and creativity, an affordable dream vacation is within reach. To help travelers plan the perfect trip for their wallet, Hilton has partnered with Patrice Washington, financial expert and author of "Redefine Wealth for Yourself." Here are her top tips:
Set a Budget: A wish list trip shouldn't send you into debt. Research costs associated with your dream vacation ahead of time — activities, meals, airfare, lodging and more — and from there, set and stick to a budget. Tracking your monthly expenses is a great way to determine where to cut back and how much money to set aside.
Join A Loyalty Program:
Tapping into a rewards program can also make travel more value-driven. Members of Hilton's guest loyalty program, Hilton Honors, have access to instant benefits and rewards, as well as hundreds of ways to earn and redeem Points, like special global promotions and free nights. With the Points Explorer tool, members can explore wish list destinations to see where their Points can take them, and they can also choose from nearly any combination of Points and money to book a stay. Additionally, elite members have the option to select a complimentary dining benefit during hotel stays at several Hilton brands, a Daily Food & Beverage Credit in the U.S. and Continental Breakfast elsewhere, allowing them to save — even if for one meal a day — on dining while traveling. Members can also take advantage of partnerships, including car rentals and ridesharing with Lyft to earn or redeem Hilton Honors Points.
Apply for a Travel Credit Card:
As travel rebounds, now is a great time to apply for a travel credit card to start earning on your trip expenses and everyday purchases. New card member incentives and offers for existing card members can earn you Hilton Honors Bonus Points on purchases that can help reach those dream destinations even faster.

For a limited time, eligible new Hilton Honors American Express Card Members who apply and are approved by August 25, 2021 can take advantage of two special offers. With the Hilton Honors American Express Card, new members can earn 100,000 Hilton Honors Bonus Points after spending $1,000 in purchases in the first 3 months, plus up to $100 statement credits on purchases at Hilton in the first 12 months. With the Hilton Honors American Express Surpass Card, new members can earn 130,000 Hilton Honors Bonus Points after spending $2,000 in purchases in the first 3 months, plus $0 introductory annual fee for the first year (thereafter the annual fee is $95). Plus, the Hilton Honors American Express Surpass Card offers Gold status with Hilton Honors, Free Night Certificates when you spend $15,000 on eligible purchases on your Card in a calendar year, and valuable Points on everyday purchases that you can put toward your wish list vacation. Terms apply.
Be Flexible with Travel Dates:
Making your vacation more affordable doesn't mean losing sight of your wish list destination. Being flexible with timing and open to off-peak seasons could inject added value into your trip. For the 20% of Americans who have Miami atop their wish lists, staying at Hilton Garden Inn Miami South Beach or nearby at Tru by Hilton Fort Lauderdale Downtown during the off-season still lets you enjoy the best of what South Florida has to offer without the crowds.
Think Beyond Resorts:
Accommodations are one of the biggest expenses on any vacation, but the money you save on lodging can be used toward memorable tours and excursions. With more than 2,200 hotels around the U.S., you're never more than 30 minutes away from a Hampton, and with the dual-brand Hampton by Hilton Las Vegas Convention Center and Home2 Suites by Hilton Las Vegas Convention Center, you don't have to look far to find the value-added amenities and hospitality Hilton is known for at a cost-conscious price point.
Go Big at Lunch:
Seeking out local cuisine is a great way to experience the flavor of a wish list destination. Prices at restaurants during the afternoon tend to be cheaper than dinner — and eating a substantial mid-day meal could fuel you up for an afternoon and evening of adventure.
Book a Room with a Kitchen:
Keeping it simple for a few meals is an easy way to cut back on spending. The spacious suites with fully-equipped kitchens at Homewood Suites by Hilton New Orleans French Quarter and kitchenettes at Embassy Suites by Hilton San Diego Bay Downtown give you the freedom to plan out and prepare meals or tropical cocktails in your room after a day of adventure.
At the end of the day, wish list travel is all about making unforgettable memories. As life begins to return to normal, following these budget-savvy tips will help prepare you for the trip you've always imagined. What are you waiting for? Start planning today!
Break from the Crowds this Spring and Escape to these Family‑Friendly Destinations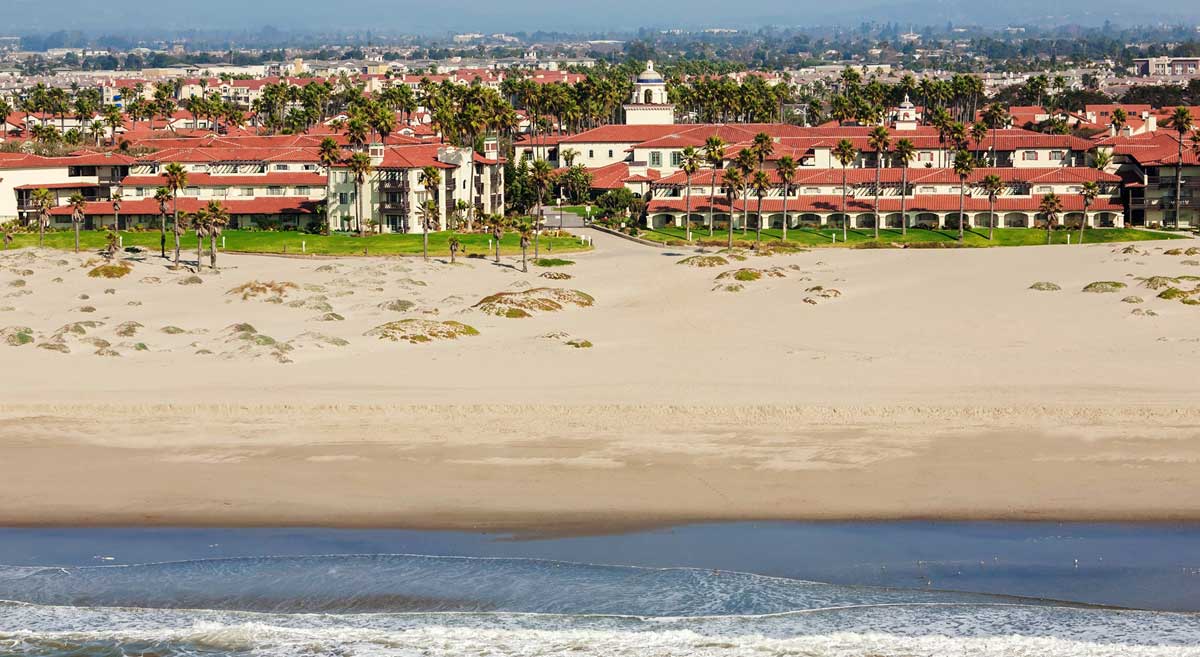 Choosing a spring break locale that offers something for every member of the family is no easy feat. It's tempting to join the flock heading to well-traveled locales, but this year, why not try something new?
Whether your family craves ocean waves or otherworldly adventure, these lesser-touted spring break destinations offer a stress-free getaway with plenty of crowd-pleasing activities.
Oxnard, California
Those seeking sun and sand this spring will naturally be drawn to Southern California's legendary beaches. Sandwiched between the Santa Monica Mountains and the artsy enclave of Santa Barbara, Oxnard offers ample swimming and sunbathing, easy ferry access to kayaking and whale watching at Channel Islands National Park, and a legendary taco scene that's sure to spice up your vacation.
Where to Stay:
The suite-only Zachari Dunes on Mandalay Beach, Curio Collection by Hilton offers an idyllic beachfront retreat for your family with a location that's just steps from the sugary dunes for which the resort is named. Relax at the poolside cabanas or partake in a variety of outdoor sports ranging from tennis to rollerblading, surfing, yoga and beyond. You can find everything you need for a beach adventure at on-site Henry's Gear Rental, including surfboards, paddleboards, yoga mats, GoPros and more. Two hours of gear rental are included with every stay.
Toronto, Canada
While many head south for a getaway, the "Great White North" of Toronto (which should be sufficiently thawed come springtime) makes for a wonderful option for those seeking diverse options to suit a wide array of interests. Shop the food stalls at St. Lawrence Market, climb to the top of CN Tower, and explore a real-life castle at Casa Loma before embarking on a day trip to marvel at the wonders of nature at Niagara Falls to make the most of your visit to this Ontario gem.
Where to Stay:
The newly opened Canopy by Hilton Toronto Yorkville is located in one of Toronto's hippest neighborhoods. The trendy décor of the hotel reflects the vibrant nature of the area, which is brimming with culture. Explore the area with complimentary Canopy Bikes during the day, and enjoy Roman-style pizzas and seasonal fare at on-site restaurant Día at night.
Carlsbad, New Mexico
For explorers looking to venture into the depths of the unknown, head underground into the limestone chambers at Carlsbad Caverns National Park. After venturing through the park's 113 caves, set off on an above-ground exploration through the Chihuahuan Desert for a glimpse at prickly pears and agaves as you seek even more adventure in the Guadalupe Mountains that stretch into Texas. And if you've ever searched the sky and wondered if we're alone, then make time for a detour to the nearby alien attractions in Roswell.
Where to Stay:
Enjoy a spacious room at Home2 Suites by Hilton Carlsbad, which serves as the ideal home base for exploring the caverns, as well as the wonders of Living Desert State Park and Lake Carlsbad Beach Park. Fuel up for your day of adventure with the hotel's free hot breakfast, and relax after a day of exploring at the outdoor firepit and seating area.
Huntsville, Alabama
Blast off for an out-of-this-world break in Huntsville. Home to the United States Space and Rocket Center, this northern Alabama city enables visitors to take part in their own hands-on space odyssey, including a look at the largest collection of rockets in the world. And when it comes time to pull your head out of the clouds, Huntsville has lots more to offer, such as a bounty of parks, artist studios, a botanical garden, and museums dedicated to everything from historic homes to art, military artifacts, and more.
Where to Stay:
Embassy Suites by Hilton Huntsville offers everything you need to fuel up for adventure, including suite accommodations, a luxurious spa and a saltwater pool. Be sure to check out the daily free made-to-order breakfast and evening reception.
Pittsburgh, Pennsylvania
Those looking to avoid congested hotspots without sacrificing the eclectic energy a city brings should opt for the unique and underrated vacation destination of Pittsburgh. Catch a hockey game, visit renowned museums, stroll lush gardens, and dine on local favorites such as perogies, paczkis, craft brews, and French fries piled high on everything from sandwiches to salads. Then, cap off your visit to "The Paris of Appalachia" with a ride on a 145-year-old incline car to take in epic views of the city and its three rivers.
Where to Stay:
Located in the heart of the city in the Pittsburgh Golden Triangle is Joinery Hotel Pittsburgh, Curio Collection by Hilton. Soak up skyline views from the hotel's scenic roof terrace, easily explore nearby local attractions, and if you're looking to bring your family pet along with you for the trip, the hotel also features pet-friendly rooms.
Rent a boat in Nice and discover France's hidden gems
There is no better way to discover France than by renting a boat in Nice. The perfect waterside location lets you sail around Nice and enjoy an unforgettable holiday. Nice is a modern city that enjoys year-round sunshine.
Being set against stunning blue waters, Nice is the most visited French city after Paris. Although Nice is a small city, it offers many attractions such as museums, contemporary arts, old churches, charming cafes, etc. If you, too, want to explore the beautiful Italian heritage, book a service for boat rental in Nice, France, and admire Roman antiquities.
Tourists flock to Nice to witness the beautiful architecture and climate. Apart from this, the city has several hidden gems that unlock the beauty of the surroundings. Hiring a boat in Nice is essential to experience all that Nice has to offer. Boat hire professionals help you explore the city while covering all the famous tourist spots. Here are the top hidden gems to discover on a rented boat in Nice.
Top hidden treasures to discover on your unforgettable boat trip:
La Camargue:
It is one of the most important natural reserves, located in the southern part of France. It comprises as many as 400 bird species, including flamingos and a unique horse breed known as the white Camarguais.
The largest river delta in western Europe, the Camargue, has an area of roughly 930 km2 (360 square miles) (technically an island, as it is surrounded by water). It is a broad plain with sizable brine lagoons, bordered by reed-covered marshes and surrounded by a sizable lake. The farmed area is separated from the sea by sandbars. Book a service for boat rental in Nice, France, to explore La Camargue on a private ride with your loved ones.
Les Calanques:
Les Calanques are more than just a location; they are a landscape of rough valleys with breathtaking views of the Mediterranean Sea. The rocks have taken on bizarre shapes and have cliffs as a result of centuries of exposure to water. Les Calanques are so much more than that: their light-shifting geometry, diverse plant and animal life, and lovely hidden coves. In the summer, boats and hikers who spend hours travelling to remote fishing communities visit the area.
Honfleur:
Honfleur is a famous city known for its historic port. Honfleur is so charming that many overlook that it was first constructed for trade. Affluent families in Honfleur built their multi-story homes close to one another, especially around the Vieux Bassin, the centre of the port, where a front-row residence with a view of the boats was an accurate statement of prestige. In this beautiful setting, shops jostle for space along the quays as restaurants set up outdoor seating across the cobblestones.
Book a boat rental service in Nice, France, and explore the best of French beauty while traversing the French city.
New Year's Eve with Hilton: 6 Fabulous Ways to Ring in 2023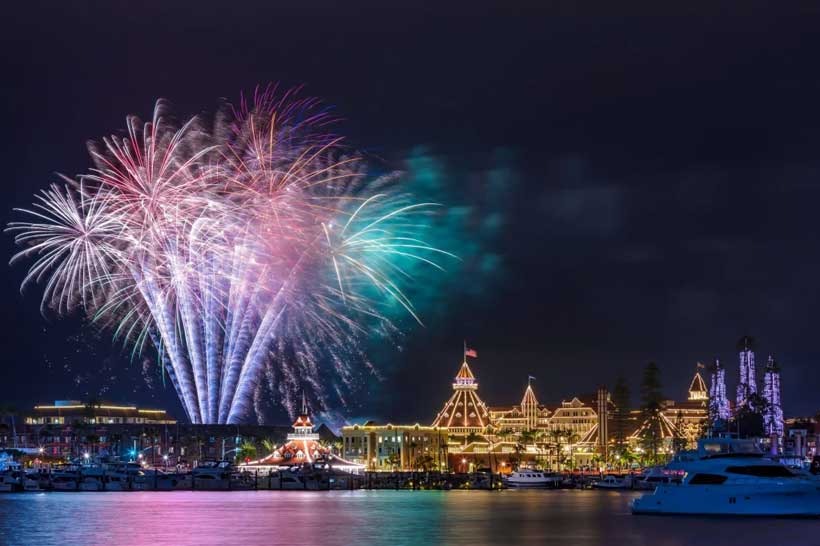 What's your ideal way to ring in the new year? Whether you prefer to get glammed up for a New Year's Eve gala, dance the night away at a rooftop bar, or simply watch the fireworks from the cozy comfort of your hotel room, there are plenty of ways to celebrate. From the beach to the big city, here are five ways you can countdown to midnight at Hilton properties across the Americas.
Conrad Los Angeles
Celebrate the new year with stunning skyline views from Conrad Los Angeles. Watch fireworks illuminate the city from Agua Viva rooftop restaurant's New Year's Eve party, complete with DJ sets, drinks and food from a specialty New Year's Eve menu. Select guest rooms will also have perfect views of the fireworks.
For an extra-special start to the year, book the Cheers to the New Year Package. As the clock strikes midnight, take in the fireworks from Agua Viva rooftop restaurant or enjoy the show from the comfort of your opulent room, complete with special turndown amenities. Wake up and start the new year with a delicious breakfast in bed or enjoy breakfast at José Andres' original fine dining concept, San Laurel, where you'll explore Spanish-inspired flavors intertwined and enhanced with fresh and local Californian ingredients. For dinner, take in captivating views of Downtown Los Angeles overlooking the iconic Disney concert hall while experiencing a decadent, chef-curated New Year's menu that includes Porcini Crusted American Wagyu, Lubina in Saffron Mussel Sauce with Caviar, and much more.
Conrad Bora Bora Nui
Countdown to midnight fireworks in a variety of ways at Conrad Bora Bora Nui. Make reservations for a prestige dinner at TAMURE beachside restaurant, visit the open-air IRIATAI restaurant for a New Year's Eve buffet with live music, or spend the evening at UPA UPA lounge bar, featuring drinks and a live DJ. Guests will be able to enjoy beautiful fireworks in the lagoon from UPA UPA bar and IRIATAI restaurant, and guests staying in overwater bungalows will be able to see the fireworks show directly from their villas.
Hotel del Coronado, Curio Collection by Hilton
Guests can ring in the new year seaside at Hotel del Coronado, Curio Collection by Hilton. In addition to a glamorous and elevated New Year's Eve Masquerade Gala in the newly-opened Southpointe Ballroom, Hotel del Coronado also offers a chill way to welcome in the New Year. Guests can reserve a seat for a New Year's Eve movie on famed Coronado Beach, immediately followed by a celebratory fireworks display over the Pacific Ocean. Guests with ocean-facing rooms within The Views, Shore House or Beach Village will enjoy a front-row experience for the New Year's Eve fireworks.
Hilton Rio De Janeiro Copacabana
Celebrate the new year with views of the famous Copacabana fireworks exhibition from Hilton Rio De Janeiro Copacabana. Choose from the New Year's Eve party at the fourth-floor Clarice Restaurant and Clarí Bar, or a cocktail party on the rooftop Isabel Lounge. Both include views of Copacabana's front beach fireworks. The Clarice Restaurant celebration will include a special buffet with table seats and an open bar, and after dinner, the party continues with a DJ and samba drummers at Clarí Bar. Isabel Lounge will feature a special cocktail by Executive Chef Pablo Ferreyra, an open bar, DJ and samba drummers. Guests with sea-view rooms will also be able to see Copacabana's fireworks from their room.
Continue the celebration on New Year's Day with a traditional Brazilian Feijoada and samba at Clarice Restaurant.
Hilton New York Times Square
Enviably located on 42nd Street in the heart of Times Square and easily accessible from Grand Central, Penn Station and several Subway lines, Hilton New York Times Square is within steps of dozens of Broadway and off-Broadway shows, attractions and Restaurant Row. Soaring 44 stories above Times Square with some of the largest standard-size rooms in the neighborhood, guests will enjoy incredible skyline and Hudson River views, with select rooms looking out to the iconic New Year's Eve ball drop.
Hilton Anatole
Ring in 2023 with the best views of the Downtown Dallas New Year's Eve fireworks show at SĒR Steak + Spirits on the 27th floor of Hilton Anatole. Tickets to the New Year's Eve party are $300 per person and include four hours of gourmet food at live-action food stations with featured chefs, a premium bar with beverages provided by Diageo and Moët Hennessy, multiple Instagrammable photo moments, live music from DJ SC, and a midnight toast.