Empowering "Smart Cities" toward net zero emissions
The world's cities can play a central role to accelerate progress towards clean, low-carbon, resilient and inclusive energy systems. This idea is recognized by climate and energy ministers from G20 nations who will meet under the presidency of Italy in Naples to focus on steps that national governments can take to support urban areas to deploy solutions and technologies to reduce emissions.
New technologies and increased connectivity, as well as the sheer scale of the world's metropolises, are opening up massive opportunities to optimise urban planning, improve services and extend access, while at the same time creating revenue streams, jobs and business ventures. In this context, the International Energy Agency developed a report at the request of the Italian G20 presidency to showcase the opportunities and challenges facing cities, and the actions that can be taken to support progress.
The IEA's Empowering Cities for a Net Zero Future builds on extensive consultations with over 125 leading experts and organisations, and presents case studies from 100 cities in 40 countries. The examples illustrate the wide range of opportunities and solutions that can help city-level authorities make full use of efficient and smart energy systems.
At the same time, urban agglomerations are incubators for cutting-edge technologies, and their density and size offer economies of scale that can cut the cost of infrastructure and innovation. This mix of factors puts cities at the leading edge to come up with creative solutions to climate and energy challenges.
And with growing urbanisation trends, the central role of cities will keep increasing. Cities today account for more than 50% of the planet's population, 80% of its economic output, two-thirds of global energy consumption and more than 70% of annual global carbon emissions. By 2050, more than 70% of the world's population will live in cities, resulting in a massive demand growth for urban energy infrastructure.
From smart streetlamps to self-cooling buildings to smart electric car chargers, investing in city-level action can provide the biggest carbon-mitigation return on investment and accelerate inclusive clean energy transitions.
The new report contains a set of high-level recommendations to accelerate energy transitions and leverage the full potential of cities to reduce emissions thanks to digitalisation.
By 2024, an anticipated 83 billion connected devices and sensors will be creating large, diverse datasets on a wide range of topics, such as energy consumption, air quality, and traffic patterns. Next-generation energy systems can leverage the data from these connected buildings, appliances and transportation systems to reduce energy consumption, improve grid stability and better manage city services.
For example, digital simulations can show how different designs, technologies and equipment affect energy demand pathways and associated costs. The LA100 study, conducted by the U.S. National Renewable Energy Laboratory, points the way towards achieving a 100% renewables-supplied city by 2045. The study simulates thousands of buildings, using aerial scans, customer adoption models as well as utility planning tools to ensure power system stability, and estimates that these measures would avoid between USD 472 million and USD 1.55 billion in distribution network investments.
The electricity consumed in street lighting globally is equivalent to Germany's total annual electricity consumption, and can constitute up to 65% of municipal electricity budgets. Yet only 3% of the globe's 320 million street lighting poles are smart enabled, even though smart street lighting can reduce electricity use by up to 80% by adjusting output based on ambient light levels and weather. Smart street lamps can also monitor traffic, pedestrian crossings, and noise and air pollution, as well as incorporate electric car chargers and cell phone infrastructure.

India, under its National Streetlighting Programme, has reduced peak energy demand by more than 1000 MW thanks to 10 million smart LED streetlights. Digitalisation can also help improve maintenance. In Italy, an app developed by Enel X allows citizens to report street lighting faults using their smartphones.
To reduce congestion and greenhouse gas emissions, Jakarta's Smart City initiative integrated public transport management and payment systems to help plan a more reliable, safe and affordable rapid bus transit system. Under PT JakLingko Indonesia, this comprehensive integration process increased the number of Transjakarta commuters from about 400 000 per day in December 2017 to just over 1 million per day in February 2020.
Vancouver, Canada, now requires every residential parking space in new developments to feature electricity outlets to charge electric vehicles. Meanwhile, digitalisation can shift around 60% of the generation capacity needed to charge these vehicles away from peak demand times. Smart traffic management systems can reduce congestion by 8%.
As economies recover from the Covid-19 pandemic, CO2 emissions are rebounding rapidly. The increase in global energy-related CO2 in 2021 could be the second largest in recorded history. Cities are the globe's economic engine, and the solutions they seek can transform the energy landscape by creating new synergies to reduce emissions, improve energy efficiency, enhance resilience and provide a cleaner prosperous future for us all. Strong international cooperation and collaboration can play a crucial role in this, notably through emerging knowledge-sharing networks that span cities and countries.
Strength of IEA-ASEAN energy cooperation highlighted at Ministerial meeting
IEA Executive Director Fatih Birol spoke today to Energy Ministers from across Southeast Asia about the latest global and regional energy trends, pathways to net zero emissions and the importance of clean energy investment.
He was participating in the seventh annual dialogue between the IEA and Ministers from the Association of Southeast Asian Nations (ASEAN) – the economic bloc comprised of 10 Southeast Asian economies. The meeting was hosted via video link by Brunei Darussalam, which is chairing ASEAN's 39th annual Ministers on Energy Meeting (AMEM).
"The IEA remains firmly committed to assisting ASEAN and its member states in developing pathways towards net zero that respect their capacities and capabilities," Dr Birol told the Ministers. "One of the key messages from the IEA's Roadmap to Net Zero by 2050 Roadmap is that not all countries are starting the race to net zero from the same place. I have and will continue to underscore the importance of ensuring that a greater share of global clean energy investment is directed towards the emerging and developing economies including in Southeast Asia to unlock new economic growth possibilities and emissions reductions.''
This year's ministerial marks the tenth anniversary of IEA-ASEAN energy cooperation, which was established with a Memorandum of Understanding at the 2011 AMEM in Brunei's capital, Bandar Seri Begawan. The Ministers and Dr Birol welcomed the adoption of a Commemorative Statement on IEA-ASEAN Energy Cooperation.
The IEA has significantly scaled up its work with ASEAN and its Member States over the past six years. Indonesia and Thailand became IEA Association Countries in 2015, and Singapore did so the following year. In 2019, under Thailand's Chairmanship, the IEA was named a Strategic Partner of ASEAN.
The IEA is committed to continue working with ASEAN and its Member States on key energy priorities, including energy security, energy efficiency, clean energy, energy investments and decarbonisation.
"On this, the tenth anniversary of our collaboration, the IEA is more determined than ever to continue to work hand in hand with our partners in the region to help achieve your energy goals,'' Dr Birol said. "I very much look forward to the next ten years."

The ASEAN Chair in 2022 will be held by Cambodia.
Indonesia's First Pumped Storage Hydropower Plant to Support Energy Transition
The World Bank's Board of Executive Directors today approved a US$380 million loan to develop Indonesia's first pumped storage hydropower plant, aiming to improve power generation capacity during peak demand, while supporting the country's energy transition and decarbonization goals.
"The Indonesian government is committed to reduce greenhouse gas emissions through, among others, development of renewable energy, energy conservation, and use of clean energy technology. Emission reduction in the energy sector will be driven by new and renewable energy generation and application of energy efficiency," said Arifin Tasrif, Minister of Energy and Mineral Resources of the Republic of Indonesia.
Over 80 percent of the power generated for the Java-Bali grid, which supplies electricity to 70 percent of the country's population, comes from fossil fuels. A key measure to support Indonesia's decarbonization agenda is the development of energy storage to enable integration of renewable energy into the grid. Pumped storage hydropower plays a crucial role in this approach.
The financing will support the construction of the Upper Cisokan pumped storage hydropower plant, to be located between Jakarta and Bandung, with an expected capacity of 1,040 MW. The facility will have significant power generation capacity to meet peak demand, provide significant storage capacity to enable a larger penetration of renewable energies and, because of its close location to two large demand centers, will alleviate increasing transmission loads on the grid. As a result, a more environmentally friendly and reliable supply of electricity will benefit consumers in Java and Bali.
"We are excited about this project as it will be the first of its kind for Indonesia. It represents a turning point for Indonesia's decarbonization pathway. The World Bank will continue to support Indonesia in its efforts to achieve resilient, sustainable, and inclusive development that will benefit the people of Indonesia now and in the future," said Satu Kahkonen, World Bank Country Director for Indonesia and Timor-Leste.
Pumped storage hydropower makes use of two water reservoirs at different elevations. At times of low electricity demand or when there is abundant generation from clean power sources, such as solar energy, power from the grid is used to pump water to the upper reservoir. Power is generated during peak demand, usually evening hours, as water moves down to the lower reservoir using a turbine, when electricity generation costs are high.
The project will help enhance the system flexibility and efficiency in balancing supply and demand, and therefore improve the reliability and quality of electricity services in Java and Bali. It also aims to support the government to integrate variable renewable energy into the Java-Bali grid, and to do so in an environmentally and socially sustainable manner.
Iran determined to boost oil exports despite sanctions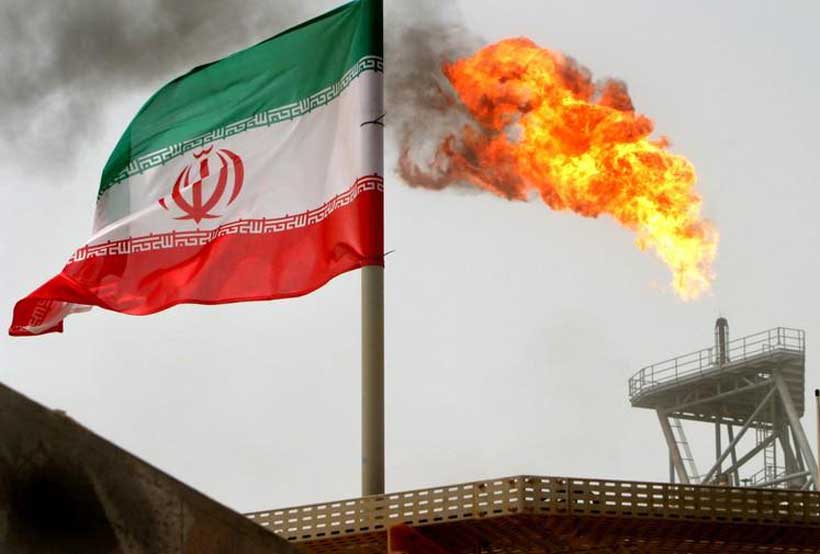 Iranian Oil Minister Javad Oji has said the Islamic Republic is determined to increase its oil exports despite the U.S. sanctions on the country's oil industry, adding that the use of oil sanctions as a "political tool" would harm the market.
"There is strong will in Iran to increase oil exports despite the unjust and illegal U.S. sanctions; I promise that good things will happen regarding Iran's oil sales in the coming months," Oji told the state TV.
As reported by IRIB, Oji noted that Iran can barter its crude oil for goods or even for services and investment not only in the oil industry but also in other sectors as well.
"Oil sales have dropped dramatically since the imposition of unjust sanctions, but this capacity exists in the Oil Ministry and all the industry's departments to increase oil sales," the minister said.
Iranian oil exports have plunged under U.S. sanctions, which were reimposed three years ago after Washington abandoned Tehran's 2015 nuclear deal with six powers.
"Iran will return to its pre-sanctions crude production level as soon as U.S. sanctions on Iran are lifted," Oji said.
"We are against using oil as a political tool that would harm the oil market."
Since April 9, Tehran and six world powers have been in talks to revive the nuclear pact. The sixth round of the negotiations adjourned on June 20. The next round of talks has yet to be scheduled.
Oji said Iran backed a decision made by the Organization of the Petroleum Exporting Countries and allies, a group known as OPEC+, on Wednesday to stick to a policy from July of phasing out record output cuts by adding 400,000 barrels per day (bpd) a month to the market.
Iran has been gradually boosting crude oil production to get ready for a strong comeback into the global market as the talks with world powers over the nuclear deal show signs of progress.
According to a Bloomberg report, National Iranian Oil Company (NIOC) officials have stated that the country's oil fields are going through overhaul operations and connections with oil buyers are being re-established.
"In the most optimistic estimates, the country could return to pre-sanctions production levels of almost four million barrels a day in as little as three months," the report published in May stated.
EF/MA