World Bank Group's $157 Billion Pandemic Surge Is Largest Crisis Response in Its History
In response to COVID-19 severely damaging the lives and livelihoods of millions of people in developing countries, the World Bank Group deployed over $157 billion to fight the pandemic's health, economic, and social impacts over the last 15 months (April 1, 2020 – June 30, 2021). This is the largest crisis response of any such period in the Bank Group's history and represents an increase of more than 60% over the 15-month period prior to the pandemic. Bank Group commitments and mobilizations in fiscal year 2021 (FY21) alone (July 1, 2020 – June 30, 2021) amounted to almost $110 billion (or $84 billion excluding mobilization, short-term financing, and recipient-executed trust funds).
Since the start of the pandemic, the Bank Group supported countries to address the health emergency, strengthen health systems, protect the poor and vulnerable, support businesses, create jobs and jump start a green, resilient, and inclusive recovery.
Following last year's COVID-related economic deterioration, the global economy is expected to expand 5.6% in 2021. Thus far, the recovery is uneven and many of the world's poorest countries are being left behind. While about 90% of advanced economies are expected to regain their pre-pandemic per capita income levels by 2022, only about one-third of emerging market and developing economies are projected to do the same. In 2020, global extreme poverty rose for the first time in over 20 years, with nearly 100 million people pushed into extreme poverty.
"Since the start of the pandemic, the World Bank Group has committed or mobilized a record $157 billion in new financing, an unprecedented level of support for an unprecedented crisis," said World Bank Group President David Malpass. "We will continue to provide critical assistance to developing countries through this ongoing pandemic to help achieve a more broad-based economic recovery. The Bank Group has proven to be a rapid, innovative, and effective platform to support developing countries as they respond to the pandemic and strengthen resilience for future shocks. But we must do more still. I remain deeply concerned about limited availability of vaccines for developing countries, which are critical to save lives and livelihoods."
World Bank Group Commitments (in U.S. billions)
World Bank Group
Q4-FY20
FY21*
15-mo ending June 21*
IBRD
15.1
30.5
45.6
IDA
17.2
36.1
53.3
IFC
11.2
31.5
42.7
Long-term finance (own account)
4.9
12.5
17.4
Mobilization
4.1
10.8
14.9
Short-term finance
2.2
8.2
10.4
MIGA
2.4
5.2
7.6
Recipient-executed trust funds (RETF)
1.5
6.4
7.9
TOTAL (excluding short-term finance, mobilization, and RETF)
39.6
84.3
123.9
TOTAL (including short-term finance, mobilization and RETF)
47.4
109.7
157.1
*Preliminary and unaudited numbers as of July 14.
In the 15 months ending June 30, 2021, the Bank Group stretched its balance sheets, accelerated leveraging and disbursements, and front-loaded resources. Support to countries from the International Bank for Reconstruction and Development (IBRD) totaled $45.6 billion – including drawing down IBRD's $10 billion crisis buffer in addition to Board-approved sustainable annual lending limits. Grants and zero or low-interest loans to the world's poorest countries from the International Development Association (IDA) amounted to $53.3 billion. To meet increased financing needs, the World Bank fully used all remaining IDA18 resources in FY20 and frontloaded about half of all the three-year envelope of IDA19 resources in FY21. In February 2021, IDA donor and borrower country representatives agreed to advance IDA20 by 12 months to enable continued surge financing in the coming years.
In addition, over the same 15 months, the International Finance Corporation (IFC), the Bank Group's private sector development arm, reached a record high of $42.7 billion in financing, including short-term finance ($10.4 billion) and mobilization ($14.9 billion), 37% of which was in low-income and fragile and conflict-affected states. IFC provided liquidity for businesses to remain in operation, while ramping up investments in companies on the frontlines of the pandemic response. To address the COVID-induced increase in the trade gap, IFC has expanded its trade and supply chain finance activities. IFC's "Upstream" work continues to create the conditions to attract much-needed private investment to some of the world's most difficult places and preparing the ground for a faster private sector recovery.
Despite a challenging year for borrowers and financial markets, IDA doubled the amount it raised last fiscal year from investors, reaching almost $10 billion. IBRD raised $68 billion, by mobilizing financing from investors around the globe. IBRD and IDA, both rated AAA/Aaa, raised awareness for a variety of development themes to successfully mobilize finance for sustainable development. The year also included innovations such as a unique $100 million five-year bond issued by IBRD to support the global response to COVID-19 through UNICEF. IFC, also rated AAA/Aaa, issued close to $13 billion in bonds for private sector development and job creation in emerging markets.
The Multilateral Investment Guarantee Agency (MIGA), whose mandate is to drive impactful foreign direct investment to developing countries, issued $7.6 billion in new guarantees over the same 15-month period since the onset of the pandemic, of which 19% supported projects in IDA countries and fragile settings.
In FY21, the World Bank Group's climate finance totaled over $26 billion, it's largest year of climate finance ever (25% above FY20, which was itself also a record). The new Climate Change Action Plan for 2021-2025 aims to integrate climate and development goals, and commits 35% of Bank Group financing to climate, on average, over the next five years, with at least 50% of World Bank climate finance supporting adaptation. In the same time frame, the Bank Group will align financing with the goals of the Paris Agreement, while helping client countries meet their Paris commitments, including supporting and implementation of development of their Nationally Determined Contributions (NDCs) and Long-Term Strategies.
Iraq and the World Bank to Boost Iraqi Women's Economic Empowerment
A new plan to remove constraints and create more economic opportunities for women was launched today by the government of Iraq, with support from the World Bank Group.
The Women's Economic Empowerment Plan for 2021-2022 outlines the government's priorities in line with its reform program. The plan follows extensive consultations with key stakeholders and is supported by the Iraqi Ministry of Planning, the Women's Empowerment Directorate in the General Secretariat of the Council of Ministers, and the High Council for Women's Affairs in Kurdistan Region of Iraq.
The World Bank Group provided technical support and advice to the government to develop the plan. Key pillars include building capacity for a more gender responsive budget, developing women's skills in the digital and agriculture sectors; boosting access to finance for women; increasing data related to women in the private and informal sectors; implementing legislative reforms to reduce gender gaps; and strengthening knowledge and capacity around access to childcare.
The plan also includes a special focus on supporting vulnerable groups of women and targeting internally displaced women and returnees to areas liberated from ISIS.
On the launch of the plan, Dr. Yussra Kareem, National Coordinator of the MGF in Iraq and Director General for Women's Empowerment Directorate at the General Secretariat of the Council of Ministers, said: "Women's economic empowerment is one of the most important pillars focused on by the general policy for women's empowerment, and it comes in the context of women's rights to equality and social justice, and the 2030 sustainable development plan. In light of this, the Advisory Committee for Women's Economic Empowerment, in cooperation with the World Bank, developed the National Action Plan for 2021-2022 for women's economic empowerment and identified its six priorities."
"Iraqi women have proved to be strong and resilient throughout decades of economic and security challenges. Increasing the participation of Iraqi women in the policy-making process and in leading roles is key to promote peacebuilding and social development." said Saroj Kumar Jha, the World Bank's Mashreq Regional Director. "The World Bank Group stands ready to support Iraq in strengthening the enabling environment for women's economic participation and improving women's access to economic opportunities."
"More women in the Iraqi workforce means more growth and less poverty. IFC is working with the private sector to help remove barriers that hold women back from joining the workforce," said Abdullah Jefri, IFC's Manager for the Levant.
"Building a resilient economic recovery and ensuring inclusive long-term growth requires the full and equal participation of women in the economy. Canada continues to support Iraq in their efforts to strengthen women's economic empowerment and welcomes the launch of this workplan under the Mashreq Gender Facility to help address the barriers to women's participation in the labour force and enhance their opportunities to succeed," said H.E Ulric Shannon, Ambassador of Canada to Iraq.
"Sustainable development in any country cannot be achieved if women are not included in economic life and in political decision-making bodies. To ensure women participation in the labour market is smart economics, and this requires active and tireless efforts over time. The launch of the Woman Economic Empowerment Workplan 2021-2022 today is a step in the right direction, and Norway is proud to support the Mashreq Gender Facility in these vital efforts," said H.E Erik Burger Husem, Chargè d'affaires at the Norwegian Embassy in Iraq.
The new plan will be implemented with support from national and international civil society organizations, and the private sector, in close coordination with the World Bank Group and international development partners.
The plan is a joint effort between the government of Iraq and the World Bank Group under the Mashreq Gender Facility (MGF), launched in January 2019 by the World Bank Group with financial support from the governments of Canada and Norway. The facility provides technical support to Iraq, Lebanon and Jordan to boost women's economic participation and drive inclusive growth. Under the MGF, Iraq set the target of increasing female labor force participation of 5 percentage point by 2024.
Demand for Circular Economy Solutions Prompts Business and Government Changes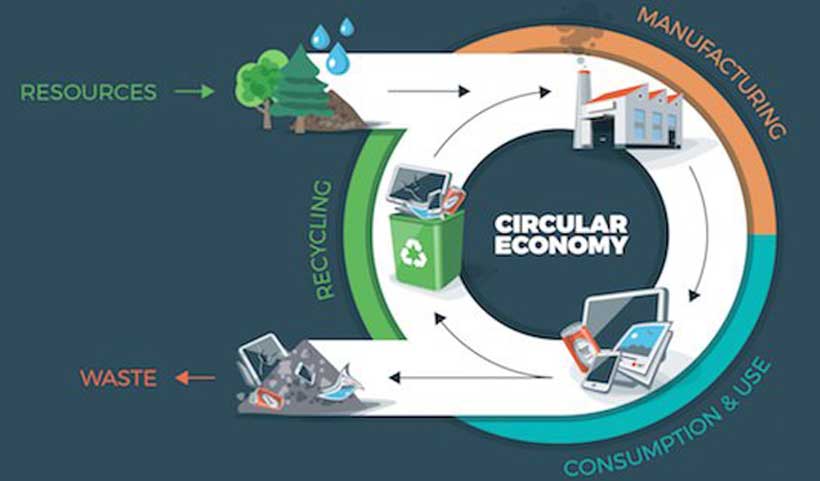 To truly tackle climate goals, the world must transform how it makes and consumes. To support this effort, circular economy initiative Scale360° has expanded its reach from 2 countries to 20 in 2021, taking its unique approach to circular innovation and collaboration to cities, regions and countries around the world, triggering key changes for businesses and governments in how circularity is prioritised and managed.
Scale360°, established in 2019, leverages innovation 'hubs' to bring together leaders in science, policy and business to trigger circular change. They use Scale360°'s unique, tested methodology – the Scale360° Circular Innovation Playbook – to deploy Fourth Industrial Revolution technologies to rethink consumption and production, helping to transform the pipeline of future innovations.
The rapid growth of Scale360° demonstrates the growing demand for guidance on how to enable circular change and collaboration. Highlights from 2021 include:
● Circular Shapers: This initiative, launched this year, mobilised young change-makers in 12 countries to transform their cities into centres of circular economy innovation. Circular Shapers are competitively selected from the Global Shapers Community, a network of young volunteers in 448 city-based hubs around the world.
● Germany: Scale360° Germany is designing a consumer campaign to educate consumers on the environmental impact of 'white goods' (e.g., washing machines, etc.) and empower consumers to lengthen the lifespan of their appliances. This project has been developed in collaboration with Kearney and the Circular Valley.
● Singapore: This new program will improve the conditions for circular scalability in Singapore by engaging Singapore's Deep Tech community and accelerating circular innovation collaborations between startups and corporates. Launched September 2021, this program was developed in collaboration with SGInnovate, a government-backed Deep Tech ecosystem builder and investor.
● Kenya, Bangladesh and India: In these countries, the 2030 Water Resources Group is leveraging Scale360° methodologies, tools and partnerships for scaling up circular economy solutions to improve water resource management in urban, industrial and agricultural sectors. 2030 Water Resources Group is a public-private-civil society partnership hosted by the World Bank Group.
● Argentina: McKinsey.org's flagship initiative Rethinking Recycling – in partnership with Red de Innovación Local (RIL), a network of 200+ Argentine cities' municipal decision-makers – will apply tools from Scale360°'s Circular Innovation Playbook to transform Argentine cities' municipal waste management at scale, aiming to deliver substantive volumes of recyclables and compostables to industry, while also enhancing job opportunities and cost savings for cities.
This momentum comes in addition to the continued evolution of existing programmes. This year, the UAE established a dedicated UAE Circular Economy Council comprising ministers and C-level representatives across public and private sectors. The newly formed cross-ministerial council aims to ensure circular thinking across government is prioritised not only within the Ministry of Climate Change and Environment, but also across the Cabinet, the Ministry of Economy, the Artificial Intelligence Office and local government entities in each emirate. The council serves as a board of advisors for Scale360° in the UAE, and provides a platform for government, business and civil society leaders to share best practices in circular innovation.
"With these changes in place, we can create truly resilient systems that strengthen economies while pursuing the latest innovations," said His Excellency Dr Abdullah Belhaif Al Nuaimi, UAE Minister of Climate Change and Environment and Chair of the UAE Circular Economy Council.
Chile's SOFOFA hub, with the support of the country's Ministry of Environment, is convening the country's largest industry groups together to accelerate circularity by integrating value chains within sectors such as mining, energy, pulp and paper, food and beverages and more. Additionally, entrepreneurs, innovators and civil society members are actively working together to collaborate and build new circular business models at this critical time for the environment and economies.
"Circularity as a concept is still relatively nascent in this region, despite the critical role it plays in helping us achieve our sustainability targets. This is something we hope to change as part of the global Scale360° network, by integrating circular innovation into our mission of building Singapore's Deep Tech economy," said Dr Lim Jui, CEO, SGInnovate.
Such efforts pave the way for collaborations between cities, countries and regions and much-needed system-wide change. "System-wide change requires a system-wide re-thinking of collaboration," said Shannon Bouton, President and CEO, McKinsey.org. "We are always partnering with those who are best placed to drive and scale change for maximum efficiency and impact."

The wider adoption of Scale360° principles sets the stage for a more circular future as leaders rethink innovation. Added Scale360°'s Global Lead, Helen Burdett: "With every city, country and region, we are building a flywheel for change."
Lighthouse Partnerships Gain Momentum on Social Justice
Crises in climate, health and inequality are compelling organizations to align business strategies with equity and social justice values.
In a new whitepaper, Lighthouse Action on Social Justice Through Stakeholder Inclusion, the World Economic Forum, in collaboration with Business for Social Responsibility (BSR) and Laudes Foundation, shines a light on emerging corporate momentum supporting stakeholder inclusion and social justice.
Through the case studies of nine "lighthouse examples," the report chronicles how the following companies and coalitions are establishing stakeholder inclusion models and best business practices in three key areas:
Making investments targeting impacted communities in value chains and ecosystems:
– The Resilience Fund for Women in Global Value Chains (UN Foundation, BSR, Women Win/Win-Win, Gap Foundation, PVH Foundation, H&M Foundation, the VF Foundation, and the Ralph Lauren Corporate Foundation)

– In Solidarity Program (Mastercard)

– Replenish Africa Initiative (The Coca-Cola Foundation)
Influencing public policy and speaking out as corporate citizens:

– Open for Business Coalition (39 major corporations)

– Racial Equality and Justice Task Force (Salesforce)

Applying rigorous accountability practices and sharing power with workers in supply chains and communities:

– Unilever's Living Wage commitment (Unilever)

– Farmer Income Lab (Mars, ABinBev, Danone, Oxfam, IDH, Livelihoods Fund for Family Farming, UNDP)

– Amul Supplier Cooperative Ownership (Amul)

– Patagonia's Implementation of Regenerative Organic Certified Standards in its Apparel Supply Chain (Patagonia)
The whitepaper outlines successes and pain points as these leading lighthouse partnerships between business and civil society strive for more meaningful participation with communities most impacted by systemic injustices. Each business is unique in its culture and path to long-term value creation, but all are committed to the belief that stakeholder primacy leads to optimal outcomes.
The time to move forward with these ideals is now, and the conclusion is clear in that, "…the crises of pandemic, protest and social disruption have created an inflection point for many companies to evaluate their corporate sustainability strategies," said David Sangokoya, Head, Civil Society and Social Justice, World Economic Forum. "Stakeholder inclusion must be at the centre of any corporate action on equity and social justice in our unequal world…positioning business on the path towards redesigning business models that shift power and value towards stakeholder primacy."