Russia's "Ummah Pivot": Opportunities & Narrative Engagement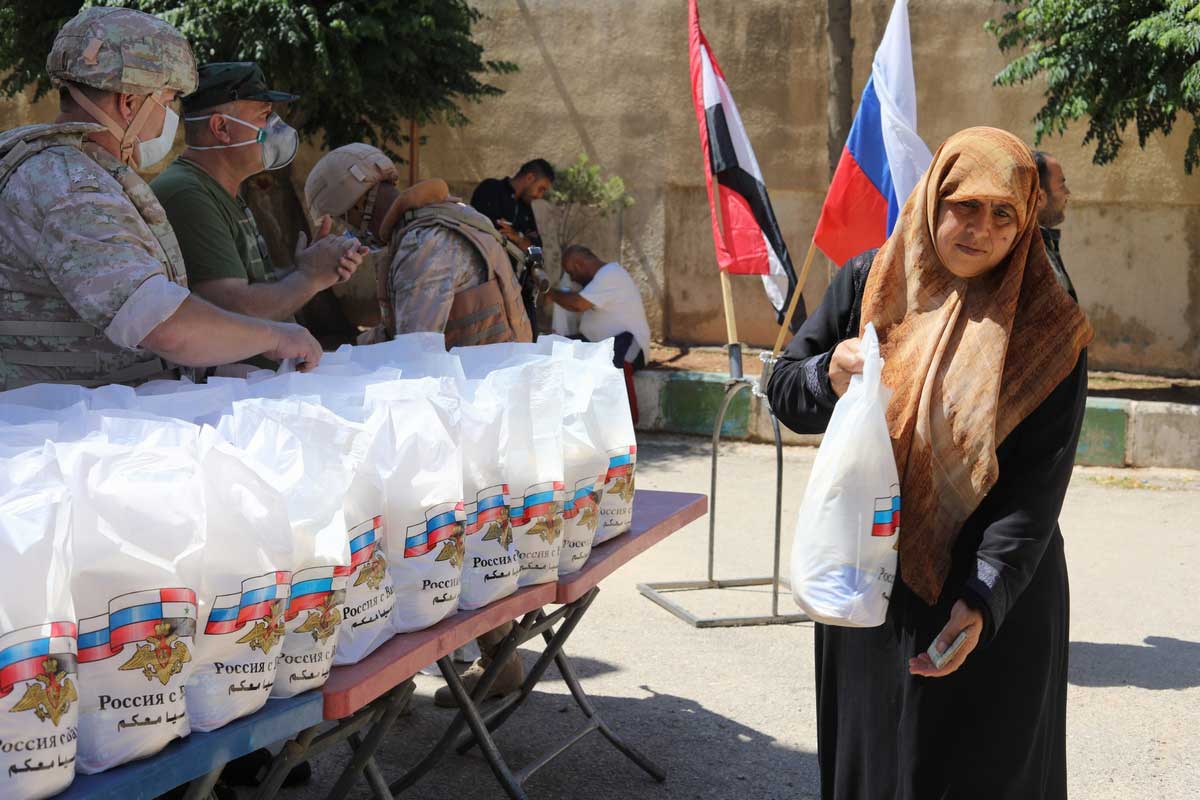 (This is the second and final part of the author's article series on this topic. The first one can be read here, and it is recommended to review it before the present piece).
Russia's "Ummah Pivot", or its post-2014 comprehensive engagement with the many Muslim-majority countries along its southern periphery and beyond, comprises one of the most important pillars of its contemporary grand strategic balancing act between East and West. The Southern vector of its diplomacy prevents any zero-sum choice between East and West by presenting the Eurasian Great Power with a much-needed third option, which in turn can be leveraged to improve its negotiating potential with those aforementioned two regions of Eurasia. The first part of the article series elaborated on the geostrategic situation in North Africa, the Levant, the Gulf, the South Caucasus, Iran, Central Asia, and South Asia, while the present piece is more focused on Russia's opportunities in these regions and narrative engagement with them. Although they can be read separately, it is recommended that they are reviewed together in order to obtain a better understanding of everything.
Russian Interests
North Africa: Becoming the Libyan Power Broker
In North Africa, Libya is the scene of intense competition between Turkey on the one hand and Russia, Egypt, the UAE, and France on the other. Russia must therefore seek a compromise solution that prevents either side from becoming dominant, with Russia playing the kingmaker role if possible (perhaps through a mix of creative diplomacy, energy partnerships and PMCs). The victory of either side over the other might unbalance the region, creating more opportunities for American or other meddling with unpredictable consequences. Libya is also the gateway to parts of West and Central Africa, so whoever fully controls it could expand more confidently into Africa with time, thus complicating Russian interests there too (which are beyond the scope of the present analysis despite some of the countries being Muslim-majority ones). If pressed to choose, Russia should side more with Egypt and the UAE, especially since the latter can open doors for Russia in other regions if their partnership reaches the strategic level through cooperation here and elsewhere.
Levant: Resolving the War in Syria
Russia must somehow resolve the Syrian dilemma, ideally by pairing an Iranian withdrawal with the nuclear deal, sanctions relief for Syria, and some form of decentralization that is acceptable to Damascus. Moscow must also ensure that Turkish influence is balanced by Emirati influence and that the Muslim Brotherhood is contained. In addition, comprehensively strengthening ties with Israel is a must, but Russia has to articulate the reasons behind this balanced policy to Arab civil society to avoid losing soft power by having its rivals (i.e. America) exploit the narrative void to portray Russia as "pro-Zionist", etc. As for Iraqi Kurdistan, Russia has to maintain balanced influence there which does not infringe on its neighbors, all the while expanding its role over that region via its springboard of energy diplomacy. The Kurdish card can also help Russia balance those same countries, but it must be played very carefully to avoid possibly irreparable blowback to Russian interests.
The Gulf: Investing in Vision 2030 & Engaging with (South) Yemen
Unlike the other "Ummah Pivot" regions, Russia has no serious risks in the Gulf, but plenty of opportunities. It should continue its military and energy diplomacy with all partners to expand its influence over their elite. This can help open up real-sector economic opportunities related to Saudi Arabia's ambitious Vision 2030 model of socio-economic development for example. Still, the UAE should be Russia's priority partner because it is obviously more influential than Saudi Arabia is right now even if Riyadh commands more power over the global energy markets than Abu Dhabi does. Russia should seriously consider diplomatically involving itself more in resolving the long-running and highly disastrous war in Yemen by attempting to replicate its regrettably unsuccessful but nevertheless principled approach to the Syrian one by encouraging decentralization. This necessitates closer ties with the UAE and its South Yemeni partners, but must not be pursued too enthusiastically lest Saudi Arabia and Iran grow suspicious of Russia's long-term strategic intentions.
South Caucasus: Managing the New Regional Reality
Russia's interests here are three-fold and interlinked: it must manage Turkey's growing influence over Azerbaijan, ensure Armenia's compliance with last year's ceasefire agreement mandating the unblocking of all regional economic and transport corridors, and effectively utilize the aforementioned to bring about tangible economic dividends related to improving trade with all concerned countries (most importantly Turkey and Iran). This requires a tricky diplomatic balancing act, but there are still certain reasons to be optimistic about its success. Azerbaijan seems increasingly conscious of Turkey's creeping influence over it and might move closer to Russia in order to balance this. Armenia, while more nationalistic than ever, can't realistically refuse to unblock the corridors in perpetuity, so eventually it'll be compelled to comply. As for trade, Russian companies are already active in the South Caucasus and can expand their businesses into Turkey and Iran with time.
Iran: Bolstering the Islamic Republic's Balancing Act
With or without resolving their strategic dilemma in Syria that was earlier explained, the future of the Russian-Iranian relations seems bright, but it mustn't be overhyped due to the difficulties that Moscow might face in making significant economic inroads in the real-sector of Tehran's economy given Beijing's newfound role. Russia should work more closely with India by reviving the NSTC as soon as possible, though New Delhi might not be too interested unless Washington's sanctions are eased or removed. This severely limits Russia's economic diplomacy but does not outright exclude its possible effectiveness. Russia should seek to expand upon its existing strategic economic partnerships to reach new commercial and other ones, taking advantage of its closer location to Iran vis-a-vis China and realizing that it might take time for China to optimize its overland trade routes to the Islamic Republic via Central Asia and W-CPEC+.
Central Asia: Retaining Strategic Influence
Russia risks losing the most out of this portion of its "Ummah Pivot" given growing Chinese, Turkish, and perhaps soon even American influence through a variety of spheres as was previously explained. The most effective solution rests in more confidently engaging civil society to retain the appeal of Russian soft power, continue cultivating regional elite including through MGIMO's new Tashkent branch campus, and relying upon military diplomacy related to countering Afghan-emanating threats to secure privileged economic partnerships in exchange. Cynically speaking, while Russia in no way supports growing Sinophobic sentiments in the region, this terrible trend helps keep Chinese influence in check to Russia's benefit, though China's said influence might then just as easily be replaced by Turkey's, especially considering some locals' recently revived interest in the brand of political Islam that Ankara unofficially exports. Russia might not be able to stop some loss of its influence, nor the gradual establishment of a larger Muslim bloc like was earlier discussed, but it can still manage this process if it better understands exactly what is happening and why.
South Asia: Containing Afghan Threats & Pioneering Trans-Regional Connectivity
The post-withdrawal scenario in Afghanistan is the greatest uncertainty in this region, as is the strategic significance of N-CPEC+/CEC, the latter of which can either strengthen Russia's Greater Eurasian Partnership (GEP) vision and/or serve as an entry point for American balancing influence in Central Asia. Moscow must see to it that Afghanistan does not fester with ISIS threats that can subsequently spread throughout the broader region in parallel with maintaining a pragmatic balance between Islamabad and New Delhi. With the latter in mind, Russia should seek utilize its historic partnership with India to draw New Delhi further away from the Quad and therefore stabilize the strategic situation with all five related nuclear powers, though without compromising on its rapid rapprochement with Pakistan. Ideally, Russia will restore stability in this highly strategic space and tangibly profit from it through economic means, including new trade routes like N-CPEC+/CEC and the VCMC.
Narrative Engagement
North Africa: Keeping the Spotlight on Turkish Activity
Russia should emphasize the need for a pragmatic compromise to the Libyan Civil War, while also highlighting the trends of Arab unity and growing Turkish influence through political Islam. Egypt's role should be afforded particular attention in order to improve Russia's appeal in its society by showing its people that Moscow deeply respects their country's regional power status. As for the Turkish dimension, it should be critical, but fair, though not propagandistic and overly anti-Turkish in order to avoid worsening very sensitive ties with Ankara. Another idea is to also talk about the UAE's growing power as well, focusing on its extra-regional engagements in North Africa so as to provide positive informational support which enhances bilateral relations.
Levant: Articulating Russia's Complex Balancing Act
Russia must urgently articulate the driving forces behind its multi-sided balancing act, especially with Israel, Turkey, and the Kurds, in order to dispel suspicions about its grand strategic intentions due to the visible narrative void that's characterized the past few years as a result of lackluster efforts in this respect. When it comes to Syria, Russia must begin floating pragmatic compromise solutions to provoke wider discussion about them in order to discover whether they are acceptable for all stakeholders. As for Turkey, Russia did indeed unofficially legitimize its sphere of influence in Syria, but should begin talking more about how destabilizing it is become and how counterproductive Ankara's unrealistically recalcitrant stance on compromising on President Assad's political future is for the peace process. Concerning Iran, Russia should applaud its anti-terrorist contributions but consider highlighting its regionally destabilizing role vis-a-vis Israel, though in a sensitive and fair manner. Finally, the Kurdish card must be played very carefully because the risks might easily and far outweigh the rewards, but this outpost of Russian influence should not be forgotten either and should receive more attention when it comes to the Iraqi Kurdistan.
The Gulf: Encouraging the Region's Socio-Economic Transformation
While appreciating the UAE's aspiring regional hegemon status, Russia should be careful not to offend Saudi Arabia's sensitivities. It should concentrate on multilateral security solutions, such as its existing Gulf one while pioneering a decentralized compromise solution to the war in Yemen. Furthermore, Russia should applaud MBS' socio-economic reforms and begin engaging more closely with the country's youthful society. Turkey's military base in Qatar can largely be ignored for the time being since it does not do much, but if it becomes troublesome, Russia has to consider how to respond to it in the narrative sense, though once again without risking a worsening of very sensitive Russian-Turkish ties. Generally speaking, the Gulf should not present too many narrative challenges for Russia as the opportunities far outweigh the risks.
South Caucasus: Promoting Regional Reconciliation
Russia has to balance its sympathy for Armenia's reactive nationalist outcry to losing last year's war with its newfound partnership with victorious Azerbaijan. It also must gently encourage Armenia to abide by last year's ceasefire agreement when it comes to unblocking all regional economic and transport corridors. The key challenge is how to respectfully respond to Turkish influence, especially if it becomes visibly pernicious. As a rule of thumb, being softer is better than being harder because of the sensitivities at play. More than that, Azerbaijan seems to naturally realize the risks of becoming too dependent on Turkey. Russian media possibly drawing attention to this too conspicuously might elicit a negative reaction though and make many suspect Moscow's motives, though this might still be possible to strike a fair balance and/or employ other means to this end.
Iran: Recalibrating Russia's Balancing Act
First and foremost, the strategic dilemma with Iran in Syria must be publicly clarified at the elite and civil society levels. Secondly, Russia has to re-engage Iran more enthusiastically than ever before, with or without the removal of U.S. sanctions. It also must bring India on board as well, taking advantage of recently troubled U.S.-Indian relations. Without India, Russia's outreaches with Iran will remain limited, and Moscow will become a junior partner to Beijing. Speaking of which, the People's Republic should not be criticized, but Russia can still gently and very generally speak about the risks of disproportionate dependence on any single partner. Iran must come to realize that Russia is an irreplaceable balancing partner for it, one which can fulfill a very strategic role, but it must also carry tangible economic and political benefits too.
Central Asia: Cultivating Regional Elite & Promote Secularism
More elite cultivation and media engagement is needed otherwise Russia will lose out to other powers in its own "backyard". Russia should not ever support Sinophobia, but it could draw attention to some objective economic consequences of reportedly lopsided deals and their impact on the locals, though perhaps via indirect means to avoid angering China. Secularism must also be supported to counteract rising Islamist tendencies which could lay the seeds for non-state threats, especially via Western/U.S. and ISIS ideological infiltration of those societies. Those threats can be emphasized quite a lot to remind everyone of Russia's stabilizing military role, which could in turn justify the privileged economic deals that it receives unlike some of those other countries' partners in exchange for its indispensable security services.
South Asia: Pragmatically Engaging with the Taliban & Constructing a New Regional Paradigm
Engagement with Afghan society is extremely limited so Russia should concentrate on retaining cordial relations with Kabul while expanding pragmatic ties with the resurgent Taliban. It needs to formulate a narrative means through which the entrance of Russian mineral extraction companies won't cause the same level of controversy as any of its competitors, especially Western and Chinese ones. It also needs to focus on the socio-economic benefits of N-CPEC+/CEC, especially with respect to how more Russian trade and investment can help the Afghan people. It could also, however, warn about the U.S. using N-CPEC+ as a Trojan Horse for slyly expanding influence there and beyond to reduce its appeal among the populace and preemptively thwart a prospective economic diplomacy plot. The historic partnership with India must be celebrated at every opportunity to continue courting it back to Russia's side after recent years of allying with America. Russian experts can also take the lead in discussing pragmatic balancing solutions for the region's nuclear powers, including Pakistan, while paying more attention to Pakistan's legitimate interests so as to continue strengthening their ongoing rapprochement, perhaps by drawing more attention the strategic balancing motives behind their country's CPEC+ vision.
From our partner RIAC
Russia's Blueprint For Success in the Middle East
As a tradition in the modern world the Middle East remains unstable. Continuous political turbulence in the region extinguishes all of previous leaders and appoints new ones, who with the Fortuna's blessing were able to use their opportunities efficaciously. During the last couple of decades we have witnessed a number of coups d'etat, revolutions, counter revolutions and international interventions each with varying degrees of success. Regional power balance has lived through constant change however one of the players has managed not only to stay on top but overtake his counterparts. That powerhouse became Russia, the influence of which has grown the most compared to other parties in the Middle East.
Certainly, the Russian authorities didn't have to start from scratch. Moscow took advantage of Soviet inheritance of friendly relationships and military cooperation with Arab countries. However, the modern strategy of Russia is far more sophisticated. Within the framework of developing its presence in the region the Russians combine political prowess, military might and soft power. All of the mentioned are a part of hybrid warfare concept, which is not an exclusive Russian stature, but Kremlin excels at it. Besides, Russia has one clear advantage against other world superpowers – consistency.
A great example of those principals is the Russian engagement in Syrian conflict. The first stage in the grand plan was a military operation, which stabilised Bashar Assad's grip on power, restricted influence of the armed opposition and diminished capabilities of ISIS. The distinguishable features of the operation were active use of the aviation and precision weaponry in addition to the use of the newest types of weapons and advanced tactics. The success achieved by the military means was further developed by Russian political initiatives most notably during meetings in an unprecedented Astana format, which gathered together at a negotiation table Russia, Turkey and Iran. As a consequence this format became a substitution to the dead-end UN Geneva process. Along with that, to protect its interests Moscow has successfully capitalised on bilateral relations. The agreements made between Russia and Turkey became a main factor to reconciliation of situation in the Idlib province. Additionally, Russia serves as a mediator between Iran and Israel in the southern regions of Syria.
Whereas in Libya Russia did not believe it was necessary to conduct a full-scale military operation, however the principles stayed the same. The Russian side, which from beginning has supported Halifa Haftar's Libyan National Army, regularly receives representatives from both sides of the conflict and notably Russian Ministry of Defence plays an active role in the negotiation process. LNA has gained some crucial allies such as Egypt and United Arab Emirates in consequence of the efforts of the Russian military.
Turkey became a main adversary of Russia in both Syria and Libya. Moscow and Ankara have managed to secure their cooperation despite periods of escalated tensions between the countries, i.e. after a Russian jet was shot down by Turkish-backed militants. Unchallenged success was Turkey leadership's decision to purchase S-400 missile complex in spite of pressure from US. In addition to that, Turkey has chosen Russia as partner to build a nuclear plant in Akkuyu. Even president Erdogan doesn't allow himself to openly badmouth his Russian counterpart, whereas the Turkish leader voices bitter complaints about a "bad start" in the relationship with the head of the White House.
Along active interference in the aforementioned domains Russia manages to sustain its relationships with the countries of the Persian Gulf. This concerns not only the Organization of Petroleum-Exporting Countries but also military technical cooperation including the participation of Arab countries in the "Army Games" organised by the Russian military. The vast network of contacts allows Russia to play on contradictions between Saudi Arabia, United Arab Emirates, Qatar and Turkey.
Russians became firmly entrenched in the Middle-East by dual-wielding their diplomatic and military capabilities. Thanks to clever positioning Russia can now secure its goals by simply waiting for their opponents to make a mistake. This is what happened in Afghanistan where the political vacuum left after the US withdrawal provided Russia with an opportunity to declare its readiness to facilitate the settlement process. Contacts with the Taliban established beforehand and Russia's solid relationships with China and Qatar became an additional advantage.
Ultimately, consistency and succession of Russian middle-eastern policy at the head of which is usually the Armed Forces of Russian Federation, has provided numerous solid opportunities for Moscow to promote its interests in the region. Opposed to its rivals Russia has achieved the consolidation of its position and that is undisputed argument for the effectiveness of Kremlin's strategy.
Russian Authorities Going Forth and Back with Migration Policy
Deputy Mayor of Moscow for Economic Policy and Property and Land Relations Vladimir Efimov, in an interview published this mid-September in the newspaper Izvestia, a widely circulated and reputable Russian media, lamented that Moscow is still experiencing a shortage of labor migrants at various construction sites, now there is a shortage of about 200 thousand people.
"This problem remains today Moscow lacks about 200 thousand migrants. And we hope that in the near future the restrictions on their entry into the country will be softened," Yefimov said, answering the question of the publication whether the issue of the shortage of migrant workers for construction sites in Moscow.
According to him, "the lack of labor resources leads to the fact that employers, primarily developers, outbid employees from each other, which increases the cost of their services. If we talk about the period before the pandemic, for several years, housing prices in Moscow have hardly grown. Against the background of the pandemic, the cost of housing has increased, actually catching up with inflation in previous years," said the Vice Mayor of Moscow.
The announcement simply highlighted the inconsistency dealing with migrant policy and complete lack of foresight, especially what to do with migrants from the former Soviet republics. Thanks to these migrants, mostly employed in the construction fields and (cleaning, sewage disposal or removal services) in various neighborhood or districts, Moscow has won awards for being modern and clean smart-city in Europe. These migrants play an important role, most often underestimated, in building infrastructure and in general development of the society.
According to a survey of Promsvyazbank (PSB), Opora Rossii and Magram Market Research conducted in June 2021 found out that 45% of small and medium-sized businesses in Russia need new employees. Entrepreneurs still consider the unfavorable economic conditions caused by the pandemic to be the main obstacle to business expansion, and employing new staff requires extra cost for training in the social services sector.
Opora Rossii, an organization bringing together Russian small-and medium-sized enterprises (SMEs), and the Institute for Social Analysis and Forecasting of the Russian Presidential Academy of National Economy and Public Administration (RANEPA), among other business organizations and institutions, have been very instrumental on the significant role by migrant force, its combined objective and beneficial impact on the economy of Russia.
Several experts, in addition, have explained that migrants from the former Soviet republics could be useful or resourceful for developing the economy, especially on various infrastructure projects planned for the country. These huge human resources could be used in the vast agricultural fields to boost domestic agricultural production. On the contrary, the Federal Migration Service indiscriminately deports them from Russia.
Within the long-term sustainable development program, Russia has multibillion-dollar plans to address its infrastructure deficit especially in the provinces, and undertake mega projects across its vast territory, and migrant labor could be useful here. The government can ensure steady improvements are consistently made with the strategy of legalizing (regulating legal status) and redeploying the available foreign labor, the majority from the former Soviet republics rather than deporting back to their countries of origin.
Moscow Mayor Sergei Sobyanin has been credited for transforming the city into a very neat and smart modern one, thanks partly to foreign labor – invaluable reliable asset – performing excellently in maintaining cleanliness and on the large-scale construction sites, and in various micro-regions on the edge or outskirts of Moscow.
With its accumulated experience, the Moscow City Hall has now started hosting the Smart Cities Moscow, an international forum dedicated to the development of smart cities and for discussing changes in development strategies, infrastructure challenges and adaptation of the urban environment to the realities of the new normal society.
Kremlin Spokesman Dmitry Peskov has acknowledged that Russia lacks a sufficient number of migrants to fulfil its ambitious development plans. He further underscored the fact that the number of migrants in Russia has declined significantly, and now their numbers are not sufficient to implement ambitious projects in the country.
"I can only speak about the real state of affairs, which suggests that, in fact, we have very few migrants remaining over the past year. Actually, we have a severe dearth of these migrants to implement our ambitious plans," the Kremlin spokesman pointed out.
In particular, it concerns projects in the agricultural and construction sectors. "We need to build more than we are building now. It should be more tangible, and this requires working hands. There is certainly a shortage of migrants. Now there are few of them due to the pandemic," Peskov said.
The labor shortage is not only in Moscow but it applies to many regions including the Far East. During the 6th edition of the Eastern Economic Forum (EEF), the demography decline and labor shortage have been identified as factors affecting the development of the vast region. With plans to build residential blocks, establish industrial hubs and fix businesses, these depend largely on the working labor force.
The Russian government continues discussing a wide range of re-population program, hoping to attract in particular Russians there, even incentives such double income, mortgage system, early retirement and free plots of land, but little results have been achieved. Russia's population is noticeably falling, and now stands at 146 million.
The Far East is almost the size of Canada with its current population (a mixture of natives plus legalized immigrants) more than 38 million. That compared, the Far East with estimated 6.3 million is one of the most sparsely populated areas in the world.
Kremlin has made this its absolute long-term priority, and the challenging task is to create an environment for investment and attract people. President Vladimir Putin acknowledged, at a meeting on the socio-economic development of the Far East, that the speedy outflow of the population from the Far East suggests that the region has not yet received enough support measures. "A lot is being done, but it is still not enough if we observe an outflow of the population."
President Vladimir Putin has already approved a list of instructions aimed at reforming the migration requirements and the institution of citizenship in Russia, based on the proposals drafted by the working group for implementation of the State Migration Policy Concept of the Russian Federation for 2019-2025.
"Within the framework of the working group for implementation of the State Migration Policy Concept of the Russian Federation for 2019-2025, the Presidential Executive Office of the Russian Federation shall organize work aimed at reforming the migration requirements and the institution of citizenship of the Russian Federation," an official statement posted to Kremlin website.
In addition, the president ordered the Government, the Interior and Foreign Ministries, the Federal Security Service (FSB), and the Justice Ministry alongside the Presidential Executive Office to make amendments to the plan of action for 2019-2021, aimed at implementing the State Migration Policy Concept of the Russian Federation for 2019-2025.
Russia's Far East: Transforming the Space into Modern Habitable Region
Early September the 6th edition of the Eastern Economic Forum (EEF) under the theme "New Opportunities for the Far East in a Changed World" was held and considered as vital for strengthening especially economic ties among Asia-Pacific countries and the Far East region of Russia. What is known as the Far East covers approximately 40% of Russia's territory.
The Far East is almost the size of Canada with its current population (a mixture of natives plus legalized immigrants) more than 38 million. That compared, the Far East with estimated 6.3 million is one of the most sparsely populated areas in the world. The Russian government continues discussing a wide range of re-population programmes, hoping to attract in particular Russians there, even incentives such double income, mortgage system, early retirement and free plots of land, but little results have been recorded.
The September forum, and all the previous ones, focused on raising sustainable development that primarily includes infrastructure, business investment and people. The question is on human habitation and sustenance, but this vast region of the country is sparsely inhabited. Kremlin has made this its absolute long-term priority, and the challenging task is to create an environment for investment and attract people.
President Vladimir Putin acknowledged, at a meeting on the socio-economic development of the Far East, that the speedy outflow of the population from the Far East suggests that the region has not yet received enough support measures. "A lot is being done, but it is still not enough if we observe an outflow of the population."
"Our historical task is not only to keep people in the territories that were mastered by our ancestors for centuries, but to increase the population," the Russian leader said. Putin stated that the rate of the outflow of people had decreased, but had not stopped. He called the growth of the population in the Russian Far East a "historical task."
For this purpose, it is necessary to develop production capacities, create jobs, and ensure people's incomes. At the same time, Putin also called on using the resources that have already been allocated to the region. "Considerable resources have been allocated and they need to be used effectively," he suggested, addressing the opening of the Far East Economic Forum.
The September gathering brought together Russian and foreign entrepreneurs, politicians, experts, and representatives of the media as well as public organizations to exchange experiences and ideas, discuss the most pressing business and development issues and map out useful joint projects and initiatives for the region. Many of the speakers were very frank and objective in speeches, highlighted ways for developing the region.
The average Far Eastern city fares about 10% worse than the Russian average in terms of housing provision and quality of medical services. "We need intensive breakthrough development. Master plans involving the integrated development of the region could provide the key to this development. What is required is a resource center for urban development covering the Far Eastern Federal District. Secondly, the region is facing a severe shortage of highly skilled workers, especially in architecture and urban planning," Architect and Partner at KB Strelka, Alexey Muratov told the session on Urban Planning.
The Far Eastern Federal District has significant economic potential and is of interest to both local and foreign business, but there is an imbalance between investment and economic potential in the region. For Artem Dovlatov, Deputy Chairman and Member of the Management Board of VEB of the Russian Federation, "the Far East is a very interesting region and of particular importance to the government. This is why the Russian President Vladimir Putin has declared that the Far East will be a priority region for Russia in the 21st century. From the perspective of investors, the region is of serious interest. It benefits from vast resources, proximity to the Asia-Pacific region, and diverse scientific and technological potential."
"There are certain barriers, of course, and investors still approach investing in the region with a degree of caution, since the barriers are objective. They are associated with the population (a lack of staff) and there are costs related to construction… The Far East is a highly urbanized region. This presents a huge challenge because we need to increase quality of life in the cities in order to prevent outward migration or attract new residents. Strategic planning in cities is needed here," added Dovlatov.
Further at the different session, Alexey Muratov, Architect and Partner at KB Strelka, simply puts it, "there aren't enough people in the Far East. The region accounts for 40% of the country's land mass but only 5.5% of its inhabitants. How can we solve the central challenge, which is to say the imbalance of economic and investment potential? The first and most obvious solution relates to rotation work. Modern workers' settlements are in no way inferior to cities in terms of comfort. The second option is to attract residents to cities in order to create new jobs. The issue of the urban environment and quality of life is relevant here. According to all polls, quality of life is the key factor behind outward migration."
Nikolay Kharitonov, Chairman of the Committee for Regional Policy and Issues of the North and Far East, State Duma of the Federal Assembly of the Russian Federation, has, however, expressed worries about to curb migration from the Far East. "Getting a Far Eastern hectare helps people to get settled here [in the Far East] instead of leaving for the south or elsewhere," he said, adding that for transforming the region, it need transportation network, good infrastructure and social facilities, employment opportunities and conditions for habitation.
Admittedly, lack of social infrastructure constitutes a big hinderance to many projects. "Social infrastructure is of vital importance to the Far East. If people are fleeing the region, how can we motivate them to stay here? They need the right social infrastructure: health care, education, and everything in between," according to the views of the Chief Executive Officer of VTB Infrastructure Holding Oleg Pankratov.
The Far East offers a platform for Russia's entry into global markets and attracting international investment. Russia is seeking to take its place in the global system of division of labor, so it's concentrating on projects with high added value. "Russia currently has the best conditions in the world to attract human resources and financial resources and take the next technological step. Why would you just come to the Russian market? Let's manufacture things here for the whole world to compete with other centres of power, relatively speaking. The Russian government has to provide the best conditions for this," pointed out Arnika Holding President Alexander Generalov.
Some foreign participants say it is necessary to expand support measures for business startups, consistently attempt to identify and remove development obstacles. "The Chinese experience is that high technologies and companies always play a very important role in the development of the local economy. We help them with resources, we allocate resources, and you do that too. The tech park should be connected to all resources and the international market. And human resources are very important. If you don't have a good team to help startups, nothing will happen," says International Association of Science Parks and Areas of Innovation Vice Chairman Chen Herbert.
On one hand, entrepreneurs have little trust in the government due to its excessive control and supervision. There are still many problems including bureaucracy and red tape. On the other hand, based on the tasks defined by the country's leadership, a set of measures is being implemented to enhance the business climate.
The regulatory framework is being improved in the most important and problematic areas of government regulation. Institutions and infrastructure are being created for the development of investment activity. The best practices to support entrepreneurship are being introduced, including mechanisms for direct financial assistance, concessional lending, tax incentives, and moratorium on government inspections.
Developing the transport and logistics infrastructure. The carrying capacity of the railways needs to be increased, to develop and upgrade the Trans-Siberian Railway. "Russia's leadership also has concerns regarding the opportunities offered by the Trans-Siberian Railway. It is indeed a problem, because it is a major factor hindering economic growth in Russia, both in terms of foreign trade, and in terms of domestic transportation. We expect carrying capacity to be expanded in the near future," believes Sergey Katyrin, President, Chamber of Commerce and Industry of the Russian Federation.
The potential exists for Russia and South Korea to cooperate across a broad range of areas, including industry, energy, and the environment. "We particularly want to highlight the cooperation that has taken shape in relation to smart city projects, industrial parks, and multimodal terminals for shipping in Primorye Territory. One of our assets is a joint venture with the Zvezda Shipbuilding Complex. We have also acquired a grain terminal and are developing this business in Primorye Territory. Collaboration between our two nations is increasing in energy, fishing, and other areas," Christopher Koo, Chairman, Korea International Trade Association (KITA).
"South Korea has traversed a fairly long path in relation to the creation of a waste management system in the early 1990s. Since that time, the system has come to closely reflect our own targets in terms of waste disposal. At the start of this journey, virtually 80% of waste in South Korea went to landfill sites. Today, more than 60% is recycled. In Russia, the President has set the objective of processing – i.e., sorting – 100% of waste, and utilizing 50% of it by 2030. Naturally, we would be delighted to employ technological solutions in this area which have been implemented in South Korea," added Denis Butsayev, General Director, Russian Environmental Operator Public Law Company.
Besides South Korea, a number foreign countries strike deals at the forum, most of from the Asian Pacific region. Russia and Japan signed deals. China also signed several deals there as Russia has fast developing bilateral relations and both are members of BRICS. For instance, China has the following from the documents:
China Railway International Group and Primorye Territory signed a statement of mutual interest and intent to implement an investment project for the Construction of Vladivostok ring road in Primorye Territory. Stage 1: Russky Island – Yelena Island – Ulitsa Kazanskaya in Primorye Territory. Investment volume: RUB 75 billion.
VEB.RF and the ZED Development project company (part of Region Group) signed a cooperation agreement for the construction of an aerial lift across the Amur river at the section of the Russian-Chinese national border linking the cities of Blagoveshchensk (Russia) and Heihe (China). The construction project is being implemented jointly by the Russian investor and its Chinese partner, the China Railway Construction Corporation. VEB.RF will invest RUB 2 billion.
The Ministry of Labour and Social Protection of the Russian Federation and the Ministry of Human Resources and Social Security of the People's Republic of China signed a memorandum of understanding with the aim of establishing and strengthening cooperation on labour and social security issues of mutual interest.
Pharmeco and the Union of Chinese Entrepreneurs in Russia signed a partnership agreement with the aim of developing cooperation between Russian and Chinese organizations and Asia-Pacific countries in the field of pharmacology and the construction of healthcare facilities.
Zeleny Bulvar and KitayStroy signed a cooperation agreement on the construction of residential real estate in Vladivostok. Two 25-floor apartment buildings are set to be built in the Zeleny Ugol neighbourhood of Vladivostok by 2025.
Stroytransgaz and KitayStroy signed an agreement on the implementation of a project to build a museum and accompanying educational and cultural centre in Vladivostok.
Japan
The Ministry for the Development of the Russian Far East and Arctic, VEB.RF, ECN Group and Marubeni Corporation signed an agreement to implement a project to produce ships using methanol fuel at the Zvezda shipyard.
GTLK and Mitsui O.S.K. Lines signed an agreement for Mitsui O.S.K. Lines to make an equity investment in GTLK Asia Maritime.
The Ministry of Energy of the Russian Federation and the Ministry of Economy, Trade and Industry of Japan signed a bilateral agreement on the supply of LNG and gas condensate.
Novatek and the Japan Bank for International Cooperation (JBIC) signed an agreement on strategic cooperation on low-carbon projects.
The Europlast Primorsky Plant and Ryozai Kaihatsu signed a memorandum of cooperation on the expansion of exports to Japan between the parties.
The Europlast Primorsky Plant and Ryozai Kaihatsu signed a contract on the sale and purchase of PET preforms.
It is expected that the Far East will continue attracting investments, both Russian and foreign. "We will continue to try to constantly create new development opportunities, thus securing for the Far East this status of a testing ground for management technologies associated with the development of the region," Deputy Prime Minister and Presidential Plenipotentiary Envoy to the Far Eastern Federal District Yury Trutnev said at the conference following the forum.
According to the official forum documents: "More than 380 agreements were signed at the forum. International and foreign companies, organizations, ministries and departments have signed 24 documents – 9 with China, 6 with Japan, 3 with Kazakhstan, by one agreement each with Austria, Vietnam, Canada, Serbia and Ethiopia." And that agreements totaling 3.6 trillion rubles (US$49 billion) were signed at the Eastern Economic Forum (including agreements, the amount of which is not a commercial secret).
Until 2000, the Russian Far East lacked officially defined boundaries, according to historical archival documents. A single term "Siberia and the Far East" often referred to the regions east of the Urals without drawing a clear distinction between "Siberia" and "the Far East" on the territory of Russia. That however, the Far East is generally considered as the easternmost territory of Russia, between Lake Baikal in Eastern Siberia and the Pacific Ocean.