The US administration officials are citing the same three factors for a possible Biden-Xi summit in coming October as they were for the 3-hour long Biden-Putin sit-down last month in Switzerland. If so, then why is it that Biden chose to first summit with the Russian "killer" and not with the "thug" in Beijing? Because as President Biden sees it, the stakes are far higher with Xi. Analysts in Washington are telling us, to the White House, Russia is a mere "irritation," but Beijing has become a serious existential threat.
***
In recent weeks, two of Biden's top foreign policy "troika" have publicly stated, with Biden-Putin summit in the rearview the President is gearing up for a higher-stakes summit encounter: with the Chinese President Xi Jinping. Jake Sullivan and Kurt Campbell on more than one occasion in recent weeks have indicated a possible Biden-Xi sit-down at the G20 summit in Rome in October-end, which both the leaders are expected to attend. If the sit-down does take place, questions will still be asked why a Biden-Xi summit, being described as the "most consequential foreign policy move" of the Biden presidency, did not precede an inconsequential Biden-Putin meet?
Indeed, after four disastrous Trump years for China, Beijing has been long hoping that Biden in the White House would mean less tumult in the US-China relations. However, President Biden's tougher stance on China is not something Beijing's top diplomats in-charge of implementing the country's US had bargained for. Even President Xi himself, upon whom the CPC politburo has bestowed all decision-making powers to "manage" China's relations with the United States, has been clueless as to why Biden's America is continuing to keep China on the defensive, and for how long? But Xi Jinping it seems, thanks to Biden's "less than satisfying" European tour, is now suddenly optimistic of a one-to-one meeting with Biden on the cards.
As was expected, Biden's maiden foreign tour has been evaluated a success or failure based on mostly subjective assessments, ie, determined more by one's geographical location and geopolitical worldview. Yet despite claims of Biden's European tour being an outright success by some, it is nonetheless true amid mixed reactions and mismatched expectations, the two sides (ie, The US and the EU) were left with unanswered questions: how to forge "alliance of Western democracies" against authoritarian rivals? How to "reinvigorate the liberal democratic model"? How to arrive at a consensus about how to deal with China? According to Pierre Vimont, a senior fellow at Carnegie Europe, in spite of the joint statement issued at the end of the EU-US summit, "a more than visible shortcoming was on the issue of long-term future relationship with China."
Not particularly enamored by the slogan "America is back," Europe's focus seemed to be on getting from the Chinese leaders a clear commitment to abide by a genuine rules-based international order, particularly in trade matters where Europe wants to impose an improved level playing field. Just as a Moscow-based security affairs analyst recently commented: "Most EU countries do not want to fight China. They believe America is imposing China and Europe on each other as 'unwanted enemies.' For they also believe, unlike China and America, Europe's ambitions are regional and not global."
Speaking of the summit diplomacy, especially when the US presidents are to hold sit-downs with an adversary, apparently, internal negotiations within the administration is viewed as a tougher road. For example, even though the White House tried to sell the notion that President Xi was to be blamed for "souring the Trump-Kim Jung Un" second meeting, the truth is the Trump administration was never prepared to seriously discuss any issue with the North Korean leader. Besides, national security advisor John Bolton, the formidable chairman of Trump's new "war cabinet" was never agreeable to the idea of US-North Korean diplomacy. As Melvin Goodman, a former CIA analyst who is now a professor of government at the John Hopkins University explained, "the Trump-Kim summit was a failure before starting." Goodman cites yet another example, "one of President John F. Kennedy's greatest successes was disciplining the Pentagon in 1963 in order to negotiate the Partial Test Ban Treaty."
That diplomacy was not his cup of tea, manifested early on in Trump's choice of both his secretaries of state, Tillerson and Pompeo, respectively. According to reports, scores of career officials and staffers working in the Harry Truman Building, are feeling relieved at the exit of Mike Pompeo and are hoping Antony Blinken can revitalize American diplomacy. In the words of 2018 Pulitzer Prize winner The New Yorker contributing editor Ronan Farrow, "Pompeo's chaotic tenure, and that of his predecessor, Rex Tillerson, left deep institutional and cultural scars that continue to impede American diplomatic efforts around the world."
Diplomacy, besides being defined as subtle art, we are told is also seen as a practitioner's art. In sharp contrast to his predecessor, President Biden is described by many as a conscious leader. This perhaps explains why Biden is moving slowly in setting up a summit meeting with Xi. As David Feith, former deputy assistant secretary of state East Asia and Pacific Affairs under Trump recently observed: "It is significant that President Biden has strongly signaled to his own administration and other governments that he wants to prioritize China competition in US policy and US diplomacy." (Emphasis added).
On the other hand, as mentioned above, Beijing has let it be known "it was pleasantly surprised" on hearing reports of Biden finally "making sense" in his China policy. As Cao Xin, a Beijing-based influential IR expert wrote in his weekly column in ftchinese.com, "Last week, Kurt Campbell, the US Coordinator for the Asia-Pacific made two headlines grabbing statements. First, the United States stands by 'One China Policy' and does not recognize Taiwan as an independent country. Second, I expect the two leaders to establish contact with each other soon." Welcoming the news that President Biden has signaled to his own administration to prioritize a sit-down with president Xi, Liu Pengyu, a spokesperson for China's embassy in Washington said, "China and the United States have maintained communication on dialogues and exchanges at all levels."
In this above context, China's vice president Wang Qishan has become the highest ranking Chinese official to openly convey that Beijing is willing to go the extra mile to sit down with Washington for a dialogue to manage differences. Wang Qishan was speaking at an event last week in Beijing celebrating the 50th anniversary of the US National Security Advisor Henry Kissinger's historic visit to China. "China-US bilateral ties are at a critical point. The two countries should respect each other's sovereignty, security, and development interests. The US strategy towards China should avoid misguidance and miscalculation," Wang said.
The 98-year old Kissinger attended the event through a video call and said, "Conflict between the US and China will divide the whole world."
Recall here what National Security Advisor Jake Sullivan had told reporters a month ago: "[Biden-Xi summit] is now just a question of when and how." However, it is interesting that the third top member of Biden's China "team," secretary of state Antony Blinken is yet to affirm the White House is making efforts to create an opportunity for the Biden-Xi summit. Perhaps unhappy with the top-level US-China diplomatic dialogue in Alaska four months ago, Biden has been compelled to himself take the initiative in establishing some "rules of the road" and predictability in US-China relations. But what is intriguing is, just before the G20 Ministerial was to be held in Italy a couple of weeks ago, a State Department official denied a possible Blinken-Wang Yi meeting, as the Financial Times had reported.
To sum up, with Sullivan and Campbell already in toe and not much known why Blinken has not yet spoken on the stage being set for Biden-Xi summit in Rome, a report in South China Morning Post yesterday confirmed the US President has instructed the State Department to dispatch the deputy secretary of state Wendy Sherman to visit China next week. The Hong Kong daily claims the State Department No. 2 will meet the Chinese vice foreign minister Xie Feng, paving the way for the top-level encounter later in the year. Additionally, Bonnie Glaser, an Asia expert at the German Marshall Fund of the United States also confirmed citing sources of a possible second "telephone meeting" between the two leaders following Wendy Sherman's visit. A section of the US media is claiming, Xi Jinping willing, a final visit to Beijing by Biden's "Asia Tsar" Jake Sullivan in September-October will set the stage for Biden to turn the world's attention on Rome not for G20 but for China-US summit diplomacy, or "G2."
Postscript: News is just filtering in that the US deputy secretary of state's China visit has been shown a red flag by Beijing. As was reported earlier (mentioned above), Wendy Sherman's second Asia tour in as many months beginning tomorrow, was being attached special significance in anticipation of the likely Biden-Xi summit at G20 in Rome later in October. We shall dissect this sudden toughening of diplomatic stance by Beijing, perhaps not seen in many years, in my following analysis.
How Bolivia's 2019 coup exemplified millennia of global history
Throughout thousands of years of human history, dictatorships have been the norm, not the exception, and all of them have been by the aristocracy, against the public. (Sometimes, the aristocrats are led by one person, a "monarch" or "Fuehrer" or etc.; but he or she then REPRESENTS the aristocracy, NOT the public.)
Aristocrats are the nation's few super-rich; the public are everyone else.
Usually, the aristocracy 'justifies' its 'superiority' as being god-ordained, and they hire (donate to) some clergy to allege this in order to keep the public fighting for them and maybe dying for them, in their wars of conquest, against the aristocracies who control foreign lands. Another way to fool their publics is to declare that these conquests will 'free' those foreign publics by replacing their local aristocracy with the invading country's aristocracy (a 'better' one; those others are instead being called "oligarchs"), and so creating an empire, which represents 'us' against the foreigners' 'them', while also making those foreigners 'free' from their "oligarchs." This is called 'spreading democracy'.
Throughout thousands of years, aristocracies have operated this way, deceiving masses of people so as to create empires, which expand the local aristocracy's thefts, from being merely thefts against their local public, to becoming thefts against an entire empire's public (using those local "oligarchs" as their vassals).
Here is how this worked out recently in Bolivia:
On 11 November 2011, The U.S. White House issued this "Statement from President Donald J. Trump Regarding the Resignation of Bolivian President Evo Morales":
The resignation yesterday of Bolivian President Evo Morales is a significant moment for democracy in the Western Hemisphere. After nearly 14 years and his recent attempt to override the Bolivian constitution and the will of the people, Morales's departure preserves democracy and paves the way for the Bolivian people to have their voices heard. The United States applauds the Bolivian people for demanding freedom and the Bolivian military for abiding by its oath to protect not just a single person, but Bolivia's constitution. These events send a strong signal to the illegitimate regimes in Venezuela and Nicaragua that democracy and the will of the people will always prevail. We are now one step closer to a completely democratic, prosperous, and free Western Hemisphere.
On 13 November 2019, the billionaire Rupert Murdoch's Fox 'News' headlined "Bolivia interim president declares 'Bible has returned to the palace' amid growing uncertainty", and reported
A day after brandishing a giant leather-bound Bible and declaring herself Bolivia's interim president, Jeanine Añez set to the task of trying to steady a nation divided by bloody political disputes and create the stability necessary to organize national elections.
The 52-year-old second-vice president of the Senate claimed the presidency on Tuesday following the ousting of socialist leader Evo Morales due to alleged election fraud and resignations from several high-ranking successors that left a power void in the country.
"The Bible has returned to the government palace," Añez declared as part of an effort to separate herself from Morales, who had banned the Bible from the site after he reformed the constitution and recognized an Andean earth deity instead of the Roman Catholic Church.
Then, two days later, on November 15th, Anti-War dot com bannered "Finally Got Him: The Bolivian Coup", and reported:
The U.S. says it wasn't a coup.
Trump's official statement "applauds" the Bolivian regime change for preserving democracy. Trump identifies the event as "a significant moment in democracy" because it stymied Bolivian President Evo Morales' attempt "to override the Bolivian constitution and the will of the people. …"
But all three White House claims are false: Morales didn't go against the constitution, he didn't override the will of the people and it was a coup.
If it wasn't a coup, why was Morales forced from office by the military? Why was he driven out of office in Bolivia and into asylum in Mexico for the sake of his safety, while a coup leader announced that the police and military were hunting Morales down and putting Bolivia into lockdown? Why as he fled and sought asylum was his house ransacked, his sister's house set on fire, and the families of his cabinet ministers kidnapped and held hostage until the ministers resigned? Though reported in the mainstream media as abandoning Morales, Victor Borda resigned as president of the Bolivian congress and resigned his position as MP because his brother was kidnapped to force him to do so.
If it wasn't a coup, why did the opposition assume power before the legislature voted on approving Morales' resignation as the constitution demands? Why did Jeanine Añez declare herself interim president in the absence of the quorum that is legally required to make that decision after meeting with the military high command for over an hour? And why did the opposition force Morales out and assume power before Morales' term in office would end in January?
If it wasn't a coup, why did Morales' opponent, Carlos Mesa, begin his claims of fraud before the voting began, before he could know there had been any fraud? Why did Mesa insist, according to Mark Weisbrot, that he would not accept the election results if Morales wins long before the votes were even counted?
And why, perhaps most damningly, did a cabal of coup plotters discuss between October 8th and 10th – days ahead of the October 20th election – a plan for social disturbance that would prevent Morales from staying in power, as revealed by leaked audio of their conversations?
Then, on 24 July 2020, the Twitter site of an American centi-billionaire, Elon Musk, received a tweet from an "Armani" saying, "You know what wasnt in the best interest of people? the U.S. government organizing a coup against Evo Morales in Bolivia so you could obtain the lithium there." Later that day, Musk replied:
"We will coup whoever we want! Deal with it."
Why, then, was the Bible being presented, on 13 November 2019, as the coup's justification?
Not enough suckers would have been fooled to support this fascist coup as having been a fascist coup — a coup by an aristocracy. It was actually even a racist-fascist coup, a "nazi" coup (a coup by a racist aristocracy), which aimed to steal from the native-Indian masses in Bolivia, for the benefit of the supremacist-White aristocracy there, who were subordinates, or vassals, of America's own overwhelmingly White aristocracy, its billionaires, such as the racist-fascist Elon Musk. Fox 'News' had broadcast that biblical display to its own overwhelmingly White Christian audience so as to portray that theft against Bolivians as having been in service to their god and consequently 'justifiable'. It's simply the way that aristocracies have functioned, for thousands of years.
Then, on 14 July 2022, the "Declassified UK" investigative-news site headlined "EVO MORALES: 'WE LAMENT THE ENGLISH WERE CELEBRATING THE SIGHT OF DEAD PEOPLE'", and delivered from Matt Kennard a terrific, linked-to-sources, extensive interview with the U.S.-UK-Bolivian aristocracy-overthrown former Bolivian President, who explained, as Kennard's summary at its front stated:
• THE COUP: 'The UK participated in it – all for lithium'
• THE BRITISH: 'Superiority is so important to them, the ability to dominate'
• THE US: 'Any relationship with them is always subject to conditions'
• NEW MODEL: 'We no longer submit to transnational corporations'
• JULIAN ASSANGE: 'The detention of our friend is an intimidation'
• NATO: 'We need a global campaign to eliminate it'
• BOLIVIA: 'We are putting anti-imperialism into practice'
Morales, while he had held power in Bolivia, had produced, for the Bolivian people, results that publics elsewhere could only dream of.
Of course, the U.S./UK regime will be trying to reconquer Bolivia.
History teaches lots of lessons, to whomever in the public is open-minded to it and who is lucky enough to become exposed to its truths (despite the aristocracy's overwhelming censorship against those truths — which are historical truths).
How Covert Talks Resurrected Joe Biden's Programme and Stunned Washington
When news of President Joe Biden's long-stalled domestic agenda broke out of Washington, it was the middle of the night in Saudi Arabia. Again.
The offender was well known. The enormous plan for the environment, taxes, and social safety net raised concerns from Sen. Joe Manchin, a moderate Democrat from West Virginia. The news was received with annoyance and outrage in Jeddah, where Biden was holding tense meetings with Saudi leaders, but not astonishment.
Fortunes have changed after 13 days, two Covid infections, and a few acrimonious arguments. Manchin and Senate Majority Leader Chuck Schumer stunned the majority of Washington on Wednesday when they revealed that they had reached an agreement on a version of Biden's protracted climate, energy, and tax agenda after restarting their negotiations in secret four days after they had broken down.

Manchin was sure to underline that the bill's previous name, Build Back Better, had been dropped. It is less than half the size of Biden's original bill. The Inflation Reduction Act of 2022 is anything but a done deal because Republicans are uniformly opposed and several Democrats in the Senate and House have not yet signed on.
But the accord gave ambitions that many Democrats had mostly set aside fresh life after appearing dormant for months. The President's legislative prospects are improving after a bill to increase US computer chip manufacture was passed on Thursday.

On Wednesday, after mostly giving up on formal meetings with Manchin after witnessing the senator repeatedly thwart his agenda, Biden spoke to the senator, who is spending time alone in the West Virginia highlands with Covid. Since December, they had not made a formal call on the Democratic agenda.
A day later, when news of the unexpected events was being announced in the State Dining Room of the White House, Biden observed, "The job of the government may be slow, frustrating, and sometimes even aggravating." "For those who don't give up, the hours, days, and months of arduous work eventually pay off. It is accomplished. Life is altered."

The agreement on taxes and climate change was nearly entirely negotiated in secrecy, so when it was revealed on Wednesday in the late afternoon, many people were caught off guard. Sen. Tina Smith of Minnesota tweeted, "Holy shit." "Stunned—in a good way, nonetheless."
That mindset was a far cry from the Democratic Party's attitude on July 14, when Manchin publicly undermined the energy and climate policies that had been the cornerstone of the Biden administration's commitment to drastically cut carbon emissions.

The President's domestic agenda suffered a setback two weeks ago, but the White House was hardly surprised given how frequently it had been dying during the previous year. By that time, senior administration officials had developed a highly dubious perspective on the discussions between Manchin and Schumer about restarting the President's plans.

Biden had been largely exempted from the conversations, as he was quick to note himself.
When a reporter questioned whether Joe Manchin was negotiating in good faith on July 15 inside the Waldorf Astoria hotel in Jeddah, he responded, "I didn't bargain with Joe Manchin."
"I don't know." Concerns were raised regarding the most recent inflation statistics by the Senate's most conservative Democrat. According to a report on July 14, inflation reached a 40-year high in June, rising 9.1 percent over the previous year.
Manchin recalled the meeting he had with Schumer after the two had been in secret discussions about renewing Biden's climate agenda for three months: "When that 9.1 came in, I said, 'I can't, I just can't do it.'" At that point, Chuck became irate.
It wasn't always a cool, collected conversation.
Manchin admitted that occasionally his temper gets the better of him and that certain people had "let the dogs out" on him because he allegedly walked away from the agreement.

But by the next week, the two senators had cooled things down. On July 18, Manchin asked Schumer if he was still furious as they passed one another in a hallway of the Capitol.

"This is ludicrous," I responded," Manchin spoken. "Check our calibration and see if there is anything we can do. To his credit, he responds, "OK."
Manchin approached Schumer that day with an offer: "Can we work together and attempt to put together a bill?" Schumer said at a news conference on Thursday. But even then, the timetable was hazy.

Manchin had previously stated that he would wait until he saw the inflation data for August before taking any action on the climate until September. Manchin was told unequivocally by Schumer that a climate agreement needed to be completed before then. I told them, "We're not waiting for September as long as we finish it in August," Schumer said.

Despite Manchin's initial opposition, Schumer persisted with proposals that the West Virginian could back. The aide claimed that the senator eventually returned and expressed his willingness to proceed with an August deadline.
He made a few promises and gave some concessions that helped win his support. Tax increases on Americans with high incomes, which were supported by Biden and other Democrats, were excluded from the final bill. And Manchin has made it clear that he would not have joined the effort unless Democratic leaders made a commitment to pass legislation dealing with energy infrastructure permitting, which might make it easier for a shale gas pipeline in West Virginia.

Meanwhile, former Treasury Secretary Larry Summers privately contacted Manchin to explain that the agreement would not increase inflation but would instead be deflationary. Summers had already offered early inflation warnings last year, frequently to the chagrin of the Biden administration.
In a CNN interview, Summers refrained from commenting on his private chats but provided reassurance in response to concerns that the law might increase inflation. He added on "New Day" that the bill "fights inflation and has a whole series of collateral advantages as well."

Summers wasn't the only one working behind the scenes for Manchin.
Sen. John Hickenlooper, a Democrat from Colorado, informed reporters that the Wharton School of Business at the University of Pennsylvania was providing analysis of the tax and climate pact to him and his staff.
Hickenlooper told reporters, "We knew that (Manchin) trusted Wharton and that he'd utilized that for modeling before. "So we asked them to act out this. After doing that, we received modeling indicating that this is not at all inflationary, and we submitted that to Joe."
Hickenlooper claimed he was seeking to add to the chorus of voices persuading Manchin that the agreement will lower inflation. Similar arguments were being made by other senators, such as Chris Coons of Delaware, Brian Schatz of Hawaii, and Smith, according to Hickenlooper.
Hickenlooper said, "I was listening to whatever Joe indicated he had a problem with, and I was trying to fix it. I believed him when he said that inflation was the issue and that the rest could be resolved.

Senior officials at the White House were purposefully kept out of direct discussions despite being aware that important ones were taking place, according to administration aides. People close to Biden have been reluctant to involve him in yet another round of political battle for fear that talks would again break down.
In a radio appearance on Thursday, Manchin stated that "President Biden was not involved." "I wasn't going to let the President in because I didn't think it was fair, and this situation very possibly could have been avoided. It had every chance of going wrong. I had to check to see if this was doable."
It wasn't until the very end of the deal that White House officials received a thorough reading of its contents. One insider told CNN that it was "extremely well-kept secret."
Biden and Manchin both contracted Covid over the past few days as the deal was coming together. Manchin was alone in his home state's mountains while Biden worked from the White House.
By Wednesday, Manchin and Schumer had reached an understanding; they made the announcement just after the Senate passed the legislation pertaining to computer chips. Since Senate Republican Leader Mitch McConnell had pledged to reject the microchip measure if Democrats introduced a package containing Biden's agenda, several people considered the timing to be less than fortuitous.
According to Senate Republican Whip John Thune, "I think everyone got startled, definitely by claims that had been made by Democrats about this arrangement, and I believe there was some level of folks getting ambushed — not only on our side but on the Democrats' side."

You'll have to speak with McConnell about that, he responded when asked if he handled the transaction well.
Democrats face what is likely still an uphill battle in gaining enough support for the package, even among members of their own party, despite their celebrations on Thursday. Schumer assured Democrats Thursday in a speech delivered behind closed doors that they were ready to enact measures they had been discussing for years.

The next 10 days will require us to stick together and put in long days and nights, he stated. "We must maintain focus and discipline in our messaging. It'll be difficult."
How likely is a nuclear WW III, U.S.-China?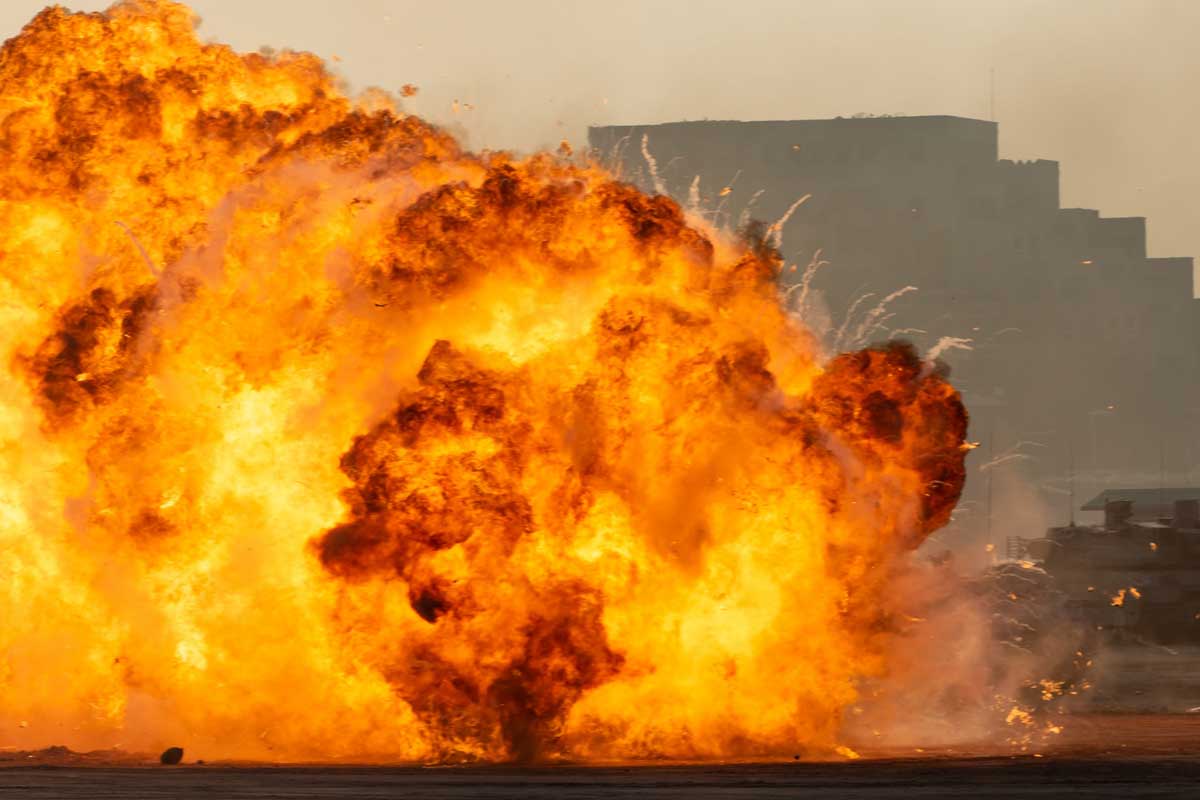 Whereas U.S. voters don't want the U.S. Government to go to World War Three against Russia over Ukraine, they do want it to go to WW III against China over Taiwan.
A poll in U.S., "Conducted 01/12/22 – 01/14/22", by the Trafalgar Group, surveying "1081 Respondents" who were "Likely General Election Voters" found that 58.1% said "Yes," and 41.9% said "No," to "Do you believe the Biden Administration should use U.S. military assets to defend Taiwan if Taiwan is invaded by China?" Far lower percentages of Americans turned out to be supportive of going to war against Russia over Ukraine.
Nancy Pelosi, who leads Democrats in the U.S. House of Representatives, has made clear that she wants to visit Taiwan in August, to encourage Taiwan's leaders to declare Taiwan's independence from China, which is something that the U.S. Government has never publicly supported, and which, ever since the 28 February 1972 U.S.-China agreement called the "Shanghai Communique", the U.S. Government publicly and formally opposed when it agreed with China to the promise and commitment that "The United States acknowledges that all Chinese on either side of the Taiwan Strait maintain there is but one China and that Taiwan is a part of China. The United States Government does not challenge that position. It reaffirms its interest in a peaceful settlement of the Taiwan question by the Chinese themselves."
The residents in Taiwan were long favorable to publicly acknowledging that Taiwan is a part of China, but the CIA and other U.S. Government agencies have worked for decades — notwithstanding the Shanghai Communique and others to the contrary of Taiwan's independence — to reverse Taiwan's being a part of China, and to instead encourage Taiwanese to fear and oppose (even demonizing) China's Government. These U.S. Government war-mongering efforts have, by now, succeeded overwhelmingly among the residents of Taiwan.
Consequently, on 29 March 2005, Taiwan issued "The Official Position of the Republic of China (Taiwan) on the People's Republic of China's Anti-Secession (Anti-Separation) Law", and publicly announced, to the world, that Taiwan rejects that Chinese law, because "the Law proclaims that 'Taiwan is a part of China'."
U.S. President Harry S. Truman had created the CIA in 1947 to perpetrate coups and other regime-changes so that the U.S. Government could take control of the world without necessarily using its armed forces for its conquests (doing it more by subversion, and by hiring mercenaries, and bribing generals). Their first coup was in 1948 Thailand (then called "Siam") in order to establish a steady off-the-books funding stream for their bribes and "Special Operations" including future coups, and this first coup relied upon the fascist (or "Might makes right") Guomindang (GMD) or Kuomintang (KMT) forces, who had fled from Mao's victorious anti-Japanese forces in mainland China, onto China's island of Formosa (whose Japanese rulers welcomed China's fascists) and formed there the "Republic of China," as an American protectorate. The KMT also had an army that had fled to Siam; and this army crucially assisted the CIA to overthrow and replace Siam's Government in 1948 so as to establish the CIA's funding stream from the international opium-traffic, which, at that time, was centered in Siam. Consequently, the CIA partnered with the KMT at the very start of the CIA.
On 27 June 1950, Truman announced that the U.S. 7th Fleet would be protecting Taiwan, so that the U.S., which was clearly hostile to (America's WW II ally) China, would be providing national-security protection to the people on Taiwan. That policy has been very successful toward conquering China, but only gradually, and it is now being brought to the boiling point.
If Taiwan makes any attempt to declare publicly that it is not a part of China, then China will invade it, in order to enforce what they have always consistently asserted about Taiwan (that it is a part of China). And, then, the U.S. Government will say that China's invasion is not "a peaceful settlement of the Taiwan question by the Chinese themselves," and will go to war against China, and will blame China's Government, for this war that the U.S. Government has actually been preparing (setting up) for decades.
Starting only late in the 20th Century did the U.S. Government begin to press more firmly to break off Taiwan from China. Consequently, Taiwan's National Chengchi University instituted in 1994 annual polling on a number of policy-options regarding the way forward regarding Taiwan's status. At that time, the most popular option, supported by 38.5% of residents, was "Maintain status quo, decide at later date." A different policy-option, "Maintain status quo, move toward independence," was supported by only 8.0%. However, as-of June 2022, those two percentages have become virtually tied at around 28.5% for each, which are thus now tied as being the top two policy-choices. So, apparently, this could be the time to strike.
Perhaps Pelosi is hoping to move the needle a bit more America's way by flying into Taiwan now, under a U.S. armada, and so provoking war against China, on the part both of Taiwan and America. It would bond Americans and Taiwanese to the same fate. And a U.S. military victory against China would do much for Democrats' fortunes in this year's off-elections. (By contrast, a U.S. defeat wouldn't much change the two Parties' political prospects, because neither Party could then be bragging about 'our victory'.)
On July 29th, the Republican U.S. Senator Marsha Blackburn headlined "Blackburn, Colleagues Introduce Legislation Authorizing Defense Lend-Lease With Taiwan" and announced:
U.S. Senator Marsha Blackburn (R-Tenn.), Senator Rick Scott (R-Fla.), and Representative Michelle Steel (R-Calif.) introduced the Taiwan Democracy Defense Lend-Lease Act. This legislation will support the United States' partnership with Taiwan by authorizing a defense lend or lease program with the Government of Taiwan. …
"Taiwan is our greatest partner in the Indo-Pacific region, and their continued sovereignty is essential to challenging the New Axis of Evil," said Senator Blackburn. …
"The introduction of this bill comes just days after the people of Taiwan had to participate in more air raid drills in the event of an attack from the Chinese Communist Party. …
In this virtually 100% neoconservative (i.e., fascist-imperialist) Congress, it could pass overwhelmingly. Neoconservatism is practically unanimous there.
The U.S. Government has been gradually building toward this boiling-point, ever since at least 27 June 1950. Perhaps this will turn out to be the pay-off time, after all those decades of subversion, bribery, etc. It seems to be the right time, because the U.S. Government is now more determined than ever to establish China as being yet another colony, or 'ally', and nothing would reassert U.S. global hegemony more than breaking off a piece of China would. It'd be the strongest assertion yet, of the U.S. Government's "rules-based international order," in which the U.S. Government makes the international "rules," instead of the U.N. making the international "laws." That's what is really the point of all this: extending America's hegemony to encompass every nation, eliminate all "competition." America's Government has been preparing for such an opportunity, ever since, really, 25 July 1945. This could be the biggest pay-off, yet, from it, if it happens. But taking this path could also spark WW III. The U.S. public seem to accept that risk — not WW III to keep Ukraine, but WW III to win Taiwan. Americans have been skillfully primed for it.
Even America's 'progressives' apparently accept the risk. They 'debate' it. There are idiots (and deceivers) of all ideological types.
As regards the island's history, and the key historical question, of whether the allegation is true "that 'Taiwan is a part of China'," here's a summary about this history: Taiwan (Formosa) was started when the Japanese Empire was forced to give up control over the Chinese island Formosa. Truman backed the fascist Guomindang (GMD) or Kuomintang (KMT) forces who had fled from Mao's victorious anti-Japanese forces in mainland China, onto China's island of Formosa and formed there the "Republic of China," as being an American protectorate. It subsequently came to be called "Taiwan" (which even Japanese historians acknowledge to be a Chinese name for the island) but called itself officially the "Republic of China,' and NOT the "Republic of Taiwan." So; even by the official and self-chosen designation of "Republic of China," anyone who denies that it is a part of China and is "Chinese," is simply, and boldly, lying, because even the KMT (or GMD) said it was. The U.S. side (now replacing the Japanese side as the post-WW-II, fascist, overlords of Taiwan) had lost the civil war in China, but, ever since, the U.S. Government has been protecting the losing side in China's civil war, who holed-up in what is actually China's province of Formosa or Taiwan. If and when China finally takes back control of it, the place-name might revert to "Formosa," or to "the Province of Formosa," so as to signify that China, not Japan, won WW II. None of this fascism in post-WW-II Asia would have occurred, at all, if FDR instead of Truman had been America's President after WW II. Truman was a fascist-imperialist, but FDR was intensely AGAINST both fascism and imperialism. Anti-communism was merely the excuse that the post-WW-II fascist imperialists gave, for their fascist imperialism (America's coups, invasions, subversions, etc., to conquer the world), so as to fool their publics into believing they live in a 'democracy'.
If there will be a WW III, it will be because of Truman's reversal of FDR's foreign policies, and NOT because of his continuing those policies (which he didn't do — though many 'historians' say he did). The turning-point, away from FDR's foreign policies, was on 25 July 1945. That's what got this snowball rolling down this fascist-imperialist mountainside, of the world's history, since then. It's what caused Truman quickly to replace all of FDR's foreign-policy team. Truman was the catastrophe — not the continuation. However, the U.S. Congress, at that time, was even worse. And it still is. FDR was the anomaly. And so was Lincoln, in his time. And so were the majority at the U.S. Constitutional Convention, who collectively wrote the anti-imperialist U.S. Constitution, which has since become just a piece of paper. The aristocratic flood which has followed after them could now wash away all they had achieved, and leave only an ocean of blood behind.