World Bank in Turkey Focuses on Protecting People and Firms
As Turkey continued to battle the health, economic and social impacts of COVID-19, the World Bank extended financing worth $1.5 billion for five critical development projects, during Fiscal Year 2021, which ended on June 30.
The financial support, together with technical and policy advice and analytical work, contribute to the implementation of Turkey's 11th National Development Plan, as laid out in the World Bank Group's Country Partnership Framework (FY17-23). With the new lending approvals in 2021, the active lending portfolio in Turkey has reached just over $7 billion covering 23 projects.
"Given the ongoing challenges from the COVID-19 crisis, the World Bank is supporting Turkey to limit the harm from the pandemic, while advancing progress on long-term development needs. Our programs, during the fiscal year that just ended, help to preserve jobs, maintain the private sector, improve resilience to climate change and other development priorities," said Auguste Kouame, World Bank Country Director for Turkey.
Highlights of financing support during FY21 are:
Supporting Turkey's Response to the COVID-19 Response
After delivering two pandemic response projects in FY20 for health, education and access to finance for export firms, the Bank delivered in FY21 two additional critical projects to help preserve jobs and viable small and medium size firms:
The $500 million Turkey Emergency Firm Support Project aimed at ensuring access to finance for small and medium enterprises (SMEs) affected by – or adapting to – the economic impacts of COVID-19. The project is being implemented through sub-loans managed by VakifBank and the Development Bank of Turkey (TKYB).
The $300 million Rapid Support for Micro and Small Enterprises during the COVID-19 Crisis Project, implemented by KOSGEB, aims at averting the closure of viable micro and small enterprises (MSEs) affected by the pandemic and maintain their employment levels. The project supports people and firms by providing reimbursable financing for manufacturing firms and other innovative young firms focusing on manufacturing, scientific research and development, and computer programming.
Maintaining a Focus on the Long-term Development Agenda
The Bank's emergency COVID-19 operations did not derail the focus on long-term development challenges or its strategy to support Turkey's climate change mitigation, adaptation and resilience efforts. In line with the Country Partnership Framework (CPF), the Bank's regular program of support continued to focus on inclusive and sustainable growth with a renewed focus on the climate change agenda:
A $300 million Organized Industrial Zones (OIZ) Project for Turkey, implemented by the Ministry of Industry and Technology (MoIT), with the objective to support investments in basic infrastructure – such as new roads, water and gas pipelines, power lines, and logistics facilities – as well as in "green" infrastructure – including improved energy and water efficiency facilities, advanced wastewater treatment plants, and energy-efficient buildings in industrial zones.
A $135 million Turkey Resilient Landscape Integration Project (TULIP) aimed at improving livelihoods and resilient infrastructure services for rural communities in the Bolaman River Basin, located in the eastern Black Sea Region, and Cekerek River Basin in central Anatolia Region. The project will support investments in resilient landscape integration in targeted areas and restore and maintain green infrastructure and promote sustainable livelihoods.
A $265 million loan to Turkey's Seismic Resilience and Energy Efficiency in Public Buildings Project to strengthen the safety of public buildings against the dangers of earthquakes while also improving energy efficiency to reduce energy bills and harmful carbon emissions. The project aims at better insulating, strengthening or reconstructing more than 140 schools, dormitories, hospitals, and government buildings, directly benefiting about 26,000 people who live, work or use these buildings, including school children and employees. More broadly, the benefits will accrue to more than 6 million citizens reliant on the public services provided by the targeted buildings.
Development Challenges Related to the Syrian Refugee Crisis
The Bank also contributed to Government efforts in managing the refugee crisis which has been exacerbated by the COVID-19 pandemic and requires stronger efforts to protect those most at risk, including women. As part of the program of support to regions and municipalities hosting refugees, the Bank continued to implement and prepare new projects that benefit from the EU Facility for Refugees in Turkey (FRIT) financing.
Building on the success of projects managed by the World Bank under FRIT-1, the Bank signed Administrative Agreements for five new Recipient Executed Trust Funds (RETFs) from the second batch of FRIT Funds also known as FRIT-2. The five projects, worth € 392 million, are:
Municipal Services Improvement Project in Refugee Affected Areas;
Formal Employment Creation for Refugees and Turkish Citizens;
Employment Support and Activation of Work-Able People under Protection and Turkish Citizens Project;
Agricultural Employment Support for Refugees and Turkish Citizens through Enhanced Market Linkages;
Social Entrepreneurship, Empowerment and Cohesion in Refugee and Host Communities.
Sharing Knowledge for Better Policies
The World Bank delivered policy-oriented research and analytical work that has informed Government policy and programs, facilitated the preparation of many WBG-funded projects, and underpinned investments from other development partners. In FY21, areas of focus for the World Bank's Advisory Services and Analytics (ASA) included the bi-annual Turkey Economic Monitoring (TEM) reports; Policy dialogue on the digital economy in Turkey; Women's Access to Economic Opportunities in Turkey; Leveraging Global Value Chains for Growth in Turkey; Buildings Resilience in Turkey; Improved Equity and Social Services; Impact of Syrian Refugee Crisis; Turkey Business Environment; Advisory Support for Turkey on Smart Grid Options, Generation Planning and Commercial Financing; Enhancing the Impact of the Turkish Court of Accounts on Good Public Governance; Review of National Planning, Policy Formulation and Public Financial Management Institutions and Performance; Building Institutional Capacity for Risk Informed Decision Making and Urban Resilience in Turkey.
Looking Ahead
"We are very pleased to have had a productive fiscal year 2021 working closely with the Government as well as many stakeholders and development partners in Turkey to support the people of Turkey in the face of COVID-19 and the refugee crisis while contributing to Turkey's long-term development ambitions and its strong climate change agenda. We look forward to building on this success as we start a new fiscal year yea," added Mr. Kouame.
Projects under preparation for the new Fiscal Year include: Geothermal Development Project Additional Financing; Urban Resilience Project; Integrated Water Conservation Project; Climate Smart and Competitive Growth in Agrifood Value Chains; Scaling-up Distributed Solar PVs in Turkey; and Izmir Post-Earthquake Green, Resilient and Inclusive Emergency Reconstruction Project. For these projects, no lending agreement has been signed yet. Finalization of the preparation of these projects and their submission for internal approval are subject to the confirmation of continued interest from all involved borrowing and pre-identified implementing institutions.
Analytical work underway includes: Climate Change and Development Report (CCDR); Sustainable Recovery and Green Growth Analytical and Advisory Program including a Low-Carbon Options Paper; Emissions Trading Scheme (ETS) Technical Assistance; Impact of the proposed Carbon Border Adjustment Mechanism; Public Expenditures and Fiscal tools to support green transformation; Private Investment for Climate Adaptation; Regional Disparities and Development; Human Capital Review and Education Quality; Social Development; Energy Transition and E-Mobility; Pandemics Preparedness; Institutional Development for High Income Status; Options for Enabling Long Term Financein Turkey.
World Economic Forum Plans 2022 Annual Meeting in Davos-Klosters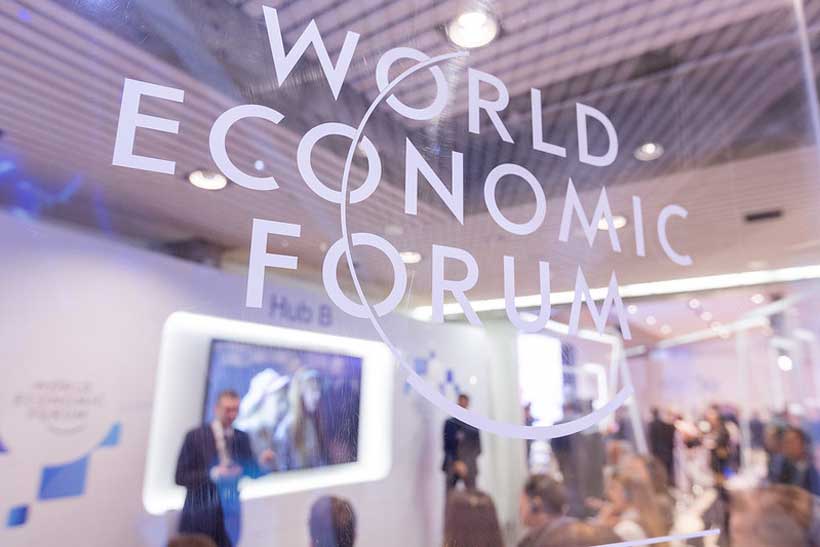 The World Economic Forum plans to convene the world's foremost leaders for the Annual Meeting 2022 in Davos-Klosters, Switzerland. Taking place in person from 17-21 January, the Annual Meeting 2022 will be the first global leadership event to set the agenda for a sustainable recovery.
The pandemic has exacerbated fractures across society. It is a critical year for leaders to come together and shape necessary partnerships and policies. The meeting will bring together forward-thinking leaders to drive multistakeholder collaboration and address the world's most pressing economic, political and societal challenges. Further details will be announced in due course.
The wellbeing of our participants, staff, service providers and hosts is a priority. Therefore, the World Economic Forum is working closely with the Swiss authorities, as well as with experts, national and international health organizations to put in place measures for the Annual Meeting 2022 that are appropriate and adapted to the context.
Klaus Schwab, Founder and Executive Chairman, World Economic Forum said "The pandemic has brought far-reaching changes. In a world full of uncertainty and tension, personal dialogue is more important than ever. Leaders have an obligation to work together and rebuild trust, increase global cooperation and work towards sustainable, bold solutions."
Progressing cooperation on tackling climate change, building a better future for work, accelerating stakeholder capitalism, and harnessing the technologies of the Fourth Industrial Revolution will be important topics on the agenda.
Ahead of the Annual Meeting 2022, the Forum will host the fifth Sustainable Development Impact Summit to take place virtually from 20 to 23 September 2021 in the context of the United Nations General Assembly. The summit will convene under the theme Shaping an Equitable, Inclusive and Sustainable Recovery. It will welcome almost leaders from government, business and civil society who will work together to drive action and build momentum for a more sustainable and inclusive future.
Spain's PM Speaks with Global CEOs on Strategic Priorities in Post-Pandemic Era
The World Economic Forum today hosted a "Country Strategy Dialogue on Spain with Prime Minister Pedro Sánchez" for its partners, chaired by Børge Brende, President of the Forum. The session gave CEOs from around the world an opportunity to hear directly from Sánchez on the factors behind Spain's remarkable resilience to the economic shocks of the pandemic and its post-COVID-19 recovery strategy.
In the virtual session, Sánchez explained his government's policy priorities and answered questions from CEOs on promoting innovation, a digital economy, a green transition and social justice in Spain, and on improving the enabling environment for long-term investors.
"After deploying unprecedented economic, financial and social measures to protect our economies, Spain is experiencing strong recovery. We want to build the economy of the future, and to do it in an inclusive way, leaving no one behind. We want to attract top talent and quality, innovation-centric investments. In summary, we want to transform the Spanish economy and we want to do it together with the private sector," he said.
"The world economy is again growing. Spain is on track to be one of the fastest-growing economies among G20 countries. With Spain being among the key stakeholders in the European Union recovery fund, Prime Minister Sánchez and his government have provided important leadership on how to use the current momentum for a truly transformative agenda, for Spain, but also for Europe." said Brende.
More than 80 partners of the World Economic Forum from around the world participated in the virtual session.
The Indigenous peoples of the North in Russia have got extra support
The largest metal producer, Norilsk Nickel, has decided to provide additional funding to the indigenous people of the Russian Arctic – living on the Taimyr Peninsula, the company said in a press release.
This is the second tranche of the company allocated to the indigenous peoples living in the north of Russia this year. Earlier it was reported that Norilsk Nickel allocated 2 billion Russian rubles (25.9 million US dollars) for various humanitarian needs of the indigenous peoples of the Russian North – the Taimyr Peninsula.
"Norilsk Nickel's response to the needs of indigenous peoples is a confirmation of the company's flexibility and systematic work with local communities. Our agreement is a demonstration of the desire for sustainable development of the peoples of Taimyr. We constantly monitor the needs of specific communities and, in contact with the company, change the parameters of individual clauses of our agreements. Moreover, most of the changes are an increase in the number of events with an increase in funding for the most important support programs," said Grigory Dyukarev, Chairman of the Association of the Indigenous Peoples of the Taimyr Peninsula, Krasnoyarsk Territory.
The company clarifies that an additional tranche of financing will be directed to the production of special literature, support for the publication of newspapers in the languages of the indigenous peoples of the North, preparation of teaching materials for language learning and some other activities.
"Nornickel strives to fully comply with the UN sustainable development goals. The company's actions towards indigenous peoples are not a tribute to fashion, not an attempt to appease, but an honest, transparent and conscious position, the course of which is the development of corporate ethnoculture. We don't just fund critical indigenous livelihoods and management programs, our goal is to build partnerships with all stakeholders: associations and specific communities. We always strive to respond to requests for adjustments to our support programs based on an urgent agenda that indigenous peoples themselves understand better than we do. Especially when it comes to supporting indigenous languages, promoting and protecting them. After all, language is the main vehicle for preserving the historical memory of generations, "commented Andrey Grachev, Vice President for Federal and Regional Programmes at Nornickel.
The agreement was signed at a round-table discussion on the results of an ethnological expert review to study the drivers of indigenous peoples sustainable development on Taimyr. In the period from December 2020 to July 2021, large-scale scientific studies of changes in the original habitat of the indigenous peoples of the North living in the western part of the Taimyr Dolgan-Nenets municipal district of the Krasnoyarsk Territory and the socio-cultural situation. The scientific organisations that participated in the review included Miklukho-Maklai Institute of Ethnology and Anthropology, Peter the Great Museum of Anthropology and Ethnography (the Kunstkamera), The Expert Center Project Office for Arctic Development and others. The representatives of the indigenous communities praised Nornickel's openness and determination to remedy the damaging effects of the May 2020 incident on their habitats and livelihood, emphasizing the relevance and significance of the review not only for Taimyr, but also for many other Russian regions.