UNESCO open exhibition "The World in Faces" at its Paris headquarters
On Thursday, July 8, at the headquarters of UNESCO (The United Nations Educational, Scientific and Cultural Organization) in Paris, the exhibition "The World in Faces" of the famous Russian photographer Alexander Khimushin opened. The author personally presented a collection of more than 170 artistic photographic portraits of representatives of different peoples of the world, shot in authentic national dress in places of residence. The exhibition is dedicated to the upcoming International Decade of the World's Indigenous Peoples and Their Languages. It is a celebration of multiculturalism and our incredible ethnic diversity at its best.
"In the photographs from the project "The World in Faces" I express my philosophy of life, which has been formed over the years of travel. It was through meetings with representatives of different nationalities, contact with their cultures, that I came to understand that all of them – with an incredible ethnic diversity – are people just like you and me. They are simply trying to artificially divide us by borders and ideologies," explains Khimushin.
The exhibition is a great way to tell the world about indigenous peoples and draw attention to their problems.
The people in Khimushin's portraits managed to preserve their originality, traditions and former way of life. But it is more and more difficult for them to do this – small peoples are rapidly approaching complete extinction, the languages ​​and traditions of their ancestors are forgotten. "The world in Faces" reminds how important it is not to let them disappear without a trace.
The idea to create a collection of photographic portraits of indigenous peoples in national dress and in their native environment was born in 2014, when Alexander had already accumulated a considerable amount of work done in the most exotic locations – from Samoa and Fiji to Swaziland. Since then, he has never stopped traveling around the world, and his project is growing and becoming a phenomenon.
"Initially, when I started working on the project, I had a dream – to exhibit at the UN. UNESCO is a UN structure that deals specifically with cultural issues and, accordingly, since I am engaged in the preservation of cultures, traditions, languages ​​that are disappearing today – it was important and honorable for me to exhibit my works at UNESCO. I don't know what will happen next. In principle, I think that these should be large international platforms, since the project goes beyond Russia. The project is worldwide. I'm not going to complete the project. I plan to travel and collect stories, photographs, from all over the world – and I will be glad to consider proposals for global exhibitions that would show us – humanity – that we live in this world are different, each has its own culture, traditions, we must respect people who belong to other cultures. At the same time, the general humanistic component is that the whole world is one and all people are brothers," notes Khimushin.
In 2018, Khimushin went to the Russian Arctic – Taimyr. The result was a series of portraits of the region's indigenous inhabitants – Dolgans, Nganasans, Enets, Nenets, Evenks.
"Taimyr is unique in that it is a distant, cold place. For me, this was not something new, since I grew up in Yakutia (the Far East of Russia is the cold pole on the planet), but it is the peoples living there – the Nenets, Dolgans, Nganasans, they have a unique culture, their way of life and reindeer husbandry have been preserved. It was interesting to visit, thanks to Norilsk Nickel (The world's largest high-grade nickel and palladium producer), to get to these places. I would like to return to Taimyr, shoot more there, if there is such an opportunity," the artist noted.
The Norilsk Nickel company, which takes an active part in the fate of the small peoples of the Arctic, supported the Khimushin project.
"Our company supports the work of Alexander Khimushin, because thanks to his work, the whole world can see amazing, beautiful people living in remote corners of our planet. Including representatives of the indigenous peoples of the North of Russia, who managed to preserve a unique, original culture and traditions. The preservation of nature, traditions and culture of indigenous peoples, support and new opportunities for the development of ancestral activities – these are the themes that bring countries, international and commercial organizations, artists and creators together, "said Tatyana Smirnova Head of Public Relations MMC Norilsk Nickel.
Khimushin became the first Russian photographer to have an exhibition at the UN headquarters in New York. Works from The World in Faces project were exhibited at the University of Lille in France, and for six months were broadcast on the screen of the world's largest digital art center in Bordeaux.
The exhibition at the headquarters of UNESCO will run until the end of August 2021.
UNGA76: Giant eco-friendly artwork set to inspire world leaders
A new 11,000 square metre 'ephemeral fresco' created by Swiss artist Saype, has set the stage at UN Headquarters in New York, to welcome world leaders for the General Assembly High Level Week. It shows two children building the world of the future using origami, highlighting the participation of young people.
"World in Progress II is perfectly suited to our time and place. First, it is, in all senses, a big picture. Both its execution and its subject are monumental and ambitious. We have to take several steps back, just to view it in its entirety. Then we understand that it shows two children, designing their ideal world together", said on Saturday UN Secretary General during the unveiling ceremony.
Antonio Guterres explained that, just like the artwork, the United Nations' mission extends far beyond what we can see around us. "Most of it lies out of our view. Our work is multilateral, and multi-generational. And each of us plays an essential part in creating the whole", he added.
Earth-friendly art
Guillaume Legros, or "Saype", an artist name inspired by the contraction of the words "say" and "peace", is famous for its invention of an eco-friendly painting process. His special technique allows him to create huge frescoes directly on the grass.
"In two weeks, there will be nothing left due to the regrowth of the grass. This makes the work disappear, even more than the rain", he explained to UN News, adding that he spent more than a year finding the right pigments for his ephemeral art.
Saype had already shared one of his creations at UN premises before. Last year, World in Progress I was unveiled during the commemoration of the UN's 75th anniversary in Geneva, Switzerland.
"In the centre, there is a dove that symbolizes peace. The basic idea is that on the one hand when talking about children, we ask ourselves what responsibility we have towards them. But, on the other hand, they are the ones who will have the world of tomorrow in their hands. This means that we must really learn to live together in a world that is also hyper-connected", he said.
A call to world leaders
For the UN chief, the children depicted in World in Progress II are designing our shared future.
"This year's General Debate will take up this theme, focusing on the world we are building together. My recent report on Our Common Agenda recommends new ways for today's decision-makers to better serve both young people, and future generations".
Mr. Guterres said he was hopeful that world leaders will take inspiration from Saype's art to consider how "we can look beyond our immediate surroundings, while respecting nature and our planet".
Bengal's Thriving Cotton Handloom Tant Textile Crafts Looming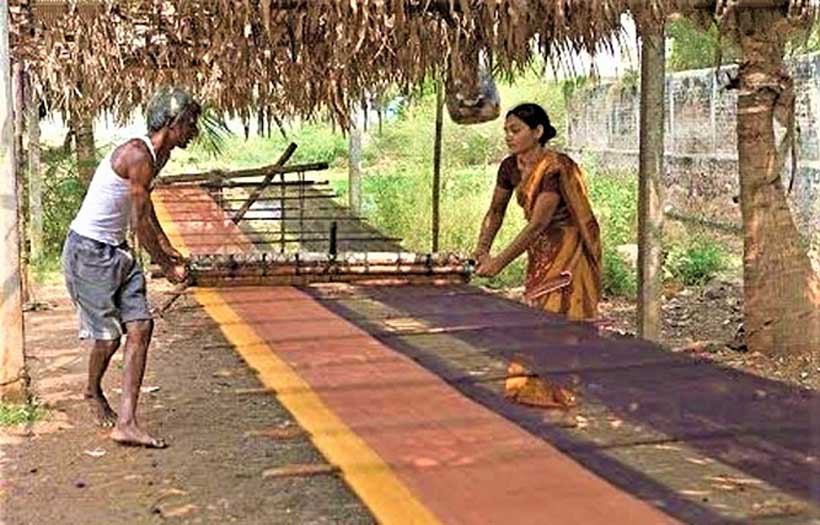 India being a diverse nation endorses and nourishes indigenous ethnic crafts. Every region of India has to offer thriving cultural heritages, a few of those receiving the attention of the mainstream population, while several are failing to do so. Once glorified Bengal's Handloom Tant Textile Crafts falls into the second category, as it's lost the place to be under the spotlight. Even though "Every Handloom Tant Textile Crafts has a unique story to tell—as it is inheriting one of the finest and ancient weaving mechanisms that sprouted in nowhere other than Bengal. Dating back to the 15th century and leaving remarkably earliest trace from Nadia District of West Bengal Handloom Tant Textile Crafts received Royal patronage and retained popularity throughout centuries. Its uniqueness lies in design which mostly includes the depiction of ancient Bengali cultural influences and reflection of Bengali flair. In that sense, Handloom Tant Textile Crafts are very much connected to the soil of Bengal and utterly reflects sustainable, indigenous initiative within the millennials weavers of Bengal, who still feel connected to the ancient essence.
Origins
The word 'Tant' indicates the cotton-based Handloom Textile Crafts, includes Handloom weaved Textiles including Saris, Cloth pieces, Dupattas, Bed Sheets etc.
Shantipur of undivided Bengal, now in Nadia district of West Bengal having earliest record of Handloom Tant Crafts weaving back to 15th century. It remained dominant cultural tradition from 16th to the 18th century and received extensive royal patronage along with the world-famous Muslin and Jamdani Sari of the same genre. In 1947 after the partition of Bengal, a hefty number of weavers migrated especially from Tangail Bangladesh to India and received rehabilitation in different regions including Phulia, Shantipur. Weavers bore their lineal Handloom Tant Textile weaving Crafts with them. Residual weaver communities got settled in the Hooghly and Bardhaman regions of West Bengal. Since then, each region has developed its signature style.
The weaving Technique
Handloom Tant Textile Craftsare woven with locally produced Bengal cotton. The kind of fine handspun yarn being used for Weaving of Handloom Tant Textile Crafts once applied in weaving soft, feather-light Muslin and Mulmul textiles that have been exported and adored globally for ages. The fineness of weaved cotton depends on the yarn quality and it is on the yarn that the textile is fine (combed cotton) or coarser (regular cotton).
Cotton being deftly woven to the thread is further being woven by craftsmen to Tant Textile. It is customary to use shuttles. Though nowadays handlooms have largely been replaced by power looms to weave Tant Textiles, which compromising the quality of Tant Textiles pushing environment-friendly, electricity-saving Handloom on the verge of extinction.
Popular motifs in use
The most popular Handloom Tant Textile Crafts product is Sari. The handloom Tant Textile crafts products other than Sari also depict motifs like Sari. A quintessential six-yard Tant Sari is distinguished by a thick two-to-four-inch border and a decorative Aanchal. Weavers use fine cotton yarn to manifest a variety of floral, paisley, and artistic motifs, attached to the culture of Bengal. Some of the most adored time-honoured motifs of West Bengal's Handloom Tant include bhomra (bumblebee), tabij (amulet), rajmahal (a royal palace), ardha Chandra (half-moon), chandmala (garland of moons), ansh (fish scales), hathi (elephant), nilambari (blue sky), ratan chokh (gem-eyed), benki (spiral), tara (star), kalka (paisley) and phool (flowers), etc. Apart from these regional trends are being followed.
Why Handloom Tant Textile Crafts losing the interest of the mainstream population and what are the way forward?
Because of the advertisement and marketing industry the youth generations are mainly inclined towards high-shine clothing, heavy silks and zari, ignoring or being unaware of clothing science and technology. Handloom Tant Textiles, in comparison, is a modest, soothing clothing based on environment-friendly technique which add real charm to Tant. Elderly people are not even aware of the positive aspects of Handloom Tant Textile Crafts, due to no such promotion leading the Crafts to evade.
What is in particular in Tant to rethink its revival?
Handloom Tant Crafts comes under the range of heritage textiles of West Bengal. Sari-loving Indian women would certainly like to acquire collection of handloom saris from across India. While Handloom Tant Textile Sari would certainly give the blended feeling of heritage and comfort. Most of the Sari-wearing Indian women find themselves particularly attached to Bengal's Handloom Tant and Jamdani Sari. Jamdani Sari belongs to the same genre of Handloom Tant. Tant Jamdani from Dhaka and Shantipur is exceptionally lightweight, characterized by intricately designed motifs that seem to float on the surface of the translucent ultra-fine textile, giving it an almost mystical grace in appearance.
Moreover, Handloom Tant Textile Crafts are comfortable to wear in tropical climatic zones of the world. Tropical, subtropical climates of the Indian subcontinent are exceptionally fine to wear and use such textiles. While most of the raw material being used and the technology being followed in Handloom Tant Textile Crafts is nature friendly and indigenous for the subcontinent. Revival, then on the restoration of the lost glory of Handloom Tant Textile Crafts of Bengal will certainly promote environment-friendly sustainable textile technology basing on the growth of the home-based cottage industry of West Bengal. Employing Indian youth in the process may revamp the initiative in the way Handloom Tant Textile Crafts would get a modern outlook and that will generate youth entrepreneurs to promote indigenous industries and a lot more positive things would happen in this row.
How important the present time is to preserve Handloom Tant Crafts? what could be the way forward?
As an economic industrial activity, the 'Tantshilpa/Tant Crafts' (the art of weaving handloom Textiles) is second only to agriculture in providing a livelihood to the people of certain regions of West Bengal. Ravaging the hope of business in Bengali New Year on April 14, 2020 the ongoing pandemic and ensuing lockdown have led to insurmountable losses to Textile Industry. Handloom Tant Textiles also facing a tremendous challenge for decades losing the interest of younger generations owing to its traditionalism and maintenance cost. The need of the hour is to activate retail for existing stock using e-commerce and involving youth to regenerate the work chain and boost business. The genesis of interest towards such heritage and endangered craft like Handloom Tant Textiles can restore the sentiment and attachment of weavers' communities.
Organizing regular workshops with the weavers offering creative concept and textile design expertise in developing an ongoing collection of modern Tant saris and textiles that can bring the Handloom Tant Industry on-trend. While Tant is a versatile and comfortable fabric especially suited in the climate of India and considerable places of the world and also lends itself well to soft furnishings home decors cum comfortable garments.
Classified Handloom Tant Textile Crafts are being picked by authentic celebrities, dignified women. To revive the Indian Economy in the post-pandemic global crisis, promotion of indigenous Industries based on the authentic handmade, handloom, and traditional crafts are the way out, which is also environment friendly. 'Make in India' and 'buy local' is more relevant now than ever before, as each locally-made purchase directly supports indigenous industry, regional to global work circle, in turn, funds its makers, that is, the craftsmen/women in every level.
The hands that nourish tradition, indigenous crafts need to be celebrated. Direct connection of remote areas Handloom Tant Textiles weavers with well-structuredHandloom Tant Textile Craftswork chain is the way forward that less known regions areas of West Bengal like Santipur, Phulia, Nadia, and Dhaniakhali get counted in the global map of Textile industry representing the glorious Handloom Tant Textile Crafts of Bengal.
Copenhagen named UNESCO-UIA World Capital of Architecture for 2023
The city of Copenhagen has been officially designated as World Capital of Architecture for 2023 by the Director-General of UNESCO, Audrey Azoulay, on the recommendation of the General Assembly of the International Union of Architects (UIA).
This decision is in keeping with the partnership agreement established between UNESCO and the UIA in 2018, through which UNESCO designates the host cities of UIA's World Congress as World Capitals of Architecture. "We are very happy to see the torch of the World Capital of Architecture title pass to Copenhagen from Rio de Janeiro," Audrey Azoulay said. "The inaugural World Capital of Architecture in Rio was a real success, underlining the important role of urban planning, notably in the pandemic context", she noted, adding that "Copenhagen will build upon Rio's achievements, by continuing to show the way in which architecture and culture can respond to the challenges of our time, especially in the environmental field."
UNESCO and the UIA launched the World Capital of Architecture initiative to highlight the key role of architecture, city planning, and culture in shaping urban identity and sustainable urban development. Every three years, the city designated as World Capital of Architecture becomes a global forum at the forefront of discussions on contemporary urban planning and architectural issues.
As the World Capital of Architecture for 2023, Copenhagen will host a series of major events and programmes on the theme "Sustainable Futures – Leave No One Behind." In cooperation with the Danish Association of Architects and various Nordic professional bodies, the municipality will examine how architecture and urban design contribute to meeting the 17 United Nations Sustainable Development Goals.
From 18 to 22 July 2021, Rio de Janeiro will host the World Congress of Architects online. Following Copenhagen in 2023, Barcelona and Beijing are the two contenders looking to claim the World Capital of Architecture title in 2026 and host the next World Congress. The official decision will be made later this year.