Bangladesh-German Relations: Current Trends and Prospects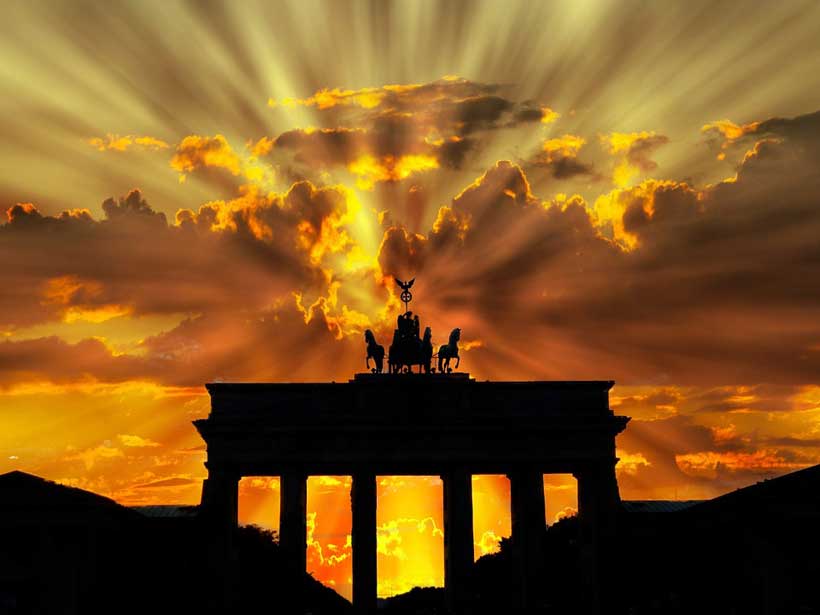 By 2026, Bangladesh will be upgraded to a middle-income country and it has several challenges along with the positive aspects. On the other hand, amid and after the post-Covid new normal, Germany, likewise other European Union (EU) members, needs to harness new avenues for economic and infrastructural development along with facing the challenges of economic reconstruction. Bangladesh has gradually turned to a geostrategic and economic hub of South Asia and Southeast Asia. At least ten developmental mega projects and speedy economic acceleration creates a new avenue for the Bangladesh-EU relations and especially for the Bangladesh-German relations.
Historical relations
Bangladesh has long-standing and reliable traditional and historical relations with Germany since the independence of Bangladesh in 1971. Germany (former East Germany) was the first country in Europe to officially recognize Bangladesh. After establishing the diplomatic relations on February 4, 1972, the bilateral relations between the two countries began to grow increasingly both in "depth and dimension". Both countries have a long and successful bilateral relationship on most international issues and platforms. Between 1972 and 2020, Bangladesh received approximately € 3.03 billion in commitments from Germany as part of bilateral financial and technical cooperation. Besides, when Bangabandhu Sheikh Mujibur Rahman and his family was assassinated on August 15, 1975, his daughter and the current Prime Minister Sheikh Hasina was in Germany.
Economic ties
The bilateral economic ties between Bangladesh and Germany have been steadily increasing over the past ten years. Europe, especially Germany is now one of the enthralling and lucrative export destinations for Bangladesh. According to the Foreign Ministry of Germany, Germany is currently the second largest export market for Bangladesh. The volume of bilateral trade with Germany has increasingly enlarged in recent years. In 2018, Bangladesh exported goods worth about 5.8 billion Euros to Germany and imported worth 800 million Euros with a gross 6.6 billion bilateral trade. 90% of the exporting products Bangladesh to Germany are textile material along with frozen foods and leather products.
In a recent meeting with the railway minister of Bangladesh on May 20, German Ambassador to Bangladesh Mr. Peter Fahrenholtz has expressed his desire to be a part of the development partner of Bangladesh especially through investing in the Railway sector. The government of Bangladesh has given more importance to the railway sector. Many projects are currently underway in the railways including Dhaka to Jessore through the Padma Bridge Rail Link Project, Bangabandhu Railway Bridge, Dhaka-Cox's Bazar rail link and Jessore-Satkhira rail line. Germany with its high technological advantage can play an important role in investing as well as digitalizing the railway sector of Bangladesh. Along with the railway, German investment in Bangladesh is also increasing in other sectors since 2016. Germany got approximately 4 billion dollars for several projects in Bangladesh in various sectors including electricity and textiles. The notable works of German-based companies received, included e-passports, 3,600 megawatt LNG-based power plants and the supply of 15 oil and gas-fired engines to generate 260 megawatts of electricity.
In the investment sector, the involvement of developed countries like Germany in the development and progress of Bangladesh is certainly very encouraging. Amid the hard time of Covid-19, Germany has agreed to provide 339.54 million euros for various development projects in the country which is signed by the Secretary of the Economic Relations Division (ERD) of Bangladesh and the Ambassador of Germany on behalf of their countries respectively. It is to be noted that technical and financial agreements are executed between the governments of Bangladesh and Germany every two years. Of the 339.54 million euros, 48.4 million euros are being given as grants and 292.5 million euros as loans, which are repayable at nominal interest for 25 years. These grants and loans will be used in various development projects in the country. The news of increased foreign investment and foreign reserves of Bangladesh is undoubtedly reassuring even in the face of Covid-19 epidemic.
According to Bangladesh Investment Development Authority (BIDA), from the 2016-17 fiscal year to March 2020, about US $11 billion foreign exchange investments have been implemented. In the 2019-20 fiscal year, gross foreign direct investment (FDI) inflows to Bangladesh was approximately US $3.23 billion. Besides, the foreign reserve of Bangladesh has exceeded 45 billion dollars. It is a pride for the country that born from poverty, famine and war, the country is now lending foreign reserves to Sri Lanka and Sudan through currency swap. Bangladesh's position in the World Bank's Ease of Doing Business Index 2021 has been upgraded to 168th from 176th with 8 steps forward than previous year. All these will help in improving the investment environment in the country, setting up new industries and creating new avenues for expanding bilateral economic relations between the two countries. Speaking at a seminar organized by the German-Bangladesh Chamber of Commerce during a visit to Germany in October 2018, the Prime Minister of Bangladesh called on German entrepreneurs to invest in the pharmaceutical, tourism, manufacturing, ICT, ceramics and renewable energy sectors for joint ventures.
In order to expand German-Bangladesh bilateral trade in the future, new export sectors need to be harnessed keeping in mind the need for environment and labor-friendly production. To diversify the exporting areas, shipping industry, vaccine production and technological cooperation could be the potential areas of bilateral trade in the upcoming days. Although Bangladesh has given priority to the textile sector, the sectors of leather goods, frozen fish, engineering products and medicines need to be developed to diversify the exporting products. The technological sector and agricultural and industrial equipment of Germany is far better than Bangladesh. Bangladesh has been developing 100 economic zones where German industries can work through investment and technology sharing. In a word, there is huge potential to accelerate the bilateral relations to a new height.
Bangladesh has been able to retain its GDP growth rate at around 7 per cent in the last decade before the Covid-19 attacked. Even during the pandemic, Bangladesh is among the fewer countries that become able to maintain a positive growth rate at 5.24 per cent in the 2019-20 fiscal year. To make its economic development more dynamic, the Bangladesh government is focusing on the mega infrastructure projects i.e., Padma Multipurpose Bridge, Metro rail project or Matarbari deep seaport. Bangladesh will soon become a middle-income country where there are enormous opportunities for Germany for trade and investment. Bangladesh's economic development has been praised by various German economic organizations, the International Monetary Fund, the World Bank and the Asian Development Bank as well. Among the 27 countries of the European Union, Germany is the largest consumer market that leads to competition between exporting countries to capture the German market. In 2019, Germany imported 1,104.1 billion euros worth of goods from abroad, however, Bangladesh only captured 5.64 billion euros where Bangladesh and Germany have huge room for development.
Human Security Aspects
'Environmentalism' has been gaining momentum in Europe especially in Germany that tends to lean them towards eco-friendly products which paves the way for Bangladesh to export tea and jute-oriented products. Besides, Germany is one of the leading countries in the world in terms of producing alternative environment friendly fuels. In the field of alternative energy, Bangladesh can utilize the experiences and technological support of Germany. Climate change and global warming are common threats for the world. Bangladesh as the worst sufferer and Germany as an active proponent of climate diplomacy, should work together to make the world sustainable, livable and eco-friendly. Germany can contribute to the Delta plan 2100 and Climate funding to join hands with Bangladesh to mobilize resources for climate and security. Germany may provide Bangladesh technological know-how on how to produce and manage sustainable and renewable energy.
The present state leader of both Bangladesh and Germany has been praised for their humanitarian stands above all other narrowly-defined state interests. The two countries are leading in sheltering refugees around the world. Since 2017, a large number of Rohingya FDMNs fled to Bangladesh due to the "genocidal intent" of the Myanmar Army. As the socio-economic, environmental and security dimensions of sheltering over 1.2 million Rohingya refugees are increasing day by day, the Prime Minister of Bangladesh Sheikh Hasina, "the mother of humanity", has been seeking sincere response from the international community to accentuate safe and dignified repatriation of the Rohingya FDMNs. The Rohingya crisis is a haze on the economic development of the country. Germany should intensively cooperate with Bangladesh in finding a durable solution for the forcibly displaced Rohingya Muslims in Bangladesh.
People-to-People Contact
The cultural relationship and people-to-people contact of Bangladesh and Germany are very strong. Cultural cooperation is mainly directed through the Goethe Institute. In Bangladesh, the Institute is the key meeting place for all those interested in Germany. It offers diversified cultural events through film festivals, seminars and lectures on contemporary arts, culture and exhibitions of both German and Bangladeshi artists. German government has been providing different education and cultural exchange programs for the foreign students. Besides, in the higher study level, they are providing scholarships like German Academic Exchange Service (DAAD) scholarship which is a really good opportunity for people-to-people contact and cultural affinity. The DAAD and other organizations offers a number of scholarships to Bangladeshi students and young researchers each year in order to promote the academic exchange between Germany and Bangladesh. Besides, in February 2021, GIZ, a German-based organization, has expressed interest in providing more technical assistance to Bangladesh to create skilled human resources in the field of textile education. The company has proposed a new project called 'Higher Education and Leadership Development for Sustainable Textiles in Bangladesh (HELD)' to assist the Sustainable Development Goals by 2030.
To conclude, Bangladesh-German relations have been enjoying great historical, economic and cultural ties. Germany is one of our biggest trading partners and the second largest market for garments in particular. But now pharmaceuticals, eco-friendly agricultural products, leather and ceramic products need to be prioritized for export diversification. Germany is an all-weather development partner of Bangladesh. They are supporting Bangladesh in numerous developmental activities through GIZ in the technology, health, education, environment, climate change, good governance and renewable energy sectors. They should work in a coordinated way to develop bilateral relations and to become trusted development partners in the upcoming days.
Baerbock has publicly declared 'a war against Russia'
On January 25 Germany and the United States decided to provide Ukraine with Leopard 2 and Abrams tanks totaling 45 (respectively: 14 + 31). Some European countries also intend to join these supplies that could reach around 300 main battle and light tanks during this year. The Pentagon official confirmed that collected 'the armor basket' could include 300 tanks and ACV/APC during 2023. It will be 28th 'basket' of lethal military supplies of the transatlantic alliance to Ukraine that started on a massive scale in 2022.
– Unlike fascist Germany, current Germany openly declared a war against Russia on January 25. Arguing in favor of sending NATO tanks and ACV/APC to Ukraine, German Foreign Minister Annalena Baerbock said EU countries were fighting a war against Russia. US and EU officials have previously gone out of their way to claim 'they were not a party to the conflict in Ukraine'.
This is a quotation from what Baerbock has stated at PACE. "And therefore, I've said already in the last days – yes, we have to do more to defend Ukraine. Yes, we have to do more also on tanks," Baerbock said during a debate at the Parliamentary Assembly of the Council of Europe (PACE) on January 25. "But the most important and the crucial part is that we do it together and that we do not do the blame game in Europe, because
so far from the German Government, it means that her statement is fully shared by the FRG Government we are fighting a war against Russia and not against each other."
If she has not been sacked and the Parliament.
It also means that the FRG has radically changed its foreign policy and once again is unleashing the next World War – the Third one.
It means that German tanks again will appear in Ukraine and Russia like in 1941-1945.
It also means that pro-Nazi coalition supports ultra-nationalist regime in Kiev that began its own and unprovoked aggression – initially against Donbass in April 2014, and later against Russia in October 2022.
It means that since January 25, 2023 current joint Ukrainian-NATO actions in Ukraine can be politically and juridically labelled as "a declared direct combined Ukrainian-NATO aggression against the Russian Federation".
– Russia angrily reacted to such abnormal statement. Kremlin spokesman Dmitry Peskov told reporters that tank supplies to Ukraine by Western countries testify their direct and growing involvement in their armed conflict. He added that the flow of western weapons to Ukraine does not help potential negotiations between Moscow and Kiev.
Russian Foreign Minister Sergey Lavrov warned that any shipments containing weapons for Ukraine would become a lawful target for Russian forces,
The Russian Embassy in Germany for its part warned that "this extremely dangerous decision [by Berlin] shifts the Ukrainian conflict to a new level of standoff."
All five parliamentary political parties at the Russian State Duma are demanding from the highest military and political structures in the country to destroy all Ukrainian-NATO heavy weapons – not only at the front lines, but additionally and primarily near Ukrainian-NATO border as soon as such weapons cross it on land, in the air and at sea.
Such destruction will save a lot of innocent lives amongst civilians and military men.
– Moscow has also cautioned NATO and non-NATO members against supplying Ukraine with depleted uranium munitions (DUM) and with long-range weaponry capable of striking at cities deep within Russian territory.
Supplying Ukraine with DUM for western military hardware would be regarded by Moscow as the use of "dirty bombs," said Konstantin Gavrilov, head of the Russian delegation to the Vienna Negotiations on Military Security and Arms Control. Speaking at a plenary meeting of the OSCE Forum for Security Cooperation in the capital of Austria Vienna, Gavrilov cautioned "western sponsors of Kiev's war machine" against encouraging "nuclear provocations and blackmail."
"We know that Leopard 2 tanks, as well as Bradley and Marder armored fighting vehicles, can use depleted uranium shells, which can contaminate terrain, just like it happened in Yugoslavia and Iraq," he said. "If Kiev were to be supplied with such munitions for the use in western heavy military hardware, we would regard it as the use of 'dirty nuclear bombs' against Russia, with all the consequences that entails."
Gavrilov also warned that Moscow will retaliate if the West were to supply Kiev with long-range weaponry to carry out strikes against Russian cities. "If Washington and NATO countries provide Kiev with weapons for striking against the cities deep inside the Russian territory and for attempting to seize our constitutionally affirmed territories, it would force Moscow to undertake harsh retaliatory actions. Do not say that we did not warn you," he remarked.
– Ex-President Donald Trump called on Joseph Biden to end 'crazy' Ukraine conflict before it leads to the use of nuclear weapons.
"First come the tanks, then come the nukes. Get this crazy war ended, now. So easy to do," Trump outlined.
Davos more of a show, no longer so important
"Davos has become more of a show, it's no longer so important", concluded Liviu Muresan from Eurodefense Romania at the end of the webinar recently jointly organized by Eurodefense Romania and the Bucharest-based MEPEI think-tank. In the aftermath of the Davos World Economic Forum, 20 key-note speakers invited to examine this year's edition did not hesitate to cast a critical eye upon the outcome and some of them were very straightforward in assessing this year's WEF.
Adrian Severin, former Romanian minister of foreign affairs, gave a remarkable definition to the Davos WEF: "something between mythology and reality because politicians come to Davos to look for intellectual validation and economic support, corporatists come to look for intellectual respectability and political assets, civil activists seek kinship with the political power and financial sponsorship. They make a network of self-legitimized supra-national power that combines the characteristics of occult interest groups, influence groups that associate oligarchic cynicism with democratic hypocrisy. A group of self- proclaimed prophets, self-confirming their prophecies."
Experienced in foreign policy, Severin could identify new approaches during the Forum, so he portrayed in detail "the Davos WEF that turned from an incubator of ideas into a platform for launching messages and trial balloons, from a doctrinal workshop into a ballroom…from a political designer into a moral whistle-blower ….from a producer of doctrines into a producer of dogmas…from the champion of missionary realism into athlete of utopias ….from a platform of dialogue into a platform of war propaganda…from a believer in globalization into a promoter of globalism…from a follower of inclusion into a promoter of exclusion….Davos is at risk of losing popularity and political failure, it no longer solves problems, it either deepens the existing crisis or generates new crises ."
Severin argued that "this year's edition was significant through the absences rather than through the presences because only Olaf Scholtz was present this year out of the G7 leaders….Russia and China were absent….The president of the European Commission has become a US ventriloquist , no longer representative of the European Union that is neither Union, and no longer European…The main representatives of the US were absent. Those present discussed everything but the risk of having the world fractured into two blocks with incompatible cultural identities, with the Euro-Atlantic block increasingly weaker than the Indo-Pacific block and the Euro-African-South-American block…the discussion about green energy and other similar topics is nonsense as long as solutions are not presented."
Severin believes that the main concern should be "to stop the war in Ukraine and to normalize the dialogue between the Euro-Atlantic and the Euro-Asian blocks", especially because this year's theme was "Cooperation in a fragmented world".
The most inspirational speech was given by Antonio Gutierez, the head of United Nations Organization, who referred indeed to the fragmented world, but Severin pointed to the fact that Antonio Gutierez gave such a speech in Davos and not in the UN in New York or Geneva, a sign of the failure of the UN, which means that the UN and the OSCE must be revived.
General Corneliu Pivariu, former head of the Romanian Military Intelligence, stressed that the Davos meeting actually does not solve any problem of the world. It speaks every year about economic inequalities without solving that, doing every year nothing else than acknowledging the deepening of inequalities. For instance, according to Credit Suisse, between December 2019 and December 2021, the global wealth increased with 42 trillion USD but 26 trillion USD belonged to the 1% richest population, and 16% to the rest of 99% of the world's population. Another topic is global warming, which is also never curbed, and an Oxfam report released in November 2022 revealed that a billionaire's annual emissions of CO2 are one million times higher than a person in the 90% of the world's population.
Carlos Branco, senior analyst with the National Defense Institute in Portugal, confirmed that Davos meeting did not find solutions to the world's problems. He reminded that, in Davos, Ursula Von Der Leyen, Olaf Scholtz and other leaders spoke of the need to make Europe independent in terms of energy but they did not explain how exactly Europe will manage to provide itself commodities and raw materials, since Europe currently has 37 strategic dependencies out of which 2% from China and 3% from Russia, while the new technologies will still make Europe dependent on Asia. "The future of Europe will depend on how it will position itself in relation to the advanced technologies, Artificial Intelligence, a.s.o., but for the moment, Europe is trapped."
As an outstanding expert on Asia, Viorel Isticioaia Budura, former Managing Director for Asia and the Pacific at the European External Action Service and former Romanian ambassador in China and Japan, pointed to the absence of many G7 leaders in Davos as well as of Asian leaders, among which China, which is "the beauty and Miss Universe of the world's interdependency", and mentioned the presence of many Asian business people in Davos this year, while reminding of the importance of Asian countries and of the three high-level summits organized in Asia last year, G20, APEC and ASEAN, and of what Anthony Blinken, the US secretary of state, called "the rest of the world", namely, Asian countries that do not follow the Euro-Atlantic order but have become a significant part of the global economy. Isticioaia Budura wondered if the "re-globalization of the supply chains would be possible" and declared China "the champion and the promoter of globalization."
Michael Zinkanell director of the Austrian Institute for European and Security, Vienna, expressed his opinion that "we a living in a bipolar world dominated by the US and China while Russia has no ability to project global power, and some clear conclusions after the Davos meeting are that instability is increasing in the world, the world is becoming more and more interconnected and energy independence and decarbonisation are very important for the future". Zinkanell sees natural disasters and socio-economic risks as the main concerns for the future, but also the interactions with some authoritarian countries that are trying to lead in this new multipolar world that will allow multilateralism.
Germano Dottori, editor of the Italian Geopolitical magazine, also agreed that Davos meeting became too politicized and not too useful but he sees the prospects for the future of the world "not so bleak like a few months ago."
Flavius Caba Maria, president of MEPEI, the Bucharest-based think-tank that co-organized the webinar, expert on the MENA region, mentioned a few aspects among which that fact that the representatives of oil and gas companies were welcomed at Davos, unlike Glasgow, which is a sign that renewables cannot entirely meet the energy needs of humanity.
On the other hand, Caba Maria pointed to the BRICS countries and his remarks could be seen as complementary to the idea mentioned by several speakers that the Western institutions seem to have lost their ability to solve the global problems and to ensure economic equality.
Caba Maria emphasized that "the global South is establishing its own system of alliances, turning them into a source to transform global economy, thus creating a development alternative trend, different from the one promoted by the West, with three regional alliances looming: the African Union, the Community of Latin American States and Shanghai Cooperation Organization in Eurasia. Among all these countries, China stands out and everything that's going on in China is of utmost interest for the other countries, because it has become the world's largest economy."
Facts to keep in mind for the organizers of next Davos meetings.
Serbia must reject the ultimatum regarding Kosovo
The President of Serbia, Aleksandar Vucic on January 20th had a meeting with the Western negotiating team about the solution for Kosovo. European mediator Miroslav Lajcak, American envoy Gabriel Escobar, German and French special advisers Jens Ploetner and Emmanuel Bonne as well as Italian prime minister's adviser Mario Talo once again discussed with the leaders of Serbia (and Kosovo) the plan(ultimatum) that should regulate relations between Belgrade and Pristina. Officially, the plan for a peaceful solution has not been presented to the public. However, Serbian media published the text of the plan and they clearly emphasize that it is an ultimatum from Quinta. And what is even more important, no one from the Government of Serbia denied it.
Which clearly tells us that the Government of Serbia is releasing the plan(ultimatum) as a trial balloon. However, that decision turned out to be wise, because the reactions of the citizens of Serbia to the plan were more than clear on the point of view that the plan was unacceptable. Because that agreement, among other things, requires that Serbia in practice (de facto) recognize the violent secession of its own Province that is, allow Kosovo to join the United Nations.
The plan compiled by the advisers of the leaders of the two largest democracies in Europe – French President Emmanuel Macron and German Chancellor Olaf Scholz – represents a gross violation of UN Security Council Resolution 1244, the basic principles of democratic international relations, the UN Charter, and the OSCE Final Document.
The plan(ultimatum) for Kosovo, humiliates Serbia and the Serbian people by ordering that Serbia respect equality, sovereignty, territorial integrity and the so-called state symbols of Kosovo and all other countries, except it`s own sovereignty, territorial integrity and it`s internationally recognized borders confirmed by the UN, OSCE and other international organizations. Serbia is expected to cooperate in dismantling its own integrity, its own constitutional order and international reputation, so that no one could use the "Kosovo case" as a precedent for unilateral secessions, which primarily refers to Ukraine.
The fact that currently five members of the European Union (Spain, Romania, Slovakia, Greece and Cyprus) and four members of NATO do not recognize the independence of Kosovo shows how bad the acceptance of the plan would be for Serbia. The goal is also to place all responsibility for the victims and destruction on Serbia, as a victim of the NATO aggression in 1999, and to use this act to justify the aggression against Serbia, which was carried out against the international law.
Kosovo is not a frozen conflict, as claimed in the West and repeated by official Belgrade, nor it can be resolved by an ultimatum to Serbia. The best example of this is Cyprus, which was invaded by Turkey in 1974, and despite this, neither Turkey nor Cyprus (or Greece) agree to any ultimatums, nor does anyone give them. The question must be asked here, how is it possible for Quinta to issue an ultimatum to Serbia and why are the Serbian Government and the President of Serbia allowing it?!
The Serbian Government must apply new tactics
Negotiations on Kosovo with Quinta must first be conducted on essential matters. And that means, above all, the protection of the current Serbian population in Kosovo and the return of the 250,000 expelled Serbs. Regulating the status of Serbian state property in Kosovo, which was seized by the separatist government in the province. Plus, the return of stolen property to the Serbs, who were forcibly expelled from the province.
Also, bearing in mind the aggressive policy of the Kosovo separatists, who, contrary to the agreement with NATO, are sending special units to the north of the province, while perpetrating violence against the Serbs, a new strategy is needed. And this is primarily reflected in the fact that the Government of Serbia must help establish the Republika Srpska in the north of Kosovo. This means that the local Serbs would have their own police(including a special police unit), judiciary, prosecutor's office, education, health care and control over border crossings. In other words, parity would be established in the armed forces, bearing in mind that it is not realistic to expect that Serbian president Aleksandar Vucic will ever approve the sending of the Serbian Army to Kosovo. In this way, Serbia would strategically strengthen its positions and would wait for a change on the geopolitical scene of the world, until favorable conditions are created for the full return of the southern Serbian province of Kosovo to Serbia.
Otherwise, if Serbian Government agree to Kosovo's entry into the United Nations, it would mean that Kosovo could unite with Albania, about which Kosovo Prime Minister Albin Kurti also publicly spoke about. This would than open the issue of secession from Serbia of the Presevo Valley and the geographical region of Sandzak. And what is even more important, an incredibly strong pressure to abolish Republika Srpska in Bosnia and Herzegovina would begin. All of the above would have catastrophic consequences for the country of Serbia, but also for the entire Balkans.