For centuries, the Indian Ocean and South Asia have played a significant role in the struggle for leadership between the great powers. The 21st century is no exception. The region is becoming the focus of strategic competition between leading regional and non-regional actors again. It requires a response from India, especially in building relations not only with China, the United States, or Japan but also with its closest neighbors. Under the prevailing circumstances, one of the most promising areas of New Delhi's foreign policy is the India — Bangladesh — Sri Lanka strategic triangle, which has significant political, defense, and economic potential, and, most importantly, can provide a stronger basis for multilateral cooperation in the region.
Increase of geostrategic competition in the Indian Ocean and South Asia
For centuries, the Indian Ocean and South Asia have faced strong external influence and competition from non-regional actors. Due to its unique geographic location, this region has crucial strategic importance both in terms of trade and defense. The reality is that no country in the world can become a superpower unless it provides dominance over the dual area of the Indian and the Pacific Oceans. For example, China has been trying for decades to gain a presence in the Indian Ocean in an attempt to reduce its dependence on the Strait of Malacca, including due to the implementation of infrastructure projects in Myanmar, Pakistan, Sri Lanka, the Maldives, etc. In response to the growing influence of the PRC, the United States has replaced its Pacific and African Commands to the Indo-Pacific and supports the ambitions of Japan, Australia, and European states to increase their influence in the region.
In turn, India had accurately predicted this tendency. Moreover, back in 2004, New Delhi's maritime doctrine stated that "All the major powers of this century will seek a toehold in the Indian Ocean Region".
However, central to India's foreign policy vision is the growing influence of Beijing in New Delhi's traditional «zone of influence». Over the past decade, China has become one of the major trade and investment partners for the countries of South Asia and the Indian Ocean: Chinese companies are actively implementing infrastructure projects aimed at building highways, railways, and ports, and almost all countries in the region have joined the Belt and Road initiative (exceptionally Bhutan and India itself). Despite the economic nature of China's cooperation with the countries of the region, Beijing's geostrategic benefits from the rapprochement with New Delhi's closest neighbors attract the attention of India's expert, academic communities, and, probably, authorities.
At the same time, in the face of turbulence in the Sino-Indian relations, as well as their tension in Eastern Ladakh, it was widely analyzed the trend of Indian rapprochement with the United States, Japan, and Australia, which allowed New Delhi to increase its credibility, both among its closest neighbors and in the wider Indo-Pacific. However, India continues to adhere to its foreign policy course, taking a more concrete, but still restrained position on the issue of cooperation with Western actors. At the same time, India uses its increased role in the region to build a strategic triangle with Bangladesh and Sri Lanka — two intraregional states with high importance in the region's geopolitics and solid experience of interaction with middle and great powers. If Sri Lanka is an important trading hub of the Indian Ocean and is also suitable for hosting navy vessels, then Bangladesh is a «gateway» for India to Southeast Asia, which will be increasingly opened as relations between Dhaka and New Delhi strengthen, as well as the development of the north-eastern states of India.
The emerging triangle between India, Bangladesh, and Sri Lanka
Anyway, due to the economic, political, and military rise, China has been able to create a geostrategic space for itself in South Asia and the Indian Ocean. In recent years, China has become one of the leading trading partners and a foreign direct investment (FDI) source for most of the countries of the region, which was undoubtedly beneficial for Beijing. So, in 2017, Sri Lanka joined the «Belt and Road Initiative», opening the doors for China's companies to implement major infrastructure projects on its territory. In the same year, the parties reached an agreement on the construction of a port and airport on southern Sri-Lanka's coast in Hambantota as part of China's loans. The project cost was US$361 million. However, with the increase in the number of Chinese infrastructure projects, as well as the number of loans from the PRC, Sri Lanka faced the inability to independently compensate its debt. As a result, China has leased for 99 years the port of Hambantota on the terms of a debt swap, and the total debt of Colombo to Beijing in 2020 was amounted to about US$5 billion. Thus, China's economic influence allowed it to gain more strategic space in India's traditional region of influence as well as to gain a solid foothold in Sri Lanka.
The current environment caused the retaliatory measures from India, which has intensified the Sri Lankan vector of its foreign policy. Of course, compared to investments from China, Indian financing of projects in Sri Lanka is more modest, but, at the same time, targeted and focused on the sustainable development of Sri Lanka's territories. New Delhi has already provided about US$1.3 billion for the development of the railway network between the southern and northern regions of Sri Lanka, over US$45.27 million — for the modernization of Kankesanturai Port and Palaly Airport, as well as cooperates with Tokyo on the development of the East Container Terminal (ECT) in the capital port of Sri Lanka. Moreover, in 2018, during a meeting of the Standing Parliamentary Committee on Foreign Relations of India, the Secretary of the Ministry of Foreign Affairs, former Indian Ambassador to China Vijay Gokhale and experienced diplomat stated, and I quote: «So, our efforts are to assist them [ed. the states of the region — A.G.] in building infrastructure projects which will hopefully also be able to reduce the dependency on China in terms of infrastructure requirement».
Against the backdrop of high debt liability and the economic impact of the COVID-19 pandemic, Sri Lanka received support from India, Bangladesh, and China. Earlier in the year, India offered Sri Lanka to supplement its foreign exchange reserves by US$1 billion, while Bangladesh, whose per capita income is twice as low as Sri Lanka's, also didn't stand aside and reached an agreement to provide the Sri Lankan side with US$200 million.
In such a case, it would be important to highlight at least three details. First, the currency swap agreement between Bangladesh and Sri Lanka marked the first time that a country in the region other than India has provided significant financial support to another country in South Asia. Second, the joint actions of India and Bangladesh have balanced a similar agreement between China and Sri Lanka on a currency swap worth US$1.54 billion. Finally, New Delhi's assistance, combined with Dhaka's rational approach to its economy (Bangladesh's external debt amounted to 16-18% of GDP in 2016-2019, and foreign exchange reserves — $45 billion), can facilitate the exchange of experience among the region's countries in order to avoid situations of excessive dependence and increased debt to more influential partners. A special role, in this case, can be played by platforms for multilateral intraregional dialogue, including the Bay of Bengal Initiative for Multisectoral Technical and Economic Cooperation (BIMSTEC), the Indian Ocean Rim Association (IORA) and the South Asian Association for Regional Cooperation (SAARC), which includes all parties to the emerging triangle.
At the same time, India and Bangladesh are working towards strengthening not only economic but also defense ties with Sri Lanka. In 2019, New Delhi and Colombo reached an agreement to strengthen defense cooperation, including training of the island state's military personnel. Moreover, the triangle countries have aт extensive experience in conducting bilateral and multilateral exercises, as evidenced by the recent India — Sri Lanka naval exercises (October 2020) and the joint maneuvers between India, Bangladesh, Sri Lanka, and Bhutan (April 2021). Given the increased Sino-US rivalry in the region, as well as a large number of non-traditional security threats (drug smuggling, piracy, pollution from navigation and excessive fishing), the multidimensional cooperation of New Delhi, Dhaka and Colombo may be useful.
Analyzing the specific case of Bangladesh, it should be noted its economic success, including high GDP rates of economic growth, as well as the intensification of maritime and land trade. Thus, in 2011, New Delhi and Dhaka resolved a long-standing territorial dispute and demarcate the land border that certainly strengthened the level of mutual trust between the countries. Moreover, Bangladesh has joined the 1360-kilometer India — Myanmar — Thailand (IMT) highway project, becoming part of an ambitious opportunity to link the South and Southeast Asia's countries.
The growing involvement of Bangladesh in issues of intraregional security, maintaining a stable situation in South Asia and the Indian Ocean, as well as its growing synergy with India, provoked rumors about the possible joining of Dhaka to the Quadrilateral Security Dialogue (Quad). China reacts sharply to the activities of the Quad, openly calling it an anti-Chinese coalition. In the case of Bangladesh, the China's reaction was also not long in coming. In May 2021 PRC's Ambassador Li Ziming warned Dhaka that its joining the Quad would cause significant damage to its bilateral relations with Beijing. Responding to this statement, the Foreign Minister of Bangladesh, Dr. Abdul Momen, assured the Chinese side that Dhaka adheres to a balanced foreign policy and non-alignment course. Moreover, the Quad countries haven't yet approached Bangladesh on this issue but, according to the Bangladeshi official, Dhaka will determine the course of its foreign policy in the interest of its people itself.
Considering the gradual building of the Quad into a military coalition, as well as the growing number of pro-American articles in some of the media in the region, Beijing's reaction is quite understandable. Moreover, the verbal duel didn't lead to dramatic deterioration of bilateral relations between China and Bangladesh (the next month after the Quad incident, «Xinhua» reported that Dhaka and Beijing had agreed to expand their already close military cooperation). However, Dhaka's reaction has become a marker of its growing regional influence, as well as the PRC's close attention to India's active engagement as one of the Quad sides with other countries of South Asia and the Indian Ocean, including Bangladesh and Sri Lanka.
Conclusion
Due to increased competition of non-regional actors in the Indian Ocean and South Asia, India and the regional countries face a number of challenges. On the one hand, the variability of the Indo-Pacific vision shared by the Quad countries gave New Delhi more weight, but led to increased rivalry in its «area of responsibility» and damaged the relations with China. On the other hand, New Delhi is skillfully taking advantage of the opportunity, using its increased influence to strengthen relations not so much with the United States, Australia and Japan, but with its neighbors in the region. The clearest expression of this is the emerging strategic triangle between India, Bangladesh and Sri Lanka, which has significant political, defense and economic prospects.
In view of the fact that the PRC considers India as its main competitor in the Indian Ocean, and their further rivalry with high probability will take place in the struggle for the loyalty of small intraregional states, the idea of a strategic triangle with Bangladesh and Sri Lanka can be a successful preventive game on the part of New Delhi. Still, it is too early to talk about the full commitment of the two countries to India's foreign policy vision. Of course, Bangladesh and Sri Lanka are interested in a stable and secure environment in the region, but in the short and medium-term outlook, they will continue to avoid the excesses in relations with larger powers, using the competition of India, China and a number of non-regional actors to attract the essential funding.
From our partner International Affairs
The Indo-US bonhomie: A challenge to China in the IOR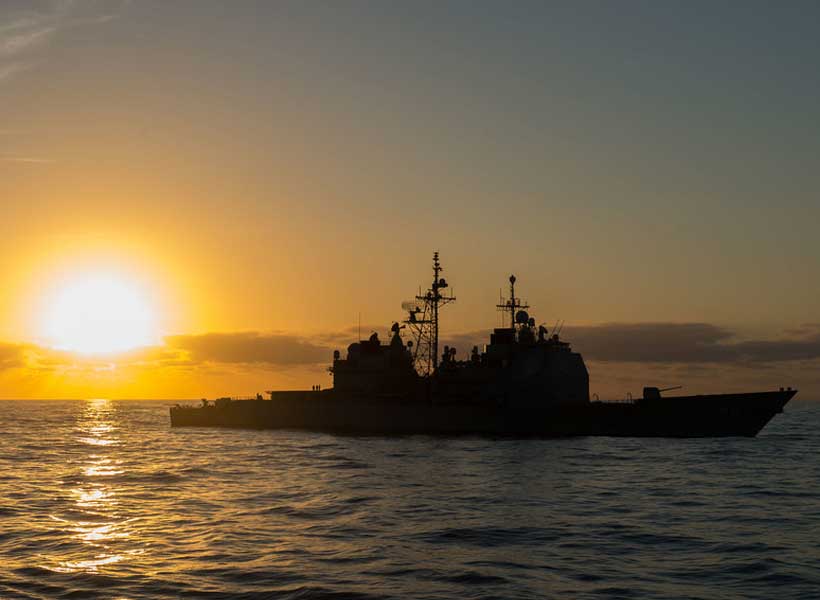 The oceans have long been recognized as one of the world's valuable natural resources, and our well-being is tied to the oceans. From providing minerals and food to coastal nations to serve as highways for seaborne trade, Oceans are highly-regarded in the geopolitics and geo-economics. In 2010, the global ocean economy was valued at $1.5 trillion, and by 2030, it is likely to surpass $3 trillion. Such a growing geostrategic and economic significance pit authoritative nations into the race.
Bounded by Africa on the west, the Indian subcontinent on the North, Australia on the East, and the Antarctic Ocean on the South, the Indian Ocean is the third largest water body. Over the years, it has become an area of competition among Washington, Beijing, and New Delhi. China, the world's second-largest economy, imports energy via sea lanes in the Indian Ocean Region (IOR), while India, an influential regional actor and competitor of China, has also significant reliance on the IOR for its trade. Therefore, the reliance of both countries on the safe transportation of resources is inevitable, and they seek dominance in this water body. The growing global leadership of China, and the Indian economic rise have heightened the strategic value of the IOR and both powers have locked horns in it.
The success of the Chinese Belt and Road initiative (BRI), which strives to enhance China's economic dominance from East Asia to Europe, hinges on the IOR. The IOR provides China with critical sea trade routes to the Mideast and Africa through BRI's flagship project: China Pakistan Economic Corridor (CPEC). China, through BRI's connectivity and economic potential, outweighs Indian influence in the IOR. Snaking its way from China's western province Xinjiang to Gawadar port on the Arabian Sea, CPEC is a counterfoil to India, diminishing India's strategic weight in the IOR. Therefore, India has an aversion to the CPEC because it ends the Chinese Strait of Malacca dilemma and makes its way through Azad Jammu and Kashmir. Having access to a port like Gawadar, China is likely to gain strategic and economic leverage in the region. Not only in India, but Beijing's grandeur BRI is not well-received in the US as well. The world's second-largest economy, China, aims to surpass the US economy in the coming years. On the accounts of the Chinese economic growth, the unipolar world order, once dominated by the US, has swapped its position with multipolar world. In addition, the US stakes are high in the IOR. With its interests in the Mideast, Africa, and Central Asia, the US is wary of China's growing influence in the IOR. As a result, the US and India share a broader spectrum of mutual interests in the IOR.
New Delhi and Washington are enjoying rapprochement in their ties so as to limit China's burgeoning influence. To materialize the quest of Washington about the freedom of navigation and maintaining open sea lanes, India spearheads the US paradigms in the IOR to curb China. For this purpose, India has eyed to magnify its naval capabilities and seeks partnership with many littoral-nations in the IOR. "Activating partnerships and expanding capabilities in the Indian Ocean are central to our quest for security," says Indian Foreign Secretary. Indian bonhomie with Japan and Australia stands as the crux of New Delhi's disposition to share warm ties with influential global actors. Australia, India, and Japan share the same US security umbrella: Checkmating the Beijing rise. These nations have translated their partnership in the Quad as a new feature of diplomacy to establish their authority in the Indo-Pacific region. Navies of India, the US, and Japan cooperate under the aegis of the trilateral Malabar Exercises, the most recent held in early November near Visakhapatnam in the Bay of Bengal and the Arabian Sea. This time, Australia was also part of the exercise. The Indian Fusion Centre-Indian Ocean Region (IFC-IOR), a naval information hub initiated by India, brings all Quad members under one roof to exchange vital maritime information in the IOR. Australia and Japan recently posted liaison officers to the (IFC-IOR), where a US liaison officer has served since 2019.
India has a long aspiration to dominate the Bay of Bengal and prioritizes closer economic ties with South Asian states to balance China's trade advantage. For its part, India is eager to visualize greater security cooperation among the littoral nations through BIMSTEC. The seven-member alliance among India, Bangladesh, Sri Lanka, Myanmar, Thailand, and Nepal aims to accelerate members' economic growth and social progress among members across multiple sectors. BIMSTEC is a platform accentuating Indian vigor and its manifests the Indian overtures against China in the IOR.
Sharing common goals in the IOR, the US perceives India as a significant ally in the region and strongly supports its maritime expansion. The rapprochement between the two sides has resulted in the significant naval build-up of Indian forces in the IOR. The construction of military bases, modernized equipment and fleets, new maritime assets, and the expansion of security ties are all part of New Delhi's push to assert itself as the region's leader. By acquiring 'blue water' capabilities, the Indian Navy aspires to undertake its traditional role, like ensuring the coastal defense of the country, providing sea-based nuclear deterrence (entailing its assured second-strike capability), projecting the nation's soft power beyond its shores, and maximizing the sphere of influence in the region. India aims to become a 200-ship navy in the next decade. In the defense budget for the year 2015-16, 16% share has been allocated to the Navy.
The Indo-US cooperation poses a considerable challenge to China's ingress in the IOR, and Pakistan is no exception. Moreover, their cooperation undermines the peace prospects and endangers stability in the IOR. Recently, the G7 summit concluded with an objective focusing to challenge China's rise. Joe Biden Administration maintained a firm line against China. Therefore, in the near future, pining hopes for preemption of the competition among authoritative nations in the IOR would be the pie in the sky.
The Taliban Are Back — And Its Fine
The Taliban have recently conquered large portions of Afghanistan and seem poised to overrun the Afghan government in Kabul. Yet, contrary to what many commentators assume, the return to power of the Taliban is not necessarily a loss for the United States. The Taliban can indeed become an asset for great power competition with China and Russia.
***
The Taliban movement scored significant territorial gains throughout the last months. It made large headways into the northern part of Afghanistan and is now surrounding several major cities, seemingly waiting for the departure of the last foreign troops before it seizes these locations. Yet, a potential takeover by the Taliban, although a hard-to-swallow pill, needs not turn into a net loss for U.S. foreign policy.
The primary — although now often forgotten — motive for NATO presence in Afghanistan was not to skirmish endlessly with the Taliban, but rather to eliminate the threat of devasting 9/11-scale attacks by Al-Qaeda and consorts. However, the current Al-Qaeda threat in Afghanistan hardly justifies U.S. and allied military action there.
First, no massive attack has occurred on U.S. soil for the last twenty years and relevant American law enforcement agencies have taken extensive precautions to make sure it will not happen.
Second, Al-Qaeda's strength in Afghanistan is now estimated to be less than 1,000 by even pessimistic reports. Advocates of a continuous Western presence in Afghanistan have yet to show how a few hundred terrorists represent an existential threat to the United States or the Free World. It stretches the imagination that seven or eight hundred soldiers of fortune pose a vital and imminent peril for America, while China and Russia now field large and modern militaries well-positioned to overrun their neighbors and make a bid for regional hegemony in East Asia and Eastern Europe.
Third, many of Al-Qaeda's recent attacks or attempts at attack on the West have little if nothing to do with Afghanistan and Al-Qaeda activities have been delocalized to other countries in turmoil. Those arguing that NATO needs to indefinitely garrison Afghanistan for the sake of a few hundred terrorists should thus logically also advocate for NATO to garrison Iraq, Libya, Mali, Niger, Syria, Yemen, and others.
Fourth, the Taliban never participated in the 9/11 attacks, and their current alliance with Al-Qaeda has a single main motive: surviving NATO presence. Once NATO is out, there is no obvious reason for them to keep working with Al-Qaeda, which may bring devastation once again upon the Taliban and Afghanistan by conducting reckless international attacks from Afghan soil. The Taliban did not fight for over twenty years to hand over the country to Al Qaeda or anyone else.
Therefore, no essential U.S. interest justifies keeping intervening into Afghan domestic politics. Furthermore, since the Trump administration, the U.S. government identifies China as its primary great power competitor and Russia as a secondary one. U.S. foreign policy is now mostly designed with Chinese power as a background. In a nutshell, Afghanistan, even under Taliban control, could become an asset for competing with China and Russia.
Beijing recently warned that the withdrawal of U.S. and NATO forces poses a major threat to regional stability. The Chinese want America to remain in Afghanistan for as long as possible; that is the unmistakable clue that the United States should exit as fast as it can. If a ferocious civil war continues, Beijing will have to reinforce its western border. Also, if the Taliban take over, Afghanistan may become more sympathetic to the plea of the Xinjiang Uyghurs and less receptive toward Chinese interests. In both cases, China will be forced to strengthen its defense in the areas bordering Afghanistan for fear of instability. Although this burden will likely remain light for China, it is still an easy and unexpansive gain for Washington, because a Chinese soldier busy garrisoning the Afghan border is a soldier unavailable for action towards Taiwan, Korea, or India.
Like the Chinese, the Russians will be forced to protect their southern borders and their Central Asian partners against a potential threat emerging from Afghanistan. To Moscow, this represents around 1,300 kilometers (800 miles) of Afghan-Tajik, Afghan-Turkmen, and Afghan-Uzbek borders to guard; this will push Russia to reorient at least some military forces towards Central Asia and thus release some pressure from NATO in Eastern Europe.
A Taliban-led Afghanistan may also further U.S. interests towards Iran and Pakistan in more indirect ways. Indeed, if the United States keeps engaging with Iran, the uneasiness of living with a Taliban Afghanistan on its eastern borders will give further incentives for Tehran to accommodate the United States, and even Israel and Saudi Arabia. If, unfortunately, Washington fails to repair its relations with Iran, Afghanistan can then become a valuable partner to contain Tehran, regardless of who is in charge in Kabul.
As noticed by former CIA Bruce Riedel, without Western presence in Afghanistan, the Afghan Taliban will be less dependent on support from Pakistan, and Pakistani Taliban will be free to focus their fight against the government in Islamabad. Indeed, Prime Minister Imran Khan made clear that he did not welcome the Taliban back in power and would seal the border with Afghanistan if they were. Consequently, with the Taliban back in office and NATO out, Pakistan will be forced to reinforce its western border, thus diminishing its capability to compete with India. Therefore, New Delhi will be more able to focus on the Chinese threat to its northern and eastern borders. Trouble emanating from Afghanistan may even become an impetus for the Pakistanis to normalize their relations with the Indians.
Since the February 2020 peace agreement, the Taliban have kept their word to refrain from attacking NATO. They are not mindless fanatics yearning for planetary devastation, but rational actors who made clear that they were only interested in ruling Afghanistan and have proven open to negotiation and adjustments. Once in office, the Taliban will have no shortage of potential threats; they will have to navigate between China, a potential hegemon in Asia, a resurgent Russia, and mistrustful governments in Iran, Pakistan, and Central Asia. Threatening or attacking Washington and its allies will be the last of their concerns. They agreed that Afghanistan should not turn into a safe haven for international terrorism again and have been busy fighting with the Afghan branch of the Islamic State. In a 2020 op-ed in The New York Times, the Taliban even touted the possibility 'for cooperation — or even a partnership — in the future.'
Afghanistan is and will remain of secondary importance for U.S. foreign policy; yet, maintaining a working relationship with a future Taliban government can offer several benefits at virtually no cost to the U.S., while turning a military defeat into a political win.
Examining the impacts of Globalization: A Case study of Afghanistan
Globalization is often considered as one of the most important and transformative events in the 21st century. It has led to the creation of multiple influential actors, rise of the information revolution and the formation of various instruments enabling cooperation and interdependence. Of the key aspects in the concept of globalization is the creation of state institutions which have allowed for monitoring, control and economic investments thus enabling greater connectivity with the people across the globe. The information revolution which came as a result of increase in technological prowess and development of communication technologies has led to the creation of virtual communication spaces. Big technological cooperation's were able to exercise influence in the social media space and enable a conducive environment of presentation of various discourses. Globalization has also had a significant influence in the manipulation, coordination and control of all manner of discourse directed at various prominent political figures. From state to non-state actors all have been impacted by globalization.
Globalization in 3rd world countries saw an interesting and significant transformation where nations sought to gain advantage of the political and economic expansion which came as a result of increased connectivity of markets and political institutions. For these 3rd World states where political and economic capital was deficient in terms of influencing regional and global dynamics, they sought to further their geo-political objectives through increased trade, cooperation, cultural diplomacy and providing their strategic assets for more influential states to utilize. Countries such as African and South Asian states utilized international institutions, communication technologies in order to further their social, political and economic interests (Hamidi, 2015 ). Afghanistan in this regard hasn't been averse to the changes effectively induced by globalization. Being a pivotal state in terms of key foreign policy objectives of states such as United States and Soviet Union, Afghanistan has seen change due to globalization. Its influence, in the cultural, political, societal and economic spheres shall be further explored in the ensuing paragraphs of this essay.
The state of Afghanistan has seen consistent and prolonged conflicts throughout its history. It's political and social landscape has been affected by continuous struggle to attain power by warring warlords. Home to many ethnicities, the Afghan conflict has also impacted various ethnic groups disproportionately with many ethnic minorities becoming victims. Economic woes combined with rigid social norms and values have all contributed to a dwindling state marred by conflict. Afghanistan before the dawn of modernism was home to one of history's notorious empires. It housed the rulers who invaded across to the rich plains of India in search of arable land for cultivation and for its natural resources. Despite its rich history Afghanistan was primarily distinguished along the lines of a tribalistic society with consistent conflict over land, domestic feuds and scarcity of resources. This all saw a radical change when during the height of the Cold War the Soviet Union, seeking to gain inroads in to South Asia invaded Afghanistan. What followed was a prolonged and protracted conflict in which not only the Afghan people but the people of neighboring Pakistan were also deeply affected in adverse ways. (Britannica , 2021 )
Afghanistan's ascendancy to the mainstream global political spectrum came as a result of America's denouncement of terrorism and the beginning of the war on terror. Post 9/11 American coalition forces invaded Afghanistan with the aim of targeting terrorists' strategic strongholds in hopes of preventing future recurrences of attacks on European states. Another primary objective of the US and NATO coalition forces was to establish a national government enabled by foreign aid of the United States and led by social representatives of the people of Afghanistan. Before the US becoming an entrant in to the Afghan conflict, Afghanistan had largely been unaffected by radical transformations by globalization. Strict adherence to religious and social norms combined with a sense of alienism was one of the dominating factors which rendered Afghanis practically immune to the effects of globalization. Furthermore, economic and social insecurity had led Afghan societies to cluster into communities in hopes of reducing these anxieties which had become a recurrent theme in the pretext of globalization (Kinnvall, 2004 ).
Globalization for Afghanistan has been what is commonly termed as a "mixed bag". For inviting international bodies to provide aid, relief and security meant a continuous rise in political influence exercised by foreign nations and institutions. Before the advent of American intervention in Afghanistan, foreign influence was mostly restricted to Afghan political elite where several key political stake holders had gained primacy in the eyes of the European governments (EUC paper series , 2017 ). The post 9/11 political spectrum was to radically effect the social political and economic spectrum of the conflict ravaged country. Foreign intervention aimed to radically change the societal fabric of a conservative afghan society and to introduce it to the global financial markets. Economic strife had complemented Afghanistan's bulging unemployment, increased violence and vilification of what was termed as 'evil, alien' concepts of democracy and capitalism. The United States had aimed for re-vitalizing an Afghan society subjugated under Taliban rule.
Afghanistan before 2001 had chronic lapses in communication infrastructure which was largely due to poverty and rigid control by the then Taliban rulers in Afghanistan. Since 2001 the communication bulge came due to a rising influx of international aid and US military deployment. Subsequently Afghan societies were able to connect, report and increase knowledge as a result of the growth in media outlets. Qualitative studies point to the conclusion drawn that content produced by BBC played a significant role in behavioral changes of Afghan society (Adam, 2005 ). The rich monopoly over the constructive discourses surrounding Afghan societies has also changed through the years as analyzed by various academics. Import of cultural and social identities and appreciation of various political voices came due to the significant influence of globalization.
The Afghan economy is another important aspect which has been significantly affected by the geo-political events and the onset of globalization. Globalization has bought with it the economic interdependence through a global financial market system aiming to liberalize and interconnect regional and state economies. Afghanistan for long had seen a frail economy compounded by elements of corruption, ceaseless conflicts and an influential control of trade routes by the Afghan Taliban. The Afghan Taliban, a pre-dominantly Pashtun organization consisting of multiple influential operating factions has for long controlled the opiate trading routes which form the bulk of Afghan domestic export. Primary trading routes had traditionally also included the Pashtun regions of Pakistan. Afghanistan's anti-Soviet role was furthered by control over such content flows which not only allowed a vast and complicated network of interconnected guerilla groups but also served as the primary produce generating capital (Mendel, 2019 ).
While many argue that globalization inherently is a positive force aiming to alleviate and provide further economic, social and political stability, contested views argue in terms of empirical evidence against the normative claim. The Afghan perspective under the subject of globalization was seen as largely as a disconnect from the rest of the world. The process of integration, Western scholars argued was through the increased presence of defense forces and international institutions aiming to uplift societal deprivations. Another interesting perspective in this regard comes during the analysis of Al-Qaeda networks which for long operating on a global level. Such a degree of efficiency combined with a global distribution of opium trade was only possible through a systematic interconnectedness with various international networks. These would then allow a vast and lucrative drug business to operate despite chronic lapses in the government institutions on economic policy and implementation of government economic models.
Afghan society under the Taliban was rigidly controlled and monitored. Consisting largely of rural tribesmen, high rates of unemployment and extreme poverty had subjected the society to the will of powerful tribal leaders who worked to further their objective of accumulating power and influence. Religion in Afghanistan has also induced a traditional society to follow principals ascribed in religious texts. Laws and structure of society were decided on the basis of a rigid code of scripture. US department of State in its report argues that "legal change occurs usually when it is followed, not when it is leads public by opinion". This argument follows in line with the narrative that while although US forces and NATO allies were able to remove a Taliban government, applying US democratic values and legal constitutions would be difficult and would ultimately fail when it came to attaining societal approval (Palmerlee, 2003 ).
Afghani society has followed traditional principals and held on cultural traditions and narratives. With globalization many academics have argued that Afghanistan's inability or the lack of want to change arises from either a poor system of governance or a strongly entrenched traditional societal structure. Despite having multiple programs and promoting organizations representative of the Afghan people, resistance to change has always come due to deeply held beliefs of the need for religious protectionism and maintaining tribal identity. This 'counter-global' stances show a societal push back of what is considered as an interference of foreign media, and institutions as a challenging force to disrupt established social norms and values. US forces therefore ever since entering into Afghanistan have found it difficult to reconcile Afghan societies thoughts and values with Western ideals of democracy and capitalism. It is one of the influential factors which allow organizations such as the Afghan Taliban to continue an armed insurgency where general acceptance of society has created the space for the Taliban to operate for a continuous period.
The political spectrum of Afghanistan has also been affected by globalization. International institutions and states have continuously aimed to impart western form of governance in Afghanistan. Foreign investments and defense deployments have continued with the pursuit of gaining political leverage and to back national governments representative of Afghanistan. Despite the continued inflow of foreign capital and operations conducted by NATO forces, the Afghan conflict has largely remained un-resolved and unchanged. The current government having the backing of powerful NATO forces has been largely unable to gain credibility and acceptability in the eyes of Afghanis. Afghanistan's continued withdrawal from globalization and a rejection to imparting new and improved means of governance has been a primary factor which hasn't allowed credible space for forms of governance like this to prosper.
The political spectrum also continues to be shaped by consistent sense of 'loss of sovereignty' This concept comes as result of a globalization where the greater influence of international institutions and foreign states is observed to have a negative impact on the states individual sovereignty. Despite the profits gained from having a highly interconnected market system and the creation of institutions to reduce the chance of conflict, such influence has been challenged by developing countries. South Asia is largely populated with people living below the average rate of income established by international organizations such as the United Nations. The people of Afghanistan belong to the poorest strata where people have the lowest levels of income followed by a large scale of unemployment and little to no foreign export except the opiate trade. International organizations and non-state actors have over the years gained increasing levels of control and influence in the governance structure of Afghanistan. Through providing aid, defense and foreign policy strategies Afghanistan government and the role of influential international actors has led to an increasing sense of loss of sovereignty by the Afghan population (Political works , 2009 ). This has allowed the continuing Afghan insurgency to gain traction and acceptance where despite being dislodged from power the guerilla paramilitary force has taken up an aggressive and largely successful campaign against the foreign led forces.
Cultural identity has been at the forefront of the debates surrounding globalization. Common conceptions of globalizations mainly discuss the normative aspects of increased communication and inter-dependence between countries. Globalization has increased interconnectivity and has led to a homogeneity of cultures and traditions. While debatable, the concept remains significant in the debate on globalization. The study on Afghanistan has largely been on political economy and connecting Afghanistan with the global financial institutions. Cultural values of democracy and westernized conceptions on human values have found little acceptance in Afghanistan and in other Muslim countries. This interesting concept can be studied by understanding the radically altering understanding of individual values and identities of Muslim cultures with that of Westernized democratic ideals. This makes it problematic where enforcement or promotion of these values then leads to cultural rifts and becomes the precursor for possible future conflict. In the case of Afghanistan cultural identity is fixated in the identification on the basis of religion and tribal identities. The celebration of the 'collective' and the promotion of shared norms and values gains greater acceptance over westernized ideas of the individual. With these fundamental differences cultural identity has been largely unchanged despite continued foreign assistance and commitment in Afghanistan (Weisberg, 2002 ).
Afghanistan for a large part of its history has seen great conflict of different scales. From internal rifts to foreign interventions the complicated and prevailing nexus in Afghanistan continues to invite academic debate till today. Globalization has increasingly allowed greater connectivity and enhanced opportunities of cooperation and increased global/regional ties. For Afghanistan the complicated situation has been further exasperated with an increasingly globalized world. With foreign interventions and rising levels of inequality and influence of non-state actors, the situation of Afghanistan continues to remain in flux. Only time will truly tell how and to what extent has globalization truly impacted Afghanistan.