The myth of Indian democracy
The writer is of the view that the Indian constitution has multifarious provisions about fundamental freedoms and other rights. But, the caste-based society and Hindutva-obsessed polity make the provisions meaningless. The constitution provides for equality and rule of law. But, several draconian laws enable administration and armed forces to persecute minorities, or stifle dissent.
Irked at being poorly rated for its democratic practices, India under Narendra Modi announced to devise its own index for measurement of democracy. India's prestigious Frontline dated April 9, 2021 in its Cover Story titled "The terror of Laws" by Venkitesh Ramakrishnan and Divya Trivedi made the poignant observation that India's democracy s backsliding leading to a rapid and alarming deterioration of political and civil liberties". The three institutions that came up with similar freedom-and-democracy indices are Sweden-based Varieties of Democracy (V-Dem), the US based Freedom House (estb since 1972) and the Economist Intelligence Unit.
V-Dem said, "India has become an electoral democracy". Freedom House downgraded India from a "free democracy" to a partially-free democracy".
All the three studies held Modi's government responsible for backsliding of democracy owing to widespread attacks on human rights groups, intimidation of journalists and activists, rampant assaults on minority communities, especially Muslims.
It is rare if a court gives relief to the incarcerated persons. For instance, the chief judicial magistrate (Surat) acquitted 122 innocent persons after they have been in jail for 19 years. They were charged for having links with the Students' Islamic Movement of India.
The bitter truth is that Indian democracy does have the "persona" but not the "spirit" of the real democracy.
Rights of citizens
The framers of the Indian constitution did realise that India was not a monolithic polity in terms of religion, races or languages. Besides 80 per cent Hindus, India has 11 per cent Muslims and seven per cent (combined) Buddhists, Jains, Christians, Parsis and Jews. In view of the diversity, the Indian constitution recognises not only Hindi as the national language, but also 18 major languages originating in Dravidian South India or Indo-European north India. Furthermore there are 780 languages and dialects.
Such a diverse country could be held together only within framework of a "secular democratic and federal state". As such, the Indian constitution promulgated on January 24, 1950 provides for a set of specific provisions, besides a set of fundamental rights to protect the interests of religious ethnic trial and the down-trodden (dalit) communities. The "fundamental rights" include "the right to equality", the right to freedom", "the right to freedom of religion" , "the right to freedom of religious, cultural, and educational rights", "the right not to be exploited", and the "right to constitutional remedies".
Significant provisions
Article 14 of the Indian constitution "guarantees the equality of all persons before the law". Article 15 strictly prohibits "any discrimination between citizens on the grounds of religion, race, caste, sex, or place of birth. Article 17 abolishes "the practice of untouchability". Article 20 gives all minorities in India "the right to preserve and promote their language, script, and culture". Under Article 25, all persons are entitled to freedom of conscience and to freely practise and propagate their religion. Article 35 provides reservations and quotas in college admissions and in government employment for the Scheduled Castes and Scheduled Tribes.
Contradictions
Neither the Hindu-dominant society nor the state allows preaching of one's religion. A serial killer and member of Bharatya Janata Party Dara Singh set fire to the station wagon in which the Australian Christian missionary Graham Staines and his two children were sleeping, burning them alive at Orissa. A low-caste Hindu can't enter a high-caste temple.
The caste-based society caricatures the constitutional provisions of equality. The so-called Love-jehad and anti conversion laws criminalise conversion from one religion to another.
A slew of draconian laws like the National Security Act, National Safety Act, Unlawful Activities Prevention Act, and Armed Forces Special Powers Act make the constitutional freedoms and protections meaningless. These laws oust jurisdiction of civil courts or severely limit them.
India's northern state of Uttar Pradesh is most flagrant in using the NSA to crack down on cow related offences like transporting, or slaughtering cows or eating beef. Those charged under the NSA are deemed a threat to national security and can be detained without charge for up to a year. Even prestigious Reuters (September 11, 2020) confirmed that `Indian state uses draconian law to detain those accused of killing cows'.
Uttar Pradesh Chief Minister Yogi Adityanath has repeatedly urged use of the NSA to combat law and order issues in the state of more than 200 million people. The NSA, which Indian rights activists have described as draconian, is also frequently used in the contested region of Kashmir to detain people suspected of separatist activity.
Several intellectuals (poets, historians, lawyers) were arrested under the NSA. Their sole offence was to air dissent against government policies regarding the treatment of minorities. Gautam Naulakha was arrested for simply attending a Kashmir conference, organized by Dr. Ghulam Nabi Fai, in the USA. Even phone intercepts are sufficient evidence to send a person behind the bars. SAR Geelani, a professor of Delhi University was sentenced to be hanged for a two minute conversation with his family in the occupied Kashmir. The police mistranslated the words `What has happened in New Delhi' ('Delhi kya korua') 'to 'what have you done' to unspoken 'yeh kya korua'. He was acquitted on appeal but soon died after his release. The professor was subjected to torture and he did not survive long after his acquittal. He owes his acquittal to the fine pleading by his lawyer Ram Jeth Malani.
One could be declared a terrorist for graffiti, social posts, or shouting Pakistan Zindabad (long live Pakistan). NSA was brutally applied to those who protested military's gross human rights violations. In 1992, Niloy Dutta, Parag Kumar Das and Ajit Bhuiyan were arrested in Guwahati under unspecified sections of the NSA.
It was alleged that they were disrupting the process of peace building in Assam and were involved in "anti-national" activities that threatened the sovereignty of the country. In actual fact, they were the founding members of Manab Adhikar Sangram Samity (MASS), which had been compiling evidence of military atrocities during `operation Rhino'. It had sent three groups fully equipped with audio and video gadgets to three zones of the slate to compile cases of army atrocities.
Braving severe restraints imposed by the army and civil authorities, these groups had succeeded in recording cases of arrest, torture, molestation, rape, killing and so on. With painstaking effort they compiled a comprehensive 65-page report enlisting the cases of army atrocities, which included 13 cases of death in army camps, seven cases of rape, as many as 120 cases of brutal torture, 139 cases of illegal detention and 63 cases of indiscriminate army raids in villages, unlawful public beatings and torture, all with specific dates, places and blow-by-blow accounts of the incidents, fully substantiated by physical evidence.
Local and international human-rights organizations have condemned India's draconian laws. They have documented detention of children, older people and the disabled in custody incognito without trial. Amnesty documented several cases of custodial deaths, rapes, and arson.
Basic architecture of the UAPA and Prevention of Terrorism Act are the same. The provisions for arrest under the amended UAPA were as vague as they were in POTA
In a bid to enhance the jurisdiction of the anti-terror-probe agency National Investigation Agency the legislature has amended (July 24, 2019) the National Investigation Agency Act and the Unlawful Activities (Prevention) Act. Now, they are empowered to declare anyone a `terrorist', at home or abroad.
An Indian-army major Leetul Gogoi was caught red-handed in the company of a teenage paramour in a Srinagar hotel. He was let off with a slap on wrist and a loss of six months' seniority. He was charged with `fraternizing' with a teenager Kashmiri woman on Facebook under a fake identity. The Indian army-chief had earlier awarded him a commendation certificate for driving a jeep in Srinagar streets with a Kashmiri protester tied to his jeep-front.
Public Safety Act is being used in Kashmir to arrest innocent people dubbed as "suspected militants", following Burhan Wani's death in 2016. Most of the FIRs are "open FIRs." The police append the words "and others" to arrest anyone, not named in a FIR.
Concluding remarks
In practice, the society and the polity does not care a fig for the constitutional equality and freedoms. The Hindu society is highly stratified, and caste-based (varna jati system). Draconian laws are enforced under veneer of patriotism to persecute minorities and stifle dissent.
It is rightly said ` Patriotism is the last refuge of a scoundrel' (Samuel Johnson). "Patriotism is your conviction that this country is superior to all other countries because you were born in it" (George Bernard Shaw). "Guard against the impostures of pretended patriotism' (George Washington). To abolish war it is necessary to abolish patriotism" (Leo Tolstoy).
India must understand that draconian laws are incompatible with a constitutional democracy.
Examining the impacts of Globalization: A Case study of Afghanistan
Globalization is often considered as one of the most important and transformative events in the 21st century. It has led to the creation of multiple influential actors, rise of the information revolution and the formation of various instruments enabling cooperation and interdependence. Of the key aspects in the concept of globalization is the creation of state institutions which have allowed for monitoring, control and economic investments thus enabling greater connectivity with the people across the globe. The information revolution which came as a result of increase in technological prowess and development of communication technologies has led to the creation of virtual communication spaces. Big technological cooperation's were able to exercise influence in the social media space and enable a conducive environment of presentation of various discourses. Globalization has also had a significant influence in the manipulation, coordination and control of all manner of discourse directed at various prominent political figures. From state to non-state actors all have been impacted by globalization.
Globalization in 3rd world countries saw an interesting and significant transformation where nations sought to gain advantage of the political and economic expansion which came as a result of increased connectivity of markets and political institutions. For these 3rd World states where political and economic capital was deficient in terms of influencing regional and global dynamics, they sought to further their geo-political objectives through increased trade, cooperation, cultural diplomacy and providing their strategic assets for more influential states to utilize. Countries such as African and South Asian states utilized international institutions, communication technologies in order to further their social, political and economic interests (Hamidi, 2015 ). Afghanistan in this regard hasn't been averse to the changes effectively induced by globalization. Being a pivotal state in terms of key foreign policy objectives of states such as United States and Soviet Union, Afghanistan has seen change due to globalization. Its influence, in the cultural, political, societal and economic spheres shall be further explored in the ensuing paragraphs of this essay.
The state of Afghanistan has seen consistent and prolonged conflicts throughout its history. It's political and social landscape has been affected by continuous struggle to attain power by warring warlords. Home to many ethnicities, the Afghan conflict has also impacted various ethnic groups disproportionately with many ethnic minorities becoming victims. Economic woes combined with rigid social norms and values have all contributed to a dwindling state marred by conflict. Afghanistan before the dawn of modernism was home to one of history's notorious empires. It housed the rulers who invaded across to the rich plains of India in search of arable land for cultivation and for its natural resources. Despite its rich history Afghanistan was primarily distinguished along the lines of a tribalistic society with consistent conflict over land, domestic feuds and scarcity of resources. This all saw a radical change when during the height of the Cold War the Soviet Union, seeking to gain inroads in to South Asia invaded Afghanistan. What followed was a prolonged and protracted conflict in which not only the Afghan people but the people of neighboring Pakistan were also deeply affected in adverse ways. (Britannica , 2021 )
Afghanistan's ascendancy to the mainstream global political spectrum came as a result of America's denouncement of terrorism and the beginning of the war on terror. Post 9/11 American coalition forces invaded Afghanistan with the aim of targeting terrorists' strategic strongholds in hopes of preventing future recurrences of attacks on European states. Another primary objective of the US and NATO coalition forces was to establish a national government enabled by foreign aid of the United States and led by social representatives of the people of Afghanistan. Before the US becoming an entrant in to the Afghan conflict, Afghanistan had largely been unaffected by radical transformations by globalization. Strict adherence to religious and social norms combined with a sense of alienism was one of the dominating factors which rendered Afghanis practically immune to the effects of globalization. Furthermore, economic and social insecurity had led Afghan societies to cluster into communities in hopes of reducing these anxieties which had become a recurrent theme in the pretext of globalization (Kinnvall, 2004 ).
Globalization for Afghanistan has been what is commonly termed as a "mixed bag". For inviting international bodies to provide aid, relief and security meant a continuous rise in political influence exercised by foreign nations and institutions. Before the advent of American intervention in Afghanistan, foreign influence was mostly restricted to Afghan political elite where several key political stake holders had gained primacy in the eyes of the European governments (EUC paper series , 2017 ). The post 9/11 political spectrum was to radically effect the social political and economic spectrum of the conflict ravaged country. Foreign intervention aimed to radically change the societal fabric of a conservative afghan society and to introduce it to the global financial markets. Economic strife had complemented Afghanistan's bulging unemployment, increased violence and vilification of what was termed as 'evil, alien' concepts of democracy and capitalism. The United States had aimed for re-vitalizing an Afghan society subjugated under Taliban rule.
Afghanistan before 2001 had chronic lapses in communication infrastructure which was largely due to poverty and rigid control by the then Taliban rulers in Afghanistan. Since 2001 the communication bulge came due to a rising influx of international aid and US military deployment. Subsequently Afghan societies were able to connect, report and increase knowledge as a result of the growth in media outlets. Qualitative studies point to the conclusion drawn that content produced by BBC played a significant role in behavioral changes of Afghan society (Adam, 2005 ). The rich monopoly over the constructive discourses surrounding Afghan societies has also changed through the years as analyzed by various academics. Import of cultural and social identities and appreciation of various political voices came due to the significant influence of globalization.
The Afghan economy is another important aspect which has been significantly affected by the geo-political events and the onset of globalization. Globalization has bought with it the economic interdependence through a global financial market system aiming to liberalize and interconnect regional and state economies. Afghanistan for long had seen a frail economy compounded by elements of corruption, ceaseless conflicts and an influential control of trade routes by the Afghan Taliban. The Afghan Taliban, a pre-dominantly Pashtun organization consisting of multiple influential operating factions has for long controlled the opiate trading routes which form the bulk of Afghan domestic export. Primary trading routes had traditionally also included the Pashtun regions of Pakistan. Afghanistan's anti-Soviet role was furthered by control over such content flows which not only allowed a vast and complicated network of interconnected guerilla groups but also served as the primary produce generating capital (Mendel, 2019 ).
While many argue that globalization inherently is a positive force aiming to alleviate and provide further economic, social and political stability, contested views argue in terms of empirical evidence against the normative claim. The Afghan perspective under the subject of globalization was seen as largely as a disconnect from the rest of the world. The process of integration, Western scholars argued was through the increased presence of defense forces and international institutions aiming to uplift societal deprivations. Another interesting perspective in this regard comes during the analysis of Al-Qaeda networks which for long operating on a global level. Such a degree of efficiency combined with a global distribution of opium trade was only possible through a systematic interconnectedness with various international networks. These would then allow a vast and lucrative drug business to operate despite chronic lapses in the government institutions on economic policy and implementation of government economic models.
Afghan society under the Taliban was rigidly controlled and monitored. Consisting largely of rural tribesmen, high rates of unemployment and extreme poverty had subjected the society to the will of powerful tribal leaders who worked to further their objective of accumulating power and influence. Religion in Afghanistan has also induced a traditional society to follow principals ascribed in religious texts. Laws and structure of society were decided on the basis of a rigid code of scripture. US department of State in its report argues that "legal change occurs usually when it is followed, not when it is leads public by opinion". This argument follows in line with the narrative that while although US forces and NATO allies were able to remove a Taliban government, applying US democratic values and legal constitutions would be difficult and would ultimately fail when it came to attaining societal approval (Palmerlee, 2003 ).
Afghani society has followed traditional principals and held on cultural traditions and narratives. With globalization many academics have argued that Afghanistan's inability or the lack of want to change arises from either a poor system of governance or a strongly entrenched traditional societal structure. Despite having multiple programs and promoting organizations representative of the Afghan people, resistance to change has always come due to deeply held beliefs of the need for religious protectionism and maintaining tribal identity. This 'counter-global' stances show a societal push back of what is considered as an interference of foreign media, and institutions as a challenging force to disrupt established social norms and values. US forces therefore ever since entering into Afghanistan have found it difficult to reconcile Afghan societies thoughts and values with Western ideals of democracy and capitalism. It is one of the influential factors which allow organizations such as the Afghan Taliban to continue an armed insurgency where general acceptance of society has created the space for the Taliban to operate for a continuous period.
The political spectrum of Afghanistan has also been affected by globalization. International institutions and states have continuously aimed to impart western form of governance in Afghanistan. Foreign investments and defense deployments have continued with the pursuit of gaining political leverage and to back national governments representative of Afghanistan. Despite the continued inflow of foreign capital and operations conducted by NATO forces, the Afghan conflict has largely remained un-resolved and unchanged. The current government having the backing of powerful NATO forces has been largely unable to gain credibility and acceptability in the eyes of Afghanis. Afghanistan's continued withdrawal from globalization and a rejection to imparting new and improved means of governance has been a primary factor which hasn't allowed credible space for forms of governance like this to prosper.
The political spectrum also continues to be shaped by consistent sense of 'loss of sovereignty' This concept comes as result of a globalization where the greater influence of international institutions and foreign states is observed to have a negative impact on the states individual sovereignty. Despite the profits gained from having a highly interconnected market system and the creation of institutions to reduce the chance of conflict, such influence has been challenged by developing countries. South Asia is largely populated with people living below the average rate of income established by international organizations such as the United Nations. The people of Afghanistan belong to the poorest strata where people have the lowest levels of income followed by a large scale of unemployment and little to no foreign export except the opiate trade. International organizations and non-state actors have over the years gained increasing levels of control and influence in the governance structure of Afghanistan. Through providing aid, defense and foreign policy strategies Afghanistan government and the role of influential international actors has led to an increasing sense of loss of sovereignty by the Afghan population (Political works , 2009 ). This has allowed the continuing Afghan insurgency to gain traction and acceptance where despite being dislodged from power the guerilla paramilitary force has taken up an aggressive and largely successful campaign against the foreign led forces.
Cultural identity has been at the forefront of the debates surrounding globalization. Common conceptions of globalizations mainly discuss the normative aspects of increased communication and inter-dependence between countries. Globalization has increased interconnectivity and has led to a homogeneity of cultures and traditions. While debatable, the concept remains significant in the debate on globalization. The study on Afghanistan has largely been on political economy and connecting Afghanistan with the global financial institutions. Cultural values of democracy and westernized conceptions on human values have found little acceptance in Afghanistan and in other Muslim countries. This interesting concept can be studied by understanding the radically altering understanding of individual values and identities of Muslim cultures with that of Westernized democratic ideals. This makes it problematic where enforcement or promotion of these values then leads to cultural rifts and becomes the precursor for possible future conflict. In the case of Afghanistan cultural identity is fixated in the identification on the basis of religion and tribal identities. The celebration of the 'collective' and the promotion of shared norms and values gains greater acceptance over westernized ideas of the individual. With these fundamental differences cultural identity has been largely unchanged despite continued foreign assistance and commitment in Afghanistan (Weisberg, 2002 ).
Afghanistan for a large part of its history has seen great conflict of different scales. From internal rifts to foreign interventions the complicated and prevailing nexus in Afghanistan continues to invite academic debate till today. Globalization has increasingly allowed greater connectivity and enhanced opportunities of cooperation and increased global/regional ties. For Afghanistan the complicated situation has been further exasperated with an increasingly globalized world. With foreign interventions and rising levels of inequality and influence of non-state actors, the situation of Afghanistan continues to remain in flux. Only time will truly tell how and to what extent has globalization truly impacted Afghanistan.
Why France holds the key to India's Multilateral Ambitions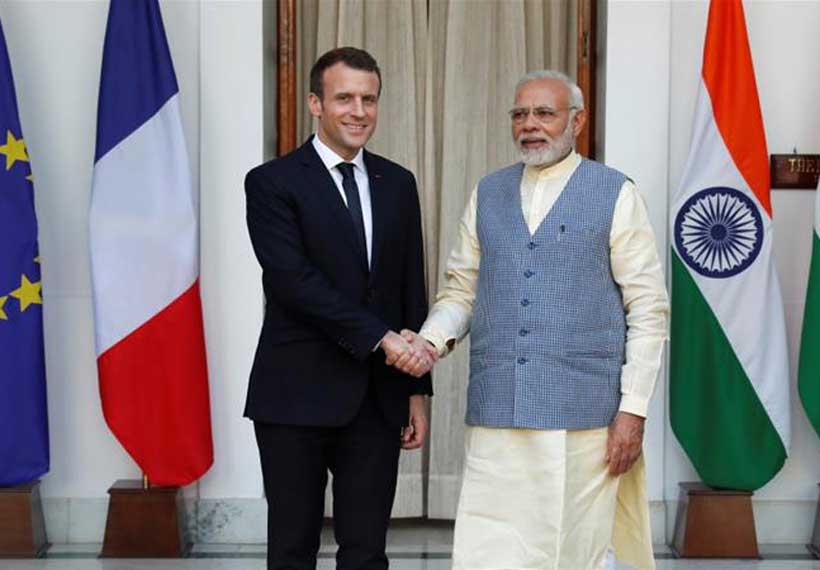 Authors: Prof. Nidhi Piplani Kapur and K.A. Dhananjay
As Indian Foreign Secretary Harsh Shringla pitches for permanent membership and reforms at the United Nations (UN), India's prowess in multilateral diplomacy is tested. Against this backdrop, allies and partners who intend to support India become a critical factor not only to its UN ambitions; but also, areas where India's multilateral interests are emerging – namely in the European Union (EU) and Indo-Pacific Region. In this regard, India's multilateral goals are threefold–securing a permanent membership at the UN, enhanced multilateral trade relations with the EU, and enlarged capacity-building in the Indo-Pacific. Yet, for realizing its multilateral endeavours, India's age-old relationship with France remains the key.
Since the signing of the Strategic Partnership with India in 1998, France has played an enormous role in supporting Indian interests. Whether it is backing India's stance on Kashmir, collaborating in defence and space, or even pledging solidarity in fighting the second wave of the pandemic, France has assisted India in its strategic and societal causes. Therefore, being a reliable and strategic ally, France is a perfect guide for India in the aforesaid multilateral pursuits primarily because of its credentials as a permanent member in the UN, founding member of the EU, and in recent times, an emerging power in the Indo-Pacific region too.
UN Reforms and Permanent Membership
Ever since India was elected as a non-permanent member of the UN Security Council in 2020, it has constantly batted for organizational reforms within the UN. As India puts it – 'reformed multilateralism' is in the need of the hour. It is a fact that the UN is currently beleaguered by an unevenly poised multilateral system, mainly wedged between the politics of the United States, Russia, and China, and hence is proving antithetical to the organisation's legitimacy and purpose per se. Besides, with China reportedly making inroads within the UN system, India's call for reforms underpins its cause to arrest Beijing's influence that could otherwise prove costly to its strategic interests, including territorial disputes along the Line of Actual Control.
At the UN, France has endorsed India's bid to overhaul the Security Council on numerous occasions. Currently, France and India are presiding over the Security Council in successive terms for July and August respectively. While India has signalled to make 'best' efforts to reform the UN during its short stint at the Security Council, France has already called for negotiations with India to explore and expedite the reformation it proposes. Whatever may be the challenges, France provides elbow room for India to set the ball rolling.
Brokering the India-EU FTA
The EU has been an important multilateral partner for India via trade and strategic relations. Post the EU-India virtual summit in May, an event that drew participation from leaders of all the 27 EU member states, there has been a lot of talk on India's burgeoning importance in Europe. The summit was a positive outcome for India, as negotiations for the long-pending Free Trade Agreement (FTA) with the EU were set to restart after a gap of 8 years. Notably, FTA talks with India come at a time when the highly debated EU-China trade deal was frozen by the European Parliament owing to 'tit-for-tat' sanctions surrounding China's human rights violations in Xinjiang and Hong Kong.
For India, the FTA is a watershed for extending multilateral relations with the European continent and an opportunity to consider an alternative to futile Regional Comprehensive Economic Partnership (RCEP) negotiations. Though the FTA might look vibrant and dynamic, the EU considers India's policy on market access, intellectual property, and data security unfavourable to pursue a free trade agreement. These issues may not be easy to forego, especially given the socio-economic conditions induced by the pandemic; but there comes the French angle to the discussion.
In the EU, France was one of the main proponents for resuming FTA negotiations with India. Since France has a significant foothold in the EU and a long-standing relationship with India, it has the tenacity to cement the middle ground while both parties deliberate on the FTA. This way, both India and the EU's interests are not shredded, and if the FTA becomes a reality, France gets to keep the legacy of brokering an otherwise impossible landmark deal.
Enlarged Indo-Pacific Cooperation
The rise of China and the consequent formation of the QUAD has put the Indo-Pacific region in the global geopolitical landscape. The Indo-Pacific is at the centre of India's strategic and territorial interests. As a prominent state in the region, India pursues a strategy that counters China's dominance and expands its outreach in the Indo-Pacific. Seeing the political circumstances in the Indo-Pacific, France has also shown a keen interest in exploring its prospects in the region.
From securing membership at the Indian Ocean Rim Association to participating in strategic engagements such as the Australia-India-France Trilateral Dialogue and the QUAD-Plus network, France is gradually expanding its footprint in the Indo-Pacific. Not to forget, through 4 overseas territories, France also has a regional presence in the Indo-Pacific. With the EU also launching its Indo-Pacific strategy, France naturally has a tactical advantage to even pilot European interests in the region.
Ergo, French entry in the Indo-Pacific is good news for India because now it has more partners to restrict China. As a result, multilateral capacity-building and maritime domain awareness operations in the Indo-Pacific look at a major facelift in ensuring maritime security, freedom of navigation, and most importantly – restrict Chinese expansionism. Given the French factor, enlarged Indo-Pacific cooperation is beneficial for India to rise as a pivot as well as keep an eye on China's incessant effrontery in the region.
Based on what France brings to the table, India is looking at a friend whose promising rapport provides a new prism for its multilateral aspirations. Albeit, the judicial probe ordered on the Rafale deal in France might cause light tremors in Indo-French relations and may also spill out a political limbo. It is a headache for both Paris and New Delhi to eschew, and hopefully, they could steer it in a way mutual interests do not succumb to the looming uncertainty.
Unleashing India's True Potential
As India strives to unleash its true potential to rise as a global powerhouse, it is tasked with a series of challenges that stunt its aspirations. To put this ambition into perspective, Dr. Aparna Pande discusses the various internal issues that have hampered its global aspirations and plagued the socio-cultural, economic, political and military dimensions, in her recent book Making India Great: The promise of a reluctant Global Power.
The book is structured in five chapters besides the introduction and the conclusion. The fundamental argument of the book sets out to delineate India's ambition of becoming a world power in the 21st century. The author discusses the contradiction that exists within Indian society that is 'although India aspires to become a global power, it lacks the ability to draw long term strategic plans that are necessary to achieve and realise its ambitions'. To attain this vision, India must overhaul its attitude and mindset to prescribe a course of action that is deemed fit to bridge the gap between India's potential and its policy outcomes. Dr. Pande rationally deconstructs the reasons behind India's economic slowdown and sheds light on the country's pursuit towards realising its true potential.
In the introductory chapter, the author revisits India's ancient heritage and modern history and spells out various historical accounts to depict the immature, parochial and tactless decisions and judgments made by the Indian political elite that have repeatedly toyed with India's ambitions. These vested interests have hindered the country's progress and fractured its strategic disposition in spite of possessing a robust ethical foundation, a secular religious society, a rich linguistic and cultural diversity. Furthermore, the author elaborates on India's achievements since its independence while knitting history with contemporary international politics.
By 2024, India will be the most populous country globally (p.X) and will be the world's third largest economy by 2050 (p.53). The author raises key arguments that address India's trajectory to become a major global power. She advocates for the need to focus on its important national subjects such as enhancing the country's defence capabilities, upgrading its military industry and expanding its diplomatic outreach globally, instead of focusing on the traditional problems related to religious vigilantism, caste and ethnic prejudice, and cultural divisions.
In the first chapter, "Ancient Culture, Modern Times", the author illustrates India's ancient culture and the faith in Indian exceptionalism. She beautifully explains the ancient history starting with the idea of renaissance and enlightenment and journeys through the social changes brought over time by various reformist movements namely the Arya Samaj and the Brahmo Samaj. The idea of Indianness as conceived by Jawaharlal Nehru, Mahatma Gandhi and Rabindranath Tagore indicates that modern India was built on its rich and ancient heritage. The two different traditions are highlighted within the Indian social order: one discussing India as a vibrant, inclusive and open society, while the other views India as an obscurantist society due to the existence of social practices of patriarchy, feudalism and chauvinist behaviour by Indian society. The country's progress is impeded by society's myopic vision and bigoted fabric.
The author opines that legislative decisions and political events in India are scrutinised by the public from the religious and cultural lens that hampers the growth and progress of the country. Rather than investing in strategic planning for defence and education, the Union Government has been spending more resources to protect cows with the intent to safe guard the religious sentiments of its people. Subsequently, these provisions adversely affect beef production countrywide and weakens the leather industry, affecting the Indian economy at large. As alluded by the author, such a comparison of the religious practices with the economic benefits could hurt the sentiments of the public, leading to undermine the majoritarian faith. In the larger context, among the many prevailing social and national issues there are far greater problems that need immediate redress to which the author has failed to shed adequate light on, such as gender inequality, patriarchy, the promotion of women empowerment, improvements to the national literacy rate and addressing the issue of poverty.
The second chapter discusses human capital, which acts as a pre-requisite driver for the modern Indian economy. In the ancient times, the country's potential for human resource can be viewed through an archaeological lens and has also laid the foundation of the world's oldest civilisation, the Indus Valley. In addition to the Indus valley, the subcontinent has witnessed the establishment of the well-engineered twin cities of Harappa and Mohenjo-Daro. Dr. Pande supports her argument on the country's human capital by supplementing the reader with a similar view from Gurcharan Das' book, where the author conveys that India's biggest failure has been in building human capabilities. Further, he states that to build human potential and capabilities, there is a need for an investment of human capital particularly in education and the health sector.[i] In concurrence with Mr. Das, Dr. Pande explicates that the failure of building human capabilities is due to misgovernance. Hence, she suggests that the Government should take pragmatic steps for policy formulation and skill development.
The third chapter elucidates about 'Economic Potential' of the Indian state. She discusses the success and failures of the Indian economy. Jawaharlal Nehru and Mahatma Gandhi accentuated on economic independence and self-sufficiency. The Indian economy has been growing since independence but is insufficient to cater to the needs of its growing population. Despite being a developing economy, there are millions of people in India living below the poverty line. The 1991 reforms were a shot in the arm for the Indian economy through the process of liberalisation and privatisation. As India is on its way to becoming one of the three largest economies by 2050, New Delhi is required to bring more reforms to its land, labour and financial policies. It needs to give up its paternalistic approach which hinders its economic growth. Dr. Pande also highlights India's obsession with producing everything within the country which leads to hyper-nationalism and proves to be one of the major drawbacks for the Indian economy only weakening its rise as a global power.
In the following chapter, the author analyses the country's foreign policy and geopolitics. While debating the geopolitical nature of the country, Dr. Pande enlightens the reader about some of the inevitable features of the Indian state. As one of the oldest standing civilisations, its geographic position is strategic and its vast population is an asset for the country's growth. The ancient sages have ascribed India as Vishwa Guru (world teacher) and have adopted the philosophy of Vasudhaiva Kutumbakkam (the world is one family). Prime Minister, Narendra Modi in his historic speech at the United Nations General Assembly in 2014 underscored the driving force of India's philosophy, reminding the world community about India's ancient history since the Vedic era, with the intent to bring reforms to the United Nations (UN), making it more democratic and participatory.
The author presents a case to underline the existence of India's strategic disposition through an adaptation of the Non-Alignment Movement. To establish and maintain its clout in the world order, India is associated with various organisations like the UN, the International Financial Institutions (IFIs) and several other multilateral institutions. The author presents a strong case for the need to introduce new reforms into the UN Security Council (UNSC) but also into the international economic order, including various multilateral economic institutions such as the International Monetary Fund and World Bank. More importantly, she advocates the need to promote India as a permanent member in the UNSC with the backdrop of India's rise in contemporary international relations given the country's growing economic, political and military prowess.
Talking about its foreign policy, India is considered a geographical, socio-cultural and economic centre for South Asia and plays the role of a 'Big Brother' within the South Asian region. India has always followed the 'Neighbourhood First' policy to maintain strategic relations with its immediate neighbours. Apart from South Asia, the chapter presents a stark contrast regarding India's relations with China and its economic and military rise which pose a threat to India and South Asia.
The last chapter examines India's "Military and Grand Strategy" and what India actually requires in order to become a global power. She illustrates the features of great powers as described by Hedley Bull. According to Bull, great powers are identified by 'comparability of status', 'rank in military strength', and the ability and recognition to 'play a part in determining issues that affect the peace and security of the international system as whole'.[ii] To incorporate these factors in its foreign policy, India needs a grand strategy in place which could be formulated through four major strands: Imperial Legacy, Messianic Idealism, Realism and Isolationism, as discussed by the author in her previous work.[iii] To achieve these goals, India can exercise the Kautilyan principles of Saam, Daam, Dand and Bhed (persuasion, temptation, punishment and exploitation respectively) as a means to achieve an end.
To this end, Making India Great is a well-researched handbook with various mesmerising facts but with a contested title which questions the greatness of the country. It allows readers to comprehend various reasons for India's reluctance and flawed progress on the global stage. The author suggests that the Government of India should introduce new reforms that would enable it, to take pragmatic measures in the economic, military, political and social spheres, which would provide greater impetus to its growing aspirations as a global power. Lastly, Dr. Pande fails to identify and analyse the loopholes existing in both, the decision-making apparatus and implementation process of various policies at the economic, political and military levels. Nevertheless, this work is of immense relevance to understand India's position as an emerging global power, in the context of the contemporary state of global affairs.
---
[i] Gurcharan Das, India Unbounded: The Social and Economic revolution from Independence to the Global Information Age, New York: Anchor Books, 2002, p. xviii.
[ii] Hedley Bull, The Anarchial Society: A Study of Order in World Politics, New York: Columbia University Press, 1977, pp. 200-03.
[iii]Aparna Pandey, From Chanakya to Modi: Evolution of India's Foreign Policy, Noida: HarperCollins India, 2017.