What forced India to abandon its world-power ambition?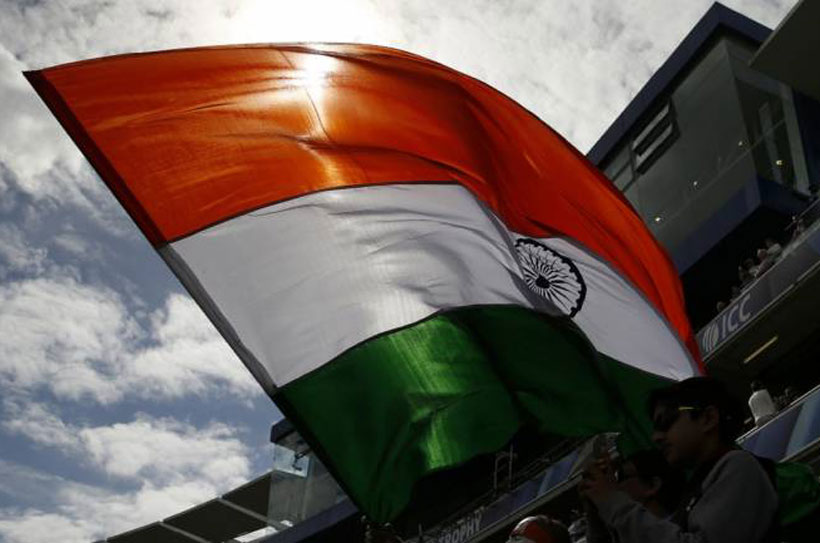 The writer is of the view that India regarded itself as a rightful successor to Imperial India. It viewed Pakistan as an unviable entity who seceded from "great" India. A series of cataclysmic events scuttled India's ambition. India uncannily annoyed China, then Soviet Union and even the USA. India's disastrous defeat in the 1962 Sino-Indian War made India realise that it has to concentrate on its immediate surroundings. But, India is still to realise that without burying the hatchet with Pakistan, India can't realise its dream of even regional hegemony.
India is a multi-racial, multi-religious and a multi-linguistic "union". The Englishman was able to hold this "loose sally" together by use of force. There were ebbs and flows of centrifugal movements in some states. But, the Englishman was able to quell them in nascent stage.
The desire for self determination or independence from English yoke arose very late in India. In fact, it was the Englishman himself who paved way for arousal of political consciousness in at least the elitist Indian leaders. David Hume, followed by a few other Britons, headed the Indian National Congress, until toddler indigenous leaders grew strong enough to lead it.
India's perception as an imperial successor
India dreamt ofbeing an undisputed successor to the pre-partition Imperial India. It harboured ambition to emerge not only a South Asian hegemon but also a world power. However, its ambition suffered many setbacks. Let us review vicissitudes of India's "greatness" ambition in historic context.
1947- 1962 period
To get recognised as a major world power it was necessary for India to establish its primacy first as a major power in its neighbourhood. The Quaid-e-Azam wished that India and Pakistan to forget acrimony of the partition. He keenly desired that the subcontinent and all of South Asia should remain aloof from rivalry. He proposed a joint defence pact with India.
Had India accepted his idea, the two countries would not have been at daggers drawn after independence. Before his final flight (Aug 7, 1947) from Delhi to Pakistan, he sent a message to the Indian government, "the past must be buried and let us start as two independent sovereign states of Hindustan and Pakistan, I wish Hindustan prosperity and peace." Vallabhbhai Patel replied from Delhi "the poison [the Quaid] has been removed from the body of India. As for the Muslims, they have their roots, their sacred places and their centres here. I do not know what they can possibly do in Pakistan. It will not be long before they return to us."
Even Nehru, an ostensibly liberal leader, regarded the creation of Pakistan as a blunder. His rancour against Pakistan reached a crescendo in his remarks: "I shall not have that carbuncle on my back." (D. H. Bhutani, The Future of Pakistan, page 14).
Ayesha Jalal in a paper Why Jinnah Matters (Maleeha Lodhi (ed.), Pakistan: Beyond the Crisis State) recalls: "Just before his own death, Jinnah proposed a joint defence with India as the Cold War started to shape the world and the two power blocs began to form. Jinnah was still thinking as a South Asian nationalist…had Jinnah's vision prevailed and found an echo in India, we would have seen a very different South Asia…there would have been no crippling defence expenditures."
"There would have been no reason to join one or other camp of the Cold War. There would have been open borders, free trade and regular visiting between the two countries…a more humane sub-continent might have emerged.
India's cold shoulder compelled Pakistan to challenger her self-conceited "primacy" at every footstep. Accession of some princely states either to India or to Pakistan became a bone of contention between the two next-door neighbours, toujours at daggers drawn. The Jammu and Kashmir was, particularly, a hard nut to crack.
Pakistan posed a formidable adversary to India's hegemony at every international forum. To pacify Pakistan, India's then home minister, Vallabhai Patel offered Kashmir literally on a platter to Pakistan in exchange for Junagadh. But, Liaquat Khan, then Pakistan's prime minister spurned the offer. He mused `what shall I make of the Kashmir mountains'.
Faced with the raiders in Kashmir, Pandit Jawahar Lal Nehru approached the United Nations for "mediating", not for "declaring Pakistan an aggressor". The stark, nay brutal reality then was that India realised that at the United nations not only the permanent but also the temporary members supported Pakistan's position. India did not approach even the International Court of Justice as it perceived that it had a weak case.
India remained nominally non-aligned while Pakistan joined security alliances with the USA. Military and quasi-military confrontations took place between the two neighbours. But the Kashmir dispute remained unresolved despite the fisticuffs. Even today, Kashmir is a nuclear tinderbox.
Setback to India's world-power ambition (1962 to 1991)
India's disastrous defeat in the 1962 Sino-Indian War buried India's dream of world leadership. India was able to dismember Pakistan's eastern wing in 1971. Yet, her dream of becoming a world power or a South Asian hegemon remained unfulfilled. Political instability coupled with erratic economic policies whittled down Pakistan's clout in comity of nations. In contrast, India, post-1991, adopted such economic policies that rejuvenated its tottering economy. Still, India could not get recognised as a paramount power in the South Asia as the Imperial successor to the British raj.
India imposes hegemony on some Himalayan states
While Pakistan remained defiant, India managed to coerce Nepal, Bhutan and Sikkim to sign such treaties in 1949 and 1950 that made "New Delhi in charge of their foreign policy" (Manjeet S. Pardesi, Is india a South Asian or Asian Power; Knut A. Jacobsen, Routledge Handbook of India, page 136). Sikkim was absorbed into the Indian Union in 1975. About Bhutan, there are strong voices in India demanding India should annex it before China does so. To tame Nepal, a landlocked country, India blockaded it and annexed its Kalapani territory. But, Nepal is steadfastly resisting India's pressure.
India's significant post-partition "Asian Great Power" initiatives
Convinced of being heir-apparent to Imperial India, Nehru organised Asian Relations Conference a few months before the country's independence in March-April 1947 (India became independent on August 15, 1947). In January 1949, India organised a conference on Indonesia to deal specifically with Asian issues, particularly Indonesian independence from the Dutch. At the same time, India forgave debts owed by Burma (Myanmar) to India during its separation from India in 1937.
In 1951, India signed a security treaty with Indonesia. A few months later, it signed a similar treaty with Burma. During the early post-colonial year, Burma behaved as if it was India's vassal. India dictated Burma even on the latter's internal security issues. In 1952, India signed a treaty with Philippines that amounted to a non-aggression pact. This "pact" was signed amid an environment in which China in post-War (post-Colonial) context appeared to assume a threatening posture in view of situation emerging in Korea and Indo-China. An Indian chairman happened to head each of the three International Commissions of Supervision and C control for Vietnam, Cambodia and Laos, created at Geneva in 1951.
Ascending on great-Asian power trajectory, India signed security arrangements with Indonesian Air Force n 1956, with navy in 1958, and army in 1960.
Forays into North East Asia
Engrossed with great-power ambition, India did not confine its foreign-policy endeavours to the Southeast Asia. It dabbled into Northeast Asian affairs also. Even without any direct diplomatic ties, Korean peninsula was de facto divided during 1950-53 (in the wake of the Second World War). India continued to maintain a facade of non-alignment despite desire and initiatives to forge security alliances with several countries.
India irks China and the then Soviet Union
Diplomacy is like the acrobatics of balancing on a tight rope. Though the USA opposed, India recognised de jure the People's Republic of China. The USA, under Harry S. Truman (1956) began to suspect India as a Communist-China sympathiser.
Throughout the 1950s, India supported China's inclusion in the United Nations' Security Council. Besides, it introduced the Communist China to the Afro-Asian countries at Bandung in 1955.
India even legitimized China's invasion and annexation of Tibet by signing the 1954 panchsheel agreement. India under Nehru also acted as a diplomatic interlocutor between China and Tibet after India had granted refuge to Delai Lama in the wake of Lhasa Uprising.
China and the Soviet Union become suspicious of India's equivocal foreign policy
India continued making goodwill gestures to both China and the Soviet Union. But, the both countries construed Indian policies as a conundrum. To their chagrin, India supported the US-sponsored resolution on Korea. This gesture annoyed both the Soviet Union and China. They became skeptical of India's nonalignment credentials.
India's role in repatriation of Korean prisoners of war (POW)
India shrugged off China's and Soviet Union's annoyance and lobbied hard for repatriation of the Korean POW. Through India's effort, some 23000 POW happened to be repatriated though it then appeared to be a Herculean job. Under India's Lieutenant General KS Thimayya, Major General SPP Thorat leading some 6000 Indian troops and administrative personnel in the Custodian force (that landed in Korea) accomplished the POW's exchange.
India woos Japan (Far East)
At the International Military Tribunal for the Far East in Tokyo, all the 25 top Japanese leaders were charged with Class A war-crimes. Indian judge Radhabinod Paul declared all of them "not guilty".
India regarded USA's San Francisco Peace Treaty with Japan as "unfair". This treaty bound Japan to pay war-time reparations. India signed a separate treaty, the first ever with Japan, waiving all war-time reparations.
Under Nehru, India invited Japan to the 1955 Bandung Conference even though Japan was not then a member of the United Nations. Japan became a member of the UN later in 1956.
How Sino Indian bonhomie ended?
China suspected India was bent upon reverting Tibet into its pre-1950-51 status as a buffer state between India and China. India's disastrous defeat in 1962 Sino-Indian War buried India's ambition to emerge as a major Asian power for the remainder of the Cold-War period.
India hails Galwan (Ladakh) unarmed clashes as a "victory". But, in actual fact, the clashes were a storm in a teacup. India's stand in media contradicted its official stand. India admits China "did not annex an inch of Indian territory" (so said Indian prime minister Narendra Modi at the all-party political moot).
End of World-power ambition
The 1962 Sino-Indian War ad Galwan clashes portrayed India as a power that could not stand China without external military support. India was forced to revert conceptually to the subcontinent as her primary area of concern. Despite Pakistan's vivisection in 1971, India remained a regional power.
Pakistan's moves to cut India to size
Pakistan facilitated the USA's tacit alliance with China. It achieved nuclear parity with India. It prevented India from emerging even as an undisputed regional bully.
In 1972, the then Shah of Iran declared "any attack on Pakistan would be tantamount to an attack on Iran and that Teheran was committed to the territorial integrity of Pakistan".
India's Indira Doctrine
In the aftermath of India's "victory over Pakistan", India embarked upon Indira Doctrine (ID). This doctrine is akin to Monroe Doctrine. The ID postulated "South Asia was India's sphere of influence and India would not tolerate the intervention of any extra-regional power here unless it was on India's terms. At the same time, India would not intervene in the domestic affairs of the regional states unless requested to do so".
Application
Within framework of this doctrine, India intervened in the Sri Lankan Civil War (1983-1990), forestalled a coup in Maldives (1988) and blockaded Nepal during 1989-90 to force it to toe India's diktat in economic and diplomatic relations.
India's post-1991 (Cold War) major Asian-power policy (Look East Policy)
Subdued by several events, India appears to have now abandoned world-power ambition. It is concentrating on consolidating it position as a major Asian power. .Under Manmohan Singh, India undertook structural economic reforms that banked on Japan, the World Bank, the International Monetary Fund and the Asian Development Bank.
India strengthened its naval command in Andaman and Nicobar Islands and began conducting joint naval exercises with Indonesia, Malaysia and Singapore (Lion King annual bilateral submarine warfare exercise). India trained Malaysian pilots to fly MiG-29 aircraft and upgraded defence cooperation with Vietnam.
Concluding remarks
India sees itself as "indispensable to the strategic balance of power in Asia". It abhors China dominance in the region.
A series of jolts reduced India's world-power inspiration to major Asian-power ambition. Nehru declared, ` India was bound to play the role of "leading and interpreting Asia and specifically South East Asia to the wider world' Manmohan Singh, the architect of India's Look East policy, stressed, 'India's Look East Policy was not merely an external economic policy, it was also a strategic shift in India's vision of the world and India's place in evolving global economy'.
India's great-power dream will remain unrealized unless it mends its fence with Pakistan. Sandwiched between China and Pakistan, India is unlikely to win a two front war.
Application of Galtung's ABC Model on the Naxalite Insurgency of India
The conflict analysis model proposed by Johan Galtung in 1969 includes both symmetric and asymmetric conflicts. In the author's opinion, a conflict can be viewed as a triangle whose sides are represented by A (attitude), B (behaviors) and C (contradictions.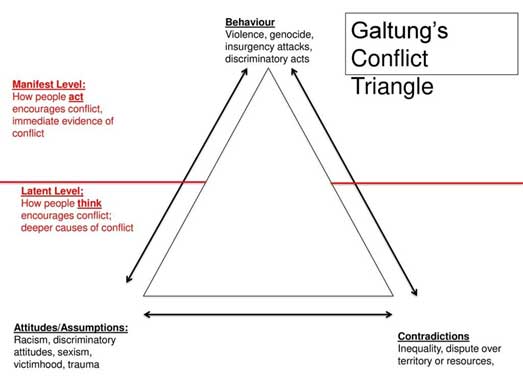 The Naxalite Insurgency
The Naxalite revolt which developed in the 1960's is the most seasoned of all. The Naxalite revolt gets its underlying foundations from a remote town called Naxalbari in West Bengal. They are the progressive communists bunches resulting from Sino-soviet split in Indian Communist Movement. The Naxalite uprising is a low-level war of Maoists against the Indian government. The insurrection began as a labor resistance in the eastern Indian town of Naxalbari in 1967 and has now spread to an extensive swath in the southern and eastern parts of the nation. In 2004 the Maoist dissident association People's War Group and the Maoist Communist Center of India converged to shape the Communist Party of India (Maoist). The Movement was driven by Charu Mazumdar, Kanu Sanyal and Jangal Santhal.
Contradictions
The main conflict includes real or perceived "incompatibility of goals" between the conflicting parties. In symmetrical conflicts, the contradiction is defined by the parties, their interests and conflicts of interests. In asymmetric conflicts, the contradiction is defined by the parties, the relationship between them and the conflict within this relationship.
Before continuing with Galtung's model analysis, it is necessary to highlight the differences between symmetric and asymmetric conflicts. When A and B have a relatively similar or equal position and they enter into a conflict due to diverging interests; we are talking about a symmetrical conflict. When in the relationship between A and B one of the parties has a clearly superior standing compared to the other (i.e. a clear situation of inequality between the two sides); we are referring to asymmetric conflict. This type of conflict occurs between the majority and a minority, between a government and a rebel group, between an employer and his employees, or between a master and his servants ("Transforming Civil Conflicts", The Network University. The University of Amsterdam, June 2000).
A conflict in Galtung's view = attitude + behavior + contradiction, where contradiction (C) is the root of the conflict, and attitude (A) and behavior (B) are meta-conflicts after (C). CAB is a possible example of a conflict sequence starting objectively with an attitude of inner life that is expressed externally through violent or not verbal and / or physical behavior. This definition helps us to talk about the CAB as a guiding conflict theory, as a dynamic phase of the conflict, or as an approach to solutions (Galtung, 2007, 22).
The contradiction here in this conflict is inequality and dispute over political rights and resources. The Naxalites get most help from Dalits and Adivasis. Together they sum for one fourth of India's population; a large portion of them live in rural India. Their bases for supporting the insurgency includes unemployment, new timberland provisions with confinement for their jobs, cultural degradation, feeble access to social education, confined and constrained access to regular assets, social abominations, relocation, political underestimation and suppression of rebellions. The affected areas have rich mineral resources but the inapproachability and negligence of the government is another which has kept the insurgency alive.
The demands of the insurgents are not of succession rather they demand their democratic rights. They want the government to implement improvements in the farming sector, give accommodations and full authority to the farmers, and abandon all private finances taken by the agricultural community to stop suicides by farmers, prepare a lasting and unified plan for tackling the scarcity situation and to be given equal opportunities, jobs, education, acceptance from the upper caste people.
Attitudes
Includes the perception of the parties; It can be positive or negative, strongly negative especially in violent conflicts when the parties develop humiliating stereotypes about each other. Attitude consists of emotive and affective components (I like or I do not like X), cognitive components (favorable or unfavorable information about X) and cognitive/ behavioral components (desire, will).
Attitudes or we say perception of conflicting parties, i.e., Government of India and Naxal rebel's groups are entirely negative. Indian government thinks of it as a national security threat and wants to counter it one way or the other. In 2006, the Ex-Prime Minister of India Manmohan Singh called the Naxalites "The single greatest inward security challenge." As the insurgency is not in just one part of the country but it is expanding in many regions which is a serious threat to the state's internal security. While the rebel groups being untouchables, think of the government as racist and discriminatory and want equal rights and opportunities as any other Indian.
Behavior
Involves cooperation or coercion / conciliation or hostility regarding the behavior, in case of violent conflict we talk about threats, coercion or destructive attacks.
The Indian National Congress is India's oldest party. Hence has seen a number of conflicts and insurgencies. The INC government sought after a double pronged approach depended on military and cruel police activities.
SalwaJudum was launched as part of counterinsurgency strategy by the Indian government. The Naxals and SalwaJudum used to assault each other with much greater savagery; numerous individuals were killed by Naxals and SalwaJudum. The SalwaJudum was at long last prohibited by the Supreme Court in 2011 for damaging human rights and the Constitution itself. The government then presented "Operation Green Hunt", an organized activity over a few states (Orissa, Madhya Pradesh, Chhattisgarh, Andhra Pradesh and West Bengal among others), to handle Naxalism. But the operation was also a failure.
The government then realized that using the military on their own people is not the solution to the problem hence, they made some developments in the affected regions but it did not give long lasting results; it resulted in the failure of the policies of Indian National Congress.
Andhra Pradesh has the best strategies to counter the Naxalite insurgents among all affected states. It perceived the Naxalite insurrection as a genuine risk. It has put resources into the Greyhounds; a unit arranged for a counterinsurgency reaction and has given extensive recovery bundles to repatriate the previous Naxalites.
They likewise made a few projects to help police faculty and their families if executed in the line of duty. Andhra Pradesh's counterinsurgency approach is unmatched in the whole country.
The Naxalite rebellion entered in these states later. They are the most badly influenced states because of their topography and demography. Because of a crackdown by police and military against the naxalites, the movement spread into many states. Since these states have a huge population and forested territory, they were the ideal areas for the guerillas to develop. None of these states has a solid counterinsurgency approach. Chhattisgarh has connected comparable guerrilla strategies and many operations like Operation Shikhar, Operation X, Operation Thunder and Operation Hill Top but neither of these operations have been able to purge the insurgency in the state. Jharkhand has led a few hostile activities, Odhisa uptil now have no strategies that can manage the uprisings. Every one of the three states is rich with mineral resources but none of them have powerful counterinsurgency technique. West Bengal is relatively successful in countering insurgency. The state government additionally got assistance from the central government.
The BJP government counterinsurgency strategy against the Naxalites combines a twofold unit approach; one approach is to utilize safety powers to create security whereas the other is winning hearts and minds of the overall public. Past governments utilized the relative systems, yet in light of a nonappearance of coordination and uneven execution between influenced states, it didn't give incredible results.
Social and economic inequity is seen as the main drivers of the Naxalite insurrection. Accordingly, the BJP government has reported sweeping policy, which incorporates improvement measures to manage social and economic degradation. The government has invested in the expansion of infrastructure which includes the creation of communication linkage and rail and road accessibility also in educating and providing basic services to the people. The number of violence decreased during BJP's time period, the credit is not alone to BJP government but also to previous governments.
Is Peace possible in Afghanistan without a clear vision?
Peace is the absence of war, while war is the absence of peace! A negotiated peace in Afghanistan presents a number of challenges. The duration of the war over several decades has created a number of situations, that requires an in-depth examination in light of the peace negotiations that took place between the United States and the Taliban leading to the signing of an agreement without inputs from the Afghan government in spite of their being a strategic partner of the United States.
The war has been a very costly undertaking both in financial and human terms.
On the human side, there has been a large number of civilian casualties and a flow of both internal refugees and those that have fled to neighbouring countries, Iran, and Pakistan in particular. Will the conditions of peace allow their return and what employment possibilities will they find? In particular will the professionals and corporate managers of the diaspora return?
On the financial side, the income of the Government of Afghanistan is too meagre to finance the rebuilding of the country. Will the United States and other major donors such as the World Bank contribute in a significant way to assist in this momentous effort?
Afghanistan's geographic position has attracted major powers in the past. How will the country still be viewed as a masterpiece in the Great Game and will it continue to be subject to constant instability? Corruption may well prove to be one of the most important barriers to development. What policies can be put in place to reduce, or eliminate, corruption? What process will be put in place to disarm both the Taliban and the other armed groups to prevent a civil war?
Why do powerful countries always easily achieve their goals in Afghanistan? The answer is simple, because some leaders are ready to do anything to gain power by asking for the support of these countries. In order to be able to bring political stability to Afghanistan, it is essential and indispensable that the Afghan leaders come to an understanding among themselves in order to have internal stability. As soon as they manage to put this in place, they will have moral authority over powerful countries with a specific, clear, and lasting purpose for Afghanistan. Presently its political leaders are ready to negotiate in an aggressive, competitive, egocentric, and defensive manner to have the power in order to remain in their current positions without worrying about the interests of the country or the people.
Often, we hear that Afghanistan is a strategically positioned country. Of course, Afghanistan is well placed, but our analysis is different: we believe that something else is more important than that situation. Afghanistan is a weaker country in the region with leaders who are only interested in political power, with a lack of global vision for the development of the nation: this is the reason why every powerful country achieves its goals very easily across Afghanistan, according to its wishes. At any time, they may abandon Afghanistan. At the same time, Afghanistan faces major economic and development challenges. Although the country is rich in natural resources, gas, minerals, and oil (estimated at over a trillion dollars), insecurity, war, lack of infrastructure, weak leaders, have limited the possibilities of finding and extracting these resources and Afghanistan is still among the poorest countries in the world.
Each country has its advantages and disadvantages, but Afghanistan has two major drawbacks that need to be addressed:
1) Very weak leaders or leaders by accident, who think only of their personal interests and who settle in power for life.
2) As mentioned above, Afghanistan is the weakest country in the region.
Every leader, when he comes to power, forgets his real job, which is to create enduring systems and values ​​for today, tomorrow and the day after, and at least reduce existing problems and use their power to serve the people and the country, instead of monopolizing this power for personal interests.
On the contrary, unfortunately, when a leader comes to power, he increases the problem because he thinks traditionally, and above all he puts his relatives in the most important positions, without looking at their qualifications, because competence is less important than relational confidence.
Although there are very qualified people, but since they do not belong to the ethnicity of the political leaders, and share their point of view, thinking more for the country than their private interests, such kind of people have very little place in the mind of these leaders.
Today, politics in Afghanistan is becoming like a business, and everyone is doing politics … However, the real job is still abandoned, because the vast majority of the People no longer trust the Politicians, and even the real ones, those Politicians who want to change something for their country.
Before having to manage peace, they must understand why we are at war. The war in Afghanistan has five dimensions:
1. A leadership crisis, meaning that the Afghan leaders do not agree with each other and look at power sharing.
2. Certain countries of the region, and more particularly Pakistan, are very involved in Afghanistan, which they destabilise.
3. Major powers, too, have their own agendas on the region.
4. Certain countries support terrorism and extremist groups.
5. The negotiation process must be led not by politicians, but by neutral Afghan experts.
Therefore, we make the following recommendations:
1.Encourage the leaders to have a government in which no single ethnic group monopolizes power. There should be one president and four vice-presidents. Each two years a rotation of the president would be put in place. The entire mandate would be limited to ten years. This would allow power sharing that would prevent having one ethnic group monopolising power through a rotation system of two years as President.
This proposal would definitely solve the power problem while also allowing for government savings of time and money.
2.The United States should intervene in Pakistan to force a peace process between Pakistan and Afghanistan. Pakistan has been a major destabiliser in the region by harbouring terrorists and using them as their second army as indicated by several international sources. Should this problem not be solved, it would become, sooner or later, a global threat for democracy and humanity. It would not be a good inheritance for the future world leaders.
President Joe Biden, mentioned that the United States would again lead the world, we strongly believe that the above issue should be a priority, failing what, it may be too late to bring peace to the region and worldwide. The United States should avoid countries that back terrorism and, particularly, those actions that kill children and humanitarian workers.
3.As a major power, the presence of the United States in Afghanistan could develop a strong relationship, instead of a partnership, just as the United States has done in other countries, providing its presence in the area is of interest. This would be a break from the present situation in which the Afghan population lacks a clear understanding of its position. Should the United States develop a mutually beneficial relationship, the Afghan population would strongly support it. A complete departure before peace puts in danger democracy, women, and children not only in Afghanistan but also worldwide.
4.The United States, as a powerful country, should sanction all countries, or groups and persons, that support terrorism, wherever the terrorists may wish to strike. As an example, economic sanctions banning the purchase of military material should be implemented. Doing so in Pakistan would be a good starting point.
5.The negotiation process cannot be done by people that are thirsty for power and have no vested interest in peace as they hold power. We would suggest that the negotiation process be led by neutral experts with politicians and the civil society backing-up them.
We are certain, if the United States takes into consideration the five points mentioned above, the peace process will be successful and lead to stability in the area. If there is no peace in Afghanistan, there will be a major threat in the area in the region and in the world. Afghanistan is the first line of defence against terrorism not only for themselves, but also for the entire world.
Major Modi Programs Meet Success … And Failure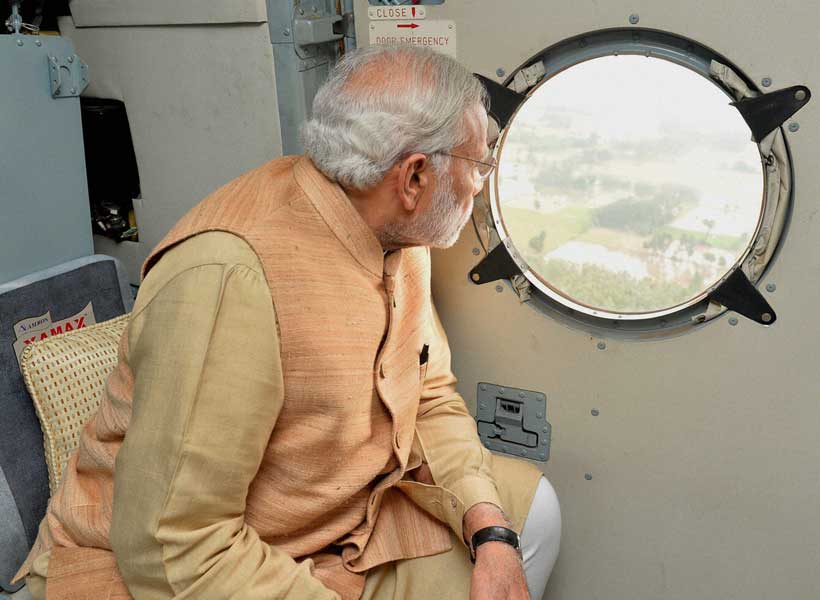 A much admired quality, initiative, can in a leader improve the lives of his people. The key of course is well considered and clearly thought-out initiatives.
In his long political career Narendra Modi, the current prime minister of India has introduced some startling initiatives, although often with mixed results.
His clean India campaign aimed at ending open defecation, common in rural areas and estimated to be practiced by 620 million or by half of India's population, was lauded even by opposition parties. NGOs welcomed it and the Gates Foundation presented Mr. Modi an award. By 2019, 110 million toilets had been built and there was hope that diseases like diarrhea, sometimes fatal for children, would be significantly reduced.
Rural India does not have sewage systems to remove and treat human waste. So the toilets installed were open pit latrines requiring periodic emptying, a manual process performed by the lowest caste Indians, when available, for a fee. In the meantime, a pervasive smell permeated the house compound.
Once toilets were built in a village, the Modi government considered it free of open defecation. This was not factually true because installation is not the same as actual use. No systems were in place for proper maintenance, say NGOs like RICE the Research Institute for Compassionate Economics. According to them, a survey in late 2018 revealed that some 44 percent of Indians in an area surveyed still defecated in the open, although down from 70 percent. If one googles the question now, a figure around 620 million pops up. That is 44 percent of India's population of 1.4 billion, and not too different from the estimate in 2014. To be fair the total population has increased since 2014.
Another Modi initiative commenced just before he left on a state visit to Japan in 2016. He delivered a speech (Nov. 8, 2016) announcing the abrupt withdrawal of 500 and 1000 rupee notes to be replaced by newly designed 500 and 2000 rupee denominations. This would attack corruption and ferret out illegal cash holdings, he claimed. The move removed 86% of cash in the economy almost overnight and naturally caused a liquidity crisis.
By the time Mr. Modi returned from Japan, the country was in chaos. In a mostly cash economy, people lined up at banks to withdraw cash and presumably deposit any of the old notes in their possession. Economic activity was disrupted, shops shuttered for lack of customers, weddings were canceled, and Indians were angry.
On Mr. Modi's return from Japan, there was no mention of corruption — given the lines of ordinary middle class people at banks — instead it was now called a move to modernize India and turn it into a cashless economy. How in a poor country with high illiteracy remains a mystery. Economists now estimate the cost to the economy of Mr. Modi's banknote initiative at roughly $15 billion or 1.5 percent of GDP.
The moral for Mr. Modi's initiatives takes us all the way back to Aesop's fable about the fox and the goat and the well, and its adage, 'look before you leap'. Unsurprisingly, Mr. Modi's current visage has taken on the appearance of a sage even if the facts do not support it.