Let me start by asking you – Have you watched Oliver Stones' 1987 masterpiece, 'Wall Street'? Great! For those who haven't, here is a quick reflection of its storyline. This movie is a premise with a promise, and exert its audience to seek an answer to one of the most neglected question in the philosophy of ethics and greed – 'How much money is enough money?'. Michael Douglas plays an unsparing millionaire raider Gordon Gekko. Bud Fox, played by Charlie Sheen, is a stockbroker full of ambition, doing whatever he can to make his way to the top. Fox is enchanted by Gekko, and entice him into mentoring him by providing insider trading information. Although Fox is loyal to his mentor Gekko, throughout the film, he is seen asking the millionaire trader Gekko, "How much money do you need to be satisfied with? How much is enough?". And each time Gekko ponders and thinks hard, but the truth is, he himself doesn't know. There is a scene in the movie where Gordon Gekko uses Fox's inside information to manipulate the stock of a company that he intended to sell off, while throwing its workers, including Bud's father. When Bud hears about his father losing the job along with other workers, he experiences deep agony and immediately repents his participation in the millionaire's duplicity and deception. He storms to his office and asks again, "How much is enough, Gordon?"
And, Gekko answers – (Source :Wall Street, 1987)
"The richest one percent of this country owns half our country's wealth, five trillion dollars… You got ninety percent of the American public out there with little or no net worth. I create nothing. I own. We make the rules, pal. The news, war, peace, famine, upheaval, the price per paper clip. We pick that rabbit out of the hat while everybody sits out there wondering how the hell we did it. Now, you're not naïve enough to think we're living in a democracy, are you, buddy? It's the free market. And you're part of it."
Now, what this scene exposes is the adrenaline rush of power that wealth provides. But, what this scene also highlights is how this power of wealth has created a society where corporate empires are thriving through lobbyism, while middle-lower class are palpitating in a life of destitution. And in case you are thinking how a 1987 American classic like 'Wall Street' is relevant to the rise of billionaires in 2021, here is the answer – wealth, national morality and democracy – all symptomatic of a thriving country. But, with the rise of billionaires in India, this is exactly what is at stake.
Corporate Political Activity (CPA) – When Corporations Colonizes The State
Luis Fernandez said, "Either we can have democracy or a great amount of wealth concentrated in the hands of few. We cannot have both". So, what did he mean by this? For starters, hoarding of wealth not only gives you the liberty to buy luxury goods, but it also gives you the freedom to buy votes, laws, and legislation. How? Well, corporate involvement in any democratic ecosphere is usually manifested into a corporate political activity (CPA). This corrupts the democratic process by excluding the citizens from policy decision-making. Thereby, privatizing profits for corporation and socializing the loss among citizens(Daniel Nyberg,2021). So, how is this accomplished? It's achieved through a specialized team of people called – Corporate Lobbyists. They act as a mediator between the political parties and the corporation they work for. But, what do these billionaires lobby against? Mostly tax deregulations. However, the devil hides in details – Most billionaire monopolists lobby against anti-force entrustments, giant banks lobby against risk regulations, polluters in the private sector lobby against environmental regulations, and private corporations lobby against public services. Each one of these is detrimental to the growth of any democracy because lobbyists act out in the interest of billionaires and influence government policy-making by taking in no account of public interest (Mehrsa Baradaran, 2019). In simple words – they suggest extraneous elements in decision-making and subvert the public interest in areas like infrastructure (highways, airports, and massive scale projects under the Jawaharlal Nehru National Urban Renewal Mission in 63 cities), natural resources, and energy (gas, oil, petrol, energy), telecom (3G and 4G technology),military (weapons and aircrafts), mining (where giant corporations have developed stakes making billions on India's tribal heartland), and agribusiness (seeds, privatization of agriculture sector), etc. And, how does this work? Keep reading.
You must be aware of the ongoing farmers' protest since last year. It is strictly against two issues. First being the 'three new farm laws' introduced by Modi government. Second, being the agitation against India's two richest billionaires – Mukesh Ambani and Adani, who are close to Modi and is believed to profit from these new farm laws. These two billionaires have been eyeing India's farm sector for a while now. In 2017, Ambani expressed his interest in investing in the agriculture sector. His Jio Platforms, today, is leveraging its partnership with Facebook to dilate into this domain with Jiokrishi app, which will ease out the farm-to-fork supply chain. The company's records suggest that it source(ed) 77% of its fruit directly from farmers. Now, currently, the farmers take their produce to wholesale markets, governed by APMC (government body). APMC in every State decides the price it will pay to the farmers for their produce. Remember, this market becomes the central point for government acquisition of food grains. With the new farm laws, a giant corporation can directly approach the farmers, buy and pay for the produce at an agreed amount. In short, this new farm law aims to abolish this structural network and privatize it. But, this is just structural damage for farmers. As I mentioned earlier, the devil hides in details – The news laws do not make a written contract between the farmers and corporations mandatory. This means that if there is a conflict of interest between both parties, it will be extremely difficult for farmers to prove that a corporation has breached that agreement. Additionally, this law states that a farmer has no right to take these disputes to an independent judiciary for justice. Instead, they would have to reach out to two bodies – a conciliation board (district-level administrative officers) or to the appellate authority. Now, both of these bodies are dependent on government, which can potentially revert the case in favor of corporations. This law also has a grave danger of impacting the minimum support price that government bodies offer to farmers in case of a declined price fall for their produce during a particular season. The farmers here are sailing on a boat of uncertainty, economic chaos, and policy madness —- all favoring the interest of the giant corporates instead of the public; more specifically, the farmers, who are the beating heart of an agrarian economy like India.
Remember, The Rafael deal? The deal was given to a Ambani brother, who had minimal to no experience in aircraft. Rafael offset contract has been given to Reliance Defense, which was formed 12 days before the announcement of the Rafael deal. 'Mediapart', a French-language publication, quoted Francois Hollande (2018), "It was the Indian government that proposed this service group (Reliance), and Dassault which negotiated with Ambani. We had no choice. We took the interlocutor who was given to us." Two weeks back, the French newspaper 'LeMonde' dropped a bombshell stating that the French authorities passed off Anil Ambani's $162 million tax after Modi-led NDA government negotiated Rafael deal with France based Dassault Aviation. Another example- Back in 2018, when the Modi government approved the privatization of six airports, it also relaxed the prerequisite requirements. BJP allowed companies with no prior experience in this sector to present their bid. After deliberation, all six airports were given to Gautam Adani, the second-highest billionaire in India with no history of running airports. Today, in 2021, Adani Airports has acquired 23.5% stake in Mumbai International Airport Ltd(MIAL), and is set to extend the stakeholding percent to 74%, which will give Adani group the ownership of the upcoming Navi Mumbai airport in which MIAL holds majority stakes. His other ventures in sectors like Adani green energy, power, and transmission hold a close-by narrative. His Carmichael coal mine project in Australia has earned him an infamous 'climate change villain' title. Tax deregulations is the primordial goal of corporate lobbyists, and they seem to be winning. The Indian government last year announced that it had reduced the rate of tax for certain existing companies at 25.17% , the lowest since 2010. There is an extra tax deduction of 15% from earlier level of 25% for start-ups. One would argue that the low tax rate would increase international corporate investments. But recent studies show that businesses are moving to countries like Bangladesh, Vietnam, Indonesia for labor-intensive operations. Thereby, failing to bring employment to the country.
Figure 1: The rate of tax imposed on corporates by the Indian government in the last ten years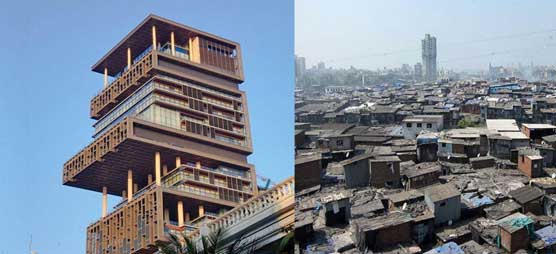 Figure 2: Mukesh Ambani's $2 billion house overlooking the slums of Dharavi – The world's largest slum. Source of the image : www.thecharette.org
Tax deregulation, tax invasion, and corporate lobbying are not the only problems that manifest with the rise of billionaires in India. The most chronic and malignant effect is the ever-widening gap between the rich and poor, threatening economic justice and social cohesion in a society. This economic gap is so dilated that it becomes a life of excess for these billionaires and destitution for the rest of the 1.38 billion Indians. According to Forbes magazine, the third richest Indians – Mukesh Ambani ($84.5 billion), Gautam Adani & family($50.5 billion) and Shiva Nadar($ 23.5 billion) own 60% of the country's wealth. India's top three richest people have added over $100 billion between them. In fact, since the initial lockdown in March 2020, India's top billionaires increased their wealth by 35% during COVID-19 pandemic. According to Oxfam report, India's top 100 billionaires witnessed their fortune increase by staggering number of Rs 12.97 trillion. This amount could have provided every 364 million poor Indians a cheque for ₹94,045 each. So, what was the economic status of the working class? They suffered abominably during COVID, while billionaires thrived. The study, 'State of Working India 2021 – One year of Covid-19', by Azim Premji University, revealed that the economic recession caused by the COVID-19 has pushed 230 million Indians below the poverty line. This number accounted for and contributed to the global increase in poverty by a whopping 60% in 2020. The study shows the loss in monthly income earning for all kinds of workers. The fall was 17% for temporary salaried jobs, 18% for self-employed, 21% for daily wage workers, and 5% for permanent salaried workers. This ever-widening gap of economic inequality in India goes against every fiber of true democracy, where public resources and rights like healthcare, education, COVID relief financial aids, etc., instead of being elevate, are subverted. Gabriela Bucher, Executive Director of Oxfam International said, "Rigged economies are funnelling wealth to rich elites who are sailing through the pandemic in luxury and ease, while those on the frontline of the pandemic — medical assistants, healthcare workers, and market vendors — are struggling to pay the bills and put food on the table". Existence of these billionaires in any society is symbolic of a theocracy thriving and a democracy that's palpitating. Times like these demand a moral obligation to question, resist and fight against the economic injustice, not just for ourselves, but for our children and many generations to come by. Remember, power seeks self-preservation first and foremost. The billionaires will do anything and everything to continue hoarding resource, wealth and pass it to their heirs. So, the question is not – when will this stop? But, what are you going to do about it?.