Philippines: Investing in Nutrition Can Eradicate the "Silent Pandemic"
The Philippines needs to invest more in programs tackling childhood undernutrition to eliminate what is long considered a "silent pandemic" afflicting many of the country's poor and vulnerable population, according to recent study released today by the World Bank.
Childhood stunting – characterized by prolonged nutritional deficiency among infants and young children– is considered one of the most serious but least-addressed problems in the world and an even more pressing issue in the Philippines, says the report "Undernutrition in the Philippines: Scale, Scope and Opportunities for Nutrition Policy and Programming."
In the Philippines, around 30 percent of children under 5 years of age are stunted – considered high for its level of income and high compared to most of its neighbors. Other countries with similar levels of income have rates of stunting averaging around 20 percent of children under 5 years of age.
The Philippines' rate of stunting places it fifth among countries in the East Asia and Pacific region with the highest stunting prevalence, and among the top ten countries globally with the highest number of stunted children.
Ndiamé Diop, World Bank Country Director for Brunei, Malaysia, Philippines, and Thailand said undernutrition is a critical issue hampering the Philippines' human and economic development.
"Healthy children can do well in school and look forward to a prosperous future as productive members of society, while undernourished children tend to be sickly, learn less, more likely to drop out of school and their economic productivity as adults can be clipped by more 10 percent in their lifetime," said Diop. "Improving the nutrition of all children is key to the country's goals of investing in people and boosting human capital for a more inclusive pattern of economic growth. To achieve that, we need greater coordination among the local and national government units, as well as participation of the private sector and civil society to address this silent pandemic afflicting many poor and vulnerable families."
In some regions, the level of stunting exceeds 40 percent of children under five years of age. This is true in Bangsamoro Region in Muslim Mindanao (BARMM), Mimaropa, Bicol, and Western Visayas. In rural areas, children are more likely to be stunted than their urban counterparts.
Among the primary causes of undernutrition are poor infant and young child feeding practices, ill health, low access to diverse, nutritious foods, inadequate access to health services, unhealthy household environment, and poverty.
According to Nkosinathi Mbuya, World Bank Senior Nutrition Specialist, East Asia and the Pacific Region and lead author of the report, there is only a narrow window of opportunity for adequate nutrition to ensure children's optimal health and physical and cognitive development. It spans the first 1,000 days of life from the day of conception to the child's second birthday, he said.
"Any undernutrition occurring during this period can lead to extensive and largely irreversible damage to physical growth, brain development, and, more broadly, human capital formation," said Mbuya. "Therefore, interventions to improve nutritional outcomes must focus on this age group and women of child-bearing age."
Critical to tackling undernutrition at scale are better and higher levels of nutrition investments as well as adequate domestic financing for nutrition-related programs for vulnerable populations, says the report. Increased direct government funding to and from local government units (LGUs) to deliver on their multisectoral local nutrition action plans to be a priority.
The report suggests several priority recommendations, which if implemented over the next few years can bring about effective and sustainable progress in the Government's efforts to tackle the persistent challenge of undernutrition in the country.
These include securing adequate and predictable financing for nutrition-related programs to achieve nutrition goals; implementing at scale, an evidence-based package of nutrition interventions that should be made available to eligible households in high stunting municipalities; addressing the underlying determinants of undernutrition through a multi-sector effort, and; ensuring that nutrition is one of the key priorities in the agendas of both the executive and legislative bodies in municipalities.
Such a comprehensive effort would require high-level government ownership and leadership at all levels which would facilitate a whole-of government approach to achieving nutrition results, according to the report.
UN: Paraguay violated indigenous rights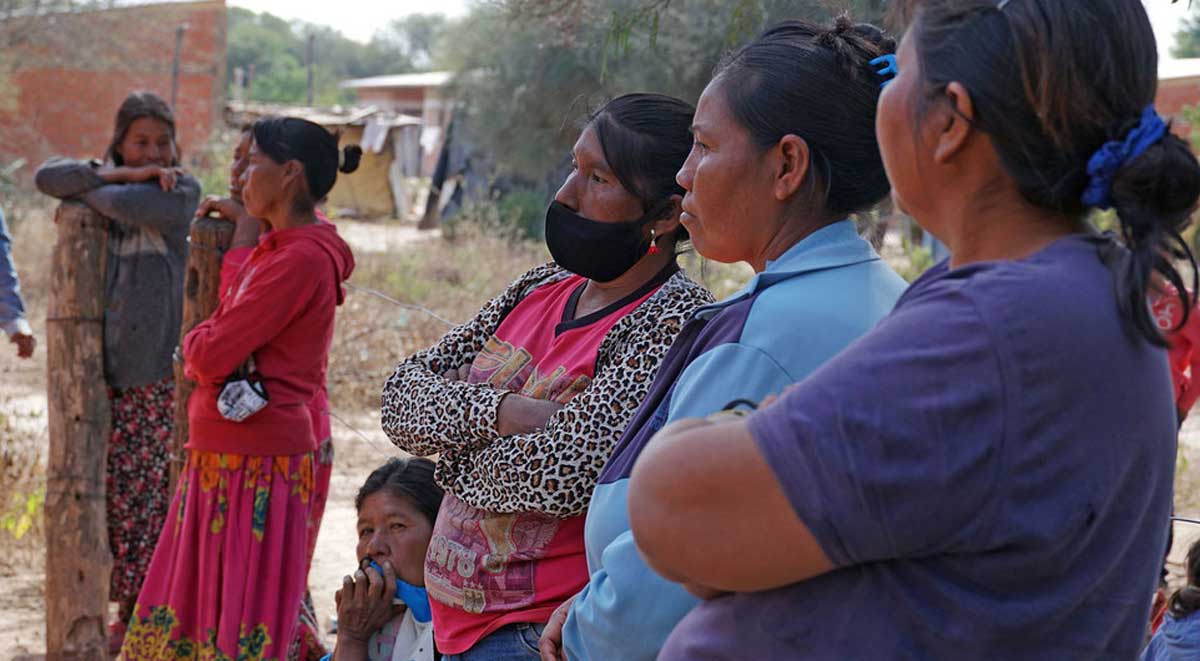 Paraguay's failure to prevent the toxic contamination of indigenous people's traditional lands by commercial farming violates their rights and their sense of "home", the UN Human Rights Committee said in a landmark ruling on Wednesday.
The Committee, which is made up of 18 independent experts from across the world, monitors countries' adherence to the International Covenant on Civil and Political Rights.
Lands represent 'home'
The decision on Paraguay (in Spanish) marked the first time it has affirmed that for indigenous people, "home" should be understood in the context of their special relationship with their territories, including their livestock, crops and way of life.
"For indigenous peoples, their lands represent their home, culture and community. Serious environmental damages have severe impacts on indigenous people's family life, tradition, identity and even lead to the disappearance of their community. It dramatically harms the existence of the culture of the group as a whole," said Committee member Hélène Tigroudja. 
The decision stems from a complaint filed more than a decade ago on behalf of some 201 Ava Guarani people of the Campo Agua'e indigenous community, located in Curuguaty district in eastern Paraguay.
The area where they live is surrounded by large commercial farms which produce genetically modified soybeans through fumigation, a process which involves the use of banned pesticides.
Traditional life affected
Fumigation occurred continuously for more than 10 years and affected the indigenous community's whole way of life, including killing livestock, contaminating waterways and harming people's health.
The damage also had severe intangible repercussions, according to the UN committee. The disappearance of natural resources needed for hunting, fishing and foraging resulted in the loss of traditional knowledge. For example, ceremonial baptisms no longer take place as necessary materials no longer exist.
"By halting such ceremonies, children are denied a rite crucial to strengthening their cultural identity," the Committee said.  "Most alarmingly, the indigenous community structure is being eroded and disintegrated as families are forced to leave their land." 
Toxic exposure
The indigenous community brought the case to the Human Rights Committee after a lengthy and unsatisfactory administrative and judicial process in Paraguay's courts.
"More than 12 years after the victims filed their criminal complaint regarding the fumigation with toxic agrochemicals, to which they have continued to be exposed throughout this period, the investigations have not progressed in any meaningful way and the State party has not justified the delay," the Committee said in its decision.
Recommendations, reparations
Members found Paraguay did not adequately monitor the fumigation and failed to prevent contamination, adding "this failure in its duty to provide protection made it possible for the large-scale, illegal fumigation to continue for many years, destroying all components of the indigenous people's family life and home."
The Committee recommended that Paraguay complete the criminal and administrative proceedings against all parties responsible and make full reparation to the victims.
The authorities are also urged to take all necessary measures, in close consultation with the indigenous community, to repair the environmental damage, and to work to prevent similar violations from occurring in the future.
Girlpower from Tajikistan to Costa Rica, helps narrow gender gap online

A marked global gender gap in terms of internet use continues to grow, but from Syria to Costa Rica, girls are increasingly pushing back to try and narrow the gap.
The gender gap for online users has widened from 11 per cent in 2013 to 17 per cent in 2019, and in the world's least developed countries, it reaches 43 per cent.
This year, to mark International Day of the Girl Child, taking place on Monday, the UN is showing how the pandemic has accelerated the use of digital platforms, but also highlighting girls' different realities when it comes to getting online.
Below, you can read stories from across the UN, featuring how five girls, from five different countries, are using technology to build a better future.
'Our responsibility'
In his message for the day, the UN Secretary-General noted that these girls and all the others "are part of a digital generation."
"It is our responsibility to join with them in all their diversity, amplify their power and solutions as digital change-makers, and address the obstacles they face in the digital space", he said.
The path to girls' digital equality is steep. In more than two thirds of all countries, girls make up only 15 per cent of graduates in science, technology, engineering and maths, known by the acronym, STEM.
In middle and higher-income countries, only 14 per cent of girls who were top performers in science or mathematics expected to work in science and engineering, compared to 26 per cent of top-performing boys.
"Girls have equal ability and immense potential in these fields, and when we empower them, everyone benefits," Mr. Guterres said.  
He recalled seeing this long before he began his political career, when he was a teacher in Lisbon, Portugal, and "witnessed the power of education to uplift individuals and communities."
"That experience has guided my vision for gender equality in education ever since", he explained. "Investments in closing the digital gender divide yield huge dividends for all."
Tied to this, the UN has a new platform, called Generation Equality Action Coalition on Technology and Innovation, where governments, civil society, the private sector and young leaders, are coming together to support girls' digital access, skills and creativity.
"The United Nations is committed to working with girls so that this generation, whoever they are and whatever their circumstances, can fulfil their potential", Mr. Guterres assured.
Yemen's future recovery hangs in balance
Ongoing conflict and violence across Yemen continue to impact heavily on the country's people who desperately need the fighting to end, so that they can rebuild their lives, the UN's senior humanitarian official in the country said on Monday.
"I've seen the destruction of schools, of factories, of roads and bridges; I've seen the destruction of power systems so what made Yemen work seven years ago in many cases no longer exists", said David Gressly, UN Resident and Humanitarian Coordinator in Yemen.  
Speaking in Geneva after a weekend that saw a car bomb at Aden airport reportedly leave 25 people dead and 110 injured, the veteran aid worker warned about arecent escalation of fighting in the oil-rich northern province of Marib.
Fighting cuts access
"This is now adding to additional displacement in that area, a place where we already have over a million people displaced", he said. "And secondly, we have enclaves where fighting is continuing where we're not able to provide support".
Longstanding concerns over potential famine in the country prompted a UN-led appeal for $3.6 billion in funding in March that has raised nearly $2.1 billion to date.
An additional $500-$600 million was also pledged during the recent UN General Assembly, Mr. Gressly added, noting that although the international response has been higher than for other emergencies, "it's been particularly focused – and we understand why – on the food security and nutrition side, for most immediate lifesaving response".
Fragile
This has left the situation inside Yemen "very fragile and if that's not sustained, if we're not getting the new pledges on time…in 2022, we will revert back to where we were in March", Mr. Gressly insisted.
He explained that people needed more than emergency care: "Health, education, water, access and support to IDPs (internally displaced people) and livelihood support; those are almost all funded below 20 per cent, and so while the lifesaving is important, we can't, we cannot afford to ignore the rest". 
Civil service need support
Critical to Yemen's recovery is support for the country's civil servants, many of whom have not been paid in many months, amid conflict between the internationally backed government of Abd Rabbo Mansour Hadi and Houthi opposition forces, who occupy much of the north of the country.
Mr. Gressly stressed the importance of finding ways to support these civil servants as they are key to the country's recovery – and the UN's aid programmes. Without them, "the whole humanitarian response" risks becoming more expensive", he said.