A New Tribe Lands As An Icon Ascends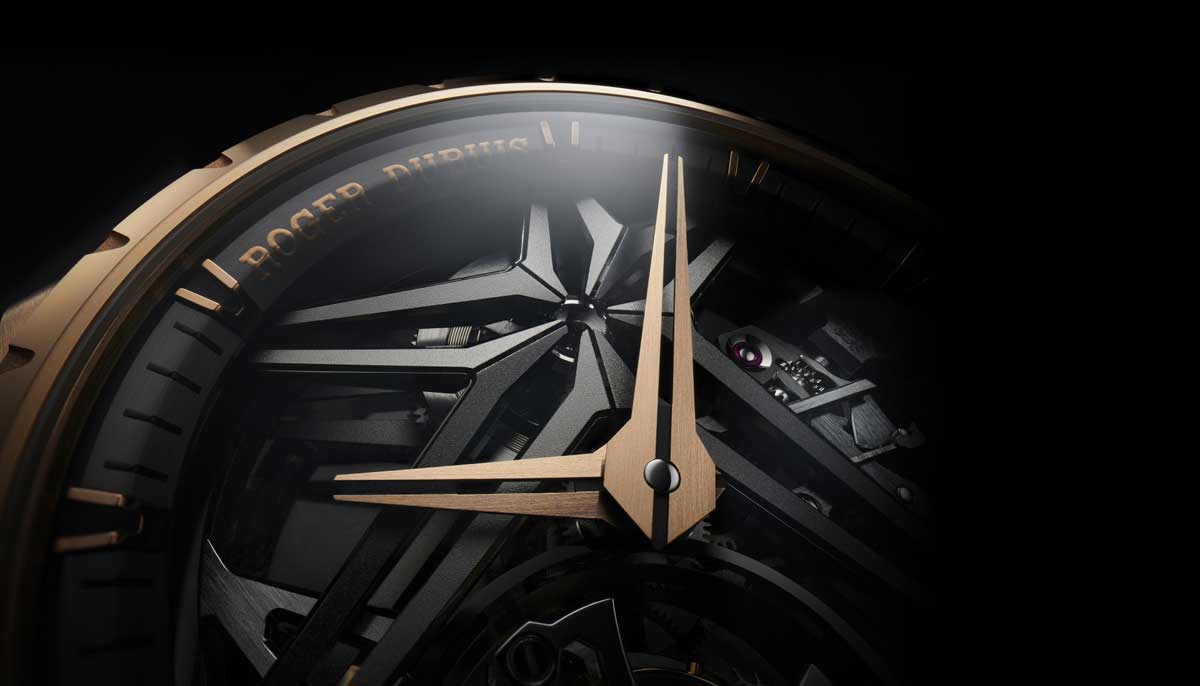 Roger Dubuis has consistently demonstrated a penchant for impertinence and extravagance. Sustained by an integrated manufacture, a flagrant disregard for convention is the backbone of its bold attitude. A true innovator, the luxury watchmaker is driven by an irrepressible willingness to come up with high-impact ideas, boundary-pushing technologies and unmistakable out-of-the-box designs. Living by the motto NO RULES, OUR GAME, the Maison proves once again it is the most exciting way to experience Hyper Horology with the launch of the new Excalibur Single Flying Tourbillon.
THE FUTURE OF HYPER HOROLOGY IS HERE
Extravagant, determined and disruptive, the bold and bright are the ones that stand out. Just like any star should. But a star doesn't just appear. It takes dedication. Innovation. Craftsmanship. Only then can an icon ascend…Introducing the Excalibur Single Flying Tourbillon: a star restyled for the new world. To mark the launch of the inimitable skeleton design reinterpreted with a contemporary touch, Roger Dubuis is set to celebrate modern art in all its shapes. Taking form in Hyper Horology with the Maison's most recent interpretation of the Excalibur Single Flying Tourbillon, this icon of watchmaking is brought to a whole new level; a masterpiece that cannot be ignored, just like its wearer.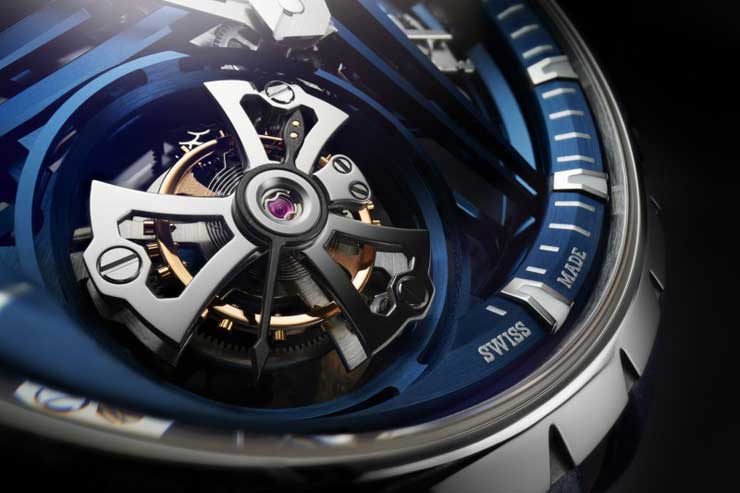 Finding kinship with those disruptive souls who dare to make a difference, the Maison partners with the URBAN ART TRIBE, world-famous urban culture artists that reflect Roger Dubuis' values: break the rules, showcase radical expertise and obsess daily over the design of the future.
THE EXCALIBUR SINGLE FLYING TOURBILLON: FROM A TIMEPIECE TO A MASTERPIECE
Roger Dubuis continues shaking up the world of haute horlogerie with the launch of the new Excalibur Single Flying Tourbillon. Enhanced with meticulous care, the timepiece is reinterpreted with sophistication and flair using modern and technical materials.
A contemporary masterpiece for the wrist, the new design showcases clean cut lines on both case and movement. Creating the impression of a thinner look and feel, while heightening the sense of transparency and depth, the calibre is rebuilt from bottom to top in an architectural feat that sees the Roger Dubuis star now levitate freely above the barrel. A strong visual identity is created with a signature two-line pattern – seen between the notch on the crown and bezel, the star's arms, the tourbillon's cage, the hour's marking on the flange, the hands – all of which cleverly appear as though they will meet but never do. This dynamic aesthetic is amplified by the Poinçon de Genève, the most demanding signature in fine watchmaking and one that requires the manual decoration of each and every component of the watch, as well as unexpected and antinomic decorations in modern haute horlogerie, such as circular-brushed top surfaces and polished angles that demonstrate Roger Dubuis' visionary approach.
Always keeping the wearer in mind, the new RD512SQ calibre is stunning in its technical prowess. Now with a titanium lower tourbillon cage – twice lighter than stainless steel – and a mirror-polished Cobalt Chrome upper tourbillon cage, the weight of the piece is reduced to optimum effect. All of which allows the power reserve to be radically optimised to 72 hours, providing the option of leaving the watch unworn over weekends without the worry of resetting come Monday. Proving no detail goes unconsidered, non-magnetic material is used inside the tourbillon to better serve the wearers and improve their experience.
Comfort is key, which is why a range of entirely new strap sizes have become available. With 5 sizes from 0 to 4, finding the perfect strap ensures the buckle is always centred on the wrist, as a Quick Release System offers ultimate flexibility. Underscored by rarity, the 42mm case is only available in eighty-eight pieces per colourway: Dark Grey DLC Titanium, Cobalt Chrome CarTech Micro-Melt BioDur CCMTM and the new EON GOLD, a pink gold shade that remains more stable thanks to non-tarnish technology. Reimagined for a contemporary era, an icon ascends in the shape of the Excalibur Single Flying Tourbillon.
THE ART OF GLOW
Showcasing the Maison's obsession with art, light and luminescence, in addition to our icons comes the Excalibur Glow Me Up, a world-premiere for Roger Dubuis limited to just eight timepieces.
By day, the new Single Flying Tourbillon calibre is elegantly adorned with 60 baguette-cut diamonds on the bezel. By night, it's a complete different version that comes to life through this vibrant timepiece with luminescent and dazzling diamonds, an achievement made possible thanks to an intricate two-part process. The first involves filling the grooves that hold the stones in place with Super-Luminova, a singular way to make the diamonds appear luminescent without altering them. Secondly, an additional patent enables Super-Luminova to be applied on the angles of the movement, as well as to the iconic star-shaped bridge. Because at Roger Dubuis less is never more.
ART IN THE MAKING
Roger Dubuis is a destination for the avant-garde. Committed to non-conformity, the Maison stands with those who choose to blaze their own trail. To show what happens when rules are rejected and creativity is unleashed, Roger Dubuis partners with the URBAN ART TRIBE, composed of two urban culture creatives – tattoo artist Dr. Woo and graffiti artist Gully. Rulebreakers in their own fields, they too shape the future by refusing to take 'no' for an answer. Brought together to unite a wider community of daring minds, Roger Dubuis and the URBAN ART TRIBE hope to encourage people to challenge the way things are, just as the Maison does when it comes to Hyper Horology, and Dr. Woo and Gully do in their industries.
A leading name among an influential elite who see tattoos, art and fashion as an indissociable whole, Dr. Woo's singular approach to needle style has shifted the paradigm for tattoos, taking them from subculture to broad popular appeal. Of the partnership he says: "I've taken this path because I don't know where it leads, and that is exactly why I'm here – to seek the unknown and go out of my comfort zone. Tattooing and watchmaking have that in common: the same attention to detail, a dot vs. a tiny component, assembled perfectly for you to see the bigger picture."
Gully, a well-known graffiti artist, chooses to work exclusively in his own atelier to maintain his anonymity. He uses a wide variety of mixed techniques and materials and explains his artistic concept as one based on conscious appropriation. Telling visual stories of children appearing in splendid settings, he reveals their enchantment with art and particularly with the paintings of the great masters. Speaking to the concept of the tribe, he comments: "Two worlds, a crossing path. I feel driven by the same energy and insatiable envy to come up with something we have never seen before. It comes as a bombshell, provokes surprise, and arouses interest. Bringing different worlds together is my trademark, so I can't wait to show you the Gully x Roger Dubuis mixture."
Generously opening the doors to their respective workshops, Dr. Woo and Gully will begin their long-term partnerships with Roger Dubuis by first sharing their creative processes at work. Initially set to reinterpret the brand's iconic astral signature, they will continue to co-create the future of Hyper Horology alongside the Maison.
Designing a Luxury Bathroom: Tips from London's Top Showroom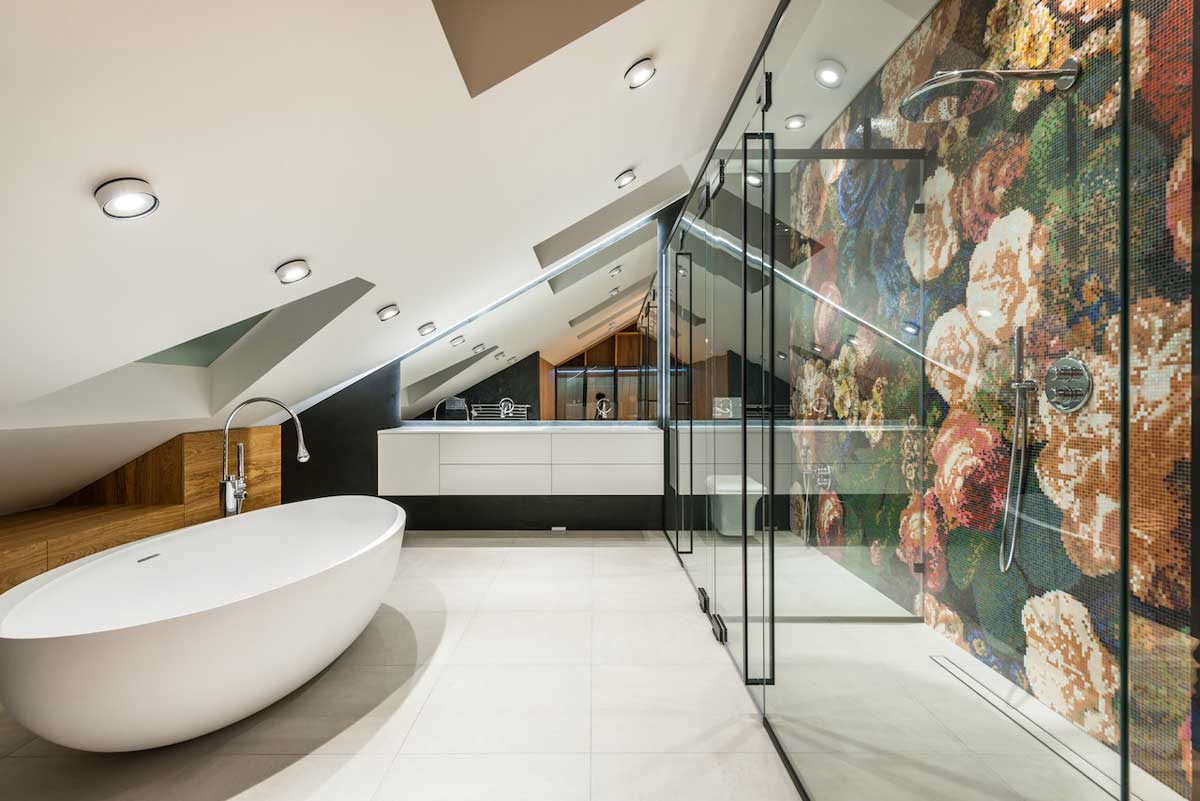 The bathroom is frequently regarded as one of the essential rooms in a home because of its overall usefulness and capacity to instill a sense of luxury and relaxation. A well-designed bathroom can make all the difference in establishing a sanctuary inside your house, from luxurious soaking tubs to chic fixtures.
In this article, we'll provide tips and insights into designing a luxury bathroom that will upgrade your space, impress your guests, and provide you with a personal oasis to unwind and relax. You will also need to invest in some bathroom essentials to achieve your desired look. For people in the UK, especially London, consider visiting Letta London's premier bathroom showroom to get the essential supplies to transform your bathing space into a luxurious sanctuary.
Tip 1. Maximize Space with the Right Layout
Your bathroom layout can impact usability and aesthetic appeal. Making the most available space is essential to create a cozy and pleasant atmosphere when designing a luxury bathroom. Consider adding a double vanity so you have enough counter space. Additionally, it will make the area symmetrical.
You could add a standalone tub as the room's center point if there is enough area. It will give the place a hint of richness. Another excellent suggestion for making the shower feel more prominent and airy is to install a glass enclosure.
Tip 2. Choose the Right Materials
The materials you choose will significantly influence your bathroom's design and atmosphere. When it comes to luxury bathrooms, marble is a popular choice. Its natural elegance and timeless beauty can instantly elevate the aesthetic of any bathroom. However, it must be noted that marble requires special care and maintenance to keep it looking its best. If you prefer a low-maintenance option, consider porcelain or ceramic tiles that mimic the look of marble.
Brass fixtures can also add glamour and sophistication to your bath space. Choose showerheads, faucets, towel bars, and robe hooks from brass. Pairing brass fixtures with a neutral color palette can create a chic and contemporary look.
Tip 3: Create a Spa-Like Atmosphere
Consider incorporating spa-like elements into your room's design to create a truly indulgent space. This could include a large soaking tub, a steam shower, or a sauna. Adding these elements can help to create a space that feels like a personal spa retreat, perfect for unwinding after a long day.
Tip 4. Lighting is Key
The proper lighting can make all the difference in a luxury bathroom. It can enhance the ambiance, highlight key features, and create a relaxing atmosphere. One way to achieve this is by combining task and ambient lighting.
For applying makeup and grooming, task lighting is crucial. Install sconces or pendant lights above the vanity area to provide ample lighting for these tasks. Ambient lighting, on the other hand, can create a soothing atmosphere. Consider installing dimmer switches or chandeliers to create a warm and inviting glow.
Tip 5. Use Natural Materials
The classic elegance of natural materials is unmatched when designing a luxury bathroom. Using raw materials in the design of your space can make it feel warm, inviting, opulent, and soothing. Plants bring a sense of nature into your home while also removing toxins from the air and lowering stress levels.
Another organic material that can bring warmth and character to the décor of your bathroom is wood. Your bathroom can feel like a spa getaway in your house by utilizing natural stone, natural linens, and natural lighting.
Tip 6. Use Natural Materials
Modern technology has transformed our bathrooms, offering a range of advanced accessories and equipment to elevate both usability and comfort. From luxury features to practical gadgets, the possibilities are endless for upgrading your bathroom experience.
To spruce up your bathroom, why not install a novel shower system that quickly adjusts water pressure, temperature, and flow with a single button? Elevate your daily shower experience by adding a built-in music system or a heated towel rack for added extravagance.
Tip 7. Add Luxury Touches
The finishing touches can make all the difference in a luxury bathroom. From plush towels and bathrobes to scented candles and artwork, there are plenty of ways to add a touch of luxury to your space.
Invest in high-quality towels and bath mats from soft, absorbent materials like Egyptian cotton. These small details can make your everyday routine feel more indulgent. Adding artwork or a statement mirror can also create a sense of sophistication and personality in the space.
Conclusion
Designing a luxurious bathroom can be difficult, but it is a highly satisfying endeavor with the proper method and guidance. A high-end bathroom can upgrade daily habits by providing a space that meets practical and lavish needs.
From indulging in an intelligent shower to basking in well-adjusted lighting, each design component can positively impact your well-being, transforming your morning or evening routine into a genuinely satisfying occasion. Whether you're starting from scratch or renovating an existing space, these tips can help you achieve the bathroom of your dreams.
Guide On Doing Boys Haircuts
Boys haircuts are versatile, and determining the best haircut for your boy depends on their facial shape and hair texture. If you love bonding with your son, you can extend that by giving him his haircut rather than taking him to the hairdresser. If you have the proper guide, the haircuts are not complicated.
Doing your little man's hair helps save both money and time that could be spent visiting the barber. The process is quite simple as long as you understand the boy and have the right tools for the process. You will most likely need clippers and scissors for typical haircuts. Here is a guide on how to come up with boys haircuts in the comfort of your home.
Place A Towel On His Shoulders
Some people tend to ignore this step, but it is important. The towel acts as a protection so that you won't have the chopped hair falling through the neck to his shoulder or getting all over his clothes.
The hair strays that fall off are usually messy and itchy if they fall on body parts other than the head. This may be a bad destruction to the boy and can make your experience and his in cutting the hair uncomfortable.
Selecting The Clipper Number
This decision depends on the haircut you will give the boy. Each clipper number matches the length of hair that will be left on the scalp. The higher the number, the longer the hair that will be left and vice versa.
It would be best if you had a proper understanding of the boy since, most of the time, you make the decision for him. You should know whether he is comfortable with longer or shorter haircuts.
Make A Decision On Where To Clip
In most cases, boys haircuts are done with clippers for the sides and the back but a pair of scissors for the top. However, using clippers on the entire head is a better idea because it gives a more consistent look than when scissors are used to chop the hair on the top.
If you have to use scissors on the top, decide where to stop the clipping and figure out how to create a smooth transition between the haircut using scissors and that cut using clippers. The hair should be consistent and even such that it is not so obvious some parts were done using scissors while others were done using clippers.
Remember to use different clipper sizes in haircuts where a fade is needed. Ensure that you are consistent on where the clipping stops, and if possible, mark it with a washable marker to avoid confusion when you run the clippers the second time to tidy up the haircut.
Begin From The Bottom Of The Hairline
When using clippers, ensure that you hold them at a ninety degrees angle. Start from the bottom of the hairline and gradually work your way up, depending on your expected results.
Work Around The Whole Head
Smoothly work all around the head, observing the same rules and confirming that you get a clean shave. Always run the clipper several times to ensure you get a clean shave and that no uneven portions are left out.
Cutting The Hair At The Top
You will most need scissors to style the hair at the top. Always consider the results you are looking for before initializing any cutting.
When cutting the hair, starting with small portions and working your way down until you achieve the required results is best. In most cases, you will not need to chop off a lot of the boy's hair on top unless he has long hair and you are going for a short haircut.
You should ensure that the hair on the top is dry when cutting it because wet hair is usually shrunk and does not give a picture of the exact length you are working with.
Styling And Cleaning Up
Wash up to get rid of the hair that has been cut off, and apply suitable hair products. Finish up by styling the hair the way the boy likes it.
7 times a celebrity has made a social statement with their style
Celebrity fashion has always been talked about in the media. From Gaga's iconic VMA meat dress to Jason Sudeikis' statement suit about racism in football during the Ted Lasso premiere, celebrities know how to use the red carpet as a platform for political activism.
Fashion is about so much more than a label, style can tell a story in seconds, making it the perfect outlet for opinion leaders with popular platforms.
Look closely at seven key moments in fashion history when a celebrity outfit made the next day's newspaper.
Lady Gaga / Meat Dress
The 2010 VMAs will always go down in history thanks to Lady Gaga's most iconic fashion statement, the meat dress. Known for her quirky style and her passion for using her platform for good, she's not s stranger to an out-there outfit, but this one came with a social cause behind it.
In a protest against the US military's "Don't Ask, Don't Tell" policy that prevented military workers from being open about their sexuality, Gaga used the meat dress to speak up about sexuality not being a choice.
"If we don't stand up for what we believe in and if we don't fight for our rights…pretty soon we're going to have as much rights as the meat on our bones," she told Ellen.
Less than a year later, the same policy was fully repealed in September 2011.
Laverne Cox / #TransIsBeautiful
Second up is Laverne Cox, with her statement style choice at the 2019 Emmy awards. Carrying a rainbow clutch designed by Edie Parker, she sported the statement #TransIsBeautiful to draw attention to the discrimination of Trans people in the US Supreme Court.
Protesting against the discrimination of employment rights in the LGBTQ+ community under the Title VII of the Civil Rights Act of 1964, Laverne Cox stated that "A lot of people aren't talking about this case, and it has implications for the LGBT community. But it has implications for women and anyone who doesn't conform to someone else's idea of how you should be… A man or woman or neither," in a recent interview with E!
Just a year later, the Supreme Court rectified the act, ruling that LGBTQ+ employees would be protected from work-based discrimination.
Jason Sudeikis / Racism In Football
(Image Source: Instagram)
Ted Lasso actor Jason Sudeikis also made a statement during the premiere of the newest season of the hit football-focused show Ted Lasso.
Choosing to sport a black top with the names of three black England team players on it, the star started a conversation about racism in football after the three players showcased faced racial abuse on the back of the 2020 European cup.
"They caught a lot of guff online, the three young Black men," Sudeikis explained "And our show is rooted in both, you know, despising things like bullying and racism or whatnot, but it also is rooted and takes place in London, in England. And so yeah, it was just our way to use this big fancy premiere to spotlight them and let them know we got their back."
Alexandria Ocasio Cortez / Tax The Rich
(Image Source: Instagram)
Who says political figures can't make statements with their fashion too? At the 2021 Met Gala, American politician Alexandria Ocasio Cortez did just that with her "TAX THE RICH' dress.
In an attempt to get the attention of NYC elected officials who would be attending the event, she took to the red carpet to share her options on the healthcare system and climate action.
"The medium is the message," she said on Instagram. "The time is now for childcare, healthcare, and climate action for all. Tax the Rich."
Spike Lee / Kobe Bryant Tribute
Fashion statements don't always have to be political. American filmmaker Spike Lee gave us an example of that at the 2020 Oscars after walking the red carpet in a fashion tribute to the late Lakers player Kobe Bryant.
Laced in Lakers colours, purple and gold and embodied with the number 24, the emotional message paid tribute to the work Lee did with Kobe in his last documentary, Kobe Doin' Work.
Lizzo / VOTE Dress
Lizzo is known for her extroverted personality and strong moral compass, so fans were not surprised to see her rocking her own fashion social statement at the 2020 Billboard Music Awards.
With just a few months left before the presidential election, Lizzo used her platform to encourage young fans to get out and vote.
Wearing a black Christian Siriano dress plastered with the word 'VOTE', she definitely stood out amongst the crowd.
Better still, after winning the award for Top Song Sales, she used her acceptance speech to further enhance her fashion statement.
"I've been thinking a lot about suppression and the voices that refused to be suppressed," she said. "I wonder, would I be standing here right now if it weren't for the big Black women who refused to have their voices suppressed? …Whether it's through music, protest, or your right to vote, use your power, use your voice, and refuse to be suppressed."
Harry Styles / Genderless Fashion
Last but not least, international pop star Harry styles has also had the media talking with his newest fashion statements. After dressing up as Dorothy from the Wizard of OZ during his Love on Tour, Madison Square Garden performance, the singer came under fire for wearing feminine clothes.
Styles has since used his platform to remove gender stigmas from the fashion world. As the first man to appear on the cover of American Vogue in a dress, he uses his stage to campaign for LGBTQ+ rights, especially in the fashion industry.
"I'm not just sprinkling in sexual ambiguity to be interesting, I want things to look a certain way," he told the Guardian. "Not because it makes me look gay, or it makes me look straight, or it makes me look bisexual, but because I think it looks cool."
What's next for the fashion world?
As long as fashion exists, it will be used to tell a story and make a statement. If you want to see yourself better, it's time to take a look at what your own style says about you.
As celebrities make movements with their clothing choices, could it be time for you to make a style statement too?