A New Tribe Lands As An Icon Ascends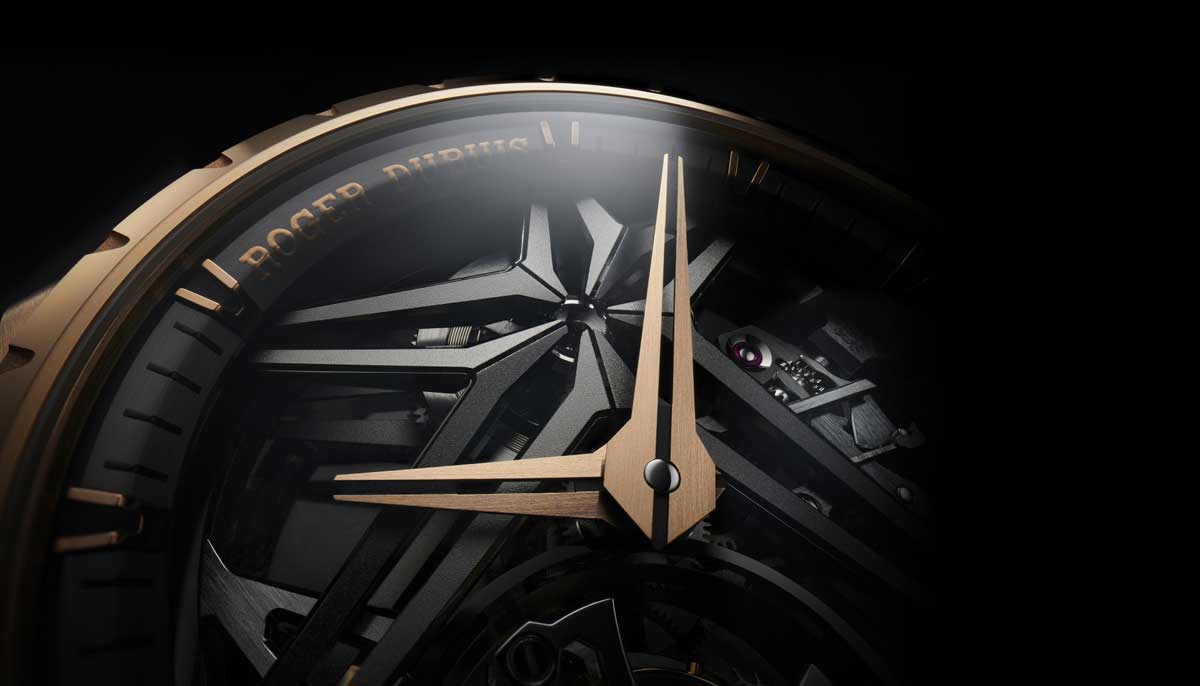 Roger Dubuis has consistently demonstrated a penchant for impertinence and extravagance. Sustained by an integrated manufacture, a flagrant disregard for convention is the backbone of its bold attitude. A true innovator, the luxury watchmaker is driven by an irrepressible willingness to come up with high-impact ideas, boundary-pushing technologies and unmistakable out-of-the-box designs. Living by the motto NO RULES, OUR GAME, the Maison proves once again it is the most exciting way to experience Hyper Horology with the launch of the new Excalibur Single Flying Tourbillon.
THE FUTURE OF HYPER HOROLOGY IS HERE
Extravagant, determined and disruptive, the bold and bright are the ones that stand out. Just like any star should. But a star doesn't just appear. It takes dedication. Innovation. Craftsmanship. Only then can an icon ascend…Introducing the Excalibur Single Flying Tourbillon: a star restyled for the new world. To mark the launch of the inimitable skeleton design reinterpreted with a contemporary touch, Roger Dubuis is set to celebrate modern art in all its shapes. Taking form in Hyper Horology with the Maison's most recent interpretation of the Excalibur Single Flying Tourbillon, this icon of watchmaking is brought to a whole new level; a masterpiece that cannot be ignored, just like its wearer.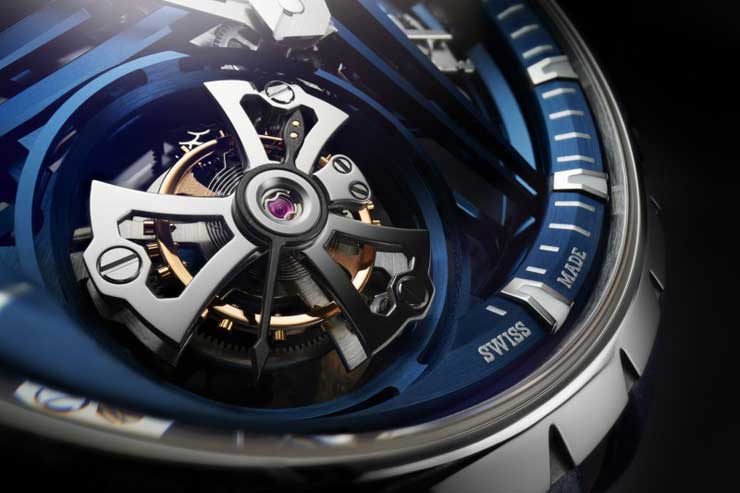 Finding kinship with those disruptive souls who dare to make a difference, the Maison partners with the URBAN ART TRIBE, world-famous urban culture artists that reflect Roger Dubuis' values: break the rules, showcase radical expertise and obsess daily over the design of the future.
THE EXCALIBUR SINGLE FLYING TOURBILLON: FROM A TIMEPIECE TO A MASTERPIECE
Roger Dubuis continues shaking up the world of haute horlogerie with the launch of the new Excalibur Single Flying Tourbillon. Enhanced with meticulous care, the timepiece is reinterpreted with sophistication and flair using modern and technical materials.
A contemporary masterpiece for the wrist, the new design showcases clean cut lines on both case and movement. Creating the impression of a thinner look and feel, while heightening the sense of transparency and depth, the calibre is rebuilt from bottom to top in an architectural feat that sees the Roger Dubuis star now levitate freely above the barrel. A strong visual identity is created with a signature two-line pattern – seen between the notch on the crown and bezel, the star's arms, the tourbillon's cage, the hour's marking on the flange, the hands – all of which cleverly appear as though they will meet but never do. This dynamic aesthetic is amplified by the Poinçon de Genève, the most demanding signature in fine watchmaking and one that requires the manual decoration of each and every component of the watch, as well as unexpected and antinomic decorations in modern haute horlogerie, such as circular-brushed top surfaces and polished angles that demonstrate Roger Dubuis' visionary approach.
Always keeping the wearer in mind, the new RD512SQ calibre is stunning in its technical prowess. Now with a titanium lower tourbillon cage – twice lighter than stainless steel – and a mirror-polished Cobalt Chrome upper tourbillon cage, the weight of the piece is reduced to optimum effect. All of which allows the power reserve to be radically optimised to 72 hours, providing the option of leaving the watch unworn over weekends without the worry of resetting come Monday. Proving no detail goes unconsidered, non-magnetic material is used inside the tourbillon to better serve the wearers and improve their experience.
Comfort is key, which is why a range of entirely new strap sizes have become available. With 5 sizes from 0 to 4, finding the perfect strap ensures the buckle is always centred on the wrist, as a Quick Release System offers ultimate flexibility. Underscored by rarity, the 42mm case is only available in eighty-eight pieces per colourway: Dark Grey DLC Titanium, Cobalt Chrome CarTech Micro-Melt BioDur CCMTM and the new EON GOLD, a pink gold shade that remains more stable thanks to non-tarnish technology. Reimagined for a contemporary era, an icon ascends in the shape of the Excalibur Single Flying Tourbillon.
THE ART OF GLOW
Showcasing the Maison's obsession with art, light and luminescence, in addition to our icons comes the Excalibur Glow Me Up, a world-premiere for Roger Dubuis limited to just eight timepieces.
By day, the new Single Flying Tourbillon calibre is elegantly adorned with 60 baguette-cut diamonds on the bezel. By night, it's a complete different version that comes to life through this vibrant timepiece with luminescent and dazzling diamonds, an achievement made possible thanks to an intricate two-part process. The first involves filling the grooves that hold the stones in place with Super-Luminova, a singular way to make the diamonds appear luminescent without altering them. Secondly, an additional patent enables Super-Luminova to be applied on the angles of the movement, as well as to the iconic star-shaped bridge. Because at Roger Dubuis less is never more.
ART IN THE MAKING
Roger Dubuis is a destination for the avant-garde. Committed to non-conformity, the Maison stands with those who choose to blaze their own trail. To show what happens when rules are rejected and creativity is unleashed, Roger Dubuis partners with the URBAN ART TRIBE, composed of two urban culture creatives – tattoo artist Dr. Woo and graffiti artist Gully. Rulebreakers in their own fields, they too shape the future by refusing to take 'no' for an answer. Brought together to unite a wider community of daring minds, Roger Dubuis and the URBAN ART TRIBE hope to encourage people to challenge the way things are, just as the Maison does when it comes to Hyper Horology, and Dr. Woo and Gully do in their industries.
A leading name among an influential elite who see tattoos, art and fashion as an indissociable whole, Dr. Woo's singular approach to needle style has shifted the paradigm for tattoos, taking them from subculture to broad popular appeal. Of the partnership he says: "I've taken this path because I don't know where it leads, and that is exactly why I'm here – to seek the unknown and go out of my comfort zone. Tattooing and watchmaking have that in common: the same attention to detail, a dot vs. a tiny component, assembled perfectly for you to see the bigger picture."
Gully, a well-known graffiti artist, chooses to work exclusively in his own atelier to maintain his anonymity. He uses a wide variety of mixed techniques and materials and explains his artistic concept as one based on conscious appropriation. Telling visual stories of children appearing in splendid settings, he reveals their enchantment with art and particularly with the paintings of the great masters. Speaking to the concept of the tribe, he comments: "Two worlds, a crossing path. I feel driven by the same energy and insatiable envy to come up with something we have never seen before. It comes as a bombshell, provokes surprise, and arouses interest. Bringing different worlds together is my trademark, so I can't wait to show you the Gully x Roger Dubuis mixture."
Generously opening the doors to their respective workshops, Dr. Woo and Gully will begin their long-term partnerships with Roger Dubuis by first sharing their creative processes at work. Initially set to reinterpret the brand's iconic astral signature, they will continue to co-create the future of Hyper Horology alongside the Maison.
The Ultimate Smart Casual Dress Guide For Men
So, what exactly is smart casual? In a nutshell, it's a dress code that falls somewhere in between formal and casual. Smart casual attire gives you the best of both worlds – you look polished and put together without going to extremes. Your outfit can have flashy men's shoes, but the rest should be fairly straightforward. If you're unsure how to dress smartly, don't worry – we've got you covered.
What Is Smart Casual, And Why Should You Care?
Like most guys, you probably have a go-to outfit for every occasion. But what happens when you're invited to an event that doesn't fit your usual categories? That's where smart casual comes in. Whether you're going to a friend's wedding or attending a work function, smart casual is always a good choice. And the best part? It's pretty easy to put together an outfit that looks great without being too overdressed or casual.
So why should you care about smart casual? For one thing, it's versatile – there are very few occasions where it wouldn't be appropriate. But more importantly, dressing smart casual shows you've made an effort without trying too hard. It conveys confidence and shows you know how to put together a good outfit without going overboard.
If you're still not convinced, think about the last time you were at an event where everyone was dressed in jeans and t-shirts. Imagine if just one guy had shown up in slacks and a button-down shirt. Chances are, he would have stood out – in a good way. That's the power of smart casual.
How To Put Together A Smart Casual Outfit For Men
Now that we've discussed what smart casual is and why it matters, it's time to get into the nitty-gritty of putting together a great outfit. While there are many different ways to dress smart casual, there are a few key elements that every great outfit has in common.
First and foremost, your clothing should fit well. This is true for any outfit, but it's essential when dressing smart casual. Baggy or ill-fitting clothes will make you look sloppy, no matter how expensive. When in doubt, go for something slightly tighter rather than too loose – you can always adjust if it's not quite right.
Second, focus on quality over quantity. A few well-made pieces are always better than a closet full of cheap clothes. Not only will higher-quality clothing last longer, but it will also look and feel better. It's worth investing in a few key pieces that you can wear over and over again.
Finally, pay attention to the details. The small things – like ensuring your shirt is tucked in or choosing the right accessories – can make all the difference in how put-together you look.
The Dos And Don'ts Of Dressing Smart Casually
Now that you know the basics of putting together a great smart casual outfit, it's time to learn a few dos and don'ts. These simple tips will help you avoid common mistakes and ensure you look your best.
One important thing to remember is that not all occasions are created equal. When dressing for work or a formal event, it's essential to avoid being too dressy rather than too casual. But if you're going out with friends or to a more relaxed event, you can afford to be a little more laid-back. It's all about knowing your audience and dressing accordingly.
Another thing to remember is that smart casual doesn't have to mean boring. Just because you're not dressing up doesn't mean you can't have fun with your outfit. Experiment with different colors and patterns to find something that expresses your personality. And don't be afraid to add a few personal touches, like a favorite watch or pair of sunglasses.
Finally, remember that less is often more when dressing smart casual. A simple outfit can sometimes make the most significant impact. So if you're ever in doubt, it's always better to err on the side of being too simple rather than too flashy.
What To Wear On Special Occasions When Dressing Smart Casually Is Required
There are a few key things to remember when getting dressed for a special event with a smart casual dress code. First, it's important to remember that smart casual is still technically casual, so you don't want to go too overboard with your outfit. A good rule of thumb is dressing as you would for a nice dinner with friends or family.
With that in mind, some essential items to consider wearing include:
A collared shirt: This could be anything from a button-down shirt to a polo shirt. Avoid T-shirts, as they tend to look too relaxed.
Khakis or dark jeans: Again, you want to avoid anything too relaxed like cargo shorts or ripped jeans.
A blazer or sport coat: This is optional but can really help to pull your look together and make you look more polished.
Dress shoes: This could be anything from loafers to Oxfords to even nice sneakers. Avoid sandals, flip-flops, or any other type of casual shoe.
Start your days with a better morning routine
Your morning sets the tone for the day to come. By starting the day with intent you'll find yourself in a much more productive groove for the rest of the day. Below, we explore how you can improve your morning routine.
Maintain a fixed bedtime and waking time
Your body works better with consistent sleep. Ideally, you'll sleep at broadly the same time each evening and wake up at roughly the same time. This way, you can enjoy a more restful sleep and feel more energised when it's time to get going in the morning.
Get out of bed
It can be difficult when you wake up comfily in bed. There's not much incentive to leave the warmth and start your day! However, by wearing a ladies dressing gown you can take this cosy feeling with you as you make your breakfast and begin your day.
Avoid your phone
Scrolling through your news feed is a passive activity that can harm your productivity in the morning. It can be tempting to spend a little longer in bed looking at your phone, but this sort of procrastination can result in a slow day. Instead, try leaving your phone in another room to get going quickly.
Focus Your Positive Energy
Try taking a moment to yourself to start the day. By meditating or at least doing deep breathing exercises, you can calm your mind and escape negative thoughts. By focusing your positive energy like this, you can have more clarity throughout the day and avoid stress.
Try self-affirmation
Positive affirmations such as "I am strong, smart, capable and kind" can put you in an excellent mindset to start the day. By being kind to yourself, you can boost your confidence, improve your relationships and put yourself in a great mood to start the day.
Take a Walk
If you're feeling overwhelmed by the day ahead, a walk can help you clear your mind and prepare for the day. Ideally, you'll walk around calming trees and greenery to give you a sense of tranquillity before you begin the day.
Choose healthy breakfast options
A healthy breakfast can get your day off to the right start. Whole, unprocessed food is an excellent option – particularly ones containing protein and fibre. Try cooking yourself for eggs, or maybe go for porridge with fruit to begin your day with nutrition.
The way you start your day is crucial. If you begin in an organised, positive way you can set yourself up to have a productive day. It can feel tempting to spend a little longer in bed but being proactive will benefit you in the long run.
6 Tips on Dressing the Best This Holiday Season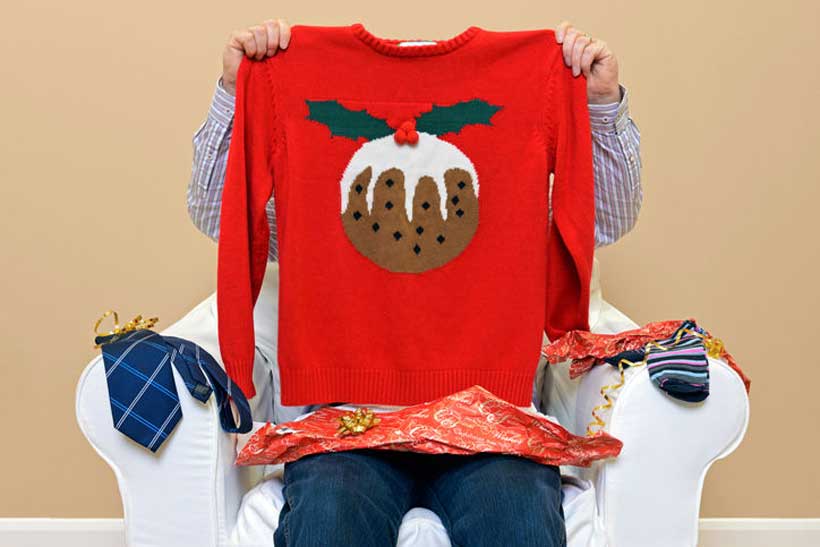 Dressing your best doesn't always have to be reserved for the holiday season. However, it is nice to put a little bit more effort into your outfits when you have something to celebrate and look forward to. So, here are some tips to help you pick out some killer outfits this Christmas. You'll have everyone at the work Christmas party asking, where did she get that from?
Avoid tacky Christmas jumpers
Christmas jumpers may seem like a good idea at the time, but do you really want to look back on your Christmas holiday photos and think, what on earth was I wearing? Saying that, there are a lot of Christmas jumpers out there that are a bit less in-your-face and are more subtle. A simple grey or white Christmas jumper with a minimalist design can be a good way to get in the festive mood, without coming across as too garish.
Layer up
Every year the cold months come upon us, and every year all you hear is 'it's got really cold all of a sudden.' This year is no exception, the cold months are most definitely here. The best way to combat this is to make sure you're wrapped up and are wearing proper layers to keep you cosy. To ensure that your entire body stays warm, keep your feet warm by wearing two pairs of socks or fluffy socks. Then, when putting your Christmas outfits together, put a vest top underneath your normal t-shirt, or wear a long sleeve top underneath a t-shirt. Layering doesn't always have to be unfashionable, there are some really simple things you can do to make sure you don't get too cold this holiday season.
A festive pop of colour can work well
An all-black outfit can be made to look more festive with a simple pop of colour, say a red bag and shoes. Adding an item of colour into an otherwise simple look is a great way to draw attention to your look, as everyone's eyes are guaranteed to go to your new red luxury bag. Basic black and white outfits look best when adding colour to your accessories, so keep this in mind when styling your Christmas looks. Although it can be tempting to buy a new black bag as this is the safe option, try something new, and invest in a bag with a little bit more colour. It doesn't have to be super bright, a dark navy or green can look elegant too.
Shimmer looks great at this time of year
It's usually at this time of year that you see all the sparkly tops, dresses and jumpers come back into fashion stores. This year is no exception. Darker colours, like burgundy and green, can look really festive without the need for a Christmas jumper. If you do want to stand out at your work Christmas party, then opt for an item of clothing with a little bit of shimmer in it, like a glittery top or dress.
Know your crowd
Getting it right at the work Christmas party is a sport. The theme might be 'smart casual', what does this really mean? Is a dress too formal, but are jeans too casual? When deciding on what you should wear, think about the kind of people who will also be there, and what they are likely to wear too. For example, you might not want to wear a super revealing dress to a work event, you might be better saving this dress for New Year's Eve instead. To prevent any fashion faux pas, send a simple 'what are you wearing tonight?' text to someone else is going, this way you won't be over or underdressed.
Just be yourself
It's the festive season, after all, so don't worry too much about what you're wearing and instead concentrate on the things that matter – like spending time with your family and friends. Don't worry too much about trying to impress other people with your on-trend outfits, and instead refine your own sense of personal style over the Christmas period. This time can be a great excuse for you to experiment with your current wardrobe and accessories, so enjoy it and stay honest with yourself.