Rolex Oyster Perpetual Explorer
Rolex is presenting its new-generation Oyster Perpetual Explorer. At 36 mm, it returns to the size of the original model launched in 1953 following the first ascent to the summit of Mount Everest by Sir Edmund Hillary and Tenzing Norgay on 29 May that year.
The new-generation Explorer is notably released in a yellow Rolesor version (combining Oystersteel and 18 ct yellow gold). The black dial, now lacquered, bears the index hour markers and emblematic 3, 6 and 9 numerals that are the cornerstones of the model's personality, evoking the determination and spirit of adventure that give rise to great achievements.
The new-generation Explorer's Chromalight display is particularly impressive. In dark conditions, the intensity of the blue glow emitted by the hour markers and hands now lasts longer thanks to the innovative and exclusive luminescent material with which they are filled or coated. In daylight, these display elements also have a brighter white hue.
The new-generation Explorer is equipped with calibre 3230, a movement at the forefront of watchmaking technology.
Like all Rolex watches, the Oyster Perpetual Explorer carries the Superlative Chronometer certification, which ensures excellent performance on the wrist.
AN EXPLORATION TOOL
Presented in 1953, the Explorer is emblematic of the close ties between Rolex and exploration. In the 1930s, the brand began to equip numerous Himalayan expeditions with Oyster watches. Among these was the group that Sir Edmund Hillary and Tenzing Norgay were part of when they became the first to reach the summit of Mount Everest, at 8,848 metres (29,028 feet).
This pioneering move illustrated the company's ambition to use the world as a laboratory, testing its watches in real conditions in order to continually improve them. The feedback that Rolex received from the members of these different expeditions therefore had a direct influence on the evolution of its watches, making them more precise and robust.
ROLESOR, A MARRIAGE OF GOLD AND STEEL
Rolesor, the combination of 18 ct gold and Oystersteel on a Rolex watch, has been a signature feature of the brand since 1933, when the name was registered. It is a meeting of two metals: one, noble and precious, attractive for its lustre and stability; the other, highly resistant to corrosion, assuring strength and reliability. All of these qualities mirror the elegance and performance that come together in a Rolex watch.
On the yellow Rolesor version of the new-generation Explorer, the bezel, winding crown and centre links of the bracelet are in 18 ct yellow gold, while the case and outer links of the bracelet are in Oystersteel.
THE OYSTER CASE, SYMBOL OF WATERPROOFNESS
A paragon of robustness and reliability, the new-generation Explorer's 36 mm Oyster case is guaranteed waterproof to a depth of 100 metres (330 feet). Its middle case is crafted from a solid block of Oystersteel, a particularly corrosion-resistant alloy. The case back, edged with fine fluting, is hermetically screwed down with a special tool that allows only Rolex watchmakers to access the movement. The Twinlock winding crown, fitted with a double waterproofness system, screws down securely against the case. The crystal is made of virtually scratchproof sapphire. The waterproof Oyster case provides optimum protection for the watch's movement.

PERPETUAL CALIBRE 3230
The new-generation Explorer is equipped with calibre 3230, a movement entirely developed and manufactured by Rolex that was released in 2020. At the forefront of watchmaking technology, this self-winding mechanical movement led to the filing of several patents, and offers outstanding performance in terms of precision, power reserve, resistance to shocks and magnetic fields, convenience and reliability.
Calibre 3230 incorporates the Chronergy escapement patented by Rolex, which combines high energy efficiency with great dependability. Made of nickel-phosphorus, it is also insensitive to magnetic fields. The movement is fitted with an optimized blue Parachrom hairspring, manufactured by Rolex in a paramagnetic alloy that makes it up to 10 times more precise than a traditional hairspring in case of shocks. The blue Parachrom hairspring is equipped with a Rolex overcoil, ensuring the calibre's regularity in any position. The oscillator is fitted on the Rolex-designed and -patented high-performance Paraflex shock absorbers, increasing the movement's shock resistance.
Calibre 3230 is equipped with a self-winding module via a Perpetual rotor. Thanks to its barrel architecture and the escapement's superior efficiency, the power reserve of calibre 3230 extends to approximately 70 hours.
OYSTER BRACELET AND OYSTERLOCK SAFETY CLASP
The new-generation Explorer is fitted with an Oyster bracelet. Developed at the end of the 1930s, this three-piece link bracelet is known for its robustness.
The Oyster bracelet on this new watch features the Rolex-designed and -patented Oysterlock folding safety clasp, which prevents accidental opening. It is also equipped with the Easylink comfort extension link, developed by the brand, which allows the wearer to easily adjust the bracelet length by approximately 5 mm. In addition, a concealed attachment system ensures seamless visual continuity between the bracelet and case.

SUPERLATIVE CHRONOMETER CERTIFICATION
Like all Rolex watches, the Oyster Perpetual Explorer is covered by the Superlative Chronometer certification redefined by Rolex in 2015. This designation testifies that every watch leaving the brand's workshops has successfully undergone a series of tests conducted by Rolex in its own laboratories according to its own criteria. These certification tests apply to the fully assembled watch, after casing the movement, guaranteeing superlative performance on the wrist in terms of precision, power reserve, waterproofness and self-winding. The precision of a Rolex Superlative Chronometer is of the order of −2 /+2 seconds per day – the rate deviation tolerated by the brand for a finished watch is significantly smaller than that accepted by the Swiss Official Chronometer Testing Institute (COSC) for official certification of the movement alone.
The Superlative Chronometer status is symbolized by the green seal that comes with every Rolex watch and is coupled with an international five-year guarantee.
Revamp Your Kitchen with These Trendy and Stylish Kitchen Cupboard Handles You'll Love
The heart of any home is undeniably the kitchen, making it a top priority for homeowners to maintain its beauty. To improve the looks of this room and make it more attractive, you can change the kitchen cupboard handles. Kitchen cabinet knobs are utilitarian and attractive. Choosing the appropriate handle may change the style of your kitchen. This article discusses fashionable kitchen cabinet handles.
Traditional Handles that Never Go Out of Style
Traditional kitchen cupboard handles have a timeless appeal. Brushed nickel is ideal for modernising kitchen cabinetry. These knobs look elegant in any kitchen. Brass handles are beautiful and traditional. Such handles are long-lasting and corrosion-resistant. Some traditionalists like wooden handles. These handles, available in oak or maple, give warmth and dimension to your cabinets while withstanding frequent usage. These timeless choices include straight bar handles and carved wooden knobs.
Sleek and Modern
To enhance the aesthetic appeal of your kitchen, a viable option is to replace outdated cabinet handles with contemporary and stylish ones. There are numerous alternatives available on the market that can promptly provide a sophisticated appearance to your cabinets. As an illustration, one may choose to use handles that exhibit a minimalist aesthetic characterised by uncluttered contours and uncomplicated forms.
Brushed metal finishes, such as stainless steel or brass, are a great option for contemporary kitchen cupboard handles. The aforementioned materials exhibit a high degree of durability and impart a modern aesthetic. Furthermore, a significant number of homeowners choose to install handleless cupboards in their kitchens, as they contribute to a highly contemporary visual appeal.
In order to attain a contemporary and polished aesthetic in one's kitchen, it is imperative to select cabinet handles that effectively harmonise with and elevate the overarching style of the area.
Combining Different Handle Styles for a Unique Look.
Replacing the handles on kitchen cupboards has the potential to yield a noteworthy impact in the process of renovating one's kitchen. Alternatively, rather than adhering to a singular handle style, one could consider amalgamating various styles to achieve a distinctive aesthetic. The aforementioned trend has gained significant popularity among homeowners seeking to enhance the distinctiveness and individuality of their kitchens.
For instance, you could combine sleek, modern handles with vintage-style ones for an eclectic vibe. Alternatively, you could mix metal finishes such as brass and copper for a chic yet rustic look. Combining wooden handles with metallic ones is another great option that adds warmth and texture to your kitchen cabinets.
The key here is not only functionality but also creativity. Experimenting with different combinations of handle styles can give your kitchen a fresh new look without major renovations. So go ahead and have fun mixing and matching various types of handles until you find the perfect combination that suits your style.
Conclusion
Updating kitchen cabinet handles is an easy and inexpensive way to update your kitchen. Many styles are available, from sleek and futuristic to traditional and exquisite. Brass or matte black finishes offer refinement, while leather pulls or geometric forms create a statement. When selecting new cupboard handles, make sure that they are durable and enhance the look of your kitchen.
Designing a Luxury Bathroom: Tips from London's Top Showroom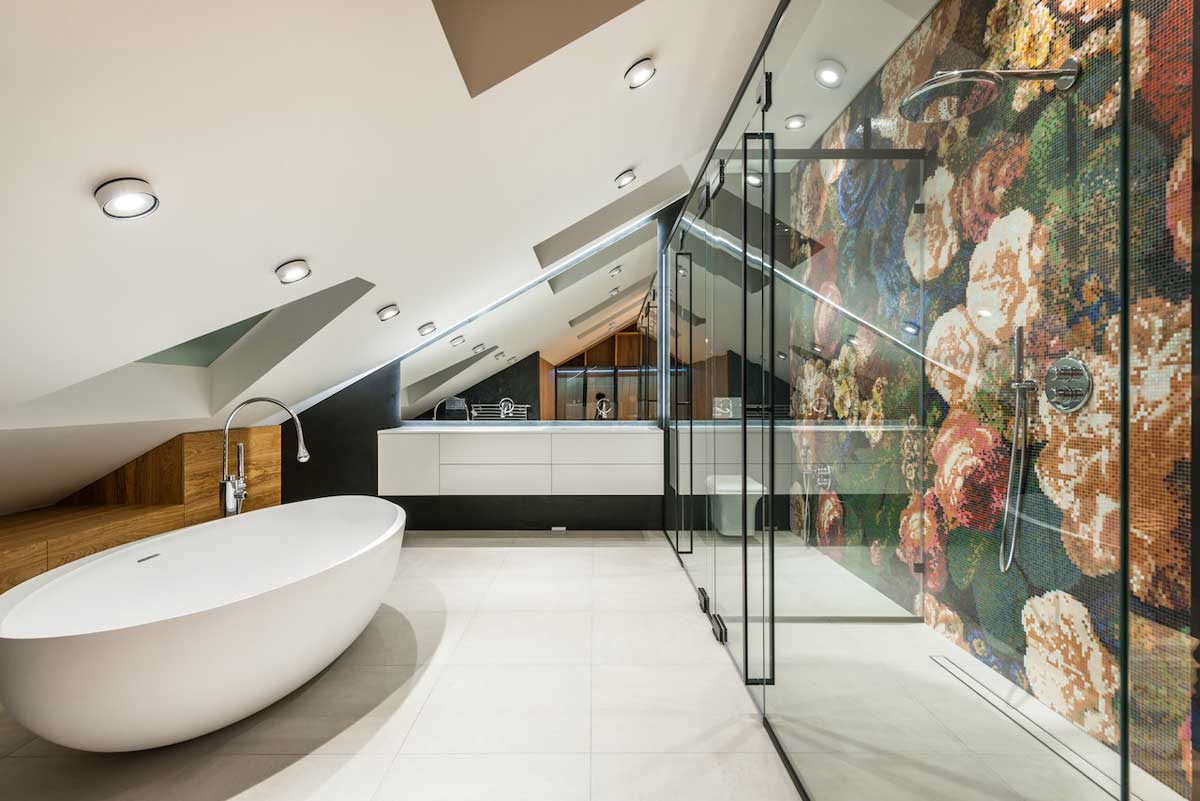 The bathroom is frequently regarded as one of the essential rooms in a home because of its overall usefulness and capacity to instill a sense of luxury and relaxation. A well-designed bathroom can make all the difference in establishing a sanctuary inside your house, from luxurious soaking tubs to chic fixtures.
In this article, we'll provide tips and insights into designing a luxury bathroom that will upgrade your space, impress your guests, and provide you with a personal oasis to unwind and relax. You will also need to invest in some bathroom essentials to achieve your desired look. For people in the UK, especially London, consider visiting Letta London's premier bathroom showroom to get the essential supplies to transform your bathing space into a luxurious sanctuary.
Tip 1. Maximize Space with the Right Layout
Your bathroom layout can impact usability and aesthetic appeal. Making the most available space is essential to create a cozy and pleasant atmosphere when designing a luxury bathroom. Consider adding a double vanity so you have enough counter space. Additionally, it will make the area symmetrical.
You could add a standalone tub as the room's center point if there is enough area. It will give the place a hint of richness. Another excellent suggestion for making the shower feel more prominent and airy is to install a glass enclosure.
Tip 2. Choose the Right Materials
The materials you choose will significantly influence your bathroom's design and atmosphere. When it comes to luxury bathrooms, marble is a popular choice. Its natural elegance and timeless beauty can instantly elevate the aesthetic of any bathroom. However, it must be noted that marble requires special care and maintenance to keep it looking its best. If you prefer a low-maintenance option, consider porcelain or ceramic tiles that mimic the look of marble.
Brass fixtures can also add glamour and sophistication to your bath space. Choose showerheads, faucets, towel bars, and robe hooks from brass. Pairing brass fixtures with a neutral color palette can create a chic and contemporary look.
Tip 3: Create a Spa-Like Atmosphere
Consider incorporating spa-like elements into your room's design to create a truly indulgent space. This could include a large soaking tub, a steam shower, or a sauna. Adding these elements can help to create a space that feels like a personal spa retreat, perfect for unwinding after a long day.
Tip 4. Lighting is Key
The proper lighting can make all the difference in a luxury bathroom. It can enhance the ambiance, highlight key features, and create a relaxing atmosphere. One way to achieve this is by combining task and ambient lighting.
For applying makeup and grooming, task lighting is crucial. Install sconces or pendant lights above the vanity area to provide ample lighting for these tasks. Ambient lighting, on the other hand, can create a soothing atmosphere. Consider installing dimmer switches or chandeliers to create a warm and inviting glow.
Tip 5. Use Natural Materials
The classic elegance of natural materials is unmatched when designing a luxury bathroom. Using raw materials in the design of your space can make it feel warm, inviting, opulent, and soothing. Plants bring a sense of nature into your home while also removing toxins from the air and lowering stress levels.
Another organic material that can bring warmth and character to the décor of your bathroom is wood. Your bathroom can feel like a spa getaway in your house by utilizing natural stone, natural linens, and natural lighting.
Tip 6. Use Natural Materials
Modern technology has transformed our bathrooms, offering a range of advanced accessories and equipment to elevate both usability and comfort. From luxury features to practical gadgets, the possibilities are endless for upgrading your bathroom experience.
To spruce up your bathroom, why not install a novel shower system that quickly adjusts water pressure, temperature, and flow with a single button? Elevate your daily shower experience by adding a built-in music system or a heated towel rack for added extravagance.
Tip 7. Add Luxury Touches
The finishing touches can make all the difference in a luxury bathroom. From plush towels and bathrobes to scented candles and artwork, there are plenty of ways to add a touch of luxury to your space.
Invest in high-quality towels and bath mats from soft, absorbent materials like Egyptian cotton. These small details can make your everyday routine feel more indulgent. Adding artwork or a statement mirror can also create a sense of sophistication and personality in the space.
Conclusion
Designing a luxurious bathroom can be difficult, but it is a highly satisfying endeavor with the proper method and guidance. A high-end bathroom can upgrade daily habits by providing a space that meets practical and lavish needs.
From indulging in an intelligent shower to basking in well-adjusted lighting, each design component can positively impact your well-being, transforming your morning or evening routine into a genuinely satisfying occasion. Whether you're starting from scratch or renovating an existing space, these tips can help you achieve the bathroom of your dreams.
Guide On Doing Boys Haircuts
Boys haircuts are versatile, and determining the best haircut for your boy depends on their facial shape and hair texture. If you love bonding with your son, you can extend that by giving him his haircut rather than taking him to the hairdresser. If you have the proper guide, the haircuts are not complicated.
Doing your little man's hair helps save both money and time that could be spent visiting the barber. The process is quite simple as long as you understand the boy and have the right tools for the process. You will most likely need clippers and scissors for typical haircuts. Here is a guide on how to come up with boys haircuts in the comfort of your home.
Place A Towel On His Shoulders
Some people tend to ignore this step, but it is important. The towel acts as a protection so that you won't have the chopped hair falling through the neck to his shoulder or getting all over his clothes.
The hair strays that fall off are usually messy and itchy if they fall on body parts other than the head. This may be a bad destruction to the boy and can make your experience and his in cutting the hair uncomfortable.
Selecting The Clipper Number
This decision depends on the haircut you will give the boy. Each clipper number matches the length of hair that will be left on the scalp. The higher the number, the longer the hair that will be left and vice versa.
It would be best if you had a proper understanding of the boy since, most of the time, you make the decision for him. You should know whether he is comfortable with longer or shorter haircuts.
Make A Decision On Where To Clip
In most cases, boys haircuts are done with clippers for the sides and the back but a pair of scissors for the top. However, using clippers on the entire head is a better idea because it gives a more consistent look than when scissors are used to chop the hair on the top.
If you have to use scissors on the top, decide where to stop the clipping and figure out how to create a smooth transition between the haircut using scissors and that cut using clippers. The hair should be consistent and even such that it is not so obvious some parts were done using scissors while others were done using clippers.
Remember to use different clipper sizes in haircuts where a fade is needed. Ensure that you are consistent on where the clipping stops, and if possible, mark it with a washable marker to avoid confusion when you run the clippers the second time to tidy up the haircut.
Begin From The Bottom Of The Hairline
When using clippers, ensure that you hold them at a ninety degrees angle. Start from the bottom of the hairline and gradually work your way up, depending on your expected results.
Work Around The Whole Head
Smoothly work all around the head, observing the same rules and confirming that you get a clean shave. Always run the clipper several times to ensure you get a clean shave and that no uneven portions are left out.
Cutting The Hair At The Top
You will most need scissors to style the hair at the top. Always consider the results you are looking for before initializing any cutting.
When cutting the hair, starting with small portions and working your way down until you achieve the required results is best. In most cases, you will not need to chop off a lot of the boy's hair on top unless he has long hair and you are going for a short haircut.
You should ensure that the hair on the top is dry when cutting it because wet hair is usually shrunk and does not give a picture of the exact length you are working with.
Styling And Cleaning Up
Wash up to get rid of the hair that has been cut off, and apply suitable hair products. Finish up by styling the hair the way the boy likes it.