The Inevitable Geopolitical Dilemma of Climate Change
"Go and explain to developing countries why they should continue living in poverty and not be like Sweden", "No one has explained Greta that the modern world is complex and different and… people in Africa or in many Asian countries want to live at the same wealth level as in Sweden". These are two of the several statements Russian president Vladimir Putin made in criticism of Greta Thunberg's UN speech while he spoke during an energy conference last year. But why is the situation that the Russian president is referring to, so complex? And why is that the world leaders who are failing to tackle climate change are now trying to tell the world that it is not just about climate but also geopolitics? This piece tries to delve into the inevitable dilemma that is emerging in the sphere of climate change mitigation and the geopolitics that has always been the one of the topmost priorities for the nations around the globe.
The Present State
Historically, the industries and the global economy has been reliant on fossil fuels, resulting in the anthropogenic climate changes that we are witnessing today. At present, geopolitics is at the center of the struggle for mitigation of the climate change phenomenon. This has led to a variety of responses from different nations. Some are trying to postpone the responsibility, some are trying to deny, and some are trying to spearhead the fight against the problem. However, the issue of climate change is not one that can be solved by one or a subset of nations working in isolation. It remains to be seen how the results of climate change as well as the struggle for mitigation will impact the ground reality for the populations, as it is widely expected that the effects on different nations will be to different extents. Some are set to be hit harder than others, and some are going to be hit even if they have not done anything to contribute to the problem. In this background, many of the concerns about the technological manipulation of nature, environmental destruction, North-South relations, sustainable development, conflict and resource wars have returned to prominence in recent years in the increasingly intense debate about climate change. In this piece we a look at some of the major themes in the geopolitical landscape today related to climate change and climate change mitigation activities.
Russia and Saudi Arabia are two of the several examples of nations which depend on energy commodities export for most part of their revenue. They are also the best examples of nations with vastly established fossil fuel production and processing infrastructure. Accordingly, they face different geopolitical challenges than others in terms of their climate mitigation policy adoptions. Nations like Russia and Saudi Arabia, as well as Qatar, Iran, Venezuela, and UAE depend on exports of oil and gas to developing and emerging economies like China and India. However, an increasing emphasis in these developing economies for a transition towards renewable energy sources has been creating unrest in the oil, gas as well as coal export dependent nations. In case of Russia, another issue, in form of permafrost thawing has been emerging since the last few years as a big worry threatening its infrastructural facilities in Far East region as well as the Siberian region. Last year Russia witnessed several oil spills due to weakening infrastructure in its facilities. However, this issue is dwarfed due to the fact that infrastructure can be upgraded, but if the demand for oil and gas reduces in the global markets due to a renewable energy transition, then the vast infrastructures will become loss generating assets.
In Gulf countries, the narratives of collapse and chaos in a post-oil world has taken over most policy makers' imagination. According to some predictions, over the next 50 years, these countries could be facing a twin issue of increasing strain on societies and economies due to climate change on one hand and increasing shortage of funds on the other, either due to the decreasing exports and demand, or due to simply less production due to waning stores of energy. Moreover, emergence on alternative sources like shale oil in US and oil and gas in Central Asian region can also lead to increased strain in these countries. This has led to new geopolitical conditions becoming possible for the Gulf region which has for long been dependent on a US hegemony in the region for overall security framework. A receding US interest can witness an increasing interest of other powers like China and Russia.
Moving to the developing world, economies like India, Brazil and even China have at various times expressed an unwillingness to concede mitigation of emissions of greenhouse gases and pointed towards their right to economic and industrial development, world equity and issues. This stance has attracted criticism from the developed world who see this struggle against climate change as a journey in which every nation needs to stand in unity. However, on one hand where concepts like 'Common but Differentiated Responsibilities' has emerged in climate action frameworks, countries like India have showed that they are ready to lead in the action for climate change mitigation by implementing policies to work towards a transition to renewable energy. This stance although is also influenced by the fact that India is forced to import most of its fossil fuel needs from other countries which exists as a big burden to its economy. By decreasing its reliance on energy imports, India can look towards following a more independent course in the geopolitical order. As seen in the collapse of Iran-US relations which led to India being forced to abandon its oil imports from Iran, a situation where India is not dependent on oil itself, stands to be a big win. Further, initiatives like the International Solar Alliance have helped India to cultivate India's image as a responsible global actor, at par with other like the European Union who has been using climate change activism as an element of its foreign policy to retain command over the global climate change policy agenda and thus assert not only regional, but global influence.
Talking about the global powers, US and China are undoubtedly the two biggest players in the world today when it comes to geopolitics, as well as emissions. In US, about half of electricity is generated through coal power plants as the nation has abundant coal deposits. The last four years under President Trump witnessed US detaching itself from major climate change action frameworks like the Paris Agreement based on the reasoning that any policies which have a chance to curb economy growth will have a disastrous effect on the lives of American citizens as well as national security. On the other hand, China, which has for some time now been the biggest greenhouse gas emitter, has now been working towards becoming the leader in sphere of sustainable energy. Chinese president Xi Jinping at the last year's United Nations General Assembly made the promise that China will become carbon neutral by 2060. According to scholars of the field, through this stance, China not only wants to enhance its geopolitical position as a main partner to EU for future, but also wants to take away attention from its human rights abuses, and aggressive behavior. This phenomenon needs to be understood in the light of the fact that today almost all mining, production and processing of rare earth elements, which are essential for the production of renewable energy infrastructure like solar panels, takes place in China. Thus, providing not only an upper hand to China as an economic power but also as a great geopolitical power in sustainable energy.
Not all countries however face the dilemma of effects of slowing economy in case they go for transition to renewable energy or adopt policies that mitigate emissions. The poorest of the countries stand to go bankrupt and loose relevance due to geopolitics of climate action in case the world decides to transition fast to renewable energy. These are the poor countries of Africa which have recently started establishing their oil production and now almost completely depend on it. As mentioned by Russian president Putin, these are the economies which look towards economic development based on their energy stores. They however have massive potential for renewable energy extraction too. But this potential need massive amounts of investment in infrastructure to realize, an element that these economies do not possess. Further, as the oil produced by these satisfy the needs of the developing and emerging economies, most of their buyer nations will see no benefit in trying to aid the African economies to substantially create their supplier's renewable energy sector.
Similar is the case of the Central Asia region where the nations depend on extractive industries of oil, coal, and gas. Both climate impact as well as climate change mitigation and adaptation in this region is projected to heighten geopolitical tension. Not only are the foreign direct investments in the region low at present, but the existing investments do also not prioritize resilient and sustainable development and is related mostly in sector of non-renewable energy resource extraction. The geopolitics of this region is connected in more than one way with the issue of climate change. The region is prone to water and energy shortages. Whereas carbon rich Kazakhstan, Turkmenistan and Uzbekistan extract and use oil, gas and coal for their energy production, other nations in the region- Tajikistan and Kyrgyzstan, which have lower GDP per capita uses clean hydro energy. Thus an inequality exist as the downstream nations are those which are more reliant on fossil fuels and the upstream nations, although not energy rich, possess ample hydroelectric potential. This inequality is estimated by the scholars to create strains in the region which can spill over in the rest of Asia.
The Dilemma
It might seem like the fossil-fuels based energy export reliant nations are set to lose the most in the coming future as the world starts looking for ways to transition towards clean fuel and energy in the coming years. However, the oil and gas industry might not be ending anytime soon.
For instance, Nord Stream 2, a planned pipeline through the Baltic Sea, which is expected to transport natural gas over from Siberia to consumers in Europe is being looked upon as a secure and reliable as well as cleaner source of energy for the coming decades. It indeed will replace the coal powered sectors in Europe and help reducing carbon emissions, however, this is also expected to provide Russia a sort of geopolitical push that it has not witnessed in many years now in terms of its relations with Europe, especially since the conflict with Ukraine in 2014. Although, this has changed in recent times as tensions arose with Georgia and the political chaos around Alexei Navalny's poisoning, who was being seen as a political competitor to President Putin by some in Russia. However, this is not to say that Russia has not been working towards climate change mitigation agenda. In November last year, Russian President Putin signed a decree ordering the Russian government to work towards meeting the 2015 Paris agreement to fight climate change, but stressed that any action must be balanced with the need to ensure strong economic development. This in geopolitical terms can be seen as an attempt to align Russia with the change in presidency in US, where the new president Joe Biden is supposed to be an avid supporter for climate activism and is expected to work towards making US carbon neutral with a long-term plan, in stark contrast to the previous president Donald Trump.
Another geopolitical battle is emerging in the Arctic, where several nations like the US, China and Russia are no vying for dominance. In Arctic, with melting snow, shipping is all set to witness an increase. According to some estimates, if shipping along the Arctic becomes fully accessible, Bering Sea can become an area of contention for US and Russia, as well as China, thus reducing the importance of other choke points and the nations controlling them, like Egypt and Southeast Asia. This phenomenon also exists in line with the argument that if oil ceases to be a central driver of the global economy, many regions like Gulf are set to see their long-standing relations with the western nations like US change.
Climate change related migration, which can result out of several reasons like submergence of islands, droughts due to varying rainfall patterns, stronger hurricanes or storms, or massive flooding of rivers due to higher rate of melting of glaciers that feed them with water, is also becoming a geopolitical contention that the nations are staring at today. The world has witnessed in 2015 refugee crisis in Europe, the extent of chaos, heightened populism, and nationalism, as well as lack of trust in multilateralism and established institutions that can be caused. Even though in this case, the result was not due to underlying climate change related challenges directly, similar effects due to influx of refugees and similar migration patterns can be expected from the regions of changing patterns of rainfall. This leads us to think where the current situation leaves us today for the future.
What does the Future Hold?
For many economies, initial investment cost for renewable energy systems is usually high, resulting unaffordability for many, especially in developing countries. Some others on the other hand, like Malaysia, with some of the highest level of subsidies on fossil fuels result in renewable energy market to remain economically weak and uncompetitive. Similarly, for Australia's economy, which has for long been reliant on fossil fuel industries to ensure the economic prosperity across the country, it is now becoming an issue of contention which it will need to resolve in order to ensure not its own, but also its neighborhood's sustainability lying in the Indo-Pacific region as low lying islands which are at the risk of submergence due to climate change related effects.
In today's world, not only can conflicts related to renewable energy infrastructure lead to stress as seen in case of Central Asian region, but also strain over issues like transfer of technology between developed and developing countries can turn into bigger forms of geopolitical conflicts. It also remains to be seen if the resources like rare-earth metals, which are needed for expansion of cleaner energy platforms will be available according to need of a nation or be made available to the highest buyer and turned into a business. The global order as it stands today between the oil producers and the oil consumers is also set to change as the climate change mitigation policies are adopted resulting from increasingly severe negative effects emerging from the anthropogenic climate change.
Climate change could spark floods in world's largest desert lake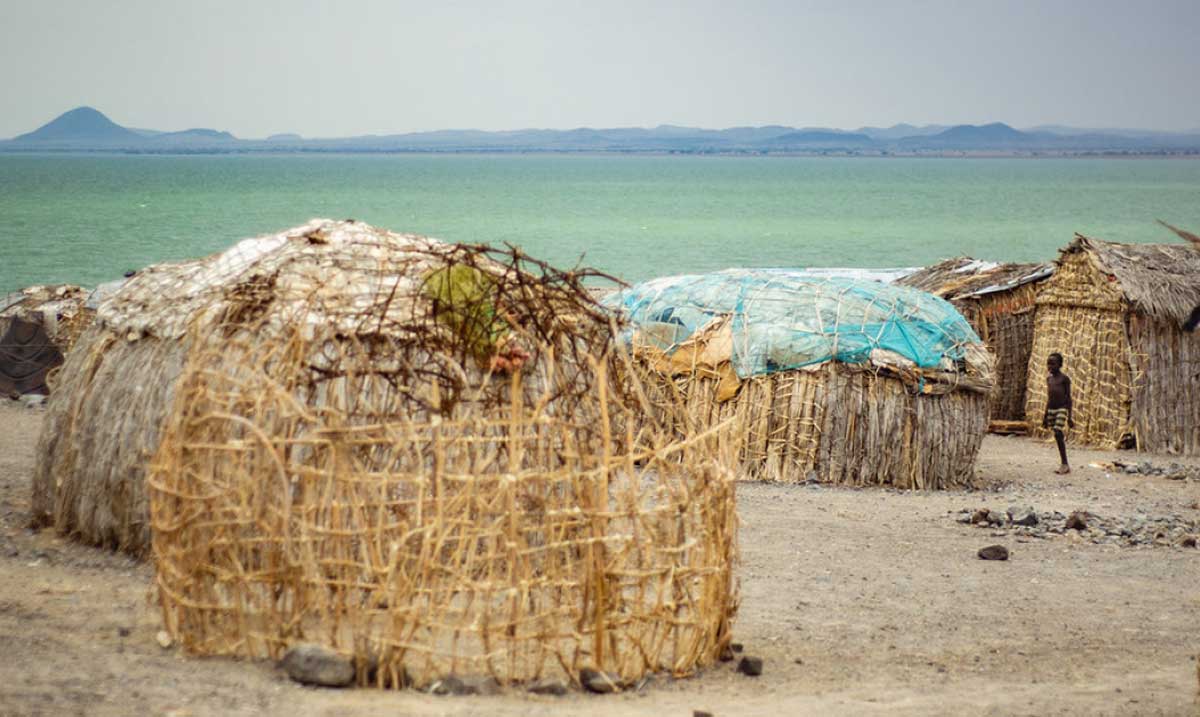 For years it appeared as though Lake Turkana, which sits in an arid part of northern Kenya, was drying up.
Its main river inflows had been muffled by dams and many feared water levels were poised to drop by two-thirds, causing the lake to cleave into two smaller bodies of water. It was, one report said, an African "Aral Sea disaster in the making" – where only 10 per cent remains of the original sea.
But a new study from the United Nations Environment Programme (UNEP) predicts a far wetter future for Lake Turkana – and possibly a more perilous one for the 15 million people who live on its shores.
The report found that over the next 20 years, climate change could likely lead to heavier rains over Lake Turkana's river inflows, which would raise water levels in the lake itself and increase the likelihood of severe flooding.
The study urged officials in Kenya and Ethiopia, which both border Lake Turkana, to prepare for a future in which once-rare floods, such as those that hit the region in 2019 and 2020, are regular occurrences.
"Many people think that climate change is a problem for the future," says Frank Turyatunga, Deputy Head of UNEP's Africa Office. "But as Lake Turkana shows, it's happening now and it's already forcing people to adapt to new conditions."
Lake Turkana, the world's largest desert lake, is part of the Omo-Turkana basin, which stretches into four countries: Ethiopia, Kenya, South Sudan and Uganda. The basin is home to many rare plants and animals.
Since 1988, Ethiopia has built a series of hydroelectric dams on its main tributary, the Omo River, leading to predictions of Lake Turkana's demise.
Climate projections
Using sophisticated water resources modelling and climate change scenario analysis, the new UNEP report found that up to eight human settlements around the lake could be inundated by flooding periodically. While severe, abrupt flooding has been rare, climate change projections foresee this becoming more regular and impacting more people if adaptation measures are not put in place.
The report called for improved international cooperation and adaptation measures, including reforestation, agroforestry and avoiding construction in areas at risk of flooding.
"In the last two years, rising water levels in Lake Turkana have damaged pastureland, inundated buildings and forced people to flee their homes," says Tito Ochieng, Director of Water in Kenya's Turkana County. "But there is still a mindset in Kenya that lake water levels are constantly falling, which makes planning difficult."
The study also found evidence of rising water levels in the eight lakes that line Kenya's Rift Valley. Severe flooding in those lakes in 2019 and 2020 damaged homes and infrastructure – and even reportedly led to a spike in deadly crocodile attacks.
Africa stands out disproportionately as the most vulnerable region in the world to climate change. This vulnerability is driven by the prevailing low levels of socioeconomic growth in the continent. While climate change is global, the poor are disproportionately vulnerable to its effects.
UNEP's climate change work in Africa supports countries to implement their climate action commitments – Nationally Determined Contributions (NDCs) – to meet food security, create income and opportunities for youth, and economic expansion.
Regional cooperation
The report was part of a wider project designed to accelerate cooperation in the border areas between Ethiopia, Kenya and Somalia.
The project also developed an open-source information portal on the basin, based in part on satellite imagery. It contains data on land cover, water quality and soil moisture, and examines the various climate change scenarios.
The report follows the launch of the UN Decade on Ecosystem Restoration 2021-2030, a global push to revive natural spaces. It is also part of UNEP's wider work to monitor and restore freshwater ecosystems worldwide, supporting Sustainable Development Goal 6.
Six things you can do to bring back mangroves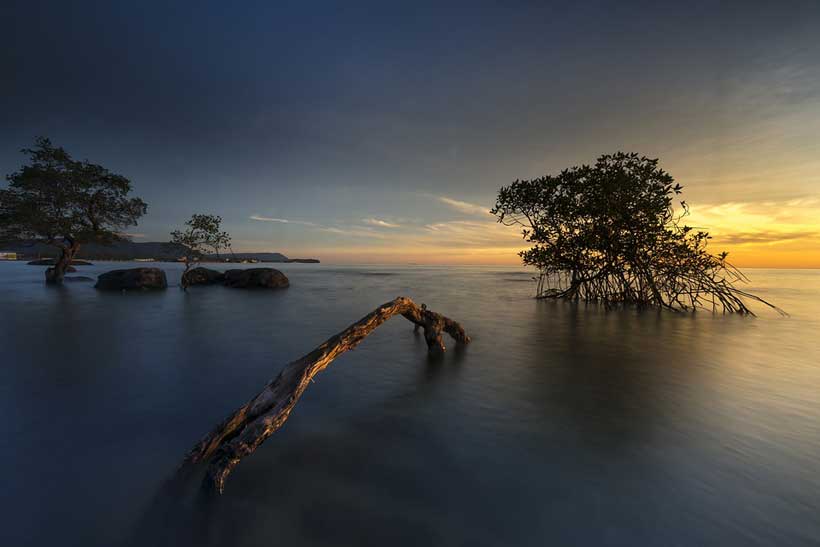 Don't be fooled by their modest appearance: mangroves are important players in some of the greatest challenges facing the world today. They provide a defense between land and sea, absorb carbon, contribute to economic and food security, and are home to some of the most rare and colourful species.
But mangroves are disappearing at an accelerating rate.In some areas of the Western Indian Ocean region – one of the two most important global mangrove hotspots, together with Southeast Asia – more than 80 per cent of mangroves have already been lost.
The United Nations (UN) Decade on Ecosystem Restoration is a global rallying cry to change our relationship with nature – from degradation to restoration. Here are six things you can do to start bringing back mangroves today.
1. Understand the importance of mangroves.
Only with healthy ecosystems can we enhance people's livelihoods, counteract climate change, and stop the collapse of biodiversity.
UNEP research shows that mangrove ecosystems underpin global and local economies, by supporting fisheries, providing other food sources and protecting coastlines. In fact, every hectare of mangrove forest represents an estimated US$33–57,000 per year.
They're also important protectors – sheltering land and coastal communities from storms, tsunamis, rising sea levels and erosion. And with the world at risk of a temperature rise of over 3°C this century, mangroves are also an invaluable ally in the race to adapt. They extract up to five times more carbon from the atmosphere than forests on land, and protecting mangroves is 1000 times less expensive, per kilometer, than building seawalls.
Learn more about mangrove ecosystems in this short video; and their role in climate change adaptation in this animation.
2. Understand what is driving their loss.
Home to forty per cent of the world's population, coastlines are among the most densely-populated areas on Earth. Consequent development of coastlines – clearing mangrove forests to create space for buildings, and to farm fish and shrimp – is the main driver of mangrove loss. Worldwide, this has caused the loss of 20 per cent of mangrove ecosystems.
Pollution also plays a role. Because they form a protective line between coasts and ocean, mangroves are effectively a "plastic trap". When plastic bags and litter cover roots and sediment layers, it can starve mangroves of oxygen; and can harm sea animals.
3. Make sustainable choices.
The choices we make are a powerful way to express our values and to affect consumption and demand. Ask questions about the food you consume; choose foods that are sustainably sourced; say no to single-use plastic and reduce consumption in general.
Learn more about what you can do through the UN Environment Programme (UNEP) Clean Seas campaign, and see examples of restoration supportive choices in the Ecosystem Restoration Playbook.
4. Learn how restoration works.
Before planting new mangroves, it is important to understand the cause of forest degradation or disappearance. In the case of pollution, over-harvesting or other causes that can be eliminated, mangroves can recover naturally.
When recovery requires human intervention, it is important to follow key steps, like involving local communities, selecting native seedlings and establishing a functioning nursery. To learn more, see UNEP's Guidelines on Mangrove Ecosystem Restoration, which elaborate each step of the process.
5. Be an advocate and an activist.
Whoever you are, wherever you are, you can begin to take action today. Discuss the importance of mangroves with your friends, family, colleagues and networks. Share information, images and ideas that inspire you.
If you're not sure where to start, find inspiration in what others are doing. In Kenya and Madagascar, communities have recognized the contribution of mangroves to their own livelihoods and are actively participating in carbon monitoring, reforestation and education to prevent exploitation and ensure the livelihoods of future generations.
To get ideas about actions that could be right for you, play this game; and go to the UN Decade for Ecosystem Restoration Implementers Hub to find out how others are taking the lead in this work.
6. Make some noise.
Despite the scale of the challenge, there are solutions; and some governments are already taking action. Cuba, Haiti, Puerto Rico and the Dominican Republic have prioritized mangrove restoration through the Caribbean Biological Corridor initiative; and in Cuba, mangrove forests still cover 70 per cent of the coastline. Pakistan has committed to planting 10 billion trees by 2023 in an initiative led by Prime Minister Imran Khan and supported by UNEP, and millions – if not billions – of these trees will be mangroves. Restoration pledges from other countries can be found here.
Oil, acid, plastic: Inside the shipping disaster gripping Sri Lanka
It's visible in satellite images from just off Sri Lanka's coast: a thin grey film that snakes three kilometres out to sea before disappearing into the waves.
This, experts say, is fuel oil leaking from the X-Press Pearl, a Singapore-flagged cargo ship that caught fire and sank off Sri Lanka's western coast last month.
The slick is a visceral reminder of what observers say is a slow-motion environmental disaster – one of the worst in the country's history – and of the mammoth effort that will be needed to clean it up.
"This is the biggest environmental catastrophe to hit Sri Lanka since the 2004 Indian Ocean Tsunami," said Thummarukudyil Muraleedharan, the acting head of the disasters and conflicts branch with the United Nations Environment Programme (UNEP).
Thummarukudyil is among more than a half-dozen UNEP experts advising Sri Lanka's government on how to contain the toxic fallout from the X-Press Pearl, which was carrying 81 containers of dangerous goods when it sank in June, according to its owner, X-Press Feeders. The ship's cargo included 25 tonnes of nitric acid, 348 tonnes of oil and, according to independent estimates, up to 75 billion small plastic pellets known as nurdles that has created a pollution crisis—one that could plague Sri Lanka for years.
"This is a toxic ship," said Hemantha Withanage, Executive Director of Sri Lanka's Centre for Environmental Justice, an advocacy group. "This will be a long-running disaster."
Fire down below
Crew members first noticed smoke coming from the X-Press Pearl's hold on 20 May while the ship was anchored off Colombo, Sri Lanka's capital. Over the next two weeks, fire crews battled a raging inferno punctuated by at least two major explosions. As the ship slowly sunk—it would be 17 June before it settled on the seabed—strong currents scooped up shipping containers and sprinkled them along Sri Lanka's coast.
One container surfaced more than 100 kilometres south of the wreck, coating prime tourist beaches near the southwestern resort town of Galle with nurdles.
"It was like a cluster bomb," said Hassan Partow, part of UNEP's disaster response team.
Plastic pollution
For Sri Lankans, the small plastic pellets, which are about the size of a lentil, have been the most visible sign of the X-Press Pearl sinking.
Using publicly available data, Withanage estimates the ship contained 70-75 billion individual pellets. Partow said the disaster is the single-largest release of nurdles into the ocean ever reported.
The plastic has flooded onto beaches around Colombo. One, Sarukkuwa, was blanketed in meter-deep piles of plastic. The nurdles also turned up in the gills and guts of fish. Local fishers, who have been barred from the rich fishing grounds around Colombo, have blamed the nurdles for killing sea life, though that claim is still being investigated by Sri Lanka scientists. Withanage said pellets have also been found in a turtle sanctuary 300km north of Colombo.
Over time the pellets, which will take up to 1,000 years to disintegrate, may build up in the food chain, sickening fish and potentially humans, Withanage said. "When it comes to the environment, every plastic nurdle is a disaster."
Making matters worse, many of the pellets were charred, causing them to crumble into a potentially toxic powder when disturbed.
"These weren't just virgin pellets," said Partow. "Around half were combusted, so the jury is out about their toxicity."
In the immediate aftermath of the X-Press Pearl sinking, hundreds of Sri Lankan navy, air force and coast guard members were deployed in a massive clean-up operation overseen by the Marine Environment Protection Authority. Working around the clock under strict COVID-19 lockdown restrictions, they have so far collected more than 53,000 bags of pellets, burnt plastic and other debris mixed with sand. The small size of the plastic pellets means that many had to be hand sieved.
There is no way, though, to clean plastic pellets still in the ocean.
"What is in the sea could be there for a long time," said Thummarukudyil.
A toxic brew
It also appears likely that at least some of the highly corrosive nitric acid aboard the X-Press Pearl seeped into the ocean. Experts are worried it may have scalded sea life at a nearby coral reef. Sri Lanka's government has recovered turtle carcases that show signs of burns, though Partow said scientists are still examining the animals and that it was too early to determine what had killed them.
While the nitric acid has likely dissipated into the ocean, concerns have now turned to another toxic chemical carried by the X-Press Pearl: epoxy resin. Around 9,800 metric tonnes of epoxy was aboard and experts worry that if it was in toxic liquid form—as opposed to solid form—that it could spread along the Sri Lankan coast.
The ship also contained a witches' brew of other chemicals, including methanol, gear oil, brake fluid and urea, along with lead, copper and lithium batteries, according to Withanage.
The question of oil
Exactly how much toxic material remains in the ship's hold or in containers on the ocean floor remains unknown. Sri Lanka's annual monsoon, coupled with a country-wide COVID-19 lockdown, has hampered salvage efforts.
The ship's owner, X-Press Feeders, said much of the cargo could have been incinerated in the fire, including the black, molasses-like fuel that powered the X-Press Pearl. But the UN team thinks that even if the oil was burnt it is unlikely to have evaporated. Instead, it would probably be transformed into a more viscous mixture.
"We should assume the oil is still there," said Thummarukudyil. The ship, he added, was carrying enough oil to blanket Sri Lanka's entire western coast. "The potential is there for this to be a lot worse than what we've already seen."
Disaster response
The UNEP staff working on the X-Press Pearl sinking are part of a disaster response unit jointly run by the United Nations Office for the Coordination of Humanitarian Affairs (OCHA). The unit has helped broker an agreement between the Sri Lankan government and the X-Press Pearl's owner to contain a potential offshore oil spill as well as clean-up the shoreline. Specialized equipment, including inflatable booms designed to trap oil, arrived in Colombo on 2 July.
"The United Nations is supporting the Government of Sri Lanka to address the disaster of the MV X-Press Pearl," said UN Resident Coordinator in Sri Lanka Hanaa Singer-Hamdy. "We are coordinating international efforts and mobilizing partners to ensure a cohesive and coherent response to the crisis (and) ensure prevention of such disasters in the future."
UNEP has called for the ship's owner and insurer to hash out what Partow called a "peer-reviewed, government-approved" road map for removing the X-Press Pearl and the stray containers on the ocean floor, saying they constitute the most immediate risk of pollution.
"This plan needs to be developed now so that when the conditions allow, the ship can be removed and properly decommissioned," said Partow.
Sri Lanka's government is also pushing the ship's owners and insurers to refloat the X-Press Pearl.
"The Sri Lankan government is deeply concerned about its environment and the livelihood of the vulnerable fishing communities," said Dharshani Lahandapura, Chairperson of Sri Lanka's Marine Environment Protection Authority. "The foremost thing that the owners and salvors, caretakers and wreck removers have to do is remove the wreckage, underwater containers and debris as soon as possible."
For Withanage, time is of the essence. "It is a business for them," he said of the salvage company hired to raise the ship and the vessel's owners. "But it is our environment. As long as the ship is there contamination is there."
UNEP will deliver a final report on the disaster to Sri Lanka's government next week. It will contain recommendations for the clean-up and suggestions for how Sri Lanka, a country vying to become a major shipping hub, can handle future maritime disasters. Partow said UNEP will also stand by to advise Sri Lanka on longer-term environmental monitoring.
Ghostly scene
Today, the ship sits largely submerged in 21 metres of water, its castle and a few charred cranes poking up over the waves. A caretaker ship circles it 24 hours a day, keeping tabs on the oil leak.
Partow, who toured the wreck by boat and in a helicopter, saw plastic pellets mixed with oil bobbing in the waves around the vessel. Brown patches of oil surrounded by a grey sheen stretched two to three kilometres out into the sea.
He described the 186-metre-long ship, which entered service in February, as a "write off."
Thummarukudyil has spent 18 years responding to oil spills around the world. When asked if the X-Press Pearl was the worst maritime ecological disaster he'd seen, he paused.
"There are lots of chemicals still sitting there," he said. "This story is not yet over."