Uranium is being traded freely in the open market in India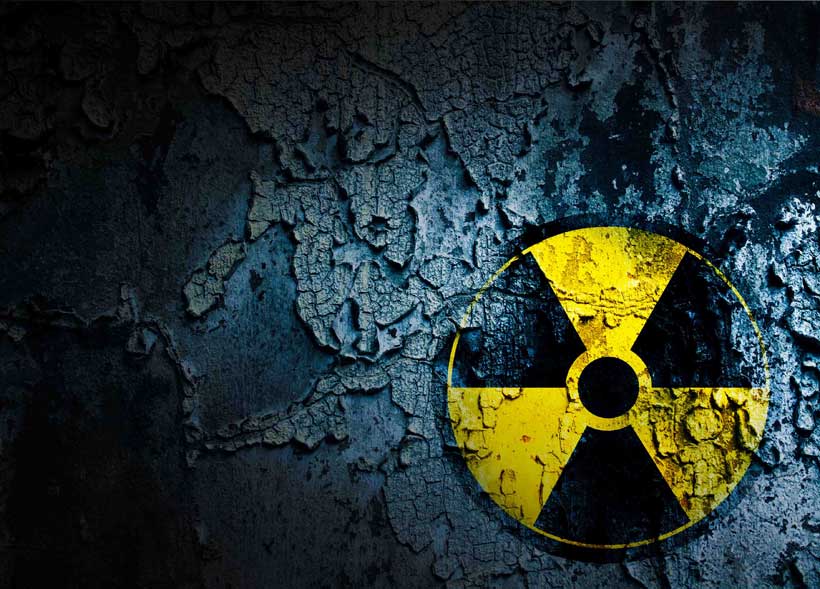 The Times of India has reported that a special police team arrested seven persons and recovered 6 Kgs of Uranium from them following raids at different parts of the city on Thursday. Bokaro SP Chandan Kumar Jha said, "We have seized the yellow substance and will send it to experts for tests. Uranium is a highly radioactive substance used at nuclear facilities."
Police said the accused, suspected of being part of a national gang involved in the illegal uranium trade, searched for customers and fixed its price at Rs 50 lakhs per kg. Notably, a kilogram of Uranium sells for around Rs 18 crores in the global market, sources said. For the first time, Uranium has been seized in this industrial town, but in other parts of India, similar cases were reported several times recently.
Those arrested have been identified as Bapi Da alias Bapi Da alias Bapi Chandra, Anil Singh, Deepak Kumar, Krishna Kant, Hare Ram Sharma, Mahavir Mahto, and Pankaj Mahto. They are residents of different parts of the district. Deepak and Bapi have a criminal history. It is illegal to possess Uranium without a license in India, and violation of the Atomic Energy Act, 1962, can attract stringent punishment.
Jha said police received information that some criminals are preparing to sell Uranium. A nine-member team headed by Chas DSP Mukesh Kumar and City DSP Kuldeep Kumar were involved in the raids. "It is still unclear how they got their hands on the radioactive metal. During interrogation, they mentioned West Bengal, Giridih, and a few other places. Seven mobile phones and a motorcycle were also seized from them," he said.
Notably, Jharkhand is among a few states in the country that has uranium mines. Uranium Corporation of India Limited (UCIL) also has a uranium processing plant at Jaduguda, about 150km from Bokaro city.
Sources said police are also investigating to ascertain whether the arrested accused have any links with a similar racket busted by Maharashtra Anti- Terror Squad (ATS) on May 5 after it nabbed two persons. A total of 7.1 kg of natural Uranium worth Rs 21.3 crore was seized from the duo identified as Jigar Jayesh Pandya (27) and Choudhary (31).
It is a severe failure of the Government that hazardous materials are accessible by common people. It is the state's responsibility, and the state must ensure the safety of the ordinary people. However, PM Modi has different priorities and over-engaged in non-issues. His focus to undermine minorities and the illegal occupation of Kashmir has made him over busy and left no time to safeguard the public interest. His extremist policies and brutalities against minorities are strongly condemned.
It is not the first time that Uranium has been traded like a regular commodity in the open market. It can be dangerous for India as well as the whole world. The law and order situation in India has deteriorated adversely, and criminals may avail this opportunity. The worst scenario will be if the RSS Hindu extremists got access to Uranium, then, definitely, the subcontinent is a one case. The fanatic RSS members are so vulnerable that they can go to any extent without considering the consequences.
Therefore it is appealed to the International community, the International Atomic Energy Agency (IAEA), and the UN to take serious notice and place preventive measures on the ground.
Being the next-door neighbor, Pakistan is under threat and has a responsibility to highlight such severe violations and may involve the international community to avoid similar cases in the future.
Pakistan on Friday, describing the reports of yet another incident of attempted illegal sale of Uranium in India as a "matter of deep concern," reiterated its call for the thorough investigation of such incidents and measures for strengthening the security of nuclear materials to prevent their diversion.
In a statement, FO Spokesman Zahid Hafeez Chaudhri said the similar incident in Maharashtra last month and other such reports in the past "are a matter of deep concern as they point to lax controls, poor regulatory and enforcement mechanisms, as well as the possible existence of a black market for nuclear materials inside India."
The UN Security Council Resolution 1540 and the IAEA Convention on the Physical Protection of Nuclear Material (CPPNM) make it binding on states to ensure stringent measures to prevent nuclear material from falling into the wrong hands, the statement noted.
"Pakistan reiterates its call for [a] thorough investigation of such incidents and measures for strengthening the security of nuclear materials to prevent their diversion," it added.
The press release said it was "equally important to ascertain the intent and ultimate use of the attempted uranium sale given its relevance to international peace and security as well as the sanctity of global non-proliferation regime."
Uranium is used in several areas, including nuclear explosives and medical techniques. The very fact that some people stole or illegally mined Uranium raises concerns about nuclear safety and security in India. It also indicates the possibility of a nuclear market existing in India that could be connected to international players.
Pakistan had voiced serious concern last month, too, after reports of the Maharashtra seizure emerged, pointing to gaps in state control mechanisms there.
"We have noted with serious concern the reports about the seizure of more than 7kg natural uranium from unauthorized persons in India," Chaudhri had said at the time."Security of nuclear materials should be the top priority for all countries," he added.
"There is a need for a thorough investigation of the matter as to how such sizeable quantity of uranium could become available outside any state control and identify the gaps which made this possible."
USA and Australia Worry About Cyber Attacks from China Amidst Pegasus Spyware
Pegasus Spyware Scandal has shaken whole India and several other countries. What will be its fallout no one knows as we know only tip of iceberg. Amidst Pegasus Spyware Scandal USA and Australia both have shown serious concerns about Cyber Attacks on US and Australian interests. Both say that China is hub of malware software and both face millions of such attacks daily.
I am trying to understand why a software is needed to spy on a particular individual when all calls, messages, data, emails are easily accessible from server. In most of cases these servers are located in USA and some cases these are located in host country. In certain sensitive cases Government Agencies have their own server like Central Intelligence Agency and hundreds of other agencies and military establishment world over including India. Now point is who installs those servers.
A couple of years back I had talked to Mr Mike Molloy who is Chief Executive Officer of Orion Global Technologies previously known as Orion SAS. He had explained me how his company installs servers in host countries on request of private or gov bodies. He talks about contract and trust. That means even when a company or Gov buys a server or software for designated uses the "Secrecy" Factor remain on discretion of company which has supplied server or software.
Now if all data, e-mail, chat, messages, calls are accessible to Gov as per law and technology (Through Server all components of Communication are accessible and thats why me and you see start seeing call recording of a person even after many years later), I am unable to understand why a Gov will be needing a software to Spy on any one.
Now coming to where Australia and USA wants to carry the whole debate.
Australian Foreign Minister Sen Marise Payne said, "Australian Government joins international partners in expressing serious concerns about malicious cyber activities by China's Ministry of State Security.
"In consultation with our partners, the Australian Government has determined that China's Ministry of State Security exploited vulnerabilities in the Microsoft Exchange software to affect thousands of computers and networks worldwide, including in Australia. These actions have undermined international stability and security by opening the door to a range of other actors, including cybercriminals, who continue to exploit this vulnerability for illicit gain", She further added.
She opined, "The Australian Government is also seriously concerned about reports from our international partners that China's Ministry of State Security is engaging contract hackers who have carried out cyber-enabled intellectual property theft for personal gain and to provide commercial advantage to the Chinese Government".
She warned China by saying, "Australia calls on all countries – including China – to act responsibly in cyberspace. China must adhere to the commitments it has made in the G20, and bilaterally, to refrain from cyber-enabled theft of intellectual property, trade secrets and confidential business information with the intent of obtaining competitive advantage".
On other hand USA's The National Security Agency (NSA), Cybersecurity and Infrastructure Security Agency (CISA) and Federal Bureau of Investigation (FBI) released a Cybersecurity Advisory on Chinese State-Sponsored Cyber Operations. National Security Advisor said, "Chinese state-sponsored cyber activity poses a major threat to U.S. and allied systems. These actors aggressively target political, economic, military, educational, and critical infrastructure personnel and organizations to access valuable, sensitive data. These cyber operations support China's long-term economic and military objectives".
The information in this advisory builds on NSA's previous release "Chinese State-Sponsored Actors Exploit Publicly Known Vulnerabilities." The NSA, CISA, and FBI recommended mitigations empower our customers to reduce the risk of Chinese malicious cyber activity, and increase the defensive posture of their critical networks.
Afghan issue can not be understood from the simplistic lens of geopolitical blocs
Authors: Tridivesh Singh Maini and Varundeep Singh*
On July 14, 2021 a terror attack was carried out in Khyber Pakhtunkhwa (KPK) province in which a number of Chinese engineers, working on the Dasu hydropower project (a project which is part of the China Pakistan Economic Corridor) were killed. The attack predictably evinced a strong response from China. The Chinese foreign minister, Wang Yi speaking before a Shanghai Cooperation Organisation (SCO) Foreign Minister's meeting asked the Taliban to disassociate itself from 'terrorist elements' and in a meeting with Pakistan Foreign Minister, Shah Mehmood Qureshi, asked Pakistan to bring the perpetrators to book. Earlier in April 2021, a car bomb attack took place at Serena hotel in Quetta which was hosting China's Ambassador to Pakistan (four people were killed and twelve were injured)
Wang Yi significantly praised the Ashraf Ghani government, for its attempts towards building national unity and providing effective governance. Beijing clearly realizes that its economic investments in the country as well as big ticket infrastructural projects can not remain safe if there is no security. Afghanistan also criticized Pakistan for its role in sending 10000 Jihadis to Taliban, this is important in the context of the region's geopolitics.
Like all other countries, Beijing and Islamabad, would have expected uncertainty after the US withdrawal of troops but perhaps over estimated their capabilities in dealing with the turbulence which had been predicted by many.
Importance of Chinese Foreign Minister's statements
Wang Yi's statements are important because days earlier a Taliban spokesman, Suhail Shaheen had praised China and welcomed its role in the country's reconstruction. He had also assured China that those involved in the insurgency in Xinjiang would not be given refuge in Afghanistan (one of China's major concerns has been the support provided by Taliban to the East Turkmenistan movement)
While Beijing may have opened back channels with the Taliban and realized that it needs to adapt to the changing geopolitics, recent developments would have increased its skepticism vis-à-vis the Taliban. On the other hand, Russia has been more favorable towards the Taliban. Russia's Deputy Chief of Mission in India, Roman Babushkin argued that the Taliban are a reality which needs to be accepted, and also that any military activities without a political process are insufficient.
Babushkin did make the point that for successful negotiations, Taliban needed to end violence.
'that Taliban should deal with the problem of terrorism and other related issues in order to become legitimate, in order to [get] delisted [at the UN Security Council], in order to go ahead with the future Afghanistan and creation of the inclusive government
It would be pertinent to point out, that Zamir Kabulov, Russian President's Afghanistan envoy went a step further and said that the Afghan government was not doing enough to make talks with Taliban a success.
China's statements subtle warning to the Taliban, indicating its reservations, and praise of Ghani indicate a possibility of greater understanding between Washington and Beijing (even though Beijing has repeatedly attributed the current troubles in Afghanistan to Washington's decision to withdraw troops).
Can US and China find common ground
It remains to be seen if Biden who has exhibited dexterity on a number of complex issues reaches out to Xi Jinping to find common ground with regard to Afghanistan. Significantly, while US-Turkey relations had witnessed a downward trajectory and Biden has been critical of Turkish President Recep Tayyip Erdogan's authoritarian tendencies and Human rights record, both leaders met on the sidelines of the NATO Summit in June 2021. During the meeting Turkey agreed to secure Kabul Airport. US National Security Advisor Jake Sullivan while commenting on Turkey's assurance said
'The clear commitment from the leaders was established that Turkey would play a lead role in securing Hamid Karzai International Airport, and we are now working through how to execute to get to that,'
Taliban earlier this week warned Turkey of 'consequences' if the Middle Eastern nation increased its troop presence in Afghanistan.
Conclusion
Russia's statements with regard to the Taliban indicate that it is not totally on the same page as China (its prior experience in Afghanistan has made it more cautious and circumspect), and that the Afghan issue can not be understood from the simplistic lens of geo-political blocs and traditional lenses. All major stakeholders in Afghanistan, both within the region and outside, seem to be understandably befuddled by the turn of events. It is not just the US, but even China which would be worried not just from an economic stand point but the overall security implications of the turmoil in Afghanistan. The terror attack in KPK indicates that other CPEC related projects could also face threats from militant groups. Beijing would thus need to be quick to react to the overtures from the Taliban in order to secure its economic assets and lives of Chinese workers in neighbouring Pakistan.
It is especially important for Washington, Beijing and other important stakeholders in the region to work together for dealing with the near term turbulence as well as long term challenges Afghanistan is likely to face.
*Varundeep Singh is an Independent Policy Analyst.
Pegasus: Human rights-compliant laws needed to regulate spyware
The UN human rights chief on Monday said the apparent widespread use of Pegasus spy software to illegally undermine the rights of those under surveillance, including journalists and politicians, was "extremely alarming" and confirmed "some of the worst fears" surrounding the potential misuse of such technology.
"Various parts of the UN Human Rights system, including my own Office, have repeatedly raised serious concerns about the dangers of authorities using surveillance tools from a variety of sources supposed to promote public safety in order to hack the phones and computers of people conducting legitimate journalistic activities, monitoring human rights or expressing dissent or political opposition", said High Commissioner Michelle Bachelet in a statement.
According to reports, the Pegasus data leak allegations which surfaced through a consortium of media organisations over the weekend, suggests widespread and continuing abuse of the software, which the manufacturers insist, is only intended for use against criminals and terrorists.
The Pegasus malware infects electronic devices, enabling operators of the tool to obtain messages, photos and emails, record calls, and even activate microphones, according to the consortium's reporting. The leak contains a list of more than 50,000 phone numbers which reportedly belong to those identified as people of interest, by clients of the company behind Pegasus, including some governments.
'Indispensable role'
Surveillance software has been linked to the arrest, intimidation and even killing of journalists and human rights defenders, according to the senior UN official.
Reports of surveillance also trigger fear and cause people to censor themselves. 
"Journalists and human rights defenders play an indispensable role in our societies, and when they are silenced, we all suffer", she said, reminding all States that surveillance measures can only be justified in narrowly defined circumstances when necessary and proportional to a legitimate goal.
'Deep intrusions'
Given that Pegasus spyware, "as well as that created by Candiru and others, enable extremely deep intrusions into people's devices, resulting in insights into all aspects of their lives", the UN rights chief underscored, "their use can only ever be justified in the context of investigations into serious crimes and grave security threats."
If recent allegations about the use of Pegasus are even partly true, she maintained that the "red line has been crossed again and again with total impunity".
'Due diligence'
Companies developing and distributing surveillance technologies are responsible for avoiding human rights abuses, she said, and they must take immediate steps to mitigate and remedy the damage their products are causing, or contributing to, and carry out "human rights due diligence" to ensure that they no longer play a part in "such disastrous consequences" now, or in the future.
States also have a duty to protect individuals from privacy rights abuses by companies, she added.
One key step in this direction is for States to require by law that the businesses meet their human rights responsibilities by becoming more transparent in their design and use of products and by putting in place effective accountability mechanisms.
Better regulation key
Reports also confirm "the urgent need to better regulate the sale, transfer and use of surveillance technologies and ensure strict oversight and authorization."
Governments should not only immediately stop using surveillance technologies in ways that violate human rights, but also "take concrete actions" to protect against such invasions of privacy by "regulating the distribution, use and export of surveillance technology created by others", the High Commissioner said.
Without human rights-compliant regulatory frameworks, Ms. Bachelet upheld that there are "simply too many risks" that the tools could be used to intimidate critics and silence dissent.