How NATO obstructs Peace and Stability
On June 14th, NATO leaders are meeting in Brussels to discuss the future of the Trans-Atlantic partnership as well as hot-button issues in the realms of security and defense, with Russia set to be high up on the agenda. In the past, NATO has maintained its treatment of Russia as an omnipresent threat that needs to be contained, however increasingly this continuation of Cold War-era policy has become counter-productive. Perhaps now more than ever, if a serious project for peace and stability is to be realized then NATO must engage with Russia in good faith and give due consideration to Russian concerns.
Evolution of NATO-Russia Relations
In the 1990s and early 2000s, NATO-Russia relations were on a course of steady improvement, beginning with cooperation on arms control within the framework of the Conventional Armed Forces in Europe (CFE) treaty and the Strategic Arms Reduction Talks (START). In 1991 Russia joined NATO's Euro-Atlantic Partnership Council, followed by Russia's signing of the Partnership for Peace Program in 1994. The Founding Act of 1997 sought to further guide the development of productive NATO-Russia relations and would go on to serve as a foundation for the NATO-Russia Council, which was formed in 2002 and constituted a significant step towards deepening cooperation. According to NATO's website, the Council aims to provide "a mechanism for consultation, consensus-building, cooperation, joint decision and joint action" between Russia and NATO members.
By the early-2010s, however, the emergent NATO-Russia partnership began to show signs of a reversal. The 2008 Georgian War and especially the Ukrainian Crisis of 2014 have been watershed moments in the collapse of NATO-Russia dialogue. In 2014, NATO suspended all possible avenues of cooperation, and since then the Alliance has pursued a two-pronged approach of "dialogue and defense," inviting Russia to return to the negotiating table whilst maintaining pressure by means of expanding deterrence capabilities and conducting military exercises along Russia's territorial periphery. Perhaps the most notable of these exercises are DEFENDER-Europe 2020, which deployed around 37,000 troops in Central Europe and the Baltics, as well as DEFENDER-Europe 2021, involving the deployment of some 28,000 troops in the Balkan and Black Sea regions.
A Matter of Perspective
According to a 2020 Report by the RAND Corporation, a global policy think tank that provides frequent advice to the US government, the present trend of deterioration in NATO-Russia relations results from Russian aggression that has forced NATO into a confrontational position. The report, entitled "Russia's Hostile Measures", analyzes cases of Russian "grey zone aggression" and provides strategies for anticipating and countering such acts. It states that Russia "threatens the security and stability of NATO and, bilaterally, many of its individual member states", whilst claiming that this threat is simultaneously "understated and overblown" since Russia acts aggressively but also suffers from "a long track record of strategic shortfalls and even some ineptitude in its long game". Critically, RAND acknowledges that certain Russian actions have been motivated by NATO enlargement, which has continuously encroached upon Russia's neighborhood. For RAND, however, an understanding of Russian concerns is a fact to be exploited. It is supposed to render Russian actions transparent in their intent so that the US and NATO can respond in kind.
Source: Russia's Hostile Measures, RAND Corporation
Though RAND admits that gradual encroachment is a logical cause for Russian concern and direct action, it is easy to miss its significance as an impediment to NATO-Russia relations. For one, NATO membership does not merely entitle a country to Article 5 protection (defense in the event of outside attack), it also (1) invites the deployment of foreign military personnel, such as Enhanced Forward Presence in the Baltic States, and (2) provides a staging ground for combined force maneuvers, such as the previously mentioned DEFENDER-Europe operations. The amassing of multi-national forces is a thorn in Russia's side since it is made the object of these military ops and sees itself as isolated from the West's alliance.
Case in point, two years after the creation of the NATO-Russia Council in 2002, the fifth and largest NATO enlargement round took place, which saw Bulgaria, Estonia, Latvia, Lithuania, Romania, Slovakia, and Slovenia join the Alliance. From a Russian perspective, the dialogue that had been built up over nearly a decade did not stop NATO from expanding its strategic posture on and near Russia's border. Then, when Ukrainian President Viktor Yanukovych was ousted from power in 2014 and a new government sought to join NATO, potentially exposing a large portion of Russia's western border and access to the Black Sea, Russia acted decisively and sided with the Crimean independence movement that desired to join the Russian Federation via referendum. This of course prompted condemnation from NATO and renewed confidence in the belief that Russia is an aggressor.
Intentional or not, NATO expansion has produced a positive-feedback loop where past and prospective enlargement elicits defensive reactions from Russia. These reactions in turn have been taken as acts of aggression that justify NATO's continued existence. Thus, NATO has deepened the potential for conflict in Europe by forcing Russia to settle for a "peace" that would be detrimental to its security interests.
A Way Forward
In a joint report published by the European Leadership Network and Russian International Affairs Council, several areas of practical cooperation are presented as possible starting points for restoring NATO-Russia relations. These include but are not limited to (1) counterterrorism, (2) counter-piracy, (3) arms control, (4) cybersecurity, and (5) the ongoing peace process in Afghanistan. Common ground issues such as these are echoed in NATO's 2019 snapshot of NATO-Russia relations.
That said, direct cooperation is not the only path towards immediate stabilization. During the Cold War, for instance, Austria and Finland sat on the iron curtain but opted for neutrality instead of NATO accession, and to this day neither country has changed course. Whilst it is unlikely that the Baltic states would exit NATO, neutrality may be a worthy consideration for countries such as Ukraine and Georgia, at least until a combined NATO-Russia security framework is deemed viable.
Ultimately, what NATO must realize is that lasting peace in Europe cannot be attained at the expense of Russia or vice versa. Moreover, genuine peace flowing from dialogue and economic interdependence might allow for a paradigm shift where the perceived need for armed deterrence such as NATO is exhausted, but then again, perhaps that was never the goal to begin with.
From Strategic depth to Strategic Threat
On 30th December, in broad daylight, the hub of Peshawar and administrative center was targeted by the militants with the explosion of a deadly bomb, leaving behind 59 dead. the attack was claimed by the TTP Mohmand faction, whose leadership is allegedly residing in Afghanistan.
The issue of Afghanistan has occupied a consequential part of the strategic culture of Pakistan. Following the partition, with the specter of Pashtun Nationalism looming large on the horizon, policymakers in Pakistan opted for a policy of Islamic Nationalism, which became a cornerstone of strategic thinking during the era of General Zia-ul-Haq in the wake of the Afghan Jihad War in 1979.
Islamic nationalism was seen as only the means through which Pashtun Nationalism could be confronted and subdued.
With the adoption of this policy, swiftly and generously, aid from US, UAE and KSA began to inundate the territory of Pakistan, carrying each their national interests with it.
Within a short period, thousands of new madrassas were established, cultivating youngsters by inculcating the concept of Jihadism.
This formation of an alliance with the US in the Afghan Jihad war was driven by two factors; first, to subdue the dominant Pashtun Nationalism with Islamic Nationalism, and second, to establish an Islamabad-friendly regime in Afghanistan so that any terrorist group could not use Afghan territory while keeping New Delhi at bay, by not letting her establish any foothills in Afghanistan.
Fast forward to 2023, the facts on the group are now telling a different story. Islamabad's once "strategic depth" is now becoming a distant dream as Pakistan is now confronted by insurmountable problems from all sides
According to the data collected by the Pak Institute of Peace Studies, Islamabad, in the past two years, Pakistan has encountered 100 terrorist attacks, and yet, the recent surge of terrorist activities shows no signs of cooling down in the formidable future. This is clearly evident from the news coming from the casualties on the daily basis of the security forces of Pakistan, mostly on the border areas, and the havoc it caused to the infrastructure. Officially, it is estimated that in the last six months, around 350 military personnel have lost their lives, while the outlawed group has claimed even more than that. These occurrences elucidate the failure of the Pakistani state to effectively persuade the Taliban regime not to let the Afghan territory be used against Pakistan's territorial sovereignty.
Now, who is to be blamed, if not our flawed policies, and the masters of shortsightedness. Lately, upon leaving his office, the ex-COAS scapegoated Imran Khan who initiated the dialogue with the outlawed group, TTP. While Imran Khan, on the other hand, said that the army was on board when the negotiation decision with the TTP was taken. These inconspicuous but powerful statements clearly reveal the uncertainty of our policymakers while dealing with a sensitive topic. Besides that, it also shows how the wizards of policy making and governance are not on the same page while dealing with the Afghanistan issue.
Recently, a document was released by the National Counter Terrorism Authority and presented to the senate committee where discoveries pertaining to the ceasefire between the government of Pakistan and TTP were made. According to the report, the truce initiated by the PTI-led government last year had utterly emboldened the TTP.
With careful planning and shrewd utilization of resources, they were able to revive themselves both logistically and materially. Once the truce between the two parties was over, yet again, a surge in violent attacks was documented.
Beside the challenge of TTP, the Afghan Taliban shows no signs of a positive stance for the Durand line issue. In an interview, the information minister, Zabiullah Mujahid, said, "The issue of the Durand line is still an unresolved one, while the construction of fencing itself creates rifts between a nation spread across both sides of the border. It amounts to dividing a nation".
Another prominent concern is the time to time border shelling. On Dec 11, 2022, the Taliban forces heavily shelled a town on the outstrips of the Pakistani border leaving behind seven civilian casualties. A few days later, on Dec 15, another exchange of fire took place, claiming one more life. Although, not much heed has been given to such reports, it seems the genie is out of the bottle now.
Last but not least, the Taliban had even scapegoated Pakistan through which the US drone was flown that killed the top Al Qaeda leader, Ayman Al Zawahiri.
The cherry on top happens to be the readiness of the new system to exhibit the disposition of candour in their interactions with India. The Taliban defense minister, Mullah Yahoob, has expressed his desire for the training of Afghan troops by Pakistan's arch-rival India. If this goes according to the plan, the dependent policy of Afghanistan on Pakistan will diminish and create new challenges for Pakistan. India, by using Afghan soil, can embolden and logistically support the liberation movements in Balochistan and Sindh, thus exacerbating the already precarious situation.
It's high time to call a spade a spade!
Our Policymakers must accept that the old strategic depth policy inside Afghanistan has begun to fail. Taliban 2.0 are entirely in contrast to its 1.0 version in terms of statecraft. They are more pluralistic in their policies, and economically, they are far more independent compared to the 90s. This time, they want to cut deals directly with the regional states. It may appear unilateral, but rather it's a mutually desired engagement as other states have expressed interests in establishing relations with Afghanistan while considering them a new and inevitable reality.
Meanwhile, China is feathering its own nest, and is more concerned about the East Turkmenistan Islamic Movement (ETIM). She does not want Afghanistan to be used as a pawn by an insurgent group in the great game against China.
Considering these dynamic global realities, Pakistan must abrogate its old policy towards Afghanistan and focus on a unanimous policy towards Afghanistan. For the success of a cohesive and effective anti-terrorism strategy it is contingent for policymakers to align their viewpoints against the new resurgent groups. And last but not the least , a collective action by the military, politicians and society is necessary.
Deciphering Quad's expanding agenda in the Indo-Pacific
Here, I try to throw light on Quad's expanding regional agenda and where it is headed to.
The third in-person Quad summit took place in Japan's Hiroshima, the rendezvous of this year's G7 summit. Following each annual summit, regional observers eagerly look forward to big announcements from the four-nation grouping, via its joint statements. The Hiroshima statement mentions, "Harnessing our collective strengths and resources, we are supporting the region's development, stability, and prosperity through the Quad's positive, practical agenda. Our work is guided by regional countries' priorities and responds to the region's needs."
Every Quad summit since 2021 had seen new initiatives or collaborative ventures being announced that are further carried ahead in the subsequent years. At the same time, Quad has also supported the leadership role of regional institutions of the broader Indo-Pacific region such as the Association of Southeast Asian Nations (ASEAN), the Pacific Islands Forum (PIF), and the Indian Ocean Rim Association (IORA). The grouping also welcomed the Indo-Pacific vision statements of these organisations and also of extra-regional countries and organisations like the European Union (EU).
An oft-repeated sentence in all Quad joint statements is "the promotion of free, open and inclusive Indo-Pacific with respect for a rules-based order and international law", which hints that the grouping has a "balancing character" against coercive behaviour by any regional power. However, the tangible areas of cooperation of the grouping had kept hard security at bay, until recently.
Even though the Quad is not a collective security alliance, the meeting of military chiefs of the four Quad nations in California, United States, earlier this month, in a clear indication of enhanced security cooperation with apparently China in mind. Moreover, they have participated in the Malabar naval exercise four times – in 2007, 2020, 2021 and 2022. Later this year, Australia will host the 2023 edition of Malabar naval exercise. Meanwhile, Quad's Maritime Security Working Group held its first meeting in Washington earlier this year.
Hiroshima 2023
The Hiroshima joint statement further goes on to mention, "We seek a region where no country dominates and no country is dominated – one where all countries are free from coercion, and can exercise their agency to determine their futures. Our four countries are united by this shared vision." However, this vision has its limitations as long as Quad exists short of an alliance. At the same time, the grouping has charted for itself a wide-ranging area of mutual cooperation.
A new 'Quad Partnership for Cable Connectivity and Resilience' was launched in Hiroshima, recognising the urgent need to support quality undersea cable networks in the Indo-Pacific. The leaders, via the joint statement, also announced a 'Clean Energy Supply Chains' initiative and its allied set of principles for accelerating the region's clean energy transition along with a fellowship scheme to boost infrastructure expertise across the region.
The Quad has agreed on a set of principles to augment cybersecurity in the Indo-Pacific along with a new Space Working Group to explore avenues to deliver Earth Observation data and other space-related applications to assist nations across the region to strengthen climate early warning systems and better manage the impacts of extreme weather events. The existing Vaccine Partnership has been elevated to a broader Health Security Partnership.
In a first in the Pacific, the Quad has agreed to join hands with the island nation of Palau to establish Open Radio Access Networks (Open RAN), with the aim of expanding and modernising telecommunications networks in the crucial subregion. A private sector-led Quad Investors Network (QUIN) is also launched to facilitate investments in strategic technologies such as clean energy, semiconductors, critical minerals, and quantum computing.
The first Quad summit
Two years ago, the White House became the venue for the first in-person Quad leaders' summit. In fact, there was one more summit-level meeting that year, in March, but in virtual mode. The joint statement following the March 2021 virtual summit was titled "Spirit of the Quad". It saw the initiation of three key working groups – on vaccine distribution, on climate change, and on critical & emerging technologies – the earliest areas of cooperation since the grouping was elevated to the apex level.
Other than the initiation of the aforementioned working groups, the leaders also pledged "to respond to the economic and health impacts of Covid-19 and address shared challenges in the cyber space, counterterrorism, quality infrastructure investment and HADR…" Moreover, the March 2021 summit specifically took cognizance of issues such as the role of international law in the maritime domain, challenges to rules-based order in the East and South China Seas, de-nuclearization of North Korea and the need for restoring democracy in junta-ruling Myanmar.
In September 2021, in their first in-person deliberations, Quad leaders extensively looked into how vaccine distribution progressed since their first virtual meeting six months ago and what more can be done in this regard by making use of each other's comparative advantages and strengths. The leaders also launched the 'Quad Principles on Technology Design, Development, Governance, and Use' to guide responsible innovation, a fellowship scheme for science and technology students from Quad nations, and has enhanced partnership in the fields of infrastructure, cybersecurity, outer space and humanitarian support to Afghanistan.
Tokyo 2022
March 2022 saw an emergency virtual meeting by Quad leaders in the wake of the Ukraine crisis. Two months later, in May, they met in person in Tokyo and called for demonstrating that Quad is "a force for good, committed to bringing tangible benefits to the region". In this regard, they launched a new partnership for maritime domain awareness in the Indo-Pacific (IPMDA) to work with regional partners in combating illegal fishing and responding to disasters by making use of information fusion centres in the Indo-Pacific sub-regions of the Indian Ocean, Southeast Asia, and the Pacific Islands and by providing near-real-time, integrated and cost-effective data to maritime agencies in these sub-regions.
Tokyo also saw the announcement of a new HADR partnership to further strengthen collaboration in effectively responding to disasters in the region. A new working group on counterterrorism was announced during the Quad foreign ministers' meeting in March 2023 in New Delhi, India. The next summit was scheduled to be held in Sydney, Australia. But the U.S. President's inability to attend the summit led to its cancellation and instead the four leaders met in Hiroshima on the sidelines of the G7 summit. Japan, thus, got to host two Quad summits in a row. In 2024, it will be India's turn to host the leaders' summit.
All Quad countries, along with several other regional countries, chose to participate in the U.S.-led Indo-Pacific Economic Framework for Prosperity (IPEF) launched in Tokyo, just ahead of the 2022 Quad summit. This gives Washington an expanded economic footprint in the region at a time when Chinese economic engagement with regional actors is increasing steadily and progressively. 2022 also saw the launch of the 'Quad Climate Change Adaptation and Mitigation Package' (Q-CHAMP) and the 'Quad Clean Hydrogen Partnership'.
A partnership that predates its name itself
In fact, cooperation among the United States, India, Australia and Japan predates the idea of the Quad itself. Nearly two decades ago, when the Boxing Day tsunami of 2004 wreaked havoc in the Indian Ocean, the four nations came together to coordinate humanitarian assistance and disaster relief (HADR) operations by forming a 'Tsunami Core Group' and acted as first responders to the looming humanitarian crisis and their collective effort continued till mid-January 2005 before handing over the mission to the United Nations.
So, even before the idea of Quad as such took shape, the four-nation grouping had its first item in its agenda – HADR. The phrase "Quadrilateral Security Dialogue" (QSD), predecessor of the present-day Quad, and the maritime construct of "Indo-Pacific" made its entry into the politico-diplomatic lexicon only three years later, led by the persuasive leadership of former Japanese prime minister Shinzo Abe. The first QSD was held in May 2007 on the sidelines of the ASEAN Regional Forum in Manila, only to get disbanded the following year due to Australia's withdrawal and differences on what the grouping's aims and objectives should be in the years ahead.
Australia backed off primarily due to the diplomatic pressure and the prospect of a promising economic relationship with a rising China. Together with unfavourable regime changes in Canberra and Tokyo in the end of 2007, the Quad remained in a dormant state for about a decade from 2008 to 2017. The fact that China successfully managed to persuade Australia to come out of the Quad just a year after its formation says a lot about Beijing's negative perceptions of the grouping, or to be precise the perception of it as a U.S.-led attempt to build an "Asian NATO" to contain its rise.
The grouping was given a new life in 2017 when the Donald Trump Administration in the United States (January 2017 to January 2021) took a special interest in reviving it by initiating a working group for 'consultations on issues of common interest in the Indo-Pacific region'. From November 2017 to March 2021, senior officials from the four Quad nations met seven times and the foreign ministers met thrice, one each in 2019, 2020, and 2021 respectively.
The grouping was finally upgraded to the summit-level in 2021 and then it was followed by in-person summits in 2021, 2022 and 2023, while the foreign ministers continue to meet annually as a precursor to the summits. Today, there is a greater convergence of interests between the Quad partners, which is unlikely to shrink any time soon. The disruptive nature of China's rise has been a constant factor that has influenced, and is influencing, agenda-setting within the grouping, particularly as a "balance of power" mechanism.
Today, the broad range of areas where the Quad countries cooperate on, as mentioned earlier, happen to be arenas of wider strategic competition with Beijing, even though they don't wish to acknowledge it explicitly. Taking into account the current trajectory of conflictual nature of geopolitics in the Indo-Pacific, these areas of cooperation and arenas of competition are poised to expand further and further with time. However, what needs to be seen in the years to come is the extent to which Quad dares to tread when it comes to the realm of hard security outside of a formal alliance.
The Tale of Two Neighbors: India and Pakistan at the SCO Summit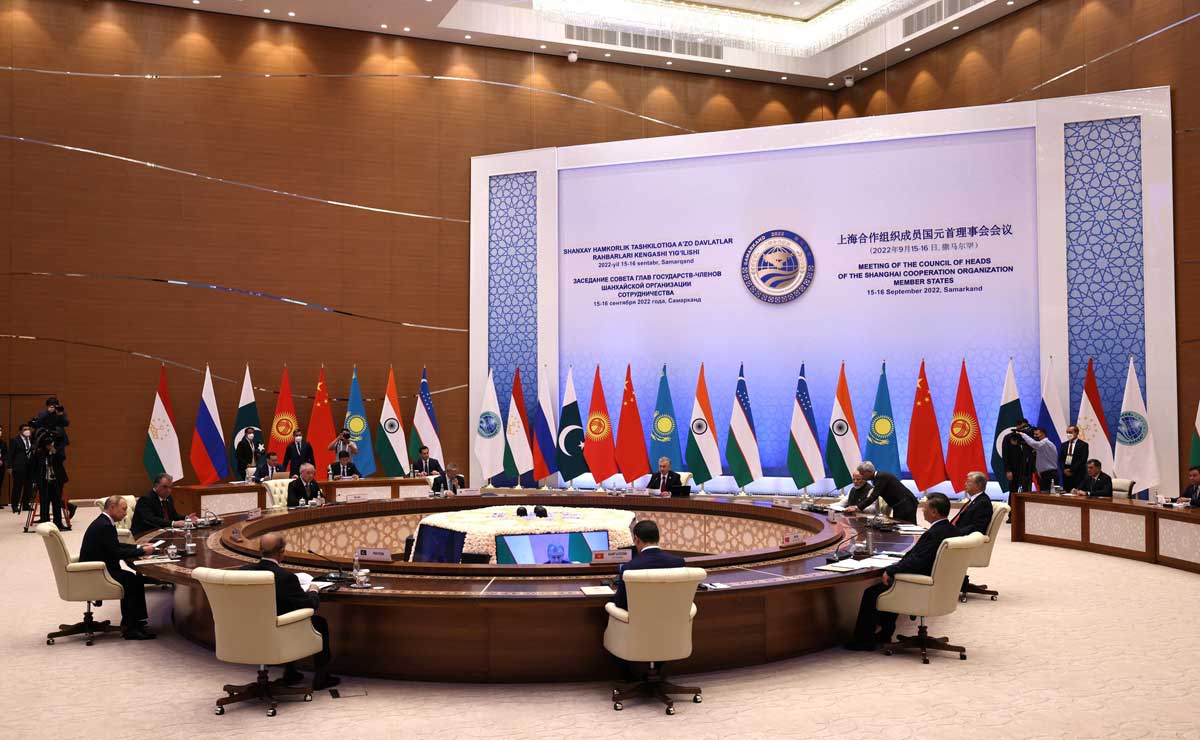 Pakistan and India are bitter neighbors who do not get along very well. Since 1947 they have fought three wars over a disputed region called Kashmir; in the same vein, they accuse each other of supporting terrorism and violating human rights. Moreover, Pakistan and India have sophisticated nukes, making their rivalry even more dangerous.
Unlike Kashmir, the issue of terrorism has had a profound impact on their bilateral relationship. India has since long accused Pakistan of supporting terrorist groups that operate on its soil and carry out attacks on its territory. Similarly, Pakistan has accused India of fueling terrorism on its territory. The most prominent example was the 2008 Mumbai attacks, in which unknown gunmen carried out a series of coordinated attacks in Mumbai, killing more or less 166 people. Surprisingly, the Indian government blamed Pakistan's Inter-Services Intelligence (ISI) for supporting the attack, while Pakistan denied it.
The two countries also disagree on sharing the waters of the Indus River, which flows through both countries. Moreover, the political and diplomatic tension has further complicated the relationship, with incidents such as the 2019 Pulwama attack, air skirmishes and the subsequent military escalation exacerbating existing tension. Despite efforts to improve ties and resolve issues through different channels, bilateral relations remain strained.
Nevertheless, Pakistan and India sometimes have to sit together and negotiate, like the recent Shanghai Cooperation Organization (SCO) summit. However, before the summit, it appeared to be an eminent development after a decade of strained relations between the two countries. The SCO previously paved the way for India and Pakistan to facilitate dialogue. Despite the periodic attempt to advance dialogue and peace talks between India and Pakistan, their relationship remained fraught with suspicion and loathing.
This year the SCO meeting was held in Goa, India. Unfortunately, the summit was not a friendly affair for India and Pakistan; the two foreign ministers, Bilawal Bhutto-Zardari of Pakistan and Subrahmanyam Jaishankar of India, took veiled swipes at each other in separate conferences.
However, it is imperative to note that the SCO is a stage that is foundationally against the "Three Evils," namely, extremism, separatism, and terrorism; the member states can use this forum to set together and discuss the issue and create a common ground to these evils. Nonetheless, the forum does not allow member states to blame or accuse each other directly for supporting these evils. Despite this, the Indian foreign minister Jaishankar deliberately beleaguered Bilawal and accused Pakistan of harboring terrorist organizations inside the country. He further describes Pakistan's position on Kashmir as effectually backing radicalism: "Victims of terrorism do not sit together with perpetrators of terrorism to discuss terrorism, he said" He even blames Bilawal Bhutto Zardari, a "promoter" and spokesperson for terrorism, and it was a ruthless dismissal at the end of the most prestigious visit between two countries in over a decade.
He also said, "Pakistan is depleting faster even its Forex reserve," which he refers to Islamabad's economic situation.
In a forum like the SCO, delegates must respect each other's views and engage in constructive dialogue. Therefore, it is not appropriate for the SCO members to accuse each other directly in the SCO summit, as it would violate the spirit of cooperation and mutual understanding that the SCO stands for. Instead, the SCO members should seek to resolve their differences through peaceful means and constructive dialogue and avoid actions that could undermine the stability and development of the region. Meanwhile, listening is essential for an effective dialogue, and the parties involved must pay attention to each other's perspectives and try to reach a common understanding of the situation and the challenges they face. Instead of resorting to aggressive or discordant strategies that can damage the relationship and hinder the resolution of the problem, parties should cooperate and work together to find a reciprocally useful solution.
Such summits should not result in any negative outcomes, as they would not only undermine the rules and regulations of the forum but also influence the behavior and attitude of the delegates and the people of the participating countries.
Case in point, the one outcome Pakistanis have learned from the recent SCO summit is that India is a terror-sponsoring country with horrific activities in its mind and no sign of respect for foreign leaders, and they are hard to negotiate with; in the same vein, Imran Khan, the former Prime Minister of Pakistan also expressed his displeasure over the way Indian Foreign Minister treated Pakistani Foreign Minister at the SCO summit, Khan accused Jaishankar of being a bad host and lacking etiquette and culture. Meanwhile, Indians, on the other hand, appreciated Jaishankar's words as an act of revenge. It is evident that India has used the issue of terrorism for political gain, often at the expense of bilateral relations. This has led to counterterrorism efforts becoming entangled with broader political and strategic interests, making it more difficult to develop a comprehensive approach to the issues.
In the interim, working together to address terrorism and promote regional stability, the SCO members must trust each other and should not confront each other. The two ministers did not meet bilaterally, and there was no sign of reconciliation in their last-longer strained relations.
However, if there are no outcomes with a sign of trust in each other among the member states, then what was the point of attending the summit? Or it means that India and Pakistan have their reason to be part of the bloc? It is worth noting that India is also a sole member of QUAD, and one of the main objectives of the QUAD is to counterbalance China's growing influence in the Indo-Pacific region. Meanwhile, India also sees China as a strategic rival and a security threat, especially after the border clashes in 2020. Nevertheless, India's participation in the Quad has been seen as a way to counterbalance China, while its participation in the SCO has been perceived as a strategy to isolate Pakistan and portray it as a state sponsor of terrorism in the international arena. Nevertheless, it conveys that India's participation in both organizations reflects a dual-game self-centered strategy.
I do not intend to accuse India of engaging in international organizations but to reveal the inconsistency of its foreign policy. India should not advance its interests at the cost of others. Meanwhile, blaming Pakistan for terrorism or calling Pakistan a terrorist country is not a solution to their ever-lasting rivalry, but such attitudes can only cite hate among the citizens, further escalating bilateral rivalry. Pakistan has long extended its hand for negotiation, and the recently proposed Kartarpur Peace Corridor was another way to improve relations between countries. However, India's choice to scuffle the special status of the undecided region of Kashmir in 2019 undermined the atmosphere for holding talks between India and Pakistan.
Lastly, to bring peace and stability to the region, both countries should foster trust and cooperation and refrain from accusing each other in international forums. South Asia has immense potential for development and cooperation, but the entrenched conflict between India and Pakistan hampers every step toward progress.