Millets prove tasty solution to climate and food security challenges
A renewed focus on boosting the production of millets and highlighting their benefits, is critical to reducing over-reliance on more commonly grown crops, boosting diverse diets, and food security. That's especially true during periods of natural disaster when food becomes scarce, according to Dr Nancy Aburto, an agriculture expert at the Food and Agriculture Organization (FAO).
She spoke to UN News earlier this year, saying that following the UN General Assembly's recent adoption of a resolution proclaiming 2023 as the International Year of Millets in March 2021, efforts are afoot to promote cultivation as a solution to climate and global food security challenges.  
Millets – often called "Nutri-Cereals" due to their high nutritional value – are a group of small-seeded grasses grown mainly in dry zones of Asia and Africa. These include sorghum (or great millet), pearl millet, finger millet, fonio, proso millet, foxtail millet, teff and other smaller varietals.
Estimates show that more than 90 million people in Africa and Asia depend on millets in their diets. Africa accounts for more than 55 percent of global production, followed by Asia with nearly 40 percent, while Europe represents around three percent of the world market.
Population challenge
The world needs to produce more food to feed a rapidly growing global population, which is projected to reach 8.5 billion by 2030, and a staggering 9.7 billion by 2050.
With a deepening climate crisis and aggravating environmental stresses, there is a heightened need for crop diversification by promoting crops suitable for cultivation in the toughest of environments.
Acknowledging the role of millets in responding to nutritional, agrarian and climate challenges, the UN resolution considers the "urgent need to raise awareness of the climate-resilient and nutritional benefits of millets and to advocate for diversified, balanced and healthy diets through the increased sustainable production and consumption of millets."
They are rich in vitamins and minerals, including iron and calcium; are high in protein, fiber, resistant starch, and have a low glycemic index, which can help prevent or manage diabetes.
Good to grow
"Compared to the more commonly known cereals such as wheat, rice or corn, millets are capable of growing under drought conditions, under non-irrigated conditions even in very low rainfall regimes, having a low water footprint", explained Dr. Aburto, deputy director in the nutrition and food systems division of the UN Food and Agriculture Organization.
The International Crops Research Institute for the Semi-Arid Tropics (ICRISAT) based in Hyderabad, India, is a non-profit organization that conducts agricultural research for development. ICRISAT works closely with farmer communities and its partners, including the International Fund for Agriculture Development (IFAD), focusing on millets, among other crops.
ICRISAT Assistant Director General for External Relations, Joanna Kane-Potaka, described millets as a smart food – good for people, the planet, and farmers.
"Millets can help contribute to some of the biggest global challenges in unison – nutrition and health needs, mitigation and adaptation to climate change, poverty of smallholder and marginalized farmers in the dry zones – some of the toughest areas that will take longer to reach the sustainable development goals."
Boosting sustainability
Through offering a reduced dependence on synthetic fertilizers and pesticides, millets cultivation may also help promote a shift towards sustainable agriculture, diversifying crop rotations and avoiding the promotion of mono-cropping systems.
"The high carbon content of the crop residues makes them particularly important for maintaining and increasing soil carbon levels, important for sustainable cropping systems, and, where applicable, for providing forage, at the same time, for livestock," noted Dr. Aburto.
'Food system divide'
Millets are believed to be among the earliest domesticated plants, which have long served as traditional staple crops for millions of farmers, particularly in India, China, and Nigeria.
Notwithstanding the wide range of benefits that millets provide, they have largely been missing from the global food security agenda. In fact, in recent years, their production has gradually declined.
Experts point towards market distortions, a lack of appreciation of the benefits of millets and policies that have favored the production of the so-called Big Three cereals – rice, wheat and maize, resulting in a "Food System Divide".
Joanna Kane-Potaka of ICRISAT, gave the example of India where "during the green revolution, high yielding varieties of rice and wheat were introduced and supported to scale out on a massive scale, to improve food security, while arguably, inadequate attention was paid to nutrition or environmental factors."
The problem is further compounded by changing dietary habits, high transaction costs and the challenges involved in accessing better markets; especially true for Africa.
"Farmers have therefore shifted to more remunerative crops grown to sell for profit and moved away from subsistence agriculture responding to changing consumer preferences and markets inputs," said Dr. Aburto.
Millet comeback
According to Ms. Potaka, helping millets make a comeback is not just popularization of a neglected and underutilized crop but also an effort to achieve the sustainable development goals (SDGs) – mainly SDG 2 (zero hunger), SDG3 (good health and well-being), SDG 12 (sustainable consumption and production), and SDG 13 (climate action).
"It is essential to work on increasing the production and changing of perceptions about them to drive demand with new and modern products," she emphasized.
The current trend can be reversed with government-led policies to support production and consumption of millets, coupled with enhanced consumer awareness of their nutritional and health benefits, said Dr. Aburto.
In parallel, raising investments for research and development and generating opportunities for farmers to secure better connectivity with efficient value chains and markets, would also be crucial.
Dr. Aburto also stressed the vital role of farmers in the conservation and maintenance of genetic diversity of millet through initiatives such as community seedbanks, seed fairs, and farmer networks, with a focus on promoting local millets.
2023: the year of millets
In declaring 2023 the International Year of Millets, the resolution calls on all stakeholders to provide support to "activities aimed at raising awareness of and directing policy attention to the nutritional and health benefits of millet consumption, and their suitability for cultivation under adverse and changing climatic conditions, while also directing policy attention to improving value chain efficiencies."
Building on the experiences gained from past initiatives such as the 2016 International Year of Pulses and the 2021 International Year of Fruits and Vegetables, the UN agriculture agency is working to develop an action plan in partnership with external stakeholders, including farmers and research institutions.
"Actions taken will be aligned and supported via existing initiatives, such as the UN decade of action on Nutrition, 2016-2025 that provides an umbrella for a wide group of actors to work together to address malnutrition and other pressing nutrition issues," Dr. Aburto added.
In line with FAO's vision of a sustainable and food secure world for all, producing more and nutritious food for a growing population without overburdening land resources is a massive global challenge.
In the search for climate resilient solutions, millets could be the crucial link in the sustainable food supply chain.
2021 joins top 7 warmest years on record
Last year joined the list of the seven warmest years on record, the UN weather agency said on Wednesday, and was also the seventh consecutive year when the global temperature has been more than 1°C above pre-industrial levels; edging closer to the limit laid out under the 2015 Paris Agreement on Climate Change.
Although average global temperatures were temporarily cooled by the 2020-2022 La Niña events, 2021 was still one of the seven warmest years on record, according to six leading international datasets consolidated by the World Meteorological Organization (WMO).
Global warming and other long-term climate change trends are expected to continue as a result of record levels of heat-trapping greenhouse gases in the atmosphere, the agency said.
The average global temperature in 2021 was about 1.11 (± 0.13) °C above the pre-industrial era levels. The Paris Agreement calls for all countries to strive towards a limit of 1.5°C of global warming through concerted climate action and realistic Nationally Determined Contributions – the individual country plans that need to become a reality to slow down the rate of heating.
WMO said that it uses six international datasets "to ensure the most comprehensive, authoritative temperature assessment", and the same data are used in its authoritative annual State of the Climate reports.
Since the 1980s, each decade has been warmer than the previous one, said WMO and "this is expected to continue."
The warmest seven years have all been since 2015; the top three being 2016, 2019 and 2020. An exceptionally strong El Niño event occurred in 2016, which contributed to record global average warming.
"Back-to-back La Niña events mean that 2021 warming was relatively less pronounced compared to recent years. Even so, 2021 was still warmer than previous years influenced by La Niña", said WMO Secretary-General, Prof. Petteri Taalas.
Undeniable trend
"The overall long-term warming as a result of greenhouse gas increases, is now far larger than the year-to-year variability in global average temperatures caused by naturally occurring climate drivers".
"The year 2021 will be remembered for a record-shattering temperature of nearly 50°C in Canada, comparable to the values reported in the hot Saharan Desert of Algeria, exceptional rainfall, and deadly flooding in Asia and Europe as well as drought in parts of Africa and South America", the WMO chief added.
"Climate change impacts and weather-related hazards had life-changing and devastating impacts on communities on every single continent", Mr. Taalas underscored.
Others key indicators of global heating include greenhouse gas concentrations, ocean heat content, ocean pH levels (levels of acidity), global mean sea level, glacial mass and the extent of sea ice.
WMO uses datasets – which are based on monthly climatological data from observing sites and ships and buoys in global marine networks – developed and maintained by the US National Oceanic and Atmospheric Administration (NOAA), NASA's Goddard Institute for Space Studies (NASA GISS), the United Kingdom's Met Office Hadley Centre, and the University of East Anglia's Climatic Research Unit (HadCRUT); and the Berkeley Earth group.
WMO also uses reanalysis datasets from the European Centre for Medium Range Weather Forecasts and its Copernicus Climate Change Service, and the Japan Meteorological Agency (JMA).
WMO said that the temperature figures will be incorporated into its final report on the State of the Climate in 2021, which will be issued in April this year.
This will reference all key climate indicators and selected climate impacts, and updates a provisional report issued in October 2021 ahead of the COP26 climate conference in Glasgow, Scotland.
In Jamaica, farmers struggle to contend with a changing climate
It's 9 am and the rural district of Mount Airy in central Jamaica is already sweltering. As cars trundle along the region's unpaved roads, chocolate-brown dust clouds burst from behind their back wheels.
It is here, 50km west of Kingston and 500 meters above sea level, that the Mount Airy Farmers group are having a morning meeting. There are around two dozen people and they all say the same thing; they're struggling to keep their plots productive amid dwindling rainfall, a byproduct of climate change.
"The weather here's a lot drier for longer these days," says Althea Spencer, the treasurer of the Mount Airy Farmers group, which is based in Northern Clarendon. "If you don't have water, it makes no sense to plant seeds because they will just die."
The farmers though, have recently gotten some help in their search for water.
Just meters from where they are gathered stands a two-storey shed with a drainpipe on the roof that funnels rainwater into a tall, black tank. It's one of more than two dozen reservoirs dotted across these mountains. They are part of a project backed by six United Nations (UN) bodies to help Mount Airy's farmers adapt to climate change.
"This partnership among the UN and with communities is exactly the type of activity needed to address the day-to-day and practical impacts of climate change," says Vincent Sweeney, Head of the Caribbean Sub-Regional Office at the United Nations Environment Programme (UNEP). "As we look beyond the Glasgow Climate Change Conference, it is vital that we… adapt to the new realities of a warmer planet in order to protect lives and livelihoods in Jamaica and the Caribbean."
The challenge is not unique to the region. Droughts, floods, and the spread of pests, the byproducts of climate change, are threatening agricultural production around the globe, says the Food and Agriculture Organization. That is potentially disastrous in a world where almost 700 million people go hungry each year.
Small-hold farmers, who work more than 80 per cent of the world's farms, in particular, will need support to remain resilient in the face of climate change, say experts.
A country at risk
Farmers in Jamaica, an island nation of 3 million, are especially vulnerable. In 2020, Jamaica became the first Caribbean country to submit a tougher climate action plan to the UN because the country was at risk from rising sea levels, drought and more intense hurricanes, its government said.
In 2018, the Mount Airy farmers enrolled in the United Nations-backed programme that helps build the resilience of communities to threats such as climate change, poverty and water insecurity. It is regarded as the first joint programme of the United Nations in Jamaica, combining the resources of six agencies, including UNEP.
In Mount Airy, the UN programme has invested in 30 new water harvesting systems. The large, black tanks, which appear across the hilltops like turrets, catch and store rainfall, allowing the farmers to use it evenly via a drip irrigation system. This reduces the emerging threat of longer and more intense dry spells.
The new irrigation system also frees farmers from watering their crops by hand. "Before we got the new system, you had to predict rainfall to put seedlings in," says Spencer, a rollerball pen tucked neatly into her hair and her feet shifting on the sunbaked earth. "It feels pretty good. It allows me more time to do housework, keep up with my farm records, and I have time to go down to the market."
Alongside the tanks sit drums which mix fertilizer with water and spread it evenly among the crops, saving the farmers valuable time. The dissolvable fertilizer is also cheaper than standard fertilizers.
On top of that, the irrigation system improves yields. Spencer now grows and sells more sweet potatoes, peppers and tomatoes than ever before.
Coupled with the water tanks, the programme has also prioritized education. Seminars are run by the Rural Agricultural Development Authority, a government agency, which aims to broaden the farmer's knowledge and skills.
Although it is not unusual for women to farm these lands, Spencer speaks about how the trainings have helped to empower the female members of the group by coming together. "To me, the learnings and the trainings bond us ladies together," she says.
A life in the mountains
Back at the gathering of the Mount Airy farmers, the assembled say some prayers and repeat their mantra aloud two times: "We are the Mount Airy Farmers Group our motto is: All grow in fear and failure bearing fruits of confidence and success."
Spencer, who is in her 40s, is a vocal participant at the meeting and obviously well-liked. She was born in Mount Airy and has been farming these fields most of her life. She has vivid memories of working on her father's farm as a child. Unable to afford to pay anyone else, he often pulled her out of school to sow and reap the fields.
That's a common refrain among many who grew up in Mount Airy – and one the new UN programme is aiming to change.
"If my father had this harvesting system, would I have gone to school more?" Spencer asks herself. "Yes, probably. But even then, he was always working us. So I'm sure he'd find something for us to do," she says laughing.
Spencer welcomes the introduction of the water tanks. However, she says current rainfall patterns mean water sometimes still runs out. "If you don't manage your water properly, one will run out before you get anywhere," she says ominously.
Her story may be one of success today, but it shows that living with climate change will require adaptation and continued investment for years to come. UNEP's 2021 Adaptation Gap Report called for an urgent increase in financing for climate adaptation. It found that adaptation costs in developing countries are five to ten times greater than current public adaptation finance flows, and the adaptation finance gap is widening.
Climate change: For 25th year in a row, Greenland ice sheet shrinks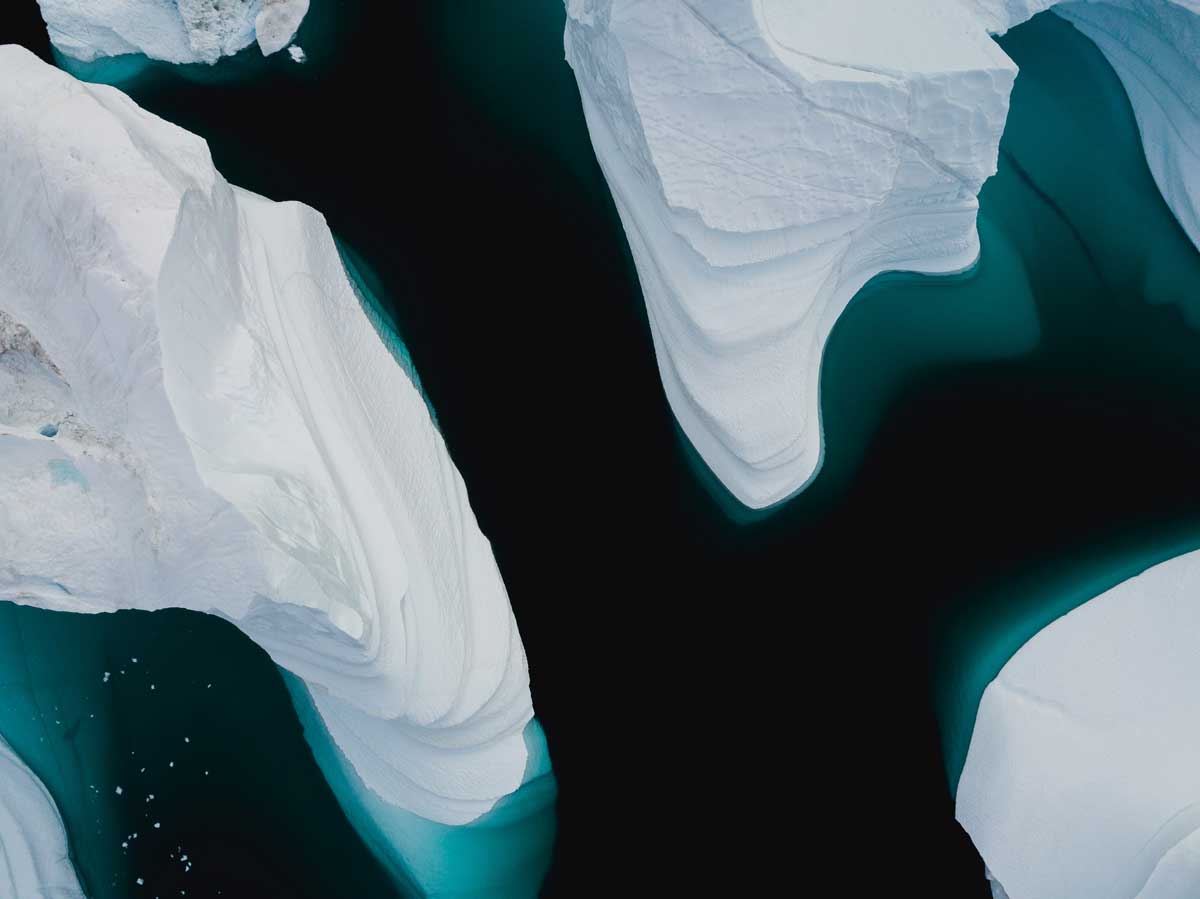 2021 marked the 25th year in a row in which the key Greenland ice sheet lost more mass during the melting season, than it gained during the winter, according to a new UN-endorsed report issued on Friday.
The data from the Danish Arctic monitoring service Polar Portal – which forms part of the UN weather agency WMO's annual State of the Climate report – shows that early summer was cold and wet, with unusually heavy and late snowfall in June, which delayed the onset of the melting season.
After that, however, a heatwave at the end of July, led to a considerable loss of ice.
In terms of "total mass balance" (the sum of surface melting and loss of ice chunks from icebergs, in addition to the melting of glacier "tongues" in contact with seawater), the ice sheet lost around 166 billion tonnes during the 12-month period ending in August 2021.
Climate change
These numbers mean the ice sheet ended the season with a net surface mass balance of approximately 396 billion tonnes, making it the 28th lowest level recorded, in the 41-year time series.
This could be considered an average year, but Polar Report notes how perspectives have changed, due to rapidly advancing climate change. 
At the end of the 1990s, for example, these same figures would have been regarded as a year with a very low surface mass balance.
The report also notes that the cause of the early summer chill, could be due to conditions over southwest Canada and the northwest United States.
In these territories, an enormous "blocking" high pressure system was formed, shaped like the Greek capital letter Omega (Ω).
This flow pattern occurs regularly in the troposphere, and not just over North America, but it had never been observed with such strength before.
According to the report, an analysis by World Weather Attribution demonstrated that it could only be explained as a result of atmospheric warming caused by human activity.
Notable year
According to the report, 2021 was notable for several reasons.
It was the year in which precipitation at Summit Station, which is located at the top of the ice sheet at an altitude of 3,200 metres above sea level, was registered in the form of rain.
The year also saw an acceleration of the loss of ice at the Sermeq Kujalleq glacier, where the rate of loss had otherwise been stagnant for several years. 
Winter snowfall was also close to average for the period between 1981 and 2010, which was good news, because a combination of low winter snowfall and a warm summer can result in very large losses of ice, as was the case in 2019.