How America Does Regime-Change Propaganda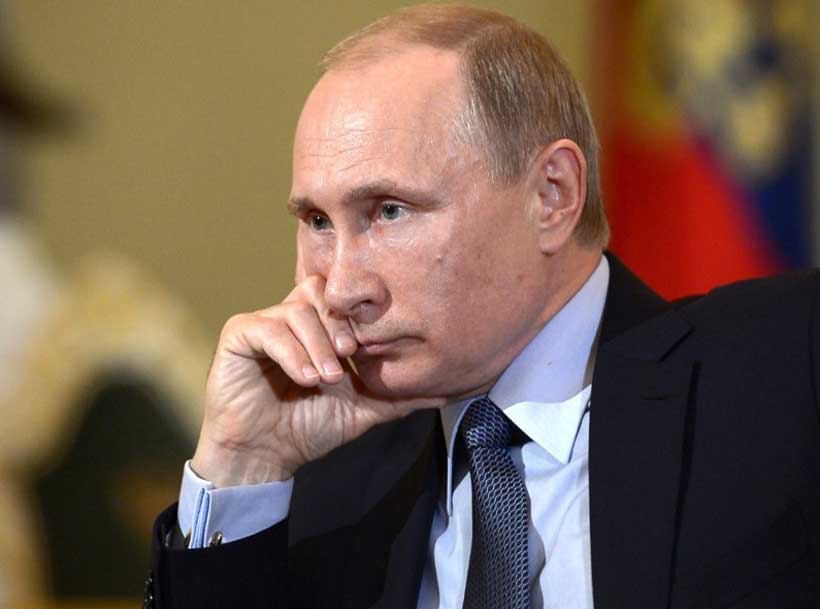 In the case of Saddam Hussein, it was by lying about "WMD" and about Saddam's being behind Al Qaeda.
In the case of Muammar Qaddafi, it was by lying about Qaddafi's being hated (instead of supported) by most Libyans.
In the case of Bashar al-Assad, it was by lying about Assad's being hated (instead of supported) by most Syrians.
In the case of Xi Jinping, it is by lying about Xi's being a dictator.
In the case of Vladimir Putin, it is by lying about Putin's being a dictator.
However, all such allegations, except the case against Saddam, were irrelevant under international law, and provided no legal basis for an invasion or sanctions by any foreign country. (Furthermore, all of those allegations were lies.) Regarding Iraq, the U.S. regime lied to allege the presence of a nuclear-bomb program there, and this allegation pertained to America's own national security; so, that allegation concerning Iraq would have been a possible justification to invade, if it hadn't been a lie. (Truthfulness is always a requirement under international law.) But in the other instances, no danger to America's national security was even being alleged. The U.S. regime alleged that the foreign leaders it wanted to overthrow were 'violating the human rights of the people' there, but the U.S. Government routinely violates the human rights of its own population and imprisons a higher percentage of them than any other country — including all of the ones it criticizes — does; so, any such allegation by the U.S. regime is perhaps even worse than a pot calling the kettle black, because this particular "pot" is blacker than any of the others. What foreign countries say about 'human rights' in any other country provides no grounds in international law for the accusing country to invade that country. If a given national leader should be replaced, that regime-change shouldn't be foreign-imposed (for example, America and its allies — the champions of foreign regime-change operations — should have nothing to do with it), but instead it should be done only by patriots within that given nation — and not assisted (much less instigated) by the CIA, MI6, or etc., since that would make it be imperialism. A basic principle of international law is that law within any nation doesn't fall within the purview of international law: it's simply not an international matter. International law is supposed to concern only international relations — no internal (domestic) matters (unless the U.N. General Assembly and Security Council specify there to be an exception — such as if they rule that a genocide is being perpetrated within a given nation). Other countries (such as the rulers of America) might not like the ruler of a given nation, but this doesn't give those foreigners any right to perpetrate regime-change there, such as the U.S. and its allies routinely do (and have done ever since 1948).
Consequently: the way that America and its allies do sanctions, coups, invasions, and other regime-change operations, is by deceiving their own publics — it is always being done by means of propaganda, lying to their own people. To this extent, any imperialistic nation is actually a regime, not a democracy, because imperialism is always, and even intrinsically, based upon lies, which the given nation's rulers use in order to fool their own citizenry, so that those 'citizens' are actually those rulers' "subjects," not authentically citizens, of that actual dictatorship. (And then they lie by referring to their subjects as 'citizens', instead of as "subjects," so as to be able to continue fooling them throughout the future, to continue the myth of their own nation's being a 'democracy'.)
The foreign-imposed regime-change operations are always based upon lying. It's the basic tool of any dictatorship. And the public never learns that they've been suckered by their rulers.
That's why it happens again and again, and the public fall for it again and again. The public never learn from their own government's lying; they just fall for it, again and again. They trust their Government, 'their' 'democracy', and its 'news'-media (actually propaganda-media).
In the world today, what country doesn't call itself a "democracy"? Do any democracies actually exist? A nation that engages in imperialism is certainly a dictatorship — its government lies routinely, to its own subjects. That cannot be a democracy. A 'democracy' that's built upon lies is a dictatorship. Democracy can be built only upon the public's being truthfully informed regarding every issue that's of governmental importance. Does such a nation exist? Where does it exist?
The biggest lying is done about international matters. Unfortunately, most people don't care about international matters, but only about domestic (or intranational) matters. So, it's easy for dictators who rule an imperialistic regime to fool their public — i.e., to enslave them mentally. It's what the public there are actually accustomed to.
Let's take, as an example, the case by the American regime against Russia's leader, Putin. America and its allies allege that Alexei Navalny, who has long aspired to replace Putin as Russia's leader, is in prison in Russia because Navalny is so popular there that in a fair-and-square election, Navalny would beat Putin.
The dominant public image of Navalny in the United States and in its allied countries is that of his being an anti-corruption campaigner in a very corrupt Russia, and his being Russia's most-popular opponent against Russia's President Vladimir Putin, and therefore blocked by Putin from running against Putin, and who has even been poisoned by Putin, but — amazingly — survived that poisoning by Putin, and is therefore now being imprisoned by Putin, so as to prevent Navalny from being able to run against Putin in a free and fair democratic election in Russia.
However, the dominant public image of the Russian Alexei Navalny inside Russia is that of his being a CIA-MI6 asset who is a racist-fascist traitor who would sell-out his country for anything so long as he could become its leader, just like Benedict Arnold was in early U.S. history, when the then U.S. Vice President Arnold worked with the intelligence services of Britain's King George III in order to become America's leader so as to restore the United States to British control. (That ploy, by Arnold, failed, of course.)
Typical of the view regarding Navalny that's popular in the U.S. and in its allied countries is a news-report from Reuters on May 6th, titled "Defiant but cornered: Jailed Kremlin critic Navalny's movement is on the ropes". It opens:
He has been poisoned, jailed and his close aides are either being prosecuted or have fled abroad. His anti-Kremlin opposition movement is now also likely to soon be outlawed as extremist.
Yet Alexei Navalny and his supporters continue to work on ways to remain a thorn in President Vladimir Putin's side, even as one of his most important financial backers says the movement in its current form is finished and will take time to rebound.
In the eyes of the Kremlin, the only half-meaningful political weapon the Navalny camp has left is its campaign for tactical, or what it calls "smart" voting against the ruling United Russia party in a parliamentary election in September, according to three people close to the Russian authorities.
Navalny's supporters are set to be barred from that election via a court case, due to unfold later this month, and planned legislation unveiled on the parliamentary website on Tuesday that would ban "extremists" from running for office.
A court, meeting in secret, is considering a request from Moscow prosecutors to have Navalny's network designated "extremist" for allegedly plotting a revolution, state media have reported. Russia's financial monitoring agency has already added the network to a list on its website of groups involved in "terrorism and extremism".
In response, Navalny's movement has redoubled its call for sympathisers to vote for other opposition parties in September, however unpalatable they may consider them.
Typical of the view of Navalny that is popular inside Russia itself are the following:
An RT news-report on 1 February 2021 headlined "Top Navalny aide asked alleged British spy for millions in funding, intelligence video released by Russia's FSB claims to reveal". Back in 2012, Russia's equivalent of America's FBI had a hidden camera in position filming, and recording, Navalny's top aide trying to persuade a person he thought to be an MI6 (UK's CIA) agent that MI6 should annually donate tens of millions of dollars to Navalny's organization because doing this would provide billions of dollars of benefit to UK corporations if Navalny would then succeed and become Russia's leader.
Navalny is also known in Russia as a far-right ethnic supremacist. Here is a video that he posted to youtube on 19 September 2007, under the title of "НАРОД за легализацию оружия" meaning "PEOPLE for the legalization of weapons":
He was saying there that all Russians should get guns in order to kill Muslims who are infesting Russia, which would be like swatting big flies or stamping on big cockroaches. Later, he decided that demagoguing against Russia's "corruption" was far likelier to win him the backing of the U.S and its allies than demagoguing against Russia's Muslims would. This was when U.S.-and-allied 'news'-media began presenting him as the 'democratic' alternative to Vladimir Putin, who has always been vastly more favorably viewed by Russians than Navalny has been. On 5 September 2020, right before the latest Russian Presidential election, the internationally respected Levada polling organization in Russia reported that the top choice of Russians to lead the country was Putin at 56%, the second-from-top choice was Zhirinovsky at 5%, and Alexey Navalny (shown there as Алексей Навальный), was the third-from-top choice, at 2%. In the 2018 Presidential election, Zhirinovsky polled at 13.7%, Grudinin polled at 12.0%, and Putin polled at 72.6%. The actual election-outcome was Putin 76.69%, Grudinin 11.7%, and Zhirinovsky 5.65%. There were many polls and Navalny was never any serious contender for Russia's Presidency. The U.S. regime lies as it usually does (at least about international matters).
That's what Russians know about Navalny. And, of course, it's very different from what the publics in U.S.-and-allied countries know (or, at least, believe) about him.
Here is some recent propaganda that's published by U.S.-and-allied regimes about Navalny:
On May 22nd, Japan Times ran a Reuters report, "How Russia's new gulag tries to break convicts like Alexei Navalny".
On May 23rd, the Wall Street Journal headlined "Russia's Navalny Fights to Stay in Public Eye in Putin Standoff".
On May 4th, the Washington Post columnist Vladimir Kara-Murza headlined "Russia just took a big step back toward the Soviet Union", and said: "Last week, for the first time since the Soviet era, the Kremlin officially classified opposition to its rule as a criminal offense. … Moscow prosecutors suspended the activities of the nationwide organization of Alexei Navalny, Vladimir Putin's most prominent opponent. Navalny is currently incarcerated in a prison camp after surviving a state-sponsored assassination attempt last year."
Navalny, though he actually is favorably viewed by only around 2% of Russians (as indicated in polls there), is widely publicized in U.S.-and-allied media as having instead the highest support by the Russian people of anyone who might challenge Vladimir Putin for Russia's leadership. It's a lie, and always has been. Other politicians have far higher polled support in Russia. For example, a Russian poll conducted in the days following Alexey Navalny's alleged novichok poisoning showed the following level of support for him then, if a Russian election for President would be held at that time: Vladimir Putin 56%, Vladimir Zhirinkovsky 5%. Alexei Navalny 2%. In the 2018 Presidential election, Zhirinovsky polled at 13.7%, Grudinin polled at 12.0%, and Putin polled at 72.6%. The actual election-outcome was Putin 76.69%, Grudinin 11.7%, and Zhirinovsky 5.65%. There were many polls and Navalny was never any serious contender for Russia's Presidency. The U.S. regime lies as it usually does (at least about international matters).
To say that Navalny has enough public supporters for him to have become elected as Russia's President is like alleging that the former Ku Klux Klan leader David Duke had enough public supporters for him to have become elected as America's President.
But some people in America still think that Saddam Hussein was hiding WMD in 2002.
This is how America does regime-change propaganda, every time: lies.
These lies come from the regime that spends around half of all of the entire world's military spending, and the regime that imprisons the world's highest percentage of its subjects (or 'citizens'). It's the 'land of the free', and exports its 'freedom and democracy' everywhere.
And that's how America does regime-change operations: by sheer lies.
Like all imperialism throughout history, it's based on lies — propaganda. And, like in all imperialistic regimes throughout history, their public believe these lies, every time, time after time. They don't learn the truth, because they're never taught the truth. (Dissenters are suppressed, not hired. In any dictatorship, the financial incentives support the liars, not the truth-tellers.)
The liberal international order has not crumbled yet
Since 2017 when Donald Trump took office, the "liberal international order" erected in 1991 has been under serious challenges raised by the United States' relative decline, the Trump administration's isolationist policy, and on top of that, the outbreak of COVID-19. Indeed, this order is greatly plagued, which is evidenced by its dysfunction. Against this backdrop, its endurance in the upcoming time is questionable. Nevertheless, the liberal international order has not collapsed yet. It will even revive, and endure in the post-pandemic era.
The victory of Biden
Notwithstanding facing great threats, the liberal international order is far from crumbling. On the contrary, it is gradually reviving. In the Western world, countries are making effort to reform their order that is on the verge of collapse. This is true in the US – the world democracy's leader. Joe Biden's victory against Donald Trump may be a positive signal for the US and the global democracy. As a strong advocate for values including democracy, multilateralism and international trade, at no doubt, President Biden will be opposite to Trump in his policy, both domestic and foreign ones. Indeed, during his first 100 days, Mr.Biden has implemented some meaningful things. Regarding the pandemic, he has a stricter approach than his predecessor's: Mandatory mask wearing, a $1.9-trillions bill, historical vaccination campaign, to name a few. All of Biden's actions have been so far effective, when the new cases and deaths are steadily declining, and the number of vaccinated people is substantially high. This lays a foundation for Biden to reinvigorate his country's ruined democracy and governance system, as his efficiency in countering COVID-19 may help him regain American people's trust on the future of American democracy.
In terms of foreign policy, President Biden has some radical changes compared to that of Trump, which might be favorable to the Western world. At first glance, Biden embraces multilateralism much more than his predecessor, with the hope of saving the American global leadership. He supports Washington's participation in international institutions, which is illustrated by the rejoining of WHO, Paris Agreement and several multilateral commitments. In tandem with this, Biden values the US' alliances and strategic partnership as vital instruments for the US' hegemony. Unlike Trump's transactional approach, Biden prioritizes early and effective engagement with allies to tackle regional and global issues, especially major ones like NATO, G7. In Asia, he also seeks for further cooperation with traditional allies such as Japan, Australia, New Zealand and deepening partnership with Vietnam, Singapore, India and ASEAN countries.
More importantly, President Biden's policies towards the US' competitors and "rogue states" are far different from Trump's. Granted, despite seeing China as the biggest threat to the American global leadership, Biden adopts a more flexible and multilateral policy. His administration looks to cooperate and compete with China, which implies a different trajectory of the US-China relationship in the upcoming time. Additionally, as noted above, instead of unilaterally escalating tensions with China as Trump did, Biden has been forging relations with traditional and potential Asian allies to contain China together, given China's increasing assertiveness. With regard to Iran, Washington is now working on the Iran Nuclear Deal with other six parties, promising a potentially positive future on the relations of Iran with the US and the West. The bottom line is, a radical change in Biden's foreign policy will be a clear message to the world that the US will still try to save the liberal international order and make this world safer for democracy.
The European Union is recovering
Things are happening in the same pattern in Europe. European leaders are also closely cooperating, both inside and outside the bloc, to defeat COVID-19. That said, they are ardently supporting multilateralism. So far, the EU has spent billions of dollars in vaccine development as well as humanitarian support, demonstrating its solidarity in the battle against COVID-19. As such, if EU leaders can successfully lead their bloc out of the current crisis, they can reform this currently plagued institution in the post-pandemic era. Not only seeking further intra-bloc cooperation, but also European leaders are working with other major actors around the world to substantiate the global battlefront against COVID-19. Recently, German Chancellor Angela Merkel urged her country and China to jointly develop COVID's vaccine in an open, transparent way, and to a further extent, maintain good and stable bilateral partnership, regardless of two sides' differences.
Similarly, the EU has been putting the Transatlantic relationship among the priorities of its foreign policy agenda. After Biden's election, the European Commission has proposed refreshing the US-EU alliance and establishing a Transatlantic Trade and Technology Council, being seen as an informal tech alliance with the US to prevent China from dominating this critical sector. The Transatlantic relationship is perhaps one of the pillars for the liberal international order, given its long history and its contribution to maintain the global stability. In the last decades, this axis has been damaged by numerous issues, from economic to security, which is one of the main causes for the decline of liberal international order. Thus, a fresh Transatlantic relationship is conducive to the re-emergence of this order. In this respect, the EU's effort to strengthen the Transatlantic alliance, despite being questionable in terms of feasibility and outcome, is still paving the way for reinvigorating of liberal international order. More notably, the most recent G7 Summit has illustrated the Western's solidarity, when there is a convergence in most issues related to global governance and maintaining the Western-based order. This may be a harbinger of the liberal international order's revival, at least in a foreseeable future.
Non-Western world is struggling
The dynamics outside the Western world is also changing in a more favorable direction. Many non-Western countries, once were effective in combating against the pandemic, are now struggling with a greater threat. Taiwan, in spite of being praised as one of the most successful states in the battle against COVID-19, is currently facing another wave of pandemic when the new cases in this island are surging recently. Other successful stories, let us say Thailand, Japan or South Korea, are questionable of maintaining their momentum in preventing the virus, showcased by their relatively inefficiency during this new wave, in implementing strong measures and getting their people vaccinated. This raises question about these countries' model of governance, which was used to be praised as a better alternative for a plagued, dysfunctional Western one, thanks to its merits in helping those above-mentioned states contain COVID-19.
Major non-Western blocs are in the midst of COVID-19 crisis as well. The clearest example is the BRICS. Except China, all other countries in this bloc have been tremendously suffering from the pandemic. Due to this, they are far from being recovered quickly. This failure in dealing with the virus undermines the bloc's previous effort in establishing its position as a major, effective one, not to mention building a new, non-Western international order. This is also the case with ASEAN, as the organization was sharply divided by COVID-19. There are countries doing well with controlling the pandemic such as Vietnam, Singapore, but the Philippines and Indonesia are unable to do so, making this bloc suffering from institutional sclerosis without having any coherent COVID-19 policy. Therefore, non-Western blocs and countries are far from being more efficient than Western ones, implying they are unable to come up with any better international orders than the current liberal international one.
More importantly, Western values underpinning the liberal international order are universal. This is noteworthy when arguing for the long-lasting of Western order, as its existence and endurance mainly hinge on the universality of Western values. These values have been embraced by many countries for a very long time. Hence, despite being deteriorated in recent years, they cannot be easily changed. On the other hand, non-Western values are also not as highly embraced as Western ones. China, desiring to topple the US, is initiating numerous projects and agreements to spread its values around the world, making the world less Western and more Chinese/Asian. Nonetheless, Beijing has yet achieved any remarkable achievements in making their values more widespread and embraced by the rest of the world. Even worse, its image has been tarnished due to its rising assertiveness. Its projects in developing countries, especially BRI-related projects, have been notorious for a large number of problems related to environment or local corruption, and it is raising strategic uncertainty in the region by its increasing militarization, particularly on the South China Sea. These movements have turned China into a "malevolent" major power, hindering its process of disseminating and socializing its values to the world.
It is also worth noting that although Western values have declined, they have been proven to be benevolent for this world. Most recently, it is Western countries that have successfully developed good COVID-19 vaccines to save themselves and save the world from this unprecedented health crisis. Non-Western countries, for instance China and Russia, have their own vaccines, but they are not as welcome as other developed countries in the West in the vaccine race, because their vaccines are relatively less effective than Western-produced ones. Democracy, liberty, lassaiz faire are values that help Western countries or ones embrace such things able to produce massive amount of effective vaccines, and more broadly to develop a strong science and technology foundation. Producing and distributing vaccine for the rest of the world would make the West become a savior, which is good for saving the liberal international order.
Without doubt, the liberal international order has been in its worst time since 1991 when it reached its heyday. However, thanks to its merits, the liberal international order will not die. Instead, most countries will jointly save it, because they have been benefitting from this order for a long time, and will be so in the future. The order's founding members are recovering, and cooperating closely to reform it, as well as there are no better international orders that can replace the existing one. Given these circumstances, the liberal international order would re-emerge as a dominant form of ordering this world after the pandemic, and would be perpetuated.
Who benefits more from the Biden-Putin summit in Geneva?
With the Putin-Biden summit in Geneva around the corner, the question is who actually benefits more from the meeting in the small Swiss town.
Mainstream media and right-wing foreign policy thinkers alike have argued that a joint press conference would "elevate" President Putin to the level of the American President.
Ivana Strander, the Jeane Kirkpatrick fellow at the American Enterprise Institute in Washington DC, argued that the upcoming Geneva summit is actually "a gift" to Putin.
In a CNN story, Kaitlan Collins and Kevin Liptak mention that "officials who have been involved in arranging past US meetings with Putin say the Russian side often pushes for a joint press conference, hoping to elevate Putin's stature by having him appear alongside the American leader".
Whether as a subconscious bias or an actual reflection of attitudes, prevalent is the idea that coming close to the US President is a privilege that other leaders can only dream about. But who gains more from the upcoming summit?
In fact, it is the American President who is vying for other leaders' approval and acceptance once again after a humiliating period – not the other way around. American is emerging from Trumpism, which revealed the other, ugly face of America. Trumpism is not gone and the other face of America is still there.
This week, US President Joe Biden is eager to show the world that America is "back". In meetings with the G7, NATO countries' top leaders, the NATO Secretary General, the Queen of England, and President Putin in the same week, Biden is asking the world to forget the last four years. And he is not doing this from the position of power or superiority. That's why assuming that other heads of state, be it Putin or anyone else really, can only gain by coming close to the superiority of the American President is a misplaced and misguided. The US President is asking the international community to take America back – not the other way around.
President Putin doesn't need the US President's acceptance – Putin already got that. That happened back in 2018, in Helsinki, when President Trump sided with Putin over the US government's own intelligence agencies, by rejecting the idea of Russia's meddling in the US presidential elections. Trump slapped across the face and humiliated the US intelligence community in front of the whole world. Ever since, the US intelligence community has tried to figure out ways to prove Trump wrong and show him otherwise. And they have gone to incredible lengths, only so that they can get their pay pack of a sort, and prove Trump wrong. So, Putin already got what he wanted. He doesn't need more "elevation".
What's also striking is that in Geneva, the UN is absolutely missing from the action. Geneva is the home of numerous UN agencies and international organizations, and not one is actually involved, which speaks volumes to questions of relevance. It is the Swiss government from Bern which is organizing the Summit. The UN is nowhere to be seen which is also indicative of the current Biden priorities.
If Trump was about "America First", then Biden is about "America is still number one, right?". But as the United Kingdom learned the hard way recently, it is sometimes best for a declining power to perhaps elegantly realize that the rest of the world no longer wants to dance to its tune, or at least not to its tune only. Discussions about how much Putin gains from coming close to the presence of the US President are misguided. In trying to climb back on the international stage on crotches and covered up in bruises, America is not in a position to look down on other big powers. And as regards who benefits more from the Summit, it seems like one side is there with a clear request asking for something. My understanding is that it is Biden who wants Putin to hand cyber criminals over to him. Putin still hasn't said what he wants from Biden, in return.
Trump's legacy hangs over human rights talk at upcoming Biden-Putin Geneva summit
Two days after the NATO Summit in Brussels on Monday, US President Joe Biden will be in Geneva to hold a much anticipated meeting with Russian President Vladimir Putin. The two leaders are meeting at the shores of Lake Geneva at a villa in Parc la Grange – a place I know very well and actually called home for a long time. The park itself will be closed to the public for 10 days until Friday.
A big chunk of the lakeside part of the city will be closed off, too. Barb wire and beefed up security measures have already been put in place to secure the historic summit. The otherwise small city will be buzzing with media, delegations and curious onlookers.
I will be there too, keeping the readers of Modern Diplomacy updated with what's taking place on the ground with photos, videos and regular dispatches from the Biden-Putin meeting.
The two Presidents will first and foremost touch on nuclear security. As an interlude to their meeting, the NATO Summit on Monday will tackle, among other things "Russian aggression", in the words of NATO Secretary General Jens Stoltenberg. Last week, Stoltenberg said that he "told President Biden that Allies welcome the US decision, together with Russia, to extend the New START Treaty, limiting strategic weapons, and long-range nuclear weapons". To extend the treaty is an important first step for Stoltenberg. This will be the obvious link between the two summits.
But Biden also has to bring up human rights issues, such as the poisoning and imprisonment of Alexei Navalny and Putin's support for the jailing of Belarusian activists by Lukashenko. Human rights have to be high on the agenda at the Geneva Summit. And indeed, Biden has confirmed officially that pressing Putin on human rights will be a priority for the American side.
Biden and Putin are not fans of each other, to say the least. Both have made that clear in unusually tough rhetoric in the past. Over the years, Biden has said on numerous occasions that he has told Putin to his face that he doesn't "have a soul". Putin's retort was that the men "understand each other".
Right at the beginning of his Presidency, earlier this year, Biden also dropped the bomb calling President Putin a "killer" for ordering the assassination of political opponents. The Russian president responded to the "killer" comment on Russian television by saying that "it takes one to know one". Putin also wished Biden good health, alluding to the US President's age and mental condition which becomes a subject of criticism from time to time.
Understandably, Putin and Biden are not expected to hold a joint press conference next week. But we weren't expecting that, anyways.
For me, this Summit has a special meaning. In the context of repression against political opponents and critical media voices, President Biden needs to demonstrate that the US President and the US government are actually different from Putin – if they are any different from Putin.
This week, we were reminded of Trump's legacy and the damage he left behind. One of Trump's lasting imprints was revealed: Trump had the Department of Justice put under surveillance Trump's political opponents. Among them House Democrats, including Congressman Adam Shiff, who was one of the key figures that led Trump's first impeachment that showed that Trump exerted pressure on Ukrainian authorities to go after Joe Biden's son, Hunter.
In the context of Trump's impact, President Biden needs to show that there has to be zero tolerance towards the cover up by the US government of politically motivated attacks against voices critical of the US government. If President Biden wants to demonstrate that the US government is any different from Putin's Russia, Secretary of State Blinken and FBI director Chris Wray have to go. Biden has to show that he won't tolerate the cover up of attacks on political critics and the media, and won't spare those that stand in the way of criminal justice in such instances.
Biden is stuck in the 2000s when it comes to Eastern Europe, as I argued last week but he needs to wake up. President Biden and the US government still haven't dealt effectively with Trump's harmful impact on things that the US really likes to toot its horn about, such as human rights and freedom. Whether the upcoming Geneva Summit will shed light on that remains to be seen.