The Continued Neglect & Repression Against Indigenous Rights Defenders In Jharkhand
Indigenous people of Jharkhand have long been at the forefront of their struggle for rights. Their decades-old demand for 'jal, jangal, jameen' against nature's growing privatization is resilient. A rise in activism in the state has given birth to several grass-root activists fighting for fundamental rights of physical survival, integrity, and cultural identity, referred to as Indigenous Human Rights Defenders [IHRD]. Nevertheless, their voices remain unheard at the national level due to the specific nature of their demands. While one can see a strong network, legal understanding, and organizational and financial support to the urban working-class movements, it fails to reach the defenders working in the remote districts. The lack thereof makes it difficult for them to amplify their voices.
The stories of Kamal Munda being branded as a Maoist and subjected to custodial torture (February 2021) for his involvement in protests against the abrogation of rights of the gram sabha and construction of police camps has failed to make enough noise in the national media. He was illegally detained, physically assaulted, forced to sign false confessions of being involved in Maoism. Gulab Chonde from Tuti Jharna village in Bokaro, Jharkhand, was allegedly tortured by police authorities for four days while held in illegal detention in August 2020. Conde is an active member of the Adivasi Mulwasi Adhikar Manch, involved in struggles of upholding land, water and forest rights of the people.
Due to being located in remote parts of the state, leading to unequal access to justice and lack of national attention, their struggle goes unnoticed. Professor Virginus Xaxa, former Deputy Director of Tata Institute of Social Sciences, Guwahati, remarks, "the resistance in Jharkhand remains invisible to the outside world as they do not appeal to the majority."
There is a glaring distinctiveness in the activism in Jharkhand compared to the other more popular movements. An IHRD in the state is more likely to belong to marginalized communities or low-income families, sometimes living in the remotest part. Their geographically and politically marginalized status keeps their struggle away from national attention. While the more prominent persecution cases grab attention, many more face risks at the grass-root without the deserved attention.
International Status of 'Indigenous Human Rights Defender'
The 1998 UN Declaration on Human Rights Defenders (HRDs) recognizes individuals working to eliminate all human rights violations and fundamental freedoms. The United Nations Human Rights Office of the High Commissioner commented on the criminalization of IHRD, indicating their persistent vulnerability and exclusion on account of being most disadvantaged and marginalized.
IHRDs are identified variedly worldwide, essentially referring to people fighting for indigenous people's rights, often related to land, natural resources, and the environment. Front Line Defenders has accorded IHRDs as the second most targeted sector for HRDs. The HRD Memorial Project in 2020 mapped 331 HRDs killings across the world, 69% of whom worked on the land, environmental, or indigenous people's right.
The United Nations Department of Economic and Social Affairs Indigenous People called for the Human Rights Council's relevant special procedures for recommendations to protect  IHRDs. As the protection framework of IHRDs is still at the nascent stage at the international level, concrete protection remains utterly absent at the grass-root level.
The risk of defending rights in Jharkhand
Within the context of historical and structural violence against the indigenous people, the work of IHRDs is met with pervasive repression by the state actors. Given their demands for preserving land and resources, they are branded as 'anti-development.' The region's social and economic context heightens their vulnerabilities as they are under closer scrutiny and distrust. It is common to either mistake them for or threaten the IHRDs with false charges of link with anti-government movements of Maoism and Naxalism. The state uses the crisis of these IHRDs as an opportunity, cracking down through means of threatening and police high handedness. 
The foremost reason for the continuing harassment is state repression, including illegal arrest and detention, threatening with legal action and false criminalization, smear campaign, raids, and physical attacks.
In 2020, Ramji Munda was murdered in Khunti's Ghagra region amidst a heavy police presence. Ramji was vocal in the Pathalgadi movement and highlighted cases of police atrocities. It is not an isolated case; instead, there is a persistent pattern of such killings. Sukhram Munda (2019), Suresh Oraon (2018), and Amit Topno (2018) were active voices, succumbed to death for their struggle for rights. The widespread killing of IHRDs in the state results from reigning impunity and the government's failure to provide a congenial atmosphere for the defenders' work.
Coordination of Democratic Rights Organisations [CDRO] and Women against Sexual Violence and State Repression [WSS] conducted a fact-finding on five women activists gang-raped at gunpoint Jharkhand's Khunti district. The report mentions that in the name of pursuing 'unidentified' suspects, the police have unleashed targeted persecution against John Jonas Tidu and Balram Samad, two prominent faces leading the Pathalgadi movement. However, in an interview, one of the gang-rape victims revealed that she never mentioned any of the Pathalgadi leaders in her statement. As a result, they continue to languish in jail as accused in the case.
In 2018, Damodar Turi of the Visthapan Virodhi Jan Vikas Andolan and three other activists were arrested on charges under the Unlawful Activities Prevention Act, 1967 (UAPA). Damodar, a leading voice against land acquisition, was alleged to be a member of the banned trade union Mazdoor Sangathan Samiti and kept under solitary confinement for over 15 days, in a blatant violation of Article 21 of the Indian Constitution. In 2019 a Dalit rights activist, Naresh Bhuiyan, was charged with UAPA and illegally kept in custody by the police. Bhuiyan was not produced in court for several days, against the Supreme Court's strict directions in DK Basu v. State of West Bengal.
The incidents narrate an increasing intent to crush the dissenting voices in Jharkhand through persecution and criminalization. These instances of state repression handicaps the defenders positioned to agitate against exploitative development models. "The severe repression by BJP Government in their tenure has broken the spirit and unity of people defending rights. There still is immense vulnerability and fear among the people", says Aloka Kujur, a leading woman IHRD in Jharkhand.
Locating a protection mechanism for IHRDs at-risk in Jharkhand:
A holistic understanding shows that the attacks on IHRDs do not occur in a vacuum but form part of the systematic attacks against HRDs throughout the country. However, the severity of repression increases as we move to the indigenous areas for anti-establishment movement and the absence of solid counter-forces. Being historically marginalized from the justice system, the cost of false criminalization is too much for an IHRD to bear. With limited knowledge and resources, it becomes difficult to understand legal complexities and find financial support to continue their social justice struggle.
In a Joint Statement in the 45th Human Rights Council Session, it has been said that states carry the primary responsibility to protect IHRDs to ensure accountability for any violations. The ideal situation is for the state to ensure placing policies and mechanisms relating to the protection of IHRDs. The National Human Rights Commission has a separate focal point for human rights defenders. A 2015 one-day workshop recommended all State Human Rights Commission [SHRC] to set up a Focal Point for Human Rights Defenders in the NHRC. However, the Jharkhand SHRC has taken no initiative in furtherance, as disclosed in a Right to Information application reply (2019). With a rise in state inaction and repression against the state's human rights movement, the lack of political will becomes amply clear.
The starting point to build a safeguarding framework for IHRDs is to train them to defend themselves in a crisis. The solution lies in capacity-building measures by imparting legal consciousness of the means to demand procedural compliance and build evidence of violations. The mechanism for protecting IHRDs should be locally arising from within themselves, acknowledging the practical constraints. There remains a need to make the IHRDs more visible to the public eye through building counter-narratives to mobilize public support. Building a solid local support system will lead to a strengthened counter-force, making it difficult for repression to persevere.
National and local organizations' collective efforts should be concentrated on documenting the risks and vulnerabilities and consolidating data for broad public understanding. There is a dire need for civil society organizations and networks to adopt a penetrative approach, reach the remote areas of Jharkhand, and more explicitly embrace their risks. "The repression and risk to an IHRD worsen as we move to the further interior in the state," says Prof. John Dreaze, an activist working in Jharkhand for the Right to Food campaign. The existing networks need to multiply and reach the state's remotest corner to be accessible to the IHRDs in the time of need. In addition, a holistic protection framework must be worked upon considering the mental, physical, legal, and financial help that an IHRD in crisis might need.
India's multi-alignment: the origins, the past, and the present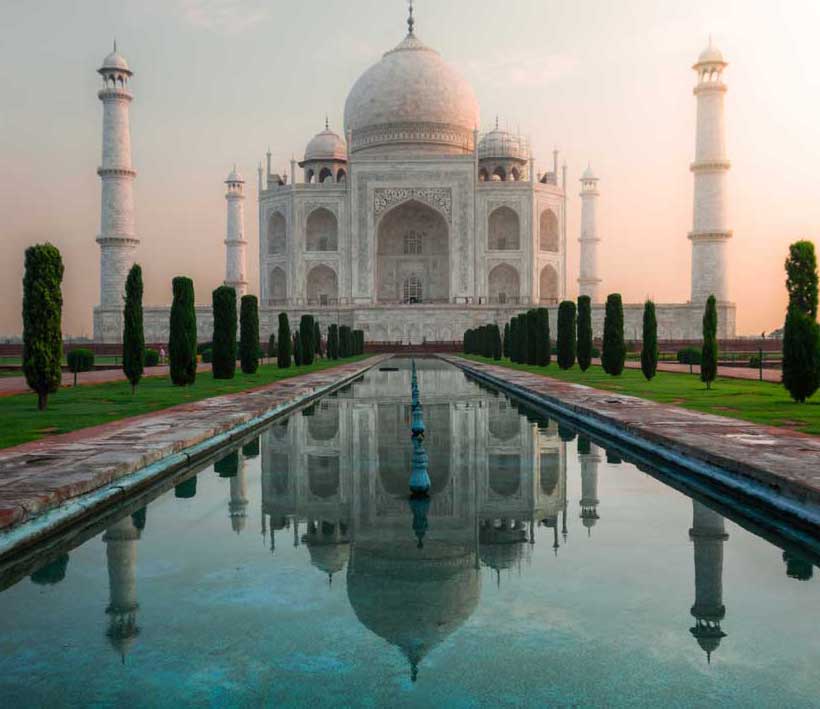 In the initial two decades following India's independence, India's foreign policy was heavily determined by the personal predilections of its first Prime Minister Jawaharlal Nehru and his protégé VK Krishna Menon, both influenced by British socialism. Nehru himself handled the external affairs portfolio until his death in 1964.
The policy of 'non-alignment' which the duo initiated in India's foreign policy gained world-wide attention since early 1950s, which later became a full-fledged movement and forum of discussion in 1961 (NAM) that consisted of developing and newly decolonised nations from different parts of the world, primarily from Asia, Africa, and Latin America.
But, the policy never meant isolationism or neutrality; rather it was conceived as a positive and constructive policy in the backdrop of the US-USSR Cold War, enabling freedom of action in foreign and security policies, even though many of the individual NAM member states had a tilt towards the Soviet Union, including India.
However, the lofty Nehruvian idealism of India's foreign policy in its initial decades was not successful enough in integrating well into India's security interests and needs, as it lost territories to both China and Pakistan during the period, spanning 1947 to 1964.
However, when Indira Gandhi assumed premiership, realism had strongly gained ground in India's political, diplomatic and military circles, as evident in India's successful intervention in the liberation of Bangladesh in 1971.
Even at that point of time, India still sticked on to the policy of non-alignment until it was no longer feasible in a changed international system that took shape following the end of the Cold War, which is where the origins of a new orientation in India's foreign policy decision-making termed as 'multi-alignment' lies.
Today, India skilfully manoeuvres between China-led or Russia-led groupings such as the BRICS (Brazil, Russia, India, China, and South Africa) and the Shanghai Cooperation Organisation (SCO), along with its involvement in US-led groupings such as the Quadrilateral Security Dialogue (or the Quad), in which Japan and Australia are also members.
Militarily though, India is still not part of any formal treaty alliance, and is simultaneously part of a diverse network of loose and issue-specific coalitions and regional groupings, led by adversarial powers, with varying founding objectives and strategic imperatives.
Today, non-alignment alone can no longer explain the fact that recently India took part in a US-chaired virtual summit meeting of the Quad in March 2021 and three months later attended a BRICS ministerial meet, where China and Russia were also present.
So, how did India progress from its yesteryear policy of remaining equidistant from both the US-led and Soviet-led military blocs (non-alignment) and how did it begin to align with multiple blocs or centres of power (multi-alignment)? Answer to this question stretches three decades back.
World order witness a change, India adapts to new realities
1992 was a watershed year for Indian diplomacy. A year back, the Soviet Union, a key source of economic and military support for India till then, disappeared in the pages of history, bringing the Cold War to its inevitable end.
This brought a huge vacuum for India's strategic calculations. Combined with a global oil shock induced by the First Gulf War of 1990 triggered a balance of payment crisis in India, which eventually forced the Indian government to liberalise and open up its economy for foreign investments and face competition.
India elected a pragmatic new prime minister in 1991 – PV Narasimha Rao. The vision he had in mind for India's standing in the world was quite different from his predecessors. Then finance minister and later PM, Dr Manmohan Singh announced in the Indian Parliament, "No power on earth can stop an idea whose time has come".
This was during his 1991 budget speech and it marked the beginning of building a new India where excessive control of the state on economic and business affairs seemed no longer a viable option.
At a time when Japan's economy was experiencing stagnation, China was 'peacefully rising', both economically and industrially. The United States remained as the most influential power and security provider in Asia with its far-reaching military alliance network.
As the unipolar world dawned proclaiming the supremacy of the United States, PM Rao steered Indian foreign policy through newer pastures, going beyond traditional friends and partners like Russia.
In another instance, 42 years after India recognised Israel as an independent nation in 1950, both countries established formal diplomatic ties in 1992. Indian diplomats accomplished a task long overdue without affecting the existing amicable ties with Palestine.
In the recent escalation of the Israel-Hamas conflict, it is worth noting that India took a more balanced stance at the United Nations, which was different from its previous stances that reflected an open and outright pro-Palestine narrative.
Today, India values its ties with Israel on a higher pedestal, even in areas beyond defence and counter-terrorism, such as agriculture, water conservation, IT and cyber security.
Breaking the ice with the giant across the Himalayas
China is a huge neighbour of India with which its shares a 3,488-km long un-demarcated border. Skirmishes and flare-ups resulting from difference in perception of the border and overlapping patrolling areas are a regular occurrence in this part of the world.
For the first time after the 1962 war with China, which resulted in a daunting defeat for India, diplomatic talks for confidence-building in the India-China border areas were initiated by the Rao government in 1993, resulting in the landmark Agreement on the Maintenance of Peace and Tranquillity along the Line of Actual Control (LAC), the defacto border between India and China.
The agreement also provided a framework for ensuring security along the LAC between both sides until a final agreement on clear demarcation of the border is reached out. The 1993 agreement created an expert group consisting of diplomats and military personnel to advise the governments on the resolution of differences in perception and alignment of the LAC. The pact was signed in Beijing in September 1993, during PM Rao's visit to China.
Former top diplomat of India Shivshankar Menon noted in one of his books that the 1993 agreement was "the first of any kind relating specifically to the border between the Republic of India and the People's Republic of China … It formalized in an international treaty a bilateral commitment by India and China to maintain the status quo on the border. In effect, the two countries promised not to seek to impose or enforce their versions of the boundary except at the negotiating table."
The 1993 pact was followed by another one in 1996, the Agreement on Military Confidence-Building Measures. The following two decades saw a number of agreements being signed and new working mechanisms being formalized, even though two major standoffs occurred in the Ladakh sector in 2013 and 2020 respectively and one in between in the Sikkim sector in 2017.
The agreements served as the basis upon which robust economic ties flourished in the 2000s and 2010s, before turning cold as a result of Chinese aggression of 2020 in Ladakh. However, the 1993 agreement still was a landmark deal as we consider the need for peace in today's increasingly adversarial ties between the two nuclear-armed Asian giants.
Integrates with Asia's regional architecture
Before the early 1990s, India's regional involvements to its east remained limited to its socio-cultural ties, even though the region falls under India's extended neighbourhood, particularly Southeast Asia. But, since 1992, when the Look East Policy (LEP) was formulated under the Rao government, India has been venturing into the region to improve its abysmal record of economic and trade ties with countries the region.
New Delhi began reaching out to the ASEAN or the Association of Southeast Asian Nations in 1992 and was made a Sectoral Partner of the association in the same year. Thus, India kicked-off the process of its integration into the broader Asian regional architecture.
In 1996, India became a member of the ASEAN Regional Forum, a key platform for talks on issues of security in the wider Indo-Pacific region. India became ASEAN's summit-level partner in 2002 and a strategic partner in 2012.
A free trade agreement (FTA) was agreed between ASEAN and India in 2010. And in 2014, the erstwhile LEP was upgraded into the Act East Policy (AEP). Today, the ASEAN region remains at the centre of India's evolving Indo-Pacific policy.
Bonhomie with the superpower across the oceans, the United States
1998 was an important year, not just for India, but for the world. Until May that year, only the five permanent members of the United Nations Security Council possessed nuclear capabilities. That year, 'Buddha smiled again' in the deserts of India's Rajasthan state, as India under PM Atal Bihari Vajpayee successfully conducted a series of underground nuclear bomb tests, declaring itself a nuclear state, 24 years after its first nuclear test in 1974 code-named 'Smiling Buddha'.
The move surprised even the US intelligence agencies, as India managed to go nuclear by bypassing keen US satellite eyes that were overlooking the testing site. Shortly after this, Pakistan also declared itself a nuclear state.
India's nuclear tests invited severe international condemnation for New Delhi and badly affected its relationship with Washington, resulting in a recalling of its Ambassador to India and imposed economic sanctions, which was a big blow for India's newly liberalised economy.
But, a bonhomie was reached between India and the US in a matter of two years and then US President Bill Clinton visited India in March 2000, the first presidential visit since 1978. The Indo-US Science and technology Forum was established during this visit and all the sanctions were revoked by following year.
Bharat Karnad, a noted Indian strategic affairs expert, notes in one his books that, "Vajpayee's regime conceived of 'strategic autonomy' to mask its cultivating the US, which resulted in the NSSP".
The Next Steps in Strategic Partnership (NSSP) between the US and India was launched in January 2004 that covered wide ranging areas of cooperation such as nuclear energy, space, defence and trade. This newfound warmth in Indo-US relations was taken to newer heights with the conclusion of the landmark civil nuclear deal between 2005 and 2008.
Today, India is a key defence partner of the United States, having signed all the four key foundational pacts for military-to-military cooperation, the latest being the Basic Exchange and Cooperation Agreement (BECA) for geo-spatial cooperation, signed in October 2020. The two countries are key partners in the Quad grouping and share similar concerns about an increasingly assertive China in the Indo-Pacific region.
Like his predecessors, Prime Minister Narendra Modi has been trying to cultivate this special relationship with the United States, reinforced by cooperation in the Quad grouping and also by constantly engaging a 4.8-million strong Indian diaspora in the United States.
The leaders of both countries, from Vajpayee to Modi and from Clinton to Trump have reciprocated bilateral visits to each other's countries. And, India looks forward to the Biden-Harris administration for new areas of cooperation.
But, a recent military manoeuvre in April, this year, by a US Navy ship (which it calls a FONOP or Freedom of Navigation Operation) in India's exclusive economic zone, off Lakshadweep coast, casted a shadow over this relations.
The US openly stated in social media that it entered the area without seeking India's prior consent and asserted its navigational rights. This invited mixed reactions, as it was highly uncalled for. While some analysts consider it humiliating, others think that the incident occurred due to the difference of perceptions about international maritime law in both countries.
Today, along with the US, India skilfully manages its 'historical and time-tested' ties with Russia, a strategic foe of the US, and moves forward to purchase Russian-made weapon systems, such as the S-400 missile defence system, even after a threat of sanctions. But, in the past several years, India has been trying to diversify its defence procurements from other countries such as France and Israel and has been also promoting indigenisation of defence production.
A BRICS formula for responsible multilateralism
India is a founding member of the BRICS grouping, formalised in 2006, now consisting of Brazil, Russia, India, China, and South Africa – the emerging economies of that time with a potential to drive global economic growth and act as an alternate centre of power along with other groupings of rich countries such as the G-7 and the OECD (Organisation for Economic Co-operation and Development).
India always stood for a responsible global multilateral system and rules-based order. Indian leaders have attended all summit-level meetings of BRICS since 2009 unfailingly. Last year, the summit took place in the backdrop of India-China border standoff in Ladakh, under Russia's chair, a common friend of both countries, where the leaders of India and China came face-to-face for the first time, although in virtual format.
The primary focus of BRICS remains economic in nature, but it also takes independent stances on events occurring in different parts of the world. The grouping also established a bank to offer financial assistance for development projects known as the New Development Bank (NDB) based in Shanghai, China, in 2014, with an Indian as its first elected president.
BRICS also became the first multilateral grouping in the world to endorse the much-needed TRIPS waiver proposal jointly put forward by India and South Africa at the World Trade Organisation (WTO) to suspend intellectual property rights on Covid vaccine-making during the duration of the pandemic to provide developing countries that lack adequate technologies with means to battle the virus.
As India gears up to host this year's upcoming BRICS summit, there is no doubt that being part of the grouping has served the country's interests well.
Manoeuvring the SCO, along the shores of the Indo-Pacific
The SCO or the Shanghai Cooperation Organisation is a regional organisation consisting of eight Eurasian powers, largest in the world both in terms of land area and population covered. It stands for promoting mutual cooperation and stability, where security issues can be freely discussed and conflicts are attempted to be resolved.
India is not a founding member of the SCO, which was created in 2001. Both India and Pakistan were admitted as full members in 2017. The grouping's members also include Russia, China and four Central Asian countries, excluding Turkmenistan.
Sharing a common platform with Pakistan and China and the presence of a long-term friend, Russia, has helped India diplomatically in key occasions. Using the SCO platform, the existing differences between member states can be discussed and prevented from escalating into major conflicts.
This was evident most recently visible in 2020 when the foreign ministers of India and China agreed on a plan for the disengagement of Indian and Chinese troops from the LAC, as a major step in the diffusion of tensions in Ladakh that had erupted since May that year.
But, Russia and China collectively oppose the usage of the term 'Indo-Pacific', something that surfaced into political discourse with the famous speech delivered by the former Japanese Prime Minister Shinzo Abe in August 2007 in the Parliament of India, calling for "the confluence of two seas" and hinting at a new maritime continuum of the Indian and Pacific Oceans.
It is in this context that the grouping of India, Japan, Australia and the United States gained prominence. The four Quad countries came together to offer humanitarian assistance following the 2004 Indian Ocean tsunami, the ambit of the grouping's co-operation ranges from maritime security to cooperation in Covid vaccine production and distribution.
After a decade since the first joint naval exercise of the four Quad countries took place in 2007, the ASEAN's Manila summit in 2017 provided a platform for the four countries to connect with each other and enhance consultations to revive the four-nation grouping.
The Quad has been raised to the summit level now with the March 2021 virtual summit, and has also conducted two joint naval exercises so far, one in 2007 and the other in 2020. This loose coalition is widely perceived as a counterweight to an increasingly assertive China.
India is the only country in the Quad that shares a land border with China. At the same time, India is also the only country that is not a formal security ally of the United States, meaning if India quits, the Quad ceases to exist, while the other three countries can still remain as treaty allies. However, setting the US aside, cooperation among the other three Quad partners has also been witnessing a boom since the last year.
India and Japan have expanded co-operation in third countries in India's neighbourhood such as Sri Lanka, Bangladesh and Myanmar to improve connectivity and infrastructure in the region and offer an alternative to China's trillion-dollar Belt and Road Initiative, which is perceived as having implications of a potential debt-trap aimed at fetching strategic gains.
Amid the pandemic, both the countries have joined hands with Australia to launch a Supply Chain Resilience Initiative (SCRI) to diversify key supply chains away from China.
However, India doesn't perceive a free and open Indo-Pacific as an exclusionary strategy targeted at containing some country, rather as an inclusive geographic concept, where co-operation over conflict is possible. This was articulated by Prime Minister Modi in 2018 at the Shangri La Dialogue in Singapore.
Various additions were made to this view in later stages, as the concept evolved into a coherent form, representing New Delhi's expanding neighbourhood. This vision aligns well with related initiatives such the Security and Growth for All in the Region (SAGAR) and the Indo-Pacific Oceans Initiative (IPOI), aimed at improving maritime security, trade, connectivity and management of shared resources.
The future
For India, this is an era of complex multi-alignment, different from the Cold War-era international system, where multiple centres of power exist. At different time periods in the past, India has adapted well to the changing circumstances and power dynamics in the international system.
India's strategic posture today, despite being aspirational, is to have good relations with all its neighbours, regional players, and the major powers, to promote rules-based order, and in the due process to find its own deserving place in the world.
In July, last year, India's External Affairs Minister, S. Jaishankar has made it clear that India 'will never be part of an alliance system', even though a tilt towards the US is increasingly getting visible, taking the China factor into account. Jaishankar also stated that global power shifts are opening up spaces for middle powers like India.
As the world tries to avoid another Cold War, this time between the United States and China, the competing geopolitics of the Eurasian landmass and the Indo-Pacific maritime region is poised to add up to New Delhi's many dilemmas in the coming years.
The unrecognized demographic situation of West Bengal and consequences yet to occur
World's second large demographic nation India's state West Bengal is now apparently residence of over 91 million population. At the same time, West Bengal is the fourth-most populous state and the fourteenth-large state by area in India. It is also the seventh-most populous country subdivision of the world. To get an insight into the present situation of West Bengal anyone has to look back in 1947 and later consequences. As being a prominent ethnocultural region of India, West Bengal faced political partition in the year 1947 in the wake of the transformation of British India into two separate independent nations India and Pakistan. Under the process of partition, the then Bengal province was bifurcated into two segments. The predominately Hindu living area named West Bengal, a state of India, and the predominately-Muslim living area turned as East Bengal and after becoming a province of Pakistan that renamed as East Pakistan and later in 1971, the Muslim-majority country of Bangladesh.
In 1971 at the time of partition, the Muslim population of West Bengal counted 12% and the Hindu population of East Bengal remained 30%. While at present, with continuous Muslim immigration, Hindu persecution, conversions, and less production of offspring, West Bengal's Muslim population has increased to 30% (up to 63% in some districts). While as per the counting report of 2011 Bangladesh's Hindu population has decreased to 8%. When at the present situation for Hindus in Bangladesh is certainly dire, then life has become increasingly difficult for Hindus in West Bengal, having a Muslim-appeasing government. The governance of the elected government led to the demographic and cultural shifts in West Bengal. Prevailing of the same governance after the 2021 Bidhansabha election leads to the destruction of Hindu's belonging everywhere in Bengal. The situation stood worse in the outskirts where media coverage is poor, compelling Hindu families to flee in adjacent states or to hide. A sizable number of Bengali Hindu families already preferred to shift to Assam.
Looking back as per a striking report of July 2014 by Times of India fewer children were born in Bengal and the prediction was there will be even fewer in the next generation. The 2011 Census shows a decadal growth of 13.84% in West Bengal, which was significantly below the national growth average of 17.7%, and the decadal growth was lowest ever and beaten only by the aftermath of the infamous Famine of Bengal,1942.
While the retrospective study of the demography of West Bengal shows that the culturally dominant Hindu population in West Bengal during the first census of 1951 was around 19,462,706 and in the 2011 census it had increased to 64,385,546. While the percentage of the Hindu population in the state decreased from 78.45% in 1951 to 70.54% in the 2011 Census. The data sharply indicates fewer children birth within families of Hindus only while the population of Muslim counterparts tends to grow over time. Once considered a symbol of Indian culture, what has happened in Bengal for the last few decades is the indicator of West Bengal's demographic future.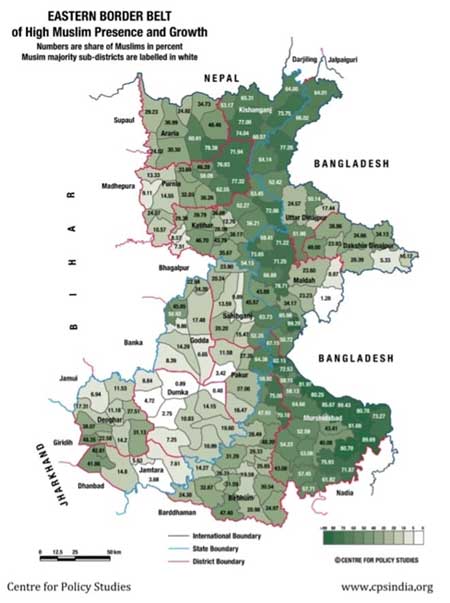 Starting from the diminishing of the Hindu culture, communal riots against the Hindus have started happening for quite some time and the situation has been that the banning of celebrating the festivals of Hindus has started in the last few years. Added to those the recent genocide of Hindus depicting a recent trend of population.
Back in 2015 the famous American journalist Janet Levy has written an article on Bengal and the revelations that have been made in it state that Bengal will soon become a separate Islamic country. Janet Levy claims in her article that civil war is going to start soon in Bengal after Kashmir. Which almost begun in recent times in the wake of the Bidhansabha Election of West Bengal.
Ushering the prediction of Janet Levy mass Hindus will be massacred and demanded a separate country.
She cited the facts for his claim back in 2015 that the Chief Minister of West Bengal has recognized more than 10,000 madrassas who were privileged to receive funds from Saudi Arabia and made their degree eligible for a government job, money comes from Saudi and in those madrassas, Wahhabi bigotry is taught.
In the recent past Chief Minister started several Islamic city projects where Islamic people are taught also started a project to establish an Islamic city in West Bengal. It's evident that Chief Minister has also declared various types of stipends for the Imams of mosques but no such stipends were declared for Hindus primarily. Janet Levy has given many examples around the world where terrorism, religious fanaticism, and crime cases started increasing as the Muslim population increased. With increasing population, a separate Sharia law is demanded at such places, and then finally it reaches the demand of a separate country.
Author and activist Taslima Nasreen once became reason to test the ground reality for West Bengal.
In 1993, Taslima Nasreen wrote a book 'Lajja' on the issue of atrocities on Hindus in Bangladesh and forcibly making them Muslims.
After writing the book, she had to leave Bangladesh facing the threat of bigotry. The author settled in Kolkata considering that she will be safe there as India is a secular country and the constitution also provided the freedom of expression. Eventually experienced the nightmare that Taslima Nasreen had to face a riot-like situation against her in 2007 in Kolkata. Even in a secular country like India, Muslims banned Taslima Nasreen with hatred. Fatwas issued to cut her throat on the secular land of India.
Upholding the threat the author was also attacked several times in different cities of the country.
But the secular Leftists never supported Taslima, not even the Trinamool government of West Bengal because the Muslims would get angry and the vote bank would face shaking.
That time first attempt was made in which Muslim organizations in West Bengal demanded the Islamic blasphemy (Blasfamie) law. Raising questions on India's secularism and action of secular parties.
Janet Levy further wrote that for the first time in 2013 some fundamentalist Maulanas of Bengal started demanding a separate 'Mughalistan'. In the same year riots in Bengal, houses and shops of hundreds of Hindus were looted and many temples were also destroyed by rioters under the safe shelter of government and police.
After the Bidhansava Election 2021 the Hindus of West Bengal facing the same or even worse situation.
Are Hindus boycotted?
Victorious party supremo of West Bengal was afraid that if the Muslims were stopped they would get angry and would not vote and after getting freshly elected her government falls into that vicious circle again.
It is evident from the aftermath of the election result in West Bengal that not only riots but to drive away Hindus, in districts where there are more Muslims, boycotting Hindu businessman. In the Muslim majority districts of Malda, Murshidabad, and North Dinajpur, Muslims do not even buy goods from Hindu shops. This is the reason why a large number of Hindus have started migrating from West Bengal like Kashmiri Pandits, here Hindus leaving their homes and businesses and moving to other places. These are the districts where Hindus have become a minority.
Invoking such incidents Janet, stated that the demand for partition of Bengal from India will soon begin from the land of West Bengal. No demographic theorist interpreted the present demographic situation of West Bengal sabotaging Malthusian theory.
In accord with Janet's analysis, a few recent sources also indicated the number of the Muslim population, in reality, is much higher than the number on record given to the hiding of numbers of children by Muslim parents when a survey takes place. Implementing CAA, NRC could have been way out for West Bengal to check the proper demographic status and to prevent further population explosion to sustain Bengali Hindus. Perceiving the appeasement politics of government for the last 10 years it's seeming to be unlikely to get any sharp solution.
Covid-19 has made Feminist Foreign Policy all the more Relevant to India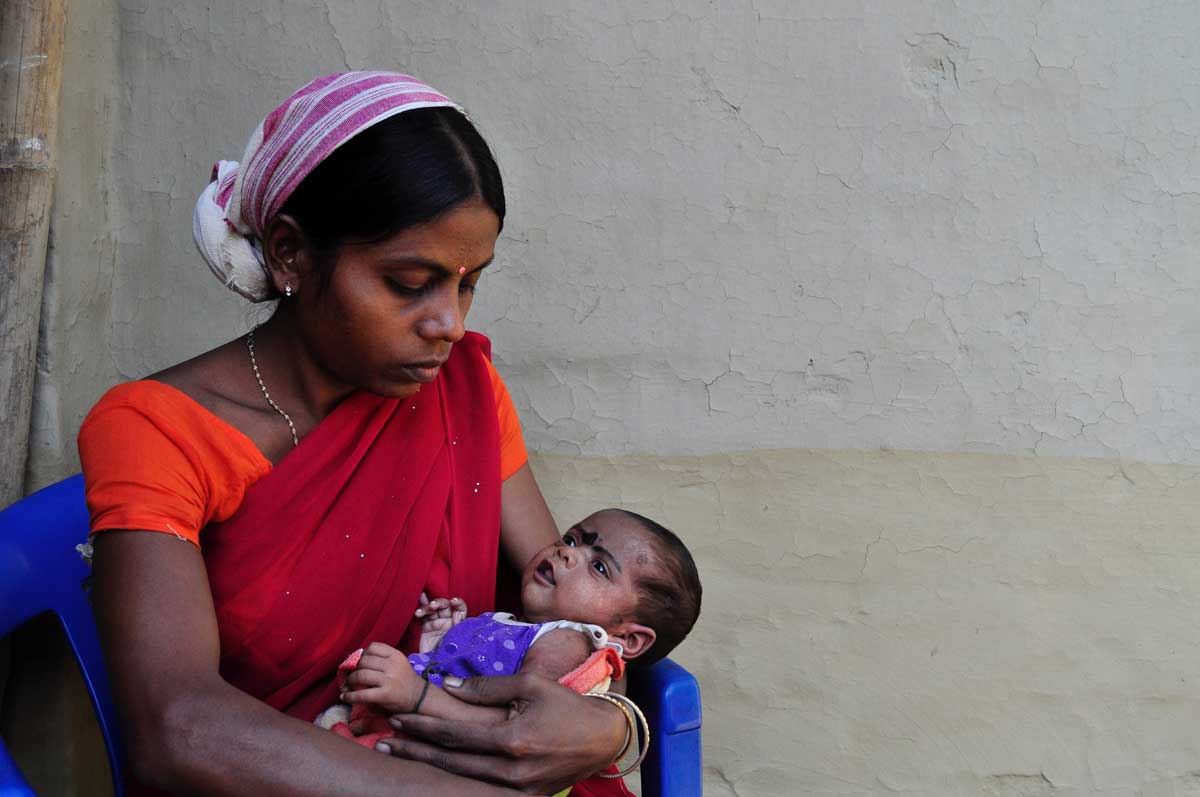 As the impact of the year long COVID19 pandemic continues to be felt across different parts of India—where patriarchy is entrenched in the social code and inequalities against women are being intuitively practised—the repercussions of the health crisis along with the ever deepening gender gaps are being disproportionately and severely borne by women. Yet, most of the discussions revolving around the pandemic have either been gender-blind or gender-neutral, often resulting in the systemic subjugation or marginalisation of women.
In light of these challenges, the thematic debate on gender equality can no longer continue just on papers, it in fact, needs to be converted into actions by the Indian government in order to deal with the short term consequences of the pandemic as well as to develop long-term sustainable peace. The adoption of a Feminist Foreign Policy (FFP) framework is the best way to achieve this dual goal. A FFP could offer a concrete opportunity for India to build a more inclusive policy making set-up; breakaway from the predominant patriarchal notions; and, address pandemic relief strategies—from the viewpoint of women and other vulnerable or under-represented sections of society.
Gendered Impact of COVID19 in India
Within India's socio-cultural and economic realms—that have historically been marred by inequalities and rigid stereotypes—the gendered effects of the COVID19 pandemic have been both, intersectional and complex.
To begin with, owing to the rapidly increasing number of COVID-19 patients, health-care workers in India, particularly the nurses of whom approximately 88.9 per cent are women remain much more vulnerable to contracting the deadly virus. The existing problem of shortage of basic equipment for these healthcare workers further aggravates these concerns.
Second, the pandemic has had a detrimental impact on an already shrinking Indian economy resulting in financial cut downs and rising unemployment. Women—either due to the deeply embedded patriarchal attitudes or due to the subconscious bias that arises out of such attitudes—have stood at the forefront of being temporarily or permanently laid-off from their jobs. According to the Centre for Monitoring Indian Economy, with the commencement of the nationwide lockdown, the rate of unemployment reached 23.5 per cent in March to April 2020 with higher shares of unemployed women. The unemployment rate for women further reached 12.39 per cent as of February 2021.
Third, women in India are now being confronted with a shadow pandemic where forced proximity, isolation, increased substance abuse, lack of access to justice etc. during the on-going health crisis has resulted in an increasing threat of domestic or gender-based violence. As per a set of data released by the National Commission of Women in April 2020, there was an almost 100 per cent increase in domestic violence during the lockdown.
Nonetheless, these are only some of the immediate effects of the pandemic on women in India. There are other sequential consequences that will emerge in time including, the problems of depletion in savings and assets, pandemic-related widowhood, etc., which would collaboratively make recovery extremely difficult for women.
Evidently, in India, the pandemic is exploiting pre-existing economic and social inequalities along with social norms that give men embedded advantages, and has been posing a real threat to closing gender gaps. In fact, according to the recent World Economic Forum's Global Gender Gap index, India has already slipped down 28 spots to rank 140th among 156 countries in comparison to its 112th position among 153 countries for the year 2019-2020.
But despite bearing a differential impact, women in India have not been included either directly or indirectly in the development of response strategies to deal with COVID19. As such, they remain absent from decision-making tables that involve the shaping of the future of our societies. However, research indicates that the inclusion of women along with other diverse voices makes for better options in policy making and in bringing about comprehensive outcomes that accommodate the needs and concerns of all groupings.
How can a FFP help?
These unfortunate states of affairs demand an adjustment in India's thinking and strategy, bring about a paradigmatic shift in its traditional policymaking and allow for diverse representation to effectively deal with COVID19 pandemic. The present crisis is therefore, precisely the time to be talking about a FFP in India and for its representatives to make a stronger commitment to mainstream gender at the policy level.
By critically reflecting on the existing international power structures, a FFP framework focuses on protecting the needs of marginalised and female groups and places issues of human security and human rights at the heart of discussions. In doing so, it provides a fundamental shift from the conventional understanding of security to include other arena of foreign policy such as economics, finance, environment, health, trade etc.
With this new perception of health risks and crisis management as a security threat, in light of the coronavirus pandemic, India can potentially explore broadening the humanitarian trade options under its international arrangements to address shortages of medicine and lack of access to personal protective equipment for health workers within its territory— a vast majority of which continue to be women.
The adoption of a FFP could also pave the way for an increased regional cooperation, facilitate regional discussions on myriad issues and enable the development of targeted recovery program designed specifically for the empowerment of women. Such a program would account for the fact that the economic repercussions of crises disproportionately affect women and therefore, help India in securing assistance from its neighbour to address the gendered economic and social effects of the COVID19 pandemic.
Besides, FFP does not only mean considering power structures and managing relations at the global level alone but also evaluating outcomes within the country's own domestic landscape. In this sense, a FFP could provide India with an important starting point for bringing about an internal shift by focusing more on gender issues, especially in terms of the strictly defined patriarchal gender roles and eliminate barriers that continue to restrict women's participation in decision-making processes.
An emphasis on women's participation in India's leadership positions would in turn catalyse the application a gender lens to the process of domestic policymaking, thereby, achieving comprehensive outcomes that are inclusive of diverse perspectives. Such policies will promote women's concerns as humanitarian issues, prioritize and safeguard the continuum of sexual and reproductive health and rights, and continue to facilitate the provision of information and education, thus making women better equipped to deal with the consequences of the pandemic.

Adding on to these factors, given that the FFP is an all-inclusive approach, its application could also potentially strengthen cooperation between the Indian government and civil society organisations or women's network at home as well as abroad to manage the pandemic and its deleterious effect on people, especially women. At a time when the government resources are overwhelmed in their fight against the pandemic, greater involvement of civil society organisations can in fact, play a critical role in advocating social justice, women's rights, social equity, and provide medical and food support, distribution of hygiene kits, spreading awareness about the virus, etc. These efforts could bring about a considerable improvement in women's vulnerable position under the current Covid19 crisis in India.
Conclusion
As such, the FFP approach offers huge potential to address some the major institutional and organisational injustices against women in India, and the COVID19 pandemic represents a critical juncture in this regards. A FFP is important not only to ensure that the gendered imbalances inflicted by COVID19 do not become permanent but also for the long term economic and social development of the country, the strengthening of democratic institutions, and the advancement of national security as well as peace. But whether India will adopt or even consider moving towards a FFP in the near future remains to be seen.