More than ten years ago, in February 2011, the Arab Spring began in Libya. The armed uprising quickly escalated into an armed conflict that had Muammar Gaddafi overthrown. Since then, the civil war has not stopped in the country. At the heart of the current conflict in Libya is the confrontation between the Government of National Accord (GNA), located in Tripoli, and the Libyan House of Representatives, located in Tobruk. The government in Tobruk is supported by the Libyan National Army (LNA) led by Field Marshal Khalifa Haftar. In April 2019, the LNA attempted to seize Tripoli, but it was forced to retreat following months-long siege of the city.
Current developments
2020 was marked by unprecedented efforts by international organizations, world powers and regional players, as well as attempts by both sides of the Libyan conflict, to resolve it by political means. On January 19, 2020, an international conference was held in Berlin, the participants of which called for the disarmament of all paramilitary groups and devised specific mechanisms for controlling the arms embargo. However, neither the conference resolution nor the COVID-19 coronavirus pandemic led to—at least—a cessation of hostilities.
On October 23, 2020, representatives of the GNA and LNA signed a ceasefire agreement in Geneva, which the UN labelled historical. In November 2020, the Joint Military Commission, composed of representatives of the warring parties, agreed on practical steps to implement the agreement. In particular, agreement was reached on the creation of a military subcommittee to monitor the withdrawal of troops. On December 27, 2020, an official Egyptian delegation arrived on the first visit to Tripoli since 2014, where they discussed the prospects for mending Libyan-Egyptian relations as well as the economic agenda and security issues. Parliamentary elections in Libya are scheduled to be held in December 2021. Besides, there was agreement to hold a referendum on the Constitution in 2021.
Some politicians, scientists, and representatives of the expert and analytical community are optimistic about an early settlement of the Libyan conflict, but many of their colleagues, on the contrary, are quite skeptical. On the one hand, the escalation of hostilities that began in April 2019 has indeed subsided. On the other hand, experience shows that setting any specific dates for the electoral processes in Libya and provisions for transparent mechanisms to establish legitimate government bodies do not mean that elections will be held and their results will be subsequently recognized.
When predicting what the Libyan conflict will be in the medium term, it is necessary to take into account that the war in Libya is an absolute disequilibrium system. While the existing trends are susceptible to change sparked by the course of how things unfold, the conflict may take on new trajectories.
Scenario I. Political settlement
The civil war in Libya has been going on for more than ten years, and there have been repeated attempts to come to a political solution to the conflict over this time. The hope that this will happen remains. The efforts undertaken in 2020 to reach national consensus may not have been in vain as they could become a solid foundation for a political settlement of the conflict. The country may well manage to hold all-Libyan elections, with the people who will come to power enjoying relative legitimacy, both in the eyes of the world community and among ordinary Libyans.
Libya has 44.3 billion barrels of proven oil reserves[1]. Cessation of hostilities will allow counting on Libya's oil exports partially restored and, possibly, on new oil pipelines constructed. The long-awaited reconstruction of the transport infrastructure, oil production and oil refineries will ensue, which will play an instrumental role in the economic renaissance of the united Libyan state.
The new Libyan authorities will face a number of important tasks, including restoring production facilities, infrastructure and the housing stock of the country. Russian and foreign companies will have the opportunity to participate in the restoration of the Libyan state. At the meeting of the Minister of Industry and Trade of the Russian Federation with the Libyan delegation on January 28, 2021, they discussed not only the prospects for diversifying trade between Russia and Libya but also avenues for participation of Russian companies in restoring energy, agriculture, industry, social and transport infrastructure in Libya.
China will certainly show its interest in the post-war revival of Libya. The GNA has welcomed the possible participation of China in reconstructing the country's infrastructure once the war is ended. Over the past few years, Chinese diplomats have repeatedly met senior officials from the GNA to ultimately sign a Memorandum of Understanding under the Belt and Road Initiative.
There will be an opportunity to resume the deliveries of Russian weapons to the country. However, although the economic situation in the country will stabilize, the Libyan leadership is unlikely to have enough financial resources to pay for military imports. Competition with manufacturers from Europe and the USA may lead to a forced decrease in export profitability[2].
At the same time, there is a strong imprint of tribal relations on the Libyan society[3]. Even if political peace is established in Libya, it will be quite fragile. The society will remain fragmented, which means that the risk of social tensions growing will remain. Extremist and terrorist organizations operating in Libya can use this to destabilize the situation in the country. Weapons proliferation (mainly small arms)—which for many years were virtually freely distributed throughout the country—will serve as an additional factor in a hypothetical social explosion.
Scenario II. Escalation
It is possible that the establishment of even a fragile peace in Libya will not take place at all. One of the possible scenarios may be another escalation of hostilities. There can be many nominal reasons for the opposing sides to bring forward mutual accusations. These range from provocations during the pre-election period to non-recognition of the results of electoral processes. As a result, this can lead to a sharp escalation of tensions.
As Stephanie Williams, head of the UN Support Mission in Libya, noted, every time the situation in Libya seems to have reached its lowest point there is a surge of violence. In September 2020, the UN announced that the LNA and the GNA—despite the relatively calm situation on the front line—will resort to receiving help of allies from abroad, thus accumulating modern weapons and military equipment. In two months, some 70 aircraft with suspicious cargo for the LNA landed at airports controlled by Khalifa Haftar's army, and three cargo ships stopped in the ports in the east of the country. 30 aircraft and nine cargo ships delivered cargo for the GNA.
At a meeting on the Libyan political dialogue on December 2, 2020, Stephanie Williams announced that there are ten military bases in Libya that are fully or partially occupied by foreign troops and that host about 20,000 foreign mercenaries. The cessation of hostilities was used by the government in Tripoli and the LNA to cement their positions and enhance the combat effectiveness of their troops, including through assistance from abroad. In January 2021, it was recorded that the mercenaries were building a defensive line and fortifications—presumably, in order to repel a possible attack by the GNA troops on the LNA-controlled territory.
Against the background of the confrontation between Russia and the United States likely to intensify, the degree to which the conflict is internationalized may increase, much as the control over the arms embargo tighten and the role of private military companies as a foreign policy asset of individual states expand. Private military companies help reduce political risks that a state's engagement in the war in Libya entails, while actively supporting one group or another by sending weapons, military instructors or mercenaries.
There is a danger of destroying the remnants of Libya's oil infrastructure, the backbone of the country's economy. Artillery shelling of residential areas will cause additional interruptions in water and electricity deliveries to Libyan cities. Illegal migrants attempting to enter the EU countries, especially Italy, will become more frequent.
The Republic of Turkey, which claims a leading role in the region and seeks to revive the "former greatness" of the Ottoman Empire, is sharply intensifying its actions[4]. Most likely, Ankara will support the government in Tripoli, not only with weapons, but also with troops, as it happened in January 2020. Egypt will continue to support the LNA, as it hopes this can minimize Libyan weapons being smuggled into Egypt. At the same time, the possibility of direct military intervention by Egypt remains extremely low. Even if Turkey sends large military units to help the GNA, Cairo will be reluctant to enter into a protracted military conflict, the outcome of which is unclear. Moreover, a direct military clash between Turkey and Egypt is practically impossible on account of their belonging to military and political blocs. Rather, in response to Ankara's decisive actions in Libya, Cairo will deploy troops on the border with Libya or transfer part of its units to the LNA-controlled Libya's eastern regions. However, the prospect of the Egyptian troops advancing further to the West seems unlikely.
Scenario III. Maintaining the status quo
Despite attempts by both sides to embark on political dialogue, official statements by representatives of the opposing sides contain aggressive, accusatory rhetoric. For example, in a video message to the delegates of the 75th session of the UN General Assembly, Faiz Saraj referred to Khalifa Haftar's offensive in Tripoli in April 2019 as "a tyrannical attack of the aggressor." In addition, he urged not to compare foreign support for the "militants of Khalifa Haftar" with the help provided to the government in Tripoli "within the framework of legitimate agreements."
In today's conditions, it will be rather difficult for the main political forces in Libya to organize the work of the central electoral commission and other bodies in preparation for the elections. Besides, it should be borne in mind that the GNA, the LNA and a number of independent armed factions operating in Libya can control the electoral processes and, if necessary, sabotage them. One of the parties may try to disrupt the elections altogether. At the same time, the escalation described in scenario II seems rather unlikely to occur, as the world community is paying greater attention to the war in Libya.
The war in Libya provokes conflicts in at least 14 countries in Africa and Asia, mainly due to weapons smuggling[5]. Despite the possible strengthening of international control, maintaining the existing balance of power in Libya will provoke new conflicts and serve as a hotbed of destabilization in the neighboring countries, such as Tunisia, Algeria and Egypt. Should the next plan for a political settlement of the conflict fail, Libya risks becoming another Afghanistan, close to Europe.
What of the Libyans?
The last two scenarios seem to be the most likely. In 2019, the Arab Barometer[6]. conducted a sociological study that clearly shows how Libyans themselves perceive the situation in their country and what they see as key problems [7].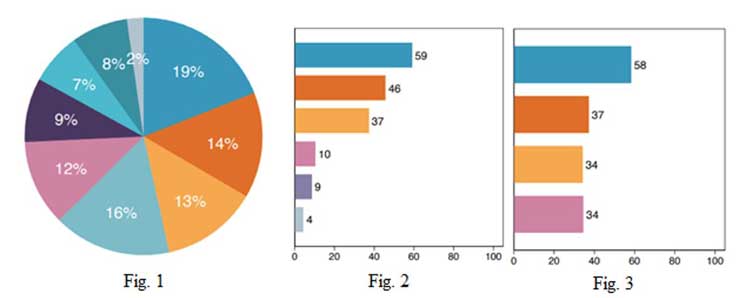 Top challenges (Figure 1) cited include foreign interference (19%), fighting terrorism (16%), corruption (14%), security (13%), economy (12%), internal stability (9%) and political issues (8%)[8].
It also turned out that Libyans have little confidence in political institutions (Figure 2). Among the most trusted institutions are the army (59%), the police (46%) and the judiciary (37%), while the least trusted are the government (10%), parliament (9%), and political parties (4%)[9].
Figure 3 offers an interesting view of the surveyed Libyans on democracy. According to the polls, democracy is always the preferable political system (58%). At the same time, many rated democracy as indecisive (37%), unstable (34%) and bad for the economy (34%)[10]. With this in mind, it is possible that the Libyans are unlikely to trust their single government.
No matter how the conflict's landscape changes, there is reason to believe that the Libyan society will in any case remain divided for quite a long time. Its further fragmentation will almost certainly occur against the backdrop of hostilities coupled with the pandemic and a decrease in Libya's oil exports. Socio-economic problems will create additional space for radical sentiments growing. The Islamic State, Al-Qaeda and other terrorist organizations have high mobility as well as an ability to regenerate, which means that an attempt may well be made to revive a new Islamic Caliphate, albeit not as large as it is was a few years ago.
In the report of the Valdai International Discussion Club "The Middle East: Towards an Architecture of New Stability?", Vitaly Naumkin, Scientific Director of the RAS Institute of Oriental Studies, and Vasily Kuznetsov, Head of the RAS Center for Arab and Islamic Studies, noted that the situation in Libya will affect the entire Maghreb in the foreseeable future[11]. It is almost certain that Libya and the neighboring countries will be overwhelmed by a new wave of radicalization. According to the Arab Center for Research and Political Studies report, 2% of Arabs have a positive attitude towards ISIS and other radical groups, with another 3% having an extremely positive attitude towards them. This is the highest percentage since 2014–2015[12].
The situation in the region may aggravate, and it is necessary to increase effectiveness of the control over the transportation of weapons to and from Libya. In October 2020, the UN Security Council, chaired by Russia, adopted a resolution that extended the permit to inspect ships on the high seas off the Libyan coast. Indeed, this was the right step. With the ongoing coronavirus pandemic, humanitarian aid to Libyans also remains relevant, and it may include supplies of the necessary medical equipment to equip hospitals as well as personal protective equipment, of which Libya is now experiencing a shortage.
From our partner RIAC
Fedorchenko, A. Krylov, D. Maryasis, N. Sorokina, F. Malakhov. The Middle East in the Focus of Political Analytics: Collected Papers: on the 15th Anniversary of the Center for Middle East Studies, 2019. P. 49.
Ibid. P. 452.
Ibid. P. 12.
V. Avatkov. Ideological and value factor in Turkish foreign policy [Vestnik MGIMO], 2019, no. 12(4). P. 124.
Fedorchenko, A. Krylov, D. Maryasis, N. Sorokina, F. Malakhov. The Middle East in the Focus of Political Analytics: Collected Papers: on the 15th Anniversary of the Center for Middle East Studies, 2019. P. 24.
Arab Barometer is a nonpartisan research network that provides insight into the social, political, and economic attitudes and values of ordinary citizens across the Arab world.
Libya Country Report /Arab Barometer V. 2019. P. 2.
Ibid. P. 3.
Ibid. P. 5
Ibid. 2019. P. 7.
V. Kuznetsov, V. Naumkin. Middle East: Towards a New Stability Architecture? 2020. P. 16.
The 2019-20 Arab Opinion Index: Main Results in Brief, Arab Center for Research and Political Studies. P. 58.
U.S. Sanctions and Russia's Weapon Systems: A New Game in the Quest of High-Tech Microchip
Modern warfare places a great deal of emphasis on semiconductors and microchips because they are the fundamental building blocks for a wide range of military technology, such as drones, radios, missiles, and armored vehicles. Russia has consistently used modern weapons in its military operations against Ukraine since the start of the war between Russia and Ukraine in 2022, thereby prolonging the ongoing war.
In the year 2022, Moscow initiated a comprehensive military intervention in Ukraine, while the nation of Russia saw an increase in the importation of semiconductor technology, with a value of $2.5 billion, compared to $1.8 billion in the preceding year of 2021. Microprocessors originating from Western countries are used in smartphones and laptops, which are progressively being integrated into Russia's military inventory. Moscow has been procuring a higher quantity of superior Western technology by using intermediate nations, such as China.
The Russian military incorporates a diverse range of foreign-manufactured components throughout its 27 advanced military systems. These systems include various technologies such as cruise missiles, communications systems, and electronic warfare complexes. A significant majority, exceeding two-thirds, of the foreign constituents detected in Russian military equipment may be traced back to corporations based in the United States. Additionally, a portion of these components are sourced from Ukraine, as well as other allied nations like Japan and Germany. Russia continues to successfully import the essential Western-manufactured components required for its military operations. Nevertheless, the influx of microchips into Russia continues via trade lines through China, Turkey, the United Arab Emirates, and other nations, contributing to the expansion of the country's prewar inventories.
China is the primary supplier of microchips and other technological components used in critical military equipment to Russia. This represents a substantial increase compared to the same period in 2021 when Chinese sellers accounted for just 33% of the imports. Furthermore, Moscow has seen a notable rise in its imports from nations situated in the Caucasus, Central Asia, and the Middle East. In 2022, there was a notable increase in exports to Russia from Georgia, Armenia, and Kyrgyzstan. This rise mostly consisted of automobiles, airplanes, and warships, which played a key role in driving the overall growth. Simultaneously, there was an increase in exports from the European Union and the United Kingdom to these nations, although their direct commerce with Russia saw a significant decline.
The increasing trade flows have led Western partners to advocate for expanding the number of countries participating in sanctions or imposing secondary restrictions on specific companies operating inside those countries to suppress Russia's military capabilities. In June 2023, the European Union implemented a fresh set of sanctions that include an anti-circumvention mechanism aimed at limiting the trade, provision, or export of specifically sanctioned commodities and technology to certain third nations serving as intermediaries for Russia. In addition, the aforementioned package expanded the roster of corporations that directly endorse Russia's military by including 87 newly incorporated entities across several nations, including China, the United Arab Emirates, and Armenia. Furthermore, it imposed limitations on the sale of 15 specific technological goods that are often found in Russian military apparatus deployed in Ukraine.
The use of microchips originating from the United States is contributing to the enhancement of Russia's military capabilities, even amidst the ongoing war between Russia and Ukraine, facilitated via clandestine channels including intermediate nations like China. American technological companies like Intel, Micron Technology, Texas Instruments, and others produce a portion of these microchips. The United States and other Western countries have put restrictions in place to make it more difficult for Russia to trade certain technologies.
While the Russia-Ukraine war is ongoing, Hong Kong ranked as the second-largest exporter of microchips to Russia in terms of monetary value and as the third-largest exporter in terms of transaction volume. In 2022, Finland ranked as the fifth-largest supplier of microchips to Russia in terms of dollar value and Germany ranked as the third-most significant supplier of microchips to Russia in terms of dollar value and held the fifth position in terms of the number of transactions conducted. Germany is a significant supplier of semiconductor equipment to the Russian market. In 2022, the Netherlands and Estonia held the position of being the fourth-largest exporters of microchips to Russia in terms of dollar value. ASML Holding NV, a prominent Dutch company, is globally recognized as the foremost provider of lithography equipment, a critical component in the production of sophisticated microchips.
Subsequently, the United States has implemented sanctions on Russia, which include prohibiting the shipment of American semiconductors, as well as items manufactured using American equipment, software, and designs, to Russia. The United States has engaged in collaborative efforts with its allied nations, including the European Union, Japan, Australia, the United Kingdom, Canada, and New Zealand, to effectively enforce such limitations. The United States Commerce Secretary has issued a warning over the potential termination of Chinese firm's access to essential American technology required for chip manufacturing in the event of their non-compliance with the ban on chip supply to Russia. The United States has also called upon China to participate in international endeavors aimed at exerting pressure on Russia to withdraw from Ukraine. The United States employs diverse methodologies to oversee and trace the transportation of chip shipments that have the potential to reach Russia.
The sanctions imposed on Russia have had a substantial and diverse effect on its military capability. To develop modern weapons, Russia is heavily dependent on purchasing a variety of high-tech goods from Western nations, such as microchips, engines, composite materials, and semiconductor machinery. The implementation of Western sanctions has limited Russia's ability to produce and maintain its modern military hardware, including aircraft, missiles, drones, tanks, and radar systems. Russia's military-industrial complex, which includes more than 800 businesses engaged in defense and related industries, is largely responsible for the country's defense capabilities. Western sanctions have been imposed on several companies, including Rostec, Mikron, Tactical Missiles Corporation, Sukhoi, MiG, and Kalashnikov Concern. The implementation of these sanctions has resulted in the cessation of their ability to get funding, access technological advancements, and engage in market activities, leading to a decline in their overall financial gains and profitability.
The Russian economy and energy industry exhibit a significant reliance on the exportation of oil and gas to Western countries. The industries have also been subject to Western sanctions, which have imposed limitations on their ability to access financial markets, technology, and services. This resulted in a decrease in their ability to produce new weapons. Additionally, this has led to a decline in the government's foreign exchange reserves, both of which are essential for funding its military activities and defense expenditures. Also, these sanctions have resulted in the isolation of Russia from the international community since they have curtailed Russia's ability to engage in diplomatic, political, and security collaborations with other nations. Russia's influence and power in regional and international affairs have decreased, which has also made it more vulnerable to pressures and challenges from abroad. Furthermore, this has undermined Russia's perceived credibility and standing as a dependable and trustworthy collaborator.
In conclusion, the imposition of Western sanctions has effectively sent a resolute and unified message from Western nations in reaction to Russia's aggressive actions against Ukraine. However, there is little proof that these sanctions have caused Putin to behave differently or withdraw from Ukraine. Hence, the efficacy of the imposed restrictions in restraining Russia's military aspirations remains uncertain.
Three Sahelian Interim Military Leaders Sign Security Pact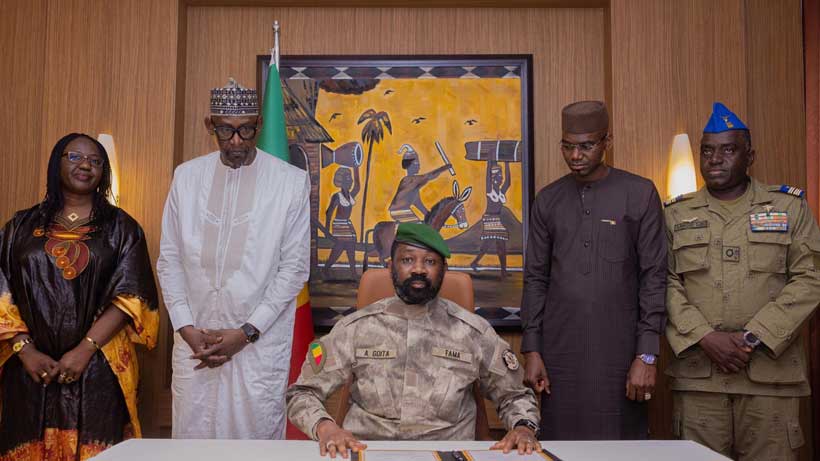 Burkina Faso, Mali and Niger have taken an admirable strategic step by signing trilateral security pact in collective efforts to battle extremism and terrorism threats in the Sahel region. It is an opportunity, especially this critical moment, to work relentless for peace and tranquility, a necessary factor that could determine their sustainable development.
These three Sahel states are under the interim military administration. The Economic Community of West African States (ECOWAS), the 15-member regional bloc, has put political pressure on them to return to constitutional democracy since after removing the elected civilian governments. The African Union (AU) and the ECOWAS have jointly suspended their membership, and further imposed stringent sanctions on them.
Backed by the AU, ECOWAS has even gone as far as threatening the use of force to reinstate constitutional governance in Niger. In response, Mali and Burkina Faso have solemnly pledged to extend their support to Niger if it is eventually attacked by ECOWAS Standby Forces. Burkina Faso, Mali and Niger also have considerable strain on their relationships with neighboring states and international partners.
Nevertheless, in a significant development on September 16th, three West African Sahel states came together to ink a security pact. Currently grappling with formidable challenges of combating Islamic insurgents associated with groups like al Qaeda and the Islamic State (ISIS), this accord offers the possibility to tackle any rebellion or external aggression.
The security pact, known as the Alliance of Sahel States (ASS), unequivocally indicated that an assault on the sovereignty or territorial integrity of any of its signatory nations would be deemed an aggression against all parties involved. The agreement outlined their unwavering commitment to provide assistance, either individually or collectively, and further categorically stipulated the deployment of armed forces.
The signed charter binds the signatories to assist one another – including militarily – in the event of an attack on any one of them. "Any attack on the sovereignty and territorial integrity of one or more contracting parties shall be considered as an aggression against the other parties and shall give rise to a duty of assistance… including the use of armed force to restore and ensure security," it states.
Malian leader, Col. Assimi Goita, announced the establishment of the Alliance of Sahel States through his social media account. He emphasized their primary objectives of establishing a framework for collective defense and mutual assistance. Its aim is to "establish an architecture of collective defence and mutual assistance for the benefit of our populations", he wrote.
The Liptako-Gourma region – where the Mali, Burkina Faso and Niger borders meet – has been ravaged by jihadism in recent years. A jihadist insurgency that erupted in northern Mali in 2012 spread to Niger and Burkina Faso in 2015.
"This alliance will be a combination of military and economic efforts between the three countries. Our priority is the fight against terrorism in the three countries," Mali's Defence Minister Abdoulaye Diop also said after the signing the document.
Mali and Burkina Faso have vowed to come to Niger's aid if it is attacked. "Any attack on the sovereignty and territorial integrity of one or more contracted parties will be considered an aggression against the other parties," according to the charter of the pact, known as the Alliance of Sahel States.
The three French-speaking West Africa states were previously members of the France-backed G5 Sahel alliance joint force, (with with Chad and Mauritania) initiated in 2017 to combat Islamist extremist groups in the region. However, Mali withdrew from this alliance following its own military coup, and relations between France and these three Sahel states have severely deteriorated. France has been compelled to withdraw its military presence from Mali and Burkina Faso, leading to a tense standoff with the junta that assumed power in Niger after requesting the withdrawal of French troops and its ambassador. France has firmly declined to recognize the authority of the interim military governments.
The situation in the Sahel region including Burkina Faso, Chad, Mali, Mauritania and Niger still remains extremely difficult with internal conflicts, extremism and militant attacks, economic development is undeniably at its lowest points in history. In fact, Sahelian states are consistently looking for strategic ways to effectively address the sustainable development in the region. These three French-speaking states and the entire Sahel region are the most volatile and have large impoverished population in Africa.
The African Union, Economic Community of West African States (ECOWAS), the European Union (EU), the United States and the United Nations (UN) are all asking for quick transition to civilian governments, and that efforts are taken to resolve outstanding issues relating to sustainable development and observing strictly principles of democracy in these French-speaking states in West Africa.
Depleting Water Resources and Growing Risks of Water Wars
Climate change, often regarded as byproduct of modern industrial society, has gradually transformed into a challenge with global ramification. The most concerning factor regarding climate change is the unpredictable nature of consequences it can cause. One of the grave impacts of climate change is the depleting fresh water resources available to humanity. The Earth's surface is predominantly covered with water, accounting for approximately 70 percent of its total area. Within this vast water coverage, a staggering 97 percent is composed of saltwater found in the Earth's oceans while only 3 percent is fresh water. This 3 percent is distributed among various sources, with the majority, approximately 69 percent, residing in glaciers and about 30 percent is situated underground. The remaining fraction, less than 1 percent, can be found in lakes, rivers, and swamps. This suggests that mere 0.33 percent of planet's fresh water is directly available to humanity and other animal life forms. To put into perspective, if the world's water supply was 100 liters, then usable fresh water supply would be mere 0.003 litre (one-half teaspoon approximately).
According to the United Nations, by 2025, two-thirds of the global population could be living under water-stressed conditions and around 1.8 billion people will be living in areas with absolute water stress. The depletion of fresh water sources is generating friction between nations and thus increasing the risks of water wars in vulnerable regions.
Conflict over water is not a new phenomenon and over 1298 conflicts over water have been recorded in human history. In modern times, factors like climate change, expansion of population, and shrinkage of water sources have further increased the likelihood of water-conflicts. There are growing concerns that the competition over water sources will yield conflicts between nations in near future. There are four regions in particularly, including South Asia, Central Asia, Middle East, and North-East Africa, which are highly vulnerable to water induced conflicts. Besides suffering from water scarcity, these regions are under-developed and have history of political instability and mutual hostilities.
Perhaps the biggest flash point of water wars is South Asia, or more specifically India and Pakistan. Both nations, being the second and fifth most populated countries in world, are overwhelming dependent on rivers emerging from Himalayan Glaciers. These glaciers, located in territorially disputed Kashmir region, have the most snow covered land area after Antarctica and Arctic. Melting of ice due to global warming on one side has increased the intensity of Glacial Lake Outburst Floods (GLOF), while on other side it has significantly reduced the volume of frozen water deposits in Himalayan region.
The Indus Water Treaty (1960), which delineates the sharing of the Indus River's waters between the two nations, has historically maintained a fragile equilibrium. However, with growing shortage of fresh water and subsequent construction of new dams by India at Indus upstream, occasional tensions and lack of co-operation regarding treaty have been observed between New Delhi and Islamabad. With disputed Kashmir region still awaiting resolution, any water-crisis can further exacerbate already strained relations between both nuclear armed neighbors. Under current circumstances, it's highly probable that South Asian region will be at the verge of water-war in near future if both nations failed to undertake credible Confidence Building Measures (CBMs) regarding water resources.
In Central Asia, the climate change, coupled with growing populations, has also intensified competition over shared water resources. The construction of upstream dams by Kyrgyzstan and Tajikistan on Amu Darya and Syr Darya rivers, under the rubric of hydroelectric development, has raised concerns about downstream water availability for Uzbekistan, Kazakhstan, and Turkmenistan. The drying-up of Aral Sea and gradual reduction of water in Caspian Sea is exacerbating the water-crisis further. Similarly, the fertile land of densely populated Ferghana Valley, known for its near perfect faming conditions, is now heading towards desertification primarily due to global warming. Uzbekistan, Kyrgyzstan, and Tajikistan converge in this valley which is gradually becoming a flash-point for water-based conflict. In April 2021, a border clash erupted between Kyrgyzstan and Uzbekistan over dispute of irrigation water distribution. The conflict killed 40 people and displaced more than 30,000 residents. The confrontation stopped after Russia led diplomatic settlement but the core issue still persists.
With 61 percent population living in high water stress areas, Middle East and North Africa (MENA) is the most water scare region in the world. Approximately 60 percent of fresh water resources in MENA region flows across international border, and thus is source of political tensions between states already suffering from water scarcity and political instability. Against this backdrop, Euphrates and Tigris Rivers which are critical source of water for Turkey, Syria, Iraq, and Iran, have strained relations since 1960. Factors like erratic weather patterns, global warming, increasing population, and uncoordinated water management projects, are diminishing fresh water availability in Euphrates-Tigris basin. Instead of crafting a equitable and sustainable trans-border agreement for countering water deficiency, the four riparian stated have securitized water relations with neighboring countries. As a result, the risk of regional water-induced conflicts has increased substantially.
Moreover, militancy in region has also significantly contributed in intensification of water related crisis. For example, in 2014, attempts by ISIS to use Mosel Dam at Tigris River in Iraq for Hydro-Terrorism was also timely thwarted by security forces and a major water-disaster was successfully averted. Similarly, few months ago a border conflict ignited between security forces of Iran and Afghanistan in Zabu district of Sistan. The major cause of military clash was distribution of Helmand River water which flows from Afghanistan into Iran. Being among the most effected region of climate changes, both nations are vulnerable to frequent and intense droughts. Persistence of political instability and lack of co-operation has undermined the prospects of resolution of water issue in these regions.
In North-East Africa, the Nile water crisis has the potential to ignite a multifaceted conflict involving Egypt, Ethiopia, and Sudan due to their overwhelming dependence on the Nile River's waters. Ethiopia's construction of the controversial Grand Ethiopian Renaissance Dam (GERD) has raised concerns in Egypt and Sudan as both are concerned over potential reductions in downstream water flow. In particular, Egypt, historically reliant on the Nile's waters, views the GERD as a direct threat to its water security. In recent past, Egypt has even threatened military action against GERD if Ethiopia fails to address Cairo's concerns. Despite several negotiation efforts, these African nations have failed to agree on a mutually acknowledged framework regarding distribution of Nile water.
Israel is often regarded as benchmark for overcoming the shortage of fresh water. Once a country suffering from acute fresh water shortage, Israel now has ample fresh water availability to meet the domestic, agricultural and industrial requirements. Israel achieved this fate by building robust water Desalination infrastructure. However, Israel's example cannot be used as a template for highly populated regions with varying geopolitical and demographic dynamics.
Technological advancements have provided new solutions for conservation of new water resources. Beside desalination, many similar water conservation technologies like, drip irrigation, fog & rain water harvesting, nano-filtration, and aquifer recharge etc. have been developed to extract, purify, and store fresh water. However, adaptation of these technologies on national scale is very expensive and, therefore, beyond the economic capacity of majority of developing nations.
Abruptly changing weather patterns are disturbing water cycle and rapidly declining availability of fresh water. The intensifying water scarcity can potentially act as conflict flashpoint with far reaching consequences. Therefore, it's crucial that international society should realize the magnitude of problem and adapt to the changing realities of a warming planet. Collaborative efforts are essential to; undertaking scientific research for finding affordable and innovative technological solutions, water diplomacy for establishing effective water-sharing agreements, and adopting water-saving practices for sustainability of fresh water resources. If humanity fails to timely resolve this issue, it will not only undermine the global strategic stability, but will also threaten our existence as modern civilization.