Tips on How to Get the Most from a Sunroom
If you have decided to add a sunroom to your patio, you want to get the most from it, right? And it's possible. You only need to consider these tips:
Ensure the sunroom is facing the right direction
Everything begins here, as there is no way you will enjoy the sunroom if it's facing the wrong side. Don't get it wrong. There is no right or wrong location to build your sunroom.
You only need to ensure the unit is facing the direction that meets the needs you are looking to achieve. Some of the directions you can install the sunroom include:
North facing: A sunroom facing the north receives low sun levels and partial shade throughout the day. Patio contractors recommend north-facing sunrooms as the best sunrooms to install, but you should be ready to put on the heating system to use the sunroom in the winter.
South facing: South facing sunrooms are the most aesthetically pleasing sunrooms you can have, and they allow plenty of sunlight to get in during the day. Although they are beautiful, you may need a cooling system installed especially if living in the south.
Eastern facing: An eastern-facing sunroom is best if you love taking your breakfast in the sunroom or you love the sight of the sun early in the morning. This is because the sun gets in the sunroom early in the morning, while it's all shade in the afternoons and evenings.
Western facing: Are you at home mostly in the evening and love watching the sunset? This is the right sunroom to go for. If you live in hot areas, you may need to invest in shades and a cooling system to keep you comfortable.
Ensure that the sunroom is comfortable
Unless you are using the sunroom as the exercise room, you will have to sit, and you need to be comfortable to enjoy the sunsets, have quality time with family, or simply enjoy your creation.
If you visit many sunrooms, you will find most of them packed with wire furniture and uncomfortable wicker. This is because homeowners have the impression that a sunroom is an outdoor unit, so it should be furnished with outdoor furniture. This is wrong.
To be an exception and ensure you are as comfortable as possible, take the sunroom as part of the main house. Like the rest of your house, have plush pillows, upholstered seating, throws, and other pieces that will ensure that you are comfortable.
You also should throw in a side table and coffee tables to have a place to set down your drinks or a book.
The sunroom is a place to relax, and you can also use it to get some work done when the weather is right, so ask an electrician to install electrical outlets to plug in your laptop.
For optimum comfort, take the sunroom as a second living room and furnish it with all the comfortable pieces of furniture you can.
Although it's crucial to keep your patio sunrooms comfortable, watch out that you don't waste money on adornments and furnishings that you won't use or don't need.
You need to find a balance between comfort and use. If you don't frequently use a certain piece of furniture or adornment, there is no point in buying or keeping it.
Use the right glass for the window.
The glass you choose for your sunroom has a significant impact on the performance, feel, and allure of the sunroom, so be ultra-cautious when buying it. There are three main glass types for sunrooms you can choose from:
Single glazed glass: This is a basic window glass that features little insulation or UV properties.
Double glazed glass: These are two glass layers with gas or air trapped in between. As you can guess, this glass provides better insulation.
Triple glazed glass: It's the most expensive glass of the three and provides the highest level of insulation.
When you choose the best glass for your windows, pay attention to the insulating properties of the glass. Of course, you want the glass providing you with the best insulation. After all, you don't want to be baked in your sunroom as you are enjoying a sunset, do you?
Sunroom experts agree that the minimum glass you should install in the sunroom is double glazed.
Another factor to consider the Low-E coating. An ideal sunroom window glass should have a soft coat Low-E that allows light but reflects the heat. When properly installed, this glass ensures a room is cooler in summer and warm in winter.
The final factor to pay attention to is glass safety. You should go with tampered glass that crumbles when it breaks instead of one that falls off in dangerous shards.
The key to buying the right glass window hinges on extensive research. You should consult with building materials experts and even your local department of building and safety, and they will recommend the best one to go for.
Ensure the space is large enough
The whole point of spending money on a sunroom is to have space you can spend time. If you live alone or have a small family, you can get away with a small sunroom, but if you entertain a lot, your guests will feel cramped and crowded in a small room, and this will prevent them from having a good time.
At the very least, ensure that your sunroom is at least ten feet square. This space is enough for a small grill and a standard outdoor table and chairs.
Upgrade your sunroom to a solarium
Many homeowners believe that a sunroom and a solarium are the same thing, but this isn't the case. A solarium is completely enclosed in glass (including the ceiling) with the sole intent of trapping in as much light as possible while at the same time blocking the outdoor weather elements.
On the other hand, a sunroom is what architects and designers use to describe any room with large windows (usually running from floor to ceiling).
A solarium is more aesthetically appealing and more comfortable. Unfortunately, it's pricey to build. Luckily, if you don't have the budget for it, you can install a skylight instead. The skylight will be cheaper, but it will accomplish the same feat.
Bringing People Together with Easy to make Russian Comfort Food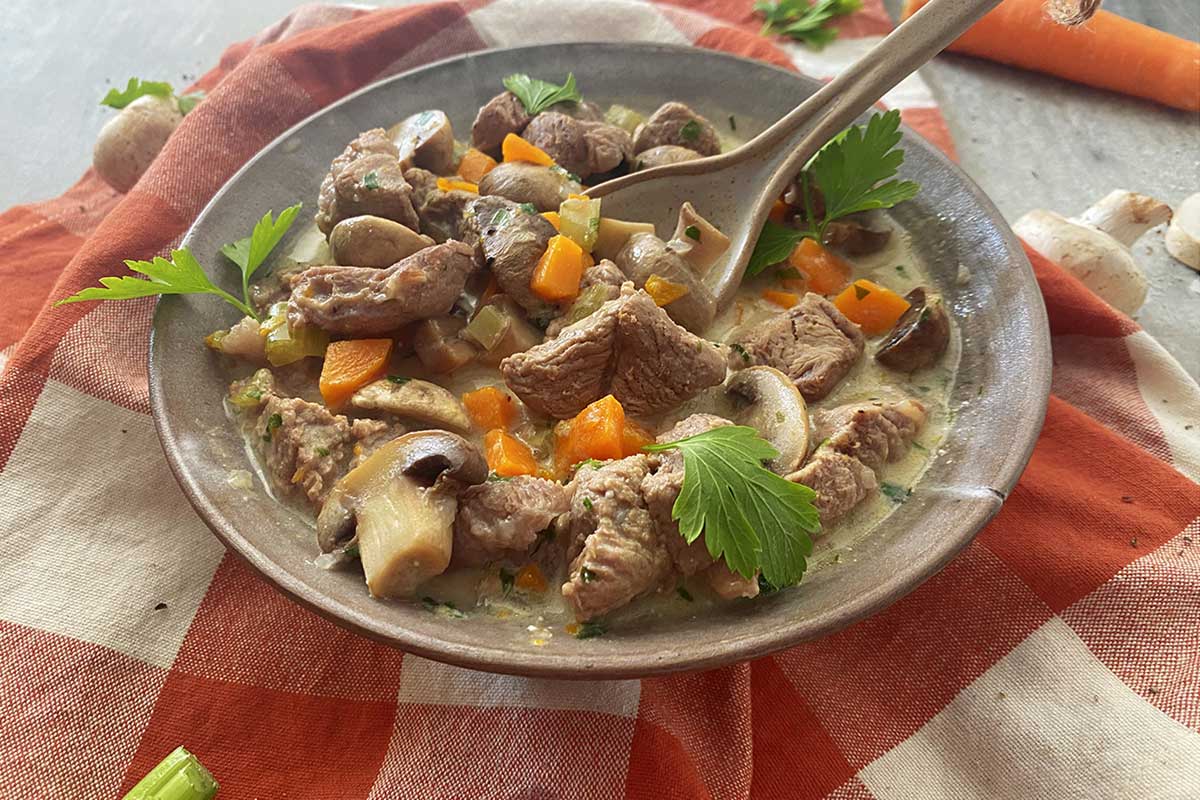 Russia has a long history of droughts and famines. Although there have been no famines since 1947, the former Soviet Union saw many food shortages. By the time the Soviet Union was about to collapse, many common items of food were being rationed.
Shelves held only rotten vegetables, butchers counters had pitiful scraps of bone and fat instead of sausages, chops, and joints. As recently as last year Russia halted exports of its wheat as fears of a shortage once again raised its head.
So it may seem a strange choice when it comes to discussing cuisine, comfort food, and cookery. But, the advent of the multi-cooker has made it easier than ever to try new recipes at home, and Russian food has much to recommend.
Why Russian food?
Because it is comforting, is the simplest answer to this question. Russian weather can at times be harsh, and some areas are bitterly cold. If you come from a country that enjoys a full spectrum of seasons then you will understand that when winter comes, sometimes all you want is some proper comfort food.
Russian cuisine can provide dishes that are full of carbs, fill up bellies, and generally satisfy and protect against the cold. If you were from England then you would probably describe some Russian food as the kind of meal that sticks to your ribs.
However, if the English think they eat a lot of potatoes, then they can think again, compared to the Russians. Mashed potato may well be the ultimate comfort food, and it is served everywhere in Russia. Ok, maybe not in a pizza restaurant or McDonald's. Actually, McD's did make a mashed potato burger but chose to market that in China instead of Russia.
But the truth is, Russian food can be very satisfying, and while it may not be diet-friendly, it can be heart-warming and is often about family and friends. Much of Russian food is home-cooked and shared with families. An interest in Russian culture and history could help to bring people together in all walks of life, especially if enjoyed with some pelmeni.
Why are people more interested in foreign cuisines now?
Last year saw the Covid pandemic arrive that is still currently ongoing. This resulted in lockdowns, self-isolation, and quarantines, not to mention far more serious consequences. The effects of Covid are still being felt through Europe and across the globe. It could be years before a return to a proper sense of normality happens.
Because of the restrictions that were put in place, people have been unable to visit restaurants, and they have also had travel plans curtailed. For many, this meant taking the problem into their own hands and finding a solution. The answer for some was to take up cooking as a hobby and try different recipes.
Cooking at home during lockdowns meant that a new hobby was found, time was used more usefully, and knowledge of other cultures could be explored through the medium of food. The success of one or two kitchen appliances has also helped.
What is a multi-cooker, and can they really help someone to cook?
A multi-cooker is an appliance that has various cooking modes and options. They may be able to sous-vide, saute, bake, and cook rice. They may also have options for slow-cooking which is great for tough cuts of meat. Plus they can pressure cook, to speed up recipes that traditionally take a long time.
Basically, a modern multi-cooker, such as the Instant Pot or Ninja Foodi, is similar to the older style pressure cookers, but with a lot more features. They have helped many amateur cooks to start to try different recipes as the cooker does most of the work, and the food is ready very quickly.
They might be a good option when put together with Russian comfort food, as the meals can be prepared and cooked with very little fuss.
So, what does Russian food consist of? Is it just lots of cabbage and potatoes?
Why do Russians eat so many potatoes?
Ok, so it is true that potatoes are popular, but part of this is for practical reasons. When it comes to serving up sustainable food and ingredients, potatoes are up there with the best.
Every country has its own main carbohydrate when it comes to staple dishes. This may be pasta (or noodles), rice, or potatoes. Obviously, bread is a factor too, but for the purposes of this article, the first three will be looked at as they form the basis of many meals across the world.
Between potatoes, rice, and pasta, the former is the most environmentally friendly option by far. Also, in the harsh winters suffered in parts of Russia, there is often a lack of fresh vegetables, and potatoes are always available.
Favourite food options for Russians will often include dishes with potato, however, for the national dish, this is swapped out for wheat.
What is the national dish of Russia?
Pelmeni is a kind of dumpling that is usually stuffed with meat. It can be served in soup, deep-fried, slathered in butter, and is highly popular. It is sometimes treated a little as convenience food but can make a hearty broth or soup with sour cream too.
It would be possible to make pelmeni in an Instant Pot, and there are plenty of recipes for similar dumplings on the internet. But, perhaps this particular part of Russian culture should be saved for traditional cooking methods.
Multi-cookers are often associated with healthy cooking, and it might be a shame to take away the joy of heavily buttered pelmeni, or deep-fried dumplings, by trying to turn them into a calorie-friendly option.
Other dishes that have been enjoyed over the centuries include borscht, blintzes, plov, kotleti, and of course beef stroganoff. There is also solyanka soup which is both sweet and sour and is believed to be the best hangover cure available.
Borscht is highly adaptable to the seasons as it can be eaten cold in warm weather, or hot when the winter nights draw in.
Making Russian dishes easily
So, assuming you have access to a multi-cooker or Instant Pot, then you may be able to pull off some authentic Russian dishes without too much trouble.
Beef stroganoff has been around since the 1800's when it first appeared and has been attributed to the Count Stroganoff of that period. Whatever the truth is, stroganoff is one meal from Russia that has spread to many other countries.
The problem with this dish is that many countries such as the UK and the US adopted it and switched out quality ingredients for convenient ones such as tinned mushroom soup. Fortunately, recipes from Corrie Cooks and other websites have now corrected this, and you can find much better versions.
Making the best beef stroganoff could mean a lot of slow cooking but a pressure cooker means that you can achieve the same results in 20 minutes. To make the best stroganoff use good ingredients. There are two schools of thought here though.
Many cooks will advocate the use of sirloin or rib-eye steak for beef stroganoff, but others will prefer a long slow cook with a cheaper, but tastier cut of meat. If you are using the Instant Pot for fast results then go for a quality piece of beef.
Summary
Russian food may not be popular in the way that Thai, Chinese, or Italian are. However, dishes from this country are made with love and they bring people together.
One could be more satisfying than producing a tasty stroganoff in just twenty minutes and serving it up to a table full of family on a cold winter's night?
Dongyu Zhou wears Constellation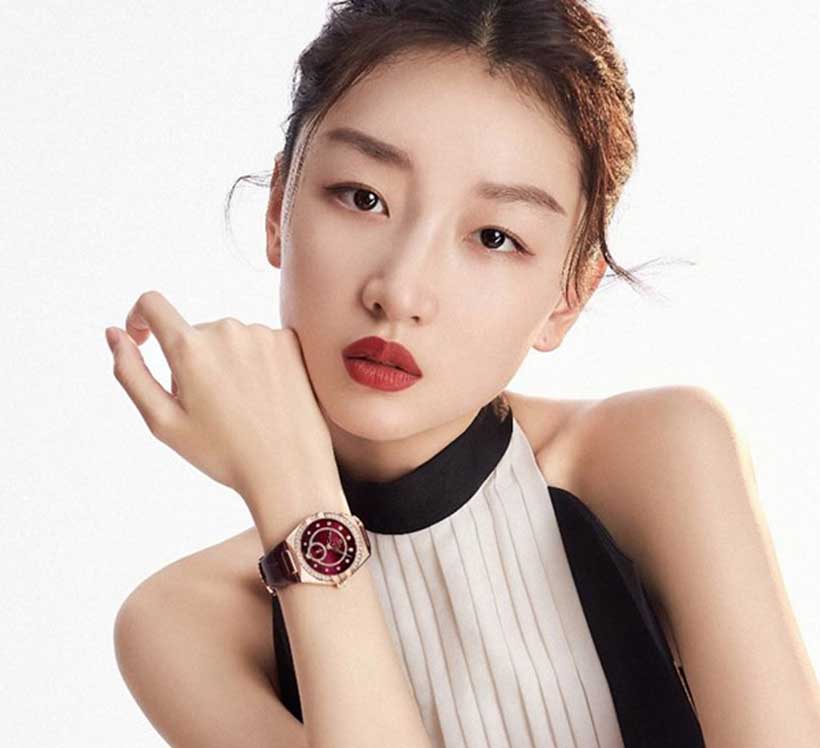 Award-winning Chinese actress Dongyu Zhou wears OMEGA's Constellation Small Seconds.
A winner of multiple domestic and foreign film awards, Dongyu Zhou is an accomplished actress capable of delivering convincing and critically acclaimed performances ranging in genres from crime thriller to romantic comedy.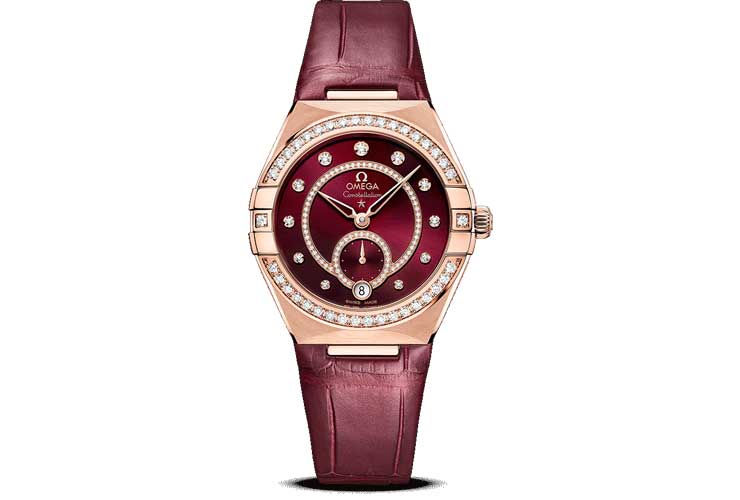 Her many accolades include the Best Actress award at the 53rd Golden Horse Awards in 2016 for her impressive performance in Soul Mate, and best actress for Better Days at the 39th Hong Kong Film Awards and 33rd Golden Rooster Awards.
As Dongyu Zhou is the youngest actress to have been honoured with the three most significant film accolades in the history of Chinese film, her choice of watch proves that the timeless OMEGA is never out of step with style.
A New Tribe Lands As An Icon Ascends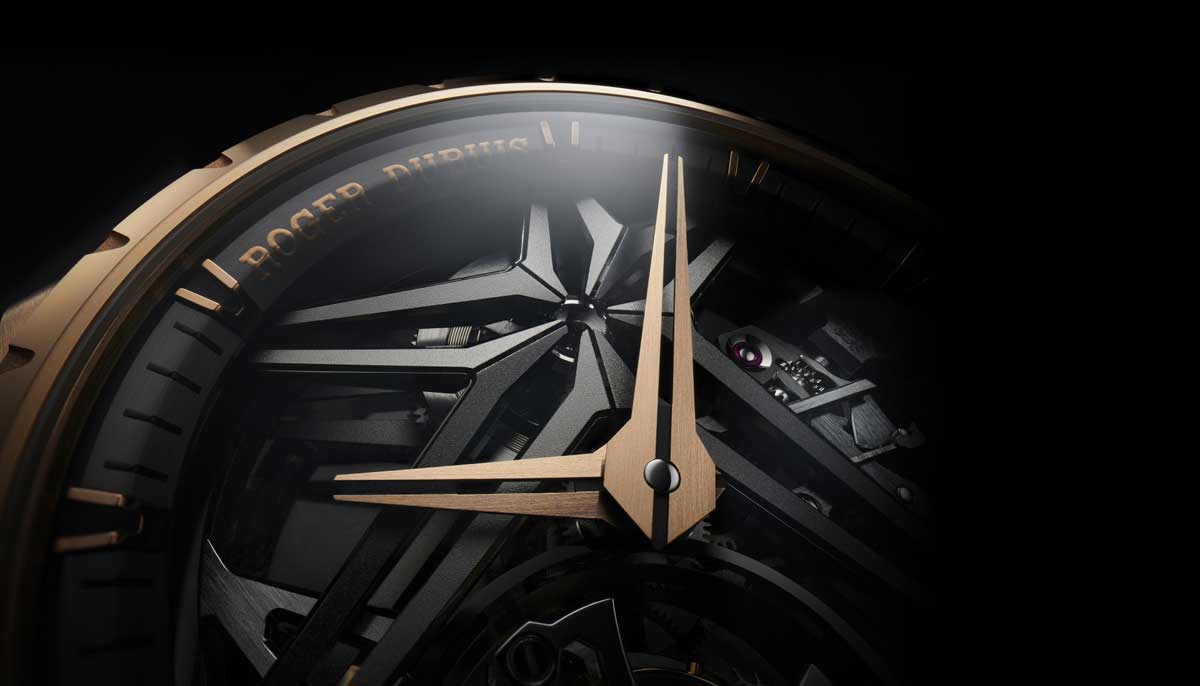 Roger Dubuis has consistently demonstrated a penchant for impertinence and extravagance. Sustained by an integrated manufacture, a flagrant disregard for convention is the backbone of its bold attitude. A true innovator, the luxury watchmaker is driven by an irrepressible willingness to come up with high-impact ideas, boundary-pushing technologies and unmistakable out-of-the-box designs. Living by the motto NO RULES, OUR GAME, the Maison proves once again it is the most exciting way to experience Hyper Horology with the launch of the new Excalibur Single Flying Tourbillon.
THE FUTURE OF HYPER HOROLOGY IS HERE
Extravagant, determined and disruptive, the bold and bright are the ones that stand out. Just like any star should. But a star doesn't just appear. It takes dedication. Innovation. Craftsmanship. Only then can an icon ascend…Introducing the Excalibur Single Flying Tourbillon: a star restyled for the new world. To mark the launch of the inimitable skeleton design reinterpreted with a contemporary touch, Roger Dubuis is set to celebrate modern art in all its shapes. Taking form in Hyper Horology with the Maison's most recent interpretation of the Excalibur Single Flying Tourbillon, this icon of watchmaking is brought to a whole new level; a masterpiece that cannot be ignored, just like its wearer.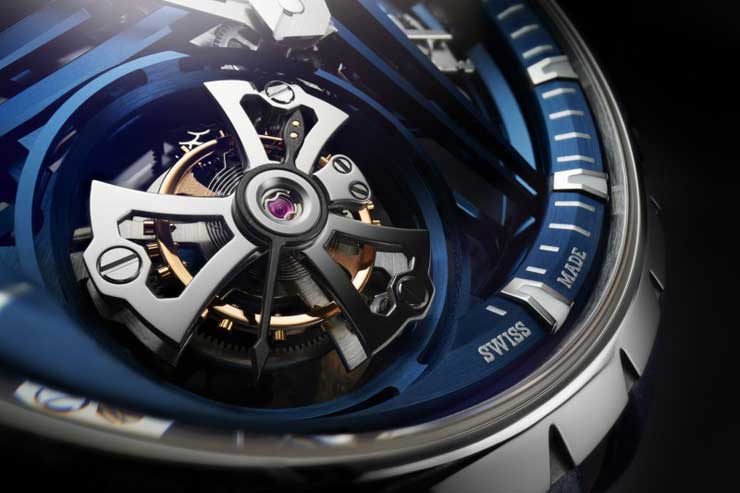 Finding kinship with those disruptive souls who dare to make a difference, the Maison partners with the URBAN ART TRIBE, world-famous urban culture artists that reflect Roger Dubuis' values: break the rules, showcase radical expertise and obsess daily over the design of the future.
THE EXCALIBUR SINGLE FLYING TOURBILLON: FROM A TIMEPIECE TO A MASTERPIECE
Roger Dubuis continues shaking up the world of haute horlogerie with the launch of the new Excalibur Single Flying Tourbillon. Enhanced with meticulous care, the timepiece is reinterpreted with sophistication and flair using modern and technical materials.
A contemporary masterpiece for the wrist, the new design showcases clean cut lines on both case and movement. Creating the impression of a thinner look and feel, while heightening the sense of transparency and depth, the calibre is rebuilt from bottom to top in an architectural feat that sees the Roger Dubuis star now levitate freely above the barrel. A strong visual identity is created with a signature two-line pattern – seen between the notch on the crown and bezel, the star's arms, the tourbillon's cage, the hour's marking on the flange, the hands – all of which cleverly appear as though they will meet but never do. This dynamic aesthetic is amplified by the Poinçon de Genève, the most demanding signature in fine watchmaking and one that requires the manual decoration of each and every component of the watch, as well as unexpected and antinomic decorations in modern haute horlogerie, such as circular-brushed top surfaces and polished angles that demonstrate Roger Dubuis' visionary approach.
Always keeping the wearer in mind, the new RD512SQ calibre is stunning in its technical prowess. Now with a titanium lower tourbillon cage – twice lighter than stainless steel – and a mirror-polished Cobalt Chrome upper tourbillon cage, the weight of the piece is reduced to optimum effect. All of which allows the power reserve to be radically optimised to 72 hours, providing the option of leaving the watch unworn over weekends without the worry of resetting come Monday. Proving no detail goes unconsidered, non-magnetic material is used inside the tourbillon to better serve the wearers and improve their experience.
Comfort is key, which is why a range of entirely new strap sizes have become available. With 5 sizes from 0 to 4, finding the perfect strap ensures the buckle is always centred on the wrist, as a Quick Release System offers ultimate flexibility. Underscored by rarity, the 42mm case is only available in eighty-eight pieces per colourway: Dark Grey DLC Titanium, Cobalt Chrome CarTech Micro-Melt BioDur CCMTM and the new EON GOLD, a pink gold shade that remains more stable thanks to non-tarnish technology. Reimagined for a contemporary era, an icon ascends in the shape of the Excalibur Single Flying Tourbillon.
THE ART OF GLOW
Showcasing the Maison's obsession with art, light and luminescence, in addition to our icons comes the Excalibur Glow Me Up, a world-premiere for Roger Dubuis limited to just eight timepieces.
By day, the new Single Flying Tourbillon calibre is elegantly adorned with 60 baguette-cut diamonds on the bezel. By night, it's a complete different version that comes to life through this vibrant timepiece with luminescent and dazzling diamonds, an achievement made possible thanks to an intricate two-part process. The first involves filling the grooves that hold the stones in place with Super-Luminova, a singular way to make the diamonds appear luminescent without altering them. Secondly, an additional patent enables Super-Luminova to be applied on the angles of the movement, as well as to the iconic star-shaped bridge. Because at Roger Dubuis less is never more.
ART IN THE MAKING
Roger Dubuis is a destination for the avant-garde. Committed to non-conformity, the Maison stands with those who choose to blaze their own trail. To show what happens when rules are rejected and creativity is unleashed, Roger Dubuis partners with the URBAN ART TRIBE, composed of two urban culture creatives – tattoo artist Dr. Woo and graffiti artist Gully. Rulebreakers in their own fields, they too shape the future by refusing to take 'no' for an answer. Brought together to unite a wider community of daring minds, Roger Dubuis and the URBAN ART TRIBE hope to encourage people to challenge the way things are, just as the Maison does when it comes to Hyper Horology, and Dr. Woo and Gully do in their industries.
A leading name among an influential elite who see tattoos, art and fashion as an indissociable whole, Dr. Woo's singular approach to needle style has shifted the paradigm for tattoos, taking them from subculture to broad popular appeal. Of the partnership he says: "I've taken this path because I don't know where it leads, and that is exactly why I'm here – to seek the unknown and go out of my comfort zone. Tattooing and watchmaking have that in common: the same attention to detail, a dot vs. a tiny component, assembled perfectly for you to see the bigger picture."
Gully, a well-known graffiti artist, chooses to work exclusively in his own atelier to maintain his anonymity. He uses a wide variety of mixed techniques and materials and explains his artistic concept as one based on conscious appropriation. Telling visual stories of children appearing in splendid settings, he reveals their enchantment with art and particularly with the paintings of the great masters. Speaking to the concept of the tribe, he comments: "Two worlds, a crossing path. I feel driven by the same energy and insatiable envy to come up with something we have never seen before. It comes as a bombshell, provokes surprise, and arouses interest. Bringing different worlds together is my trademark, so I can't wait to show you the Gully x Roger Dubuis mixture."
Generously opening the doors to their respective workshops, Dr. Woo and Gully will begin their long-term partnerships with Roger Dubuis by first sharing their creative processes at work. Initially set to reinterpret the brand's iconic astral signature, they will continue to co-create the future of Hyper Horology alongside the Maison.