When governments around the world started reacting to the pandemic, they induced a vast and unpredictable crisis. The ensuing recession struck in decidedly variegated ways both we looking at different countries and multiple social strata. Many economies fell in a downturn that has compromised access to income in certain States, although elsewhere these effects were risible. Such inequalities stand out in worldwide comparison, but they happen to be huge in structurally-alike, bordering States as well.
Recently, a varied pack of heavyweights and some smaller countries has rebounded strongly in relation to both GDP and employment. China and the US are at the forefront of this recovery for diverse whys and wherefores and in dissimilar manners. Like trucks on a difficult mountain road, the two are accelerating as they overcome the crisis helping the world economy.
Still, something is absent in this rubicund montage of rebounds and development: the European Union. Being the wealthiest market in human history, the EU may support other countries' recovery tremendously. Yet, inner imbalances, organisational feebleness, and lack of resolve are restraining the Union. There have been serious consequences for some unconsolidated EU economies and on the many other States bound to the block. Following up a previous article, new data reveal how two very different country on the EU's periphery fared in 2020.
Romania — The worst seems over
Over 20 million inhabitants and yearly exports worth about $80 billion make Romania a little giant in the Eastern Balkans. It joined the EU In 2007 in tandem with Bulgaria, and since analysts then to bundle the two countries together. However, this article's approach is different as it compares Romania with the least populous country in the region: North Macedonia. The latter is not an EU member either, making them possibly the most dissimilar cases in the Eastern Balkans.
Romania's economy suffered badly in the beginning of 2020, with its GDP collapsing 33% in the first quarter. These figures could be considered the worst since the onset of the post-socialist transition in the 1990s.The trend only got partially more positive in the following three months (April–June), when the economy started recovering somewhat. Yet, by the end of 2020 only 128,800 people had lost their job, or 1.49% on the previous year. The fact that the economy seems to be performing well has kept swaths of them in look for a new job. This explains rather discomforting unemployment statistics.
Gross Domestic Product
Romania's economy only managed to get out of a steep slump in the summer quarter (July–September) of 2020. The figures reveal a strong V-shaped rebound, with GDP recovering almost 20 percentage points on its 2019 levels (Chart1). In the last three months of 2020, Romania's GDP rose by a further 13%, reaching slightly above last years' estimates. At the end of 2020, total production was 100.39% of its 2019 levels, whereas the Euro Area stopped at 96.86%.
Un/Employment
Curiously, unemployment data for most of 2020 diverge from Romanian economy's overall impressive performance — and significantly so (Chart 2). Unemployment rose in the first three months of 2020, and started growing even faster in the ensuing nine months. In spite of a positive GDP dynamic, employment decreased by almost 130,000 units in 2020Q4due to the pandemic-induced crisis.
True, unemployment statistics do not say much about the structure of the Romanian labour market, a key factor in these processes. Unlike most of their Eurozone peers, Romanian enterprises deal with a greatly flexible manpower with fewer rights and protections. Thus, they can lay off and hire staff much faster than competitors and partners in the richest EU economies. Yet, one should not interpret unemployment's as a consequence of new people entering the job market during 2020Q2–Q3. After all, in those six months the number of employed people fell by 2.4% compared to 2019Q3 or 207,500 units. Meanwhile, unemployment 'only' grew by 1.3 percentage points indicating that some laid-off workers became inactive. In a word, ordinary Romanians did not get a fair share of the recovery's gains.
RNM — It couldn't get much worse, so it got better
As anticipated, the Republic of North Macedonia (RNM) is very different from Romania in many respects. First, its population is a fraction of the latter's, only about two million people according to questionable official data. Furthermore, the RNM is not a member of the EU despite the fact a markedly asymmetric dependence from the Union. In effect, its economy is mostly reliant on trade with and tourism from three EU member States: Bulgaria, Germany and Greece. The country averted a civil war in 2001 by appeasing its Albanian minority, but its economy has struggled ever since.
One could argue that the situation before the pandemic hit was so dire that worse performances were rather unlikely. When the economies of Bulgaria and Greece slowed down and tourism came to a halt, the RNM's suffered as well. In the first quarter of 2020 the RNM's GDP fell by 14%, and shrunk further in the following three months. New figures show that about 17,000 people lost their job in April–June 2020, which became 21,000 in December. This means a 2.66% decrease in employment for a country where unemployment was 17.3% in 2019.
Gross domestic product
The RNM's economy took the biggest hit in the second quarter of 2020, after having already suffered somewhat in January-March. In 2020Q2, North Macedonian GDP was about 23% lower than in 2019 (Chart 3), against the Eurozone's 17%.Yet, the slid is nothing like the recession the RNM experienced during the Yugoslav Wars and the 2001 civil war. With the summer, both Bulgaria and Greece as well as the entire EU reopened their borders and started growing again. There were positive ripple effects on the RNM's economy in the third quarter, with GDP growing by 448 million euros. The 20% increase of the summer became the base for further growth in the October-December 2020. By the end of the fourth quarter, the RNM's GDP increased by another 10%— converging on its 2019 levels.
Un/employment
Unlike in Romania's case, inconstant performances did not affect unemployment statistics visibly in the RNM (Chart 4). Actually, and counter intuitively, in comparison to 2019 unemployment decreased by 0.6% to 16.7% in the first two quarters of 2020. In total, during the first half of 2020, the RNM's economy lost4,200 jobs or 0.5% in comparison to 2019 levels. The National Statistical Agency recorded similarly inconclusive fluctuations all year round, suggesting a deep disconnect between GDP and unemployment. All in all, one could justify these findings with the ignominious state in which the RNM's labour market is. The population is not very active, yet unemployment has never fallen below 15%in the past 20 years. Therefore, ordinary people fail to reap sensible benefits even if the economy overall is growing.
Conclusion: Pandemic management matters
There are two lessons that one can draw from these figures and by comparing the cases of Romania and the RNM. One, regards the pandemic and the ways its management interact with key economic indicators. While the other speaks volume on the differences between these two countries on the EU's periphery.
Arguably, the data may comfort the thesis that not only lockdown fuel recessions, but less lockdowns spur economic growth. In fact, Romania performing better than most EU and Eurozone economies in terms of GPD growth suggests that less lockdowns favour growth. After all, authorities in Bucharest have been and remain remarkably consistent in their refusal to shut down the economy. Conversely, the rather trendless fluctuation in the RNM's data and performance results at least partly from the government's inconsistency. Actually, Skopje went from minimal anti-contagion restrictions to declaring a full-scale, countrywide lockdown virtually overnight— a behaviour that fuels uncertainty.
Additionally, these figures dispel some of the cloud surrounding the EU's and its peripheries' path out of the crisis. On the one hand, the EU is trying to dig its escape route by investing billions of euros over the coming years for countrywide Recovery plans. True, Romania's share of grants is not as bis as Bulgaria's, Greece's or Italy's, but the government is thinking big. On the other hand, the RNM is amongst the "poorest countries in Europe" never to be part of the USSR. Unemployment figures could cause vertigos even before the pandemic hit and the population is shrinking at impressive rhythms. Not being a member of the EU, Skopje will get only a fraction of the money Brussels has earmarked. Paradoxically, dependence on the EU was the transmission belt of the crisis, but lack of integration will hinder the recovery.
Post Pandemic Recovery: The Rise of the Alpha Dreamers
There are five billion alpha dreamers across the world; why because they are connected globally with all sorts of devices, more so ever than any other time in the history of civilization, and secondly, interacting at 1000 times faster than any invasions of the largest marching armies ever assembled in history. They select and they choose; they browse, click and chat, they like and dislike. All ages and all cultures, opinionated or neutral, but informed they are, evermore than any other civilization ever existed on the planet. Who are they and what are they after?
First, observe, how their silent whispers are still inaudible in the rotundas of power, notice how their hidden power is sweeping the global mind, sharing something never ever dreamt before. As, during the First Word War, symbolized by digging rotten trenches until death or the Second World War symbolized by senseless revengeful carpet-bombings all organized under deep silent agenda. Now in a new differently connected world of today, the common voice of the common person struggling for common good becoming the loudest whisper starts to emerge.
Today, if they all agree to flush the toilets simultaneously around the world it will dry out an ocean the same afternoon. All such mathematics is based on large numbers, few billions here or few billions there, the real power still deeply hidden on 24x7x365 free access culture keeping global dialogue live and global mindshare active. Political punditry ignoring such power seems only waiting for a big slap on the face when dealing with the next coming elections. Study the rise and fall of leadership, scheduled over next 500 days, the outcomes of next 100 national elections across the world. What is happening in your nations, who is vocal and who is silent, but why? The major shifts are on the way.
This is all about five-billion-minds active on global-circuitry learning live-facts in real-time.
Who are they and what are they after? Why the name 'alpha' because they are the first largest group ever assembled since Homo erectus? Why the name 'dreamers' because the majority are simple common people with simple common dreams of seeking common good and humankind going forward.Alpha dreamers are chasing a better world, not because they have a united cultish agenda but because they treat themselves as ordinary humans and respect humanity. In a world wrapped with fakery, this is a simple goal of a common person, when this multiplied by five billion it automatically becomes an unimagined force. Truth is the shield, diversity and tolerance the only platform left. The world of seek and destroy doctrine will eventually end. The claims to any exceptionalism unless demonstrated in common good is just fakery and tyranny.
Is shutting down the world's electricity or snatching seven billion phones the next calamity?
Such moves will only prove the panic in rotundas; it is all about courage to face the mirror and deal with the truth, why many billions of people are challenged on issues of humanity, and why such issues come to the forefront. The emergence of a new world is now challenging political agenda, global policies, economic goals, educational values, environments, rights, diversity and tolerance all tested to pursue common good. The five billion connected alpha dreamers will not be fooled all the time. Global public opinion is a simple opinion of social-justice on any street, in any town; village or city, now connected as a multi-billion force.
The elite practitioners of the fine art of image positioning and election punditry always understood that sometimes a one single picture at a wrong or right time decides the election winner. Today when a silent bullet kills a person in the dark of the night, it sometimes shoots billion minds equally when billion images ricochet around the globe. Today, dark alleys and hidden torture chambers becoming live broadcast shows on social media uprooting leaderships, shattering ideologies and exposing false narrative. The tragedy hidden in denying the power of connected global populace and accepting short-fuse of superiority while ignoring common global connectivity. The credibility of the media is gone on the streets of the world, so are the institutions and most leadership. Will this dark silent vacuum filled by the global whisper strong enough to burst eardrums of leadership? Will it make them come together on a new page and listen deeply?
Smart leadership will not survive just by manipulation; hot notions of controlling masses with AI centric facial recognition and profiling will result in more confusion, but with deeper understanding of truthful dialogue with citizenry to downstream real vision of creating grassroots-prosperity will save leadership. Change without pain is not a change rather just a theme based public relation campaign, as if upskilling midsize economies without measuring current levels of lingering competencies is not going forward but in reality sliding backward in slow motion. No single country in the world is either capable or skilled enough to solve all global problems, nor is any single nation exclusive enough to claim any exclusive superiority in humankind. However, each single country is very capable to play a big positive role in the global arena and contribute in big ways with diversity, tolerance and peace. Everyone is important and everyone is needed.
Political leaders with one ear to the ground to listen to public opinion NOW need the other ear also on the planet to listen to the global public opinion and to demonstrate courage to face the music and demonstrate skills to articulate on global issues. Study more on Google.
The rest is easy
Bitcoin Legalization In El Salvador: Heading Towards A Crypto-Friendly Regime
Cryptocurrencies are surely one of the hotly debated topics across the globe. There's always an ambiguity surrounding the usage and permissibility of crypto assets. Various government entities fear that crypto holds the tremendous power to disrupt the financial and banking sector & it will surely replace the existing financial systems present across the globe. This is 21st century & with the growing technological advancements, the world is rapidly getting acclimatized into the domain of crypto currencies. With this move, some government entities are also changing their perception of cryptocurrencies. The recent legalization of bitcoin in El Salvador can be construed as a prime example of this which apparently came as good news for crypto enthusiasts. The news made El Salvador appearing at the forefront of leading international news channels and websites. By this move it became the first ever country across the globe to legalize any cryptocurrency. The step came after the El Salvador's President Nayib Bukele announced via twitter that bitcoin will now be accepted as a legal tender across the nation. Earlier in the bitcoin conference 2021 held in Miami, the President gave subtle hints of passing a bitcoin legalization bill. From using bitcoin/paypal hashtags to modifying his twitter profile image depicting red lazer eyes (a trendy way to used in internet by crypto enthusiasts to exhibit their support for crypto), the President's fascination with bitcoin can be construed prominently. The congress passed the bill on 9th June 2021 by the margin of 62 votes out of 84 favoring for legalization apparently termed by the President as what is called a supermajority. The successful execution and implementation of this bill will make way for the proper legalization of bitcoin. The prominent excerpt from the bill said – "The purpose of this law is to regulate bitcoin as unrestricted legal tender with liberating power, unlimited in any transaction, and to any title that public or private natural or legal persons require carrying out." To further promote the acceptance of bitcoin the president also made it clear that persons holding bitcoin or persons investing in bitcoin in El Salvador will be offered citizenship of the country.
This pro-active stance by the El Salvador government was very much applauded by the industry experts and crypto enthusiasts around the globe. One of the reasons why the congress took such a drastic step is that El Salvador doesn't have any currency of its own. Up till now, it has been using the United States Dollar as official currency across the nation. With this move the dependence of nation on US Dollar is likely to be diminished. Nevertheless, the President made it clear that US Dollar would be used for accounting and official purposes. As a matter of fact, the El Salvador government also promised to provide training and necessary guidance to the fellow citizens on the usage and holding of bitcoin. For the purpose of creating a robust bitcoin economy, the government will take assistance from newly launched home country based payment service provider platform Strike. Jack Mullers, the founder and CEO of Strike said – "Adopting a natively digital currency as legal tender provides El Salvador the most secure, efficient and globally integrated open payments network in the world." The announcement of this legalization increased the value of bitcoin which faced a sharp decrease after the infamous crypto market crash few weeks back.
Apart from authorizing a potential future currency, the legalization will have a plethora of benefits for the country as a whole. For instance, it will boost the overall economy, create new job opportunities for citizens, facilitate faster remittances, help in increasing the low banking penetration rate among others, enable citizens of El Salvador living abroad to send tokens into their home country among others and permit the government to officially own bitcoins among others. It will also make El Salvador future proof from the crypto perspective as there is a strong possibility that crypto market will takeover the traditional banking and financial systems of the world in near future. When formally enacted, the citizens will be able to pay taxes in bitcoins, the price of commodities will be displayed in bitcoin, and almost everything related to price can be calculated from bitcoin terms apart from creating a alternative currency working simultaneously along with US Dollar.
The legalization of bitcoin in El Salvador also holds the potential to make a remarkable shift in crypto perspective by other Latin American countries given the fact that the region may become a hub for crypto powered finance. Observing this move many Latin American nations have raised a voice to show support for this move. Countries like Argentina, Brazil, Panama, Paraguay and Mexico have given signs of making a similar move. The top-notch politicians fo the above mentioned countries have already commenced the discussion for providing legal backing to crypto assets.
But taking such a big leap of faith won't give fruitful results unless & until there's a strong backing and support provided to it. To realize this bitcoin powered project, the government officials have made it absolutely clear that the geothermal energy will be used for mining bitcoins considering the fact that the country has large repositories of volcanoes. The state-owned geothermal electric company LaGeo will work in assistance with the government officials. Since the President is aware of the ill effects of bitcoin mining on the environment, only the renewable energy source would be used for this project. As per the estimates the carbon dioxide emissions from worldwide bitcoin mining industry has reached a whopping 60 million tonnes, equal to that of exhaust fumes from 9 million cars. Hence keeping in mind the environmental concern, the President gave assurance via twitter that the nations geothermal energy exclusively will be used. He also took to twitter to show his followers about the zero emission bitcoin mining process being tested by the engineers.
A major obstacle in this project comes from the reluctancy of International Monetary Fund (IMF) with this move which highlights the tensed relations between El Salvador and IMF citing the intricacies in economic and financial conditions currently prevailing in the nation. The IMF is of the view that providing legal backing to bitcoin will make El Salvador a safe haven for tax frauds and money laundering. Since bitcoin doesn't involve tax on capital gains, it will surely pave a way for wealthy individuals and organizations to save themselves from paying heavy taxes. Also, it may facilitate laundering of billions of dollars by criminal enterprises and drug trafficking organizations. Although IMF earlier gave green signal to this move but lately it has been skeptical about the aftereffects of bitcoin legalization.
All in all, what future holds for crypto market is hard to comprehend. However, the scale at which crypto usage is growing, one can easily anticipate that the 2021-30 decade will observe a boom in the crypto financial market. Considering the disruptive nature, potential and audacity of cryptocurrencies, it will definitely replace the traditional financial systems present across the globe. Even then nothing can be predicted with 100% surety. Being a crypto enthusiast, I hope the world adopts a crypto-friendly policy so as to make sure crypto market is being regulated by regulatory bodies to ensure the authentic, safe and secure environment for crypto investors. Meanwhile, we can speculate, make bets and invest on various crypto assets based on our own perceptions and calculations. Till then let's enjoy the existing regime of crypto around the world.
Assessing the trends of Globalization in the Covid Era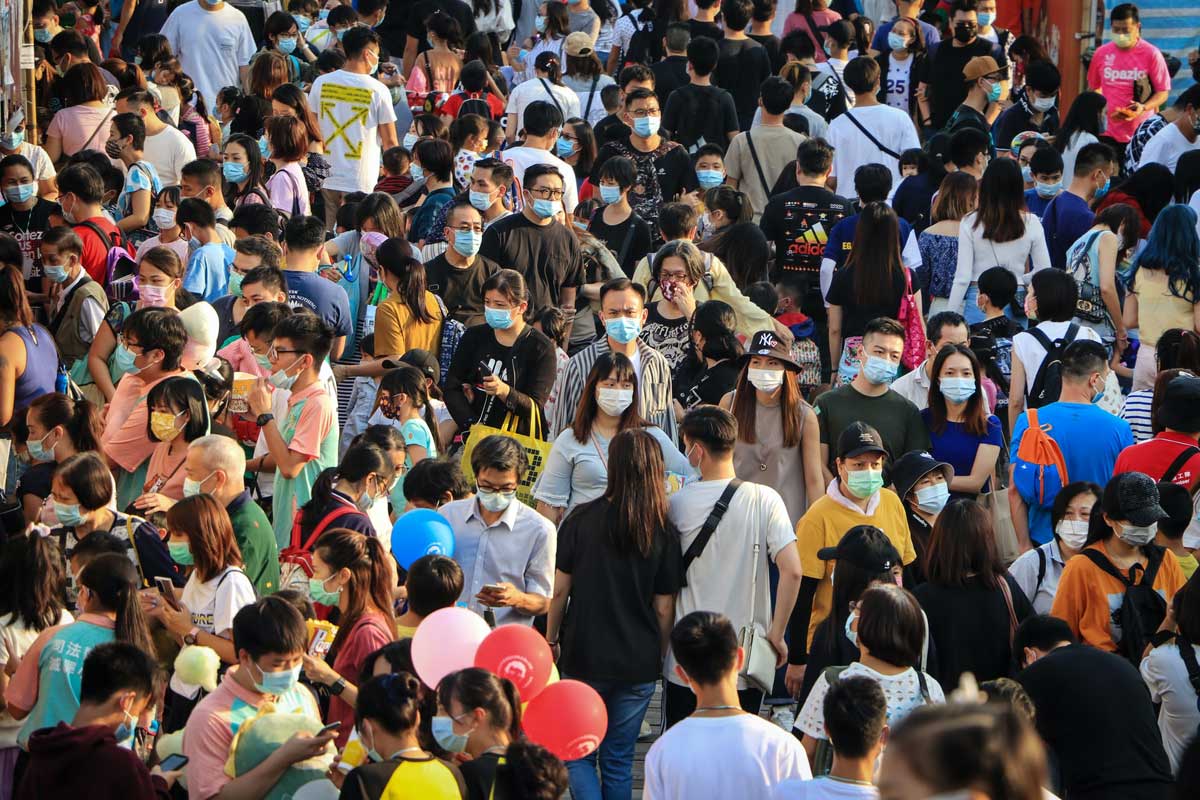 Coronavirus largely represents acceleration in existing globalization trends, rather than a full paradigm shift.
Globalization has ebbed and flowed over the years, but the event panelists agreed that the 2007-08 global financial crash marked a turning point and kicked off a trend "slowbalization". Falling income, increasing unemployment and inequality proved fertile ground for the rise of nationalism and anti-immigration rhetoric. One of the most potential shifts towards domestic production, which is well underway before corona virus, can accelerate, as rising barriers to the free movement of goods, people and capital that underpin globalization. Technology is at the heart of this unilateralism. In the past two decades, we have seen a shift in the global economy, from a reliance on tangible to intangible assets such as software, which does not require complex supply chains. The rise of artificial intelligence could also displace cheap labor and drive restoring in advanced economies. COVID-19 lockdowns have only accelerated such digitization. Another rise in populism could be on the horizon as well, the whitepaper noted, as millions of people around the world are plunged into poverty. And the reputation of international organizations such as the World Health Organization has been weakened, which may further reduce global cooperation.
Compounding this is the deterioration in US-China relations and an escalating trade war. The resulting uncertainty is delaying companies' investment decisions and curbing the global capital flows which are a key pillar of globalization.
It will categorize the globe in losers and winners. The most successful countries in the near future are likely to be those that can generate social consensus on policies; small economies that are protected by nearby large markets like China or Europe; and countries with strong public finances that can prop up their domestic economy, such as Switzerland. Exporting countries that cannot rely on domestic markets will be the big losers, such as India and many African nations. Oil exporting countries may also run into trouble because of growing sustainability concerns. So-called green policies will become a key differentiator for countries, as will taxation to finance the post-pandemic recovery.
Globalization has proved to be game changer for whole world in terms of mobility of people resources and capital; flow of people and resources has also made the flow of diseases especially viral diseases through global interconnectedness. Since the occurrence of Covid-19 on December 2019 in China, the world has totally changed and it has left strong impacts on global security as states have faced many challenges in health, domestic and economic sector. The Corona virus was reported in China initially and later due to free movement of people across borders and lack of availability of knowledge on its symptoms and causes it spread to almost all over the world and hit the states from highly developed states to least developed states and alarmed the Global Health and Security.
According to World Health Organization, the total number of covid cases registered is 162773940 and 3375573 people died due to Corona. The pandemic has also posed a great impact on health care systems and huge burden on world economy and social set-up and contributed to the shift in Globalization trends.
Although globalization has ensured economic and cultural growth in recent past but as mobility of people across borders become easier, the spread of diseases also became easier as the bubonic plague was transmitted from China to Europe through trade routes and influenza pandemic spread during WW1 due to movement of armies and Asian flu of 1957 was spread via land and sea travel. Hence, the phenomenon of globalization has amplified global transmission of diseases and there is link of how the close integration of people and flow of trade and commerce also causes disease transmission. The year 2019 proved to be fatal for whole world as novel coronavirus (SARS-Cov-2) observed in Wuhan city of China spread so rapidly that in March, 2020 WHO declared COVID-19 as pandemic and by October 2020, over 41 million confirmed cases and 1.13 million deaths have reported worldwide. The lockdown measures adopted by states to counter the spread of virus during the global pandemic in has not only impacted our livelihood but also affected economy in terms of supply and demand as market places were closed most of the time and decelerated the economic growth of affected countries which reduced trade and increased poverty. As with all forms of volatility, there are both losers and winners as discussed above, and the case of COVID-19 is no different. While globalization may be negatively impacted in the form of the trade of goods and certain services such as travel, other sectors may experience heightened demand. More remote forms of work will only spur on the cross-border flow of data and of dispersed but easily exchanged professional services. As such, not only the suppliers of these services but also the enablers such as Zoom and broadband providers will be the beneficiaries.
Moreover, the low and middle income countries like Pakistan have faced a collapse in health care systems. The lockdowns and restricted movement has put pressure on transportation systems resulting in loss of income, disruption of global trading and halt of tourism sector, decrease in production, consumption, employment and supply chain. Globally centralized supply chains in low labor-cost countries are also being challenged by the increased use of robotics and automation, allowing firms to keep production in relatively expensive countries. COVID-19 has highlighted the importance of automation, as the threat to operations posed by "non-essential" business closures is based on the need to keep people at home. As such, operations that leverage robotics will be less affected. Ironically, among those countries that have weathered this pandemic the best are many with high levels of robotics usage such as South Korea.
Moreover, unemployment has become major issue with 14% decline in jobs related to industry. Moreover, globally over 140 million people are estimated to face extreme poverty along with food insecurity. Along with economic system, countries with active corona cases are vulnerable like Ireland, UK, and Italy despite having good health care facilities. In African continent, the countries that are more vulnerable are South Africa and Egypt, In Europe, Germany, Russia and Italy are more vulnerable and in Asia and Oceania, Pakistan, India and Saudi Arabia and Turkey and in America Brazil, Chile, USA, Mexico and Peru. The Covid came in three different waves and posed more challenge for states like India where the whole health system collapsed and people were helpless.
In Addition to Health care system and economy, the education sector has been affected too mostly in developing and under-developing states. For example, initially when the schools, colleges and universities were closed the students as well as teachers couldn't adapt immediately to online mode and that made it difficult to acquire quality education. Moreover, the states like Pakistan where internet availability is limited and there are many household that lack access to internet especially rural areas, education could not be provided through online mode. Although the studies at University level continued through online mode, but primary and secondary education sector were severely affected. And this is clear , that the learning acquired by attending institutions and learning at home through online mode are very different and the later requires self-regulation that is very less in today's youth who have various other distractions in terms of electronic gadgets, social media and mobile phones.
COVID became a global issue in past two years and all the states and international organizations were active to cooperate and spread awareness and adopted measures that could halt its spread. It affected all states and posed challenges on economy, health, education and has exposed the urgent need to revisit disaster preparedness and health care systems as health care capacity of powerful nations have been tested during pandemic. The developed states like US have faced difficulties in controlling the spread of epidemic and less developed have been further unable to respond to and control the situation. The Covid has not only posed challenges to economic and health system but the trends of globalization have also shifted. The states adopted counter strategies where institutions were closed, lockdowns were implemented, travel banned and people have to restrict movement.
In short, Covid has been and still is a challenge that states are facing and all states and international organizations have cooperated to fight this evil through research on its causes and effects. The Global community has been successful to produce vaccine that will control the spread of Corona in future and generate immunity for Virus among people. The fight against corona is still there and future hold secrets of this Global Virus that has changed the whole global structure and posed challenge to developed and under developed sates equally as no one was prepared for this deadly outbreak.
We are shifting to a new model of globalization that is more localized, focused on services, less capital and energy intensive. Globalization will survive in the COVID-era, but it will look vastly different.