Last week, Henry Kissinger again warned US-China tensions are a threat to the entire world and could lead to Armageddon-like clash between the world's two military and technology giants. Surprisingly, some Chinese are interpreting it as a threat to intimidate China in order to "accept and obey" the US-led world hegemonic order.
***
In January 2015, the peace group CODEPINK dangled a pair of handcuffs in front of the then 91-year old former Secretary of State Henry Kissinger at a Senate hearing. Twelve months later, at the February Democratic Debate Bernie Sanders and Hilary Clinton were seen engaged in a heated duel attacking and defending the acclaimed diplomat respectively. The late writer Christopher Hitchens in his book The Trial of Henry Kissinger warned editors, TV news channel producers and presidential candidates to stop soliciting Kissinger's "worthless and dangerous" opinions. The never ending outburst of enmity on the part of CODEPINK, Sanders and Hitchens was due to Kissinger's role in the brutal killings of thousands of civilians, gang rape of hundreds of female detainees, and alleged slaughtering of over one million people in Vietnam, Cambodia and Laos among countless similar crimes against humanity since the early 1970s.
As documented in "Kissinger and Chile: The Declassified Record," as some 5,000 people were being detained and tortured in Chile's National Stadium, Kissinger told the ruthless Augusto Pinochet: "You did a great service to the West in overthrowing Allende." But Sanders-Clinton "spirited exchange" five years ago, as mentioned above, was not confined in Sanders' words to Kissinger being "one of the most destructive secretaries of state in the modern history" of the United States. Sanders' rare outburst also included Clinton defending her foreign policy mentor – Kissinger – on China. "[Kissinger's] opening up China and his ongoing relationship with the leaders of China is an incredibly useful relationship for the United States of America," Hilary Clinton emphatically pointed out.
Sanders responded disdainfully and berated Clinton for admiring Kissinger. "Kissinger first scared Americans about communist China and then opened up trade so US corporations could dump American workers and hire exploited and repressed Chinese," Sanders had retorted. On the contrary, no one in Beijing either knows or seems interested in the so-called negative traits attributed to the veteran diplomat who is generally known as the most "influential figure in the making of American foreign policy since the end of World War II." As according to Peter Lee, editor of the online China Matters and a veteran Asia Times columnist, the CPC leadership value Kissinger as the "symbol, custodian and advocate" of a US-China relationship that is special.
Professor Aaron Friedberg, author of A Contest for Supremacy: China, America, and the Struggle for Mastery in Asia, described the re-opening of relations with China as Kissinger's greatest achievement. In a review of Kissinger's massive book On China, Friedberg wrote: "Kissinger's six hundred pages on China are an attempt to apply the principles of foreign policy realism to the most pressing strategic challenge of our day." (Emphasis given) However, the approach, taken alone, was far from adequate in anticipating the behavior of an increasingly powerful China on the one hand, and for prescribing an appropriate American strategy to deal with a rising China on the other, Friedberg went on to add.
Since Mao, all successive top Chinese leaders have met with Kissinger one-on-one in Beijing, some even more than once. China's current President Xi Jinping is no exception. In fact, given the deep esteem with which reform era CPC leadership has been embracing Henry Kissinger, the general wisdom in Beijing is President Xi has horned his diplomatic skills by learning well his (Kissinger's) oft-quoted aphorism "you don't go into negotiations unless your chances of success are 85 percent." Kissinger had first met with Xi in 2007, when Xi, as the party secretary in Shanghai, had received the most frequent foreign visitor to China on a visit to the city. When asked for his assessment of the party's new general secretary within days of the 18th party congress in November 2012 by the Wall Street Journal, Kissinger had said "Xi Jinping is a strong leader capable of rising up to any challenge."
In the past four decades of Kissinger-CPC bonhomie, the first decade thanks to Cold War passed off rather smoothly and uneventfully. The second decade ushered in with perhaps the first most serious test for both Kissinger as well as for the US-China relations since the unfreezing of the bilateral ties by Nixon-Kissinger pair in the early 1970s. In June 1989, the CPC rulers used brutal force to crush peaceful student demonstrators at the Tiananmen Square and launched nationwide crackdown on suspected dissidents. Though criticized by the US political elite for "Kowtowing to Beijing" for defending the CPC authorities by saying "a crackdown was inevitable," Kissinger did influence the Bush administration in imposing comparatively mild sanctions while deflecting congressional pressure for tougher action.
In third and fourth decades respectively, unlike during the first two stages, ideology gradually regained initiative over geopolitics in influencing the bilateral relationship. There are mainly two factors for this. First, from 1979 to the end of the last century, China was relatively weaker than the United States both economically and in military technology. Following China's rapid economic growth beginning late 1990s and at the turn of the twenty-first century, a section in the US political elite became apprehensive of China's assertive and highly competitive stance. These concerns soon gave birth to the "China threat theory" which Beijing unsuccessfully tried to pass off as "China's peaceful rise."
The second factor has much to do with the world financial crisis in 2008 which resulted in the beginning of decline of the US economy on the one hand, and the unfolding of the seemingly evident intent of the CPC leadership to "eventually displace the US" and "re-establishing their own country as the pre-eminent power in East Asia." In other words, with Cold War and the Soviet Union both long gone, and China perceived as threatening to soon replace America as the world's number one economy, the communist rulers in Beijing were under no illusion that the ideologically hostile US was plotting "color revolution" to replace the CPC with democratically elected leaders in the People's Republic.
The chilling of US-China bilateral relations during the first year of Obama presidency itself, with China replacing Japan to become the world's second largest economy in 2010 and further hardening of the US stance towards China, and finally the US "pivot to Asia" strategy introduced by the Secretary of State Hilary Clinton – all these were perceived by Beijing as the US "creating political framework for a confrontation with China in order to maintain the global hegemony of American dominance." Even Kissinger was very much aware of the changing stance in Beijing, as is reflected from what he wrote in On China: "China would try to push American power as far away from its borders as it could, circumscribe the scope of American naval power, and reduce America's weight in international diplomacy."
Interestingly, although the most frequent US visitor to China has continued to visit China ever more frequently during the past decade, given the changing nature of polity in both the US and in China – especially the increasing "rivalry" under the Trump administration, it is not incorrect to conclude the Kissinger magic has gradually faded away from the bilateral relationship. It is least surprising therefore last Friday, when the "old friend of China" warned both Beijing and Washington in a speech at McCain Institute's Sedona Forum in France, that their escalating tensions were leading the world towards Armageddon-like clash, the opinionated, vocal Chinese social media reacted with caution. "Kissinger used the so-called end of the world argument to threaten and intimidate China in order to accept and obey the hegemonic order by the United States," a blogger responded.
A commentary in Chinese last week pointed out, ever since Trump launched "all out political war" against China, Kissinger has been in subtle and cunning way warning China to "cooperate" with Washington. The signed article entitled "Kissinger Continues to Scare the Chinese People" stated: "For the past two years or more, Kissinger has been repeatedly saying China must continue to compromise and obey the US hegemony and US-led global order. Otherwise, China will face the danger of World War I-like situation."
To sum up, while calling Kissinger's veiled threat a bluff, a reader posted in the chat room of guancha.cn – one of China's most widely read online Chinese language news platform: the old man is a veteran who, more than anyone in China, has interacted with most number of China's founding leaders. It is therefore his responsibility to explain to the world why most American politicians have failed to co-evolve with China's leaders, Chinese government and with Chinese people? Why has America relentlessly carried on slandering China? Why America has been consistently accusing, vilifying and provoking China? Mr. Kissinger, please answer. Thank you."
Of Prejudice and Victimhood
Many in China believe since the novel coronavirus outbreak, mainstream Western opinion has been on the opposite side of China. Further, media commentators and scholars in China also reckon the unprecedented Western hostility towards China since last year is the reflection of the West's own past prejudices and fears of the Middle Kingdom. Interestingly, not many in the West are aware that the communist authorities in Beijing view the Western and the US-led "info war" is aimed more at influencing Chinese public opinion, and not the world opinion, against the CPC rule.  
***
Much before Trump-Pompeo combined "assault" on China and its ruling communist party, an article penned by a Singapore-based US researcher in Asia Times five years ago accused the communist party leadership of China of taking "victimhood" card to dizzying heights. Richard A. Bitzinger, the author, further claimed "every nation in the Asia-Pacific can claim, with some justification, to be a victim. Even Japan can declare its victimhood, as it was the first (and so far, only) target of nuclear weapons." A well-known and globally respected scholar in South Korea wrote a decade ago: "the global community must speak with one voice and send China a clear message that it no longer views China as a victim of modern history."
China Flaunting Victimhood
To most Chinese, including of course the ruling communist party, the above Western narrative demonstrates "the ignorance and prejudice its creators" have long held towards China. However, what Bitzinger and the South Korean professor Jongsoo Lee have been emphatically pointing out over the past decade or so is something new: it's time China must shed "victim" mentality. The Western "irritation" as well as "impatience" with China playing victimhood or "century of humiliation" card had started following China's unprecedented economic rise a couple of decades ago. More recently, the worldwide anti-Chinese victim mentality buzz, which was re-launched half a decade ago following China's "aggression" and "assertiveness" in the South China Sea, reached a crescendo with the global spread of the Covid19 pandemic.
This explains why according to the Western narrative, in recent years China's acute sense of "victimhood" has been more pronounced in the international politics arena. In June 2016, as the legal verdict was being awaited on China's sweeping claims to SCS, the WSJ published a story entitled "The Danger of China's Victim Mentality" and warned the international community of "Beijing lashing out if a ruling on SCS claims goes against it." Suddenly, the global media was filled with similar "China against the world" op-ed commentaries. While some genuinely advised China to stop its obsession of playing the victim if the country seriously wished to advance as a society. Others were less charitable and warned China must shed "victim" mentality.
Flawed Western Narrative
At another level, as according to Mark Tischler, a researcher at the Department of East Asian Studies, Tel Aviv University, the fundamental flaw in the Western narrative is, it often overlooks the fact that "China is the first power to challenge the United States" that truly rose from its post-colonial past. (Emphasis added) Perhaps oblivious of how much of China's modern-day policy is driven by the collective trauma of "victimhood," a former Indian foreign secretary opined recently that it was "to avenge the 'Century of Humiliation' that China endured in the hands of western imperial powers from roughly 1839-1840 to 1949." The Chinese are pursuing unilateralism instead of compromise in SCS and their new brand of "wolf warrior" arrogance is replacing diplomacy of humility of the Zhou Enlai-Deng Xiaoping style, observed the veteran Indian diplomat who also served as ambassador in Beijing. In contrast, as Tischler put it, the major difference between Beijing's and Western narrative on "century of humiliation" is, for China, it (century of humiliation) means "not just a grim lesson of the past, but also a warning about a possible future." Hence, the (Chinese) narrative has created "a never again mentality."
Much has been written and published in both Chinese and in English on China's victimhood mentality. Yet the issue has not only not whittled away over the decades since the foundation of New China, instead under Xi Jinping "century of humiliation" has acquired the new meaning of "Chinese rejuvenation" or "Chinese dream," as it were. Interestingly, in an attempt to twist the "one hundred years of humiliation" narrative into post-Mao or post-Tiananmen Chinese nationalism, some scholars in the West are calling it anti-Western or anti-US Chinese nationalism. Applauding Zheng Wang's highly acclaimed (Columbia University Press, 2014) Never Forget National Humiliation: Historical Memory in Chinese Politics and Foreign Relations, Edward Friedman described the work as "a vivid and well-informed study of post-Mao nationalism and Chinese foreign policy…"
Mao too was victim of "Century of Humiliation" Mentality
However, the truth is scholarly claims of "victimhood" being described as the new Chinese fig leaf for anti-West nationalism and to create post-Mao/pre-Mao "victimhood" dichotomy – as the current Western narrative wants us to believe, are fundamentally flawed. A recent article, for example, accuses the Communist Party of China (CPC) of manipulating the so-called victimhood as nothing less than "a cynical ploy to exploit Chinese history and the feelings of Chinese people." It is pertinent to mention, though intangible, such a narrative has been receiving a lot of traction in the international media recently. Consider for example some of the following popular writings: "China doesn't have to keep playing victim" in Foreign Policy (2018), "China playing victim after attacking Indian soldiers in Galwan" in theprint.in (2020), "The Danger of China's Victim Mentality" in TWSJ (2016), "China's dangerous sense of entitled victimhood" in Asia Times (2016), "China's New Diplomacy: Victim No More" in Foreign Affairs (2003) and so on.
Though perhaps understudied in the West, like most intellectuals in the late Qing and Republican eras, Mao Zedong too was not only deeply disturbed by the Chinese "century of humiliation," several of his foreign policy decisions in the early to mid-1950s were heavily influenced by the "victim" mentality. In a seminal paper jointly authored by China's widely respected historian, professor Yang Kuisong, and his young protégé and a PhD candidate in Chinese history at the Pennsylvania University, Sheng Mao, have highlighted how Mao's victim mentality impacted his decision which led to two Taiwan Strait crises in 1954-1955 and 1958 respectively. From both crises, according to Yang and Sheng, Mao's gains were remarkably rewarding and psychologically productive. The first Taiwan Strait crisis – the shelling of Jinmen in 1954 – resulted in Mao succeeding in "forcing the United States to begin ambassador-level talks with China." The outcome of the second Taiwan crisis in 1958 enabled Mao to declare: "The United States has put itself into our noose." "The other thing Mao claimed to have achieved from the crises was confirmation of America being a 'paper tiger'," Yang and Sheng pointed out.
Prejudice and Victimhood
Finally, as we talk of prejudice and victimhood, and as the scholars in the West have firmed up their resolve to force Beijing to "give up" playing "victim" card, one thing is crystal clear in the minds of the party leadership, i.e., riding on the past success of Mao's playing "victim" mentality, the current Chinese leadership is too aware of how well the victimhood narrative has been serving China in its diplomatic strategies to put it aside anytime soon. Analyzing how China's victimhood strategy was on full display at the Anchorage summit in Alaska two months ago, Drew Thompson, a visiting senior research fellow at the National University of Singapore, views the Chinese "victim" mentality narrative aimed more at the domestic audience than at the world populace at large.
Well, speaking of prejudices and biases, Michael Barr, author of Who's Afraid of China (2011) argued a decade ago that "fears of China often say as much about those who hold them as they do about the rising power itself." The book has been described as holding mirror to Sino-Western relations in order to better understand ideas about modernity, history and international relations. Besides, it is indeed true the Western bias against China predates the "century of humiliation." What is also historically undeniable is "on no other major civilization do self-regard, self-congratulation and denigration of the 'Other' run as deep, as they have in Western Europe and its overseas extensions," observed a professor of economic history in a recent article "A Eurocentric Problem." Not at all a surprise, historian Jeffery Wasserstrom wrote in his review of Barr's book: "This short book provides a clear-eyed critique of the latest versions of Sinomania and Sinophobia."
Where There Is a Wolf, There Is a Warrior
In conclusion, as mentioned above, not only China is not going to stop playing victim and behave like a "normal country," as was recently on display during the first top level bilateral summit between the world's two largest, hostile economies since President Biden took office. On the contrary, as many in the West fear, as Beijing perceives the US power as well as dominance continuously declining, China is likely to pursue expansionist policies unchecked. Unlike what many in the West see as the changing nature of the Chinese diplomacy, China knows it is pursuing the same Maoist strategy to "trap the US in the Chinese noose." As regards the "wolf warriors," an article did point out a year ago, the phrase was coined none other than China's top diplomat himself. The use of the phrase was neither spontaneous nor a slip. Chinese have a saying: "Think thrice before you act!" On being asked recently to comment on "wolf warrior," ambassador Liu Xiaoming, China's seasoned diplomat, flaunting "victimhood," offered a tongue in cheek explanation: where there is a "wolf", there is a "warrior".
The Unfolding Chinese Aggression against Taiwan
The last few months have seen a heightened level of Chinese aggressive activity against Taiwan. Repeated incursions into its air and marine space, have become norm rather that rarity. There have been occasional pushbacks from the Taiwan military. The US administration too, has come up with nuanced statements, bordering on advise for the Chinese to behave rationally. The Chinese actions subsequently indicates its explicit contempt for whatever the Taiwan and the American governments are protesting about and there seems no reduction in the incessant Chinese movements aimed at challenging the sovereignty of Taiwan, politically and militarily.
So what actually is going through the minds of Xi Jinping's People's Liberation Army (PLA) leadership. Is China going to invade Taiwan militarily and brush aside whatever little opposition is coming across through the US. Why for a change, the Chinese aggression has suddenly become more open and emphatic against Taiwan? If it has already planned to take over Taiwan militarily and the US administration is merely making a public show of its commitment to Taiwan Relations Act, 1979. Most importantly, if and when something like this happens whether it could lead to a war between the US and China. And what will be the security implications in the region, for countries like Japan, India and smaller ASEAN nations.
It is important to understand the strategic background of Chinese activities. The sudden spurt in the aggression against Taiwan has preceded the outbreak of dreaded Corona virus across the world. It is interesting that the virus actually did originate in China, whether intentionally or accidentally, and the timing of Chinese aggression in the region, Ladakh in India, around Senkaku Islands of Japan and Taiwan, has increased when the global attention has been shifted almost wholly to the pandemic. Also, these countries themselves along with other nations in the region, Thailand, Philippines, Indonesia, Vietnam, Malaysia are also engaged badly in protecting respective economies against the onslaught of the virus.
While the World Health Organisation's (WHO) sudden stop into the delayed investigations into the origin of Corona, seems curious and act itself probably require another investigation, strategically the timing seems perfect for China. While the countries in the region and world as a whole, seems distracted towards containing the impact of pandemic, the goings on in China, suddenly and miraculously, has become normal.
It initially directed its greater attention and military power against India. Continuing with its unofficial salami slicing strategic doctrine, it tried to occupy an important part of eastern Ladakh. However, with India being no pushover, that reacted with tremendous military build-up and even occupied some strategic tracts in the Kailash range, making the Chinese PLA vulnerable in Moldo and Spanggur Gap, it had to fall back on the policy of protracted negotiations followed by selective disengagements.
Unable to secure all its strategic objectives on the India front, China then moved on with a tactical strategy on Taiwan. It started with approach of intense intimidation, with the hope that the resolve of most political sections there will be severely dented. The international community will remain unsettled and uncertain about Chinese intentions, partly as a result of Corona and partly seeing this tactic for quite long.
The actions of Xi Jinping's Chinese Communist Party (CCP) in the last two-three years, have been extremely unsettling for the global community. It started off with unprecedented aggression in the south China Seas against all regional countries, occupying uninhabited islands, shoals and repeatedly getting into the maritime zones of other countries, claiming them to be its own, openly violating the United Nations International Convention on Laws of Sea (UNCLOS). After a while with opposition getting limited, it crafted a news strategy of creating new artificial islands on seas with strategic and security objectives.
The domestic clampdown on Hong Kong followed. A little bit of international condemnation and strong domestic protests notwithstanding, China was able to stifle the crisis subsequently. It followed with a major aggression against India. Once that was met with a fearsome and retaliatory pushback by India, China reportedly expanded its borders by occupying some uninhabited remote villages in smaller nations, Nepal and Bhutan. With Nepal completely locked in a domestic political turmoil and ruling dispensation having inexplicable affinity with the Chinese Ambassador in Kathmandu and the CCP, there was no murmurs of even diplomatic protests either. Bhutan being completely dependent upon India for its security, found India too involved with the unfolding domestic Corona crisis to directly get into the picture a la Doklam in 2017.
While CCP has grandiose plans to make China a great power by 2049, the centenary year of China's communist rule, events seem to have increased its political and strategic appetite. A supposed unification of a renegade province, in the form of Taiwan, could well be the crowning glory for the CCP in the centenary year of its founding. More importantly, it could well turn out to be the biggest political victory for XI, if it materialises, at all.
The US currently is the only power that seems capable and willing, to protect and defend Taiwan. There are other regional powers like Australia, Japan and India who could well support and help Taiwan, protect its sovereignty. However, how far they will go and face China, strategically and militarily, is open to evolving situations.
A raging border and maritime dispute with both India and Japan should occupy minds of PLA planners. Though neither are strategic pushovers, especially India can actually give China a bloody nose, as happened in Ladakh in June last year. Japan too is concerned over Chinese moves and for the first time in decades, has started bolstering its latest weapon acquisitions besides of course, having the American security guarantees. But the Chinese moves against Senkaku islands, does indicate a significant bit of security threats to Japan, if and when Taiwan is invaded by China.
Australia too, has been facing a barrage of economic and psychological warfare in particular from China. Since the cancellation of the Belt and Road initiative (BRI) of China in Australia and a couple of other strategic infrastructural lease agreements, it too is facing Beijing's ire. Though Anthony Blinken, the US Secretary of State just assured that his country will stand with Australia as an ally, it too is likely to face an increased amount of Chinese belligerence in the likelihood of Taiwan invasion.
Finally, the Chinese dilemma on Taiwan is squarely dependent upon the likely American reaction. Sooner or later, a lightning special forces attack on Taiwan, decapitating its formidable small military force is a real possibility. This possibility in fact, has been gamed and suggested by top US military generals too.
The important strategic factor for the global community is that China is one country that has repeatedly been violating international norms, rules, regulations and challenging an established order to fulfil its expansionist aggressive designs. If it is allowed to do so in case of Taiwan or no clear exposition of Taiwan's sovereignty is made by major powers, the likelihood of erosion of others security in the region, will be a real possibility.
For the US, a mere repetition of standing with Taiwan and current ambiguity about its political status, will not do, any more. It along with the emerging Quad of Australia, India and Japan and may be, Vietnam and others later, should form a bulwark of defence and security of Taiwan, against Chinese aggression. Politically and militarily, if required, the world needs to come forward to protect the territorial integrity of Taiwan and make China accept that its land-grabbing tactics, by intimidation and false historical records, will no longer do. The days of redrawing territorial boundaries by force, are over and must not be accepted.
Chinese Assertiveness in Terms of Its View of World Order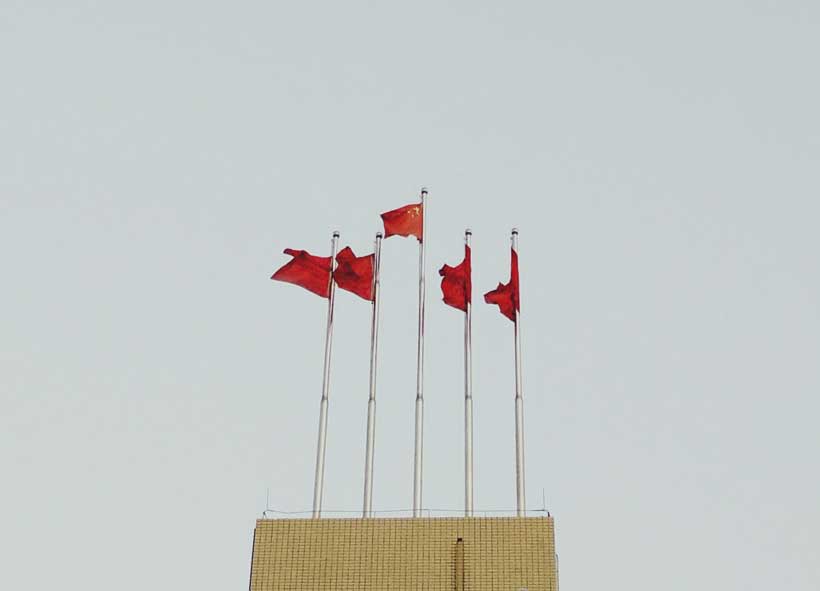 The 'Rise of China' since 1990s can now match 'Asian Miracles' like Japan, Korea, Taiwan and Singapore. For three decades Chinese economy was rising so fast that in some years Chinese economy rose nearly 15 percent per year. With its enormous population and economy China is now a power to reckon and soon to challenge US dominance if not globally but in most of the regions. This power made China an assertive force in Asia as it has territorial disputes with nearly every single of its neighbors on the land and water. John Mearsheimer acknowledges it as the 'tragedy of great power politics'. But this might not be the only reason of Chinese assertiveness. Chinese World Order or Chinese International Relations Theory might explain another reason of Chinese aggression to view the broader perspective which includes Chinese academia and society.
China is a bully in Asia where it bullied powerful countries like India to powerless like Bhutan or Kyrgyzstan. China claims Nepal and Bhutan including Indian States like Arunachal, Sikkim and Ladakh are also part of South Tibet. Previously China annexed a part of Kyrgyzstan and now demands half of the country as part of Pamir Heights. Communist China annexed Tibet and Xinxiang and Aksai Chin from India. China fought wars with both India and Vietnam in the past. Implicitly China also claims Mongolia as part of China. It has dispute in the East China Sea and South China Sea where all of the neighboring states are victim of Chinese aggression. China claims the entire South China Sea violating the Laws of the Sea and claimed the 'Nine Dash Line' is its territory. Vietnam, Thailand, Indonesia. Malaysia, Brunei, Philippines none of them are spared from Chinese assertion. In the East China Sea, China claims Taiwan as its own part and Senkaku Islands from Japan.
Modern China claims these areas in terms of its history but it does not justify Chinese position in the Westphalia order. Chinese policymakers are very capable of understanding and implementing its interests. They must not want to destabilize the neighbors or a sovereign country without any interest or reason. Apart from national interest, Chinese world view or International Relations Theories must be in scrutiny.
It is thought that China does not have International Relations Theory but a world view where the world order is totally based on China alone. The real international relations theories are absent in Chinese world order as there are no state apart from China. The schools of thoughts are represented by primarily Confucius and Mencius, Shen Dao, Mo Zi etc. The Confucius School promotes peace and it justifies the decisions of the rulers where China is in the middle of the Earth and China is 'all under heaven'. The Legalism School of Shen Dao promotes powers as the center of everything and the result of war depends on economy and agricultural power. Mo Zi's School of thought gave the ruler the mandate of "from heaven to earth" which means everything is under rule of Chinese ruler.
So in the Chinese World Order, everything state China ever knew had a tributary relationship with China. China was the center of the Earth and all the states were around it was the tributaries. Chinese rulers had 'mandate from heaven' to rule all over the world. In the 'Warring Period' China was unified by this doctrine. If a state sent gifts to Chinese king, it was seen as tribute and if Chinese King sent gift, it was the generosity of Chinese king to the tributary state. . Even if China imported goods, they labeled it as tribute to the emperor and exports are generosity. In past these types of relations were present with Vietnam, Thailand, Manchuria, Korea and many more. In modern days, British envoys offered friendship from Britain to China, the Chinese emperor addressed the British Emperor as tributary to China.
Now officially China is a Marxist-Leninist-Maoist state where they want to spread these doctrines 'far from four seas'. Still in July 1971—during Henry Kissinger's secret visit to Beijing—Zhou Enlai summed up Mao's conception of world order by invoking the Chairman's claimed purview of Chinese emperors with a sardonic twist: "All under heaven is in chaos, the situation is excellent." From a world of chaos, the People's Republic, hardened by years of struggle, would ultimately emerge triumphant not just in China but everywhere "under heaven." The Communist world Order would merge with the traditional view of the Imperial Court. In Mao's literature, Mao declared that Tibet was incomplete without five fingers of Tibet; they are Arunachal, Sikkim, Bhutan, Ladakh and Nepal.
With these doctrines in hand they are looking forward to expanding its border on the basis of "All Under Heaven", flexing its muscles and showing the neighbors who is the boss. What are Chinese interests? They want to become the center of the world, to be in the top of the hierarchy that others will obey it, acquire all the geopolitically important areas, open up to the Oceans, stop countries to rise as great powers, the Chinese President as the Emperor and keep all under threat and in its own belly. So becoming the center power of the world is in the old Chinese doctrines which China is fulfilling with its communist ideas in Westphalia order. There is a hypothetical question, if China gets all the lands from so called five fingers of Tibet, and gets legitimacy to South and East China Sea, will it stop? The answer might be negative.