Critics of Biden as being a 'progressive' are mistaken: Understanding what 'progressive' means isn't so easy
The difference between "progressive" and "liberal" gets to the core of what politics in the real world is actually about, and of whether the nation is being controlled by the public (a democracy), or instead is controlled by the tiny percentage of the population who are enormously wealthy (an aristocracy — a capitalistic dictatorship, or also called "fascism" — so that the public are actually the nation's subjects, instead of the nation's citizens). Whereas progressivism is 100% supportive of democracy, liberalism is supportive of control by an elite, but one that supposedly represents the interests of the public. There is a big difference between progressivism and liberalism. Most simply phrased: Aristocrats always control the public by employing the popular mythology so as to motivate the majority to accept their own subordination to the aristocracy; and, whereas liberals support that, progressives don't. This deception by the aristocracy minimizes the amount of physical coercion that will be needed in order for them to control the public. Progressives reject any mythology, and oppose any aristocracy. Liberals simply do not. Conservatives are the aristocracy. The noblesse oblige conservatives are the liberal aristocrats who say that they serve the public interest, but the other aristocrats say that they have no such obligation, and that their being an aristocrat proves their worthiness. And that is the way things function, in the real world. The 'news'-media are important in deceiving the public so as to enable the aristocracy to control, and this is the reason why aristocrats buy 'news'-media even regardless of whether those 'news'-media are directly profitable: owning the 'news'-media is providing a major service to the entire aristocracy, and therefore becomes repaid to such an owner in many other ways — all aristocrats want to please that member. It's gratitude to a fellow-aristocrat, and that check can be cashed in many different ways.
On 15 August 2020, I headlined "How Billionaires Took Over Liberalism and Destroyed It" and described as follows the difference between "progressivism" and "liberalism":
Whereas conservative media rely unashamedly upon the existing popular mythology, liberal media need to rely upon that but to pretend not to, and to be instead 'humanitarian' and 'enlightened' in a more tolerant and open-minded sense: they specialize in hypocrisy — it's liberal aristocrats' particular style of art-form; they're the 'not conservative' type of aristocrats. They pretend to be what they aren't (champions of democracy — which they actually despise and crave to overcome, if it exists at all).
Progressive media (to the extent they exist at all, which is only very slight, anywhere) avoid both hypocrisy and mythology: they are openly anti-aristocratic, and rejecting also any mythology — they are populist, while not affirming the popular (or any) mythology. (By contrast: conservative 'populists' are committed to the existing popular mythology, and can therefore be manipulated by openly conservative aristocrats — they can be "Tories," or even "Nazis," and they can therefore vote against their own "class interests." It's stupid, but conservative 'populists' nonetheless do it routinely.)
As a result of this (since the progressives' appeal — rejecting both the aristocracy and the mythology — is so small), politics almost invariably pits conservatives against liberals, and therefore promotes dictatorship (rule of the nation by its aristocracy), either way.
What's true for news-media is true also for politicians; and U.S. President Joe Biden is a liberal, very definitely NOT a progressive. Misunderstanding his ideology (as being 'progressive') is causing many people to misunderstand his motivations, and to misunderstand his policies. Here's an example of this type of misunderstanding:
On April 23rd, Robert Bridge headlined at Strategic Culture "Bye-bye 'Burbs: Biden Plan to Create 'Affordable, Multifamily Housing' in the Suburbs Will Kill the American Dream", and he criticized "U.S. President Joe Biden's longwinded and exorbitant Job Plan," because:
Buried inside the document under the heading, 'Eliminate exclusionary zoning and harmful land use policies,' the project is laid out: "For decades, exclusionary zoning laws – like minimum lot sizes, mandatory parking requirements, and prohibitions on multifamily housing – have… locked families out of areas with more opportunities. President Biden is calling on Congress to enact an innovative, new competitive grant program that awards flexible and attractive funding to jurisdictions that take concrete steps to eliminate such needless barriers to producing affordable housing."
The progressive radicals are up in arms over single-family dwellings, which they believe is part and parcel of the "new redlining" designed to perpetuate inequality. If only it were so simple.
First, the only "barrier" that may prevent people from living in the cozy suburbs is income, which should not be seen as some sort of 'racist' impediment – "economic discrimination," as the left calls it – but rather the natural outcome of a lifetime of sacrifice, hard work and dedication.
A book by the investigative historian Paige Glotzer was issued in 2020, How the Suburbs Were Segregated, which explained in concrete terms how one very important aspect of America's notorious anti-Black racism — in the suburbs — was largely planned by a UK corporation even during the 1800s. Government itself had assisted and largely created segregation. (For the most part, the investors in the corporation that Glotzer studied — Baltimore's Roland Park Company — were not aristocrats, and the largest of those investors, a Londoner, "John Collins Odgers," listed his profession as "Nonconformist Minister B.A." Glotzer, by luck, had happened to come upon the Roland Park Company's complete files. This company is the one that had established the racial-segregation system — including red-lining — which came to dominate suburban land development during the first half of the 20th Century. It became the model that the subsequent, larger, companies followed. At the start, American segregation was created by these well-to-do private British investors and later built upon by American investors. The 2017 U.S. best-selling book by Richard Rothstein, The Color of Law, had already made well known the Government's complicity in forming America's racial segregation, but Glotzer's book focused more on both the local and the international economic factors that produced America's racial segregation.)
A good summary of Glotzer's book was provided in Jessica Levy's interview of Glotzer at the site "Economic Historian," which was headlined with the book's title — especially this from it is informative:
JL: One of the major benefits of this approach is the ways in which you were able to link the early history of American suburban development to broader histories of British investment and settler colonialism. Could you expand a bit more on how you accomplish this?
PG: This is one of the things that actually surprised me in my research, and that set off my historian alarm bells that this was actually a really important thing to continue focusing on. I begin by looking at who financed America's earliest planned segregated suburbs. It turns out that some of them (in fact, I found 400) were British investors who had a history of actually putting their money into various places where they thought the influx of white people would increase the value of land. That brought their money into places such as North American West, into places in Africa, into sites of British Empire, including in the Caribbean and including in India.
So, settler colonialism and the displacement and oppressive labor regimes that were a part of settler colonialism were the sources of the finance capital that ultimately came to Baltimore. And I think it's really important to see how suburban development actually fits the mission of those investors because as a peripheral space on a city, those investors were also counting on an influx of white people to increase the value of that land.
In another interview of Glotzer, at "ThinkBelt," and likewise titled like the book, she explained the process of historical discovery that had led her to produce the book.
Furthermore, segregation has, itself, been shown to increase the amount of violence against the ghettoized minority. A September 2017 NBER study by Cook, Logan, and Parman, "Racial Segregation and Southern Lynching", reported: "We find that conditional on racial composition, racially segregated counties were much more likely to experience lynchings. Consistent with the hypothesis that segregation is related to interracial violence, we find that segregation is highly correlated with African American lynching." Consequently, it is reasonable to presume that not only did elites and the governmental policies that they instituted increase segregation, but they also increased violence against Blacks (such as lynchings).
The link that Mr. Bridges used for "new redlining" leads to a Democratic Party policy-analysis site, which is not "progressive radical" as he falsely labels it, but simply progressive, and could also be called "liberal" because only libertarians are un-concerned about the problems that it's aiming to solve). The difference between the two polar ideologies — "progressive" versus "liberal" — is that progressivism is at one end of the ideological spectrum, and libertarianism is at the opposite end, but liberalism is in-between and mixes the two opposite ideologies in such a way that the financial interests of billionaires and other super-rich won't be hit more than the financial interests of the middle class will. In other words: liberalism places the entire middle-class-and-above population into one category, all of which are to be taxed at approximately the same percentage-rates, instead of there being a progressive system of taxation which applies increasing percentage-taxation-rates from the poorest to the richest households, such that there will be a certain level of wealth and income level below which a given household will have a negative percentage-taxation rate (and-or "welfare policies" to meet the needs of the poor), and in which everyone who is above that wealth-and-income level (but especially the super-rich) will be, via the taxes that they pay, net subsidizing the households that are in the poorer category. A progressive recognizes the fact that money is power (to hire agents to represent one's interests, in the writing of governmental policies, and otherwise), and that therefore (to the extent that a free market exists) a poor person is naturally far less represented in government than a rich person is. Progressivism is an attempt to compensate somewhat for this natural money-is-power feature of any capitalist economy. That's why billionaires don't donate to the political campaigns of progressive politicians, and yet billionaires donate approximately equal amounts to the Democratic Party (which is liberal) and to the Republican Party (which is libertarian). Only a tiny percentage of Democratic politicians are progressives; however, all Republicans champion a free market, capitalism, and the only difference between different Republican politicians is the different extent to which they are committed to that ideology ("the free market") as being inviolable Scripture, the "free market" Scripture (pure capitalism). Therefore, if progressives are 2% of Democratic Party elected politicians, and if half of elected politicians are in each of the two Parties, then progressive politicians will constitute only around 1% of America's elected politicians (none of whom are Republicans). Maybe 2% of elected Democrats are progressives, and maybe 2% of elected Republicans are Scriptural libertarians, but to call the Democratic Party "progressive" (such as Mr. Bridges did here — even "progressive radicals") is like calling the Republican Party Scriptural libertarians (which likewise only around 2% of elected Republican politicians actually are). It's not even nearly an accurate portrayal.
In fact, at the middle of American politics, such as Joe Manchin and Kristen Sinema on the Democratic side, and Susan Collins and Shelley Moore Capito on the Republican side, the ideological differences are near zero, even though the Party differences now are maybe more fractious than ever before in American history. In American national politics, the center is liberal, and the conservative half (the right and far-right) are Republicans; and the liberal half are Democrats, but around 2% of Republicans are populist conservatives such as Rand Paul, and around 2% of Democrats are populist 'liberals' who reject any sort of elitism and are authentically progressives, such as Bernie Sanders. The broad middle, which is around 98% of Congress, are liberals and conservatives. On foreign affairs, the entirety of the broad middle have always voted in Congress to expand the American empire (are neoconservatives), and only the few populists (the progressives on the liberal side and the Scriptural libertarians on the conservative side) have sometimes voted against expanding the American empire. Joe Biden never voted against expanding the American empire — he consistently backed sanctions, coups and invasions. Therefore, to call Biden a progressive is to call him what he never was nor is.
Another big difference between progressives and libertarians concerns governmental regulation. Libertarians are against it, and progressives are for it, but liberals are in between and are committed mainly to making regulation as ineffective as possible at limiting or reducing a person's accumulation of wealth (since extreme inequality of wealth destroys democracy if there exists anything like a free market; and what is produced, instead, by a free market, is then actually an aristocracy, no democracy at all). For example: whereas libertarians are against regulation, liberals favor placing as much of the expense or "burden" of regulation as possible onto the regulated firms themselves, so that the corporations will largely "self-regulate." Progressives disfavor that and demand for regulations to be part of the system of laws that are created by the democratic government itself. Progressives — unlike libertarians, and also unlike conservatives and liberals — are 100% devoted to democracy. And that's democracy both in national affairs, and in international affairs. In national affairs, it's progressive taxation and democratically imposed laws regarding what corporations may do; and in international affairs, it's supporting democratically imposed international laws and world government instead of any imperialism by any country against and controlling any other country. It is 100% democracy that a progressive supports, both in relations between individuals at the national level, and in relations between nations at the international level. By contrast, for example, in international affairs, American Presidents since 1945 have all been imperialists, who have consistently been imposing America upon other countries, not only in Latin America but increasingly throughout the world, as an American empire over all nations. America has been the world's greatest enemy of the United Nations (which U.S. President Franklin Delano Roosevelt had invented and started to plan), ever since FDR's death. There has been no progressivism, at all, in American foreign policies, ever since FDR died on 12 April 1945. However, there has been liberalism in America's domestic policies, such as (the imperialist) Lyndon Johnson's introduction of Medicaid and Medicare in the 1960s. (After all, German imperialists had invented socialized pensions under Bismark in Germany during 1881-1889, and invented socialized medical care under Bismark at the same time. This was in response to the populist failed revolutions throughout Europe that had started in 1848.)
Another big difference between liberals and progressives is that, since liberals respect wealth as reflecting merit (and therefore look down upon the poor as being necessarily less worthy than the rich), they explain social problems as being due far more to conflict between ethnicities than to conflict between the rich versus the poor. This way, liberal political parties can receive the necessary funding from billionaires, because billionaires then aren't being blamed for the existing injustices (which stem from what the billionaires impose upon the political order). Progressives blame the injustices upon the people who cause them, who are those billionaires and their corruption of the government — their buying of the Government. Whereas progressives really do try to reduce their government's corruption, liberals are just as corrupt as libertarians are. Libertarians are corrupt because they believe in one-dollar-one-vote government — corruption is intrinsic to their "free market" Scripture; it's part of 'freedom', in their view, and the only bad thing about it is if the government is involved in it. Liberals accept that part of their belief (acceptance of corruption), and this is one of the biggest ways in which they are NOT progressive. That's because every progressive is committed 100% to democracy — one-person-one-vote government. Capitalism (one-dollar-one-vote government) and democracy (one-person-one-vote government) are intrinsically hostile toward one-another. Attempts to combine them fail, just like attempts to dissolve oil by mixing it with water fail. They are opposites that don't mix but repel.
Joe Biden is very much a liberal, both domestically and internationally. He mixes libertarianism with progressivism. This is noblesse oblige conservatism, or simply liberalism. Throughout his career in the U.S. Senate, he was the leading Democrat who opposed the use of legislatively required busing in order to desegregate the nation. He worked with the openly racist Republican Senator Jesse Helms to block implementation of the U.S. Supreme Court's Brown v. Board of Education decision. That's consistent with his middle-of-the-road position. He argued that segregation could best be dealt with by eliminating the governmental regulations that had produced segregation. He was arguing for the libertarian 'position on segregation, accepting each individual's right to be a racist or any other type of bigot; and, in this matter he was actually pushing for a libertarian solution to the problem of segregation, because the federal, state, and local, governments had encouraged banks to "red line" and exclude from lending to, Black-majority neighborhoods, and (on the local level) to impose zoning requirements that likewise would ghettoize Blacks. America's Government, like most, had legislated discrimination — not all of it was only of the "free market" variety. Now, at the end of his career, as President, Biden is trying to impose this progressive-libertarian or "liberal" solution, and he is obtaining in Congress support not only from his fellow-liberals but also from Congress's few progressives, and this is because of yet a fourth feature of progressivism:
Whereas libertarians believe that bigoted actions or decisions that an individual makes should be allowed by law so long as no non-bigotry-related law has been violated by that individual, progressives oppose all bigotry, and believe that no bigoted action or decision — even by only an individual — should be legal. Progressives view bigotry as being not merely a personal choice but a big threat to any democracy. They strongly favor governmental regulations such as placing requirements upon any zoning regulations that exist, so as to demand those regulations not to increase discrimination of any type. For example: zoning that prohibits extremely noisy businesses in residential neighborhoods would be allowed, but zoning that prohibits apartment buildings and requires only single-family buildings, would not.
By contrast, libertarians endorse purely the free-market approach, which allows people to be bigoted against women or ethnicities or minorities, instead of punishing bigotry and rewarding the absence of prejudices. Whereas progressives believe that the government has an obligation to oppose bigotry, libertarians believe that it does not, and that each individual has the right to be bigoted and to despise or even hate whatever group he or she wishes — that it's a matter of that person's freedom, no right of members of any discriminated-against group. The libertarian, Mr. Bridge, therefore says that "the only 'barrier' that may prevent people from living in the cozy suburbs is income, which should not be seen as some sort of 'racist' impediment – 'economic discrimination,' as the left calls it – but rather the natural outcome of a lifetime of sacrifice, hard work and dedication." In other words: he assumes that the free market is justice, and that anyone too poor to be "living in the cozy suburbs" is deficient in "a lifetime of sacrifice, hard work and dedication," and therefore not deserving of "the cozy suburbs," and especially not deserving of tax-subsidies from the people who do live there. In other words: he assumes that a person's net worth is that person's worth; the free market is fair. (Imperialism does not exist; exploitation does not exist; the poor just leach upon the rich, and are the source of their own problems. The rich, out of their kindness, endow charities to help them, but government has no obligation to the poor. Whomever cannot pay has no right.) That is libertarianism.
Consequently, Joe Biden, as a liberal instead of a progressive, is willing to oppose bigotry so long as the bigotries of the super-rich, who want to live isolated from contact with the poor, or who want to exploit the poor (such as abusing their own workers or consumers), won't be substantially impacted. By contrast, a progressive respects equally the rights of each and every individual (including the right to vote) and is therefore committed against bigots, and for equality of rights..
In foreign policies, the conservative libertarian elected politicians, who are the ones that receive funding from Charles Koch, Peter Thiel, Robert Mercer, and other libertarian billionaires, are moderate neoconservatives (supporters of U.S. imperialism) but are not as beholden to America's arms-manufacturers as liberal ones are who depend heavily upon Democratic Party billionaires, such as George Soros. Furthermore, the less-conservative libertarians, who aren't quite as dependent on billionaires' backing as the neoconservative libertarians are, have a larger number of small-dollar donors, and these libertarian politicians are approximately as anti-imperialistic (non-neoconservative) as the progressive elected politicians are. That's the one policy-area where politicians such as Rand Paul and Bernie Sanders have rather similar policies. Both the libertarian and the progressive populists tend to be less imperialistic than any other types of American elected politicians are. Other than that, however, libertarians are the opposite of progressives. Whereas all progressive elected politicians are populists, most libertarian elected politicians are elitists and are highly dependent upon billionaires. Therefore, most of the elected libertarian politicians are approximately as neoconservative as the liberal ones are.
In fact, Biden's foreign policies are almost exactly the same as Trump's were, and only the rhetoric has changed on that. Biden is even increasing, yet further, his predecessors' neoconservatism.
Ever since the year 1900, the only progressive American President has been FDR; all the others were either liberals or libertarians. All Democratic ones except for FDR were liberals, and all Republican ones were libertarians (though Theodore Roosevelt was mainly liberal on domestic issues). Whereas FDR was the most progressive Democratic President after 1900, TR was the most liberal Republican President since 1900. Prior to 1900, the last progressive Democratic President was J.Q. Adams (1825-1829), and the most progressive of all U.S. Presidents was the only progressive and first Republican U.S. President, Abraham Lincoln (1861-1865). But after 1945, no progressive has occupied the White House: billionaires have solid control here.
Of course the situation is somewhat different in other countries, with different political systems. For example, in Germany, the leader of the Green Party is more like an American Democrat (liberal neoconservative) and less like an American Green Party leader (progressive) is. In Germany, the Party of the Left — called "Linke," or "die Linkspartei", or simply "die Linke" (the Left) — is the progressive Party.
In Europe, the term "neoliberalism" is normally used instead of "libertarianism." (For example, the Links Party is strongly anti-neoliberal, and is also anti-neoconservative.) However, America's libertarians tend to believe that neoliberalism isn't sufficiently purist, because "neoliberalism wants to aim the wealth generated by markets at specific social goals using some government mechanism, whilst libertarianism focuses on letting the wealth created by free markets flow where it pleases." In other words: America's libertarians believe that organized crime is okay, as long as government stays away from it and all transactions are freely entered-into. Privatize everything, and it's okay. Might makes right. Laws don't make right. (In fact, if "laws" are "regulations," then they make "wrong." Only 'God's laws' make right — because 'God' is "the Almighty" and might-makes-right.) That's libertarianism. It's a belief in 'natural law', not in human-created laws (and maybe also not in scientific laws — unless those are created by some "God," meaning the supposedly existent almighty being).
If the 'God' is Islamic, then the imperialism can be, for example, of the Turkish variety and extolling Islamic conquest of the world; or, if it is, for another example, Jewish, then it can be of the Israeli variety and allied with America's imperialism. But, regardless of what a particular form of might-makes-right is, it's not progressive. Laws (in the social sense, instead of in the physical and biological sciences) are instead made by humans, and for humans (whichever humans control the government). That's the progressive view, and it definitely is not the traditional view, anywhere. Biden is an American liberal traditionalist. He's no sort of progressive, and especially no sort of "progressive radical," because he is, instead, a liberal American traditionalist. To interpret him in any other way is to misinterpret him.
Anyway: these ideologies have always existed, but aristocracies have always benefited from confusing the public about them, so that the wrong people would be blamed. For example, Karl Marx blamed "the bourgeoisie" instead of "the aristocracy," and thereby managed to receive funding from some aristocrats. If he had received none, then who would have published him before some of his followers established the Soviet Union? And, if he had received none, then would any Marxist government have ever become established, anywhere? And, of course, many 'progressive' publishers, even today, are Marxist. Very few actually progressive publishers even exist, but the ones that do are generally tiny bootstrap or self-funded marginal operations.
This is the real world. Injustice is natural. Justice is rare.
Maximizing Biden's Plan to Combat Corruption and Promote Good Governance in Central America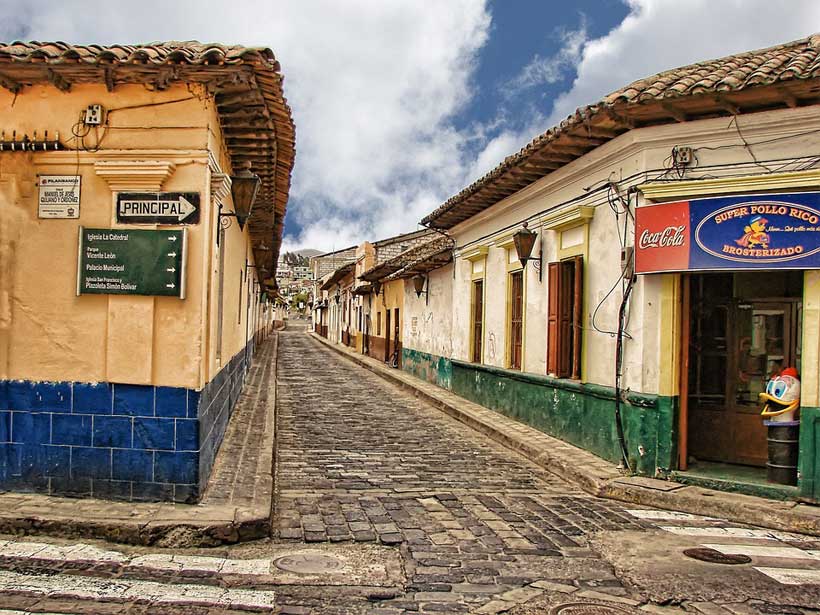 Authors: Lauren Mooney and Eguiar Lizundia*
To tackle enduring political, economic and security challenges in the Northern Triangle countries of El Salvador, Guatemala and Honduras, the Biden administration is attempting to revitalize its commitment to the region, including through a four-year, $4 billion plan submitted in a bill to Congress.
In its plan, the White House has rightly identified the root causes of migration, including limited economic opportunity, climate change, inequality, and violence. Systemic corruption resulting from the weak rule of law connects and entrenches the root causes of migration, while the increased devastation brought about by climate change exacerbates economic hardship and citizen insecurity.
The renewed investment holds promise: previous foreign assistance in the Northern Triangle has shown results, including by contributing to a reduction in the expected level of violence. As the Biden Administration finalizes and begins implementing its Central America strategy, it should include three pillars—rooted in lessons learned from within and outside the region—to maximize the probability that the proposed spending in U.S. taxpayer funds has its intended impact.
First, the Biden administration should deliver on its promise to make the fight against corruption its number one priority in Central America by supporting local anti-graft actors. The sanctions against officials which the United States is considering are a step in the right direction, but lasting reform is best accomplished through a partnership involving regional or multilateral organizations. Guatemala's international commission against impunity (CICIG) model was relatively successful until internal pushback and dwindling U.S. advocacy resulted in its dismantlement in 2019. Though Honduras' equivalent was largely ineffective, and El Salvador's recently launched version is marred by President Bukele's campaign against judicial independence, there is room for learning from past mistakes and propose a more robust and mutually beneficial arrangement. The experience of Ukraine shows that while external engagement is no silver bullet in eliminating corruption, the role of foreign actors can lead to tangible improvements in the anti-corruption ecosystem, including more transparent public procurement and increased accountability for corrupt politicians.
In tandem with direct diplomatic pressure and helping stand up CICIG-like structures, the U.S. can harness lessons from prior anticorruption efforts to fund programs that address other aspects of graft in each country. This should involve empowering civil society in each country to monitor government compliance with anti-corruption laws and putting pressure on elected officials to uphold their commitments. While reducing impunity and improving transparency might not automatically persuade Central Americans to stay, better democratic governance will allow the three Northern Triangle nations to pursue policies that will end up expanding economic opportunities for residents. As Vice President Harris recently noted, any progress on addressing violence or food insecurity would be undermined if the environment for enabling corruption remains unchanged.
Second, the United States should support local initiatives to help reverse the deterioration of the social fabric in the region by expanding access to community decision-making. Given the high levels of mistrust of government institutions, any efforts to support reform-minded actors and stamp out corruption at the national level must be paired with efforts to promote social cohesion and revitalize confidence in subnational leaders and opportunities. In the Northern Triangle countries, violence and economic deprivation erode social cohesion and undermine trust in democratic institutions. The U.S. government and practitioners should support civic efforts to build trust among community members and open opportunities for collective action, particularly in marginalized areas. A key component of this is expanding sociopolitical reintegration opportunities for returning migrants. In so doing, it is possible to help improve perceptions of quality of life, sense of belonging, and vision for the future. While evidence should underpin all elements of a U.S. Strategy for Central America, it is particularly important to ensure social cohesion initiatives are locally-owned, respond to the most salient issues, and are systematically evaluated in order to understand their effects on migration.
Lastly, the U.S. should take a human-rights based approach to managing migration and learn from the pitfalls associated with hardline approaches to stem migration. Policies rooted in a securitized vision have a demonstrable bad record. For example, since 2015, the European Union undertook significant measures to prevent irregular migration from Niger, including by criminalizing many previously legitimate businesses associated with migration and enforced the imposition of legal restrictions to dissuade open and legal migration. Not only did this violate freedom of movement and create adverse economic consequences, but it also pushed migration underground, with individuals still making the journey and encountering significant threats to their lives, security and human rights.
A welcome realignment
Acknowledging the role of push factors is key to responding to migration effectively. Most importantly, putting political inclusion and responsive governance at the center is critical for ensuring vulnerable populations feel rooted in their community. A more secure, prosperous, and democratic Central America will pay dividends to the United States not only in terms of border security, but also in the form of improved cooperation to tackle global challenges, from climate change to the rise of China.
*Eguiar Lizundia is the Deputy Director for Technical Advancement and Governance Advisor at IRI
Sinophobia grows in Argentina: The relations still the crucial one
Since COVID-19 came up in Wuhan, China followed by the growth of anti-sentiment China especially in Argentina. In late November 2020, the crowds happened in the capital of Argentina, Buenos Aires that involved the two Chinese entrepreneurs who have a supermarket chain and the customers speak loudly if the owners spread COVID-19 pandemic. According to a recent article, the slogan of 'China out' is available to speak up against the government.
At the same time, the Representative of the United States expressed similar concerns over the increasingly close relationship between China and Argentina, which come on top of attacks against Chinese immigrants whose country is blamed for the COVID-19 pandemic. The US also concerns that 'the close relationship' would limit Argentina's economic autonomy.
Despite the troubles and the response from the US, the Argentine government still has incredible ties with China on several sides such as economic, military, and politics.
Economic side is crucial with Chinese government. Since President Xi introduced the ambitious project, Belt and Road Initiative, he imagined it can lift China's economy. One of the developing countries and a member of G20, Argentina. During 2005-2019, Argentina received a maximum investment from China $ 30.6 billion, which accounted for 39 per cent of total Chinese investment in South America. Besides, the Chinese corporations also gave the proposal to build 25 industrial pig farms in Argentina, which will significantly increase pork exports to China. The project involving investment of $3.8 billion, is expected to generate annual production of 900,000 tons amounting to $2.5 million in annual exports.
Even captured by COVID-19 that caused an economic and health crisis, the government has several agreements within China. At least, Argentina has 15 infrastructure projects on the list that can be presented to Chinese corporations. The projects that Argentina prioritizes for investment from China are the rehabilitation plan of the San Martín Railway system, improvements to the Roca Railway line, infrastructure works on the Miter and Urquiza railway, and the redefinition of the Belgrano Cargas railway network.
A Marco Press reported Chinese government and Argentine government discussed the possibility of selling to Argentina the Sino-Pakistan's resultant force, JF-17 fighter jets. In the history of both countries noted it was not the first time to have an arms deal. In 2015, the two countries signed a deal for Argentina's purchase of several weapons systems. Estimated at US$1 billion, the deal included warships, armoured vehicles and fighter jets. These agreements were signed during the presidency of Cristina Fernandez de Kirchner (2008–2015), the left-wing and Peronist leader who built close ties with China. Despite, the retired right-leaning, Mauricio Macri in 2015 having cancelled these projects, the Peronist government in 2019 tried to revive it.
In late May 2021, The Argentinian government have announced an Ascention Technologies SA will have a collaboration with China's counterpart, Satellite Hard to install a satellite ground station at an industrial park, The Southern city of Rio Gallegos. But before, since 2017, Argentina also hosted a Chinese military-run space station in Neuquen province. The facility signed between the PRC and the prior government of Cristina Fernandez, is largely operated by Chinese military personnel.
The station's location and known dish characteristics appear consistent with China's need for facilities in the hemisphere capable of continuously tracking objects in space, in support of its lunar and planetary space program. While the telescope facility does not have an overtly military purpose, the head of the U.S. Southern Command has mentioned it as an item of concern, as it is conceivably capable of intercepting signals from American or other overflying satellites, or supporting other Chinese strategic missions.
The Chinese space radar telescope is not, however, the only instance of China collaboration with Argentina on issues related to space. Great Wall Industrial Corporation has helped to build and launch 13 satellites for the commercial Argentine company Satellogic. Additionally, the state satellite company ARSAT also maintains commercial service contract relations with Chinese-based firms.
The several relations led by the Argentine government depend on China's potensial. Instead of the protests that have grown up in Argentina, the government needs to upgrade their economic growth. But, for some reasons, the government should set an alarm if China steps up their acceleration. Besides, the government should be careful and must have more consideration to Chinese firms because the West analysts have stated that China's foreign policy has an unseen reciprocal, the debt-trap. It had been proven that Sri-Lanka's port, the Hambantota, went to the China side.
The Gendered Effects of COVID-19 in Mexico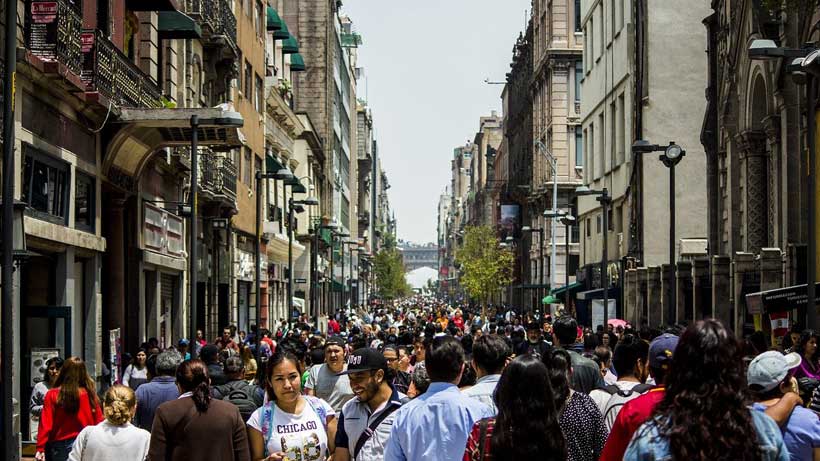 Authors: Andi Dahmer, Kerby Gilstrap, Timothy S. Rich*
The Covid-19 pandemic has exacerbated many existing problems and inequalities in societies around the world. Informal labor, loosely defined as "productive activities that are not taxed or registered by the government" has suffered more job losses due to the pandemic. These jobs, such as fruit market vendors or hospitality workers among other lower-paying professions, are less likely to have remote working options which increases the exposure of their employees to COVID-19. According to the International Labor Organization, Latin America and the Caribbean region saw the largest reduction in hours worked in the labor market, estimated at a 20.9% loss in hours. In Mexico, women have experienced unemployment at higher rates than men. In March 2020, the unemployment rate was just under 3 percent, but due to shutdowns during the course of the pandemic, the unemployment rate has fluctuated between 4 and 5.5 percent since then. COVID-19 also largely accounts for a GDP decline of 8% in 2020.
Due to the pandemic and the rise of working remotely from home, many workers have found the lines between work and home blurred. According to Pew Research Center, in a survey about how Covid-19 has impacted working Americans, one third of respondents who work from home all or most of the time now work longer hours than before the pandemic. Results are similar for those who rarely or never work from home (23%) and for those whose work cannot be done from home (21%). In total, 24% of respondents said they are working more hours, 59% said about the same or did not know, and 17% said they are working fewer hours than before the pandemic.
This disparity is also true in Latin America, where women have been disproportionately impacted by the pandemic. Already, men were more likely than women to both participate in the labor market and hold jobs in "high-paying sectors"; however, even before the pandemic, women in Latin America and the Caribbean faced high levels of unemployment.
Women who did work often did so in sectors most affected by the pandemic (e.g. tourism, restaurants) and in which one could not work remotely, which exacerbated already high levels of unemployment across the region.
According to the LAC COVID-19 High Frequency Monitoring project, 56 percent of women lost their jobs either temporarily or permanently between May and August 2020, a rate 44 percent higher than that of men. Even as men began returning to the workforce in 2021, the gap in job losses by gender remained. Two of the largest factors to blame for this include: childcare and household responsibilities in combination with gender norms, and reliance on work in industries that require face-to-face interaction and are thus vulnerable to social distancing measures. Many could not transition to work from home, and those who could often did so while balancing traditional caregiving responsibilities for children and family members which ultimately became too burdensome to successfully balance, and contributed to an exit from the workforce.
To assess both views of the government's response to COVID-19, but more importantly the shifts in work and household responsibilities due to the pandemic, we conducted an original web survey June 22-24 via Qualtrics, using quota sampling. First, we asked respondents to evaluate the statement "I am satisfied with the national government's response to COVID-19". Overall, 45.44% agreed with the statement, compared to 42.4% disagreeing. Men were slightly more likely than women to state they were satisfied with the response. Broken down by party, only supporters of the ruling MORENA party had a majority of respondents satisfied, consistent with the broader public opinion literature on the role of partisan lenses.
Next, we randomly assigned respondents to one of two prompts regarding responsibilities since COVID-19.
Version 1: Since the outbreak of COVID-19 in 2020, would you say that your work responsibilities have decreased, increased, or stayed about the same?
Version 2: Since the outbreak of COVID-19 in 2020, would you say that your household responsibilities have decreased, increased, or stayed about the same?
In terms of the work responsibilities version, we see that men were far more likely to say responsibilities had increased rather than decreased (41.52% vs. 16.96%), whereas women were more evenly divided (36.05% vs. 34.01%) However, when asked to evaluate the increase of household responsibilities, we see almost identical responses between men and women, with nearly two thirds of both (64.71% of men, 66.27% of women) stating responses increased.
These findings on their face may seem odd at first glance, when considering that household responsibilities, especially childcare, tend to fall disproportionately on women. However, this may be a case of men overestimating the time spent on housework, as seen elsewhere prior to the pandemic. Likewise, our survey cannot capture the extent to which household responsibilities increased, only that male and female respondents claimed increases. For example, according to a 2015 study, after the birth of their first child, a woman's total house work (including unpaid labor and childcare) increases 21 hours per week whereas men's increases to slightly more than 12 hours. It is not unreasonable to assume similar differential increases due to the pandemic, especially in light of gender role expectations in Mexico.
Finally, this analysis does not take into account the single mothers who are barred from re-entering the workforce as they are unable to find sufficient childcare to monitor their children when they work outside of the home. This is especially true of the gig economy and informal labor sectors which cannot be completed virtually. For example, according to the United Nations, women in Mexico before the pandemic performed 39 hours per week of unpaid labor (nearly the same amount as a full-time job) and the number is increasing due to COVID. This does not include increased homeschooling responsibilities as public schools In Mexico closed. Men, by contrast, performed only 13 hours of unpaid labor, and the inequity was especially stark for single mothers. In Mexico City, for example, record numbers of women have been forced to enter the sex trade in order to afford food, rent, and provisions for their families. The Associated Press estimates that nearly 40 % of the women new to sex work are single mothers who lack any other alternative.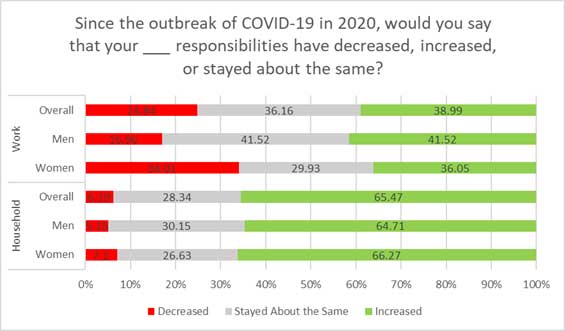 How to reintegrate millions of women forced to exit the workforce during the pandemic will be a challenge to Mexico, but one faced by most developing and developed countries alike. The New York Times has labeled this mass exodus of women as a "shecession" and foreshadows long term implications of women's exit throughout the global economy. There are many possible policy solutions to the inclusion of women in the workforce but none of them are short-term fixes. A simple start would be ensuring that women have access to childcare. If children are home alone, it is impossible for low-wage workers to return to informal labor sectors outside of the home. The second and third are increasing access to higher education for women around the world and closing the gender pay gap so that women's rates of unemployment and employment in low-wage sectors are not substantially higher than men's. While, during the 2010's, Mexico implemented a Federal Daycare Program for working mothers, this program still did not have the capacity to address the rampant need in all parts of the country. Then, in February of 2019, citing austerity measures, President López Obrador permanently ended the program, resulting in more than 1.8 million parents living without access to childcare. Moreover, Mexico has one of the largest gender employment gaps as well as gender pay gaps in the OECD. Though policies are enacted to alleviate these economic stressors, policy rollbacks, like those listed above, have consistently communicated to women and indigienous women that their needs are not prioritized. The pandemic has exacerbated this gap and it is unclear to what extent the government will act to offer solutions.
Andi Dahmer is the Exchange Program Manager at the World Affairs Council of Kentucky. She is a 2019 Honors graduate of Western Kentucky University and a 2018 Truman Scholar.
Kerby Gilstrap is an Honors Undergraduate Researcher at Western Kentucky University. She is majoring in International Affairs, Arabic, and Sustainable Development.
Timothy S. Rich is an Associate Professor of Political Science and Director of the International Public Opinion Lab (IPOL) at Western Kentucky University.
Funding for this survey work was provided by the Mahurin Honors College at Western Kentucky University.