At the dissolution of the Soviet Union in 1991, the newly formed Central Asian republics were quickly thrust into a world of uncertainty, security issues, economic dilemmas, and more importantly, opportunity. The lack of transformative policies prior to the collapse of the Soviet Union would exacerbate these issues while limiting immediate growth potential. The rapid disintegration of trade and manufacturing linkages previously established in the Soviet Union led to recession, with per capita incomes falling to half of its pre-independence levels by the mid-1990s.Geography has condemned Central Asia to influence from both regional and global superpowers, namely that of Iran, Russia, and China. And while somewhat separate, Turkey remains an important political and religious influence in the Central Asia republics. Given these circumstances and others, we must determine what, if anything in particular, has stunted the development of a Central Asian region that could become a prominent and impactful actor on the world stage. Remaining susceptible to economic, political, and militaristic influence, as well as being landlocked and in close proximity to ongoing wars against terrorism and extremism, is there any hope at all for a regional institution to take hold and grow?
Building the "Region"
Foremost, a suitable definition for regionalism must be reached. Though despite widespread interest in the subject, we lack a consensus on what its true definition is, in part because many observers do not agree on what constitutes a region. Common definitions of the concept range from geographic proximity, social and cultural homogeneity, shared political attitudes, political institutions, and lastly, economic interdependence. Other definitions include Joseph Nye's idea of states linked together by both a geographical relationship and a degree of mutual interdependence, or a more general theory of states or peoples held together by common experience and identity, custom, and practice. While it is arguable that Central Asia has qualified as a region in each of these categories, it is not that easy to solidify the construct. More in-depth debates on the subject are torn between what constitutes regionalism and what is instead, regionalization. Regionalism is widely understood as the political process marked by cooperation and policy coordination, while the concept of regionalization is instead, an economic process in which trade and investment within the "region" grow more rapidly than it does so with the rest of the world.
A concise definition for the potential prospects of a region, or regional construct, is significant due to the effects it can have on the outcome of the region itself. Being precise in defining the size and membership of the region in question, can be enormously important for some states and actors as higher levels of cohesion and commonality may prevail in smaller, tightly defined geographical areas whereas loosely defined regions can be manipulated to permit or deny inclusions to states at will. As critical, is the distinction between regionalism and multilateralism. The former, I define similar to Joseph Nye's, as a geographically contiguous collection of states and non-state actors who's shared past, present a cultural, economic, and political interdependence that must be sustained to achieve a profitable future. The latter, I will define as a collection of state actors who act in the interest of a common goal that will be mutually beneficial to all involved but is not required for independent state progression. The key difference being the necessary interdependence of a region vice the opportunistic cooperation between actors in multilateral arrangements. With origins in the 1940s and the rise of the Cold War, the oldest and most ambitious of post-World War II examples of regional cooperation is the European Union (EU), which will be our benchmark from which to judge regionalism around the world. Over the years and through economic, political, and security cooperation, the EU has deepened integration and transformed into a successful, worldwide entity. The EU should represent the goal of Central Asian regionalism, but to date, there has been nothing worthy of the comparison.
Why Hasn't it Worked Yet?
There has been a general resurgence of regionalism in the post-Cold War international order and with that, has come a proliferation of regional and subregional groupings that have involved the Central Asia states. Unfortunately, behind the lofty rhetoric of national leaders and the hollow statements of cooperation between the Central Asian republics, the region has been embroiled with increasing frequency of internal conflicts, trade wars, border disputes, and disagreements of the use of water and energy resources. One of the most prominent regionalist projects in Central Asia was the Commonwealth of Independent States (CIS), which was designed to manage the collapse of the Soviet Union and foster a unified post-Soviet cooperation among the newly formed republics. By the end of the 1990s, it was obvious that due to a failure to integrate any Soviet successor states in any meaningful sense, constituted of multiple, helpless structures that created an illusion of commonality, and with political leaders admitting there was much left to be desired, the CIS had failed. Examining the failure of regionalism attempts like the CIS in Central Asia, we should find that domestic issues have precluded greater external cooperation among Kazakhstan, Uzbekistan, Tajikistan, Kyrgyzstan, and Turkmenistan. In particular, border conflicts between the republics, political reform, resource security, and sustainable economic institutions must first be dealt with in order to set the conditions for a successful regionalism effort.
Internal border conflicts, like that of the Fergana Valley, are hindering a larger regional construct and preventing Central Asia from balancing against the world powers of China, Iran, and Russia, as a single entity. National boundaries have been a primary interest to Central Asia nations since their inception due to cultural unity, natural resources, and infrastructure management. Just after the collapse of the Soviet Union, there were almost immediately border disputes that erupted all over Central Asia, with countries trying to settle the old debts and old scores. It was then agreed that each country would maintain the borders created by the Soviet Union in the different territories. The problem is that these borders, drawn by the Soviet Union, deemed areas like the Fergana Valley as "unstable" and created few enclaves, which led to problems ranging from resource management, restrictive movement of various ethnic peoples across borders, and instigated issues over food, energy, and water distribution. These internal disputes had become so serious in some cases, as in the Fergana Valley, it has led states like Uzbekistan to mine their borders.
Even with the fact that Central Asia has maintained their sovereignty since the early 1990s and embarked on their own political journeys, there is a consensus that Russia, being the key regional actor, sets the political agenda and is consistently exporting and supporting authoritarian values there. The leaders of the new republics mirror Russia in the use of patrimonial-authoritarian regimes and a "menu of manipulation" developed during Soviet rule to manage potentially challenging processes for a variety of scenarios, while importing external influence from Russian parties. Referencing our model of the European Union, we can see that a region that maintains the political institutions of patrimonial-authoritarian rule will make cooperation on the level of the EU difficult to achieve as these regimes are only seen to effectively cooperate in security issues. The reason for only involving themselves in security cooperation is that it does not require immediate political or economic reform in the state.
Modern democratic institutions are defined by four criteria: executives and legislatures are chosen in free/open elections, virtually all adults have a right to vote, political rights and civil liberties are prevalent, and elected authorities possess "real" authority to govern the population. In Central Asia's internal political institutions, manipulation of all four of these criteria is overwhelming. Presidents would remove obstacles to extend term limits, elections were organized to maintain power with the illusion of competition, the timing of the elections was carefully selected for optimization of regime survival, and the states still emplace significant barriers to stop the elevation and creation of opposition or new political parties. In terms of developmental issues, the common trend that brings Central Asia together is called "focusing" – namely, the idea of nations focusing on their own internal issues with mutual success depending on their combined potential. Political reform has been missing from past attempts and remains critical to the future.
Central Asia has been given the gift of an abundance of natural resources; however, they are unfortunately, very unevenly distributed. While it may be logical to assume that resource abundant nations have a given economic advantage over those of less fortune, there is widespread debate about this truth, and empirical evidence that would suggest the opposite. One possible explanation for this "natural resource curse" argues that a large majority of commodity exporters focus on a rather narrow range of primary products, and so a lack of diversification exposes them to price fluctuations which could then lead to large swings in national incomes. Over the past 20 years, all of the countries in the region except Uzbekistan have seen an increase in the concentration of their exports, with fewer products accounting for a larger share. "Moreover," as the Organization for Economic Co-operation and Development (OECD) points out, "the vulnerability of Central Asian countries extends to shocks affecting trade partners, as their exports are concentrated in a limited number of markets. Landlocked geography and the 'distance penalty' mean that a few neighbors almost exclusively make up the export markets for Central Asian economies." With the limited ability to diversify resources and the high cost of trading across regional borders, Central Asia has become a free-for-all in resource utilization, which given the resource nexus of the region, has exacerbated issues leading to a failure of regional cooperation and political division.
Despite the façade of economic recovery post-recession, the output in most of the Central Asian republics depends on a limited number of export commodities and external financing to support economic growth and has not provided sufficient employment opportunities in the formal economy. External financing can be a source of stimulation for economic growth in the region, but the heavy external debt burden faced by several of the states poses a significant risk for long-term economic growth, especially Kyrgyzstan and Tajikistan. The International Monetary Fund or IMF, posits that for Central Asia, looking forward and removing tariff and non-tariff barriers as well as inefficient systems and uncertainty around changes to tariff schedules are steps in the right direction. Further integration in the Eurasian Economic Union (EEU) and World Trade Organization (WTO) would be the most beneficial internal actions that Central Asia could take. Regional adherence to EEU policies, trade customs, trade regulations, and removal of inefficient border policies would help to create a "growth friendly" fiscal adjustment as well as capture the full benefits of global and Central Asian trade. Historically, the high cost of doing business across borders has limited regional cooperation or really, motivation, to attempt more in-depth economic arrangements. This is due to the fact that not all Central Asia nations have accepted common economic norms like those of the WTO when it comes to trade; creating a need for these republics to enhance their attractiveness for trade transit options.
A Central Asian region has not developed because internal border strife has precluded larger levels of cooperation. Political turmoil and enduring influence from the Soviet-style patrimonial-authoritarian regimes are creating dysfunctional institutions that are incapable of solving domestic issues and leave Central Asian republics open to the direction of the most influential neighbor. Natural resource allocations and climate change are impacting resource security and creating a need for sustainable development and crisis management across borders, which has thus far,not come to pass. And lastly, economic insecurity leaves individual republics competing with one another for momentary gain, while missing the future prospects of a regional institution created by mutual support and integration.
Future Outlook for Central Asian Regionalism
International integration – the theory in which supranational institutions replace national ones and gradually shift upward from individual sovereignty to regionalism or global structures – is helpful in explaining the emergence of the EU and as a model to emulate. In practice, this integration had rarely gone beyond a "partial and uneasy sharing of power" between states, as most have been unwilling to give up their exclusive claim to sovereignty and have severely limited the power of the supranational institution. Despite having cultural, linguistic, religious, and ethnic differences, as well as hundreds of years locked in intermittent war, the EU has become the most successful example of the process of integration through functionalism, neofunctionalism, and a security community.
What is seen in the case of the EU's development is short-term progressive institutions and constructs that would eventually lead to a greater identity. It began with supranational organizations that would perform the basic functions required between states such as reducing barriers to trade, delivering mail, or the coordination of resources and goods across borders. This created a need for closer political ties between the states. The European Parliament was developed in order to facilitate this closer political dynamic, the sense of a community among Europe, and a security structure. We now see the expansion of the EU ranging from a common market, a parliament, a council of ministers, common agricultural policies, the European Commission, a European Court of Justice, and even the development of a regional currency – the Euro. The key in the continued success of the European Union is the evolved development of a shared integration format and a robust structure of institutions that encompass and act on behalf of the larger region.
Can Central Asia accomplish this? The region would have much to gain from the formulation of a regional identity like the EU. Four often theorized reasons for the benefits of international institutions are: constraining the great powers, providing information, and reducing transaction costs, facilitating reciprocity, and promoting reform in domestic politics. Unfortunately, border conflicts, resource disputes and mismanagement, political authoritarian regimes, and economic security are currently inhibiting the region from embracing any of these four benefits. This results in the need for a realistic outlook on Central Asia's regional future with both short-term and long-term expectations in respect to the new globalized environment these states will develop in – an acknowledged difference from the European Union's circumstances.
Short-term, being the next 5-10 years, expect to see more of the same: domestic turmoil overflowing to interregional issues that exacerbate inadequate political and economic structures. A continuation of the corruption and patrimonialism that sees only the elite benefit from exploitation of the state's given authority. The uncertainty that lies in the actions of neighboring actors as well as the conviction that all states are primarily concerned with survival, will limit Central Asia to mostly insincere political promises and a "self, before others" mentality that will delay the creation of these functional supranational organizations that benefited the initial onset of the European Union construct. Long-term (>20 years) is where the effects of globalization begin to impact the prospects for regionalism. Looking at a political map of the world, it would seem that Central Asia is in the center of it all. The Chinese have directly linked their "One Belt, One Road" initiative to the legacy of the ancient "Silk Road", and presented it as a project based on equality, mutual benefit, open-mindedness, sharing of culture, and sharing of tradition with one another. This plays directly to the advantage of a regional Central Asian institution. As the passage between China and Europe, Central Asian republics will need to formulate transnational organizations that would mirror those of the European Union in policies of low costs and ease of access functionality to reduce barriers, making the use of Central Asia as a land bridge between major world players attractive. Whereas the European Union formulated on geopolitical means, the Central Asian region may very well be formed in the wake of a new Eurasian geoeconomic strategy. To create the sustainable structures that will enable regionalism, there will need to be drastic political regime and ideal reform in Central Asia that is showing no signs of imminent change.
In conclusion, globalization provides the best catalyst for Central Asia to develop a regional institution that would enable it to become a major entity on the world stage. However, the domestic issues are hindering this effort in the short-term, while long-term goals are lofty and require major reform in the republics. The increasing interaction between Asia and Europe, to include the Belt & Road Initiative, has given Central Asia a shared reason to limit the effects of interregional strife and provide a unified and accessible image to the global market, and a reason for the geopolitical world to invest itself in the region. This transformation will take time and cannot be a forced overnight change as the "west" would like. There is hope for the region, and with sound strategy and economic investment in the republics, dependent on reform, Central Asia can be the next iteration of regionalism, or quite possibly the instigator of a "Eurasian Union" capable of parity with the global powers of today.
CICA Meeting Seeks to Update Regional Cooperation and Dialogue
The world has recently experienced sharp challenges. The COVID-19 pandemic, while hopefully receding, has caused global economic problems that may take some time to resolve.
Meanwhile the crucial and dramatic changes in Afghanistan have clearly demonstrated that multilateralism has become the only possible approach to ensuring global stability, security and peace. Neither the pandemic and its consequences, nor regional tensions and crises can be resolved without dialogue and the cooperation of states at regional and global levels.
The influence of Asian countries in global developments will continue to increase due to the rapid economic and demographic growth of the region. Asia is on track to top 50 percent of global GDP by 2040. By that point, it is expected to account for 40 percent of the world's total consumption. The region is making not only economic progress but rapid strides in human development. As noted by international observers, the question is no longer how quickly Asia will rise; it is how Asia will lead. Despite Asia's remarkable rise, its family of nations are sometimes kept apart by difficult geography and even more difficult history.
For this reason, it is vital to ensure that there is space for Asian states to conduct dialogue in order to unite efforts on resolving key regional and global issues. The Conference on Interaction and Confidence Building Measures in Asia, an intergovernmental forum, is the most appropriate platform in the region to consolidate the collective wisdom of all Asian nations for peace, cooperation, security and development.
CICA has come a long way since the initiative to convene it was first proposed by the First President of Kazakhstan, Nursultan Nazarbayev, at the 47th Session of the United Nations General Assembly in October 1992. Today, almost 30 years later, CICA brings together 27 Member States. The region covered by CICA stretches from the Pacific to the Mediterranean and from the Ural to the Indian Ocean, covering more than 50 percent of the world's population.
The establishment of the CICA forum emerged from the firm belief that international progress can come about only through strong and effective partnerships. Since the first ministerial meeting, which took place in 1999, CICA has strived to enhance cooperation through elaborating multilateral approaches towards promoting peace, security and stability in Asia.
Yet the world has changed dramatically in the past two decades. Asia has become a key driver of global economic growth and development. Multi-polarity has become the norm of international relations. Countries are actively cooperating thanks to globalization, yet at the same time nationalism is on the rise in many parts of the world. To adapt to these changes, the CICA forum must transform in order to continue to fulfil its important role.
Kazakhstan, as Chair of CICA for 2020-2022, has put forward a number of proposals aimed at making the forum more effective.
Firstly, we believe that it is time to gradually transform it into a fully-fledged international organisation that will be better equipped to cope with the fast-changing security environment and help to pursue developmental goals in our continent. CICA's transformation into such an organisation will expand its capabilities to strengthen cooperation between the member states, cover the entire Asia with a system of deep mutual trust and mutual assistance, as well as increase its status and influence in the international arena.
Secondly, given the dramatic changes that impacted the world in the last two years, it is necessary to update the activities and areas of cooperation within CICA. Due to the threat of the current pandemic, as well as potential future health crises, it is necessary to consider the development of cooperation in the field of epidemiological security, public health and pharmaceuticals. In addition, digitalisation is an important field as the world moves further towards the use of digital technologies. We must also not forget about issues that have been of persistent importance over the last few years, including mitigating climate change, empowering women and youth.
Finally, given the global nature of current challenges, CICA and its member states must also focus on building partnership with other regional and global organisations, particularly the Eurasian Economic Union, the Association of Southeast Asian Nations, the Organisation of Islamic Cooperation and others.
The overarching ambition of CICA is clear – to reduce global geopolitical tensions and threat of conflicts, and instead focus on collaboration and development, especially in Asia, where we share common values and aspirations. Ahead of the upcoming CICA Meeting of Foreign Ministers on 11-12 October in Kazakhstan, we must embrace the idea that CICA should be playing one of the key roles along with other international organisations in the region in achieving these common objectives. This will encourage Asian countries to build bridges among each other and shape a prosperous future in Asia.
Mirziyoyev's Uzbekistan: Marching Confidently Towards a Brighter Future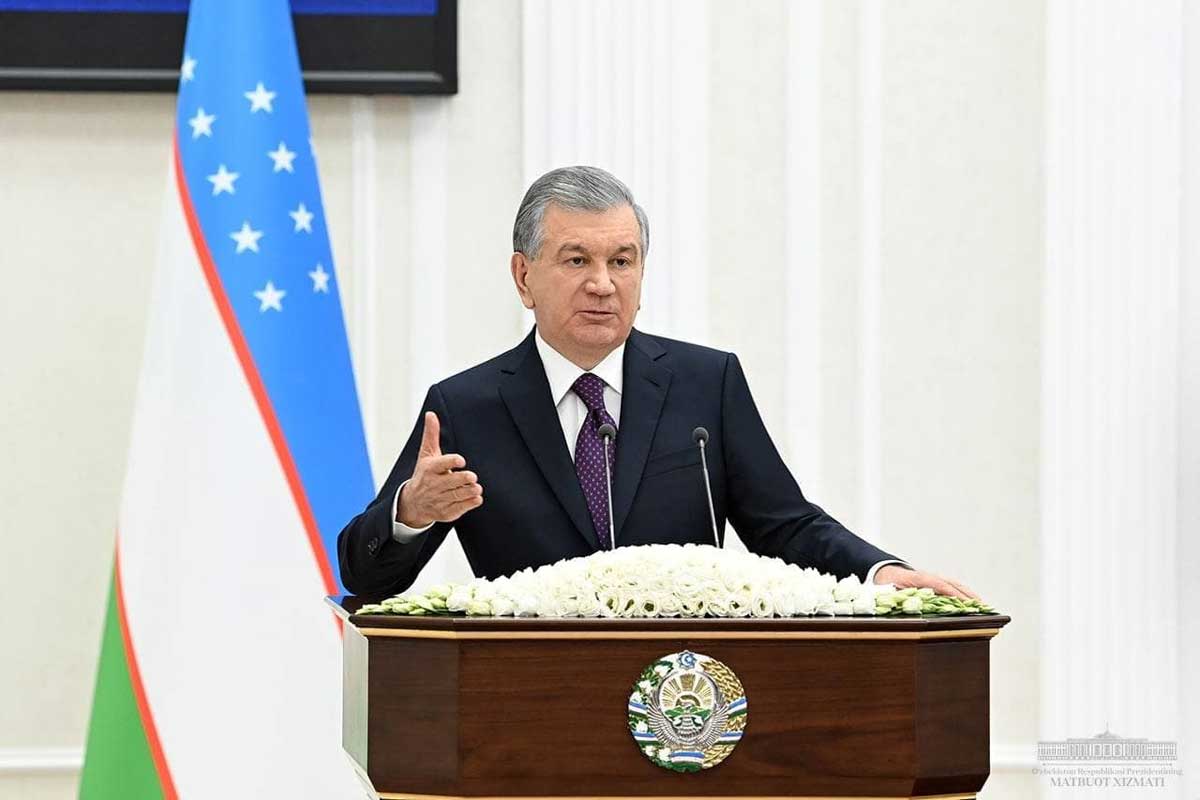 As Uzbekistan celebrates 30 years of independence from former USSR, it is also the time that the nation is completing five years of rule by incumbent president Shavkat Mirziyoyev.
Mirziyoyev took power in September 2016, when the country's first president – Islam Karimov, having ruled since 1991 – passed away, what was seen as a big shock for the entire nation. Since then, Mirziyoyev – elected formally to the presidency later that year – not only steered his nation out of that shock but also put the country on the road to globally-acknowledged reforms, uplift and progress.
Past five years have been a period of extraordinary reform, development and international prestige for this most populous nation of Central Asia. The new leader laid the foundation of a 'New Uzbekistan' with broad-based, comprehensive, inclusive and all-encompassing reforms in economic, political and social spheres.
Economic reforms were aimed primarily at liberalization of economy, moving towards free-market systems and regulations. These have born fruits significantly, with country's economy growing at a healthy average rate, over past years. Output augmented – both in agriculture, and industrial sectors – and per capita incomes increased notably. Confidence of local and foreign investors in Uzbek economy deepened and international institutions started looking towards the country as a new bright spot for regional growth. Welfare of the people, especially the working class, has been put at the centre stage in these sets of reforms.
The democratic reforms, also seen as a model for the region by international observers, revolve around decentralization of power, political inclusiveness and transparency of the electoral processes. This transparency and fairness of electoral processes is noted with appreciation by all those observing the country's political transformation. At the heart of this scheme of political reform lies the awareness and greater participation of masses, country's people from all backgrounds and regions, in the political processes. All the segments of society feel the benefits of this process of political reform pouring down in the form of political empowerments at grassroots.
The country has emerged as one of the most attractive tourist destinations not only in the region but in the whole world. Much of it owes to focused development of tourism of ziaraats, as the country boats a rich cultural and religious heritage – making it a magnet for a large number of people from around the Muslim world, especially from countries such as Pakistan. Uzbekistan Airways, the national flag-carrier, is now one of the most important airlines connecting a sizeable number of countries and regions.
At international stage, country's prestige has continuously been enhancing during past half a decade. Mirziyoyev played a vital role in bringing the leaders of other four Central Asian republic to table, for re-start of the negotiations for the region's integration. Uzbekistan's efforts in this period for Afghanistan's peace and stability and providing the Afghan people with an unattached opening towards Central Asia are noteworthy.
Uzbek president in recent couple of years has played a leading role for the whole wider region by promoting re-initiation and strengthening longstanding bonds and connectivity between Central and South Asia. The July 2021 conference held in Tashkent turned out to be the largest such initiative by Uzbek leadership under Mirziyoyev. Not only Pakistani PM and the then Afghan president were present but ministerial level leaders from some 30 countries and heads of several major international organizations also participated in the mega forum. I have no hesitation in saying that 2021 conference in Tashkent aimed at Central and South Asia connectivity has already started a journey that would not be stopped now; no matter how the things shape in the region. Uzbekistan-Afghanistan-Pakistan railway would be the flagship imove of this journey.
As mentioned above, the reforms' being all-encompassing may be witnessed from the special focus and attention on development of mass media, arts, sports and cultural activities – including the preservation and development of cultures of all the ethnic groups of the nation.
In the nutshell, Uzbekistan of today has assumed a much more vital position in the affairs of the region. The country's people are now living peaceful, prosperous, content and confidence-filled lives, also basking in increasing international glory of their nation. The journey is all set to continue towards greater achievements and a brighter future.
The Effectiveness of Confucius Institutes in Promoting Chinese Soft Power in Kazakhstan
In February 2016, Dariga Nazerbayeva, the then-deputy prime minister of Kazakhstan, declared that Kazakh children should learn Chinese in addition to Kazakh, Russian and English.[1] She further claimed, "China is our friend, our trading partner and the biggest investor in the economy of our country… in the near future, we will all need to know Chinese." [2] Her statement not only emphasized the economic relationship between China and Kazakhstan, but also appealed to the promotion of stronger cultural bonds between the two countries—namely, through the medium of language learning.
Modern Sino-Kazakh relations are primarily based on the two countries' strong trade ties with one another. China, as a rising global power, needs to secure substantial natural resource reserves to fuel its ever-growing consumption needs.[3] Given that Kazakhstan is a geographic neighbor with vast amounts of oil, gas, and other extractive resources, China considers it as an enticing candidate for supplying its energy demands.[4] Kazakhstan, meanwhile, recognizes the capacity of Chinese investment to bolster its economic growth, as well as to fund new infrastructure and industries.[5]
The economic partnership between the two countries took on an additional level of significance after China launched the New Silk Road Economic Belt (part of the Belt and Road Initiative) in 2013. Chinese policymakers viewed Kazakhstan as an integral component of carrying out this infrastructural investment project due to its natural resources and its geographic positioning as a bridge between Europe and Asia. Therefore, they sought out Kazakhstan's full commitment towards supporting the enterprise.
Despite the massive economic gains promised by the New Silk Road Economic Belt, Kazakh society at large held reservations about becoming too closely linked to China. Many groups in Kazakhstan feared that China intended to exploit Kazakhstan's resources and reap the benefits for itself.[6] Allegations of the Chinese government's mistreatment towards the Uyghurs, an ethnic group that shares Turkic Muslim roots with Kazakhs, raised negative perceptions of China in Kazakhstan.[7] These factors, coupled with fears that an overdependence on China could grant Beijing the opportunity to impede on Kazakh sovereignty, contributed to a general atmosphere of wariness towards cozying up too closely to China.[8]
The climate of opinion in Kazakhstan signaled to China that the economic and material dimensions of the Sino-Kazakh relationship were not enough to buy Kazakhstan's loyalty. Officials in Beijing realized that in order to ensure Kazakhstan's support for the New Silk Road Economic Belt, China needed to present itself as an ally that would collaborate with Kazakhstan to achieve mutual interests. From Beijing's perspective, China needed to "win the hearts and minds" of the Kazakh people, and thus the government commenced an ongoing soft power campaign to fulfill that mission.[9] A core component of the Chinese soft power campaign in Kazakhstan have been the Confucius Institutes, organizations that offer Mandarin Chinese language courses. Although the Confucius Institutes have helped boost Mandarin Chinese language study throughout Kazakhstan, increased enrollment rates at these centers do not mean they have reshaped perceptions of China in Kazakh society. In spite of China's attempt to utilize Confucius Institutes to promote Mandarin Chinese language learning and increase China's cultural appeal in Kazakhstan, the success of the organizations has been limited. The Confucius Institutes' effectiveness has been hindered by Kazakh students' general lack of interest in comprehensive culture and language classes, suspicion stemming from the Chinese government's direct control over the Confucius Institutes, and damage to China's reputation following the mass detainment of its Uyghur population into "re-education camps."
Soft Power Initiatives in China: The Role of the Confucius Institutes
The prominent American political scientist Joseph Nye defined soft power as a country's ability to influence other countries to "do it what wants" because they admire and legitimize the image and values of the soft power holder. [10] Nye claimed that soft power was generated from intangible factors, including culture, ideology, and institutions. He believed that soft power creation was a bottom-up process and stated that the involvement of civil society and non-governmental institutions, rather than the state, made soft power effective.[11] In turn, high levels of soft power allowed countries to build alliances with other countries and secure their objectives on the world stage. Given how China is increasingly pursuing its great power ambitions via the New Silk Road Economic Belt/ Belt and Road Initiative, it has recognized the critical role that soft power can play in achieving its goals. Chinese officials have therefore attempted to portray the rise of China as a peaceful one that will seek out harmonious and cooperative ties with other countries.[12]
One of the main tools that China has used to spread its soft power are the Confucius Institutes (CIs), which are educational organizations that offer Chinese language-learning programs to students from all over the world. The Chinese Ministry of Education founded the CIs in 2004 to "provide Chinese language and cultural teaching resources and services worldwide… and contribute to the development of multiculturalism and the building of a harmonious world." [13] CIs are established when they partner up with universities in host countries and provide Mandarin Chinese language classes, exchange programs, and cultural activities.[14] Since the foundation of the first CI in 2004, the number has climbed to approximately 540 CIs throughout 161 countries as of 2020.[15] Given the sheer scale and scope of the CIs' activities, they serve as China's most prominent resource in promoting its soft power agenda.
In Kazakhstan, the first CI was established at the L.N. Gunilyov Eurasian University in Nur-Sultan in 2007.[16] That number has grown to five CIs in Kazakhstan as of 2021.[17] The other CIs are:
Al-Farabi National Kazakh University (Almaty)
K. Zhubanov Aktobe Regional State University (Aktobe)
Karaganda State Technical University (Karaganda)
Kazakh Ablai Khan University of International Relations and World Languages (Almaty) [18]
Nur-Sultan is the capital of Kazakhstan, while Almaty is the country's most populous city; thus, the choice to establish CIs in these cities is not surprising. Aktobe and Karaganda house large oil and coal reserves, respectively, and several Chinese businesses operate in those cities. The Kazakh students who study at these universities have more direct business incentives to study Mandarin Chinese, as the companies frequently hire graduates with strong language skills.[19] In statistical terms, the CIs have expanded Mandarin Chinese language study within Kazakhstan. As of 2020, an estimated 14,000 Kazakh students are studying Mandarin Chinese at the country's five Confucius Institutes, while 12,000 Kazakh students study in China every year.[20] That being said, quantity does not always translate into quality, as evaluative assessments of the CIs suggest they have not been very successful in altering China's image in Kazakhstan.
The Effectiveness of the Confucius Institutes in Kazakhstan
Evidence suggests that the CIs have been relatively ineffective in terms of reshaping popular perceptions of China in Kazakhstan. Firstly, most Kazakh students study Mandarin Chinese to obtain a practical skill for their future career interests, as opposed to cultivating a genuine interest in China. Gaukhar Nursha, a researcher affiliated with Al-Farabi Kazakh National University, conducted a survey across all of the CIs in Kazakhstan to assess why students decided to take part in these programs. According to her data, enrollment in non-language CI courses was low, which suggested that most students were not very interested in learning about Chinese culture and history.[21] As for language classes, many students tended to drop out after a few weeks of classes or after they receive certain certifications for their language levels.[22] Given that the majority of Kazakh students with Mandarin language skills end up working for companies in Kazakhstan, they do not see the urgency of gaining in-depth cultural knowledge of China.[23] Nursha's study demonstrates that language study does not necessarily correlate with an interest in culture.
Secondly, Beijing's direct involvement in the institutes limits their efficacy as a soft power tool. The CIs have faced criticism for their alleged state censorship, as they tend to paint an idealized portrait of China while limiting discussions on political issues.[24] Furthermore, Beijing has constrained non-government affiliated efforts to promote Chinese language and culture to foreign audiences.[25] These actions go against Nye's theory of soft power acquisition, as he argues that civil society and non-state institutions—rather than the government—play an instrumental role in bolstering soft power. [26] Non-state soft power initiatives appear more open and genuine in their motivations, whereas state-dominated soft-power efforts can risk coming across as overly politicized propaganda.[27] The role that the Chinese government plays in the operation of the CIs undermines the organization's sincerity and instead portrays it as a Trojan horse of Beijing's political agenda.
Lastly, China's image as a "peaceful" power contradicts its actual behavior, especially with regard to Beijing's recent policies towards the Uyghur population in Xinjiang.[28] In 2017, China began a mass campaign that has placed over one million Uyghurs in detention camps. Beijing has stated that the facilities are actually "re-education camps" that have dissuaded Uyghurs from joining radical Islamist groups and have provided them with vocational skills.[29] However, former detainees have claimed that the camps are prison-like environments where Uyghurs are coerced into giving up their cultural identities and adopt to hegemonic Han Chinese cultural expectations.[30] Ethnic Kazakhs living in Xinjiang have also been targeted in this campaign. The Xinjiang detainment camps issue have sparked a series of anti-Chinese protests throughout Kazakhstan, and this blow to China's image may discourage future Kazakh students from studying Mandarin Chinese at the CIs.[31] In short, despite the rising popularity of studying Mandarin Chinese in Kazakhstan, the CIs have not influenced Kazakh students to view China in a more positive light: in other words, they have won over the "minds", but not the "hearts", of people in Kazakhstan.[32]
---
[1] Bhavna Dave. "Chapter 10. Silk Road Economic Belt: Effects of China's Soft Power Diplomacy in Kazakhstan," in China's Belt and Road Initiative and its Impact in Central Asia, ed.Marlene Laruelle (Washington D.C.: The George Washington University, Central Asia Program, 2018), 106.
[2] Jack Farchy. "Kazakh Language Schools Shift from English to Chinese." Financial Times, May 9, 2016, www.ft.com/content/6ce4a6ac-0c85-11e6-9456-444ab5211a2f.
[3] Daniela Zuvela. "China-Kazakhstan Relations: Setting a Standard for Central Asian States." Future Directions International, Feb. 10, 2021, https://www.futuredirections.org.au/publication/china-kazakhstan-relations-setting-a-standard-for-central-asian-states/.
[4] Daniela Zuvela. "China-Kazakhstan Relations"; World Bank, "Kazakhstan Reversing Productivity Stagnation: Country Economic Memorandum," The World Bank Group, accessed May 20, 2021, https://openknowledge.worldbank.org/handle/10986/31348, ii.
[5] Nargis Kassenova, "China's Silk Road and Kazakhstan's Bright Path: Linking Dreams of Prosperity." Asia Policy 24, no.1 (2017): 113. doi:10.1353/asp.2017.0028.
[6] Roman Vakulchuk and Indra Overland. "China's Belt and Road Initiative through the Lens of Central Asia," in Regional Connection under the Belt and Road Initiative. The prospects for Economic and Financial Cooperation, eds. Fanny M. Cheung and Ying-yi Hong (London: Routledge, 2019), p.120.
[7] Temur Umarov. "What's Behind Protests Against China in Kazakhstan?" Carnegie Moscow Center, Oct. 30, 2019, https://carnegie.ru/commentary/80229.
[8] Philippe Le Corre. "Kazakhs Wary of Chinese Embrace as BRI Gathers Steam." Carnegie Endowment for International Peace, Feb. 28, 2019, https://carnegieendowment.org/2019/02/28/kazakhs-wary-of-chinese-embrace-as-bri-gathers-steam-pub-78545.
[9] James F. Paradise. "China and International Harmony: The Role of Confucius Institutes in Bolstering Beijing's Soft Power." Asian Survey 49, no. 4 (2009): 649. www.jstor.org/stable/10.1525/as.2009.49.4.647.
[10] Joseph S. Nye. Understanding International Conflicts: An Introduction to Theory and History (5th Edition). (New York: Pearson/Longman, 2005), 61.
[11] Nye, Understanding International Conflicts, 61.
[12] Diana Chariyevna Gurbanmyradova, "The Sources of China's Soft Power in Central Asia: Cultural Diplomacy," (Master's thesis, Central European University, 2015), 14, 15. http://scholar.google.hu/scholar_url?url=http://www.etd.ceu.hu/2015/gurbanmyradova_diana.pdf&hl=en&sa=X&ei=frekYJTGD8vhmQHWwoTYDg&scisig=AAGBfm3sx-X0BrEpXZA28IANM5nLZ5Y2kA&nossl=1&oi=scholarr.
[13] "Confucius Institutes Aim for Sustainable Development," China Daily, accessed May 20, 2021, https://www.chinadaily.com.cn/culture/2015-06/24/content_21090794.htm.
[14] Jeffrey Gil. "The Promotion of Chinese Language Learning and China's Soft Power." Asian Social Science 4, no. 10 (2009): 118. doi:10.5539/ass.v4n10p116; Gurbanmyradova, "The Sources of China's Soft Power in Central Asia," 29.
[15] Xi Chen. "New NGO to operate China's Confucius Institutes, 'disperse misinterpretation,'" Global Times, July 5, 2020, https://www.globaltimes.cn/content/1193584.shtml.
[16] Daniyar Koznazarov. "Dragon's Tender Hug: Prosperity Discourse and China's Soft Power in Kazakhstan." Voices on Central Asia, Jan. 15, 2019, https://voicesoncentralasia.org/dragons-tender-hug-prosperity-discourse-and-chinas-soft-power-in-kazakhstan.
[17] Nurlan Aliyev. "China's Soft Power in Central Asia". The Central Asia-Caucasus Analyst, Dec.19, 2019, https://www.cacianalyst.org/publications/analytical-articles/item/13599-chinas-soft-power-incentralasia.html#:~:text=According%20to%20the%20Hanban%2FConfucius,Uzbekistan%20and%202%20in%20Tajikistan.
[18] "Confucius Institutes All Over the World." DigMandarin, accessed May 20, 2021, https://www.digmandarin.com/confucius-institutes-around-the-world.html.
[19] Gurbanmyradova, "The Sources of China's Soft Power in Central Asia," 29.
[20] Temur Umarov. "China Looms Large in Central Asia." Carnegie Moscow Center, March 30, 2020, https://carnegie.ru/commentary/81402; Dave, "Chapter 10. Silk Road Economic Belt," 105.
[21] Gaukhar Nursha. "Chapter 13. Chinese Soft Power in Kazakhstan and Kyrgyzstan: A Confucius Institutes Case Study", in China's Belt and Road Initiative and its Impact in Central Asia, ed. Marlene Laruelle. (Washington D.C.: The George Washington University, Central Asia Program, 2018), 139.
[22] Nursha, "Chapter 13: Chinese Soft Power in Kazakhstan and Kyrgyzstan," 139.
[23] Nursha, "Chapter 13: Chinese Soft Power in Kazakhstan and Kyrgyzstan," 139.
[24] Wesley Rahn. "Why is the US targeting China's Confucius Institute?" Deutsche Welle, April 16, 2018, https://www.dw.com/en/why-is-the-us-targeting-chinas-confucius-institute/a-43403188; Linmin Zheng. "What is Wrong with the Confucius Institute?"Diggit Magazine, Oct. 9, 2019, https://www.diggitmagazine.com/papers/wrong-confucius-institute
[25] Gurbanmyradova, "The Sources of China's Soft Power in Central Asia," 39, 43.
[26] Nye, Understanding International Conflicts, 61.
[27] Ainur Nogayeva. "Limitations of Chinese 'Soft Power' in Its Population and Language Policies in Central Asia." Geopolitics 20, no. 3 (2015): 600. doi:10.1080/14650045.2015.1034272.
[28] Peter Mattis. "Yes, the Atrocities in Xinjiang Constitute a Genocide." Foreign Policy, April 15, 2021, https://foreignpolicy.com/2021/04/15/xinjiang-uyghurs-intentional-genocide-china/
[29] Lindsay Maizland. "China's Repression of Uighurs in Xinjiang." Council on Foreign Relations, Nov. 25, 2019, https://www.cfr.org/backgrounder/chinas-repression-uyghurs-xinjiang
[30] Maizland, "China's Repression of Uighurs in Xinjiang."
[31] Umarov, "What's Behind Protests Against China in Kazakhstan?"
[32] Paradise, "China and International Harmony," 649.