ACT now to speed up funding for COVID-19 tools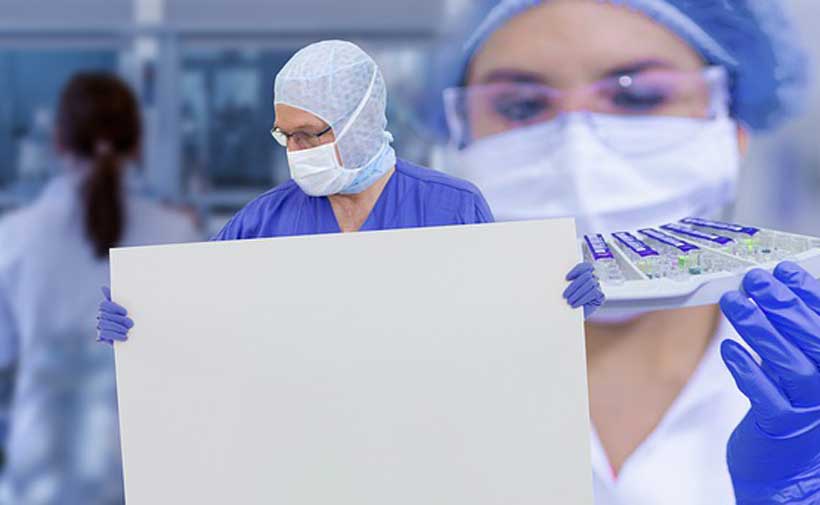 Although a landmark global collaboration has developed and delivered COVID-19 vaccines and diagnostics worldwide, critical funding shortfalls remain, the World Health Organization (WHO) said in a report published on Friday.
The study was released to mark the first anniversary of the Access to COVID-19 Tools (ACT) Accelerator, and was launched at a commemorative event held online.
"One year after the launch of the ACT Accelerator, world leaders face a choice: invest in saving lives by treating the cause of the pandemic everywhere, now, or continue to spend trillions on the consequences with no end in sight", said WHO Director-General Tedros Adhanom Ghebreyesus.
"With a remaining funding gap of $19 billion for 2021 and limited supply of products, we can only end the pandemic by funding, sharing, and scaling-up access to the tools we need to fight the disease. The time to ACT is now."
Rapid scientific progress
The ACT-Accelerator brings together governments, global health organizations, scientists, the pharmaceutical industry and other key partners, to develop and deliver the tests, treatments and vaccines the world needs to fight COVID-19.
As of Friday, there were more than 144 million cases worldwide, and over three million deaths.
A year ago, global understanding about the new disease was limited, and neither rapid diagnostic testing nor vaccines existed. The ACT-Accelerator has led to rapid scientific progress, and unprecedented global collaboration, in making these tools available to anyone, anywhere, who needs them.
Saving lives, giving hope
"The ACT-Accelerator has been a critical multilateral instrument in responding to the COVID-19 pandemic", the UN Deputy Secretary-General, Amina Mohammed, said in a video message.
"It is saving lives. It is enabling societies and economies to begin the job of recovery. It is giving us hope."
Millions of treatment courses and diagnostic kits for low and middle-income countries, as well as $50 million in personal protective equipment (PPE), have been secured through the mechanism.
Its vaccine pillar, COVAX, began deliveries to developing nations in February, starting with Ghana, and has since shipped more than 40 million doses to nearly 120 countries. Additionally, it has supplied $50 million in personal protective equipment (PPE)
Progress at risk
But WHO said COVID-19 continues to spread, and new variants emerge, because progress on equitable distribution of these tools has not been fast enough.
Warning that "vaccine nationalism" is slowing down vaccine deliveries to the world's poorest and most vulnerable, Ms. Mohammed called for countries to fully fund the ACT-Accelerator.
"Let's also recognize that a full and truly sustainable recovery also requires us to get on track to reach the Sustainable Development Goals and achieve Universal Health Coverage," she added.
Noncommunicable diseases now 'top killers globally'
From heart disease to cancer and diabetes, noncommunicable diseases (NCDs) now outnumber infectious diseases as the "top killers globally," the UN health agency said in a new report, released on Wednesday, with one person under 70 dying every two seconds from an NCD.
The report and new data portal, was launched on the sidelines of the 77th session of the General Assembly, at an event co-organized by the World Health Organization (WHO) together with Bloomberg Philanthropies.
Report assets
NCDs constitute one of the greatest health and development challenges of this century, according to WHO.
Chief among them are cardiovascular diseases, such as heart disease and stroke; cancer; and diabetes and chronic respiratory diseases – as well as mental health illnesses.
Together they account for nearly three-quarters of deaths in the world, taking 41 million lives every year.
The report, Invisible numbers: The true extent of noncommunicable diseases and what to do about them, highlights NCDs statistics to illustrate the true scale of the threats and risk factors they pose.
It also shows cost-effective and globally applicable interventions that can lower those numbers and save lives and money.
"This report is a reminder of the true scale of the threat posed by NCDs and their risk factors," said WHO chief Adhanom Ghebreyesus.
Country-specific portal
Sharing the latest country-specific data, risk factors and policy implementation for 194 countries, the NCD data portal brings the numbers in the report to life.
Moreover, it allows data exploration on cardiovascular diseases, cancer, diabetes and chronic respiratory diseases along with their main drivers and risk factors, which include tobacco, unhealthy diet, harmful use of alcohol and lack of physical activity.
The portal spotlights patterns and trends throughout countries and allows comparison across nations and/or within geographical regions.
Important timing
To date, only a handful of countries are on track to meet the 2030 Sustainable Development Goal (SDG) target of reducing early deaths from NCDs by a third.
And yet, NCDs are at the heart of sustainable development and their prevention and treatment is a prime opportunity for investment that would have myriad impacts on economic growth, far outweighing the money spent.
"It is a misconception" that they are "diseases of high-income countries", said Bente Mikkelsen, WHO's Director of Noncommunicable Diseased, adding that a full 85 per cent of all premature deaths happen in low and middle-income countries.
At a critical juncture for public health, WHO said that the new information offers a chance to address the issue and recommends spending more on prevention.
Investing $18 billion a year across all low and middle-income countries could generate net economic benefits of $2.7 trillion by 2030.
At the event, the WHO chief called on global leaders to take urgent action on NCDs and renewed the two-year appointment of Michael R. Bloomberg as WHO Global Ambassador for Noncommunicable Diseases and Injuries – his third reappointment since 2016.
"As we continue to respond to this pandemic and prepare for the next, we have seen the critical importance of addressing a major risk factor in COVID-19 hospitalizations and deaths – noncommunicable diseases," said Mr. Bloomberg.
He maintained that they can often be prevented with investment in "proven, cost-effective interventions" and looked forward to continuing to make "life-saving investments in NCD and injury prevention" alongside WHO.
Rare Ebola outbreak declared in Uganda
An outbreak of Ebola virus has been declared in Uganda after a case was confirmed in Mubende district, in the centre of the country.
The UN World Health Organization (WHO) said on Tuesday that a sample taken from a 24-year-old man was identified as the relatively rare Sudan strain.
It is the first time in more than a decade that the Sudan strain has been found in Uganda, which also saw an outbreak of the Zaire strain of Ebola virus in 2019.
Suspicious deaths
The latest outbreak follows six suspicious deaths in Mubende district so far this month. There are also eight suspected cases who are receiving care in a health facility.
Dr Matshidiso Moeti, World Health Organization Regional Director for Africa, said that the UN agency was working closely with Ugandan authorities to investigate the source, and support efforts to control it.
"Uganda is no stranger to effective Ebola control", she said. "Thanks to its expertise, action has been taken to quickly to detect the virus and we can bank on this knowledge to halt the spread of infections."
No effective vaccine
Existing vaccines against Ebola have proved effective against the Zaire strain but it is not clear if they will be as successful against the Sudan strain, WHO said in a statement.
Ebola is a severe, often fatal illness affecting humans and other primates. It has six different strains, three of which – Bundibugyo, Sudan and Zaire – have previously caused large outbreaks.
Case fatality rates of the Sudan strain have varied from 41 per cent to 100 per cent in past outbreaks. Early roll-out of supportive treatment has been shown to significantly reduce deaths from Ebola, WHO said.
Sending supplies
The agency has dispatched supplies to support the care of patients and is sending a specialized tent that will be used to isolate patients.
While ring vaccination of high-risk people with Ervebo (rVSV-ZEBOV) vaccine has been highly effective in controlling the spread of Ebola in recent outbreaks in DRC and elsewhere, said WHO, this vaccine has only been approved to protect against the Zaire strain.
Another vaccine produced by pharmaceutical company Johnson and Johnson may be effective but has yet to be specifically tested against the Sudan strain.
The end of the COVID-19 pandemic is in sight
As the number of weekly reported deaths from COVID-19 plunged to its lowest since March 2020, the head of the World Health Organization (WHO) said on Wednesday that the end of the pandemic is now in sight.
"We have never been in a better position to end the pandemic", Tedros Adhanom Ghebreyesus told journalists during his regular weekly press conference.
The UN health agency's Director-General explained however, that the world is "not there yet".
Finish line in sight
"A marathon runner does not stop when the finish line comes into view. She runs harder, with all the energy she has left. So must we. We can see the finish line. We're in a winning position. But now is the worst time to stop running", he underscored.
He also warned that if the world does not take the opportunity now, there is still a risk of more variants, deaths, disruption, and uncertainty.
"So, let's seize this opportunity", he urged, announcing that WHO is releasing six short policy briefs that outline the key actions that all governments must take now to "finish the race".
Urgent call
The policy briefs are a summary, based on the evidence and experience of the last 32 months, outlining what works best to save lives, protect health systems, and avoid social and economic disruption.
"[They] are an urgent call for governments to take a hard look at their policies and strengthen them for COVID-19 and future pathogens with pandemic potential", Tedros explained.
The documents, which are available online, include recommendations regarding vaccination of most at-risk groups, continued testing and sequencing of the SARS-CoV-2 virus, and integrating effective treatment for COVID-19 into primary healthcare systems.
They also urge authorities to have plans for future surges, including the securing of supplies, equipment, and extra health workers.
The briefs also contain communications advice, including training health workers to identify and address misinformation, as well as creating high-quality informative materials.
Committed to the future
Tedros underscored that WHO has been working since New Year's Eve 2019 to fight against the spread of COVID and will continue to do so until the pandemic is "truly over".
"We can end this pandemic together, but only if all countries, manufacturers, communities and individuals step up and seize this opportunity", he said.
Possible scenarios
Dr. Maria Van Kerkhove, WHO's technical lead on COVID-19, highlighted that the virus is still " intensely circulating" around the world and that the agency believes that case numbers being reported are an underestimate.
"We expect that there are going to be future waves of infection, potentially at different time points throughout the world caused by different subvariants of Omicron or even different variants of concern", she said, reiterating her previous warning that the more the virus circulates, the more opportunities it has to mutate.
However, she said, these future waves do not need to translate into "waves or death" because there are now effective tools such as vaccines and antivirals specifically for COVID-19.