Human rights experts demand UAE provide 'meaningful information' on Sheikha Latifa
United Nations independent human rights experts on Tuesday demanded that the United Arab Emirates provide "meaningful information" on the fate of Sheikha Latifa Mohammed Al Maktoum as well as assurances regarding her safety and well-being, "without delay".
Sheikha Latifa, the daughter of the Emir of Dubai, and Prime Minister of the UAE, Mohammed bin Rashid Al Maktoum, was reportedly abducted while attempting to flee the country in 2018. In February, footage was released that reportedly showed her being deprived of her liberty against her will.
Independent rights experts, including the UN Special Rapporteur on violence against women voiced concern that since the February video, and subsequent official request for further information on her situation, "no concrete information has been provided by the authorities".
"The statement issued by the Emirates authorities' merely indicating that she was being 'cared for at home' is not sufficient at this stage", they added.
The rights experts also said they were troubled by the allegations of human rights violations against Sheikha Latifa, and of the possible threat to her life.
Evidence of well-being 'urgently required'
According to the information received, she continues to be deprived of liberty, with no access to the outside world, they added, noting that "her continued incommunicado detention can have harmful physical and psychological consequences and may amount to cruel, inhuman or degrading treatment".
"Evidence of life and assurances regarding her well-being are urgently required", the human rights experts urged, calling for independent verification of the conditions under which Sheikha Latifa is being held, and for her immediate release.
In addition to the Special Rapporteur on violence against women, the call was made by the members of the working groups on enforced or involuntary disappearances; and on discrimination against women and girls; as well as the Special Rapporteurs on torture and other cruel, inhuman or degrading treatment or punishment; and on extrajudicial, summary or arbitrary execution.
The Special Rapporteurs and Working Groups are part of what is known as the Special Procedures of the Human Rights Council. The experts work on a voluntary basis; they are not UN staff and do not receive a salary. They are independent from any government or organization and serve in their individual capacity.
Myanmar coup: 'No sign' of end to brutal crackdown on all fronts
One hundred days since the Myanmar military seized power, the "brutal" repression of protesters has continued, despite all international efforts to end the violence, the UN rights office (OHCHR) said on Tuesday.
"The military authorities are showing no sign of letting up in their brutal crackdown on opponents in a bid to consolidate their hold on power", spokesperson Rupert Colville told journalists at a media briefing.
According to credible reports, as of 10 May, at least 782 people have been killed as security forces used unnecessary, disproportionate and lethal force, to suppress demonstrations and other forms of public participation, since the military coup on 1 February.
"While much of the world's attention has been on the number of peaceful protesters and bystanders killed by the security forces, the authorities continue to commit other gross human rights violations against the people of Myanmar", added Mr. Colville.
The OHCHR spokesperson called for greater international involvement to prevent the human rights situation there from deteriorating further.
In particular, he urged the Association of Southeast Asian Nations (ASEAN) to "react quickly and to intensify its actions" to ensure Myanmar's military leadership adheres to the commitments it made in the five-point plan agreed at the regional bloc's meeting of leaders on 24 April, in Jakarta.
The five-point consensus agreed to an immediate cessation of violence in Myanmar and that dialogue should be held among all parties to seek a peaceful solution in the interests of the people.
'Daily raids' on homes and offices
Mr. Colville went on to note that there are daily raids on private homes and offices, with more than 3,740 people currently in detention, including many in situations that may amount to enforced disappearances.
"Of those in custody, the vast majority have not been brought before a judge, while most of the 86 people prosecuted thus far have been tried in secret, with limited or no access to any form of legal counsel", he said.
"Military tribunals and courts martial have been established in several townships in which martial law was declared. At least 25 individuals have received the death sentence to date – some 20 of whom were tried in absentia."
Military 'taking relatives'
Over the past month, the military leadership has issued more than 1,561 arrest warrants against civil society activists, trade unionists, journalists, academics, public personalities and online voices, driving the vast majority of them underground.
"To intensify pressure, the military authorities have resorted to taking relatives of wanted people into custody to force them to turn themselves in to the police", Mr. Colville said, adding that there is also increasing pressure on civil servants to go back to work.
In recent weeks, more than 3,000 civil servants – nearly 70 per cent women – have been dismissed, removed, or suspended by the coup leadership. Those suspended also include 990 university professors, researchers and assistants.
In addition, there are reports that up to 11,000 more workers in the education sector were suspended on Monday.
'Deeply concerned' for those fleeing persecution
The OHCHR spokesperson also voiced "deep concerns" for the people fleeing persecution, especially human rights defenders and journalists.
According to the UN refugee agency (UNHCR), several hundred people from Myanmar have crossed into Thailand and India in recent weeks.
The people seeking safety outside Myanmar must receive such protection and support from Myanmar's neighbours, Mr. Colville urged, adding that while it can take time to decide whether an individual fleeing the country is a refugee or not, "at the very least they should be treated as an asylum seeker and not forced to go back".
"This is particularly important for people with jobs as sensitive as journalists and those active in the civil disobedience movement, opposing the Tatmadaw (Myanmar's military)."
UN chief express deep concern over East Jerusalem violence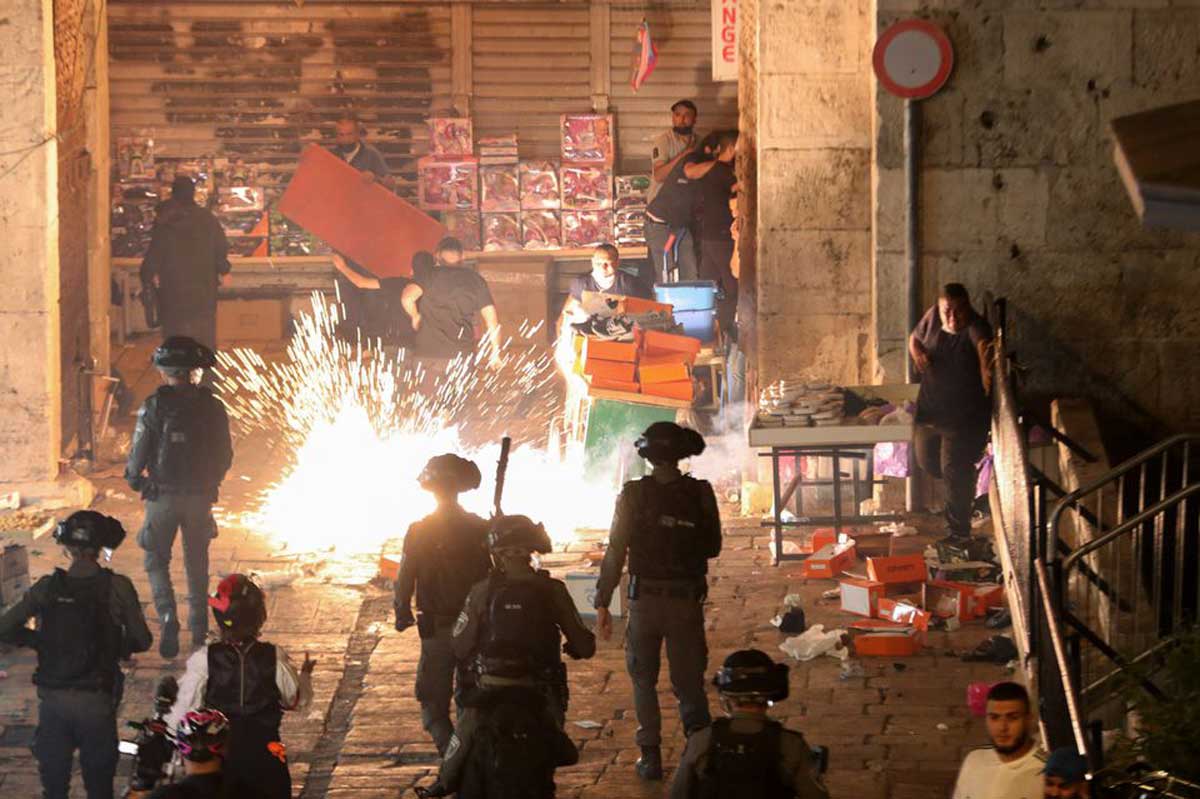 The UN Secretary-General, António Guterres, and senior UN officials have expressed their deep concern over confrontations between Palestinians and Israeli security forces in East Jerusalem, particularly those which began on Friday evening, and continued into Sunday night. Several Palestinian children are among the wounded.
The violence on Friday has been described as some of the worst seen in Jerusalem for many years. Some 200 Palestinians and 17 Israeli Police were reportedly injured in fighting around Haram Al-Sharif/Temple Mount. On Saturday, protesters reportedly threw stones at police, who responded with stun grenades, rubber bullets and water cannons and, on Sunday, fighting continued in East Jerusalem, ahead of a planned march by an Israeli group through the Old City.
The official spokesperson for Mr. Guterres, Stéphane Dujarric, said in a statement published on Sunday evening, that Israeli authorities must exercise maximum restraint and respect the right to freedom of peaceful assembly.
"All leaders have a responsibility to act against extremists and to speak out against all acts of violence and incitement", the statement continued. "The Secretary-General reiterates his commitment, including through the Middle East Quartet, to supporting Palestinians and Israelis to resolve the conflict on the basis of relevant United Nations resolutions, international law and bilateral agreements".
The Envoys of the Middle East Quartet (from the European Union, Russia, the United States, and the United Nations), released a press statement on Saturday, in which they expressed their alarm at "the provocative statements made by some political groups, as well as the launching of rockets and the resumption of incendiary balloons from Gaza towards Israel, and attacks on Palestinian farmland in the West Bank".
Imminent risk of eviction
The Quartet representatives went on to declare their concern regarding the possible evictions of Palestinian families from homes, in which they have lived in for generations, in two neighbourhoods in East Jerusalem – Sheikh Jarrah and Silwan – and their opposition to "unilateral actions, which will only escalate the already tense environment".
This is a reference to a court case involving several Palestinians who face eviction due to a legal challenge by the Nahalat Shimon settler organization. The risk is considered to be imminent for four of the families.
The UN has called for on the Israeli Government to halt all forced evictions and on Thursday, Rupert Colville, the spokesperson for the UN Human Rights Office (OHCHR), warned that, if they take place, the evictions in the Sheikh Jarrah case would violate Israel's obligations under international law.
Saturday's fighting took place on Laylat-al-Qadr, the most holy day in the Muslim month of Ramadan, after large numbers of worshippers had prayed at the Haram Al-Sharif/Temple Mount compound. In their statement, the Quartet
Envoys called on the Israeli authorities to exercise restraint and to avoid measures that would further escalate the situation during this period of Muslim Holy Days.
"We call on all sides to uphold and respect the status quo at the holy sites", the statement continues. "All leaders have a responsibility to act against extremists and to speak out against all acts of violence and incitement".
The statement concluded with a reiteration by the Quartet Envoys of their commitment to a negotiated two state solution.
37 Palestinian children injured and arrested
On Sunday, the UN Children's Fund, UNICEF, urged the Israeli authorities to refrain from using violence against children and release all those children detained.
In a joint statement, Ted Chaiban, UNICEF Regional Director for the Middle East and North Africa, and Lucia Elmi, UNICEF Special Representative in the State of Palestine, noted that 29 Palestinian children have been injured over the past two days, and a further eight arrested. "A one-year-old toddler was among those injured. Some children were taken for treatment at hospitals, with injuries in the head and the spine. This comes amid reports that nearly 300 people were injured in the area".
The senior UNICEF officials said that the agency had received reports of ambulances being restricted from arriving on location to assist and evacuate the injured, and that an on-site clinic was reportedly hit and searched.
The statement called for all children to be protected from violence and kept out of harm's way at all times, for families' rights to access all places of worship to be preserved, and for those injured to be assisted without restrictions.
UN: Stop evictions in East Jerusalem neighbourhood immediately
The UN's human rights office (OHCHR), on Friday, called on Israel to immediately halt all forced evictions, including those in the Sheikh Jarrah neighbourhood of East Jerusalem, as well as to exercise maximum restraint in the use of force while ensuring safety and security there.
Eight Palestinian refugee families residing in Sheikh Jarrah are facing forced eviction due to a legal challenge by the Nahalat Shimon settler organization, with the risk "imminent" for four of the families, according to the office.
OHCHR spokesperson Rupert Colville said that the evictions, if ordered and implemented, would violate Israel's obligations under international law.
"Given the disturbing scenes in Sheikh Jarrah over the past few days, we wish to emphasize that East Jerusalem remains part of the occupied Palestinian territory, in which International Humanitarian Law applies. The occupying Power must respect and cannot confiscate private property in occupied territory, and must respect, unless absolutely prevented, the laws in force in the country."
He went on to note that Israel cannot impose its own set of laws in occupied territory, including East Jerusalem, to evict Palestinians from their homes.
On Thursday, Tor Wennesland, UN Special Coordinator for the Middle East Peace Process, also urged Israel to stop demolitions and evictions in the neighbourhood, in line with its obligations under international humanitarian law.
Prohibited under international law
"In addition, the Absentee Property Law and the Legal and Administrative Matters Law are applied in an inherently discriminatory manner, based solely on the nationality or origin of the owner", OHCHR spokesperson Colville said.
"In practice, the implementation of these laws facilitates the transfer by Israel of its population into occupied East Jerusalem. The transfer of parts of an occupying Power's civilian population into the territory that it occupies is prohibited under international humanitarian law and may amount to a war crime", he added.
Violation of right to adequate housing
The OHCHR spokesperson also said that forced evictions could violate the rights to adequate housing and to privacy and other human rights of those who are evicted.
"Forced evictions are a key factor in creating a coercive environment that may lead to forcible transfer, which is prohibited by the Fourth Geneva Convention and is a grave breach of the Convention."
Mr. Colville also called on Israel to respect freedom of expression and assembly, including of those who are protesting against the evictions, and to exercise maximum restraint in the use of force while ensuring safety and security in East Jerusalem.