ADB, Habitat for Humanity to Support Housing Microloans for Vulnerable Communities
The Asian Development Bank (ADB) has teamed with Habitat for Humanity International to help microfinance institutions (MFIs) deliver housing loans to low-income families in rural and peri-urban areas of Bangladesh, India, Indonesia, and the Philippines.
The collaboration will expand ADB's Microfinance Risk Participation and Guarantee Program to include microloans for housing, home improvement, and water and sanitation for vulnerable and climate change-exposed communities. ADB will help MFIs obtain financing for these purposes from commercial banks of up to $30 million in the first phase. Habitat for Humanity will build the MFIs' capacity to design, pilot-test, and roll out the loans, with technical assistance from ADB.
"Low-income families find it difficult to build resilient houses as they lack adequate and affordable financing options due to the collateral requirements of commercial banks," said ADB Private Sector Financial Institutions Division Director Christine Engstrom. "MFIs have the networks to reach these communities, but often lack the technical capacities to deliver housing microloans to them. Building on Habitat for Humanity's technical and training expertise, this inaugural partnership will enable ADB's Microfinance Program to better address this market gap."
"The demand for urban housing in Asia remains largely unmet, giving the private sector a critical opportunity to deliver affordable materials, construction quality, access to energy, gender equity, water supply, and sanitation services, while supporting greater gender equity," said Habitat for Humanity International Chief Operating Officer Patrick Canagasingham. "With ADB, we will create enabling environments for MFIs through risk-sharing and capacity building, helping unlock local private sector capital for housing."
"This partnership is timely, as micro-housing for the poor and investing in community resilience are key drivers of economic recovery from the pandemic," said Lead of ADB's Microfinance Program Anshukant Taneja.
An expected 20,000 households will receive housing microloans from partner MFIs in the program's first phase to enhance construction quality and climate resilience, including upgrading semi-permanent structures and installing sanitation and water connections. ADB also aims to encourage private sector financing through risk-allocation and guarantees. The collaboration will help to empower women, with 90% of financing targeted for women micro-borrowers.
Habitat for Humanity began in 1976 and has grown into a leading global nonprofit, working in more than 70 countries. Habitat's Terwilliger Center for Innovation in Shelter works with the private sector to pilot new products and approaches for housing finance, materials, and services. From July 2019 to June 2020, Habitat helped more than 1.9 million people in Asia and the Pacific gain access to better housing.
ADB's Private Sector Operations Department will also explore opportunities to work with Habitat for Humanity to scale the organization's catalytic initiatives, including the MicroBuild Fund, which has deployed over $140 million in housing finance loans through MFIs, with 19% allocated in Asia and the Pacific. ADB's Microfinance Program has helped more than 6 million borrowers gain access to microloans.
Vaccine inequity posing 'significant risk' to global economic recovery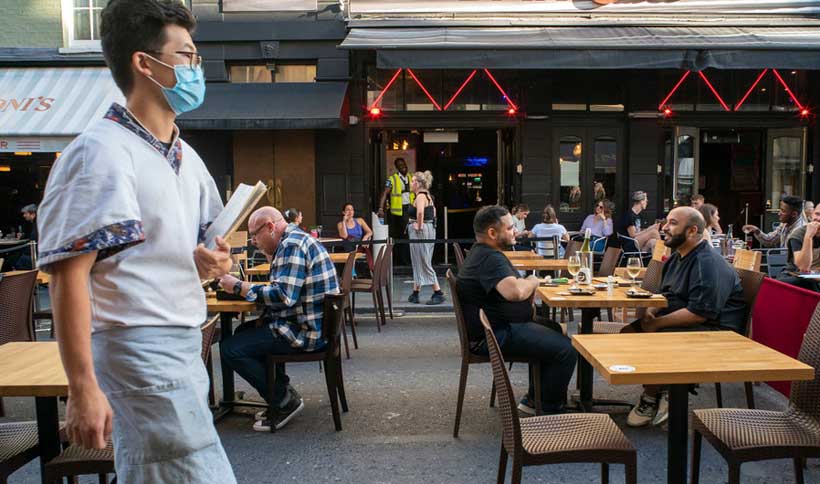 Although the outlook for global growth has improved, the ongoing impacts of the COVID-19 pandemic, as well as inadequate progress on vaccination in poorer countries, are putting recovery at risk, according to the latest UN economic forecast, published on Tuesday.
The World Economic Situation and Prospects (WESP) mid-year report warned widening inequality is threatening global growth, projected at 5.4 per cent this year.
Vaccine access critical
"Vaccine inequity between countries and regions is posing a significant risk to an already uneven and fragile global recovery", said UN Chief Economist Elliott Harris.
"Timely and universal access to COVID-19 vaccinations will mean the difference between ending the pandemic promptly and placing the world economy on the trajectory of a resilient recovery, or losing many more years of growth, development and opportunities."
The mid-year forecast updates the WESP report published in January by the UN Department of Economic and Social Affairs (DESA).
It examines the performance of the world economy since the pandemic began, as well as the impact of global policy responses and post-crisis recovery scenarios.
A mixed picture
The 5.4 per cent in projected global growth this year follows a sharp contraction of 3.6 per cent in 2020, and reflects an upward revision from the original forecast.
While the world's two largest economies – China and the United States – are on the road to recovery, growth remains fragile and uncertain in several countries in South Asia, sub-Saharan Africa, and Latin America and the Caribbean.
Many countries will not see economic output return to pre-pandemic levels until 2022 or 2023.
"For a vast majority of developing countries, economic output will remain below 2019 levels for most of 2021", the authors said. "Amid insufficient fiscal space to stimulate demand, many of these countries will face low and stagnant growth and the prospect of a lost decade."
Trade strong but uneven
The report also details strong but uneven recovery in global trade, which has already surpassed pre-pandemic levels due to demand for electrical and electronic equipment, personal protective equipment, and other manufactured goods.
Economies which depend on manufacturing have fared better, however countries which rely on tourism, or commodities, are unlikely to see a quick rebound.
Tourism services in particular, will remain depressed due to slow lifting of restrictions on international travel, coupled with fears of new waves of COVID-19 infection.
Women hit hardest
The pandemic has pushed an estimated 114.4 million people into extreme poverty, with women accounting for around 58 million of that total.
The report found that while women have been at the forefront of the crisis—
representing most health workers, caregivers and essential service providers—they have also been the hardest hit in several ways.
During the pandemic, labour force participation shrunk by two per cent worldwide, compared to only 0.2 per cent during the global financial crisis in 2007-8, but more women than men were forced to leave their jobs to meet family demands. Women-owned businesses have also fared disproportionately worse, according to the report.
COVID-19 has also dealt sharp blows to services for women's health, and reproductive health, and the disruption to education has helped undermine global progress towards gender equality. There has also been a spike in gender-based violence, which UN Women has labelled a "shadow pandemic."
Ensure inclusive recovery
As women are also underrepresented in decision-making surrounding the pandemic, and in economic policy responses, the report highlighted why recovery must be inclusive.
"The pandemic has pushed nearly 58 million women and girls into extreme poverty, dealing a huge blow to poverty reduction efforts worldwide, and exacerbated gender gaps in income, wealth and education, impeding progress on gender equality", said Hamid Rashid, Chief of the Global Economic Monitoring Branch at DESA, and the lead author of the report.
"Fiscal and monetary measures to steer recovery must take into account the differentiated impact of the crisis on different population groups, including women, to ensure an economic recovery that is inclusive and resilient."
Conflict Affected Families in Armenia to Receive World Bank Support
A Grant Agreement for the "Support to Conflict Affected Families" project was signed today by Sylvie Bossoutrot, World Bank Country Manager for Armenia, and Atom Janjughazyan, Acting Minister of Finance of Armenia. Funds for the project are provided by the multi-donor State and Peacebuilding Fund (SPF), through a one-year grant of $3.72 million.
The Government of Armenia has developed a broader social protection response package with support from development partners and non-governmental organizations. This project will be implemented by the Ministry of Labor and Social Affairs of Armenia, through its subordinated agency — the Unified Social Service — and aims to improve the resilience of conflict affected people and reduce the financial burden of host families, with a particular focus on women and vulnerable members of the population.
"We are pleased to sign this timely Agreement supported by the State and Peacebuilding Fund Grant," said Sylvie Bossoutrot, World Bank Country Manager for Armenia. "This project is of extreme importance and the assistance granted to displaced individuals and their host families will help to improve the resilience of families affected by the conflict."
The proposed project will contribute to selected social protection and employment support programs, which are part of a larger support package targeting displaced people and their host families, from the Government of Armenia.
Specifically, the project aims to:
Reach around 11,530 displaced persons with a monthly cash benefit equal to the minimum wage (68,000 AMD) per adult/child for up to four months in Armenia.
Provide cash assistance/income support to 3,975 families in Armenia hosting displaced people to help meet basic consumption needs.
Temporarily subsidize an employment program for 936 displaced people who are looking to gain work experience in Armenia and facilitate their labor market participation and economic inclusion.
Support 115 displaced individuals through the public works program (cash-for-work).
"The project is designed to especially benefit women affected by the conflict," said Maddalena Honorati, World Bank Task Team Leader. "According to a rapid multi-sector needs assessment conducted last December, women represent 70 percent of the adult displaced population. The cash transfers will help them meet their basic needs on a day-to-day basis. More importantly, the project will improve the resilience of the displaced families and promote social cohesion in their host communities."
The State and Peacebuilding Fund is a global fund administered by the World Bank to finance critical development operations and analysis in situations of fragility, conflict, and violence (FCV). The SPF is kindly supported by Australia, Denmark, France, Germany, The Netherlands, Norway, Sweden, Switzerland, The United Kingdom, as well as the World Bank.
Circular solution to Mosul's conflict debris launched
Mosul – Iraq's second largest city – suffered massive devastation during the conflict with the Islamic State in Iraq and the Levant (ISIL). An estimated 7-8 million tonnes of debris was created by the fighting, mainly in the Old City on the banks of the Tigris River. To deal with this huge debris challenge, the UN Environment Programme (UNEP) and the International Organization for Migration (IOM) are joining forces with Mosul Municipality – with the support of Japan – to establish the city's first debris recycling center.
In the conflict's immediate aftermath, clean-up campaigns cleared hundreds of thousands of tons of debris blocking streets to allow residents access to their homes and businesses, and enable rehabilitation of critical infrastructure such as hospitals, schools and water treatment plants.
The cleared debris, however, was often dumped in an uncontrolled manner in open spaces, gullies and strewn along roadsides for lack of designated disposal sites, creating problems in this city where land is a premium. Furthermore, much of the debris remains locked in damaged buildings which will require complex explosive hazard clearance and demolition and will take many years to release.
"By processing the rubble to produce quality materials that can be used in reconstruction efforts, creating much needed job opportunities for returnees and cleaning-up the urban environment, this initiative practically illustrates how humanitarian needs and sustainable development goals can be addressed in a joint manner," said Dr. Jassim Humadi, Iraq's Deputy Environment Minister. "We are very grateful to the Government of Japan for their support in helping turn the debris problem in Mosul into a means of positive change."
The project builds upon lessons learned and best practices gathered under debris recycling pilots implemented jointly by IOM and UNEP in Mosul and Kirkuk. Where conventional practice had been to clear and dump the debris, this new initiative will concentrate on reusing the recycled aggregate for reconstruction.
"Material testing results confirming that the recycled aggregate complies with Iraq's standards for road construction should also help pave the way for embedding circular economy principles in dealing with routine construction and demolition waste, thereby promoting a 'building back better' approach to crisis recovery," said Gary Lewis, Director of UNEP's Disasters and Conflicts Branch.
In the destroyed village of Buwaiter, where the pilot debris recycling project in Kirkuk was implemented, "unemployed youth with no work opportunities benefited immensely," said Salal Othman, who guards the recycling site and used the crushed gravel to pave the area in front of his house, which is typically impassable during the rains.
"Young people in our village view debris recycling as a golden chance in terms of job creation, which additionally, by clearing the rubble, is allowing us to return and rebuild our homes," added Mijbel Mar'i, a 24-year-old day labourer.
Remarking on the debris recycling in Buwaiter, Hassan Al-Jubouri, the head of Multaqa sub-district, described it as "an excellent step to dispose of huge volumes of debris while simultaneously employing people," adding that "with this project, in addition to removing the debris we now have the possibility to reuse it. And given that many rural roads in our sub-district need surfacing, the crushed materials are ideal for this end."
"Japan has provided over USD 500 million as humanitarian assistance to the people affected by the crisis since 2014. Additionally, Japan decided this year to provide a new assistance package to Iraq, amounting to USD 50 million, including this project by UNEP," said Japan's Ambassador to Iraq, His Excellency Mr. Kotaro Suzuki. "I commend UNEP's initiative together with IOM on recycling debris which cleans up the urban environment and produces materials for road construction as well as creating job opportunities for unemployed youth."
"In Japan, after the earthquakes, people mourned their loss and started to clean up the debris which was all that was left of their homes and memories of loved ones. Our fathers' generation did the same in scorched cities after the war, to rebuild towns for their people, for their future children," he added. "We want to assist people in Mosul and Kirkuk in their efforts to revive their towns, rebuild their lives once again."