We are in the phase of world history where economic development and protection of environment must go side by side. People living in the developed part of the world will hardly want to give up their current lifestyle and people living in the developing part want to be more like the developed but in this process, we cannot separate environment from economy. Environment provides the incentive for economic growth and prosperity; providing the raw materials and resources we need for production of goods, certain climates and temperatures are required for the growth of specific plants and are very crucial to agriculture industry and the environment is what absorbs the pollution and waste we produce from all this industrialization. Protection of the environment means we mark ourselves safe from economic degradation and provide safe space for healthy functioning of economic and social activities. If we preserve the environment we control the risks of drought, heat waves, cold spells and floods, regulate the air quality, the temperature, the climate, the clean supply of water, the contamination of soil, cycling of nutrients in the ecosystem and management of carbon. Since agriculture can be regarded as the primary industry, crucial to feed people, people who then operate other industries, it is very important to safeguard the environment that feeds us and nurtures us and the environment that we live and grow in. Today, the world economy is facing serious environmental hazards. Climate change, loss of biodiversity and ecosystems are some of the global problems that need immediate collective action by states since this issue engulfs the whole of mankind. Therefore, economists and environmentalists have in the recent years taken this subject with full zest. How can economic growth and environmental protection go hand in hand? Environmental policies integrated with economic policies can be implemented and pursued by states to ensure sustained and prolonged environmental human well-being and continued simultaneous economic growth for states both at the national and international level, ending in a win-win situation.
Natural resources are salient to economic development but at present many prime resources and ecosystems are depleting which poses a grave situation for states and their economies. To tackle this concern, natural resources need to be used in a reasonable manner and adopting and improving technology be propagated in such a way that the use of natural resources is made more efficient and long lasting. Use of newer and modern product designing which meets the needs of the current times, needs to inculcated. The consumption of natural resources beyond the point that hampers economic growth also needs to be avoided. The vitality of technology and innovation in limiting environmental hazards is being stressed, this is also beneficial for businesses and industrialization. This is because preservation of environment is itself a form of economic development and growth. People who come up with the ideas and engineering for environmental friendly products; such as the water and air pollution control, treatment and purification technologies, make money and businesses out of these services, thus contributing to the economy. Similarly, wind mills and solar systems are now a multimillion-dollar business themselves. If environment protection is putting some older technologies and practices out of work, it is also creating incentives for modern technologies and creating more job opportunities in the field. States should thus, make an industrial shift to equipment and products that have a low carbon usage and efficiently use resources. In the real estate sector, places with better and healthier environment and surroundings are priced more than other counterparts for example, a building next to a park or green belt will have higher value than a property which is not next to any place green. This points to the concept of "hedonic pricing." It refers to the difference in pricing due to the associated environmental aspects, in otherwise similar products. Better environment also contributes to the development of human capital. The presence of a green park will not only add to beauty and better air quality but it will also encourage a lot of people to physically exercise.
Due to the growing scarcity of resources, governments of the world should introduce the policy of "common property regime," which avers that resources such as land, water, certain habitats and the atmosphere be made common property for all. The problem is that there are no property laws for these resources and people use it as a free dump for human waste and waste products from economic activities. This includes various water bodies for example, irrigation systems and canals, forests, fishing areas etc. Concise and clearly enforced rules should be put in place, exercising the limits put on some activities such as excessive fishing or cutting of forests, putting a limit on the accessibility to these resources, keeping a check on the carbon footprint of some groups, organizations or events or even putting some specifications on their use such as tax or making recycling or reuse mandatory. The shift from already existing practices to newer ones that are more environment-friendly will be costly and it will take time but it is more important now than ever and more beneficial for us in the long run. Environment policies of these sorts reframe the economic structure. The cost of using these resources should be closed in according to the social cost of putting the health of the public at risk. Restructuring of the economic and environmental structure helps a country's economy by lessening the environmental hazards that the country might face and by making the state more buoyant and resilient in the face of these environmental changes and risks. This can also prove to be a powerful driving force for innovations and ideas.
States are often in the race to increase their GDP. GDP only measures the material values of goods and services and does not take into account the well-being of humans including the health and education quality, living standards, income and environmental conditions. Economic growth, nonetheless, is a prime force for improving human well-being and states incorporate social, political and environmental goals in the well-being domain through these economic activities. The Kuznets curve is a graph to explain the relationship between the growth in economy/GDP and the quality of environment. States can keep this model in mind while reformulating their economic and environmental policies, in accordance to the history of environmental degradation they have endured and the future remodelling they need to follow. It is characterized by an inverted U-shaped relation between GDP per capita and environmental quality. Since we have already crossed the point for environmental degradation, it is now time to think for the decline in the degradation. Initially, when the GDP grows, so does the degradation of environment but after a certain point, the increase in GDP no longer degrades the environment further. This is because at lower income levels, the income is completely spent on meeting the basic survival requirements. When the income increases to a certain point, people and states should start thinking of the bargain that material does with the environment, this should be reflected in their behavioural change. After this point, states should start giving up further unnecessary consumption and focus more on environmental rehabilitation. Another possibility seen through this graph is that industries might see profit in enhancing production quickly, but as demands are met and resources become scarcer, more green, cleaner and resource efficient technology is introduced. Societies, in this way, also go from agriculture-based economy to manufacturing-based economy and finally to service-based economies, releasing the lowest levels of pollution. An example can be of EU rules and regulations. Waste water used to get dumped directly into the streams or rivers, but now it gets treated first before releasing. There are barely any housings left in the EU now that are not connected to solid and water waste disposal and treatment networks.
If states and the firms operating in those states take up eco-innovations and eco-friendly measures, they will actually be at advantage because investors like banks and various funding institutes are more likely to invest in sustainable businesses that will stay operational a long time, than those that are dependent on the environment in these challenging times. Firms that run on eco-friendly terms will also stay ahead of the taxes and regulations charged on using environmental resources. This will prove to be very cost efficient for them and they will not have to change their action plans according to any new regulations or increases in costs. Greener and cleaner practices and equipment can also truly reduce the waste an industry produces, in turn increasing the output and ensuring sustainability. This adaptation to cleaner practices can also lead to innovations and new ideas and practices starting right from the household or individual level. UK is one of the countries that is high on the ranks of eco-innovations, thanks to general understanding and cooperation among firms to pursue sustainable development. Furthermore, statistics show that companies that are currently focusing more eco-innovations are growing at the rate of 15% annually while their counterparts that are not focusing on the same, are not enjoying any climb in their profits[1]. Most of these businesses (based in Europe) are small to medium scaled and they are adaptable in nature. They are benefitting from the European commission's stance on promoting eco-friendly businesses. Public Relations advantages and marketing superiority is also pretty clear in eco-innovation ventures.
A commendable example of improving the environmental conditions while also not compromising on the GDP and economic development, is that of China. China has been time and again accused of having a huge carbon footprint, which directly impacts the ozone layer which is communal to all mankind. States that are not even at par with the fumes and industrial waste that China produces, are today in the list of states most affected by climate change and global warming, including Pakistan and many of the Gulf nations. China has thus taken the role of global leadership in the field of environmental protection. China has been standing true to its 2015 Paris agreements on cutting down of greenhouse emissions. It was able to do so by spreading awareness and education from the grass-root level. In the period of only a few years, China has drastically improved the air quality in many of its larger cities. Solid waste management and sorting is a major step taken to restrict illegal dumping of garbage. Restrictive policies and heavy fines are imposed if an individual breaks the rules. Renewable energy generators like the wind and solar panels, have been put to use to meet nationwide energy requirements, which ensures cost effective power. In the year 2017, China nationally introduced the concept of "National emissions trading system," which formed a market for the buying and selling of carbon dioxide emissions allowances. It regulates the quantity of emissions and carbon footprints that an individual, firm or an event is allowed to produce. All of this simultaneously helps China to become more energy sufficient and assists economic reforms while also improving the quality of ground-level air. Some states in the USA are taking up the initiative of green or clean economy with full fervour. California for example, set a target to achieve carbon neutrality by the year 2045, while the clean energy sector is also opening opportunities for jobs. One of the incentive taken in the goal was stricter vehicle exhaust emission rules[2].Nevada also passed a legislation to increase the energy it makes to up to 50% through renewable energy sources, by the year 2030[3]. Rules and regulations have also bene proposed to reduce the emission of harmful air pollutants including those that are short-lived such as methane, CFCs and HFCs. Developing countries like Pakistan have also addressed the climate issue and the Pakistan Premier launched the "Billion Tree Tsunami" plantation campaign to curb deforestation, an issue rampant in the north of the country. In conclusion of this paper, in light of all the examples and recommendations, I would say that the long term benefits, mutual to all, outweigh the costs of taking a leap from existing economic practices to those that are eco-friendlier.
---
[1]"Eco-innovation for better business," Business Green, accessed October 23, 2020, https://www.businessgreen.com/sponsored/2409410/eco-innovation-for-better-business
[2] "California Air Quality: Mapping the progress," U.S News. November 6, 2019.https://www.usnews.com/news/healthiest-communities/articles/2019-11-06/california-air-quality-mapping-the-progress
[3]Chandler Green. "7 ways US states are leading climate action," United Nations Foundation. May 30, 2019, https://unfoundation.org/blog/post/7-ways-u-s-states-are-leading-climate-action/
Carbon Market Could Drive Climate Action
Authors: Martin Raiser, Sebastian Eckardt, Giovanni Ruta*
Trading commenced on China's national emissions trading system (ETS) on Friday. With a trading volume of about 4 billion tons of carbon dioxide or roughly 12 percent of the total global CO2 emissions, the ETS is now the world's largest carbon market.
While the traded emission volume is large, the first trading day opened, as expected, with a relatively modest price of 48 yuan ($7.4) per ton of CO2. Though this is higher than the global average, which is about $2 per ton, it is much lower than carbon prices in the European Union market where the cost per ton of CO2 recently exceeded $50.
Large volume but low price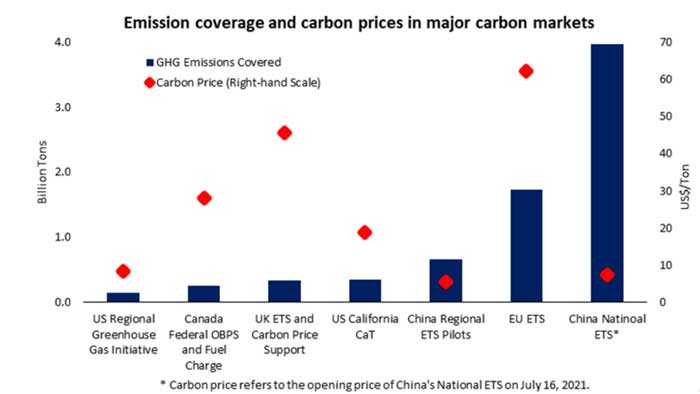 The ETS has the potential to play an important role in achieving, and accelerating China's long-term climate goals — of peaking emissions before 2030 and achieving carbon neutrality before 2060. Under the plan, about 2,200 of China's largest coal and gas-fired power plants have been allocated free emission rights based on their historical emissions, power output and carbon intensity.
Facilities that cut emissions quickly will be able to sell excess allowances for a profit, while those that exceed their initial allowance will have to pay to purchase additional emission rights or pay a fine. Putting a price tag on CO2 emissions will promote investment in low-carbon technologies and equipment, while carbon trading will ensure emissions are first cut where it is least costly, minimizing abatement costs. This sounds plain and simple, but it will take time for the market to develop and meaningfully contribute to emission reductions.
The initial phase of market development is focused on building credible emissions disclosure and verification systems — the basic infrastructure of any functioning carbon market — encouraging facilities to accurately monitor and report their emissions rather than constraining them. Consequently, allocations given to power companies have been relatively generous, and are tied to power output rather than being set at absolute levels.
Also, the requirements of each individual facility to obtain additional emission rights are capped at 20 percent above the initial allowance and fines for non-compliance are relatively low. This means carbon prices initially are likely to remain relatively low, mitigating the immediate financial impact on power producers and giving them time to adjust.
For carbon trading to develop into a significant policy tool, total emissions and individual allowances will need to tighten over time. Estimates by Tsinghua University suggest that carbon prices will need to be raised to $300-$350 per ton by 2060 to achieve carbon neutrality. And our research at the World Bank suggest a broadly applied carbon price of $50 could help reduce China's CO2 emissions by almost 25 percent compared with business as usual over the coming decade, while also significantly contributing to reduced air pollution.
Communicating a predictable path for annual emission cap reductions will allow power producers to factor future carbon price increases into their investment decisions today. In addition, experience from the longest-established EU market shows that there are benefits to smoothing out cyclical fluctuations in demand.
For example, carbon emissions naturally decline during periods of lower economic activity. In order to prevent this from affecting carbon prices, the EU introduced a stability reserve mechanism in 2019 to reduce the surplus of allowances and stabilize prices in the market.
Besides, to facilitate the energy transition away from coal, allowances would eventually need to be set at an absolute, mass-based level, which is applied uniformly to all types of power plants — as is done in the EU and other carbon markets.
The current carbon-intensity based allocation mechanism encourages improving efficiency in existing coal power plants and is intended to safeguard reliable energy supply, but it creates few incentives for power producers to divest away from coal.
The effectiveness of the ETS in creating appropriate price incentives would be further enhanced if combined with deeper structural reforms in power markets to allow competitive renewable energy to gain market share.
As the market develops, carbon pricing should become an economy-wide instrument. The power sector accounts for about 30 percent of carbon emissions, but to meet China's climate goals, mitigation actions are needed in all sectors of the economy. Indeed, the authorities plan to expand the ETS to petro-chemicals, steel and other heavy industries over time.
In other carbon intensive sectors, such as transport, agriculture and construction, emissions trading will be technically challenging because monitoring and verification of emissions is difficult. Faced with similar challenges, several EU member states have introduced complementary carbon taxes applied to sectors not covered by an ETS. Such carbon excise taxes are a relatively simple and efficient instrument, charged in proportion to the carbon content of fuel and a set carbon price.
Finally, while free allowances are still given to some sectors in the EU and other more mature national carbon markets, the majority of initial annual emission rights are auctioned off. This not only ensures consistent market-based price signals, but generates public revenue that can be recycled back into the economy to subsidize abatement costs, offset negative social impacts or rebalance the tax mix by cutting taxes on labor, general consumption or profits.
So far, China's carbon reduction efforts have relied largely on regulations and administrative targets. Friday's launch of the national ETS has laid the foundation for a more market-based policy approach. If deployed effectively, China's carbon market will create powerful incentives to stimulate investment and innovation, accelerate the retirement of less-efficient coal-fired plants, drive down the cost of emission reduction, while generating resources to finance the transition to a low-carbon economy.
(Martin Raiser is the World Bank country director for China, Sebastian Eckardt is the World Bank's lead economist for China, and Giovanni Ruta is a lead environmental economist of the World Bank.)
(first published on China Daily via World Bank)
The EU wants to cut emissions, Bulgaria and Eastern Europe will bear the price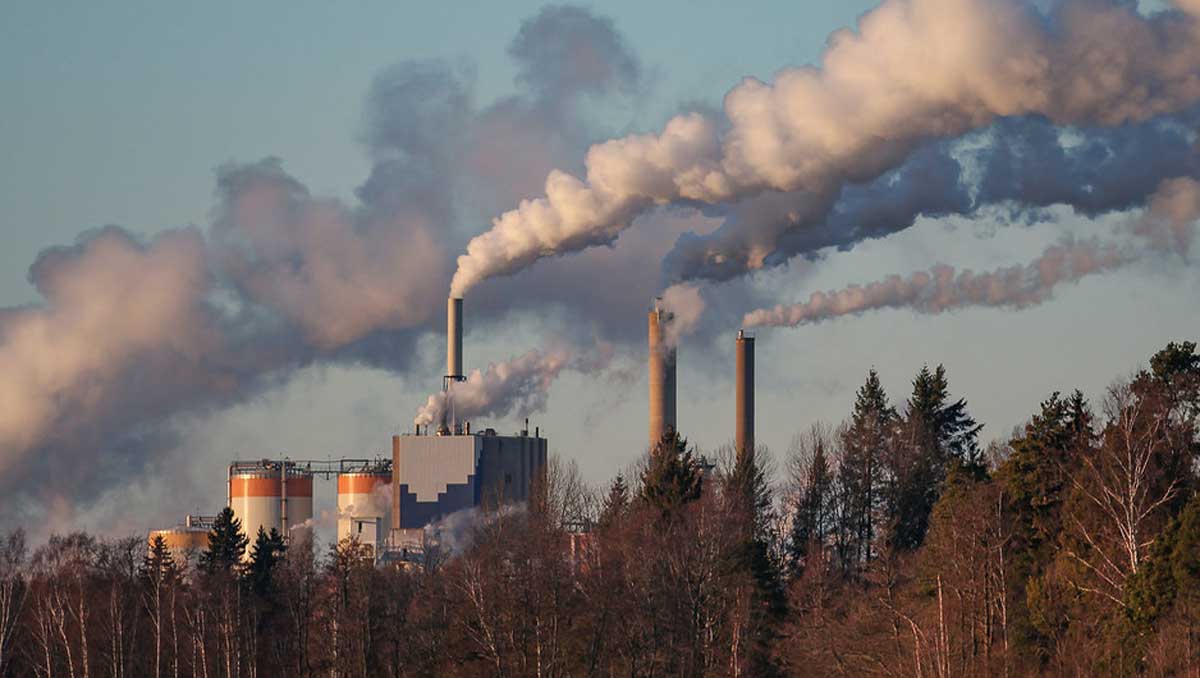 In the last few years, the European Union has been going above and beyond in dealing with climate change. Clearly, this is far from being a case of disinterested endeavour to safeguard the planet and the environment. On the contrary, the EU's efforts aim at reinforcing its "normative power". In effect, the EU has gained some clout on the international stage, even vis-à-vis faraway countries like Vietnam and China. Yet, in doing so the Union embroiled in the apparent rush for more and more ambitious climate standards and targets. Therefore, Brussels needs to start acting and deliver on its promises to keep staying ahead of the pack. Even more so given US President Biden's strengthened engagement with friends and foes alike on the climate and human rights.
Last week, the European Commission manifested its acknowledgment of this need by unveiling the Fit for 55 (FF55) growth strategy. Overall, this new, beefed-up Green Deal should reduce greenhouse gas emissions to 55% of their 1990 level by 2030. In some analysts' view, the FF55 plan is a game changer in the long-term race towards climate neutrality alas. In fact, it could "both deepen and broaden the decarbonisation of Europe's economy to achieve climate neutrality by 2050." Moreover, they expect the FF55's 13 measures to generate a number of positive ripple effects across EU economies.
True, wanting to reduce greenhouse gases significantly by 2030 and reaching net-zero-emission by 2050 goal is commendable under many regards. Still, the FF55 includes a number of measures that could impact ordinary people's life massively across Europe. Nevertheless, the 27 Member States of the EU are responsible for as little as 8% of global emissions. As such, it is necessary to take a deeper look at how the FF55 will affect different countries and demographics.
The transition's social cost
The realisation that reduction of capitalism's dependence on fossil fuels will have serious socio-economic consequences is not at all new. Contrariwise, scholars and politicians have been outspoken about an indisputable "conflict between jobs and the environment", since the early 1990s. Together, the pandemic-induced recession and the signing of the Paris Accord have brought the notion back on the centre stage.
Factually, pushing the energy transition entails facing mass lay-offs, generalised workforce retraining and taxes hikes on ordinary consumers. For instance, these hardships' seriousness is evident in the progressive abandonment of coal mining for energy generation in the US. Moreover, the energy transition requires strong popular backing in order to be effective. Yet, measures pursued to achieve environmentally friendly growth tend to generate strong, grassroot opposition. Most recently, France's gilets jaunes protests shows that environmental policies generate social discontent by disfavouring middle and lower classes disproportionately.
The poorest families and countries will bear the costs
One of the FF55's main policy innovation regards the creation of a carbon trading market for previously exempt sectors. Namely, companies working int the transport and buildings sectors, be they public or private, will have to follow new rules. As it happened in the energy industry before, each company will have to respect a "carbon allowance". Basically, it is an 'authorisation to pollute' which companies can buy from each other — but the total cannot increase. Despite all claims of just transition, this and other measures will have a gigantic, re-distributional effect within and between countries. And it will be of markedly regressive character, meaning that poorer families and countries will pay more.
Taxing transport emission is regressive
Historically, these sectors were trailing behind most others when it comes to decarbonisation for a variety of reasons. First of all, the previous emission trading system did not include them. Moreover, these are far from being well-functioning markets. As a result, even if the cost of emissions was to rise, enterprises and consumer will not react as expected.
Thus, even as they face higher costs, companies will keep utilising older, traditional vehicle and construction technologies. With taunting reverberations on those poorer consumers, who cannot afford to buy an electric car or stop using public transport. Hence, they "will face a higher carbon price while locked into fossil-fuel-based systems with limited alternatives." Moreover, the EU could worsen these effects by trying to reduce the emission fees on truck-transported goods. Indeed, the commission is proposing a weight-based emission standard that would collaterally favour SUVs over smaller combustion-engine car and motorbikes.
In a nutshell, higher taxes and fee will strike lower-class consumers, who spend more of their incomes for transportation. Even assuming these households would like to switch to low-emission cars and buildings, current market prices will make it impossible. In fact, all these technologies ten to have low usage costs, but very high costs of acquisition. For instance, the cheapest Tesla sells at over €95,000, whereas a Dacia Sandero "starts at just under €7,000."
Eastern Europe may not be willing to pay
At this point, it is clear that the FF55 plan will deal a blow to ongoing efforts to reduce inequalities. In addition, one should not forget that EU Member States are as different amongst them as they are within themselves. Yet, the EU is not simply going to tax carbon in sectors that inevitably expose poorer consumers the most. But in doing so it would impose a single price on 27 very diverse societies and economies. Thus, the paradox of having the poorest countries in the EU (i.e., Central- and South-Eastern Europe) pay the FF55's bill.
To substantiate this claim, one needs to look no further than at a few publicly available data. First, as Figure 2 shows, there is an inverse relation between a country's wealth and consumers' expenditures on transport services. Thus, not only do poorer people across the EU spend more on transport, poorer countries do as well. Hence, under the FF55, Bulgarians, Croatians, Romanians and Poles will pay most of the fees and taxes on carbon emission.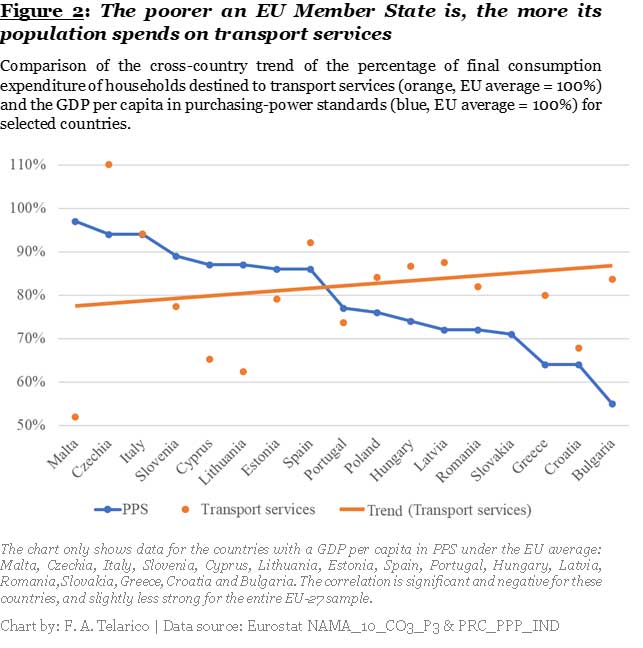 Additionally, one should consider that there is also a strict inverse relation between carbon emissions and the minimum national wage. In fact, looking at Figure 3 one sees that countries with lower minimum wages tend to emit more carbon dioxide. On average, countries with a minimum salary of €1 lower emit almost 4.5mln tonnes of carbon dioxide more. But differences in statutory national wages explain almost 32% of the cross-country variation in emissions. So, 1.5 of those extra tonnes are somehow related to lower minimum salaries and, therefore, lower living standards.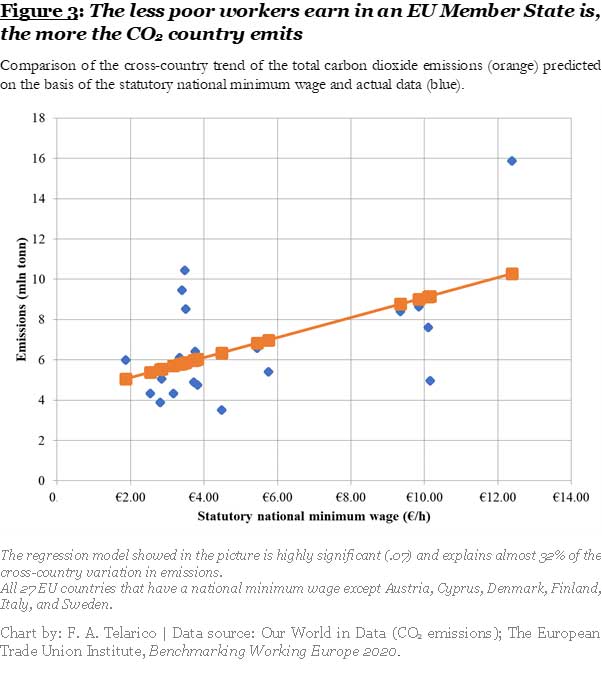 The EU's quest for a just transition: Redistribution or trickle down?
Hence, the pursual of a 'just' transitionhas come to mean ensuring quality jobs emerge from these economic changes. However, many of the FF55's 13 initiatives may worsen disparities both within countries and, more importantly, between them. Thus, the EU has been trying to pre-empt the social losses that would inevitably come about.
From the Just Transition Fund to the Climate Social Fund
In this regard, the European Union went a step forward most countries by creating the Just Transition Fund in May. That is, the EU decided to finance a mix of grants and public-sector loans which aims to provide support to territories facing serious socio-economic challenges arising from the transition towards climate neutrality [… and] facilitate the implementation of the European Green Deal, which aims to make the EU climate-neutral by 2050.
Along these lines, the FF55 introduces a Climate Social Fund (CSF) that will provide "funding […] to support vulnerable European citizens." The fund will provide over €70bln to support energy investments, and provide direct income support for vulnerable households. The revenues from the selling of carbon allowances to the transport and building sectors should fund most of the CSF. If necessary, the Member States will provide the missing portion.
The EU Commission may give the impression of having design the CSF to favour poorer households and countries. However, it may actually be a false impression. In fact, it is clear that the entire carbon pricing initiative will impact poorer household and countries more strongly. However, only a fourth of the carbon pricing system's revenues will go to fund the CSF. The remaining portion will finance other FF55 programmes, most of which have a negative impact on poorer communities. Thus, despite the CSF, the final effect of the entire FF55 will be a net redistribution upwards.
Stopping a redistribution to the top
Nevertheless, there is a way to fix the FF55 so that it can work for poorer households and lower-income countries. Given that the CSF is too small for the challenge it should overcome, its total amount should be increased. In fact, the purpose of higher carbon pricing is in any event not to raise revenue but to direct market behaviour towards low-carbon technologies—there is thus a strong argument for redistributing fully the additional revenues.
Hence, the largest, politically sustainable share of carbon-pricing revenues from transportation and housing should ideally go to the CSF. In addition, the Commission should remove all the proposed provision that divert CSF money away from social compensation scheme. In fact, poorer families will not gain enough from subsidies to electric car, charging stations and the decarbonisation of housing. One contrary, "using the fund to support electric vehicles would disproportionally favour rich households."
Finally, the allocation of CSF money to various member states should follow rather different criteria from the current ones. In fact, the Commission already intends to consider a number of important such as: total population and its non-urban share; per capita, gross, national income; share of vulnerable households; and emissions due to fuel combustion per household. But these efforts to look out for the weakest strata in each country could backfire. In fact, according to some calculations, a Member State with lower average wealth and lower "within-country inequality could end up benefiting less than a rich member state with high inequality."
Conclusion
A number of well-known, respected economist have been arguing that environmental policies should account for social fallouts attentively. Goals such as emission reduction and net-zero economies require strong popular support in order for the transformation to succeed. Or at least, the acquiescence of a majority of the public. Otherwise, the plans of well-intentioned and opportunistic governments alike will derail. After all, this is the main lesson of the currently widespread protest against the mandating of 'Covid passes' and vaccines.
If the FF55 will deal poorer households a devastating blow, social unrest may worsen — fast. But as long as it will also hurt Eastern European countries as a whole, there is a chance. Hopefully, European parliamentarians from riotous Hungary or Poland will oppose the FF55 in its current shape. Perhaps, in a few years everyone will be thankful for these two countries strenuous resistance to EU bureaucracy. Or else, richer countries may force Central- and South-Eastern Europe to swallow a bitter medicine. Even though, whatever happens, Europe alone cannot and will not save the planet.
Entrepreneurialism & Digitalization: Recovery of Midsize Business Economies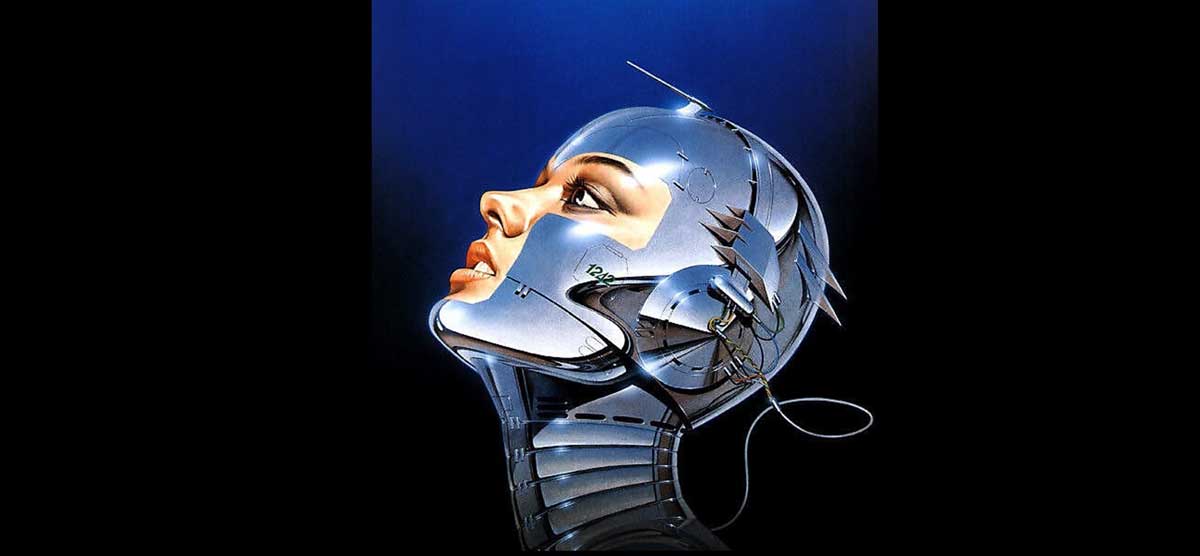 Observe nations around the world, especially those with the largest numbers of IT professionals, rich and well-groomed government departments and their related agencies, with matured bureaucracies and unlimited numbers of computers but still no signs of thriving digital economies buzzing on global platforms. What is so mysterious about digitization of small medium businesses, smoothly leading to 'virtualization of economies' creating global bounce of trade? Well, it is surrendering to the realization that entrepreneurialism is the main driving engine of such challenges and not the herds of IT teams, deluxe bureaucracies and accountancy-mindsets.
What is a digital economy? It is definitely not when all businesses have websites and are all doing social media postings, at the outset understanding digitalization of a single enterprise is already a fine art, and to make it fly on global trade platforms is a science. Unless economic development teams can articulate, what is and how 'virtualization of economies' work, uplift and upskill vertical trade sectors and create an entrepreneurial bounce of trades', the entire exercise of digitization might as well leave to early video game players or early grader IT personnel. Observe how The Silicon Valley and e-Commerce revolutions of the world never created by large IT teams, but categorically by "techie-entrepreneurs" of the day that in turn occupied millions of IT professionals and created hundreds of millions IT experts driving e-commerce of today. Of course, IT teams needed but in very reverse order.
Why is the digital economy an entrepreneurial economy? Digitization of the economy is simply not an IT exercise rather a strategic entrepreneurial maneuver of placing a midsize business economy on wheels using easily available digital platforms with abundance of software to choose from to make right entrepreneurial-based decisions to create creative bounce. The survival strategies for the post pandemic economies have less to do with accountancy-mindsets and bureaucratic attitudes, as it is all about entrepreneurial global age execution with superior digital performances.
Calling Entrepreneurial Business Mindsets: The new horizons beyond pandemic call for "simultaneous synchronization" a need to merge 'mental-blocks' the lingering 'productivity-silos' 'digital-divides' 'mental-divides' all such negative forces balanced with positive forces of 'innovative excellence' and 'superior-performance' thrown all in an entrepreneurial-blender to make a great progressive multi-flavored shakes. To mix and match with our realty checks of today and the blended calamites; Economy + SME + MFG + AI + VR + AR + Officeless + Remote + Occupationalism + Globalization + Exports + Upskilling, all in one single sandbox need progressive advancements with entrepreneurial guts and clarity of vision for any serious stable economic balance. If such were a monopoly game, printing of currency would be the norm.
National Mobilization of Entrepreneurialism: Needed are deep studies of the prolonged trajectory of entrepreneurial intellectualism spanning a millennia… the word 'entrepreneurialism' was only invented over a century ago… but our civilization was built on similar principles, driven and strong people. Declare an economic revolution as a critical cure to desolate periods and call the nation but will they listen? With credibility of institution and political promises tanked, audible to the populace now is the grind of mobilizations, thundering deployments of action packed strategies, but how do you fund them? National mobilization of entrepreneurialism is the hidden pulse of the nation, often not new funding dependent rather execution hungry and leadership starved, so what makes it spin? Entrepreneurial warriors
As if a silent revolution mobilized, the nouveau entrepreneurialism in post pandemic economy in action, where talents on wings of digitalization, flying on trading platforms, visible in smart data and shining amongst upskilled midsize economies. Lack of upskilling, lack of global-age expertise, and most importantly lack of entrepreneurialism is what keeps digitization of economies lost in the past. How naïve is it to believe post-pandemic economic issues some PR singsong election campaigns? Only deployment, execution, mobilization will be the message now acceptable by the billions displaced, replaced and misplaced workers, but what is stopping nations, their Ministries and trade groups to have all out discussions and table immediate action plans? Ouch, do not forget the entrepreneurial blood in the economic streams, exciting the bureaucracies and accountancy-mindsets. The next 100 elections over the coming 500 days will be full of surprises, but serious transformation for survival is inevitable, with or without upskilled ministries of commerce. Which nations and regions are ready to engage in this tactical battlefield of global-age skills? Study how Expothon Africa is in deployments with selected countries.
The deciding factors: Never ever before in the history of humankind,the economic behaviorism across the world suddenly surrendered to a single calamity, affecting the majority of the global populace suffering in prolonged continuity. The side effect of such complexity juxtaposed with technological access can bring sweeping changes to our assumed complacency. All traditional problem solving and conventional thinking styles now considered too dangerous to economic growth and social balances.
Recommendation and Survival Strategies: Discover and establish authoritative command on digitization and virtualization of economies, study more on Google.Allow micro-small-medium enterprises a tax-free window on the first USD$5-10 million revenues in exports, this will create local jobs and bring foreign exchange. Allow micro-small-medium enterprises free access to all dormant Intellectual Property, Patents rolled up due to lack of commercialization. Allow Academic Experts on innovative technologies and related skills on free voucher programs to the SME base to uplift ideas and special expertise. Optimization of telecommunication and internet structures worth trillions of dollars with global access at times completely ignored and wasted by wrong mindsets deprived of entrepreneurial undertakings. Allow micro-small-medium enterprises free full time MBA as 12 months interns so MBA graduates can acquire some entrepreneurialism while enterprises can uplift their ideas in practice.
"Allow Million qualified foreign entrepreneurs to park within your nation for 5-10 years under a special full tax-free visa and stay program. Which nations have qualified dialogue on such affairs? Bring in, land million entrepreneurs in your nation, and create 10 million plus jobs and new wealth in following years. Let your own institutions and frontline management learn how such economic developments created. Be bold, as the time to strategize passed now time to revolutionize has arrived". "Excerpted from keynote lecture by Naseem Javed, Global Citizen Forum, Dubai, 2013."
Allow National Mobilization of Entrepreneurialism Protocols mandated to engage trade and exports bodies. Allow National Scoring of entrepreneurialism to measure, identify and differentiate required talents. Digitize from top to bottom and sideways, futurism fully digitized and without real transformation, it is like a nation without any internet. Act wisely. Digitalization of economies without entrepreneurial minds is more like pre-pandemic archives of mostly failures. Needed are the economic revolutions, based on entrepreneurial meritocracy and national mobilization of midsize economy.
The rest is easy