Already in the early stages of the COVID-19 pandemic, the World Health Organisation (WHO) was warning that substantial investment in mental health services was necessary to avert a mental health crisis. The evidence for the devastating impact of the pandemic on mental health is now overwhelming. The reasons for this are clear: the pandemic caused fear and anxiety for everyone, and many of us had to face illness, grief over lost family members, insecurity and loss of income. In addition to this extraordinary burden placed on our mental health, we were cut off from our usual support networks, friends and families, while the pandemic was also disrupting the delivery of existing mental health services themselves.
Not everyone has been affected in the same way by the pandemic, and mental health is no exception here. Among others, the mental health of certain demographics such as older persons, children and adolescents, and women, as well as that of disadvantaged groups such as persons with disabilities, LGBTI people and migrants has been affected more compared to the general population. For example, in a statement I co-signed with the UN Independent Expert on Sexual Orientation and Gender Identity and numerous other human rights experts, we alerted states to increasing mental health problems for LGBTI people, in particular youth, notably as a result of having to shelter with family members who were unsupportive of or hostile towards their LGBTI identity.
I recently published an Issue Paper entitled "Protecting the right to health through inclusive and resilient health care for all" in which I set out twelve recommendations. These include universal health coverage (of which mental health services are an essential component), more equality and dignity for patients, more participation and empowerment in relevant decision-making, the promotion of transparency and accountability throughout policy cycles, and better health communication policies. Since the right to health is defined as the right to the highest attainable standard of physical and mental health, these recommendations naturally apply to mental health care as well. Some recommendations, however, are more specific to mental health, such as those related to the need to ensure that mental health services are accessible to all when needed, of appropriate quality and affordable, to transition from an institutional to a community-based model and to eliminate coercive practices in mental health services.
Mental health systems: a longstanding source of human rights violations
While the additional strain generated by the pandemic is new, the mental health situation and lack of services has been a neglected human rights crisis in Europe for a long time. Despite the suffering and economic burden caused by mental health problems, mental health spending in the WHO European region was estimated to amount to only 1% of total health expenditure in 2019, and the majority of that expenditure was channelled towards mental health hospitals. In a very important report in 2017, the UN Special Rapporteur on the right of everyone to the enjoyment of the highest attainable standard of physical and mental health was already raising the alarm over the fact that "the arbitrary division of physical and mental health and the subsequent isolation and abandonment of mental health has contributed to an untenable situation of unmet needs and human rights violations".
In my Issue Paper on health, I called on governments to pay attention to the essential social determinants of health in order to rebuild more inclusive and resilient health care systems, notably social protection, living conditions, working environment and education. These are all the more relevant for mental health, since mental well-being is determined not only by individual attributes but also by the social environment which can prevent, cause or aggravate mental health problems. In recent decades, a human rights-based, holistic and psychosocial understanding of mental health has been emerging, but this approach still faces a lot of resistance in many of our member states, where a reductionist, biomedical paradigm remains prevalent. Further problems identified in the aforementioned report of the Special Rapporteur are power asymmetries in mental health policies and services, and the biased use of evidence in mental health. In combination, these reinforce a vicious cycle of stigmatisation, disempowerment, social exclusion and coercion.
In order to rise to the challenge posed by the pandemic for mental health services, it is essential to reform them, as well as relevant laws and policies, urgently and from the ground up. As with health policy generally, the imperative to prevent human rights violations must be the guiding principle behind these reforms.
The human rights of persons with mental health problems or psychosocial disabilities (i.e. disabilities arising from the interaction between a person with a mental health condition and their environment) are routinely violated in two significant ways. Firstly, their human rights continue to be violated by mental health services themselves, notably because they often display a tendency towards paternalism, coercion and institutionalisation. Secondly, affected patients may not have access to the care they need to achieve the highest attainable standard of health. In this connection, we should bear in mind that this right depends on the realisation of many other human rights, notably those enshrined in the UN Convention on the Rights of Persons with Disabilities (CRPD).
Coercion: a persistent source of human rights violations
In a recent report on its visit to Bulgaria, the European Committee for the Prevention of Torture (CPT) documented how patients in psychiatric hospitals were subjected to widespread and systematic ill-treatment at the hands of staff: they were slapped, pushed, punched, kicked, beaten with sticks, chained to beds and medicated without consent. While this example is particularly horrific, we should not forget that similar institutions, and the underlying approach taking coercion for granted, are still common in the majority of our member states, as demonstrated, for example, in recent exposés on the situation of psychiatric hospitals in Malta. My own Office has addressed human rights violations caused by such institutions in a large number of member states, including in an intervention before the European Court of Human Rights.
Why is this still accepted in 2021? Historically, fear, rejection and isolation have been our default response to persons with mental health problems. The ingrained fear and stigma of mental illness is still very strong, fuelling prejudice and the narrative that persons with mental health problems pose a danger to themselves and to society, against all available statistical evidence to the contrary – persons with mental health problems are in fact far more likely to be victims of violence than perpetrators. Mental health laws that normalise closed institutions and forced treatment confirm and reinforce these prejudices. Furthermore, while there is ample evidence that coercive treatment may lead to substantial trauma and that fear of coercion can actually deter persons experiencing mental ill-health from seeking help, there appears to be little scientific evidence to substantiate the supposed benefits of forced treatment.
In 2019, the Parliamentary Assembly of the Council of Europe unanimously adopted a groundbreaking Resolution calling on member states to end coercion in mental health, pointing to the fact that the number of persons subjected to coercion was still growing in Europe. It noted that so-called safeguards to prevent excessive use of coercion had not reduced but, on the contrary, seemed to have increased coercion, for example in France following a reform in 2011: what is defined as last resort in legislation often becomes the default approach, especially when resources are scarce. The corresponding report presented to the Parliamentary Assembly also reflects my observations concerning the marked differences in the level of involuntary placements between countries, but also between different regions of the same country or even from one hospital to another, suggesting that the main cause of coercion is not the inherent dangerousness of persons or therapeutic necessity, but an institutional culture that confines more out of prejudice or habit. This interpretation is supported by research.
In my address to the Parliamentary Assembly prior to the adoption of this Resolution, I drew attention to how my own country work allowed me to see first-hand the vicious circles caused by a mental health approach based on coercion, which perpetuates the isolation of the very persons who need the support of their community the most, fuelling more stigma and irrational fear. The lack of community-based, voluntary mental health services also results in even more coercion and deprivation of liberty.
I have also shared my observation that safeguards supposed to protect persons from arbitrariness and ill-treatment are reduced to mere formalities because they operate in a legal system where persons with mental health problems do not even have a chance to have their voices heard, owing to the profound power asymmetry between the patient and physician in most mental health settings. Judges almost invariably follow the opinion of the psychiatrist over the wishes of the patient, when the law provides for such a possibility. At their worst, such safeguards do little more than ease the conscience of those who are in fact taking part in human rights violations.
My position on coercion in psychiatry and the Resolution of the Parliamentary Assembly should be seen against the background of a growing consensus within the international community to consider involuntary measures without the informed consent of persons with mental health problems as human rights violations, or even as possibly amounting to torture. This is in large part due to the paradigm shift operated by the CRPD when it entered into force in 2008, and the efforts of civil society, in particular of persons with lived experience of mental health problems and psychosocial disabilities, to have their say in policy-making. As a result, a growing number of relevant international and national human rights bodies are now calling for an end to coercion and its replacement by community-based treatment options based on consent. This approach is slowly making headway in the medical community as well, as can be seen in the growing body of WHO guidance to states to reduce coercion, establish community-based alternatives and integrate mental health into primary care. Similarly, the World Psychiatric Association issued a position statement on the need to reduce coercion in October 2020.
This revolution is rooted in the CRPD and it would be a mistake to cling to older Council of Europe standards that place the bar lower. In this context, it is regrettable that work is still continuing in the Council of Europe on a draft Additional Protocol to the Oviedo Convention that reflects an outdated, biomedicine-driven approach reducing mental health to mental disorders and empowering physicians to forcibly confine and treat persons without consent, with virtually no limit being set on the duration of this placement or the treatments to be used. The vagueness of the definitions in this text and the trust in the judgement of a single physician, which appears misplaced given the human rights violations we are still witnessing on a daily basis, could easily give the impression of sanctioning even the worst kinds of human rights abuses in psychiatry. The opposition of the Parliamentary Assembly, several UN bodies including the treaty body of the CRPD, the unanimous protests of representative organisations of persons with psychosocial disabilities and my own opposition to this initiative have so far been ignored.
I call on member states to stop supporting such initiatives at international level, which may create confusion and become a stumbling block to necessary progress in advancing the human rights agenda when it comes to mental health. If new international standards do not nurture the paradigm shift from institutional to community-based care, and from coercive to consent-based care, they should at least do no harm by muddying the waters.
The way forward
A number of member states have started reviewing their mental health legislation in the light of these considerations, for example in Ireland and in the UK. What I found particularly positive with these two examples is the commitment to engage with civil society, and in particular users and providers of mental health services. Initiatives by representative organisations of persons with psychosocial disabilities to promote more inclusive policy-making, for example in the ongoing trialogue in Germany, are also to be commended. The active participation of persons with lived experience of using mental health services in defining policies, in particular, is a sine qua non condition of successful mental health reform, as their exclusion from the debate so far has allowed human rights violations to continue unchecked for as long as they have. This is also a general obligation under Article 4(3) of the CRPD.
The realisation of the right to full enjoyment of the highest attainable standard of mental health depends on the realisation of many other crucial human rights. In particular, member states need to conduct the necessary reforms of their mental health legislation in parallel with reforms in two crucial areas affecting core rights enshrined in the CRPD: legal capacity (Article 12) and the right to live independently and be included in the community (Article 19). Mental health care that truly respects the autonomy, dignity, will and preferences of service users is simply not possible so long as legal systems continue to tolerate substituted decision-making or segregation in institutions. Ongoing legal capacity reforms in our member states are very important in this respect. States must ensure that persons with mental health problems or psychosocial disabilities, including children, never lose their say on decisions involving their health, if necessary by providing the appropriate supports for decision-making, in order to ensure that mental health care is provided on the basis of free and informed consent. For as long as involuntary measures remain a reality, it is also crucial to ensure full access to justice to challenge any decision, an area where there are also some good practices, for example in the Netherlands.
As for institutions, I refer to the longstanding recommendations of my Office to put an end to their use, starting with immediate moratoria on future placements. Experience shows the crucial importance of closing large psychiatric hospitals where persons are involuntarily placed. To take one example, Italy was a pioneer in this respect by initiating a process of gradual closure of psychiatric hospitals from 1978, replacing them with alternatives closer to the community. While Italy is also facing a number of problems regarding the use of coercive measures in psychiatric establishments that still need to be addressed, it should be thought-provoking that the rate of involuntary placements in Italy today appear to be lower, by orders of magnitude, than in neighbouring states.
Reduction of coercive practices in psychiatric services, including the use of restraints and forced medication, and their progressive elimination should be another immediate priority. As mentioned above, the institutional culture and habits largely determine the prevalence of such measures. For example, my predecessor recommended to Denmark in 2013 that recourse to coercion in psychiatry be drastically reduced, and I was happy to note that a psychiatric centre in Ballerup had managed to put an end to the use of restraints as a first in the country, by training staff on conflict management and increasing physical activity for residents, without augmenting medication, for the benefit of both patients and staff.
The ultimate goal must be to replace institutions and a coercion-based mental health system by a recovery- and community-based model, which promotes social inclusion and offers a range of rights-based treatments and psychosocial support options. These can take many different forms and many models exist including, for example, support provided by peers or a support network, patient advocates/personal ombudspersons, advanced planning, community crisis resolution or open dialogue. It is also crucial to deconstruct the lingering stigma associated with seeking help for mental health problems, whether this is done in the school environment, at the workplace or in primary healthcare centres, through targeted awareness-raising and outreach. Only then can mental health services, as an integral part of primary care, be universally available to individuals throughout the entire life cycle. Once more, true involvement of persons with lived experience in the design, implementation, delivery and monitoring of these services is crucial.
Member states can take inspiration from several compilations of promising practices at the European and global levels, as well as ongoing projects and research conducted into community-based delivery of recovery-oriented mental health services, such as the RECOVER-E project running in Croatia, Montenegro, North Macedonia, Bulgaria and Romania. I am also conscious of the potential impact of new technologies on mental health care, which represent both opportunities and serious risks for human rights, and I refer to my general recommendations concerning human rights and artificial intelligence.
In this context, I encourage states to pay special attention to the mental health of children and adolescents, not least because of the extraordinary strain that the COVID-19 pandemic has placed on them. Lockdown measures and prolonged school closures have deprived them, more than other groups, of their usual routines, while exposing them to isolation and an increase in violence and abuse. We should not forget that childhood and adolescence are crucial periods for life-long mental health. Mental ill-health experienced in the formative years of one's life, for example as a result of adversities or trauma, affects brain development and the ability to form healthy relationships and life skills. Children and adolescents therefore need non-bureaucratic access to mental health support, as early as necessary and as least invasively as possible, without any shame attached. Institutionalisation of children, on the other hand, has a devastating impact on childhood development. We also need to bear in mind that suicide was one of the leading causes of death among adolescents in the European region even before the pandemic, which makes recent evidence of a marked increase in anxiety levels, depression and self-harm among young people particularly alarming. In order to prevent future burdens on mental health systems, it is crucial to expand our capacities for early psychosocial interventions for children by building on innovative and community-based child mental health services, rather than pursuing the worrying trend of ever-increasing use of psychotropic medication on children.
Mental health reform is an extremely challenging task for all our member states, given the complexity of the issues and the huge gap between agreed international standards and the reality on the ground. This, however, makes it all the more urgent. Let us turn the current challenge of the pandemic into an opportunity, by thoroughly transforming mental health services in Europe, with human rights as our guide and compass.
Discerning the Human Element Amid the Pandemic
"We are not human beings having a spiritual experience. We are spiritual beings having a human experience." – Pierre Teilhard de Chardin
There is something about the Covid pandemic that will be remembered for decades and centuries to come. It is not even so much the economic costs or travel restrictions per se, but first and foremost the human element that came from many people across the planet in expressing support and solidarity as well as in making their contribution to fighting the crisis. The future will harshly judge the current nationalistic/individualistic excesses that persist despite the raging pandemic. It is at times like these that the global community needs to rediscover the values of the humanist legacy and humanitarian diplomacy.
A lasting sour impression from the Covid crisis is that countries most economically advanced lacked leadership and vision in the midst of the pandemic. There could have been greater cooperation between the world's largest economies and a more emphatic reaction from global institutions/organizations as well as regional arrangements. The degree of bickering and conflict observed throughout the pandemic period suggests that the lessons of the past and the legacy of the humanist thinkers have yet to be internalized into the global community's way of thinking.
At the same time, the world is set to change as a result of the Covid experience – a longer-term perspective on economic development, the importance of social bonds and support lines, the very existence of something that lies beyond the proverbial "old normal". The rise of ESG (environment, social, governance) is one of the new trends taking hold on the back of the pandemic shock. Other themes include debt relief to least developed economies as well as provision of medical equipment and vaccines for the disadvantaged groups of countries.
Indeed, what will be remembered is the human element in international diplomacy – the sending of medical equipment, vaccines, doctors and specialists. At times, such feats were performed not by the purported leaders of the world, but by small economies with scant resources of their own. The Cuban experience in this respect is particularly telling amid the Covid pandemic – not only did Cuba provide doctors and equipment to developing countries, it also created a vaccine of its own that it furnished to its regional neighbors. It is not only the strength and the advances of the national health care system but even more importantly the ability to share these advancements with the global community that counts the most during such fateful times.
And then there is also the humanitarian diplomacy and the legacy of humanism accumulated by humanity in facing dire adversities in the past. The legacy of the humanists of the past centuries such as Pierre Teilhard de Chardin, Erasmus, Thomas More, Antoine de Saint-Exupery, Vladimir Vernadskiy. Perhaps one of the best ways to summarize this legacy from the vantage point of today's crisis is to refer to Vernadskiy's words: "Humanity has a bright future ahead if it comes to realize this and does not employ its mind and efforts to destroy itself".
What does the world community need to undertake to address the weak response to the pandemic? Nearly every major crisis faced by the world in the past was followed by a reconfiguration of global architecture, with new coordination mechanisms and new international organizations being created. Perhaps this time it is not so much about the creation of new organizations, but rather the greater responsibility that is to be taken by the major powers represented in the UN Security Council.
In particular, there may be a case for a code of conduct during global pandemics and crises to be adopted by the countries endowed with a permanent UN Security Council status. Such a code of conduct may include commitment not to resort to trade and other restrictions pertaining to humanitarian assistance or trade in medical equipment, not to resort to sanctions, as well as not to engage in military conflicts. The list of such commitments may be refined of course on the basis of the experience of the world community during the current pandemic and previous episodes of global economic crises.
In terms of academic experiences during the pandemic one of the most gratifying was the T20 meetings and discussions about how to design anti-crisis measures and support the world economy. In the context of one of the working groups Valdai partnered with the King Fahd University of Petroleum and Minerals (KFUPM) from Saudi Arabia to come up with the proposal for the G20 (that was included into the T20 communique) to create a platform for the sovereign wealth funds of the G20 nations to coordinate among other measures anti-crisis stimuli for the benefit of the global economic recovery.
In the course of the pandemic I received multiple letters of support and solidarity from friends and colleagues from various think-tanks across the globe – from Italy, from China, Argentina, US, UK, and many other countries. Often these were expressions of solidarity not only with my colleagues from Valdai, but more broadly with Russia and its people.
Whatever the grand ideas and writings coming from the many think tanks around the world, it is the simple words of support and solidarity that rang most deeply in the many exchanges throughout the past year.
I have also come to know volunteers working nightshifts in Moscow city hospitals to fight the Covid pandemic during whatever time they have left from their main (and rather intensive) work. Not surprisingly, these people exhibiting self-sacrifice during the height of the pandemic also express the longing for an inter-connected world, with greater solidarity and people-to-people contacts across the globe.
It is that kind of human solidarity that generates the energy to make further strides ahead whether as an individual or as a country or a global community. The energy and the will to persevere amid adversity, to stand above the "vaccine nationalisms", protectionism, sanctions and war-mongering, to look into what is ahead and discern a better world for future generations. As Pierre Teilhard de Chardin wrote, "the future is more beautiful than all the pasts".
From our partner RIAC
Feminist perspective of the War,Peace and Politics in International Relations
India is a land where Mahatma Gandhi and his ideas of non-violence were born, but it is also the land where Mahatma Gandhi was assassin by Godse for preaching 'Feminine' 'non-violent' politics and for making Indian men less 'manly' by promoting peace. Masculinity is a social definition given to men and boys in society, it is associated with strong, powerful, brave, and macho characteristics. The understanding of security is limited for many years in International relations(IR) and hence the understanding of a secured state is associated with a leader who has masculine characteristics capable of handling security.
Politics across the world is understood in the terms of power and strength of the leader and other masculine characteristics associated with being 'manly' enough to control a state. While feminine characteristics are associated with weak, soft, and gentle behavior, even when women are elected as leaders, they are expected to hold strong manly characters to stay in politics. Indira Gandhi, the first female prime minister of India, prefer being addressed herself as 'sir' and her policies did not include a gender perspective.
In Gender, Justice and the Wars in Iraq (2006), Laura Sjoberg demonstrates that women's presumed status as innocent civilians make wars harder, not easier, for them, by defining them as protected without regard for their actual safety . On Iraq's economic sanctions, feminist insights from the study of economic sanctions as the war in international relations are not only valuable for their contribution to IR's theories of sanctions, but also for their generalizability to IR's crucial questions, such as what constitutes foreign policy, what counts as war, and how war affects people
Feminists see that war and military are often threats to women's and other vulnerable groups' security as they are competitors for scarce resources during and after a war on which women may depend more than men, instead of seeing military power as part of a state's defense against security threats from other states, it should be seen as a product of patriarchy. The large defense spending on soldiers and military weapons rather than creating a safe society for women at home or spending on climate action that could create safer lives for women is an example of a masculine approach to war.
The feminist approach in IR demonstrates how the security of individuals is related to national and international politics and how international politics impacts the security of individuals even at the local level. IR feminist theories focus on social relations through gendered lens,rather than power relations or anarchy, they see an international system constituted by socially constructed and gender hierarchies that contribute to gender subordination rather than traditional understanding of security.
In 2019 In the Lok Sabha elections of India, Narendra Modi, and his party used his 56-inch chest in the election campaign to associate his capability of handling the security of India with 'manly' characteristics. While more than 3 lakhs of children die due to starvation in India every year, the Indian prime minister wins elections by boasting about his 56-inch chest capable of defeating terrorists. Feminists believe that the social construction of masculine characteristics is reflected in politics especially in IR because political theory and practice are both dominated by men. The understanding of war and violence is also associated with men, it praises soldiers, diplomats, and leaders that promote protection from war.
Modern Enlightenment science has incorporated a belief system that equates objectivity with masculinity and a set of cultural values that simultaneously elevates what is defined as scientific and what is defined as masculine. The western liberal and realist understanding of masculinity and politics are limited and discriminatory towards women. While the world is facing nationalism wave in politics, leaders like Narendra Modi, Donald Trump and Putin promote a masculine idea of Security in the world to protect their national interest and secure nation through military expansion.
The understanding of security, war, and politics are interlinked in creating the foreign policy of a country. In a country like India, the United States, or Russia where leaders promote masculine characters through their election campaigns, where the state controls the reproductive decisions of women, or in a country like India where weapons are worshiped, the foreign policy and politics of the state are influenced by masculine characters and are valued for national security.
Rape, domestic violence, harassment against women in their own country is not subjected to war but a traditional understanding of the war in IR as feminists have pointed out is as if women require protection during war and soldiers are fighting to protect the honor of women, in reality, it is often women's protectors (men) who provide the greatest threat in everyday life. Rape, domestic violence, harassment against women in their own country is not subjected to war but a traditional understanding of the war in IR as feminists have pointed out is as if women require protection during war and soldiers are fighting to protect the honor of women, in reality, it is often women's protectors (men) who provide the greatest threat in everyday life.
For feminist scholars, a security that is global and multidimensional with political, economic, and ecological facets that are as important as its military dimensions. The security of individuals and their natural environment is considered as much as the security of the state. National security needs to be inclusive of security of all from security threats such as domestic violence, rape, poverty, gender subordination, and ecological destruction as well as war. For example, Sweden has a feminist foreign policy, which means the understanding of security is through a gendered lens, feminist foreign policy not only broadens what security means but also who is guaranteed security in the world.
While feminism is a new approach of though in IR, the case study of Sweden explains the importance of feminist foreign policy that believes in gender equality in decision making, promoting peace and does not promote masculine characteristics associated with war and use of force in foreign policy and makes secure, happier nations. While the discourse of security is dominated by masculine characteristics in IR, states can be secured with wider perspective of human security associated with gendered lens.
Debunking Magical realism through Marquez's "A Very Old Man with Enormous Wings"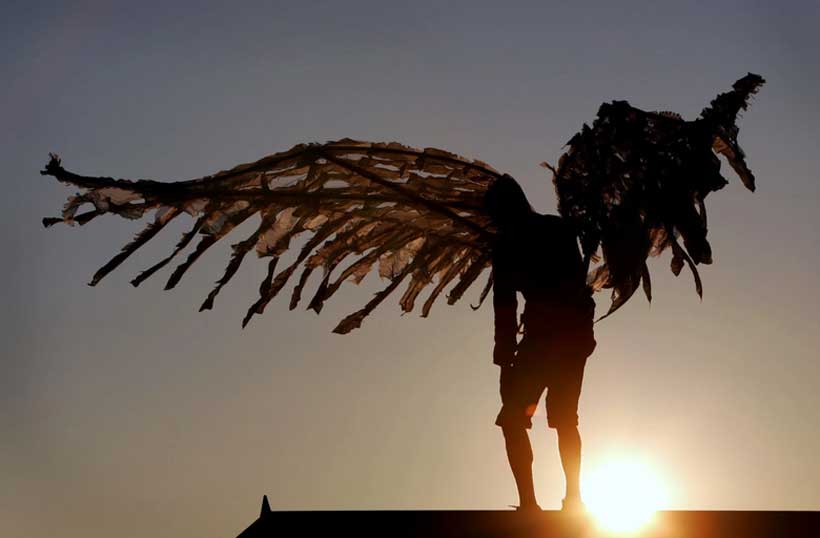 There are few names in the Latin American literature, which it comes to famous novels and short stories, Columbian writer Gabriel Gracia Marquez is one of them. Throughout Latin America, he is popular with the name Gabo and was one of the intellectual literary writers of the 20th century. For his tremendous work, he received the Neustadt International Prize for Literature in 1972 and Nobel Peace Prize for literature in 1982. During his literary journey, he has written numerous acclaimed novels such as One Hundred years of Solitude published in 1962 and Love in the Time of Cholera, which was published in 1985. His popular writing style is often known as magical realism, which later emerged as a major literary movement in Latin American literature. He has also written numerous famous short stories, and among them "A Very Old Man with Enormous Wings" is very popular in Latin American. The American Review published it in 1995 in the Spanish language. The title of the story "A Very Old Man with Enormous Wings" tells the story of a shadowy old man, who one day appears in the family courtyard. The old man was not an ordinary person, because he was having some strange characteristics such as an enormous pair of wings, which was a new thing for the people, who were living in town. Hence, with the magical depiction of old man character, the author explains the conflict the ordinary people encounters concerning their cultural belief. Moreover, the whole story is written from the context of third-person narrator.
On the other hand, the presence of an old man character with huge wings represents the Magical realism of the author. Throughout the story one of the most interesting thing about the old man character is that after his appearance in the family court people began viewing him as a normal human being. But for some, he was different from the normal man because he got the huge wings that make him look like an angel, who is dressed like a rag-picker. The major character in the story is Pelayo and Elisenda in whose yard, the mysterious old man first appears. In the story, the author describes the strangeness of this old man in these words "His huge buzzard wings, dirty and half-plucked, were forever entangled in the mud. They looked at him so long and so closely that Pelayo and Elisenda very soon overcame their surprise and in the end found him familiar". This clearly shows, though initially Pelayo and Elisenda found him a strange creature but, after the closer contact, they began viewing as a normal human being just like them. Nonetheless, the old man with mysterious wings was still a strange creature for the other people in town.
When Pelayo and Elisenda brought the old man to the physician in the town, the physician took the advantage to examine the physical uniqueness of this old man. For the physician, the old man was a new thing for him, because throughout, his carrier, the doctor has encountered something like him. As the author writes about the physician; "What surprised him most, however, was the logic of his wings. They seemed so natural on that completely human organism that he couldn't understand why other men didn't have them too". Similarly, when Pelayo and Elisenda informed their neighbor about the mysterious old man, the neighbor tells them that he is an angel. This scene in the story explains how an individual thinks and feels when he/she encounters something different, mysterious, and strange. Moreover, this also explains the limitation of the human mind and the lack of knowledge about different things. This happens, at one moment the couple decides to get rid of the old man and even planned to kill him because they thought he might be a curse. Later, they change their plan and decides to imprison him and in prison, the mysterious old man suffers severe abuse and mistreatment.
Soon after the imprisonment of the old man, the people began whispering stories about the old man. Some villagers began perceiving him as an angel, while the other considered him as evil, who is God's curse on the village. In this respect, the story The very old man with enormous wings Marquez is a mixture of compassion and sadness. Because the couple Pelayo and Elisenda wanted to get rid of him but the old man refuses to leave them until their life is transformed. As it is written in the bible "Do not be forgetful to entertain a stranger, you could be entertaining an angel". The real reason, why the old man was a stranger to the couple and villagers because he was unattractive and he was having huge wings that embarrassed them. Throughout the story, the people in the town curse him and makes fun of him, but the old man never fights back because he is compassionate and he understands the fact that he cannot speak their language. Overall the whole story demonstrates the context of bad and good human nature because seeing the beauty is one thing while ignoring a person based on the fact that he is ugly is weary.
In contrast, the central theme of Gracia Marquez's "The very old man with enormous wings Marquez" is the Coexistence of compassion and cruelty, which explains the feeble response of selfish and greedy humans towards those, who are different, strange, ugly, and weak. For instance, the major characters in the novel the couple Pelayo and Elisenda imprison the old man and abuse him, and even they planned to kill him because he was ugly and weak. But once they thought, they could benefit from the old man by showcasing him in the village, they decide to keep him to accomplish their appetite for money. In a nutshell, the moral of the story was religious has always been a shallow set of beliefs, which ignore the principles of morality. Hence, the treatment of the old man in the town after his appearance in the family yard clearly shows that people in the story are faithless having inconsistent faith.