How a Digital Algorithm is Helping Doctors Treat COVID-19 Patients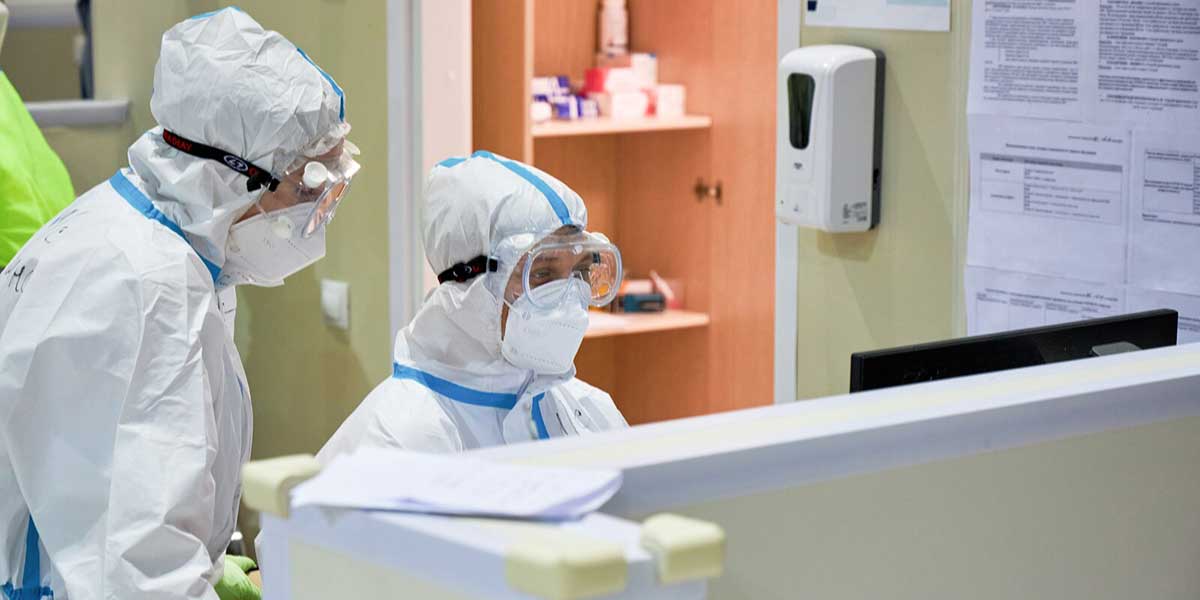 Moscow's backup hospitals and inpatient clinics for treatment of the coronavirus infection have started using a new solution as part of the unified digital healthcare platform. The News2 app, which is integrated into the Unified Medical Information and Analysis System (EMIAS), helps physicians assess the severity of a patient's COVID-19 symptoms and risks of deterioration, and suggests adjustments to treatment tactics where necessary.
The system is operated on tablets with specialized software. These allow medics to read the QR codes on a patient's hospital identification bracelet or on an identification sheet in an inpatient clinic and enter data on their condition: heart rate, blood oxygen saturation level, blood pressure, body temperature, and respiration rate. The system then calculates the result and assigns the patient to a risk group, highlighting the relevant category with a specific color.
The patient's risk score is entered in their electronic medical record. Physicians can then review both the patient's current integrated risk score on the international NEWS2 scale and any changes to it at any time, together with the baseline data used to generate the information. Use of this clinical scale significantly improves patient safety, ensuring that examinations are conducted at predetermined time intervals and that specific indicators are measured, resulting in timely and optimal adjustments to patient therapy.
The benefits of the system for physicians are obvious: when the risk score increases from 3 to 5, for instance, the clinician can simply decide whether more treatment is necessary or, conversely, satisfy himself that the treatment is effective if the score subsequently falls.
The NEWS2 scale is used around the world to assess the severity of a patient's condition by interpreting results based on a sum of scores. These are used to generate a final score for assigning the patient to a specific risk group.
Digital solutions in Moscow's healthcare sector are being implemented jointly by the city's Department of Health and Department of Information Technology.
How to Ensure that your Teen Driver Learns the Principles of Safe Driving
If your teenager is now eligible to apply for a provisional licence, it's natural that you would have mixed emotions about this major milestone. Parents should feel excited to see their children growing up and getting prepared to take on the responsibilities of adulthood. But it's not uncommon to feel worried that their teens will not view driver safety with the seriousness it deserves. Make clear to your teen that the privilege of driving demands adhering to safe driving principles. Here are ways to drive that point home.
Set a Good Example
It may seem that teenagers are always ready to start an argument or rebel against their parents' wishes, but they still look to their mum and dad for cues about how to "adult" properly. You have an excellent opportunity to set a good example every time your teen is a passenger in your car.
Let your teen see how careful you are about maintaining distance between cars, the proper way to use mirrors, how you always use your turn signals, and that you drive at or below the speed limit. Most important, do not use your mobile phone while driving, even if you have the option to for hands-free use. Emphasize that any distraction from driving could quickly lead to an accident.
Explain that Driving Has Both Benefits and Risks
You may be tempted to focus only on the risks of driving because that is what most concerns you. But this kind of one-sided discussion could backfire if it appears you're just trying to lecture your teen. Teenagers may get the impression that you don't trust them or lack confidence in their abilities.
The better way to frame your conversations is to first bring up the benefits of driving and the freedoms that privilege entails. Emphasize that you're so proud of them for learning what all drivers need to know to keep themselves and other drivers safe. But also stress that all drivers must practice responsible driving if they wish to hold on to their licence. By referring to all drivers, it will look less like an admonishment and more like a plain fact about privilege and responsibility.
Enroll Your Teen in a Reputable Driver's Education Course
The material presented in any good driver's education course will include:
A comprehensive overview of the current road rules, including when to give the right of way to pedestrians
Instructions for how to perform specific actions while driving (such as how to switch lanes, use a parking brake, and master skills like parallel parking)
How to navigate hazardous road conditions
Proper ways to handle an emergency
Besides learning what's necessary to pass the driving theory test, student drivers typically spend between 45-50 hours learning how to drive and around 22 hours practicing. A certified driving instructor will hold either a green or a pink licence. The green licence indicates that the instructor has passed all of the Driver and Vehicles Standards Agency (DVSA) exams. While instructors who hold the pink license have not yet passed all three of the exams, they are still considered qualified to teach, as they are currently in training and simply have fewer hours of teaching experience.
Prior to 2015, practicing student drivers were not allowed on the motorways, but now it's permitted. It's beneficial to learn how driving on motorways is different from driving on other kinds of roadways, so it's an advantage to new drivers that the law was passed.
Safe Driving Means More Than Just Passing Tests
Teens are in school full-time and have probably developed specific strategies for taking tests. If those strategies involve cramming the night before and memorizing a list of facts, they may pass, but are they really in full-possession of the knowledge required for safe driving?
You could probably easily convince your teen that they should not study for a calculus exam the same way they study for the driving theory test. Teens may not ever need to use calculus in the real world, but they will certainly be tested every time they get behind the wheel. The results of that test could have enormous life-or-death consequences. Teens must see the value in really understanding driving rules and recognize that only practice will help them become safe drivers.
Make Sure Your Teen Has Access to Up-To-Date Study Resources
Years ago, the only way to learn how to drive was to sign up for classroom instruction. The teacher would lecture and deliver the lessons about road rules and safe driving practices and then venture out on the road with the student to practice driving skills.
Classroom driver's ed instruction can be valuable if the teacher is experienced in teaching the subject and can interact one-on-one with the students during class. But that's not often the case. Classrooms may be crowded and distracting for students, the sessions may be held at inconvenient times, and the material itself may be dry and boring.
Today, students have the opportunity to study for their driving theory exam using a mobile app. These app courses are generally less expensive than classroom instruction, and offer a more personalized approach to learning the material. They allow students to learn at their own pace and highlight the areas where students need to pay more attention to the lesson.
Mobile driver's education courses are also more fun and entertaining than what is offered in the classroom. The driver's education app from Zutobi is built like a game, and students can earn points and badges to indicate their progress. They can also compete with their friends, which adds another level of motivation for learning. This gamified approach works to make students more engaged in the learning process. While they're having fun, they're also discovering the correct ways to use traffic signals, how to respond when they see less common road signs, and the tips they'll need to pass the practical driving test.
Ensure Your Teen Has Enough Time To Learn and Absorb the Material
Sure, you are excited about your teen finally earning a licence, but there's a high probability your new student driver feels the excitement tenfold! Because the DVSA issues only guidelines – not mandates – for how long it should take to learn to drive, teens are often anxious to hit the road directly after they have their licence in hand.
Take control of the process early on by getting involved in finding the best method for learning the material. You can apply for a provisional driving licence a few months before your teen turns sixteen, and encourage study even before that birthday.
When looking for a driving instructor, ask other parents for recommendations. Make sure the lessons fit into your teen's schedule so that he or she will not feel rushed while practicing. It may also be helpful to plan practice driving "appointments" on a calendar so that you are certain your teen will have as much driving experience as possible before taking the driving test.
You've Got This!
You may be nervous of the day your teen gets a provisional licence and starts driving, but there is plenty you can do to prepare. Find the type of course that will best engage your teen, set a good example, be firm about following rules, and insist on an adequate number of practice hours. Taking these steps will help reduce your anxiety and make it easier for you to hand over the keys.
COVID-19 infections approaching highest rates ever
COVID-19 infections are approaching their highest rates since the pandemic began just over a year ago, the head of the World Health Organization (WHO) reported on Friday.
"Around the world, cases and deaths are continuing to increase at worrying rates", said WHO Director-General Tedros Adhanom Ghebreyesus, speaking during his regular briefing.
"Globally, the number of new cases per week has nearly doubled over the past two months. This is approaching the highest rate of infection that we have seen so far during the pandemic."
As of Friday, there were 138.5 million cases worldwide, and more than 2.9 million deaths. The pandemic was declared in March 2020.
Tedros said some countries which had previously avoided widespread virus transmission are now witnessing "steep increases" in infections, with Papua New Guinea serving as an example.
Concern for Papua New Guinea
The Pacific island nation, which has a population of around eight million, had managed to keep the disease at bay. Up until the beginning of the year, there were less than 900 cases and nine deaths.
Currently, more than 9,300 cases and 82 deaths have been recorded, and all 22 provinces have been affected. The country's health Minister, Jelta Wong, who also briefed journalists, said half of all cases and deaths were reported in the last month alone, and health workers are increasingly among those infected.
"Our biggest challenge is seemingly to the late adaption or acceptance of the 'new normal' and the disbelief in the disease itself," he said. "This overlaps into much infodemic – and conspiracies and misinformation on the safety and the efficiency of the vaccines."
The situation in Papua New Guinea, or PNG, is concerning, Tedros said, as it could lead to a much larger epidemic. Late last month, Australia donated some 8,000 doses of the AstraZeneca vaccine to its neighbour, and an additional 132,000 doses were delivered this week through the COVAX solidarity initiative.
Vaccine equity now
Tedros said PNG was a perfect example of why vaccine equity is so important, an issue which the WHO chief and other senior UN officials have repeatedly highlighted.
Earlier this week, UN Secretary-General António Guterres told the Financing for Development Forum that "to end the pandemic for good, we need equitable access to vaccines for everyone, everywhere."
WHO continues to assess the pandemic's evolution. Its Emergency Committee on COVID-19 met this week and Tedros said he will receive its latest advice on Monday.
Update on virus variants
Monitoring of the COVID-19 virus variant first detected in India continues, WHO said on Friday.
The B 1 617 variant, which has two mutations, emerged at the end of last year and cases have been reported in other countries across Asia and North America.
"This is one variant of interest that we are following," said Dr Maria Van Kerkhove, the agency's Technical Lead on COVID-19.
"Having two of these mutations, which have been seen in other variants around the world, are concerning because there's a similarity in these mutations that confer increased transmissibility, for example. Some of these mutations result in reduced neutralization which may have an impact on our counter measures, including the vaccines."
Strengthening surveillance
COVID-19 variants have been reported in the United Kingdom and South Africa, while a third that was first detected in Japan is circulating in Brazil and elsewhere.
Dr. Van Kerkhove said WHO and partners have been bringing together countries, researchers and different networks, to strengthen global monitoring and assessment of the new coronavirus.
"It's really important that that assessment is robust so we understand what each variant of interest and variant of concern means for transmission, for severity and for impacts on diagnostics, therapeutics and vaccines", she said.
COVID-19 vaccines developed so far have been effective against the variants, she added, "but we want to have a system in place should there need to be a change in some of our counter measures going forward."
Clarity still needed on effectiveness of COVID-19 vaccine passports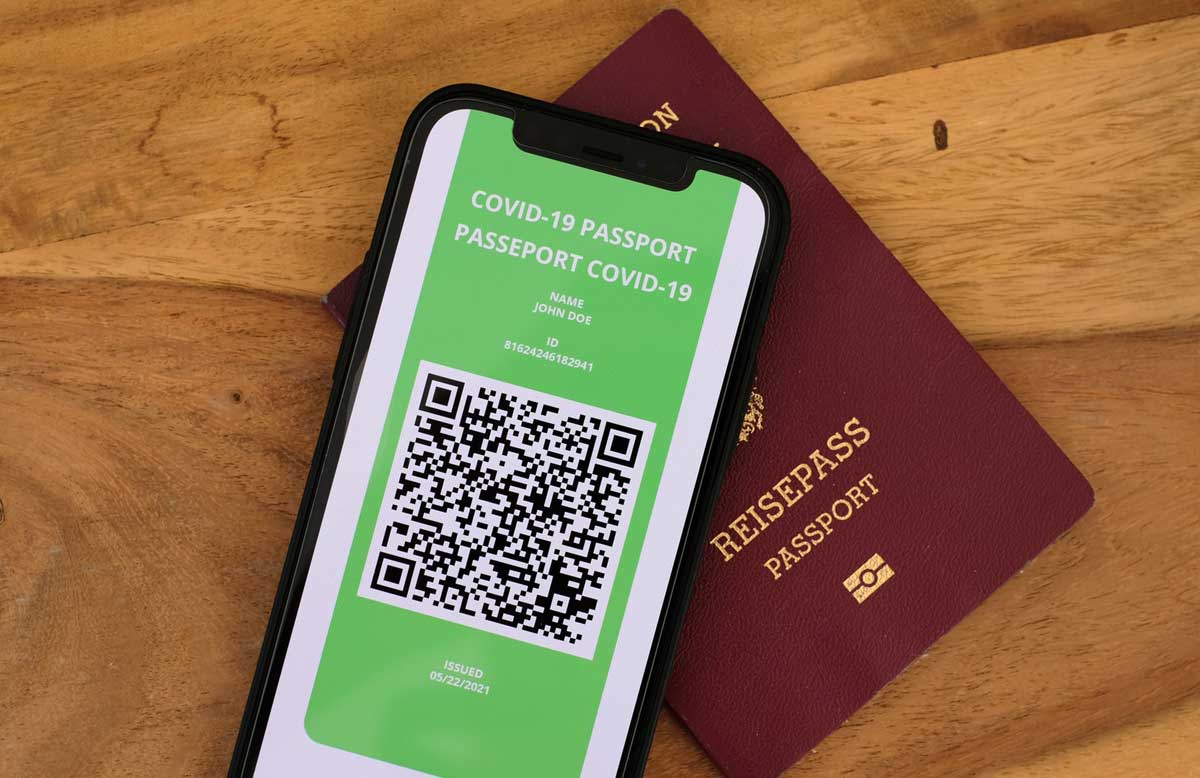 Being vaccinated against COVID-19 may not prevent transmission and vaccination passports may not be an "effective strategy" for restarting travel, the World Health Organization (WHO) cautioned on Tuesday.
"At this stage, we would not like to see vaccination passports as a requirement for entry or exit because we are not sure at this stage that the vaccine prevents transmissions," said WHO spokesperson Dr Margaret Harris, just ahead of World Health Day on 7 April 2021.
Supply and demand
Dr. Harris added that vaccine passports may not be an effective strategy as "not everyone has access to vaccines and there are groups in society who are excluded…We are still waiting on adequate supplies to provide the vaccines to all the countries that need them."
Highlighting how COVID-19 has impacted some people more than others, Dr. Harris said that the virus "has really exposed the stark inequities in access to and coverage of health services…Groups who already faced discrimination, poverty, social exclusion, difficult living and working conditions were the hardest hit by the pandemic".
World Health Day plea
For this year's World Health Day, the UN agency has urged countries to build a fairer, healthier world post-COVID-19. Dr. Harris called for action to "put in place policies and allocate resources so the most vulnerable groups can see their condition improve faster".
This means "improving living conditions for all", tackling "poverty and health inequities", building sustainable societies and strong economies, and promoting "a more equitable sharing of resources, ensuring food security and nutrition" and turning "the tide on climate change". There is so much work to do", she said.
Latest WHO data from Tuesday 6 March at the time of posting, indicates that there have been 131,309,792 confirmed cases of COVID-19, including 2,854,276 deaths globally, reported to WHO.
By the end of 5 April, a total of 604,032,357 vaccine doses have been administered.
Regionally, infections and deaths remain highest in the Americas, with 56,880,123 million confirmed cases, followed by Europe (46,085,310 million), South-East Asia (15,438,907), Eastern Mediterranean (7,785,717), Africa (3,126,037) and Western Pacific (1,992,953).