Application of PLTU Batubara in the Perspective of Kalimantan people
Indonesia is one of the largest coal producers and exporters in the world. Since 2005, there have been many small pockets of coal reserved on the islands of Sumatra, Java, Kalimantan, Sulawesi and Papua. This makes Indonesia increasingly utilize all natural resources that have existed in the ancestral lands to make coal energy sources as a Steam Power Plant (PLTU) in addition of abundance basic materials, this coal-based PLTU is considered to have better efficiency in terms of price. Cheaper and faster in process compared to other energy sources.
Behind the efficiency of coal, which is used as the main fuel, there is a process that is considered ineffective for local residents and the surrounding environment, because in PLTU, coal is burned to take heat and steam, so it can release combustion residue in the air. From this combustion residue, it will spread to aquatic plants or enter the human lungs. Coal is burned to take heat and its steam releases combustion residue in the air. The remainder of this combustion will spread to aquatic plants or enter human lungs.
In the theory, all of this has been filtered so that the smoke that comes out is not dangerous, but the reality can be different from the facts in the field.
Inside the PLTU smoke, there are pollutants which contain dangerous compounds such as mercury and other compounds such as arsenic, lead, PM 10, sox and PM 2.5. These particles stay in the air for a long time and can fly hundreds of kilometers. If humans are exposed to mercury or pm 2.5 continually, there will be asthma, respiratory infections, lung cancer and even damage to the brain, kidneys and heart. It is clear that the air environment and settlements are not good for local residents due to the danger of compound content that will threaten the health of the surrounding community, especially since the PLTU distance from residents' settlements is not a safe distance. This is evidenced by the case that occurred in November 2018, Sangah Sangah village Kutai Kartanegara, East Kalimantan, experienced 5 houses destroyed, 11 others were damaged and the main road collapsed due to mining activities that were too close to public facilities and settlements.
Kalimantan, Borneo, some of farmers in the suburbs of Samarinda Timur have lived for 20 years as neighbors that are very close to the coal mines in this village. Meanwhile, according to the regulations of the minister of environment and regional regulations Kutai Kartanegara the minimum distance between mining activities and settlements is 500 M but in fact, all of the regulations are not applied. While the existence of a coal-fired PLTU has made clean water is only a history. The residents stated that they only relied on rainwater and water from the emblem that brought along the silt Previously, before there was a coal mine, the rice fields were not damaged, the environment was beautiful and safe, but the situation drastically changed since the coal power plant, residents' crops such as rice fields and so on were exposed to mud so that they produced plants that were not of the same quality as before.
This is very unfortunate because in 1991 this village was designated as a village of rice barns with a production of 2600 tons of unhulled rice in every harvest time. Disappointment and despair began to appear on the faces of the villagers who felt the problems that were increasingly choking local residents, not only polemic about the environment and plants. The existence of a coal company and a PLTU have also claimed the lives of several villagers due to the reclamation of coal mines.
The local community certainly did not remain silent, so they filed a protest by one of the residents of Nyoman Derman from Kertabuana Village, Kutai Kertanegara Regency. Nyoman intercepted heavy equipment but was instead arrested and given a 3-month prison sentence on the grounds of disrupting company operations. When the community takes an active role to defend and protect all assets owned by the government, the government does not protect. On the contrary, this is not in accordance with the constitution of our country which upholds human rights which are emphasized in the 1945 Constitution in article 27 to article 34 of the 1945 Constitution which regulates Human Rights.
The problems do not end with environmental problems but also at the same time claiming the lives of many local residents. The excavation of ex-coal mining holes resulted in many human lives being lost, among others in 2011-2018 in East Kalimantan as a result of the mining excavation hole itself. At least, it has been claimed the lives of as many as 39 people. Between 2014-2018 nationally, there were 115 people who died as a result of mining holes
This can't be underestimated into an ordinary problem caused by the longer, it continues to claim casualties due to 3,500 former mine pits that have not been properly filled so that it continues.
Local Wisdom Brings Everybody Towards Sustainability
Climate change, carbon emission, zero waste, circular economy, and sustainability. If you are anywhere on the internet just like 62% of the world's population, chances are you must be familiar, have understood, or at least have heard of these 21st century buzzwords. If you Google search the word 'sustainable', it would give you more results than if you search for 'Titanic', 'globalization', even 'BTS'. Clearly, people all around the world has been putting more and more attention towards the concept of sustainability.
The question is, how well do we understand sustainability? What is being sustainable in development, business, and life in general entail?
Sustainability concepts were built on the foundation of protecting the resources of the Earth and the wellbeing of humankind which are negatively impacted by our abusive patterns of production and consumption. The Commission on Environment and Development (WCED) in its highly-cited Brundtland Report, also called Our Common Future, formally defined sustainable development as development that meets the needs of the present without compromising the ability of future generations to meet their own need. The Triple Bottom Line (TBL) first coined by John Elkington in 1994 is the fundamental concept in business to balance Profit, People, and Planet[1]. The concept really gained its momentum when the United Nations (UN) in 2015 set out 17 Sustainable Development Goals (SDGs) to be adopted and achieved through global partnership by its Member States in 2030.
As a way of thinking, however, balancing wealth, society, and the environment has actually been a part of traditional belief systems, religious teachings, medieval philosophies, and communal ways of living for centuries. Indigenous people all over the world for years have developed and for the most part maintained cultural knowledge, norms, and rules that stem from the adaptation process to the environment, commonly referred to as the local wisdom. Long before the natural, organic, free-this-and-that-synthetic skincare boom, People of Bajo or the Sea Gypsies community have been harnessing the ingredients provided by Earth as their recipe to having healthy and firm skin despite being out in the sea under the sun for most of the time. They would make use of the clams' shells or rice grain mixed with herbs like turmeric to make powder that would protect their skin from the scorching sun.
Local wisdom is also at the heart of many customary rules, including activities to manage their natural resources. For instance, many indigenous coastal communities in Eastern Indonesia implement Sasi Laut that would only allow fishing in certain areas for around two weeks to three months and close for one to two years. This local wisdom embodies the concept of marine conservation and has been passed down from generation to generation. Globally, indigenous people that constitutes less than 5% of the world's population is protecting around 80% of the planet's biodiversity.
Moreover, economic, environmental and social issues come in different form and intensity in different countries and communities. It might be pollution for urban area, declining water quality for tourism destination, or the non-existence of proper waste management system for rural area. Thus, achieving sustainability would require a bottom-up approach in identifying the most pressing problem in a particular country or community. The integration of local wisdom would contextualize the existing varied frameworks, concepts, tools, and innovations on sustainability to be positively perceived, better understood, and well implemented. It is the bridge to include the less represented voice, common people, and indigenous communities to be parts of climate and sustainability conversation; making sure to leave no one behind.
---
[1] Elkington, J. (1998). Cannibals with forks: The triple bottom line of 21st century business. Gabriola Island, BC: New Society Publishers.
Ecosystem Restoration: The Answer to Indonesia's Dilemma
The pressure for the Indonesian government to actively take part in climate change mitigation has been escalated lately. Since 2016, Indonesia has been a part of the Paris Agreement to join the global movement to tackle climate change and its negative impacts. First adopted at COP 21, the agreement demands committed countries to submit an updated national climate action plan, called Nationally Determined Contribution or NDC, on a five-year cycle. Hence, COP 26, which was held a couple of weeks ago in Glasgow, was the centre of attention to all activists and environmentalists to find out how each country's progress has been mitigating climate issues for the past five years. President Jokowi spoke at COP 26 about Indonesia's achievements in mitigating climate change which many Indonesian activists and environmentalists then criticized. He mentioned that Indonesia has been positively contributing to tackling climate change and that the deforestation rate in Indonesia has significantly reduced. Greenpeace criticized that all the Jokowi's claims were not picturing the whole situation to Indonesia's current condition. Greenpeace believed that the low rate of deforestation was not a product of policy intervention but merely from the wet season.
Just a day after COP 26 conference, the tweets from Siti Nurbaya, the Minister of Environment and Forestry, added fuel to the fire. She wrote a Twitter thread, explaining the vast development in Jokowi's era should not be stopped only because of carbon emissions or deforestation. She also put the dilemma of the Indonesian government in achieving the net-zero carbon goal by 2030. "If the concept is no deforestation, that means there will be no roads, then how about the people, do they have to be isolated? Meanwhile the government must be present in the middle of its people". The statement she put in her tweets was considered pro-deforestation, which contradicts her duty to contribute to Indonesia's commitment to Net-Zero by 2060. It instantly got viral on social media. Aside from the controversy, the 2015 – 2019 National Medium Term Development Plan (RPJMN) mentioned six main national development goals: leading sector development targets, including food and energy. With monoculture food production and fossil fuel-based energy production, deforestation is inevitable, and Minister Siti's controversial statement makes more sense and reflects the dilemma on forest management in Indonesia.
However, the urgency to create a global movement tackling climate change is because climate change is getting real. According to the Intergovernmental Panel on Climate Change (IPCC), the global temperature was 1.1 degrees Celcius above the pre-industrial period in 2019. In addition to that, the total greenhouse gas emissions, including land-use change, reached 59.1 gigatonnes of carbon dioxide equivalent. It is undeniable that Indonesia also significantly contributes to greenhouse gas emissions. The Global Forest Watch summarized the tree cover loss that has been happening in Indonesia for the past ten years. For the last two decades, Indonesia lost 27.7 million hectares of tree cover and equivalent to 19 gigatonnes of carbon dioxide emissions. An article from WRI Indonesia mentioned that even though the overall deforestation rate is declining from 2015 to 2018, several provinces with an abundance of primary forest and peatland, which are East Kalimantan, Maluku, and West Papua, experienced a 43%, 40%, and 35% increase in deforestation, respectively. The impact of climate change affects the environmental and social aspects and dramatically affects the economy. In the 4th Indonesia Circular Economic Forum, the National Development Planning Agency of Indonesia or Bappenas mentioned that the economic loss due to climate change will reach 115 trillion rupiah in 2024. However, Indonesia can reduce the loss to 57 trillion rupiahs by making some efforts on mitigating climate change, Bappenas said.
The dilemma then brings up the question: how should the Indonesian government act on climate change mitigation in a way that is not threatening the continuity of national development but not stunting the growth of economic development? In 2004, the Ministry of Environment and Forestry issued an ecosystem restoration concession (ERC) regulation in the production forest area. ERC is a forest-based management model that allows the private sector to restore degraded lands and utilize non-timber products and environmental services in the production forest area. The idea behind ERC is to provide a license to investors, similar to logging and industrial forest permit, to reforest the area that the other two permit's activities have impacted. ERC could help carbon capture scale and offset the carbon footprint from development activities if it runs well. And since private firms manage ERC, it could also positively impact the economy. Unlike NGO or non-profit organizations, the ERC scheme demands the operating company to profit through ecosystem restoration. It can be from utilizing non-timber products such as honey, bamboo, or rattan, cultivating medicinal plants, wildlife preservation, developing ecotourism, and carbon capture and sequestration.
Even though ERC is a relatively new concept and not as appealing and popular as other types of concession, some ERC companies managed to show some progress that supports Indonesia's development plan and climate mitigation targets. The ERC of PT Rimba Makmur Utama (RMU), also known as the Katingan-Mentaya Project, focuses on carbon business to reduce greenhouse gas emissions and has sold its carbon credits to companies such as Shell, Volkswagen, and NP Paribas. By protecting and restoring the forest, RMU had Verified Carbon Units for about 4.34 million tonnes of carbon dioxide in 2017. A member of the APRIL group, PT Restorasi Ekosistem Riau (RER), also committed to protecting, restoring, and conserving the forest ecosystem through ERC. RER has been inventing flora and fauna, preventing forest fires, and conducting ecosystem research in its concession of 150.693 ha forest in Riau province. RER embodies APRIL's commitment to conserving one hectare of land for every one hectare of APRIL's pulp and paper plantation. PT Restorasi Ekosistem Indonesia (REKI), the first ERC license holder, has become a home to 1.350 species, improving local livelihood by protecting farmers' right to land, promoting women's rights, and preserving deforestation-free areas through its Hutan Harapan. And PT Restorasi Habitat Orangutan Indonesia (RHOI) has provided a secure habitat for more than 400 orangutans from BOS Foundation Orangutan Reintroduction program.
ERC business models typically include carbon sequestration, wildlife conservation, forest protection, utilizing non-timber forest product (NTFS), developing ecotourism, enhancing local economies, and research and development. These activities potentially support the national development plan in practice and in a strategic way. Five of the 7 Agenda in The National Medium Term Development Plan 2020-2024, which are strengthening economic resilience, reducing inequality from regional development, improving human resources, building national character and culture, and enhancing the natural environment and building climate and disaster resilience, could use ecosystem restoration concession as a strategy to achieve the sustainable development goals. Moreover, the implementation of Omnibus law can benefit investors in doing ecosystem restoration business. The current regulation issued by the Minister of Environment and Forestry, P.8/2021, allow multibusiness activities in production forest with only one permit, called PBPH. With PBPH, investors can be more flexible in choosing where to invest in ecosystem restoration. Moreover, the G20 presidency of Indonesia 2022 also forces president Jokowi to show off his capability and willingness in moving toward sustainable development. Promoting ERC and putting best practices into practice, ecosystem restoration can be the most strategic way to solve the dilemma between climate change and development.
Vietnamese PM Chinh visit to Japan: A new era of cyber, space and defence cooperation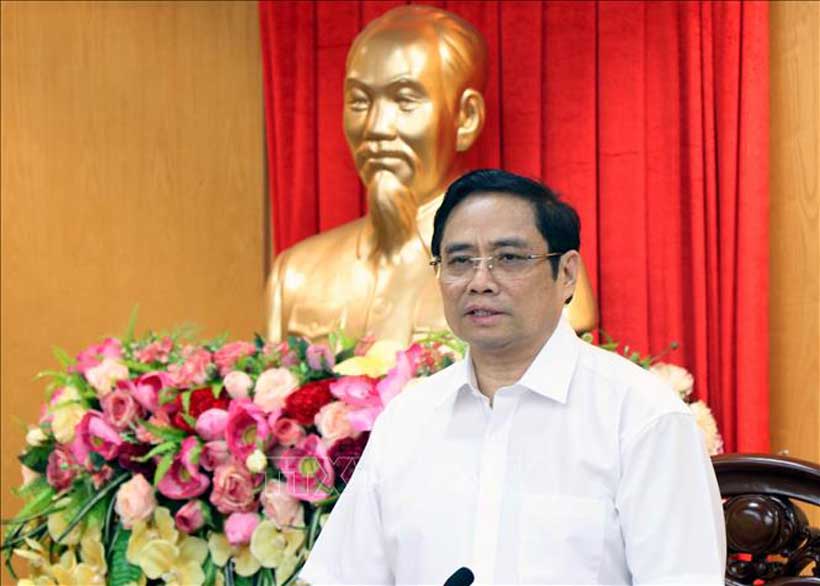 Vietnamese Prime Minister Pham Minh Chinh visited Japan from November 22-25 and discussions about trade, investment, defence, cultural and enhancing political ties took place between the two leaders. The former prime minister of Japan Suga had visited Vietnam in October 2020, and it was his first visit to any foreign country. With the coming of Fumo Kishida new prime minister in Japan, Vietnamese Prime Minister thought it prudent to engage the new political leadership. When recently Kurt Campbell stated that India and Vietnam will be crucial in deciding the fate of Asia and the three countries namely India, Vietnam and Japan have been closely cooperating with one another because of two major factors. The three countries are in the periphery of China and have major stakes in the resolution of the South China Sea dispute. Second, these three economies are promising economies in Asia and are seen to be major harbingers of technology, economic growth and sustainable development.
The visit of Vietnamese prime minister is primarily seen from the point of view of projecting the need for 'Free and Open Indo Pacific' and developing close cooperation between Vietnam and Japan. During the visit of Japanese defence minister to Vietnam last year several agreements have been signed between the two sides which included transfer of technology and defence trade between the two sides. Vietnam is facing a few challenges related to trade and investment, growing cases of Covid 19 pandemic, need for modernisation of its armed forces and realising the potential of the regional organisations such as ASEAN .In terms of developing necessary technical acumen for renewable energy sources and facilitating foreign direct investment from Japan were the major agendas for the visit of the Vietnamese Prime Minister.
The Vietnamese Prime Minister visit was his first official visit to Japan. Vietnam is increasingly seen as a middle power which requires support and cooperation from Japanese in areas such as waste management, infrastructure development, developing technology parks, export processing zones and vocational training skills to emerge as one of the engines of economic growth in Southeast Asia. In fact, Japan was the only few countries in Asia with which Vietnam has developed air bubble agreement during COVID-19 to facilitate travel of passengers and businesspeople from the two countries. Given the fact that Vietnam is slowly opening its trade and investment and tourism sector it would be looking for countries in Europe and in Asia to spur development in the country. Japanese tourists are important incoming visitors for Vietnam because of their spending and booking high end resorts and hotels.
Following the COP- 26 meeting which was held in London there have been huge expectations from the Asian countries to reduce their carbon footprints and look for other viable sources of energy. The visit of Vietnamese Prime Minister explored diverse issues related to politics, security, cultural interactions and development of human resources in Vietnam. The two defence ministers also signed aagreements related to transfer of technology and exports of Japanese defence equipment and weapons to Vietnam. Japan has already embarked on a policy to support littoral countries of South China Sea through patrol boats and fast attack crafts.
One of the critical areas that Vietnam is looking for is the development of technology and scientific rigour within the country. In this context collaboration with Japanese scientific institutions and academic community would help Vietnam to develop skills and human resources to cater to the industrial revolution 4.0. Also, Vietnam is looking for developing expertise in areas such as machine learning, big data mining, artificial intelligence, underwater systems, developing sustainable development and energy resources in those South China Sea islands so that the soldiers can become self-sufficient in energy and clean water resources. Japan has been looking for alternate sources of investment and developing infrastructure in countries such as Vietnam Cambodia and Laos. Vietnam itself is emerging as a viable alternative to China in the wake of recurring cases of COVID-19 pandemic in China. Japanese investors and entrepreneurs are looking for relocating their businesses and investments.
There is no denying of the fact that developments in South China Sea are of critical importance both for Vietnam and Japan, and it is expected that the two leaders discussed these issues in detail. The Chinese assertive activities in South China Sea have been deplored by Japan and other allied partners in the past. Vietnam is looking for cooperation with Japan in terms of submarine hunting capabilities and developing acumen for better management of human resources in defence sector. In terms of military cooperation between the two sides there is a lot of potential in terms of maritime surveillance aircraft, fast attack crafts, and coastal radar systems. Also, sonar systems and developing helicopter mounted surveillance systems would and has Vietnamese defence and surveillance capabilities. The two countries signed an agreement on space defence and cyber security.
One of the important critical areas that the two countries discussed was related to the implementation of Regional Comprehensive Economic Partnership (RCEP) and promoting intra regional trade so that better complementarities could be developed between the two sides. Another important forum where Japan and Vietnam are members is CPTPP and there is speculation that President Joe Biden might be interested in re-joining the grouping. Taiwan and China have expressed interest in joining it, but Japan is in favour of only Taiwan. In such a context when the two countries are at the crossroads of economic integration and regional economic groupings, it is expected that the two leaders discussed necessary checks and balances so the trade interests of the two countries can be protected while enhancing the integration at the regional level.
Vietnam is also seen as a probable candidate for the Quad Plus initiative and Japan has been very insistent on engaging the country in a more proactive way. India, Vietnam and Japan could be one trilateral which will bring in a large market, Strong technology fundamentals, unique cultural identities and common strategic concerns acts as glue between the three countries. The development of Vietnam and Japan ties would reconfigure Asian identity and future.