Growing US Pressure Incentive to Make China-Russia Ties More Diverse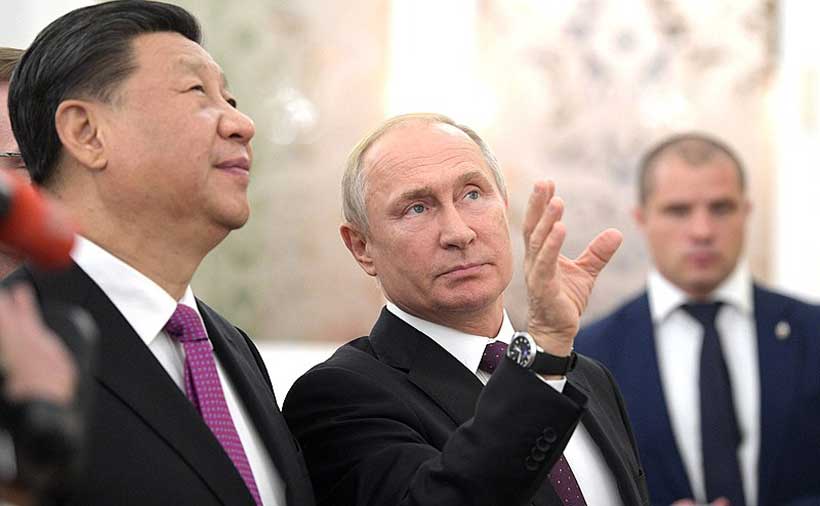 Two months after the inauguration of Present Joe Biden, with the political dust in Washington settling down, it is becoming increasingly clear that the US Democratic administration policy toward Russia and China contains more elements of continuity than elements of change. Unfortunately, this continuity is not something that they would like to observe in Moscow and Beijing.
If someone has hoped that a swift and unconditional extension of the New START agreement might trigger a renewed US-Russian dialogue on strategic stability and arms control, these hopes have gone up in smoke after the US president labeled his Russia peer as a "killer." Biden also unequivocally rejected the idea of security debates offered by President Vladimir Putin. Before the US-Chinese "2+2" meeting in Anchorage, Alaska, there could have been expectations of at least a limited détente between Washington and Beijing. But now after this very tense and not quite productive meeting, such expectations have just evaporated into thin air.
One can only guess why the Biden team opted to continue the "dual containment" approach of its predecessors toward the main US geopolitical opponents with such a relentless zeal and vigor. Maybe in the White House they decided that any shade of US flexibility would be interpreted in Moscow and in Beijing as a sign of an American weakness, and as an invitation to seek more concessions from the administration. Maybe Biden is concerned about potential criticism that a more flexible approach could generate powerful Republican reactions from neo-cons on the Hill and from a defeated, but not yet completely politically destroyed, Donald Trump. Maybe, by pursuing this tough line, the new administration intends to demonstrate to the US public and the American allies and partners abroad its unbreakable commitment to human rights and democracy promotion agenda.
In any case, with the change of guard in the White House the rules of the game on the Great Eurasian Chessboard have not changed a bit. The Biden administration, like the Trump administration before it, continues to push the world toward a new bipolarity. It should not be surprising, therefore, that Russian Foreign Minister Sergey Lavrov rushed to Guilin to meet his Chinese counterpart Wang Yi, marking his first visit to the country since the coronavirus outbreak.
The formal goal of the trip is to discuss the 20-year anniversary of the Treaty of Good-Neighborliness and Friendly Cooperation between the People's Republic of China and the Russian Federation signed in July of 2001. The treaty has indeed been a remarkable accomplishment of the two sides. But the ongoing conversation between Lavrov and Wang is not limited to expressions of mutual admiration; it focuses mostly on how Moscow and Beijing could work hand in hand with each other responding to the US assertiveness. There are many ways to do that—ranging from solidarity voting in international organizations to coordinating national information strategies, to working with like-minded countries across the globe and to exchanging best practices in preventing the US interference into Russia's and China's domestic affairs respectively.
Neither in Moscow nor in Beijing do they harbor illusions about opportunities to fix their problems with Washington anytime soon; the two foreign ministers are going to hammer out a new, enhanced model of the bilateral strategic partnership for years to come. Though a common interest in responding to the growing US pressure is definitely not the only driver for closer economic, political and military ties between Russia and China, the US factor is an important additional incentive for making these ties more diverse and intensive.
After China, Foreign Minister Lavrov is making an extended stop in South Korea. Here, again, the Russian minister can find plenty of issues to discuss with his hosts that have little or nothing to do with the US. After all, we are approaching 30 years since diplomatic relations between Moscow and Seoul were established—a remarkable jubilee and a nice opportunity to reflect on the next 30 years!
However, under the circumstances, Lavrov will undoubtedly try to test the limits of the ROK's "strategic autonomy" from Washington. True, ROK is a US ally and it regards America as its prime security provider. Still, Seoul has special relations with Beijing and Moscow; these special relations are ones the ROK is not ready to give up. The ROK-China economic relations remain critical for the South Korea prosperity. The South Korean approach to North Korea is not a carbon copy of the US or Japanese positions. It is clear that the South Korean leadership is not ready to automatically subscribe to any new anti-Russian or anti-Chinese policies from Washington.
At the end of the day, the outcome of the Great Game on the Global Chessboard will depend on whether there are regional players bold enough to question the archaic bipolar thinking emanating from Washington today. The outcome of Lavrov's trip to Seoul might be an interesting case to watch.
From our partner RIAC
Russia becomes member of International Organization for Migration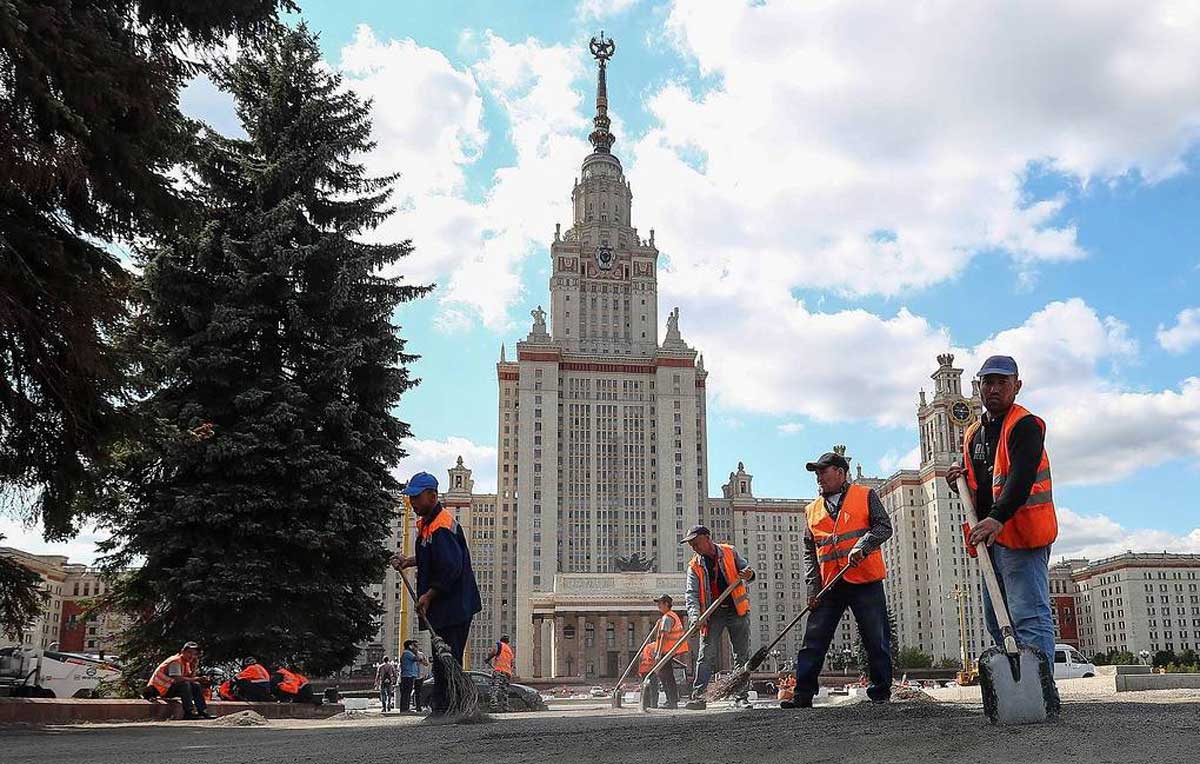 After several negotiations, Russia finally becomes as a full-fledged member of the International Organization for Migration (IOM). It means that Russia has adopted, as a mandatory condition for obtaining membership, the constitution of the organization. It simply implies that by joining this international organization, it has given the country an additional status.
After the collapse of the Soviet, Russia has been interacting with the IOM since 1992 only as an observer. In the past years, Russia has shown interest in expanding this cooperation. The decision to admit Russia to the organization was approved at a Council's meeting by the majority of votes: 116 states voted for it, and two countries voted against – these are Ukraine and Georgia. That however, the United States and Honduras abstained, according to information obtained from Moscow office of International Migration Organization.
"In line with the resolution of the 111th session of the IOM Council of November 24, 2020 that approved Russia's application for the IOM membership, Russia becomes a full-fledged member of the organization from the day when this notification is handed over to its director general," the Russian Foreign Ministry said in a website statement in April.
Adoption of the IOM Constitution is a mandatory condition for obtaining its membership, which opens "extra possibilities for developing constructive cooperation with international community on migration-related matters," the statement stressed in part.
It is significant to recall that Russian President Vladimir Putin issued an order to secure Russia's membership in the organization in August 2020 and submitted its Constitution to the Russian State Duma (lower house of parliament) in February 2021.
Headquartered in Geneva, the International Organization for Migration, a leading inter-government organization active in the area of migration, was set up on December 5, 1951. It opened its office in Moscow in 1992.
IOM supports migrants across the world, developing effective responses to the shifting dynamics of migration and, as such, is a key source of advice on migration policy and practice. The organization works in emergency situations, developing the resilience of all people on the move, and particularly those in situations of vulnerability, as well as building capacity within governments to manage all forms and impacts of mobility.
IOM's stated mission is to promote humane and orderly migration by providing services and advice to governments and migrants. It works to help ensure proper management of migration, to promote international cooperation on migration issues, to assist in the search for practical solutions to migration problems and to provide humanitarian assistance to migrants in need, be they refugees, displaced persons or other uprooted people. It is part of the structured system of the United Nations, and includes over 170 countries.
Senator Vladimir Dzhabarov, first deputy chairman of Russia's Federation Council (Senate) Committee on International Affairs, noted that the organization's constitution has a provision saying that it is in a nation's jurisdiction to decide how many migrants it can receive, therefore the IOM membership imposes no extra commitments on Russia and doesn't restrict its right to conduct an independent migration policy.
On other hand, Russia's full-fledged membership in IOM will help it increase its influence on international policy in the sphere of migration and use the country's potential to promote its interests in this sphere, Senator Dzhabarov explained.
Russia has had an inflow of migrants mainly from the former Soviet republics. The migrants have played exceptional roles both in society and in the economy. The inflow of foreign workers to Russia has be resolved in accordance with real needs of the economy and based on the protection of Russian citizens' interests in the labor market, according to various expert opinions.
The whole activity of labor migrants has to be conducted in strict compliance with legislation of the Russian Federation and generally recognized international norms.
State Duma Chairman Vyacheslav and Foreign Minister Sergei Lavrov and many state officials have repeatedly explained the necessity of holding of partnership dialogues on finding solutions to emerging problems within the framework of harmonization of legislation in various fields including regional security, migration policy and international cooperation. Besides that, Russia is ready for compliance with international treaties and agreements.
Relegating the "Russia Problem" to Turkey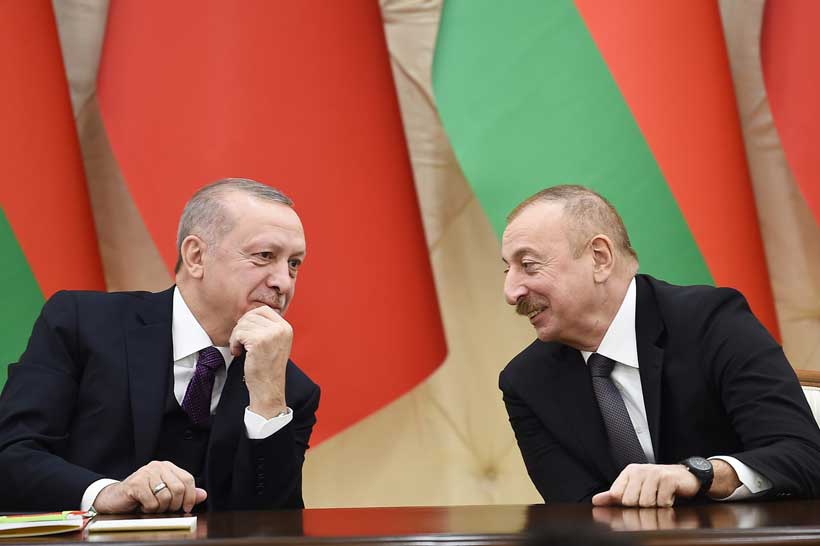 Turkey's foreign policy is at a crossroads. Its Eurasianist twist is gaining momentum and looking east is becoming a new norm. Expanding its reach into Central Asia, in the hope of forming an alliance of sorts with the Turkic-speaking countries — Kazakhstan, Uzbekistan, Kyrgyzstan, and Turkmenistan — is beginning to look more realistic. In the north, the north-east, in Ukraine, Georgia, and Azerbaijan, there is an identifiable geopolitical arc where Turkey is increasingly able to puncture Russia's underbelly.
Take Azerbaijan's victory in Second Karabakh War. It is rarely noticed that the military triumph has also transformed the country into a springboard for Turkey's energy, cultural and geopolitical interests in the Caspian Sea region of Central Asia. Just two months after the November ceasefire in Nagorno-Karabakh, Turkey signed a new trade deal with Azerbaijan. Turkey also sees benefits from January's Azerbaijan-Turkmenistan agreement which aims to jointly develop the Dostluk (Friendship) gas field under the Caspian Sea, and it recently hosted a trilateral meeting with the Azerbaijani and Turkmen foreign ministers. The progress around Dostlug removes a significant roadblock on the implementation of the much-touted Trans-Caspian Pipeline (TCP) which would allow gas to flow through the South Caucasus to Europe. Neither Russia nor Iran welcome this — both oppose Turkey's ambitions of becoming an energy hub and finding new sources of energy.
Official visits followed. On March 6-9, Turkish Foreign Minister Mevlüt Çavuşoğlu visited Uzbekistan, Turkmenistan, and Kyrgyzstan. Defense cooperation, preferential trade deals, and a free trade agreement were discussed in Tashkent. Turkey also resurrected a regional trade agreement during a March 4 virtual meeting of the so-called Economic Cooperation Organization which was formed in 1985 to facilitate trade between Turkey, Iran, and Pakistan. Though it has been largely moribund, the timing of its re-emergence is important as it is designed to be a piece in the new Turkish jigsaw.
Turkey is slowly trying to build an economic and cultural basis for cooperation based on the Turkish Cooperation and Coordination Agency founded in 1991 and the Turkic Council in 2009. Although Turkey's economic presence in the region remains overshadowed by China and Russia, there is a potential to exploit. Regional dependence on Russia and China is not always welcome and Central Asian states looking for alternatives to re-balance see Turkey as a good candidate. Furthermore, states such as Kyrgyzstan and Turkmenistan are also cash-strapped, which increases the potential for Turkish involvement.
There is also another dimension to the eastward push. Turkey increasingly views Ukraine, Georgia, and Azerbaijan as parts of an emerging geopolitical area that can help it balance Russia's growing military presence in the Black Sea and in the South Caucasus. With this in mind, Turkey is stepping up its military cooperation not only with Azerbaijan, but also with Georgia and Ukraine. The recent visit of Ukraine's President Volodymyr Zelenskyy to Turkey highlighted the defense and economic spheres. This builds upon ongoing work of joint drone production, increasing arms trade, and naval cooperation between the two Black Sea states.
The trilateral Azerbaijan-Georgia-Turkey partnership works in support of Georgia's push to join NATO. Joint military drills are also taking place involving scenarios of repelling enemy attacks targeting the regional infrastructure.
Even though Turkey and Russia have shown that they are able to cooperate in different theaters, notably in Syria, they nonetheless remain geopolitical competitors with diverging visions. There is an emerging two-pronged strategy Turkey is now pursuing to address what President Recep Tayyip Erdoğan sees as a geopolitical imbalance. Cooperate with Vladimir Putin where possible, but cooperate with regional powers hostile to Russia where necessary.
There is one final theme for Turkey to exploit. The West knows its limits. The Caspian Sea is too far, while an over-close relationship with Ukraine and Georgia seems too risky. This creates a potential for cooperation between Turkey and the collective West. Delegating the "Russia problem" to Turkey could be beneficial, though it cannot change the balance of power overnight and there will be setbacks down the road.
The harsh ecological conditions of the Arctic in the past have sustained economic activity in the region. Climate change, new technologies and innovations open new perspectives for the development of these territories. The Arctic has turned into one of the hotspots of geopolitics: global and regional players are striving to expand their borders. Watching the Arctic is a complex problem, so the solution can only be secured by integrating the forces of all parties in the Arctic.
It is impossible to discuss the development of the Arctic from the standpoint "whether we are going to exploit it or not", as the industrial development of the Arctic started about 100 years ago. Today 10 million people live around Arctic, only about 10% of them are indigenous peoples. The main question is how we can make this development responsible and sustainable to ensure all three aspects – economic, social and environmental – in the long term and who should be a stakeholder in this activity.
Scientists from Russia, Norway and Iceland, despite the difficulties and deteriorating relations between Russia and the West, are conducting an active dialogue on the future of the Arctic. They call for enhanced cooperation and joint development of the Arctic for the benefit of humanity, not for geopolitical confrontation, because "Together we are stronger." Scientists have also called for attracting the capabilities of space satellites to conquer the Arctic and solve various tasks and problems. They hope to strengthen public and private investment in human capital, for better education, to attract more talented people, to create high-paying jobs for young people, to create and develop smart cities. The Arctic is an excellent opportunity for a clean and green economy, for Industry 4.0 and for the creation of new industries.
As part of the High North Dialogue Arctic 2050: Mapping the future, a panel discussion was held on April 23, 2021. The umbrella theme of all Arctic 2050 presentations: Mapping The Future of the Arctic and exhibitors tried to give their views on development and change in the Arctic over the next few decades from the standpoint of economy, trade and maritime transport, energy, ecology and social trends. During the panel Russian scientists from the Skolkovo School of Management, one of the leading research centers in Russia and their Norwegian colleagues discussed possible scenarios for the development of the Arctic in the next 30 years
Although almost all exhibitors were wary of more accurate predictions given the many factors that potentially determine the course of events in this area, the general impression that could be gained from different presentations is that greater importance is expected in this area in world economic and traffic flows. Development opportunities in mining, energy and maritime transport are great, but there are also great unknowns and potential temptations regarding the mutual rivalry of countries in this area, regulating legal and policy frameworks for the implementation of development policies and finally regarding climate change and risk environment.
The ability to think long-term, and to maintain a balance between all three dimensions, is what is called a 'sustainable mindset' and this is exactly what the Arctic needs from leaders now and in the future. A new leadership agenda emerges in each and every sector, reflecting the paradigm shift: policymakers will have to work towards creating an enabling environment, incentivizing more responsible investment in the Arctic, instead of trying to find a balance between economic activity and environmental footprint business needs to turn away from the cost reduction imperative and concentrate on creating innovation in technology and business models that together will make it possible to do business in the Arctic sustainably, which means both at the new level of productivity as well as in an environmentally and socially responsible manner. NGOs must concentrate on facilitating multi-stakeholder dialogs aimed at finding a balance of interests, rather than lobbying for limiting policies and challenging business activity in the region. What is more important, is that, just as with the triple bottom line, these paradigm shifts should be synchronized and synergetic. The sustainable future of the Arctic tarts with the sustainable thinking of the leaders of today.