A state of complete physical, mental and social well-being and not merely the absence of disease or infirmity.-Definition of Health, Preamble of the World Health Organisation (WHO) Constitution, 1948
For months, many argue that our Covid (C-19) response is a planetary fiasco, whose size is yet to surface with its mounting disproportionate and enduring secondary effects, causing tremendous socio-economic, political and psychosomatic contractions and convulsions. However, worse than our response is our silence about it.
It is an established fact that the quintessence of Nazism was not Hitler and the circle of darkness around him. It was rather a commonly shared 'banality of crime' atmosphere: Benevolent acceptance of ordinary village people living next to Auschwitz, Mauthausen, Dachau that the nation must be 'purified' … The day when questioning stops and silent acceptance becomes a 'new normal' is a day when fascism walks in a big time. Of course, today we have a diagnosis for it: manufacturing consent through choice architecture, of a fear-imprisoned, via media infantilised (returned to the pre-Oedipal phase) psychology of the de-socialised and alienated, an atomised one.
Appinion disguised as opinion – Who is really in charge?
Did we really forget basic teaching of our history: Every time when the power was unchecked, it degenerated into the obscure brutality; ritualising its force with a stamp on or under our skin to visualise and immortalise the twilight of reason?
So, our C-19 response and its widespread synchronicity illustrates – the argument goes – nothing else but a social pathology: the non-transparent concentration of power, and our overall democracy recession – further bolstering surveillance and social control systems. All that as lasting consequences of cutbacks, environmental holocaust, privatisation (or PPP-ization) of key intergovernmental and vital national institutions, ill-aimed globalisation as well as of the fixation on overly allopathic, mandated (not a repurposed but usually novel and expensive) drugs-centred healthcare, and lack of public data commons. Public health or private wealth? Pandemic or plundermic …
Trust in and support to governmental and intergovernmental institutions is rapidly deteriorating. Ever larger number of citizens do not see the mainstream media (or pop culture celebrities) at service for the population. Dialogue and opinion is discouraged and silenced, if not, even sanctioned. Hence, the faith in western medicine is in a free fall. Compromised generational contract and thinning social consensus are challenging our fabrics like never before in recorded history. The first real stress-test since the end of the WWII, the United Nations (UN) clearly did not pass. Many feel deeply disappointed with and disfranchised by the universal organisation and its Agencies for their lasting "self-marginalisation".[1]Is our cohesion irreversibly destroyed?
Early lockdowns, mid-March 2020, were justified by a need to flatten the curve of the 'sudden' virus' (harmfulness, mortality and transmissibility) impact, since there were not enough hospital beds. In the meantime, the lockdowns were extended and widened, curves not arguably altered. Still, for the past 12 months, there is hardly any new hospital built in the EU although the non-essential medical services, at most cases, suspended.[2]Neither there was nor is any massive investment into general health prevention. The only visible infrastructure growth is in 5/6G network expansion.
Following a simple ratio that the one's level of health is genetic expression of life-style choices made, it is no surprise that there are also growing speculations if the lockdown – as the most notorious expression of monofocal perspective and rejection to any scientifically contested, debate-based integrated judgment– is invasion or protection:
And, if is there any back-to-normal exit from the crisis, or this disaster 'turned into planetary terror, through global coup d'état' will be exploited to further something already pre-designed (with a fear, not as a side-effect, but rather as a tool manufactured to gain control).Simply, is all that more related to the biotronics and demographics (IoT and Internet of Bodies) – 'epsteinisation en masse', than to health and economics or any common social purpose?
E.g.Le Monde Diplomatique – while examining the possible merger between tech oligopoly and political monopoly – claimed from the very beginning of crisis that: "Political decisions have been central in shaping this tragedy — from the destruction of animal habitats, to the asymmetric funding of medical research, to the management of the crisis itself. They will also determine the world into which we emerge into after the worst is over." Over the past 30 years, every critical juncture had a similar epilogue: pardon and enhancement for the capital, a burden and suppression for the labour. The C-19 is no exception to it: Ever since early lockdowns of March 2020, the capital flows unhindered while the labour, ideas and humans are under the house arrest.[3]The XXI century frontline is the right to health (incl. body integrity and informed consent),and labour, privacy and other fundamental human rights and liberties. (LMD, IV20)
Earth provides enough to satisfy everyone's needs, but not for a single man's greed
The rate of profit does not, like rent and wages, rise with the prosperity, and fall with the declension, of the society. On the contrary, it is naturally low in rich, and high in poor countries, and it is always highest in the countries which are going fastest to ruin.- The Wealth of Nations, Adam Smith
Still to be precise, the WHO- decreed virus pandemic brought nothing truly new to the already overheated conduct of, and increasingly binarized, world affairs. It only amplified and accelerated what was present for quite some time – a rift between alienated power centres, each on its side of Pacific, and the rest. No wonder that the work on the C-19 vaccine is more an arms race than it is a collaborative humanity plan.
Would all this be – in its epilogue – about the expansion of (the 4th industrial revolution caused) techno-totalitarian model of government as an alternative to liberal democracy (from one-party democracy to one-party autocracy)? Devolutionary singularisation into techno-feudalism as the highest stage of capitalism? Is now a time to return to the nation-state, a great moment for all dictators-in-waiting to finally build a cult of personality? Hence, will our democracy be electro-magnetised and vaccinated for a greater good (or greedier 'god')? Is the decolonisation of global health a failed attempt? Will we (ever)be allowed to exit the year of 2020?[4]
The entire scientific community considers the attempt to mandate the experimental biological agent (while calling it the C-19 vaccine) as very troubling. Having these calls chiefly advocated and aggressively promoted by the handful of self-interest driven private companies (all accompanied with a contradictory and confusing governmental stance) is highly disturbing. No surprise that ever-larger societal segments perceive it as warfare not a welfare. The world that for over a century portrayed itself as Kantian is rapidly turning into the dark Hobbesian place. Is now anarchy just one step away?[5]
One is certain, confronting the long-term interests of stakeholders with the short-term interests of shareholders, the private sector from both sides of Atlantic exercises disproportionate power in the technological share (infrastructure and data). It also largely benefits from the massive public research funds while in return paying dismal, negotiable tax if any at all.[6]
Far too often it comes with the nondisclosure agreements, liability outsourcing/protections and other unilaterally beneficial legal instruments as well as with the close ties between the private sector, intelligence agencies and media.[7]
The same applies to a big Pharma which increasingly dictates a non-preventive, monofocal approach to medicine and research, and controls reporting about it – not always in the name of our public health.
Therefore, the above represents the largest underreported threat to our democracy and future societal conduct.
Conclusively, bioinformatics (including the synthetic biology and data-to-genes sequestration for data storage or data mining purpose) is a dual-use technology. Past its formative age (with a digital infrastructure near completion), it has today a huge weaponization potential for at home and abroad, be it for state or non-state actors. Consequently and urgently, this necessitates a comprehensive legislation which builds up on the Universal Charter of Human Rights and Nuremberg Code, and rests on its effective enforcement (with the monitoring of compliance mechanisms as set for the IAEA, OPCW, RC-BTWC and the Nagoya protocol),[8]nationally and internationality, and for all actors.
Threat of Otherness: Criminalisation of different opinion
All state authority is derived from the people (XX 2) … All Germans shall have the right to resist any person seeking to abolish this constitutional order, if no other remedy is available. (XX 4)-Civil disobedience as the Constitutional Right[9]
By many accounts, 2020 – a year of astonishing synchronicity, when distancing became social[10]– will be remembered as the worst year in living memory (since 1939). Some would say; C-19 stopped history, as it locked down our dialogues and atrophied political instincts of masses. Still, 2020 only quarantined and halted us, while in fact it accelerated history. This especially refers to the 'Old Continent'.
People have the right to know what those in power are doing, especially in times of crisis. Therefore, Europe's eldest and the most comprehensive multilateral mechanism – Council of Europe, promulgated Convention on Access to Official Documents more than ten years ago in Tromsø, Norway (entering in force on 01 December 2020). This Charter is the first binding international legal instrument to recognise a general right of access to official documents held by public authorities.[11]
As this author noted back in spring 2020: "It is amply clear from the C-19 event that the right to health is an issue for all. The search for a reliable cure for pandemics control is not a matter of private business, but of fundamental individual rights situated on higher levels of sociableness, as embedded in the UN and EU Charters, and being obligatory for each of the UN Specialized Agencies or EU bodies to comply with. (Not a fear-based manufactured giving-in, but the right for informed consent as an inseparable segment of the constitutionally endorsed right to health.)
Even if the vaccine becomes the agreed or preferred option, it must be made available patent-free for all, and locally manufactured. However, binarization of debate onto a pro-and-con vaccine represents a dangerous reductionism and waste of planetary energy critically needed for a holistic and novel approach. There is no silver bullet for the European problems. Consequently, there is no solution in one-directional medical research in response to any pandemic, and in a single-blended (or centrally manufactured, hastily introduced) and mandated experimental medication for all. This especially refers to the genoccine.[12](Dogma is based on a blind belief; science necessitates constant multidimensional exploration. Science, especially a medical one, holds no single or absolute truth: The closest it can get is to the least wrong answer – which must be contested constantly, literally every day.)
Proportionality of our (current and future) responses in Europe is another key issue. Hence, what presents itself as an imperative is the universal participation through intergovernmental mechanisms. That rule applies for at home and for abroad, as the Union has to comply with(and set example to) it urgently.
Growing particularisms in Brussels quarters, where (on taxpayers money and public trust)it is more and more the particular – be it individual, regional, national, lobby-groups driven – interest that prevails over the solid all-European project of our common presence purpose and future."[13]
Past the Brexit, the Union has to be extra cautious about its chronic democracy-deficit, apparatchik alienation of Brussels, as well as the brewing concerns that the EU without UK becomes yet another greater Germany.[14]
Of Paper Tiger and its Talking Heads
The one-year score (March 2020 – March 2021) of the Union is highly disturbing:
Finally, the truth is plain to see; countries with the highly (deregulated and) privatised health sector are the C-19 worst offs (eg. USA) – as measured by the fatalities, overall socio-economic cost (incl. the long-term health prospects, or redistribution and inequalities), damage to the social consensus (safety and security), and the speed of recovery. Countries of the centralised health which resides strictly in public hands and under popular control did and are still making it far better. Those among them that keep high respect for individual rights, liberties and freedoms (eg. Sweden) are by far the best achievers.
How the issues of health will be balanced with the human rights – as these two are not excluding but complementing each other – is the fundamental issue for the future.
Additionally, how (geno and pheno) data are generated, stored and governed, and ultimately used will be the second defining issue of global public health (and planetary support to it) in the coming decades.
Beyond the disputes about possible initial intentionality, let us close this text by discussing probable epilogue:
An ever-larger number of military strategists see the C-19 event as a biological warfare. And history is powerful reminder; decisions to go to war were never based on facts but on perceptions.[15]Therefore, make no mistake; the end game to any further continuation or escalation is nuclear holocaust which none of us will escape.
---
[1] The UN Secretary-General, Antonio Guterres is well aware of it: Addressing the Organisation's General Assembly at the 75th anniversary (September 2020) he admitted: "… people continue to lose trust in political establishments. … widespread protests against inequality, discrimination, corruption and lack of opportunities all over the world – grievances that still need to be addressed, including with a renewed social contract."
[2] In fact, in Germany and several other EU member states the number of hospital beds in the intensive care units is even reduced for up to 20% compared to its pre-C-19 capacities.
[3]In the formally neutral and peace-loving Austria – following the provisions of a strict autumn 2020 lockdown – only the basic supplies shops were opened. However, besides the grocery stores,mobile phone shops and pharmacies, it also included the guns shops, while the schools, theatres, libraries and museums remain closed.
[4]The year of 2020 recorded unprecedented planetary contractions and nearly a free-fall recession. Of course, it is misleadingly ascribed to the pandemic instead of being attributed to the C-19-related measures. Among G-7 + G-20 group of countries only China had scored growth. Cross-sectoral picture is the same – deep recession. Only the big tech and big pharma scored surpluses in 2020. (World Bank Report 2020)
[5] Talks about 'vax-passports' falls under the same category. Not only that it is contrary to the ruling of the Council of Europe – conditioning freedom of movement with an exposure of personal medical record is contradicting any notion of Human Rights and every of its Charters.
[6] "The pandemic has also reviled how imbalanced the relationship between the public and the private sector has become. In the US, the National Institutes of Health (NIH) invests some$40 billion a year on medical research and has been a key funder of the R&D of C-19 treatments and vaccines. But pharmaceutical companies are under no obligation to make the final product affordable to Americans, whose tax money is subsidising them in the first place. … It was a typical move for Big Pharma. … Even so, US drug prices are the highest in the world. Pharmaceutical companies also act against the public interest by abusing the patient process. … Equally bad deals have been made with Big Tech. In many ways, Silicon Valley is a product of the US government's investments in the development of high-risk technologies. The National Science Foundation funded the research behind the search algorithm that made Google famous. The US Navy did the same for the GPS technology that Uber depends on. And the Defence Advanced Research Project Agency, part of the Pentagon, backed the development of the Internet, touchscreen technology, Siri, and every other key component in the iPhone. Taxpayers took risks when they invested in these technologies, yet most of the technology companies that have benefited failed to pay their fair share of taxes. Then they have the audacity to fight against regulations that would protect the privacy rights of the public. … the power of AI and other technologies being developed in Silicon Valley, a closer look shows that in these cases, too, it was high-risk public investment that laid the foundations" – states prof. Mazzucato(FAM 99/6/20)
[7]See, eg. the EU Pandemic Accelerator Act (April 2020) or the July 15th 2020 Suspension of the EU GMO-related legislation (the so-called EU Council adoption of the Commission's proposal to accelerate clinical trials and the supply of medical product containing the GMOs) – all promulgated speed-track without a prior investigative scientific reports, hearings or debate. These are now submitted to the European Court of Justice for a legality and impartiality judgment. In the same fashion the recently adopted European Democracy Action Plan (EDAP) leaves many ambiguities, while also contradicting the European Convention on Human Rights.
[8] All fourbelonging to the United Nations system: International Atomic Energy Agency (IAEA), Organisation for the Prohibition of Chemical Weapons (OPCW), Review Conference to the Biological Weapons Convention on the Prohibition of the Development, Production and Stockpiling of Bacteriological (Biological) and Toxin Weapons and on their Destruction (RC-BTWC), the Nagoya Protocol to the Biological Diversity Convention on Access to Genetic Resources and the Fair and Equitable Sharing of Benefits Arising from their Utilisation (NP).
[9]German Constitution (Art. 20). Similar provisions are encapsulated in most of the national constitutions in Europe and beyond. It rests on a notion that the state and people are bound by the social contract within any given society, and that in case of a breach of confidence, citizenry has an inalienable natural right to disobedience.
[10]It is crucial to differentiate the physical from a social distancing. Physical one is a preventive (punitive or medical) measure while the so-called social distancing is a century-old concept of (empathy charge and) social engineering. To this end, see works of the US sociologists Park, Hall and Bogardus (scale of social distancing), and Simmel's 'theory of the stranger' – Simmelian social geometry (Germany 1908).
[11]During times of crisis national security arguments are often evoked to deny information to be requested and accessed. However, it is exactly at such times that a timely and trustworthy information from official sources is most needed. Informational transparency in accordance with the principles set out in the Tromsø Convention prior to the C-19 pandemic could have helped to avoid the 'infodemic' and a subsequent massive public distrust.
[12]It seems as a more accurate name for the experimental (thoroughly untested), new, RNK and DNK modified, nanotechnology-based tri-injecting solution currently advocated for the C-19. Some critics even reject to call it vaccine, claiming that it is in fact a GMO implant.
[13]See: "World on Autopilot: The UNSC should urgently address C-19", New Europe Brussels (Bajrektarevic-Agam, 10 APR 20); "Contributing to a Safer, Healthier and Prosperous World", Diplomat Magazine Hague (Bajrektarevic-Goutali, 12 MAY 20);"Return of Global Stewardship: the UNSC should urgently address C-19– addendum" (Bajrektarevic-Agam, 25 May 20), ModernDiplomacy Athens/ Brussels; "Democracy Vaccinated, – The post-Corona epilogue of Sino-American relations", (Bajrektarevic), L'EuropeUnie Intl. Journal, Revue d'étudeseuropéenne, Paris, France 2020 (15) 2.
[14] On December 18th 2020, the UN General Assembly (UNGA) adopted Resolution against glorification of Nazism, neo-Nazism and other practices that encourage modern forms of racism and xenophobia. 60 UN members co-sponsored resolution, while only 2 states casted negative vote. Rather strikingly and disturbingly, Germany refrained from voting in favour (abstained). The UN GA recommends states "to take appropriate concrete measures, including legislative and educational ones, in accordance with international human rights obligations, in order to prevent revisionism in respect of the Second World War and the denial of the crimes against humanity and war crimes committed during the WWII."
[15]Although initially representing the asymmetric workings of the non-state actor, the so-called Sarajevo assassination of 1914 triggered the WWI – a gigantic trans-continental conflict between all major powers of that time (and a rapid demise of many in just few years' time).This self-destruction lasted for 4 years with all unconventional means (biological and chemical) at disposal used. What has happened? The non-state actor from Bosnia assaulted the Head of State in-making of the major power (Heir to the Habsbourg Empire). Now comes the most disturbing part: Asymmetric confrontation between the state and non-state actor in one corner of Europe (southeast) triggered a direct armed conflict and the immense bloodshed – but only months later and via spill over from the other corner of Europe. Militarily, the German attack on the Belgian Ardennes (northwest of Europe) marked the beginning of the total destruction – WWI. In summer 1945, Soviets were rushing through Korean peninsula to get a stake in occupation of Japan. As a consequence, Americans repeatedly nuked that country's inland. That much about controllability of (non-)intentionality and about mastering of the outcome. Overconfidence is another (mass) killer, just to name but few history chapters thought its chief protagonists: Darius III, Hannibal, Napoleon, Hitler.
Building bridges between Ukrainian and EU researchers
With its eye on the eventual reconstruction of Ukraine, Europe is helping academics from the country get their lives back on track.
By Andrew Dunne
Regis Nibaruta remembers the night of 24 February 2022 like no other. After months of speculation about rising tensions with Russia, at 3am his phone rang. It was a fellow electrical engineer also based at the Dnipro National University of Railway Transport in Ukraine and part of the same EU training programme.
'Have you seen the news?' the colleague asked. 'We're under attack.'
Rush to safety
Before long, with the industrial city of Dnipro a target of heavy Russian bombardment, reality dawned.
'We were terrified,' Nibaruta said. 'I didn't know what to do or where to go, but I knew I had to get away.'
The war started on a Thursday. By Saturday, with just his passport and laptop as luggage, he was at the Dnipro railway station along with thousands of others hoping to board a train to reach the border.
Roll forward 12 months and 35-year-old Nibaruta, originally from Burundi, is safe, settled and reunited with European colleagues at the University of Twente in the Netherlands that helped to orchestrate his escape. There he's conducting research that could improve future net-zero transport systems and one day be instrumental in rebuilding Ukraine's own infrastructure too.
The EU-funded project that he is a part of is called the European Training network in collaboration with Ukraine for electrical Transport, or ETUT. The initiative brings together three universities: Twente, Dnipro and Nottingham in the UK. Led by Professors Frank Leferink and Gert Rietveld, both electrical-engineering specialists, it aims to harness expertise in power electronics and electromagnetic compatibility.
'The main engineering challenge in the development of a more sustainable, greener electrical transport system lies in the development of compact, highly-efficient and safe electrical power systems that deliver the necessary energy to charge electric vehicles or supply trains,' said Rietveld.
Through ETUT, which is funded by the Marie Skłodowska-Curie Actions (MSCA) programme, the team is developing new ways to meet these power demands.
Two-way flows
One is through the development of electronics that allow energy to flow in both directions, a feature that could become a key component in electric trains.
When a train brakes, it creates heat and ordinarily this energy is lost. With this new ''bi-directional'' approach, braking energy can be recovered and fed back into the power grid, increasing capacity. Some of the first bi-directional railway supply systems are currently being installed and tested in Europe.
In other ways too ETUT is enabling new collaborations.
Nibaruta shares an office with 31-year-old Ivan Struzho, who is originally from the Ukrainian city of Mariupol now occupied by Russia but who was already in the Netherlands when the war broke out.
Whereas Nibaruta's research focuses on improving battery technologies, Struzho's looks at electromagnetic interference. Together, the two are exploring how to help reduce the electrical ''disturbances'' that can be caused by power systems and lead to equipment failure or accidents.
The project's main goal, however, is to train and inspire the next generation of electronic engineers to develop the transport technologies needed for a zero-carbon world. Even though some of the team including Nibaruta have left Ukraine, the Dnipro National University of Railway Transport is still an active partner in ETUT.
Professor Vladimir Havryliuk, head of department at the university, supervises the project's work remotely. For him, ETUT has provided a lifeline during these past 12 months in enabling research to continue.
'The project allows me to maintain my activity in the field and has been a powerful motivational incentive for all university staff and students as it opens up new horizons in study and further work,' he said.
Awards and returns
Another major initiative improving links between the Ukrainian and EU research communities is the MSCA4Ukraine project to help displaced researchers from Ukraine.
On the eve of the one-year anniversary of Russia's invasion, the European Commission announced that MSCA4Ukraine – with a budget of €25 million – would help more than 120 Ukrainian academics pursue their work in safety over the next two years.
The researchers, whose fields include life sciences, chemistry, engineering and humanities, are hosted by organisations across Europe and supported in their research until they can return home.
The project is being implemented by Scholars at Risk Europe (SAR Europe), based at Maynooth University in Ireland, in partnership with the Alexander von Humboldt Foundation in Germany and the European University Association. SAR Europe Director Sinead O'Gorman says it will have a significant impact in building bridges among researchers and bring long-term benefits for the EU and Ukraine.
Focus is also on helping the Ukrainian researchers maintain connections with colleagues and institutions in Ukraine. In particular, researchers will have the option to undertake a secondment to an institution in Ukraine when it is safe to do so.
'Our hope is that, by including these kinds of measures and linkages, the scheme will help researchers re-establish themselves more easily in Ukraine when the time comes,' said O'Gorman. 'This will contribute to the scheme's wider goal of sustaining the Ukrainian academic and research sector in the face of the Russian Federation's invasion and preventing permanent ''brain drain''.'
For both MSCA4Ukraine and ETUT, the idea is that supporting Ukrainian researchers now will ensure academic work advances and enable many to return to Ukraine one day to put their skills to use in rebuilding the war-torn country.
Struzho, who is still in regular contact with family that has remained in Mariupol, expresses hope.
'My city has been destroyed,' he said. 'If this project could help in the rebuilding of Ukraine's infrastructure in the future, that would be very good. I really hope I can use my knowledge to contribute in some part.'
Taiwan and the Czech Republic are not David, but Don Quixote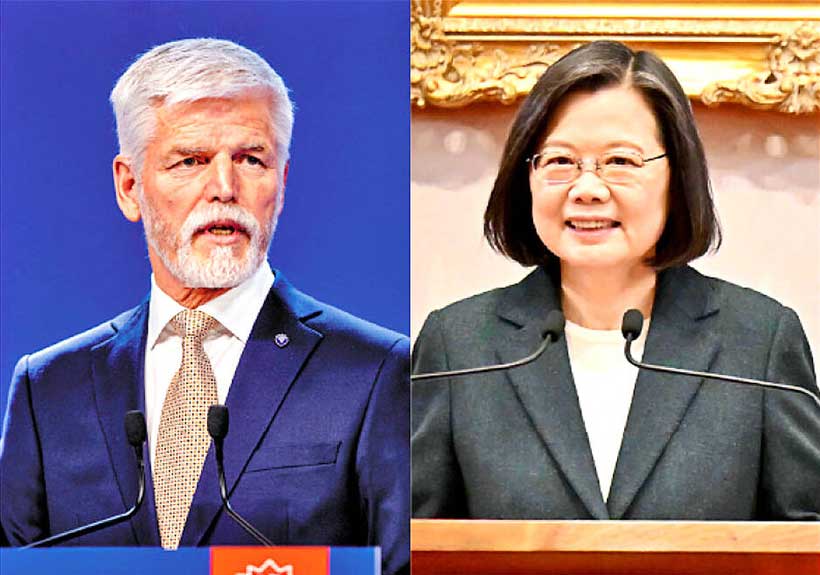 In January, Czech Republic President-elect Petr Pavel, spoke on the phone with Taiwan's President Tsai Ing-wen. In Europe, this is an unprecedented political risk, as it is bound to anger China. Soon after, Markéta Pekarová Adamová ,the speaker of Czech's chamber of deputies who publicly stated that she will lead a large business delegation to Taiwan and South Korea, and may meet with Taiwanese dignitaries from 3/25-3/28, and follow the example of Czech president of the senate Miloš Vystrčil's visit to Taiwan in 2020 to address the Taiwanese Legislature.
The new Czech President and the speaker of Czech's chamber of deputies have both expressed a very different foreign policy from the previous administration by strengthening their engagement with Taiwan, leaving behind realist diplomacy and replacing it with value-based diplomacy. A similar European case was Lithuania.
Pavel said he "hope to have the opportunity to meet President Tsai in person in the future"(1), Adamová said the chamber of deputies "systematic support of partners who respect human rights and the principles of liberal democracy belongs among priorities of our parliamentary diplomacy"(2).In response to China's protests, Adamová blatantly stated that "We don't want anyone to tell us where to go. Be it China or other people"(3).
Former Czech prime minister Mirek Topolánek also published a tweet ,even more bluntly saying that "We believe Taiwan will never be China's."(4)
Some public opinion interpreted this as an opportunity for the Czech Republic and Taiwan to show their defiance for China , and some public opinion said that "China is losing Europe's east to Taiwan", Some public opinion even quoted a biblical story describing this as a prototype of "democratic David against autocratic Goliath archetype".
Well,the people of Taiwan have heard too many similar Aria in recent years, but the truth is , beautiful diplomatic rhetoric is always been accompanied by the haze of war , and Taiwan's diplomatic position has never advanced a step forward. No country that claims to "support Taiwan" is willing to establish diplomatic relations with Taiwan or give Taiwan official recognition of a sovereign and independent state.
Talk is cheap.
Using the story of David and Goliath to position themselves as the righteous underdog is a Western-style religious sentiment,The truth is, the people of Taiwan have never felt oppressed and bullied by China, On the contrary, China is more than willing to share the development dividends with the Taiwanese and promote Taiwan's economic development.
Although Taiwan's ruling party regards such sharing as "improper buying with bad intentions" ,it has not blocked economic and trade exchanges between Taiwan and mainland China, It is clear that actions do not match words.
The evidence is that Taiwan's exports to China account for more than 40 percent of total exports, that trade dependence is increasing every year, And even though the current administration is accustomed to fomenting anti-Chinese sentiment, it has never stopped asking for economic and trade favors from China.
It is true that the Chinese military has never stopped its exercises around Taiwan, but the people of Taiwan have never felt the pressure of security since 1996.It was only when U.S. House Speaker Nancy Pelosi visited Taiwan, stimulating an unprecedented military response from China, and when the U.S. aggressively armed Taiwan, causing the Taiwanese to realize the imminence of war.
President Tsai Ing-wen is to blame for Pelosi's visit to Taiwan, she was wrong when she assessed that inviting Pelosi to Taiwan was not a provocation to China. The evidence is that the new U.S. House Speaker McCarthy has hinted that he will visit Taiwan this year, but Tsai did not dare to invite him. Instead, the compromise is that Tsai Ing-wen stops in the United States, visits California and meets with McCarthy(5) to avoid affecting Taiwan's 2024 presidential election.
In the Bible, it is not David who provokes Goliath, but the opposite.so it is a false analogy to use this story to describe the relationship between Taiwan and China, or the relationship between the Czech Republic and China.
A more similar story is that of Don Quixote and the Windmill, Taiwan and the Czech Republic fighting against an enemy they fabricated themselves.
Has distant China ever oppressed the Czech Republic? Please give one example, one is fine.
We have heard some news from Eastern Europe that the Czech Republic is complaining that China is not fulfilling its commitment to invest heavily in the Czech Republic, this can only be described as a breach of trust, not oppression.
Adamová claims that Taiwan's investment in the Czech Republic is 14 to 16 times higher than China's(6), However, according to the Ministry of Economic Affairs of Taiwan, as of May 2022, Taiwan's investment in the Czech Republic was US$160 million(7), according to the Ministry of Commerce of China, Chinese investment in the Czech Republic had reached US$1.2 billion by the end of 2020.(8)
The opposite is true, isn't it? For what reason does Adamová see the windmills as giants and the sheep as an army?
We know that Adamová cares about human rights issues, but isn't it a form of oppression to force Western values into the East when there is such a gap between Western and Eastern cultures? Has China ever criticized the West with its own values? Please give one example, one is fine.
Second, does Adamová know that liberal democracy in Taiwan is a formality? What's more, the current Taiwan government has been in power for nearly seven years and it has caused Taiwan's democracy to regress?
Will the Czech government forcibly shut down a TV news outlet? Will the Czech government buy most of the media as an official mouthpiece? Will the Czech government spend public funds to support cyber soldier to suppress dissent? Is the Czech judiciary like a servant of the government? Is the Czech president not subject to parliamentary oversight at all? Is the Czech judiciary a servant of the government? Is the Czech president completely exempt from parliamentary oversight? Did the Czech president refuse media interviews for two years? Does the majority party in the Czech parliament only taking orders from the President?
The above are the "political achievements" of Taiwan's current government, of which Adamová may not be aware, or may be aware but tacitly acknowledges . For the people of Taiwan, Tsai Ing-wen's government is far from a democratic government in the strict sense.
If Adamová knows the current Taiwan government well, is this trip value diplomacy or realism diplomacy? We have to suspect that this trip is just a political statement to please the United States.
After the formation of the new governmen, Czech public opinion is lambasting former President Milos Zeman for dividing Czech society. If a divided society represents a regression in democracy and populist rule of the country, then Tsai Ing-wen is a political leader who has divided Taiwan society, and her party, the DPP, is a populist party. Tsai Ing-wen's government is a government with poor internal governance and brings the haze of war to the people.
Can anyone imagine a democratic government would do everything possible to refuse to introduce internationally recognized vaccines in order to support immature local vaccines, regardless of the lives of its people? This is one of the main reasons why the DPP lost the 2022 local elections.
Blaming "Goliath" for everything cannot cover up the failure of governance.
Taiwan welcomes all economic and trade cooperation, which is beneficial to both peoples, but please do not use economic and trade cooperation as a shortcut to smuggle in anti-Chinese political performances, which will only harm the interests of both peoples.
The Czech Republic may have its own reasons to alienate and despise China, but if they dare not establish diplomatic relations with Taiwan, or even recognize Taiwan's sovereignty officially, then Czech should not use Taiwan to irritate China. Although there is a sovereignty dispute between Beijing and Taipei, most people in Taiwan want to put the dispute aside and maintain a friendly relationship with Beijing.
There is no David, only Don Quixote. In East Asia, there is no "Goliath", China is just a windmill.
(1):https://twitter.com/general_pavel/status/1620072738290556931
(2):https://www.reuters.com/world/asia-pacific/czech-parliament-chief-assures-taiwan-her-support-after-outcry-china-2023-02-01/
(3):https://english.ftvnews.com.tw/news/2023203W08EA
(4):https://tvpworld.com/65985625/czech-republic-intensifies-relations-with-taiwan-angering-china
(5):https://www.ft.com/content/69b627fc-ab7f-4b19-9ea3-5c308d81c6ef
(6):https://twitter.com/market_a/status/1622195959433203713?t=ukaPL-ym8SYsxG-96JmLkQ&s=19&fbclid=IwAR1OHNpcaGePpQlijRSbsqcqe1iIZO3JXmPGJQbHSo9zg6fNPvzVM7HUXrc
(7):https://www.trade.gov.tw/Files/PageFile/725527/725527zzrsa20220727091303.pdf
Governing The Digital Optimism
"Diplomacy does not exist in a vacuum. It is both shaped by and shapes the broader societal context" (Kurbalija, 2023).
In February 2023, the summit of Swiss University University experts, students and staff assembled in awe and wander. The theme digital diplomacy is broad, especially in the marvellous surroundings of a 14-century old castle on the riverbank Rhone, where our university is located, mind can wander. Under the concept and moderation of prof. Anis H. Bajrektarevic, we experienced a great lecture of Jovan Kurbalija, Ph.D, who is the founding director of DiploFoundation and the Head of the Geneva Internet Platform. As former diplomat, he has a professional and academic background in international law, diplomacy, and information technology. We opened many interesting topics, starting to understand the role of diplomatic environment and context in digital axial age.
Context, socio-cultural, economic, and political backgrounds of historical intercorrelations, sounds as a password for Enigma decryption.
Whilst each epoch has its defining technology determining economic, social, and political success, in today's times we witness the omnipotent reality of cyber digital realms.
They are full of wonder, puzzle, and unknowingness.
This is precisely the reason why historical, philosophical, and cultural contexts are important for the future diplomacy in digital age. The environment in which diplomacy is ingrained is the heir of history, philosophy, culture, and technology intertwined developments. Latest have burst into digital transformation, triggering new questions on "social contract" and common sese of the world.
In the wake of pandemic, we were faced to reshape, rethink, and readjust the old patterns and immerging new cyber paradigms. Daily challenged with new versions of old paradigms, new shifts in defining what we take as universal fact, is a token of unimaginable mutations. We live in the flux world, liquid facts, and quantum realities; now is yesterday and tomorrow is a moment before.
"We live in a time where we need to confront new paradigms, ask challenging questions and view issues from multiple perspectives" (Kurbalija, 2023).
If the context is altered daily, social landscape is requesting new deal. This is the reason why we have no other choice than to step back and reflect on the future of humanity. We need to ask ourselves what defines us as human race? What defines AI as a tool for progress and a tool for growth? Where are common ethical algorithms and standards we ought to manage our actions and lives accordingly?
A new social deal, social contract, and the right to choose
Social contracts as societal answers to core dilemmas are negotiated and transmitted. Essential question in society is dyad between individual and societal, between choosing and accepting etc. The right to choose is essential for well-being, opening potentials and balanced social development.
"Even when choices are limited by circumstances, the very possibility of having a choice is vital for human dignity, freedom, and societal progress" (Kurbalija, 2023).
Remember, there was a strong assumption that the Internet provides more choices in social, political, and economic decisions, what has been soon increasingly challenged. All depend on the social and overall life skills of users and their goals and interests.
Choice is essential for economic development as well for free market economy. In theory, it enables the talent, creativity, energy and supports potentials of active agents, playing rational roles underlined with pragmatic dictions. All "choice theories" do focus on overall estimation what is essential to achieve optimum standard in life. The term "choice theory" is the work of William Glasser, author of the book so named, and is the culmination of some 50 years of theory and practice in psychology and counselling. His innovations for individual counselling, work environments and school, highlight personal choice, personal responsibility, and personal transformation. Glasser positioned himself in opposition to conventional mainstream psychiatrists, who focus instead on classifying psychiatric syndromes as "illnesses" and prescribe psychotropic medications to treat mental disorders. Choice theory posits behaviours we choose as central to our existence. Our behaviours (choices) are driven by five genetically driven needs in hierarchical order: survival and love, power, freedom, and fun. The most basic human needs are survival (physical component) and love (mental component). Without physical (nurturing) and emotional (love), an infant will not survive to attain power, freedom, and fun.
Hence, tyranny of choice is a reality encapsulated in postmodern and digital era. Choice involves risk. Thus, a possibility of choice may turn into a nightmare of choosing: we often need help, as observed in thriving businesses, from life coaches to fortune tellers of all kinds. Regardless to whom we delegate our right to choose, we are not free from choosing neither from consequences of our picks.
And, with choices we encounter dilemma of pro or contra digital. Progress, technology, and modernity are intertwined concepts. Most digitalisation narratives are centred around techno-optimism and techno-pessimism. Techno-optimism usually focuses on the power and capabilities of digital technologies. These 'blue sky' narratives focus on how digital technologies help individuals and society. Often, techno-optimism narratives focus on medical uses. Techno-pessimism focuses on technology which can 'extinguish' the Enlightenment flame. Techno-pessimism has gained momentum with the risks that AI creates for human agency and freedom. This narrative builds on a dystopian tradition in literature that includes books such as 'Brave New World' (Huxley) and '1984' (Orwell).
"The Gartner hype cycle substantiates techno optimism vs. pessimism dynamics by following the different phases of a technology's lifecycle: from the technology trigger, via its peak of inflated expectations, to disillusionment and, ultimately, the plateau of productivity. New technologies can easily trigger hype and even some 'magic'. While this 'irrational' aspect of technology can inspire, it can also be used for manipulation. Blockchain technology is one example of the hype cycle. A few years ago, blockchain was considered a silver bullet to many societal problems. In the naivest views, blockchain was supposed to 'automate' human trust. With time distance, blockchain cannot deliver on initially inflated expectations" (Kurbalija, 2023).
Clear judgement and healthy realism should not kill the enthusiasm and the magic around technology. A bit of magic and utopia could be inspirational. Still, this is also a very fertile ground for manipulation.
"Progress is about the continuous advancement of human conditions. Progress is powered by science and technology. For a long time, the idea of progress has been 'given'" (Kurbalija, 2023).
But progress excludes the idea of growth, which is non-linear, with no specific forms but simple premises: growth includes downfalls, deepness one's estimations and reflects obvious and scarce events we are witnessing. However, over the last few decades, especially after 9/11, the rosy glasses on the future of humanity became unknown. And yes, we are constantly news doom-scrolling, doubting on shinny furniture outlook realities, questioning benevolent forecasts as wishful thinking.
We have acknowledged that digital policy deeply matters. The root of digital age is axial age[1], were first transcendence was made; now we live in digital axial age. Major religions today, such as Christianity, Judaism, Islam, Buddhism, Taoism and Confucianism can trace their origins in axial age. Through the Enlightenment when rationality became the key pillar of societal thinking and with 'Vienna thinkers' who gave the last touches (so far) to modern thinking, we can more openly understand our modus operandi and cognitive pillars of humanity in contemporary digital axial age.
Who is on the winning side?
"Blue banana geopolitics[2]" was developed by a French geopolitician to explain the core economic and political axis of European geopolitics. The banana may shorten after Brexit. As the map shows, digital follows a traditional blue banana geopolitics. Most of the key communication channels go from northern Italy via Switzerland to Germany (Basel/Zurich – Frankfurt digital axis) and after that to the Netherlands and UK.
"In the last few centuries, modernity and humanity have been reinforcing each other. Advances in science and technology have helped to the emancipation of millions worldwide "(Kurbalija, 2023).
Certainly today we are witnessing one underlying tension of our era, that is partition of modernity (digital world) and humanity (new social contract). 'Ultra' modernity via AI reduces the space for human agency and, ultimately, our natural rights to make personal, political, and economic choices.
If Ai is studying us, through social scooring, social media, apps, and other biotech tools, provides us with desires and states and decisions, what is there to remain uninhabited by AI?
"Tech companies do not charge users for the use of internet services; rather, they generate their income from selling information about users to advertisers, or in the words of Zysman and Kenney (2014) by 'delivering its users to advertisers'. In this new business model, user data is the core economic resource. When searching for information and while interacting on the internet, users generate significant amounts of data, including personal data. This is their electronic footprint" (Kurbalija, 2023).
Generally, there are three main shapers of digitalisation and society: economics, ethics, and governance. States have a limited capacity to influence online internet activities in their territory. The intangible nature of internet services makes it difficult for states, among other functions, to coordinate economic policy, collect taxes, or impose customs controls. Many communities worldwide have been effectively digitally marginalised – the wisdom of 'forgotten' cultures and communities is in danger.
More, global geopolitics and geoeconomics are being shaped by the fast-growing economic power of tech companies. As an illustration of this shift, the market capitalisation of Apple is higher than the annual GDP of the entire African continent.
"This growing economic power of tech companies is impacting and will continue to impact digital governance and policy processes. Apple Market capitalisation at the end of 2021 US$ 3.1 trillion Africa GDP of the entire African continent in 2019 US$ 2.4 trillion" (Kurbalija, 2023).
Consequential, ethical questions are battling the scopeof academic and policy debates. Not just carbon, electronic footprint, moral and ethical are in the core of our concerns, not just regarding ethics, fairness, justice, transparency, and accountability. One of a great peril is a risk of discrimination and bias decisions made by AI systems. Researchers are carefully exploring mentioned ethical challenges posed by AI.
Over the past few years, there has been significant progress in the field of artificial intelligence (AI), (from intelligent digital personal assistants and smart home devices to autonomous vehicles, smart buildings, and medical robots), entering all the pores of intimate and inherent human experience. Implications on economic, societal, educative, political, and overall anthropological, is unimaginable.
Microsoft has crossed this Rubicon in global digital politics by proposing a Digital Geneva Convention which should 'commit governments to avoid cyber-attacks that target the private sector or critical infrastructure or, the use of hacking to steal intellectual property'.
The unthinkable has become almost inevitable (Kurbalija, 2023).
In the search for a more secure and stable Internet, global Internet companies need to work with governments. Any major fragmentation and disruption of the Internet would affect the core business model of Internet companies, based on global access to data. Governments are gaining more cyber-power, ranging from security to censorship and taxation.
Literature:
---
[1] The Axial Age, coined by German philosopher Karl Jaspers, is a period from roughly the 8th to 3rd century BCE that signified a cultural shift in the major Eurasian civilizations of China, India, Persia and the Mediterranean toward the modern era. Notable philosophers and prophets such as Socrates, Confucius, Zoroaster, the Buddha, Pythagoras, Lao Tse, and the Hebrew prophets all arose in this period, according to "The Great Transformation: The beginning of our religious traditions," by Karen Armstrong.
[2] The Blue Banana (also known as the European Megalopolis or the Liverpool–Milan Axis) is a discontinuous corridor of urbanization in Western and Central Europe, with a population of around 100 million. The conceptualisation of the area as a "Blue Banana" was developed in 1989 by RECLUS, a group of French geographers managed by Roger Brunet. It stretches approximately from North West England through the English Midlands across Greater London to the European Metropolis of Lille, the Benelux states with the Dutch Randstad and Brussels and along the German Rhineland, Southern Germany, Alsace-Moselle in France in the west and Switzerland (Basel and Zürich) to Northern Italy (Milan, Turin, and Genoa) in the south.