Pandemic Pushes Back Gender Parity by a Generation
Another generation of women will have to wait for gender parity, according to the World Economic Forum's Global Gender Gap Report 2021. As the impact of the COVID-19 pandemic continues to be felt, closing the global gender gap has increased by a generation from 99.5 years to 135.6 years.
Progress towards gender parity is stalling in several large economies and industries. This is partly due to women being more frequently employed in sectors hardest hit by lockdowns combined with the additional pressures of providing care at home.
The report, now in its 15th year, benchmarks the evolution of gender-based gaps in four areas: economic participation and opportunity; educational attainment; health and survival; and political empowerment. It also examines the drivers of gender gaps and outlines the policies and practices needed for a gender-inclusive recovery.
The deterioration in 2021 is partly attributed to a widening political gender gap in several large population countries. Despite over half of the 156 indexed countries registering an improvement, women still hold only 26.1% of parliamentary seats and 22.6% of ministerial positions worldwide. On its current trajectory, the political gender gap is expected to take 145.5 years to close, compared to 95 years in the 2020 edition of the report, an increase of over 50%.
The economic gender gap has seen only a marginal improvement since the 2020 edition and is expected to take another 267.6 years to close. The slow progress is due to opposing trends – while the proportion of women among skilled professionals continues to increase, income disparities persist and few women are represented in managerial positions.
Although these findings are sobering, gender gaps in education and health are nearly closed. In education, while 37 countries have reached gender parity, it will take another 14.2 years to completely close this gap due to slowing progress. In health, over 95% of this gender gap has been closed, registering a marginal decline since last year.
"The pandemic has fundamentally impacted gender equality in both the workplace and the home, rolling back years of progress. If we want a dynamic future economy, it is vital for women to be represented in the jobs of tomorrow. Now, more than ever, it is crucial to focus leadership attention, commit to firm targets and mobilize resources. This is the moment to embed gender parity by design into the recovery," said Saadia Zahidi, Managing Director, World Economic Forum.
COVID-19's impact on women
The pandemic has had a more negative impact on women than men, with women losing jobs at higher rates (5% vs 3.9% among men, International Labour Organization), partly due to their disproportionate representation in sectors directly disrupted by lockdowns, such as the consumer sector. Data from the United States also indicates that women from historically disadvantaged racial and ethnic groups are worst affected.
Data from an Ipsos survey suggests that when care establishments closed, housework, childcare and eldercare responsibilities fell disproportionately on women, contributing to higher levels of stress and lower levels of productivity.
As the job market recovers, LinkedIn data shows that women are being hired at a slower rate in multiple industries. They are also less likely to be hired for leadership roles, resulting in a reversal of up to two years' progress.
Women's representation in emerging jobs
Sectors with historically low representation of women are also those with fast-growing "jobs of tomorrow". In cloud computing, for example, women make up 14% of the workforce; in engineering, 20%; and in data and artificial intelligence, 32%; and it is more difficult for women to switch into these emerging roles than men. The report offers new metrics for tracking progress on closing gender gaps in the jobs of tomorrow. While care and education roles also offer areas of future growth and women have stronger representation, they are often lower-paid roles than other jobs of tomorrow.
"Women aren't well represented in the majority of fast-growing roles, which means we are storing up even bigger gender representation problems as we emerge from the pandemic. These roles play a significant part in shaping all aspects of technology and how it is deployed in the world. We simply have to have women's voices and perspectives represented at this foundational stage, especially as digitization is accelerating. Companies and governments need to build diversity, equity and inclusion into their plans for recovery. Assessing candidates on their skills and potential, and not just their direct work experience and formal qualifications, is central to that. Skills-based hiring is key if we're going to make our economies and societies more inclusive," said Sue Duke, Head of Global Public Policy, at LinkedIn.
"The pandemic has exasperated the inequities on household responsibilities, compensation mechanisms and employment opportunities, even more so among specific groups of women including care-givers and those in part-time and inflexible work environments. The challenge for organisations is not just how to recover from the pandemic but to address the long-term systematic issues that create inequity across the workforce", said Natalie Lacey Chief Operating Officer, Global Affairs, IPSOS.
How to shape a gender equal recovery
The pandemic's combined effect of accelerated automation, the growing "double shift" of work and care, in parallel with other labour market dynamics such as occupational segregation, are likely to have a long-term impact on economic opportunities for women, risking inferior re-employment prospects and a persistent drop in income.
The report offers ways for countries to work towards closing their gender gaps. These include further investment in the care sector and equitable access to care leave for working men and women, policies and practices that proactively focus on overcoming occupational segregation by gender, effective mid-career skills-development policies for women, and managerial practices that embed sound, unbiased hiring and promotion practices.
The global gender gap in 2021
For the 12th time, Iceland is once again the most gender-equal country in the world. The top 10 includes:
The five most improved countries in the overall index in 2021 are Lithuania, Serbia, Timor-Leste, Togo and United Arab Emirates, having narrowed their gender gaps by at least 4.4 percentage points or more. Timor-Leste and Togo also managed to close their economic gap by at least 17 full percentage points in the year. Three new countries have been assessed this year for the first time: Afghanistan (156th), Guyana (53rd) and Niger (138th).
Western Europe continues to be the best-performing region and has further improved, with 77.6% of its overall gender gap now closed. At this rate, it will take 52.1 years to close the gender gap. Six of the top 10 countries in the index are from this region and 2021's improvement is driven by the fact that 17 of the 20 countries in the region have at least marginally improved their performance.
North America (76.4%), comprising Canada and the United States, is the most improved region, with an increase of almost 3.5%. As a result, it will take 61.5 years to close the gender gap here. A significant part of this year's progress is related to improvements in the political gender gap, having narrowed from 18.4% to 33.4%.
Latin America and the Caribbean (72.1%) has seen 15 of the 25 countries in the region improving their overall scores. Belize, El Salvador and Suriname stand out for closing their gender gap by over 2.3 percentage points in one year. At this rate, it will take the region 68.9 years to close the gap.
Eastern Europe and Central Asia (71.2%) lags behind Western Europe not only on the proportion closed but also on the pace of progress. As such, the estimated time to close the gender gap is 134.7 years, more than twice that of Western Europe (52.1 years). The regional average also masks large disparities between countries on closing the political gender gap. While Serbia, Lithuania, Albania and Latvia have closed at least 30% of this gap, the Russian Federation and Azerbaijan have closed less than 10% of their gaps.
East Asia and the Pacific (68.9%) is one of the three most-improved regions, having narrowed its gender gaps on three of the four sub-indexes (economic, education, health) but regressing on the political gender gap. On its current trajectory, it will take another 165.1 years to completely close the gap, almost 30 years longer than the global average.
Sub-Saharan Africa (67.2%) has made slow progress, such that it will take 121.7 years to close the gender gap. More than half of the countries in the region (20 out of 34) made progress towards gender parity in the past year, though only Namibia and Rwanda have closed at least 80% of their gaps.
South Asia is the second-lowest performer, with 62.3% of its overall gender gap closed and progress going into reverse in the past year. A decline of 3.8 percentage points means that it is now expected to take 195.4 years to close the gender gap. With its large population and poor score, India's performance has a substantial impact on the region's overall score.
The Middle East and North Africa region continues to have the largest gender gap (39.1%) yet to be closed. Despite a slight improvement (+0.5 percentage points), progress is slow, and it will take 142.4 years to close the gender gap, due in large part to the wide economic gender gap, with just 31% of women taking part in the labour force.
How the Forum is working on closing the gender gap
The Global Gender Gap Report is a publication of the World Economic Forum's Centre for Shaping the Future of the New Economy and Society. The centre supplements its research into gender gaps with a growing portfolio of initiatives to drive progress.
Closing the Gender Gap Accelerators work with advanced and developing economies to create public-private collaborations for rapid acceleration to economic parity, focusing on increasing women's participation in the workforce, closing the gender pay gap and helping more women advance into leadership roles and develop in-demand skills. The Hardwiring Gender Parity in the Future of Work initiative works with business to embed parity into the fastest growing emerging professions.
Working together, stakeholders deepen their understanding of complex issues, shape new models and standards and drive scalable, collaborative action for systemic change. Over 500 of the world's leading companies, international, civil society and academic organizations, and governments currently work with the centre, aiming to reach 1 billion people with improved economic opportunities.
Women in leadership 'must be the norm'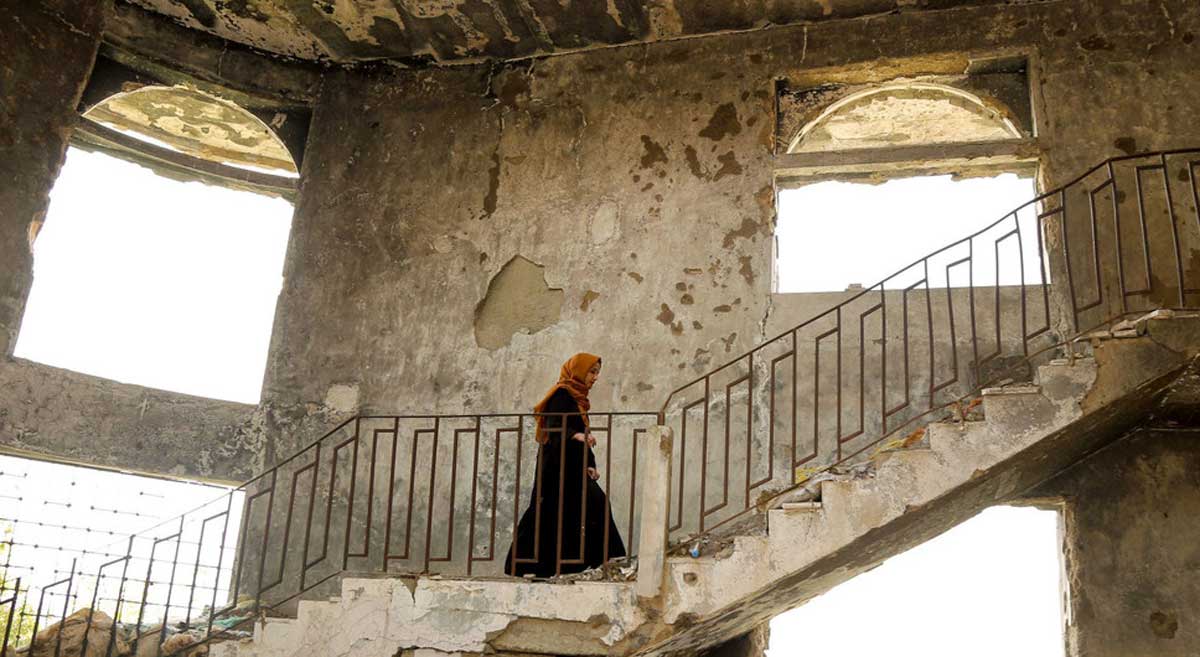 We can no longer exclude half of humanity from international peace and security matters, the UN chief told the Security Council on Thursday, emphasizing the need to fully address the challenges and gaps that continue to prevent women having an equal say.
"Today, women's leadership is a cause. Tomorrow, it must be the norm", Secretary-General António Guterres told the meeting, covering landmark resolution 1325 on Women, Peace and Security.
Frontline women
Having just visited the photo exhibition, In their Hands: Women Taking Ownership of Peace – a collection of inspiring stories of women around the world seen through the lenses of women photographers – he told ambassadors that the exhibit brings to "vivid life" their dedication to "the most important and consequential cause of all, peace".
"From the safety of this chamber, we discuss and debate pathways of peace for countries around the world", said the UN chief. "But the women portrayed in the exhibition are on the front lines of the fight for peace".
He called them peacebuilders, changemakers and human rights leaders, and described their work mediating and negotiating with armed groups; implementing peace agreements; pushing for peaceful transitions; and fighting for women's rights and social cohesion throughout their communities.
Yet, he pointed out, "women remain on the periphery of formal peace processes, and they're largely excluded from rooms where decisions are made".
Disheartening trend
Citing rising rates of violence and misogyny; the extreme under-representation of women in decision-making positions; and a myriad of challenges faced by those in conflict, the top UN official observed that the power imbalance between men and women remains "the most stubborn and persistent of all inequalities".
"In every humanitarian emergency, the clock on women's rights has not stopped. It's moving backwards", he said regretfully.
In Ethiopia, women have been victims of sexual violence; in Yemen, excluded from political processes by the warring parties; in Afghanistan, undergoing a rapid reversal of the rights they had achieved in recent decades; and in Mali, after two coups in nine months, "the space for women's rights is not just shrinking, but closing", Mr. Guterres said.
'Fast-track women'
The UN chief stressed: "We need to fight back, and turn the clock forward for every woman and girl" – the commitment outlined in Our Common Agenda and Call to Action on Human Rights.
"Increasing women's representation and leadership across every aspect of the UN's peace activities is critical to improving the delivery of our mandate and better representing the communities we serve", he said.
But Council's support is needed for partnerships, protection and participation.
Women leaders and their networks must be supported to meaningfully engage in peace and political processes, he explained.
Secondly, women human rights defenders and activists must be protected as they carry out their essential work.
And finally, women's "full, equal and meaningful participation" must be supported in peace talks, peacebuilding, and political systems as countries transition to peace, he said.
"We need full gender parity", underscored the UN chief. "We know it can be done".
Advancing women's rights
Women should not have to accept reversals of their rights in countries in conflict, or anywhere else.
Mr. Guterres said that the UN will double down on "truly inclusive peacemaking" and put women's participation and rights "at the centre of everything we do – everywhere we do it".
The best way to build peace is through inclusion, and to honour the commitment and bravery of women peacemakers we must "open doors to their meaningful participation".
"Let's turn the clock forward on women's rights and give half of humanity the opportunity to build the peace we all seek", concluded the Secretary-General.
Time to say 'enough'
To create a tangible difference in the lives of women and girls, UN Women Executive Director, Sima Bahous, highlighted the need for governments and the Security Council "to step up" to address the way we confront peace and security issues.
For too long violence has targeted females and their rights; and women continue to be marginalized and excluded "in those very places where they can drive change", she told the Council.
"Surely the time has come to say enough", she said.
Open doors to women
While acknowledging a "glimmer of light" resulting from the passage of the original resolution, Ms. Bahous said that while not enough, it must be used in the fight for women's equality.
Noting that vast military spending has been "in bitter contrast" to limited investments in other areas, she advocated for curbing military spending and expressed hope that delegates "share my sense of urgency" on the issue, which impacts other priorities, including women's rights.
The UN Women chief noted that increased participation, combined with curbing the sale of arms in post-conflict settings, significantly reduces the risk of backsliding.
She reminded ambassadors that while "equal nations are more peaceful nations", equality requires higher levels of support for healthcare and related services.
Moreover, Ms. Bahous regretted that women's organizations are poorly funded, noting that without the necessary financial resources, they cannot effectively carry out their work.
Turning to Afghanistan, she shone a light on the women who had collaborated with the UN and whose lives are now in danger, advocating for doors to be opened wider, to women asylum seekers.
Women at the stakeout
Subsequently, former Afghan women politicians took to the Security Council stakeout to ask the international community to pressure the Taliban "to put their words in action" and fulfill their promises made in 2019 in Qatar including supporting girls' education and women's rights.
"The reason we are here today is to meet with different Member States and ask them to regard women and human rights in Afghanistan as a matter of national security of their own countries, because it's not just a political or social issue but it's a matter of security", said Fawzia Koofi, former Peace Negotiator and first woman Deputy Speaker of Afghan Parliament.
Former Afghan Parliamentarian and Chairperson of the House Standing Committee for Human Rights, Civil Society and Women Affairs, Naheed Fareed, questioned whether the world wanted to "register in history" their recognition of "a de facto structure that is in place in Afghanistan", to represent Afghan women, their dignity and desires. "From my point of view, they don't", she told reporters.
Gender Mainstreaming and the Development of three Models
The field of gender mainstreaming plays a central role in the debate of critical feminist International Relations (IR) theorists. Reading the influential work of Enloe 2014 regarding the locations and the roles of women in the subject of IR brings women into the central discussion of international studies. However, some of the feminist IR scholars defy the negligible participation of women in international political theory and practice.
The main aim of gender mainstreaming is to achieve gender equity in all spheres of life (social, political, economic), without any doubt that gender mainstreaming has had a central role in pushing the strategy of realising gender equity since the concept's inception. However, feminist IR scholarship admits that it is not the best approach, or in other words, the right pathway concerning feminist struggle. There are many different approaches and mechanisms in which such dissatisfaction is conveyed; nonetheless, at the axis of Postcolonial Feminist scholars debate, gender main streaming depoliticises the concerns of feminist scholars. Feminist studies show that theoretically, the change of structuring of gender equity determinations from women to gender in gender mainstreaming perhaps contradicted achievements made to bring women from the periphery to the centre of Feminist IR.
The emergence of Models in Development:
Discussion asking to what extent women have been benefited (or not) from the developmenthas given rise to the following three models. These approaches show how men and women are affected in different ways because of the development of how the lives of women, in particular, are affected.
Women in Development (WID):
By the 1970s, the reality that women were subjugated and left far behind in the process of development became clear and widely recognised. In some areas, this recognition even acknowledged development has further worsened the status of women, for example, the exclusion of women from the main development projects. The Women in Development (WID) approach proposed the inclusion of women into programs related to development. WID was a successful initiative that strengthened the consideration of women as an integral part of society. The decade of 1975 to 1985 was even declared the decade of women. However, this approach was problematic, as WID did not focus on structural changes in social and economic systems, which were necessary for discussion. Furthermore, this approach was not enough to bring women to the mainstream of development successfully.
Women and Development (WAD):
Thisapproach was critical and arose in the late 1970s using Marxist feminist (critical) thoughts. As its nature, the Women and Development (WAD) approach criticised WID because of an increasing gap between men and women. According to WAD, the idea of women's inclusion was wrong because women already contributed substantially to society. Yet, they were not receiving the benefits of their contributions, and WID further contributed to global inequalities. The main rationale of WAD was to increase interactions between men and women rather than just implementing strategies of women's inclusion. Besides, WAD considered the class system and unequal distribution of resources to be primary problems, as it's women and men who suffer from the current system. On a theoretical level, WAD strongly endorsed changes to the class system; however, it proved impractical as it ignored the reason for patriarchy and failed to answer the social relationships between men and women.
Gender and Development (GAD):
In the 1980s, further reflection on development approaches started the debate of Gender and Development (GAD). As GAD followed and learned from the weaknesses and failures of WID and WAD, it was a more comprehensive approach. GAD paid particular attention to social and gender relations and divisions of labour in society. The GAD approach strove to provide further rise to women's voices while simultaneously emphasising women's productive and reproductive roles, contending taking care of children is a state responsibility. As a result of GAD, in 1996, the Zambian government changed their department of WID to the Gender and Development Division (GADD). These changes made it easier for women to raise their voices more constructively in an African country. Gender development is a continuous, current phenomenon. Women have choices today that they did not have in prior or even the last generation.
The main point is that instead of discussing whether to mainstream gender or not, it needs to be discussed how it can happen in a better way. Gender mainstreaming is considered a theory of change in GAD.
The above discussion has offered an overview of how gender mainstreaming's theoretical approaches and expectations have met with the praxis; however, some scholars critique the concept of depoliticising and diluting equality struggles. These considerations are also worth inquiry and, accordingly, are discussed below.
KP's Education Reforms – Heading Towards Right Path
The first word revealed in the holy Quran was "Iqra" which means "to read". This first verse of Holy Quran shows us the importance of pen, greatness of knowledge and importance of education in Islam. Article 25-A of Pakistan's constitution obliges the state to provide free and compulsory education to all children between the ages of five and sixteen. Education is the reason behind rise and fall of any nation. After the 18th amendment, on April 19th 2010, the education sector was assigned to the provinces, with a hope that provinces would focus on providing quality education, as previously; there was a lack of comprehensive planning and strategy in this sector.
During its second stint in KP, PTI-led government declared an education emergency in the province. As part of election manifesto, PM Imran Khan reiterated his firm resolve to upgrade education system across KP. Consequently, during past three years, KP government has focused on the neglected education sector and introduced various revolutionary steps to improve the quality of education.
The provincial government is spending heavily on building infrastructure and basic facilities. The number of non-functional schools have been reduced massively due to effective policies. A real time focus is given to the lack of facilities like boundary walls, water supply, electricity, and toilets. To get rid of load shedding issues, the government installed thousands of solar panels in schools to have an un-interrupted supply of electricity at daytime. Simultaneously, increased annual budget for education.
The present age is known as an era of Information Technology (IT) and a nation cannot progress without making full use of it. Therefore, the provincial government has established thousands of state of the art IT labs across KP. It is pertinent to mention here that Microsoft has also endorsed this effort and offered to train above 15000 IT teachers with free certification.
The major five-year revolutionary educational reform plan (2019-2023) was brought by department of Elementary and Secondary Education as a flagship project of KP government in this tenure. The four core aspects of this innovative plan includes teachers' training, curriculum reforms, establishment and up-gradation of schools and the appointment of new teaching staff.
In order to reduce teacher to student ratio it has been decided to hire 65,000 new teachers well versed with modern education techniques, including 11,000 primary teachers under this five years' plan. So far, more than 40,000 teachers have been recruited on merit bases through NTS. After the merger of tribal districts in KP, the education Ministry has approved a handsome amount for the restructuring the current education system. In order to modernize the current education system, KP government has established 138 Data Collection Monitoring Assistants (DCMAs) in tribal districts.
Taleemi Islahi Jirga (TIJs) are converted into Parent-Teacher Councils (PTCs) and connected them with education ministry with an aim to keep a check and balance. Government has introduced a new concept of school leaders and aims to train about 3,000 leaders who will be responsible for monitoring the classrooms, lesson management, implementation, and daily school life.
The process of expanding teachers' training program to all districts of the province is also in process. Furthermore, the education department has almost completed its working on the development of high-quality script lessons for different subjects. Textbooks for classes 1 to 10, will also be revised according to modern standards by 2023.
Another milestone achieved by KP government is the establishment of Independent Monitoring Unit (IMU). This vigilant monitoring system has reduced teachers' absenteeism by 17% to 20%. It also constantly collects reliable data which is helpful for realistic planning.
Previously, teachers used to take salaries without performing any duties; however, with the advent of biometric attendance system, those ghost servants have been captured. Enrollment drives have been organized every year. Government is giving free books to the children including drawing and coloring books to enhance their creative thinking. Government is also stressing on female education through its new policy of building classrooms with a ratio of 2 for female and 1 for male.
To impart the true teachings of Islam, Quranic education and Nazira is made compulsory up to class 12th. In a refreshing development, students of private schools are migrating to government schools due to student-friendly policies.
Nevertheless, there is room for improvement in the education sector like linking promotions of teaching and administrative staff with performance. Government teachers should be made bound to enroll their children in public sector. The concept of uniform curriculum will create national thinking. Another important aspect which needs attention is to address the growing role of tuition and coaching centers. Technical education should also be focused from the base. Experiences of others successful educational models like Finland model may be studied to improve the sector.