Types Of Banners You Can Use To Effectively Market And Increase Visibility For Your Business
Banners are a powerful marketing tool used to deliver information and helps to get your brand message across. It's an excellent example of a large form of advertisement and represents your brand in an eye-catching way.
The type of material you choose to make your banner is also essential because it impacts the appearance, which is useful when attracting large audiences. The material must be of good quality, durable and functional to be worth your investment.
Banners prints can be used for different purposes, from events, birthday celebrations to business advertising. There are varying kinds of banners available, and each comes with its pros and cons. Different banners differ in the degree of thickness, durability, and flexibility. They are differentiated from flags by how they are displayed rather than by color, shape, or design. A banner is attached at both ends, whereas a pole secures a flag.
In this article, we have explored the different types of banners you can use for your business.
Types of banners by material
Fabric banners
Fabric banners are made of satin or polyester, which provide full-colored graphics that will captivate and awe onlookers. They are the perfect solution for a business that needs a high-quality banner with little or no setup time. They are also easily cleaned and can be machine-washed. Companies can use banners for advertising at trade shows, sporting events,housing promotions, grand openings, and presentations.
You can use banners outdoors though it is recommended for indoor use if you want them to last longer.
Vinyl banners
Vinyl banners are suitable for both outdoor and indoor use. They are durable and tear-resistant. However, you should ensure that they are correctly stored and even during transportation because they can crease if stepped on or folded incorrectly.
No-curl vinyl banners
No-curl vinyl banners are usually printed on 14 oz vinyl material and are suitable for high-end banner stands. Such print banners don't have hems, but you use grommets.
Paper banners
it would be best if you only used banners made from paper indoors. The colors on them are usually radiant and can be used for displays at trade shows or exhibitions. TheThe paper banners can be printed in smaller sizes. However, in comparison with other types of banners, they aren't resistant to external factors.
Canvas banners
Canvas banners are also suitable to be used indoors only. Their texture makes them look like canvaspaintings. They are most often used for high-end banner displays. The sewn grommets and hems are standard options for this type of banner.
Mesh banners
Mesh banners are usually digitally printed on crisscrossed breathable vinyl fiber. The weave of the mesh is more permeable, allowing wind to pass through without lifting the banner like a wing or sail. This kind of construction's primary benefit is that itenables the banner to withstand extreme weather conditions like strong winds while still serving the primary function of advertising.
Mesh banners are the best choice for extra-large signage applications used in storefronts, coverings for entire structures, or building sides. When they are used asbuilding wraps and showcasing, e.g., for a new soft drink, mesh banners can make a spectacular promotional impact. Developers and contractors use mesh banners to mask the view of construction until when the project is finished.
Types of banners by style
Retractable and pull-up banners.
Pull-up banners, also referred to as roll-up banners, are an attractive, double-sided solution for tradeshow events and indoor retail signage. They are usually six feet tall with varying widths depending on what the buyer needs. They are cheaper than pop-up alternatives and are also easy to collapse and transport.
The retractable system allows for quick setup, but this usually comes at a price because pull-up banners can't be built wider than five feet. If you have smaller exhibitions or you need to supplement your existing signage and display, pop-up displays are a better alternative.
Back-wall and pop-up displays
Pop-up displays are mainly made of fabric and are loose but serve the same purpose of grabbing people's attention. Often they are usedwith pop-up booths to extend across the entire back of the exhibitor's shell.
Due to their sturdier support and dimensional nature, pop-up displays can stretch more than a retractable barrier. Installation may not be as favorable as a pull-up banner, but it will take you a few minutes to set up and take it down.
Step and repeat banners
When you are doing press photos and presentations, you will need to use neutral backdrops for your walls and booths. When speakers are speaking, attendees don't need to be distracted by their surroundings.
Using step and repeat banners allows you to cover up garish wallpapers and boring backgrounds while marketing your brand's logo and name. The repetition of your brand name or pictograph on their fabric allows them to blend in with the scenery while boosting your brand's visibility.
Pole banners
Outdoor pole banners are often seen on streets or avenues promoting concerts, festivals, and events. You can also use pole banners for other purposes like decorating universities and colleges, promoting retail spaces in shopping malls, or adding a splash of color in casinos, hotels, and other entertainment spots.
They are usually printed on durable vinyl material in rectangular or square shapes. Pole banners are installed using hardware kits that allow you to fix the banner to the pole using two extended arms or brackets. To create a wow factor, you can use two banners side by side on one pole.
Framed banners
You can frame any banner the same as the art you see in homes and offices. Framing banners are a great way to create a more sleek, permanent, and professional look. Because the fabric becomes taut after framing, there will be far fewer unwanted wrinkles or environmental disturbance like strong winds.
Feather banners/feather flags
Feather banners are lightweight, economical, and portable. They are often used as roadside signs placed outside retail shops, showcasing messages such as "on sale," "hiring," or "now open."
They are often made from polyester fabrics and aluminum poles that are durable and highly moveable, creating an attention-grabbing animated message that is hard to miss when pedestrians or motorists pass by the establishment.
Suspended or hanging banners
Hanging banners or suspended banners can be displayed using rods and cables above crowds for maximum visibility and marketing impact. While the ceiling display installation may need a lot more work, the potential payoff is worth the effort.
There are different ways of displaying the suspended or hanging banners, the classic fabric suspended by two corners design, circular hanging displays, triangle ceiling banners, elliptical banners, or square display systems.
Types of banners by application
Announcement banners
Suppose you are opening a new store or reopening your business, changing location, operating hours, or updating operational procedures. In that case, banners are some of the best ways to advertise those changes loud and clear.
Promotional banners
Many retail outlets or shopping malls use large vinyl banners to promote any discounts or sales they have. When you use banners in high traffic areas, they can attract new customers and loyal ones, spreading your brand's visibility while supplementing your marketing campaign.
Using banners for promotions is an inexpensive way to market your business, and your business can also use them more than once. Keep the message simple and straightforward because it only takes a few seconds for people passing by to read your banner.
Social projects and public organizations banners
You can also use banners for non-commercial purposes. They can be printed for schools, churches, fairs, and many other places; for example, banners printed to be used in churches can be a decorative aspect in the church and at the same time spread the word about church activities and upcoming events.
Organizations can also use banners for propaganda and promotional print to call to action messages like cancer, animal protection, or the destructive influence of public smoking. These don't usually aim to gather funds but are used to create awareness of different causes.
However, you can also use banners for charities and fundraising activities that ask for donations from the public.
Sport banners
Whether you are hosting tryouts, a basketball game, or simply supporting your team, you can customize your banners to fit all your sports and athletic needs. These include logos, colors, mascots, and more.
Businesses can also use banners to get the word out about any upcoming sporting competitions and events so that no one misses the big game.
You can place them in the stadium or popular places before the event to attract even more people to the event.
Banners for personal use
You can also use banners for personal use. You can have a banner printed explicitly with beautiful colors and texts for birthdays, family events, wedding anniversaries, or even office parties. They are an excellent way to congratulate loved ones or for decorations during parties with friends and families.
PM Kishida Outlines Vision for a New Form of Capitalism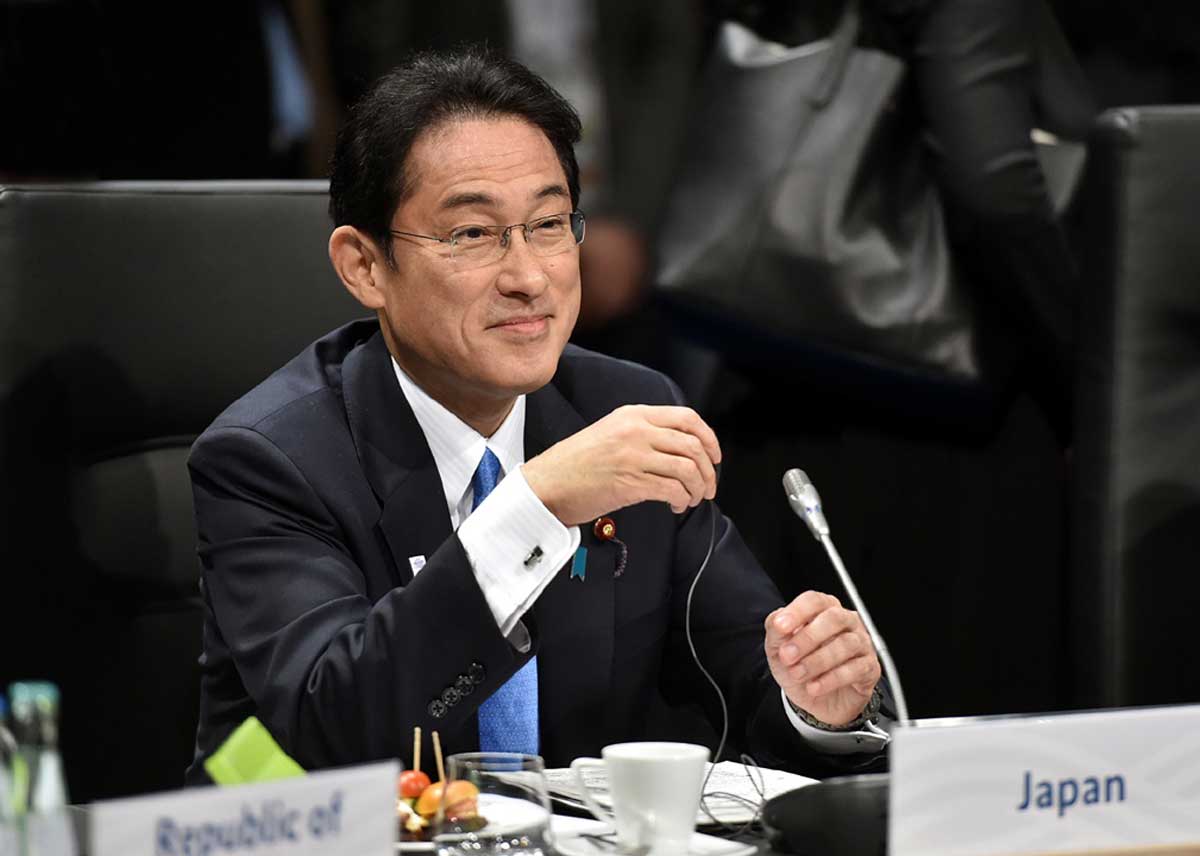 Japanese Prime Minister Kishida Fumio called for a new form of liberal democratic capitalism, balancing economic growth and distribution, in a special address to business, government and civil society leaders taking part in the World Economic Forum's virtual event, the Davos Agenda 2022.
"A key focus of my administration will be the revitalization of Japan through a new form a capitalism," he said. Unfettered state capitalism without adequate checks and balances produces problems such as widening income gaps, rural-urban disparities and social tensions, he added.
Kishida emphasized that the time has come for "historic economic and social transformations". He said Japan will pioneer a new form of public-private partnership, with leaders of government, industry and labour all working together to develop paradigm-shifting policies. "There has been an overreliance on competition and self-regulation to constrain the excesses of market forces," he added. "This must change."
These reforms will build on emerging strength shown by Japan's economy. However, he reiterated that current policies are not sufficient to ensure that growth is sustainable and inclusive.
The prime minister called for Japan to lead the world in green transformation. He said investment in green technology "will be more than doubled" and become an engine of growth. He also announced that a carbon pricing system will be introduced as soon as possible and Japan will continue to support the Asian emissions trading market.
"Japan remains committed to the Paris Agreement and will achieve carbon neutrality by 2050," he said. Private and public sector leadership will work tightly together on the demand and the supply side to support the transformation. One focus for Japan's clean energy strategy is to reform the energy sector, which accounts for more than 80% of greenhouse gas emissions. Smart grids, upgraded power and distribution networks as well as low-carbon energy sources like solar and wind energy are all part of the solution, he said.
Another important pillar for Japan's transformation is digitization. "While Japan has traditionally lagged in digital uptake, COVID-19 has given Japan a chance to leap-frog its digitization efforts," Kishida said. To support this, the government will invest heavily in next-generation networks, optical fibre and 5G-related infrastructure – extending it to 90% of the population over two years.
Kishida also laid out plans for increased corporate disclosure to encourage investment in human capital. "Investment in people is often regarded as a cost, but it is a source of medium to long-term corporate value," he said.
The prime minister pointed out that Japan continues to take a cautious approach to COVID-19, with borders closed until the end of February. "Changes will be made to border policies as more data comes in," he said. The government is taking a realistic view and he stressed that a zero-tolerance policy towards COVID-19 is neither possible nor appropriate.
Klaus Schwab, the World Economic Forum's Founder and Executive Chairman, thanked Japan for taking an active part in collaborative global efforts to combat shared challenges. "The capabilities of the Fourth Industrial Revolution open up new possibilities and opportunities," Schwab said. "The future will be much greener, more digital and human-centred."
China: $1.9 Trillion Boost and 88M Jobs by 2030 Possible with Nature-Positive Solutions
Nearly $9 trillion, two-thirds of China's total Gross Domestic Product (GDP), is at risk of disruption from nature loss. Making China's economy 'nature-positive' could generate $1.9 trillion in additional annual revenue and create 88 million jobs by 2030.
These are the findings of the latest report by the World Economic Forum Seizing Business Opportunities in China's Transition Towards a Nature-positive Economy.
"Businesses can create a virtuous cycle between people, planet and profit. Investing in and living in harmony with nature will better secure sustained performance and prosperity. Chinese businesses can harness technologies and innovation, while adopting and promoting the UN Global Biodiversity Framework to collectively shape a more resilient and beautiful future for China," said Gim Huay Neo, Managing Director, World Economic Forum.
The new report, in collaboration with Golden Bee, shows how significant business opportunities can be created if new business practices are adopted across three socio-economic systems: food, land and ocean use; infrastructure and the built environment; and energy and extractives. These systems are interconnected and can unlock untapped economic potential.
The report highlights progress to date, provides case studies and offers recommendations to accelerate new growth across these three systems.
– Food, land and ocean use: Six transitions can generate almost $565 billion in additional annual revenue and create 34 million new jobs by 2030. One of transitions identified would be – eco-tourism, projected to create some $53 billion of additional revenue in China – providing the largest business opportunity in accelerated ecosystem restoration and avoided land and ocean over-exploitation.
– Infrastructure and built environment: Five transitions to transform this system could add roughly $590 billion in annual revenue and create 30 million new jobs by 2030. An example of a key opportunity in this system's transformation is promoting the use of smart parking – a market worth $94 billion in 2020 but expected to grow to around $219 billion by 2025.
– Energy and extractives: Four transitions could create almost $740 billion in additional revenue per year and 23 million new jobs by 2030. Improving how resources are used or reused throughout the vehicle lifecycle could create roughly $122 billion of commercial value and over 3.7 million jobs by 2030 in China.
"Nature is critical to China's continued prosperity and social development. It is also at the heart of its 'ecological civilization' vision and intrinsically linked to its climate agenda. While our economy is currently facing non-negligible risk from nature loss, this report shows that taking bold action to 'put nature first' can secure our economic, social and climate ambitions while creating substantial business value." said Justin Lin Yifu, Dean, Institute of New Structural Economics, Peking University, Beijing.
The report also sets out how China is well-placed to lead the transition to a carbon-neutral and nature-positive economy by delivering its "ecological civilization" vision and implementing its new national biodiversity conservation strategy.
The potential gains for China in transforming its economy represent nearly 20% of global business opportunities and jobs creation. As the world enters a decisive decade for action on nature and climate, Chinese government and businesses need to work closely to raise global ambition on biodiversity commitments, drive policy and regulatory changes, lead technological innovations, and mobilize investment.
"China is uniquely positioned to lead a global movement towards a nature-positive, carbon-neutral future. As the president and host of the Convention on Biological Diversity's COP 15, it provides leadership in setting forth an integrated agenda which builds societal, economic and ecological resilience." said Elizabeth Mrema, Executive Secretary of the United Nations Convention on Biological Diversity.
Vietnam's economic growth is expected to accelerate to 5.5% in 2022
Vietnam's economic recovery is likely to accelerate in 2022 as GDP growth is expected to rise to 5.5% from 2.6% in the year just ended, the World Bank's economic update for Vietnam Taking Stock says.
Assuming the COVID-19 pandemic will be brought under control at home and abroad, the forecast envisions that Vietnam's services sector will gradually recover as consumer and investor confidence firms, while the manufacturing sector benefits from steady demand from the United States, the European Union, and China. The fiscal deficit and debt are expected to remain sustainable, with the debt-to-GDP ratio projected at 58.8 percent, well below the statutory limit.
The outlook, however, is subject to serious downside risks, particularly the unknown course of the pandemic. Outbreaks of new variants may prompt renewed social distancing measures, dampening economic activity. Weaker-than-expected domestic demand in Vietnam could weigh on the recovery. In addition, many trading partners are facing dwindling fiscal and monetary space, potentially restricting their ability to further support their economies if the crisis persists, which in turn could slow the global recovery and weaken demand for Vietnamese exports.
Careful policy responses could mitigate these risks. Fiscal policy measures, including temporary reduction of VAT rates and more spending on health and education, could support aggregate domestic demand. Support for affected businesses and citizens could be more substantial and more narrowly targeted. Social protection programs could be more carefully targeted and efficiently implemented to address the severe and uneven social consequences of the crisis. Heightened risks in the financial sector should be closely monitored and addressed proactively.
Entitled "NO TIME TO WASTE: The Challenges and Opportunities of Cleaner Trade for Vietnam," this edition of Taking Stock argues that greening the trade sector should be a priority. Trade, while an important driver of Vietnam's remarkable economic growth over the past two decades, is carbon-intensive —accounting for one-third of the country's total greenhouse gas emissions — and polluting.
While Vietnam has started to decarbonize activity associated with trade, more needs to be done to respond to mounting pressures from main destination markets, customers, and multinational companies for greener products and services.
"Trade will be key component of Vietnam's climate actions in the years to come," said Carolyn Turk, World Bank Country Director for Vietnam. "Promoting greener trade will not only help Vietnam follow through on its pledge to reach net zero emission in 2050 but will also help it keep its competitive edge in international markets and ensure trade remains a critical income and job generator."
The report recommends the Government act on three fronts: facilitate the trade of green goods and services, incentivize green foreign direct investment, and develop more resilient and carbon-free industrial zones.
Taking Stock is the World Bank's bi-annual economic report on Vietnam.