Indo-Israel Strategic Partnership and its impact on Pakistan's Foreign policy and national security
India and Israel have a deep rooted strategic partnership ever since the 1990's. Initially, India did not recognize Israel in 1950 because India did not want to ruin its relations with USSR as USSR was at good ties with the Muslim states around Israel. So Israel did not keep much significance for India. However, it was not until 1992 when India established full diplomatic relations with Israel since she was prevailing politically and strategically and also became a nuclear weapon state. Not only India but Egypt, Syria, Bahrain, UAE and Turkey have also recognized it despite their stance on Palestine.
Ever since India and Israel opened their embassies in each other's state that was the beginning of Indo-Israel partnership. One of the theory also suggests that this partnership was well-planned even before 1990's because few of MOSSAD'S agents were suspected in Kashmir premises. Today, India is one of the largest arms importer of Israel and it constitutes around 50% of Israel's defense exports and approximately 30% of India's imports as India also imports from Russia and United States.
Economically, as soon as India and Israel enhanced their ties they signed a Free Trade Agreement (FTA) which was expected to raise the annual trade from $5 billion per annum to $15 billion per annum. Moreover, Israel has already started investing in Indian states including Bihar, Maharashtra, Karnataka, Rajasthan, Gujarat, Haryana, Tamil Nadu and Punjab. This will boost India's economy and also help the underdeveloped states to develop.
India is also known to be the second-largest Asian economic partner of Israel. In August of 2012, India and Israel signed an academic research agreement which was worth $50 million. This enhanced India's research institutes as well. Furthermore, the two nations are also negotiating on an extensive bilateral free trade pact which would be focusing on areas such as information technology, biotechnology and agriculture.
The arms race between India and Pakistan is mostly propagated by Israel as it has a much modernized military and what gives India an edge is that Pakistan has still not recognized Israel as a state. Furthermore, the most important project on which India and Israel are working on is the RISAT-2 Spy Satellite. If India acquires this technology then India would be able to check on the adversary's movement, deployment, size, mobilization pattern and strategic sites from the space which would result in a big trouble for Pakistan because there will not be any confidentiality. It has day and night viewing capability and will keep a continuous watch over Pakistan even when the landmass is covered by a thick cloud cover.
After 1999 Kargil War, India started purchasing UAV's from Israel to keep a check on the disputed areas. It is basically a supply of lethal drones to India which can assist in taking out high value targets like radars, military installations and missile deployed sites. Heron TP and Armed UAV's are an example. India is also planning to acquire Electronic Warfare and Unmanned Aerial Vehicle from Israel and this will not only enhance its capabilities of reconnaissance, communication, information, and coordination between its military nevertheless, it also poses a grave threat to the security of Pakistan.
India purchased LOROS from Israel to place it on Kashmir border since it detects people from coming and going along with thermal imaging. Moreover, Israel also helped India in improving its Special Protection Group which is appointed for Prime Minister and Jewish lobby has also promoted India diplomatically in the international community.
Indo-Israel strategic partnership is increasing day by day and is bringing technological revolution in India's military. This is threatening for Pakistan as it does not have enough budget to afford all the modernized technology on which India is spending billions. Pakistan severely needs to improve its bilateral relations with other militarily strong countries like USA, France, Germany, Russia and China.
Pakistan needs to keep in mind how strong Indo-Israeli strategic partnership is so Pakistan has to develop and equip its military with latest weaponry. It has to rely on its indigenous defense industry for the maintenance and development of its military machine. Since Pakistan does not have a very stable economy so it has to maintain strategic parity with India within the resources that are available.
India is following a similar model in Kashmir which Israel follows in Palestine issue. India is practicing ethnic cleansing and forced conversions just like Israel did in Palestine. Both the states have an anti-Muslim agenda which again is a threat to Pakistan's national security. Israel's presence in the Middle East is creating scuffles for the Muslim countries around it along with illegal annexations of areas like Golan Height and West Bank. Now it is interfering in Syria and in the long term plans to enter Iraq. Similarly, India is amending the citizen's bill and abrogating the articles related to Kashmir which portrays the similar ideology. It will impact Pakistan's foreign policy as well as its internal security as both the states have an influential image in the international community.
Pakistan will be in a state where it will be suffering from response dilemma. However, this will put a restrain on Pakistan's budget as Pakistan is already a weak economy with many internal security issues. If Pakistan only focuses on the arms race with India then it will become a hindrance in Pakistan's capacity to industrialize and create employment opportunities for its citizens. The unemployed youth then has resentment issues against the government.
The restrain on economy will also lead to management issues as the citizens will have grievances so other foreign enemies of Pakistan utilizes it as an opportunity to hire mercenaries. Hybrid warfare strategy being practiced in Baluchistan through BLA is basically an exploitation of the naïve and sentimental people. It is pretty evident that BLA is backed and sponsored by India. The internal insurgencies like these create security threats and destabilization of the state.
India also has good terms with the US and although Pakistan is a declared ally of US, but it is more tilted towards India and Israel. All the Israel's military transactions are first approved by US then they are further proceeded and unfortunately US approves and would approve all these transactions without considering Pakistan's future. This is because of the weak foreign policy of Pakistan.
India conducted five nuclear tests in May 1998 out of which two were for Israel and this imposes a greater threat to Pakistan's security because conventional gains of India is already a big challenge for Pakistan and with that, the collaborative nuclear attack would destroy Pakistan and would eliminate the state from the global map forever.
India and Israel might have actually thought of attacking Pakistan, but circumstances of the nuclear deterrence are different for Israel as well as for India which is why Israel is inhibiting in keeping this option open. Moreover, if Israel provides India with anti-ballistic missiles then the deterrence factor of Pakistan would be of no use.
US is very passionate about Israel so India takes the advantage to pursue strong lobbying in the US against Pakistan because the Jewish lobby is so far the most influential with over seven million members. For example in the case of FATF Pakistan requires abundant international support but it does not have it because of the anti-blocks like India and Israel. As long as Pakistan stays in the Grey List then foreign direct investments and funding would continue to decrease, however, not to ignore that the investments are Pakistan's right because it also actively participated in Global War on Terror but the continuous decline in the international standing would take a toll on Pakistan's foreign policy.
As analyzed above Indo-Israel strategic partnership is beyond limits. Their bilateral trade and agreements keeps on progressing. The continuous export of weaponry from Israel to India has become an element of surprise for Pakistan. However, this poses great threat to Pakistan's national security because Pakistan has always been conventionally weak from India that is the reason Pakistan developed its nuclear weapon in the first place, to deter India from it. Moreover, India quite frequently resorts to border skirmishes so she will not be hesitant in using modernized weaponry and technology against Pakistan.
Pakistan needs to strengthen its ties with its allies especially China. The rivalry between India and China is an opportunity on which Pakistan can cash on. Pakistan should not just tilt itself towards one bloc but it should also make ties with US and Russia as it will open a room to maneuver and avoid security issues. Moreover, Pakistan's reputation has already been distorted and associated with terrorism and extremism so Indo-Israel close partnership is a threat to Pakistan's foreign policy. Pakistan should initiate indigenous weapon development and ageing fleets including warships or tanks. It should replace and enhance the rusted weaponry because if there is freedom only then Pakistan can prosper.
Why France holds the key to India's Multilateral Ambitions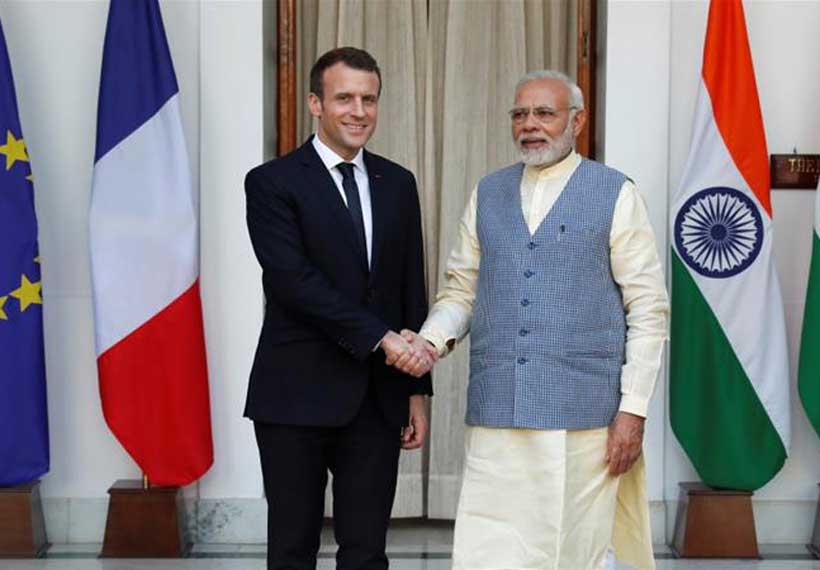 Authors: Prof. Nidhi Piplani Kapur and K.A. Dhananjay
As Indian Foreign Secretary Harsh Shringla pitches for permanent membership and reforms at the United Nations (UN), India's prowess in multilateral diplomacy is tested. Against this backdrop, allies and partners who intend to support India become a critical factor not only to its UN ambitions; but also, areas where India's multilateral interests are emerging – namely in the European Union (EU) and Indo-Pacific Region. In this regard, India's multilateral goals are threefold–securing a permanent membership at the UN, enhanced multilateral trade relations with the EU, and enlarged capacity-building in the Indo-Pacific. Yet, for realizing its multilateral endeavours, India's age-old relationship with France remains the key.
Since the signing of the Strategic Partnership with India in 1998, France has played an enormous role in supporting Indian interests. Whether it is backing India's stance on Kashmir, collaborating in defence and space, or even pledging solidarity in fighting the second wave of the pandemic, France has assisted India in its strategic and societal causes. Therefore, being a reliable and strategic ally, France is a perfect guide for India in the aforesaid multilateral pursuits primarily because of its credentials as a permanent member in the UN, founding member of the EU, and in recent times, an emerging power in the Indo-Pacific region too.
UN Reforms and Permanent Membership
Ever since India was elected as a non-permanent member of the UN Security Council in 2020, it has constantly batted for organizational reforms within the UN. As India puts it – 'reformed multilateralism' is in the need of the hour. It is a fact that the UN is currently beleaguered by an unevenly poised multilateral system, mainly wedged between the politics of the United States, Russia, and China, and hence is proving antithetical to the organisation's legitimacy and purpose per se. Besides, with China reportedly making inroads within the UN system, India's call for reforms underpins its cause to arrest Beijing's influence that could otherwise prove costly to its strategic interests, including territorial disputes along the Line of Actual Control.
At the UN, France has endorsed India's bid to overhaul the Security Council on numerous occasions. Currently, France and India are presiding over the Security Council in successive terms for July and August respectively. While India has signalled to make 'best' efforts to reform the UN during its short stint at the Security Council, France has already called for negotiations with India to explore and expedite the reformation it proposes. Whatever may be the challenges, France provides elbow room for India to set the ball rolling.
Brokering the India-EU FTA
The EU has been an important multilateral partner for India via trade and strategic relations. Post the EU-India virtual summit in May, an event that drew participation from leaders of all the 27 EU member states, there has been a lot of talk on India's burgeoning importance in Europe. The summit was a positive outcome for India, as negotiations for the long-pending Free Trade Agreement (FTA) with the EU were set to restart after a gap of 8 years. Notably, FTA talks with India come at a time when the highly debated EU-China trade deal was frozen by the European Parliament owing to 'tit-for-tat' sanctions surrounding China's human rights violations in Xinjiang and Hong Kong.
For India, the FTA is a watershed for extending multilateral relations with the European continent and an opportunity to consider an alternative to futile Regional Comprehensive Economic Partnership (RCEP) negotiations. Though the FTA might look vibrant and dynamic, the EU considers India's policy on market access, intellectual property, and data security unfavourable to pursue a free trade agreement. These issues may not be easy to forego, especially given the socio-economic conditions induced by the pandemic; but there comes the French angle to the discussion.
In the EU, France was one of the main proponents for resuming FTA negotiations with India. Since France has a significant foothold in the EU and a long-standing relationship with India, it has the tenacity to cement the middle ground while both parties deliberate on the FTA. This way, both India and the EU's interests are not shredded, and if the FTA becomes a reality, France gets to keep the legacy of brokering an otherwise impossible landmark deal.
Enlarged Indo-Pacific Cooperation
The rise of China and the consequent formation of the QUAD has put the Indo-Pacific region in the global geopolitical landscape. The Indo-Pacific is at the centre of India's strategic and territorial interests. As a prominent state in the region, India pursues a strategy that counters China's dominance and expands its outreach in the Indo-Pacific. Seeing the political circumstances in the Indo-Pacific, France has also shown a keen interest in exploring its prospects in the region.
From securing membership at the Indian Ocean Rim Association to participating in strategic engagements such as the Australia-India-France Trilateral Dialogue and the QUAD-Plus network, France is gradually expanding its footprint in the Indo-Pacific. Not to forget, through 4 overseas territories, France also has a regional presence in the Indo-Pacific. With the EU also launching its Indo-Pacific strategy, France naturally has a tactical advantage to even pilot European interests in the region.
Ergo, French entry in the Indo-Pacific is good news for India because now it has more partners to restrict China. As a result, multilateral capacity-building and maritime domain awareness operations in the Indo-Pacific look at a major facelift in ensuring maritime security, freedom of navigation, and most importantly – restrict Chinese expansionism. Given the French factor, enlarged Indo-Pacific cooperation is beneficial for India to rise as a pivot as well as keep an eye on China's incessant effrontery in the region.
Based on what France brings to the table, India is looking at a friend whose promising rapport provides a new prism for its multilateral aspirations. Albeit, the judicial probe ordered on the Rafale deal in France might cause light tremors in Indo-French relations and may also spill out a political limbo. It is a headache for both Paris and New Delhi to eschew, and hopefully, they could steer it in a way mutual interests do not succumb to the looming uncertainty.
Unleashing India's True Potential
As India strives to unleash its true potential to rise as a global powerhouse, it is tasked with a series of challenges that stunt its aspirations. To put this ambition into perspective, Dr. Aparna Pande discusses the various internal issues that have hampered its global aspirations and plagued the socio-cultural, economic, political and military dimensions, in her recent book Making India Great: The promise of a reluctant Global Power.
The book is structured in five chapters besides the introduction and the conclusion. The fundamental argument of the book sets out to delineate India's ambition of becoming a world power in the 21st century. The author discusses the contradiction that exists within Indian society that is 'although India aspires to become a global power, it lacks the ability to draw long term strategic plans that are necessary to achieve and realise its ambitions'. To attain this vision, India must overhaul its attitude and mindset to prescribe a course of action that is deemed fit to bridge the gap between India's potential and its policy outcomes. Dr. Pande rationally deconstructs the reasons behind India's economic slowdown and sheds light on the country's pursuit towards realising its true potential.
In the introductory chapter, the author revisits India's ancient heritage and modern history and spells out various historical accounts to depict the immature, parochial and tactless decisions and judgments made by the Indian political elite that have repeatedly toyed with India's ambitions. These vested interests have hindered the country's progress and fractured its strategic disposition in spite of possessing a robust ethical foundation, a secular religious society, a rich linguistic and cultural diversity. Furthermore, the author elaborates on India's achievements since its independence while knitting history with contemporary international politics.
By 2024, India will be the most populous country globally (p.X) and will be the world's third largest economy by 2050 (p.53). The author raises key arguments that address India's trajectory to become a major global power. She advocates for the need to focus on its important national subjects such as enhancing the country's defence capabilities, upgrading its military industry and expanding its diplomatic outreach globally, instead of focusing on the traditional problems related to religious vigilantism, caste and ethnic prejudice, and cultural divisions.
In the first chapter, "Ancient Culture, Modern Times", the author illustrates India's ancient culture and the faith in Indian exceptionalism. She beautifully explains the ancient history starting with the idea of renaissance and enlightenment and journeys through the social changes brought over time by various reformist movements namely the Arya Samaj and the Brahmo Samaj. The idea of Indianness as conceived by Jawaharlal Nehru, Mahatma Gandhi and Rabindranath Tagore indicates that modern India was built on its rich and ancient heritage. The two different traditions are highlighted within the Indian social order: one discussing India as a vibrant, inclusive and open society, while the other views India as an obscurantist society due to the existence of social practices of patriarchy, feudalism and chauvinist behaviour by Indian society. The country's progress is impeded by society's myopic vision and bigoted fabric.
The author opines that legislative decisions and political events in India are scrutinised by the public from the religious and cultural lens that hampers the growth and progress of the country. Rather than investing in strategic planning for defence and education, the Union Government has been spending more resources to protect cows with the intent to safe guard the religious sentiments of its people. Subsequently, these provisions adversely affect beef production countrywide and weakens the leather industry, affecting the Indian economy at large. As alluded by the author, such a comparison of the religious practices with the economic benefits could hurt the sentiments of the public, leading to undermine the majoritarian faith. In the larger context, among the many prevailing social and national issues there are far greater problems that need immediate redress to which the author has failed to shed adequate light on, such as gender inequality, patriarchy, the promotion of women empowerment, improvements to the national literacy rate and addressing the issue of poverty.
The second chapter discusses human capital, which acts as a pre-requisite driver for the modern Indian economy. In the ancient times, the country's potential for human resource can be viewed through an archaeological lens and has also laid the foundation of the world's oldest civilisation, the Indus Valley. In addition to the Indus valley, the subcontinent has witnessed the establishment of the well-engineered twin cities of Harappa and Mohenjo-Daro. Dr. Pande supports her argument on the country's human capital by supplementing the reader with a similar view from Gurcharan Das' book, where the author conveys that India's biggest failure has been in building human capabilities. Further, he states that to build human potential and capabilities, there is a need for an investment of human capital particularly in education and the health sector.[i] In concurrence with Mr. Das, Dr. Pande explicates that the failure of building human capabilities is due to misgovernance. Hence, she suggests that the Government should take pragmatic steps for policy formulation and skill development.
The third chapter elucidates about 'Economic Potential' of the Indian state. She discusses the success and failures of the Indian economy. Jawaharlal Nehru and Mahatma Gandhi accentuated on economic independence and self-sufficiency. The Indian economy has been growing since independence but is insufficient to cater to the needs of its growing population. Despite being a developing economy, there are millions of people in India living below the poverty line. The 1991 reforms were a shot in the arm for the Indian economy through the process of liberalisation and privatisation. As India is on its way to becoming one of the three largest economies by 2050, New Delhi is required to bring more reforms to its land, labour and financial policies. It needs to give up its paternalistic approach which hinders its economic growth. Dr. Pande also highlights India's obsession with producing everything within the country which leads to hyper-nationalism and proves to be one of the major drawbacks for the Indian economy only weakening its rise as a global power.
In the following chapter, the author analyses the country's foreign policy and geopolitics. While debating the geopolitical nature of the country, Dr. Pande enlightens the reader about some of the inevitable features of the Indian state. As one of the oldest standing civilisations, its geographic position is strategic and its vast population is an asset for the country's growth. The ancient sages have ascribed India as Vishwa Guru (world teacher) and have adopted the philosophy of Vasudhaiva Kutumbakkam (the world is one family). Prime Minister, Narendra Modi in his historic speech at the United Nations General Assembly in 2014 underscored the driving force of India's philosophy, reminding the world community about India's ancient history since the Vedic era, with the intent to bring reforms to the United Nations (UN), making it more democratic and participatory.
The author presents a case to underline the existence of India's strategic disposition through an adaptation of the Non-Alignment Movement. To establish and maintain its clout in the world order, India is associated with various organisations like the UN, the International Financial Institutions (IFIs) and several other multilateral institutions. The author presents a strong case for the need to introduce new reforms into the UN Security Council (UNSC) but also into the international economic order, including various multilateral economic institutions such as the International Monetary Fund and World Bank. More importantly, she advocates the need to promote India as a permanent member in the UNSC with the backdrop of India's rise in contemporary international relations given the country's growing economic, political and military prowess.
Talking about its foreign policy, India is considered a geographical, socio-cultural and economic centre for South Asia and plays the role of a 'Big Brother' within the South Asian region. India has always followed the 'Neighbourhood First' policy to maintain strategic relations with its immediate neighbours. Apart from South Asia, the chapter presents a stark contrast regarding India's relations with China and its economic and military rise which pose a threat to India and South Asia.
The last chapter examines India's "Military and Grand Strategy" and what India actually requires in order to become a global power. She illustrates the features of great powers as described by Hedley Bull. According to Bull, great powers are identified by 'comparability of status', 'rank in military strength', and the ability and recognition to 'play a part in determining issues that affect the peace and security of the international system as whole'.[ii] To incorporate these factors in its foreign policy, India needs a grand strategy in place which could be formulated through four major strands: Imperial Legacy, Messianic Idealism, Realism and Isolationism, as discussed by the author in her previous work.[iii] To achieve these goals, India can exercise the Kautilyan principles of Saam, Daam, Dand and Bhed (persuasion, temptation, punishment and exploitation respectively) as a means to achieve an end.
To this end, Making India Great is a well-researched handbook with various mesmerising facts but with a contested title which questions the greatness of the country. It allows readers to comprehend various reasons for India's reluctance and flawed progress on the global stage. The author suggests that the Government of India should introduce new reforms that would enable it, to take pragmatic measures in the economic, military, political and social spheres, which would provide greater impetus to its growing aspirations as a global power. Lastly, Dr. Pande fails to identify and analyse the loopholes existing in both, the decision-making apparatus and implementation process of various policies at the economic, political and military levels. Nevertheless, this work is of immense relevance to understand India's position as an emerging global power, in the context of the contemporary state of global affairs.
---
[i] Gurcharan Das, India Unbounded: The Social and Economic revolution from Independence to the Global Information Age, New York: Anchor Books, 2002, p. xviii.
[ii] Hedley Bull, The Anarchial Society: A Study of Order in World Politics, New York: Columbia University Press, 1977, pp. 200-03.
[iii]Aparna Pandey, From Chanakya to Modi: Evolution of India's Foreign Policy, Noida: HarperCollins India, 2017.
Application of Galtung's ABC Model on the Naxalite Insurgency of India
The conflict analysis model proposed by Johan Galtung in 1969 includes both symmetric and asymmetric conflicts. In the author's opinion, a conflict can be viewed as a triangle whose sides are represented by A (attitude), B (behaviors) and C (contradictions.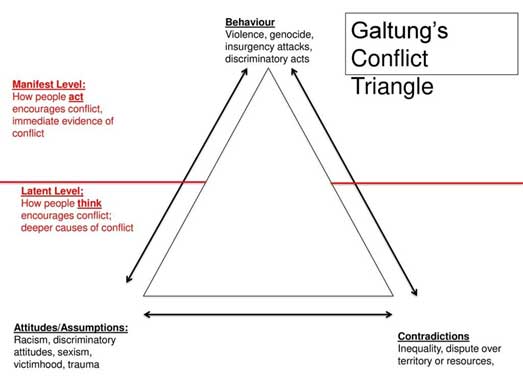 The Naxalite Insurgency
The Naxalite revolt which developed in the 1960's is the most seasoned of all. The Naxalite revolt gets its underlying foundations from a remote town called Naxalbari in West Bengal. They are the progressive communists bunches resulting from Sino-soviet split in Indian Communist Movement. The Naxalite uprising is a low-level war of Maoists against the Indian government. The insurrection began as a labor resistance in the eastern Indian town of Naxalbari in 1967 and has now spread to an extensive swath in the southern and eastern parts of the nation. In 2004 the Maoist dissident association People's War Group and the Maoist Communist Center of India converged to shape the Communist Party of India (Maoist). The Movement was driven by Charu Mazumdar, Kanu Sanyal and Jangal Santhal.
Contradictions
The main conflict includes real or perceived "incompatibility of goals" between the conflicting parties. In symmetrical conflicts, the contradiction is defined by the parties, their interests and conflicts of interests. In asymmetric conflicts, the contradiction is defined by the parties, the relationship between them and the conflict within this relationship.
Before continuing with Galtung's model analysis, it is necessary to highlight the differences between symmetric and asymmetric conflicts. When A and B have a relatively similar or equal position and they enter into a conflict due to diverging interests; we are talking about a symmetrical conflict. When in the relationship between A and B one of the parties has a clearly superior standing compared to the other (i.e. a clear situation of inequality between the two sides); we are referring to asymmetric conflict. This type of conflict occurs between the majority and a minority, between a government and a rebel group, between an employer and his employees, or between a master and his servants ("Transforming Civil Conflicts", The Network University. The University of Amsterdam, June 2000).
A conflict in Galtung's view = attitude + behavior + contradiction, where contradiction (C) is the root of the conflict, and attitude (A) and behavior (B) are meta-conflicts after (C). CAB is a possible example of a conflict sequence starting objectively with an attitude of inner life that is expressed externally through violent or not verbal and / or physical behavior. This definition helps us to talk about the CAB as a guiding conflict theory, as a dynamic phase of the conflict, or as an approach to solutions (Galtung, 2007, 22).
The contradiction here in this conflict is inequality and dispute over political rights and resources. The Naxalites get most help from Dalits and Adivasis. Together they sum for one fourth of India's population; a large portion of them live in rural India. Their bases for supporting the insurgency includes unemployment, new timberland provisions with confinement for their jobs, cultural degradation, feeble access to social education, confined and constrained access to regular assets, social abominations, relocation, political underestimation and suppression of rebellions. The affected areas have rich mineral resources but the inapproachability and negligence of the government is another which has kept the insurgency alive.
The demands of the insurgents are not of succession rather they demand their democratic rights. They want the government to implement improvements in the farming sector, give accommodations and full authority to the farmers, and abandon all private finances taken by the agricultural community to stop suicides by farmers, prepare a lasting and unified plan for tackling the scarcity situation and to be given equal opportunities, jobs, education, acceptance from the upper caste people.
Attitudes
Includes the perception of the parties; It can be positive or negative, strongly negative especially in violent conflicts when the parties develop humiliating stereotypes about each other. Attitude consists of emotive and affective components (I like or I do not like X), cognitive components (favorable or unfavorable information about X) and cognitive/ behavioral components (desire, will).
Attitudes or we say perception of conflicting parties, i.e., Government of India and Naxal rebel's groups are entirely negative. Indian government thinks of it as a national security threat and wants to counter it one way or the other. In 2006, the Ex-Prime Minister of India Manmohan Singh called the Naxalites "The single greatest inward security challenge." As the insurgency is not in just one part of the country but it is expanding in many regions which is a serious threat to the state's internal security. While the rebel groups being untouchables, think of the government as racist and discriminatory and want equal rights and opportunities as any other Indian.
Behavior
Involves cooperation or coercion / conciliation or hostility regarding the behavior, in case of violent conflict we talk about threats, coercion or destructive attacks.
The Indian National Congress is India's oldest party. Hence has seen a number of conflicts and insurgencies. The INC government sought after a double pronged approach depended on military and cruel police activities.
SalwaJudum was launched as part of counterinsurgency strategy by the Indian government. The Naxals and SalwaJudum used to assault each other with much greater savagery; numerous individuals were killed by Naxals and SalwaJudum. The SalwaJudum was at long last prohibited by the Supreme Court in 2011 for damaging human rights and the Constitution itself. The government then presented "Operation Green Hunt", an organized activity over a few states (Orissa, Madhya Pradesh, Chhattisgarh, Andhra Pradesh and West Bengal among others), to handle Naxalism. But the operation was also a failure.
The government then realized that using the military on their own people is not the solution to the problem hence, they made some developments in the affected regions but it did not give long lasting results; it resulted in the failure of the policies of Indian National Congress.
Andhra Pradesh has the best strategies to counter the Naxalite insurgents among all affected states. It perceived the Naxalite insurrection as a genuine risk. It has put resources into the Greyhounds; a unit arranged for a counterinsurgency reaction and has given extensive recovery bundles to repatriate the previous Naxalites.
They likewise made a few projects to help police faculty and their families if executed in the line of duty. Andhra Pradesh's counterinsurgency approach is unmatched in the whole country.
The Naxalite rebellion entered in these states later. They are the most badly influenced states because of their topography and demography. Because of a crackdown by police and military against the naxalites, the movement spread into many states. Since these states have a huge population and forested territory, they were the ideal areas for the guerillas to develop. None of these states has a solid counterinsurgency approach. Chhattisgarh has connected comparable guerrilla strategies and many operations like Operation Shikhar, Operation X, Operation Thunder and Operation Hill Top but neither of these operations have been able to purge the insurgency in the state. Jharkhand has led a few hostile activities, Odhisa uptil now have no strategies that can manage the uprisings. Every one of the three states is rich with mineral resources but none of them have powerful counterinsurgency technique. West Bengal is relatively successful in countering insurgency. The state government additionally got assistance from the central government.
The BJP government counterinsurgency strategy against the Naxalites combines a twofold unit approach; one approach is to utilize safety powers to create security whereas the other is winning hearts and minds of the overall public. Past governments utilized the relative systems, yet in light of a nonappearance of coordination and uneven execution between influenced states, it didn't give incredible results.
Social and economic inequity is seen as the main drivers of the Naxalite insurrection. Accordingly, the BJP government has reported sweeping policy, which incorporates improvement measures to manage social and economic degradation. The government has invested in the expansion of infrastructure which includes the creation of communication linkage and rail and road accessibility also in educating and providing basic services to the people. The number of violence decreased during BJP's time period, the credit is not alone to BJP government but also to previous governments.